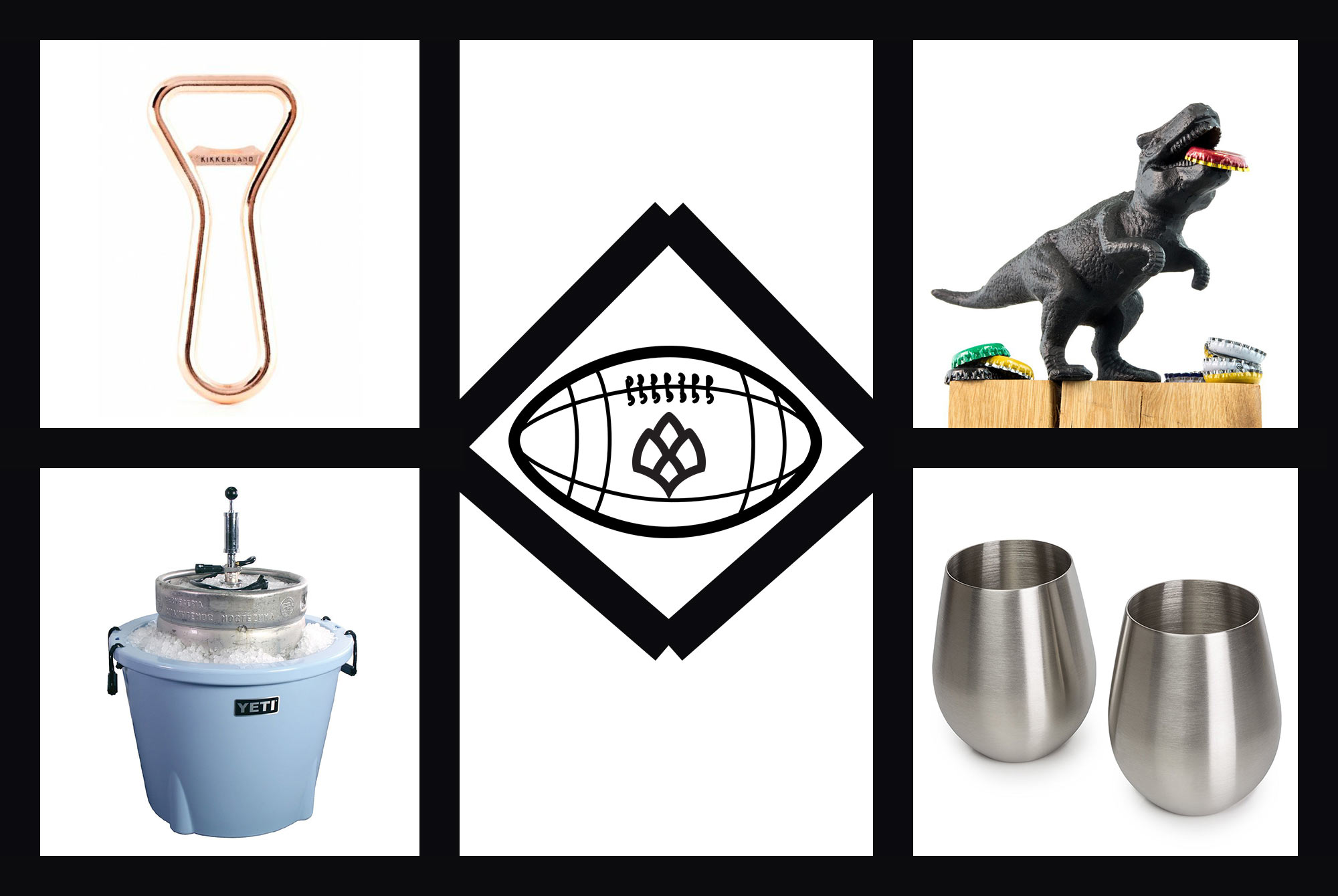 Like any great sporting event, much of the fun of Super Bowl Sunday is found in the build-up and the anticipation. For every hour you'll spend watching the main event, you should spend two hours adequately working yourself into a frothy-lipped lather. If you're planning to watch the Super Bowl with friends — and we know you are — that means the festivities ought to kick off around noon.
Festivities, of course, require beer. Here's the essential #beergear you'll need to drink through Super Bowl LI.
The Gear
Kitchen Monarch Stemless Cups
Durable glassware: Your guests should be encouraged to drink straight from the bottle, can, or keg spout. It's a football game, after all. But for those who'd like a glass, offer them a glass they can't break when the ref blows a call. Stemless, stainless steel, and 18 ounces? That should work.
Yeti Tank 85 Cooler
Your Last Party Cooler: Your fridge should be reserved for buffalo chicken dip and nacho fixings, so now is the time to throw down on the Cadillac of coolers. Yeti is making the best in the business: they can get massive (large enough to hold two elk) and are certified bear-resistant (which ought to slow your drunk friend Ted). The "Tank" is their casual party compromise — easy access, easy transport, foam insulation, and leakproof drainage. Park it in the living room next to a recycling bin.
Cast Iron T-Rex Bottle Opener
Can't Miss Bottle Opener: Rather than pointing to the coffee table every time someone asks for the bottle opener, get one that's impossible to miss. There are lots of options out there, but we're particularly fond of this 10-inch-tall, cast iron Tyrannosaurus rex.
Kikkerland Copper Bottle Opener
Your Average Bottle Opener: Stop stabbing your hand with a corkscrew wine key, forgo opening bottles with the edge of a table, and for everyone's sake take the damn bottle opener off your keychain.
Personalized Beer Koozies
Grown Up Koozies: You know that drawer of koozies left over from bachelor parties, weddings, and family reunions? This is why you've held on to them so long: nothing kills a good buzz like losing track of your favorite brew. Now it's time for an upgrade.
60″ Stainless Steel Beer Keg Dispenser
Holy Grail of Kegerators: If there was ever time to pull the trigger on a home kegerator, Super Bowl LI might as well be it. Sure, you can get one for a couple hundred bucks. But why settle when $2,000 gets you two tap handles and a stainless steel top? Thought so.
And, of course, beer!