Great Notion's Beaverton taproom | Photography courtesy of @greatnotionoregon
Like This? Read These Travel Guides:
Updated on September 7, 2023
Not to be confused with the other Portland, Portland, OR, is known for its coffee, bicycles, bridges, and quirks. It's the subject of Fred Armison's Portlandia, a hipster mecca still clutching to the nostalgia of the '90s. And, especially in the past decade, it's become synonymous with beer. But what are the best breweries in Portland? It's a tough question.
Whether looking for quantity or quality, the city ranks among the top cities in the nation for craft beer. Sprinkled throughout the bustling West Side and eclectic East Side are an abundance of daring and delicious breweries.
Portland is so rich with taprooms that we couldn't possibly name them all. So if we missed your favorite, send us a DM (@hopculturemag) and let us know.
But for now, here are fourteen of the best breweries in Portland, OR.
The Best Breweries in Portland, OR
Great Notion Brewing
Alberta: 2204 NE Alberta St STE 101, Portland, OR 97211 | (503) 548-4491
NW28th: 2444 NW 28th Ave, Portland, OR 97210 | (971) 279-2183
Division Pop-Up: 2105 SE Division St, Portland, OR 97202 | (503) 764-9073
Beaverton: 230 NW Lost Springs Terrace #10, Portland, OR 979229 | (503) 746-4372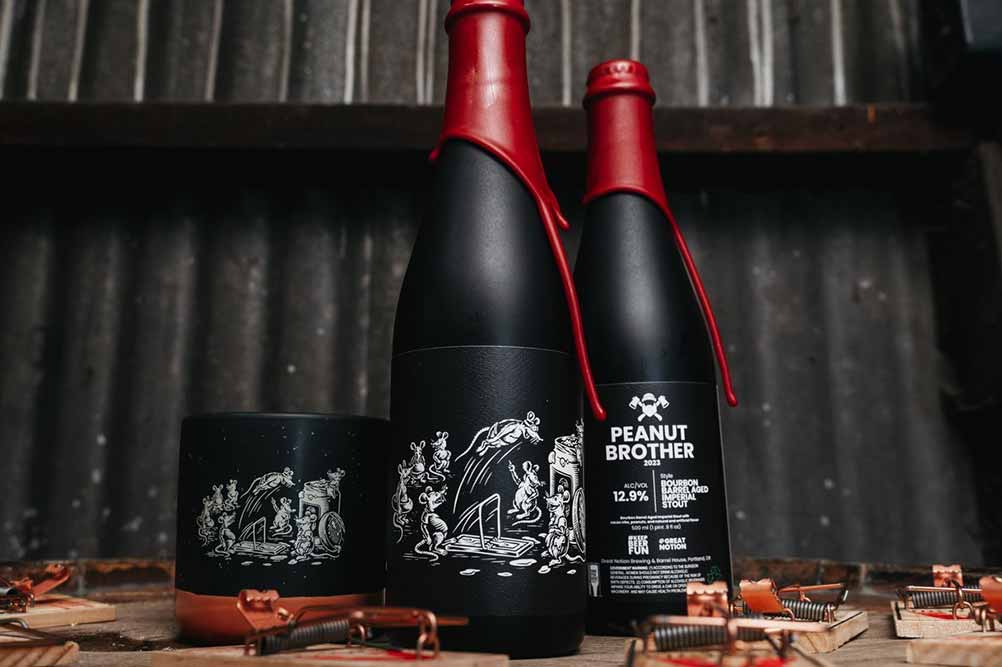 These cats are on another level. Not only have they developed their own augmented reality app, but they also donated at least $30,000 in profits from beer sales to help frontline workers during the global pandemic.
Great Notion only opened its doors in 2016 but has made a name for itself by becoming—arguably—the most visited brewery in the city for those seeking bold flavors and a lot of hops. Their specialty is fruit-forward sours, hazy IPAs, and gastronomical stouts. Great Notion executes the variation perfectly.
Breakside Brewery
DEKUM: 820 NE Dekum St, Portland, OR 97211 | (503) 719-6475
NW Slabtowm: 1570 NW 22nd Ave, Portland, OR 97210 | (503) 444-7597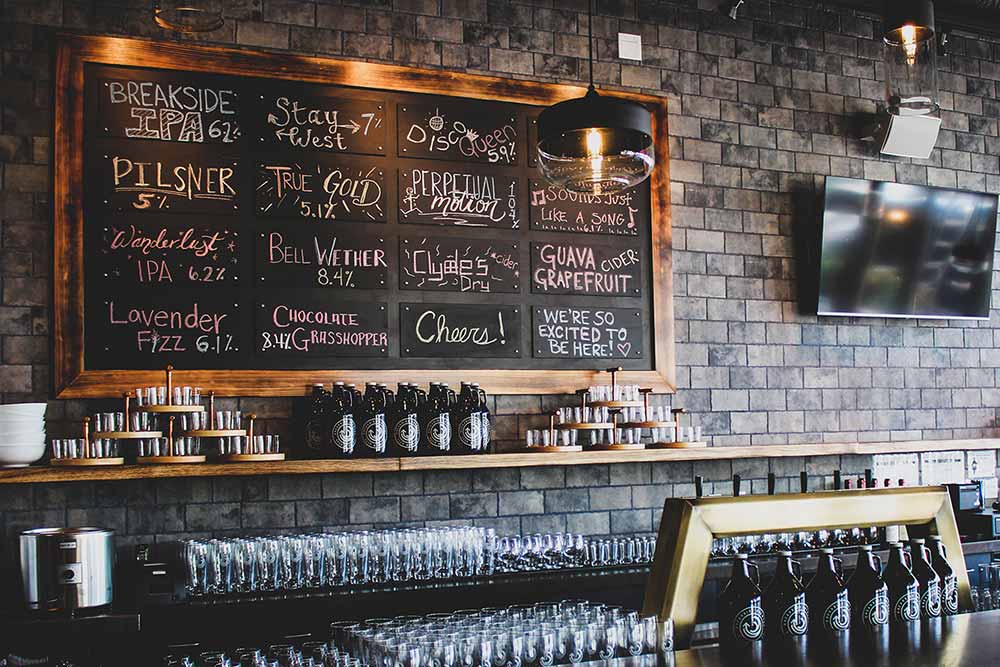 Breakside could be one of the most critically acclaimed breweries of the bunch. Breakside's history includes gold medals at the GABF and a place on Men's Journal's "Best Beers in the World" list. Plus, they were dubbed the "Best Beer in Oregon" by The Oregonian. It's safe to say stopping here wouldn't be a bad decision.
Wayfinder Beer
304 SE 2nd Ave, Portland, OR 97214 | (503) 718-2337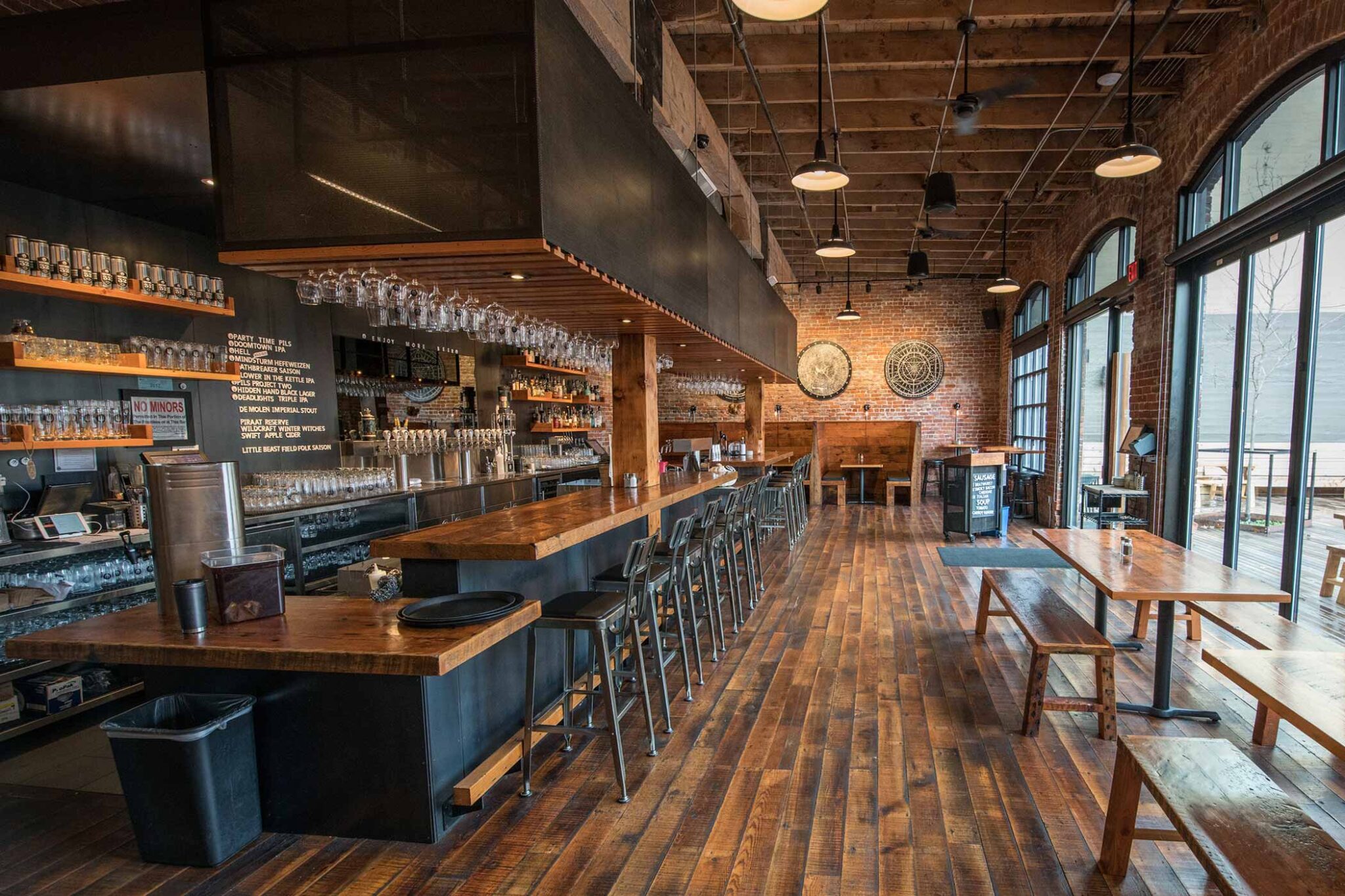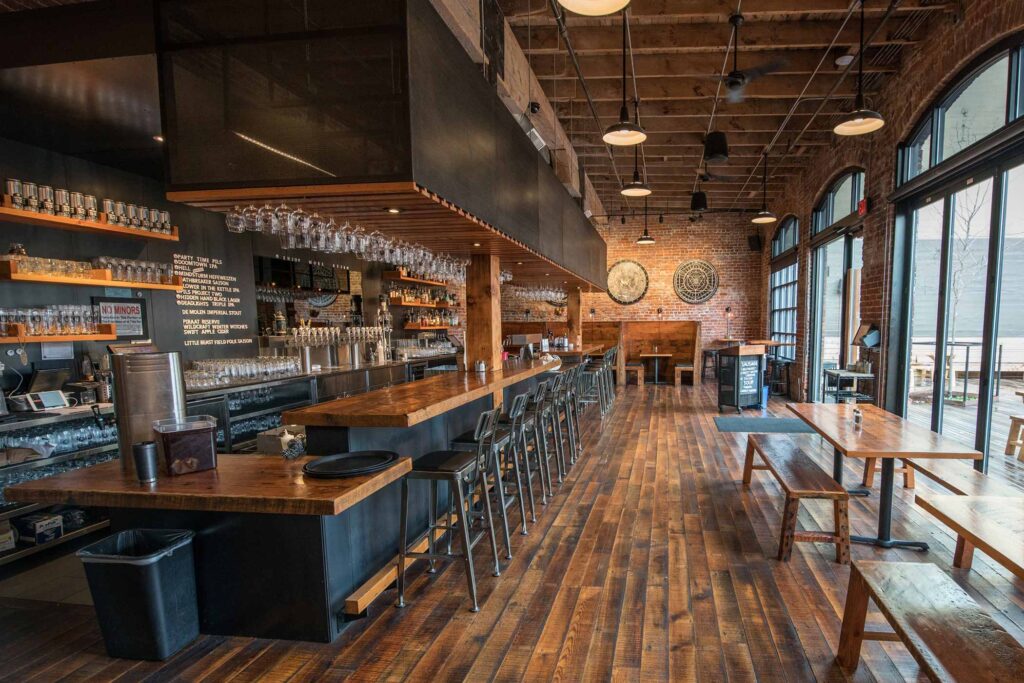 If you love lagers, go to Wayfinder. Self-proclaimed "proselytizers of cool fermentation," Wayfinder goes above and beyond to craft the best lagers around. Which includes installing a dedicated decoction vessel, making beers that tease out malt complexities. With a sort of old-school meets new-world attitude, Wayfinder takes traditional European lagering traditions and puts their PNW spin on them.
For instance, that Cold IPA phenomenon that's been sweeping the nation for the past few years?
Pioneered by then-Wayfinder Brewmaster Kevin Davey (who has since left Wayfinder to start his own spot, Gold Dot Beer Co.), the Cold IPA blends a West Coast IPA base with a lager yeast strain. The result is everything you love about the bold hoppiness of an American IPA with a cleaner, drier finish classic of a lager.
Simply put, you cannot miss Wayfinder on your tour of the best breweries in Portland.
Upright Brewing Company
240 N Broadway, Portland, OR 97227 | (503) 914-5130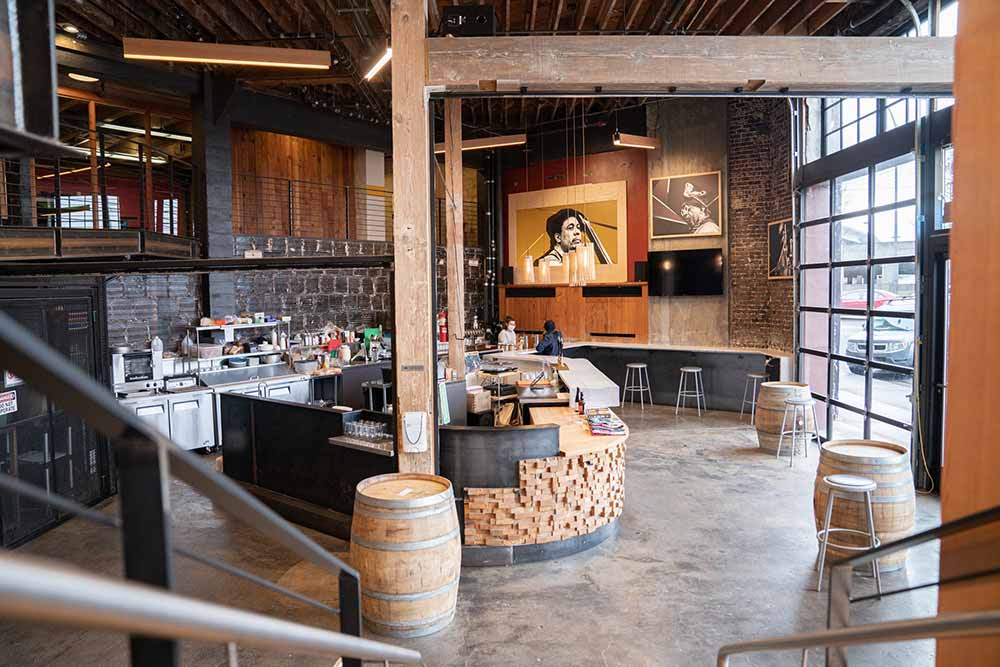 A farmhouse-focused brewery, Upright Brewing sources its inspiration from traditional French and Belgian beers, combining these traditions with Pacific Northwestern flair. It's a cash-only, casual spot for drinkers interested in intimately enjoying their beers.
Von Ebert Brewing
Pearl District: 131 NW 13th Ave, Portland, OR 97209 | (503) 820-7721
Glendoveer: 14021 NE Glisan St, Portland, OR 97230 | (503) 878-8708
Cascade Station: 10111 NE Cascades Pkwy, Portland, OR 97220 | (503) 206-5765
Beaverton: 11800 NW Cedar Falls Dr #110, Portland, OR 97229 | (503) 716-8663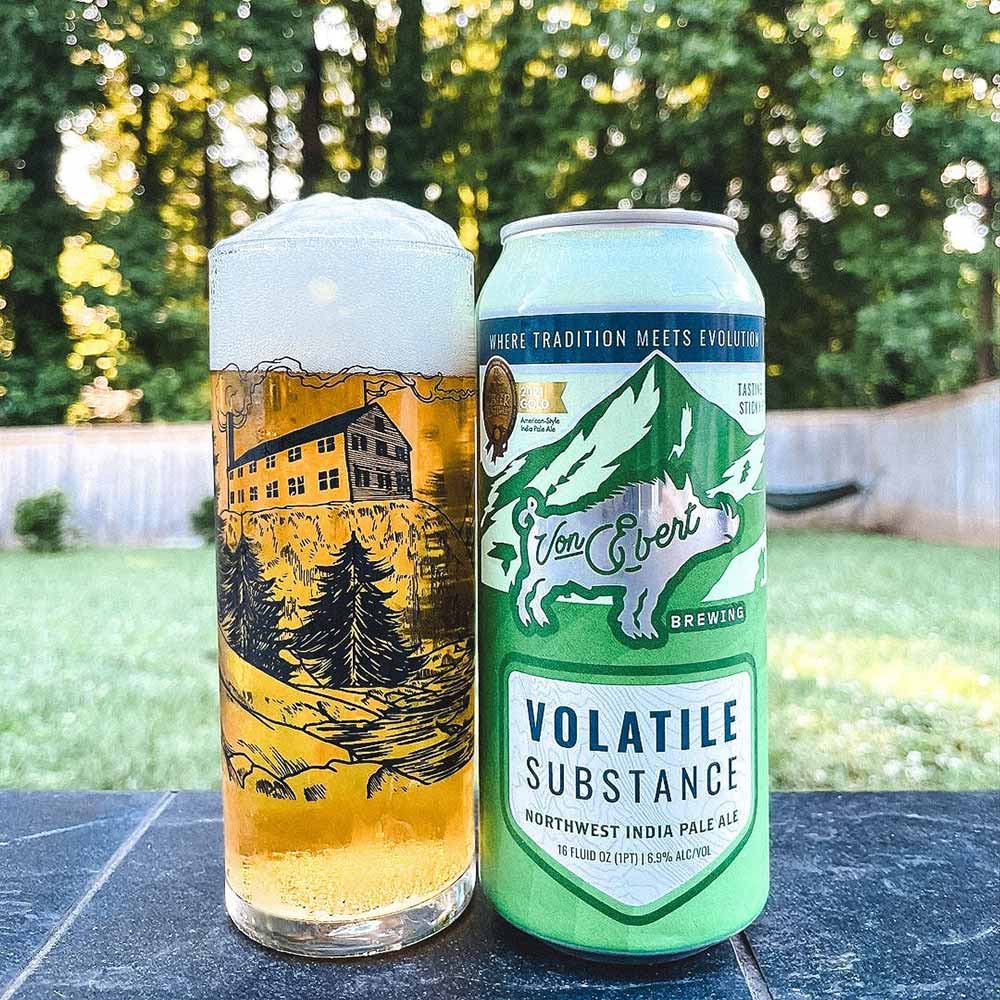 ​​Von Ebert wins awards. Lots and lots and lots of awards.
For example…
A gold in the "German-Style Pilsener" category for its aptly named Pils at the 2023 World Beer Cup…
A silver in the "German-Style Pilsener" category again for Pils at the 2022 Great American Beer Festival…
Two golds and a silver at the Best of the West Coast IPA National Throwdown for Boat With No Name, Volatile Substance, and Nook & Friends, respectively.
And we've named Von Ebert's beers to lists such as:
"The 20 Best Beers to Drink in Summer 2022."
And
"The 21 Best Beers We Drank in 2021."
This brewery makes award-winning, amazing beer, and they have four taprooms around town you can stop at to enjoy it. There's no excuse; if you're in Portland, make your way to Von Ebert.
Little Beast Brewing
3412 SE Division St, Portland, OR 97202 | (503) 208-2723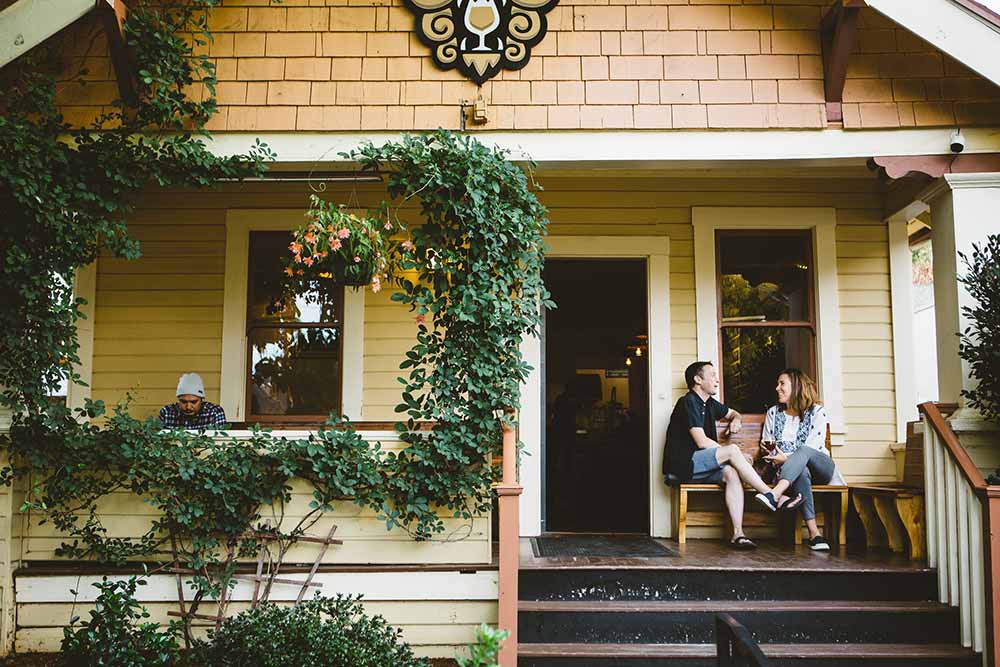 The Little Beast project is far from little. It's an experiment in resourcefulness and creativity. Using Portland's "edible landscape," founder Charles Porter showcases the untamed beauty of nature's abundant cultures. The operation is old-worldly and delicious.
While you can find the original taproom in Clackmas, OR, Little Beast has a beautiful beer garden in Portland that can't be missed. Drink incredible beers on a front porch like you're in someone's home. That's the magic of Little Beast.
Cascade Brewing
939 SE Belmont St, Portland, OR 97214 | (503) 265-8603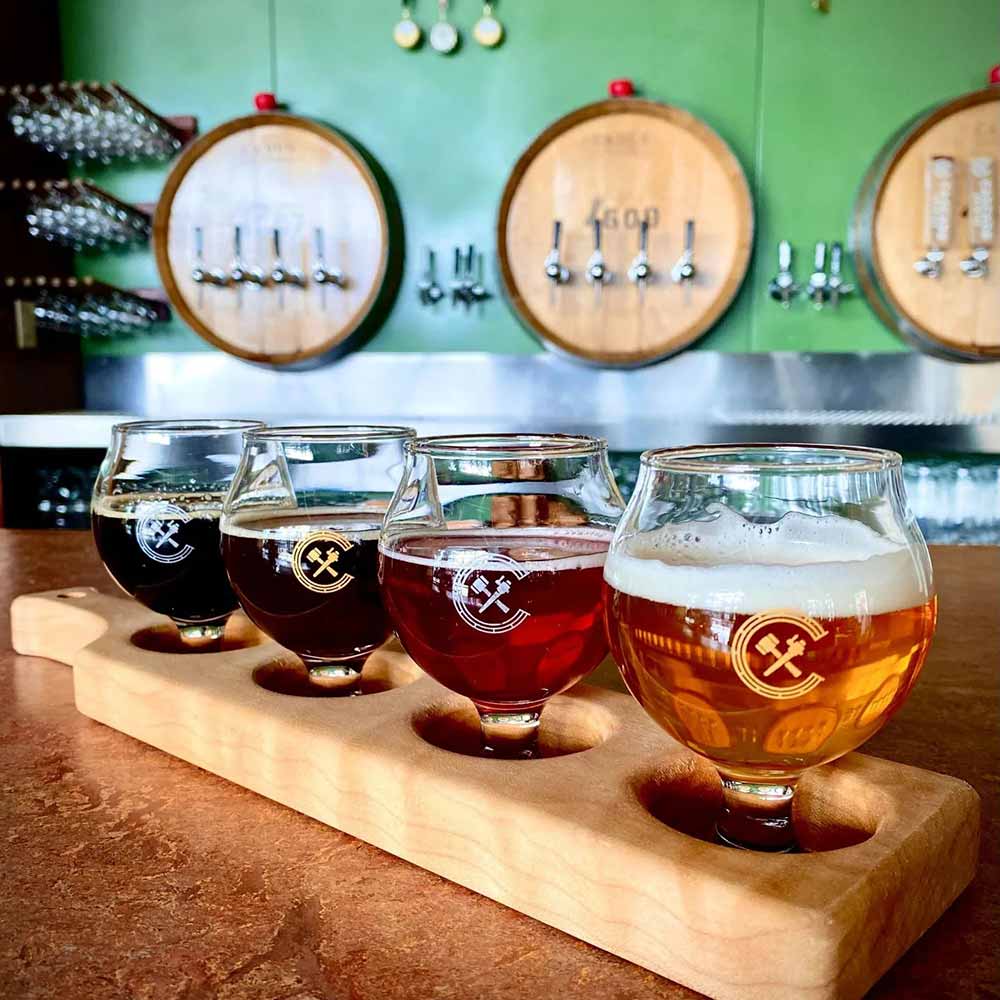 Cascade Brewing's Barrel House is a sour beer lover's dream. With the Northwestern sour movement steamrolling forward, Cascade has found its place in the conductor's seat; they're pioneers and constant introductions of change and innovation.
Although they're one of the older breweries in the area, they're still one of the best. Stop by their space to see what's on tap or to grab a vintage bottle from their shop.
Fracture Brewing
1015 SE Stark St, Portland, OR 97214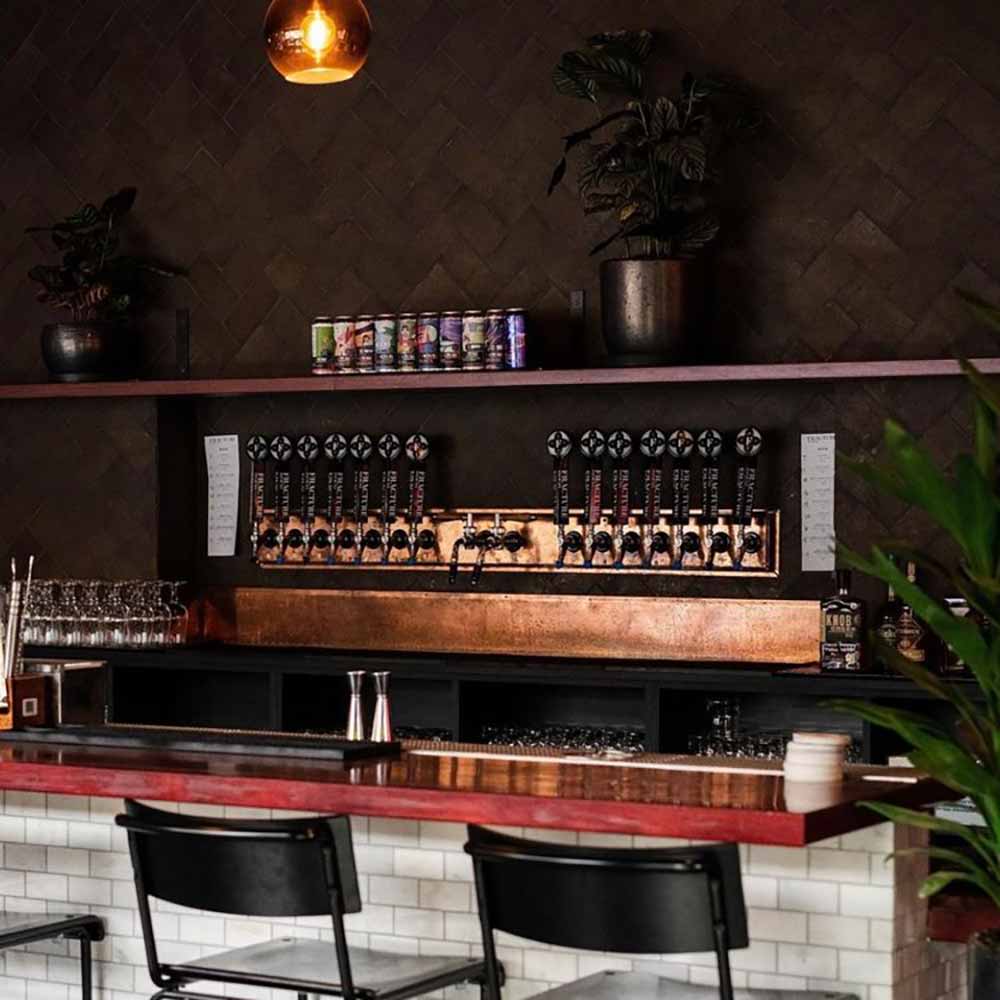 Started by husband-and-wife team Ny Lee and Darren Provenzano, Fracture Brewing calls itself "a globally influenced brewery, a locally minded taproom." Perhaps a reference to Lee's background and the years Provenzano spent working in breweries around Asia, including 7 Bridges Brewing, which won mid-size brewery of the year at the SEA Brew competition (sort of like the GABF of Vietnam).
At Fracture, you'll find beers like the lychee and pomelo-like West Coast Pilsner, which won a silver medal at the Oregon Beer Awards. Or the Imperial Coffee Stout, a collab with Portland neighbor Great Notion.
Culmination Brewing Company
2117 NE Oregon St, Portland, OR 97232 | (971) 254-9114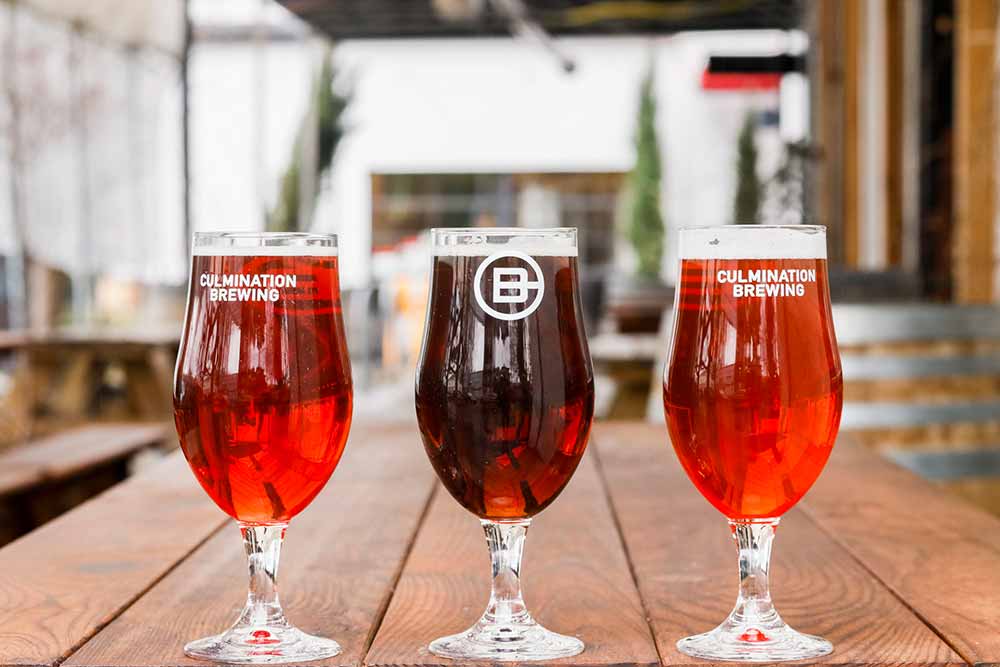 Sustainability is the keystone to Culmination Brewing's existence. "Great beer, with good food and community, can be brought together in one concept, under one roof," Tomas Sluiter, their brewmaster, says; hence the name: "Culmination."
Hopworks Brewery
Powell Mothership: 2944 SE Powell Blvd, Portland, OR 97202 | (503) 232-4677
PDX Airport: 7000 NE Airport Way, Concourse E, Portland International Airport, Portland, OR 97218 | (571) 982-0358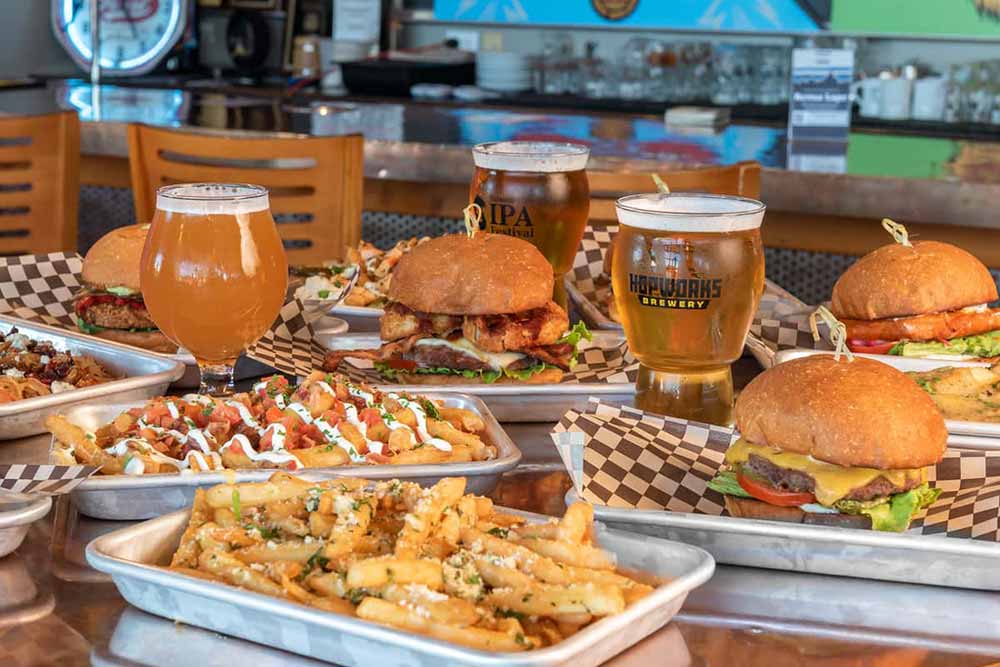 Count on Portland, OR, to deliver beer that not only tastes good but does good. As a registered B Corporation (just like The Alchemist Brewery in Vermont), Hopworks has a legal responsibility to consider the impact of all their decisions on their suppliers, customers, employees, and the environment.
If you visit, try the flagship Overland IPA or snag the Tree Frog Organic Pale Ale. And come hungry—the brewpub offers down-to-earth American fare like salads, burgers, and loaded fries.
Bonus: If you didn't have time to stop by the OG taproom on your trip, you can now find a Hopworks outpost in the PDX airport.
Ex Novo Brewing
2326 N Flint Ave, Portland, OR 97227 | (503) 894-8251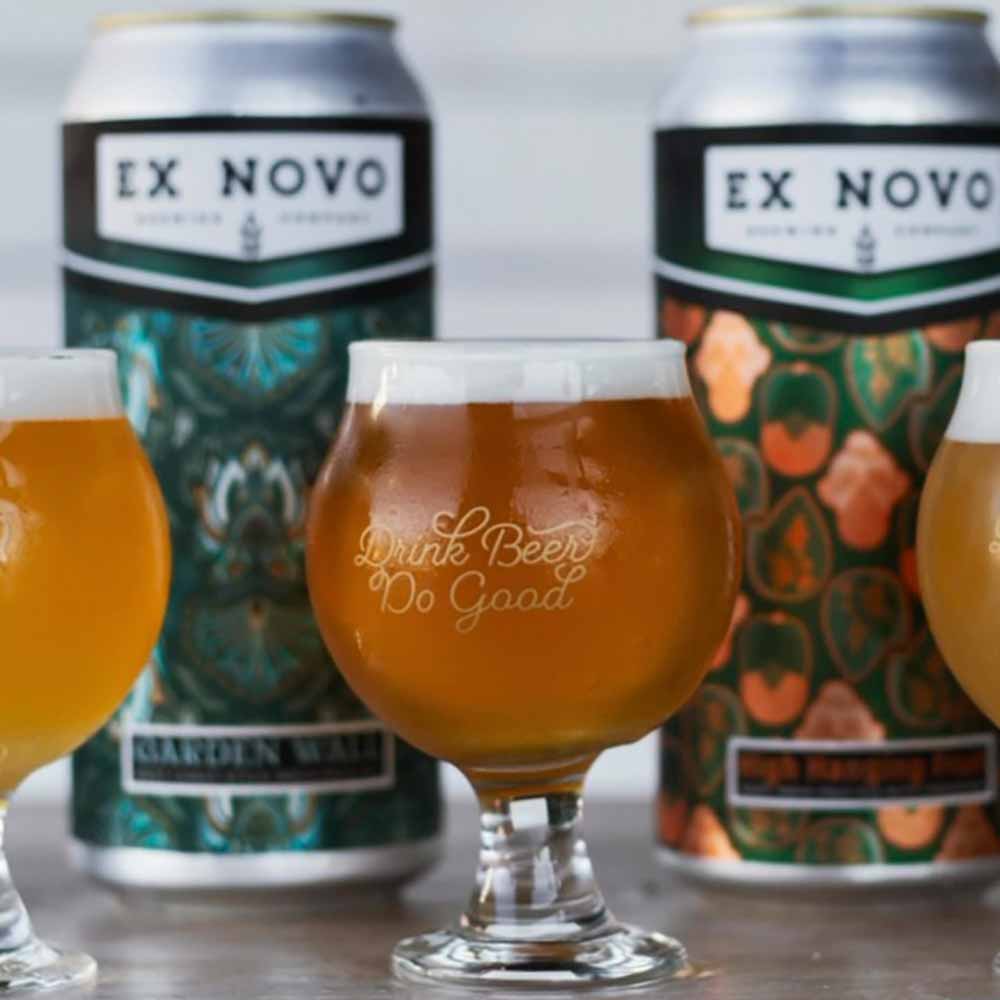 When Ex Novo first opened, the founders quickly expanded from their garage to a beautiful new pub house and solidified a top-quality flagship lineup. "Better beer for the greater good," their bottles read. And they follow through on that: The brewery donates 100 percent of its profits to charity.
Grand Fir Brewing
1403 SE Stark St, Portland, OR 97214 | (503) 477-6011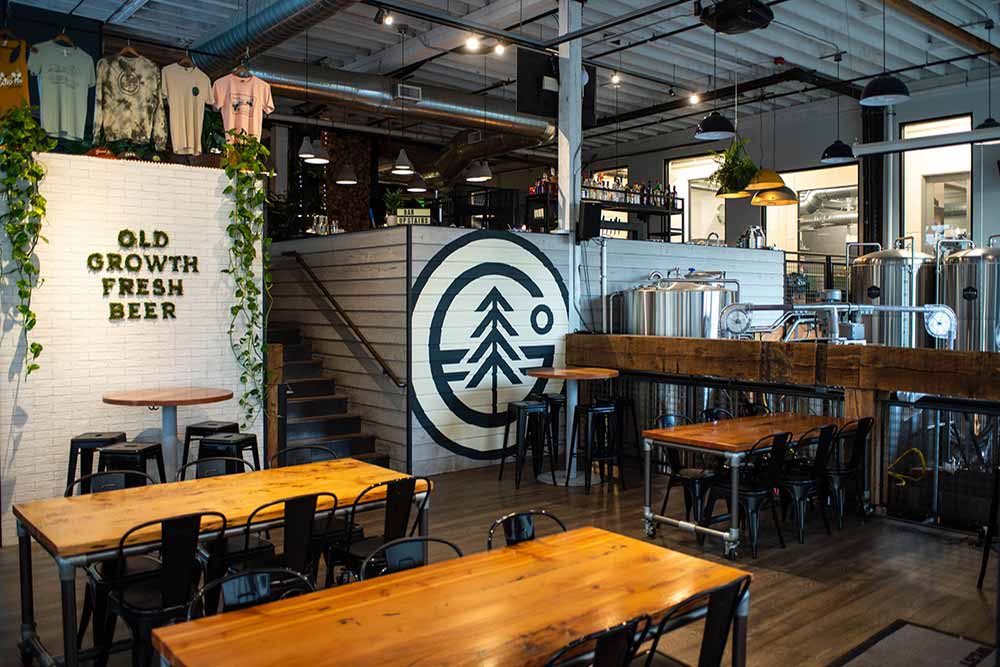 A collaboration between husband-and-wife team Whitney Burnside and Doug Adams, Grand Fir combines Burnside's brewing prowess that stretches across the who's who of the Pacific Northwest—Laurelwood, Upright, Elysian—with Adams' cooking chops, including stints at Paley's Place, Bullard, and Holler Hospitality.
Beerwise, you can currently find standouts like Lichen IPA and Grand Saison, a collab with Upright Brewing.
All complemented with plates such as an Oregon Peach and Tomato Salad, Oregon Baby Shrimp Roll, and Grand Fir Burger.
Away Days Brewing Co.
1516 SE 10th Ave, Portland, OR 97214 | (503) 206-4735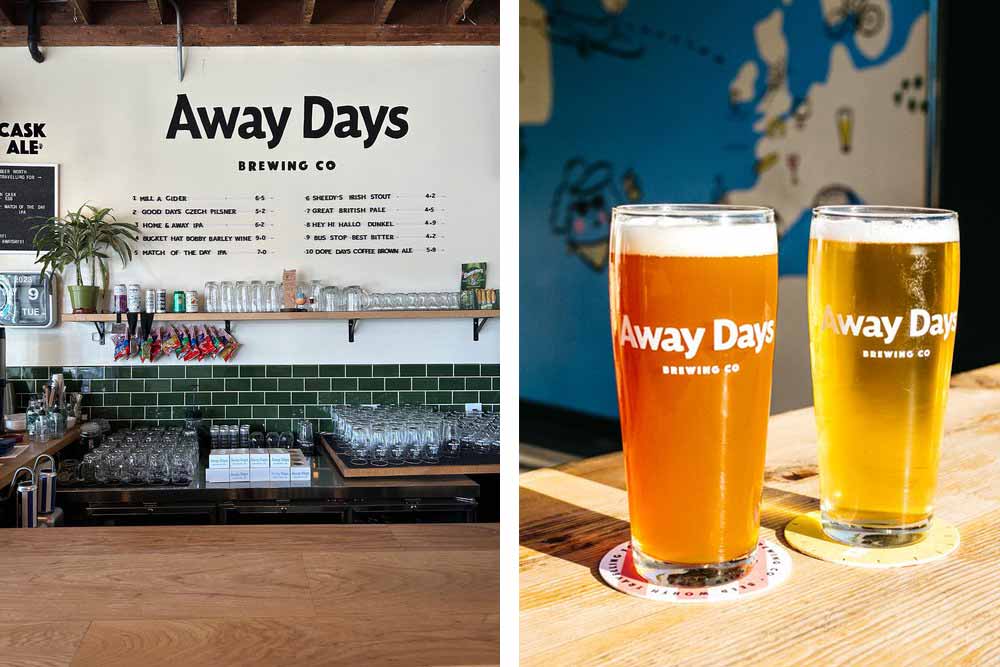 Owners Pete Hopkins and Niki Diamond opened Away Days in the former Scout Beer spot to create a modern, intimate Northwest pub.
What do we mean by that?
Well, you'll find a very much European-inspired beer tap list that also mixes in tons of hoppy delights and IPAs.
Perhaps you can best enjoy this dichotomy of West Coast vs. East across the pond in the brewery's flagship Home And Away IPA, an English-meets-Northwest IPA.
Oh, and in the traditional English sense, they serve cask beer, too.
So, like we said, if you're looking for an English-style pub that also calls the Pacific Northwest home, visit Away Days.
Baerlic Brewing Company
Southeast: 2239 SE 11th Ave, Portland, OR 97214 | (503) 477-9418
Alberta: 2223 NE Alberta St, Portland, OR 97211 | (503) 894-8693
Barley Pod: 6035 NE Halsey St, Portland, OR 97213 | (503) 284-6393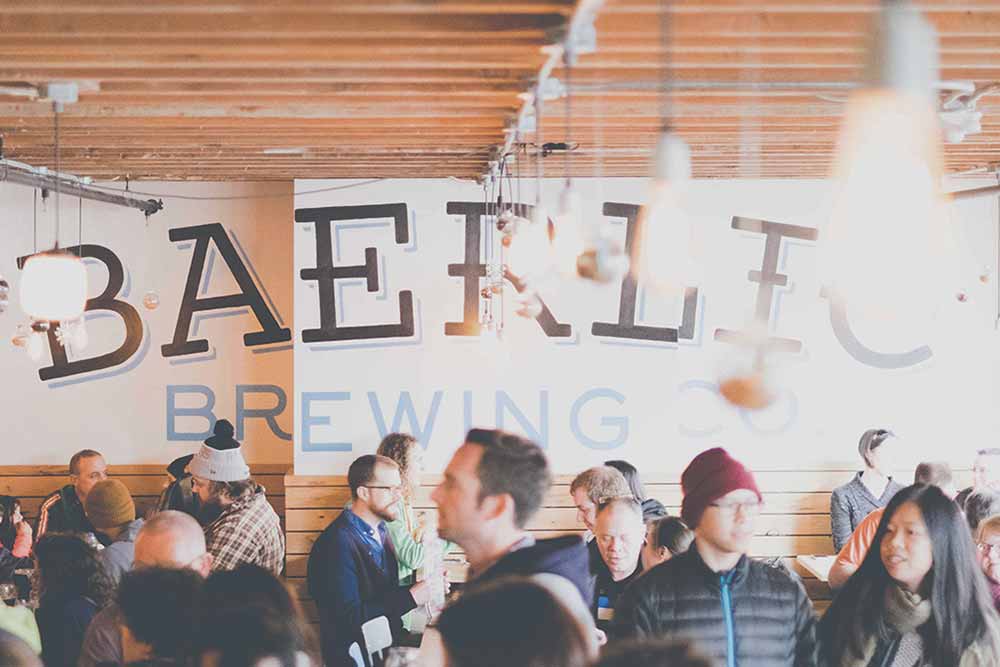 Translated to "of barley," in Old English, Baerlic Brewing, like others on this list, adopts a traditional-meets-contemporary approach.
Alongside seasonals, one-offs, and experimental beers, you'll find a stable base of year-rounders on the tap list.
Like the Dad Beer! pre-Prohibition lager and the Good Vibes Only hazy.
Consider Baerlic like your steady Freddy—never wavers, always solid and there when you need 'em with three locations around Portland.
Kind of like the age-old combo of pizza and beer, which you'll find at the Southeast taproom, where Ranch PDX slings its square pies.