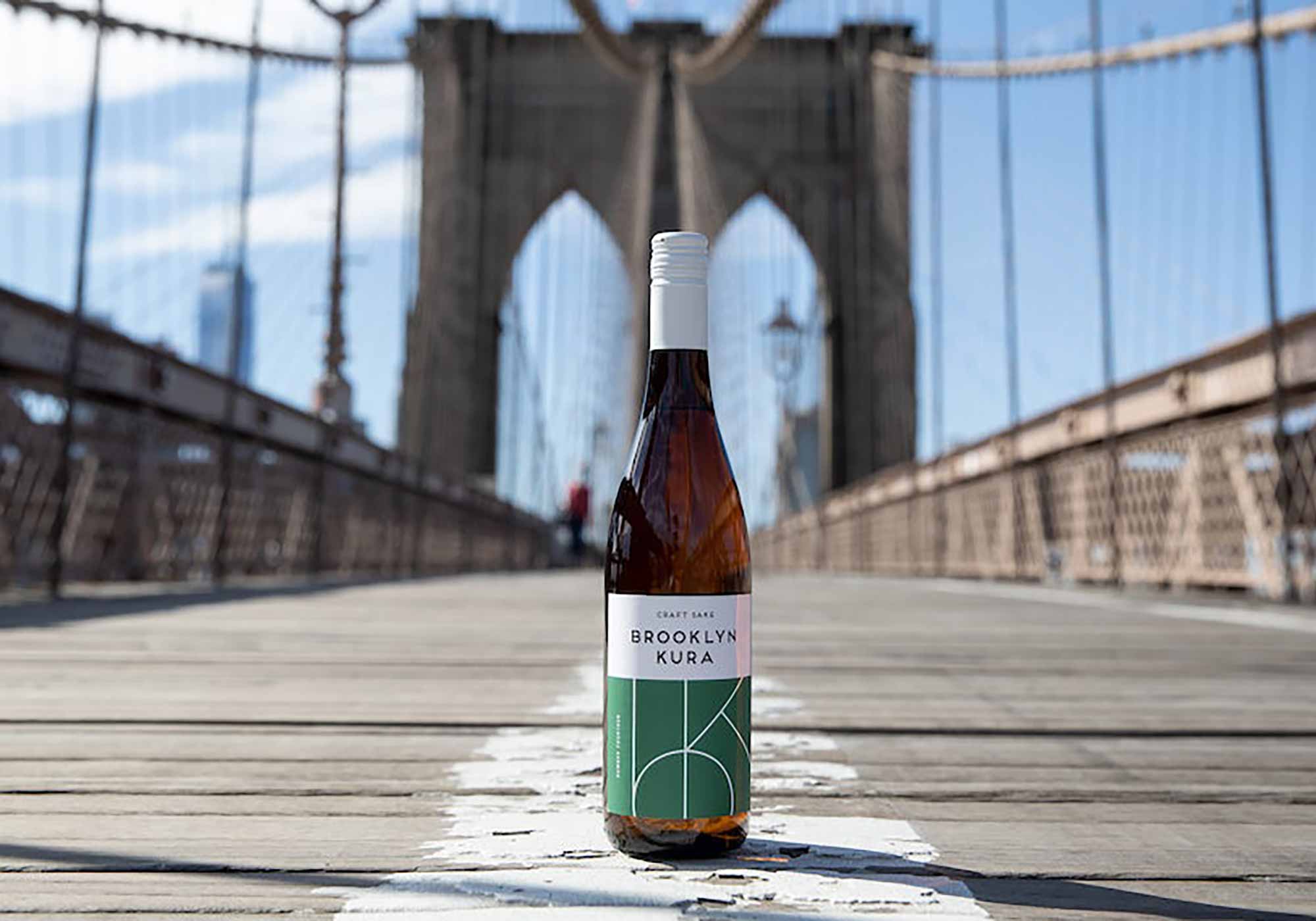 Photography courtesy of Brooklyn Kura
Several months ago we wrote about our favorite breweries in the Hudson Valley region, about 150 miles north of New York City. But in reality, you can certainly drink incredible craft beer right within the city. In particular, we found some of the best breweries in the borough of Brooklyn, NY.
I should know since I lived in Brooklyn for three and a half years! On weekends you'd often find me hanging out in the back garden at Threes Brewing with a pilsner or playing Scrabble at Kings County Brewers Collective (KCBC) with a hazy IPA by my side.
But even since I moved away just two short years ago, new places popped onto the radar, catching our attention.
From a female-, veteran-owned stunner making crazy good hazies to a funky little spot making the most of mixed fermentation, these breweries are blowing up Brooklyn's craft beer scene.
Here are our picks for the eleven best breweries in Brooklyn.
Hop Culture's 11 Best Breweries in Brooklyn, NY
Wild East Brewing Co.
623 Sackett St, Brooklyn, NY 11217 | (718) 797-5135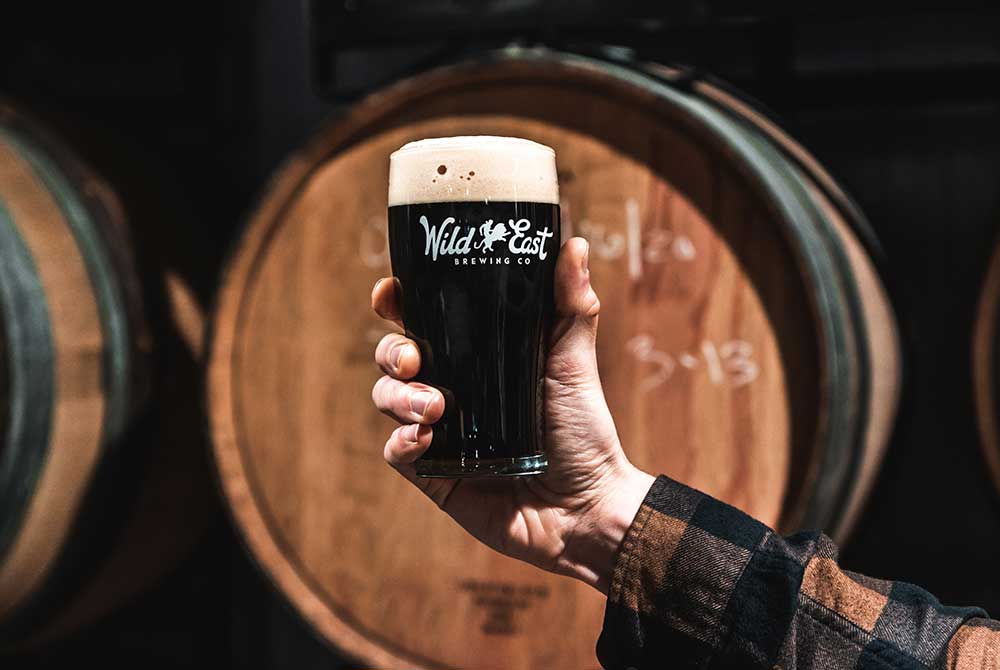 Founded by Lindsay Steen, Tyler March, and Brett Taylor, Wild East Brewing Company opened its doors in February 2020. The brewery specializes in mixed-fermentation, wild, and sour beers such as saisons, pale ales, Berliner weisses, and more.
In a former restaurant supply warehouse on Sackett Street, just a short jaunt from Threes Brewing, Wild East's taproom is a place where you can enjoy the fruits of the trio's experimentation.
Beers like Temperance, a dope dark mild, or L'Ultima Moda, a perfect Italian pilsner, prove that Wild East is at the vanguard of beer in Brooklyn.
Other Half Brewing Co.
195 Centre Street, Brooklyn, NY 11231 | (212) 564-6065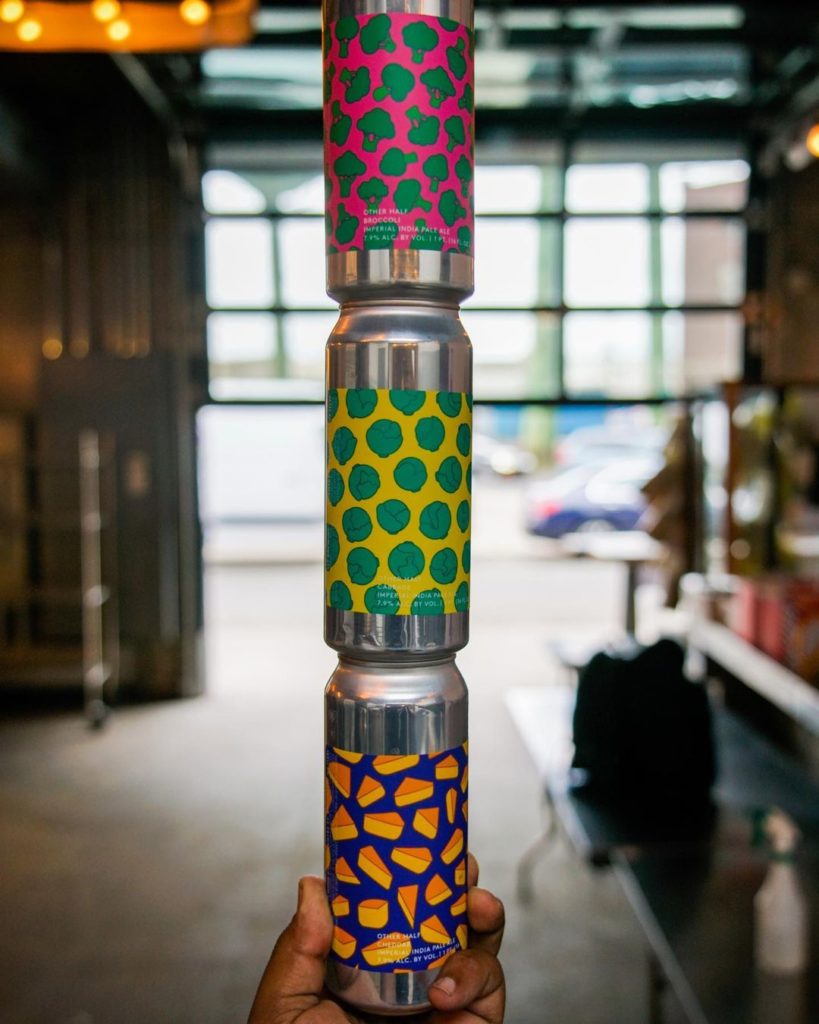 We can't write a piece on the best breweries in Brooklyn without mentioning Other Half. The brewery that arguably made can release lines popular – certainly in New York if not the rest of the country – Other Half continues to roll out the dankest, haughtiest, haziest IPAs on the East Coast. One of which we named to our list of "The 21 Best Beers We Drank in 2021".
In May 2021, Other Half Brewer Breeze Galindo started the Other Half Women's Forum, which organizes panels and conversations around sexism and racism in the industry. Galindo's work caught our attention, earning her a spot on our list of the 10 People to Watch in Craft Beer in 2022.
If you're in Brooklyn, definitely see if you can catch one of Galindo and Other Half's forums. Or stop by the one of three taprooms in the city. The original Brooklyn brewery is in the Gowanus neighborhood, but the brewery opened up a Domino Park location in Williamsburg in the fall of 2020 and a seasonal beer garden at Rockefeller Center in Manhattan in October 2021.
Grimm Artisanal Ales
990 Metropolitan Avenue, Brooklyn, NY 11211 | (718) 564-9767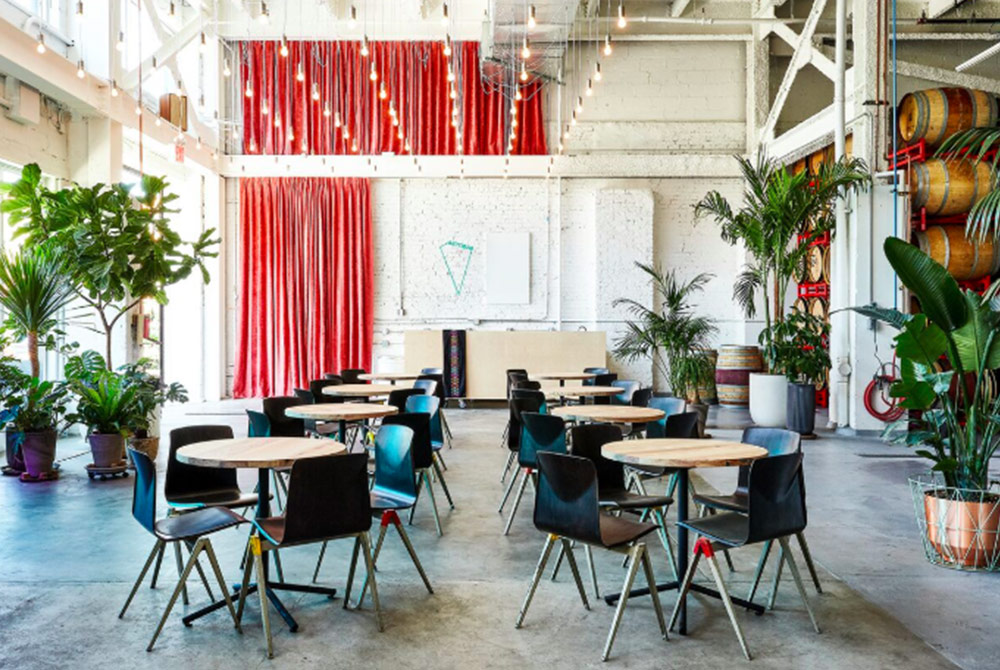 For a long time, Grimm Co-Founders Joe and Lauren Grimm brewed nomadically. But in 2018, the duo finally put down roots on Metropolitan Avenue in the Williamsburg neighborhood of Brooklyn. The gorgeous taproom specializes in elegant Belgian-style beers, stunning sours, and trendy, turbid IPAs.
Those like Cherry Raspberry Pop!, a soda-inspired sour with cherries, raspberries, vanilla, and milk sugar. And Magnetic Cloud, an intensely dank and tropical IPA featuring Southern Hemisphere hops – Motueka and Galaxy – and American ones – Columbus and Mosaic.
Sip your pints amongst chic wooden tables while bathing in the natural light from large windows. Or peruse shelves filled with art books and vinyl records while basking in the abundance of plants. The 7,500 sq-ft space is bright, breezy, and airy, making it the ideal place to spend an afternoon in Brooklyn.
Threes Brewing
333 Douglass Street, Brooklyn, NY 11217 | (718) 568-9673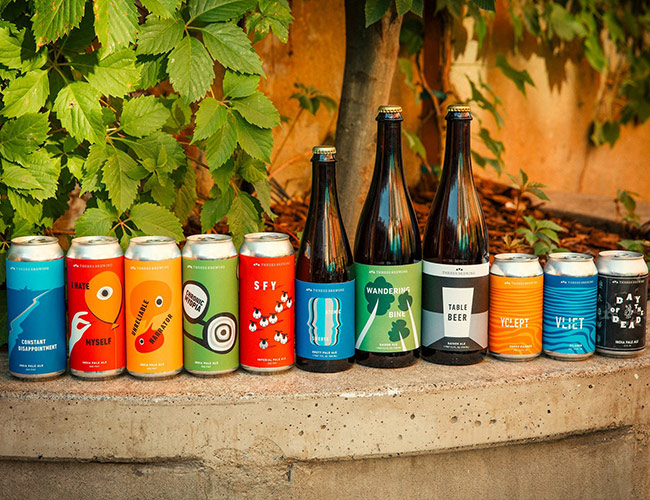 A perennial favorite, Threes Brewing made our list of the best breweries of 2018. Actually, we named it our best brewery of the year. Since then the brewery has continued to wow us with world class beers. From their pilsners, which landed in the top of our blind tasting, to their juicy hazies, and everything in between, Threes gets three cheers from us.
The taproom in the Gowanus neighborhood of Brooklyn is such a great space to hangout. Attached to Ninth Street Espresso and featuring a pop-up food vendor called The Meat Hook, you could spend all day at Threes. Grab a cup of coffee and hang out on their sidewalk seating in the morning. Then enjoy a spicy chicken sandwich or meatball parm from The Meat Hook for lunch before settling into the heated tent in the backyard for a pint of Vliet or a bottle of Passing Time.
Threes is a one-of-a-kind brewery and for us a must-stop if you're in Brooklyn.
Interboro Spirits & Ales
942 Grand Street, Brooklyn, NY 11211 | (877) 843-6545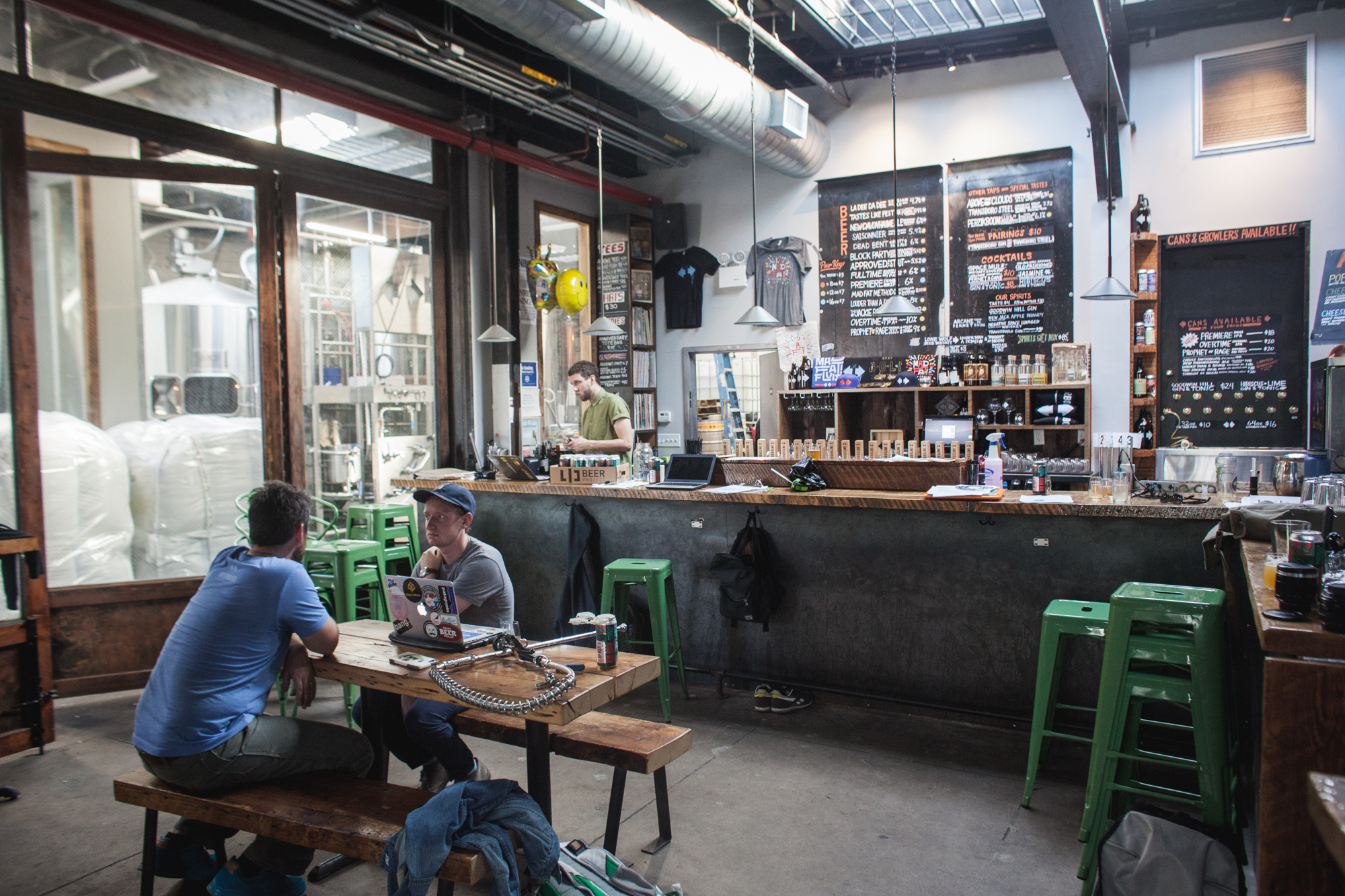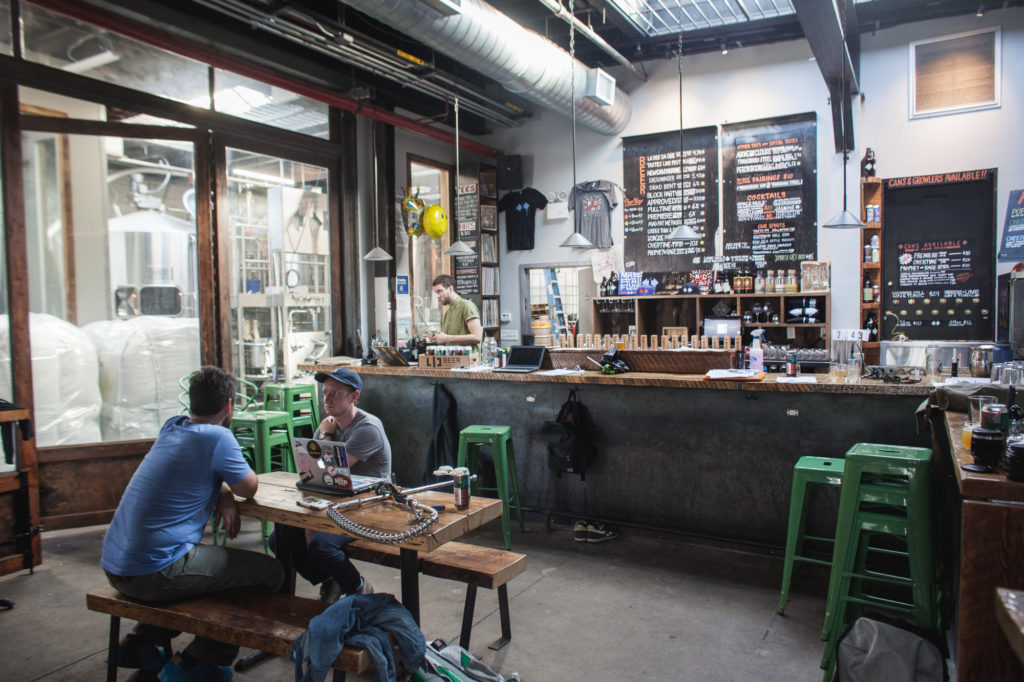 Co-founded by Laura Dierks and Jesse Ferguson, Brooklyn's only combination brewery and distillery became a legend in the New York City beer scene. Perhaps best known for its Stay G-O-L-D collaboration with Run the Jewels (Ferguson used to run independent rap label Def Jux), the brewery/distillery always has something new and different on tap. Whether it's the newly released Imperial Baltic Porter with cardamom collab with Swedish Dugges Bryggeri or the Lexical amaro liqueur.
While Ferguson handles the beer, the distillery portion couldn't have happened without Dierks, who spent years researching the licensing. The combination of spirits and beer creates one of Brooklyn's most unique drinking experiences, making it one of our favorite women-owned businesses in all of New York.
TALEA Beer Co.
87 Richardson St, Brooklyn, NY 11211 | (347) 799-1281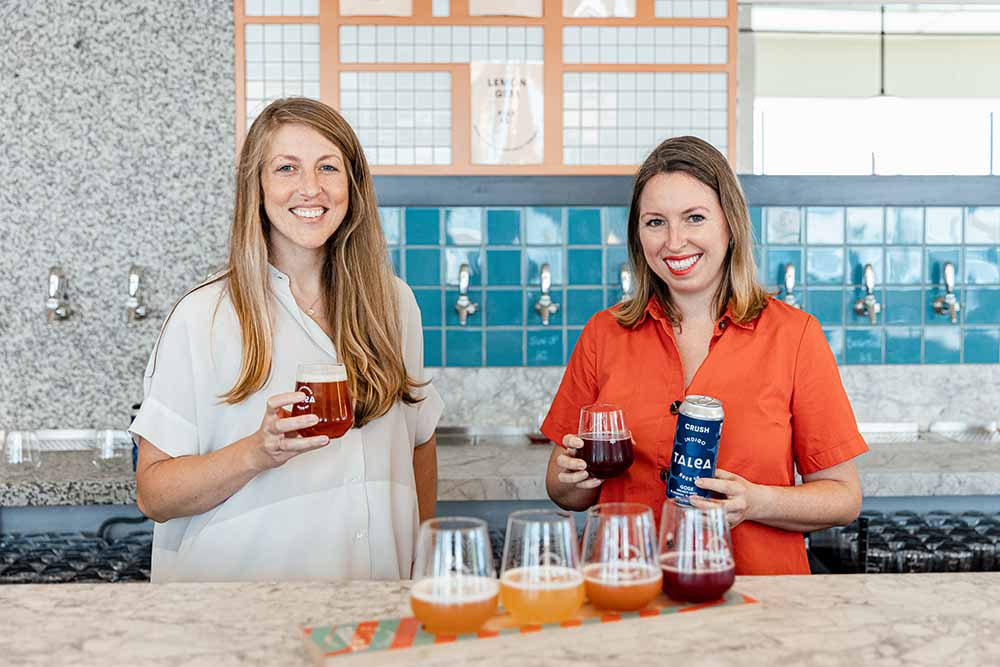 Another standout in the Williamsburg neighborhood, the all-female-owned and veteran-owned TALEA Beer Co. opened a fresh, new taproom last March.
Tara Hankinson and LeAnn Darland of TALEA Beer Co. shared a vision to leave their corporate jobs in tech and media and start a business in craft beer. The dynamic duo officially met while working together at Hopsy, a beer e-commerce startup. Eventually, the two took the plunge together, starting TALEA (a mash-up of their first names – Tara and LeAnn) in 2019.
Hankinson and Darland's desire to market beer that targets non-craft beer drinkers makes TALEA so unique and special. Their hazy IPAs and fruit-forward sours are canned in vibrant, colorful packaging meant to attract all types of consumers regardless of gender.
For that reason Hankinson and Darland have joined us at our women in craft beer festival, Beers With(out) Beards, for the past couple years. And we named them one of our top 40 women-owned breweries in the country.
The pair blew us away with their first dazzling taproom in Brooklyn. According to Darland, the duo has plans to open up a few more spaces around New York, so stay tuned. But in the meantime, get yourself to Williamsburg as soon as possible.
We recommend trying Wheels Up if they have it. TALEA's brewer Ariel (they/them) developed a recipe with oats and lactose for a smooth, silky body, before double dry hopping with Motueka, Nelson Sauvin, and Citra hops. Expect big aromas of gooseberry and ripe guava and flavors of papaya and mango.
Kings County Brewers Collective
381 Troutman Street, Brooklyn, NY 11237 | (929) 409-5040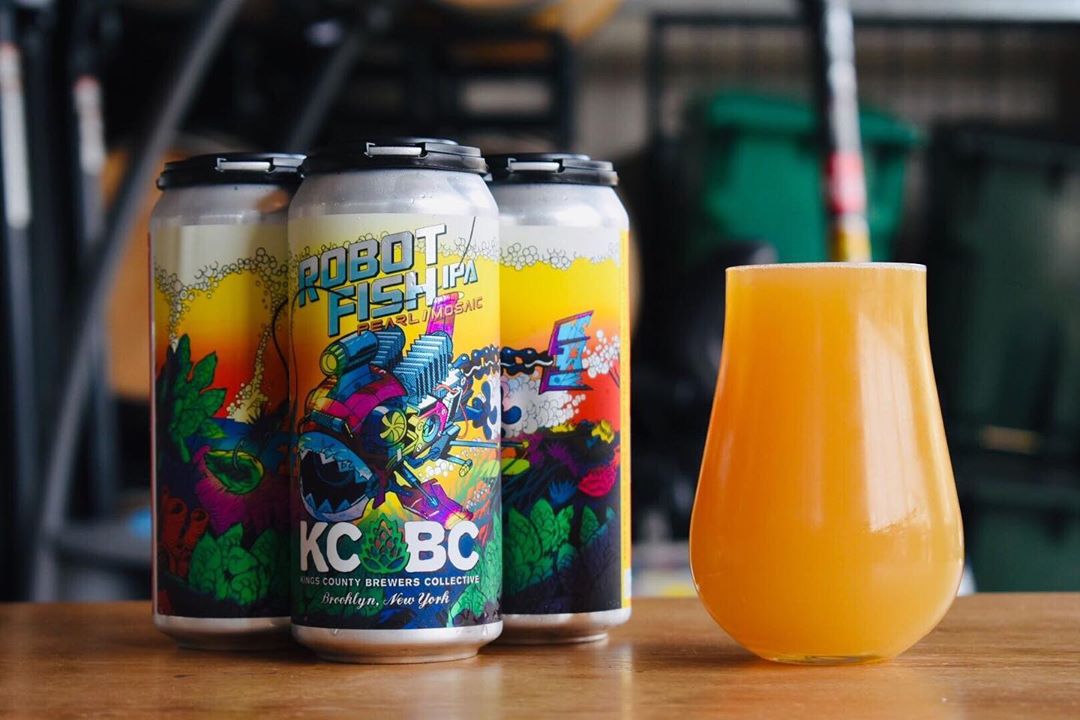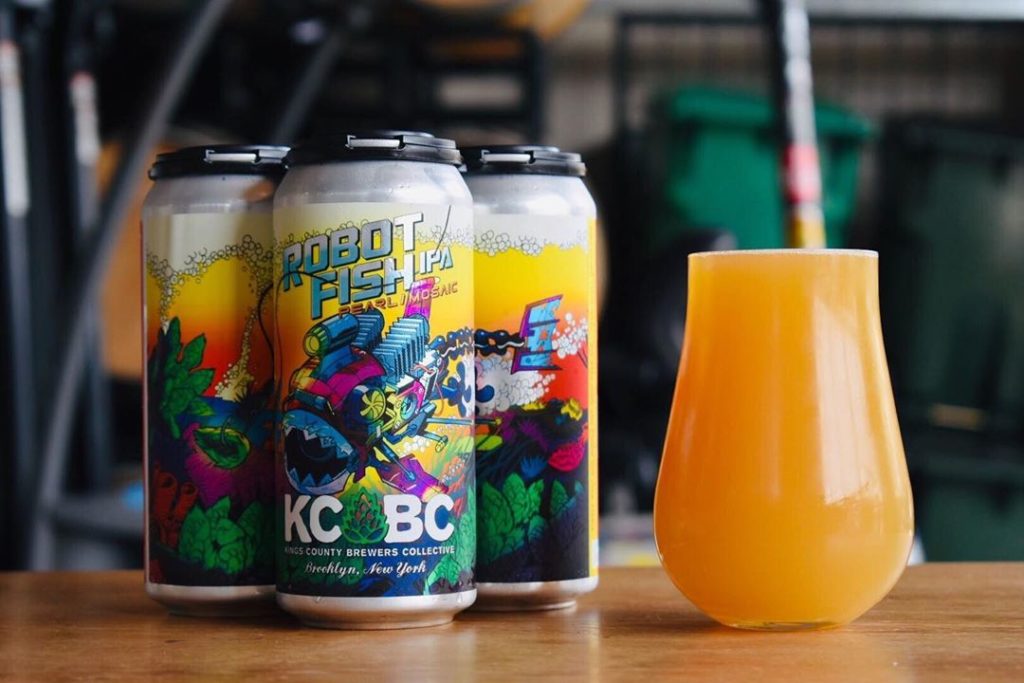 For four decades the Bushwick neighborhood of Brooklyn remained brewery-less. Ironic since at the beginning of the 1900s, Brooklyn was considered the brewing capital of the U.S. with at least forty-five breweries. Of course, Prohibition killed that, forcing many to close. Since the last brewery shut its doors in 1976, none called Bushwick home.
Until the trio of Zack Kinney, Tony Bellis, and Pete Lengyel opened King County Brewers Collective (KCBC) in 2016. And they did so with a bang.
Take a gander at KCBC's Instagram page and you'll find it splashed with cans showcasing explosive graphics of crazy undersea and mythical creatures. Of course it's what's on the inside that counts, and we can guarantee that the beer inside the can is just as incredible as the illustrations outside.
Like Robot Fish, a rotating SMaSH (single malt and single hop) hazy IPA, made with traditional English floor-malted Pearl barley and hand-selected Mosaic hops. We named this beer one of our best hazy IPAs in Brooklyn.
Strong Rope Brewery
547 President St, Brooklyn, NY 11215 | (929) 337-8699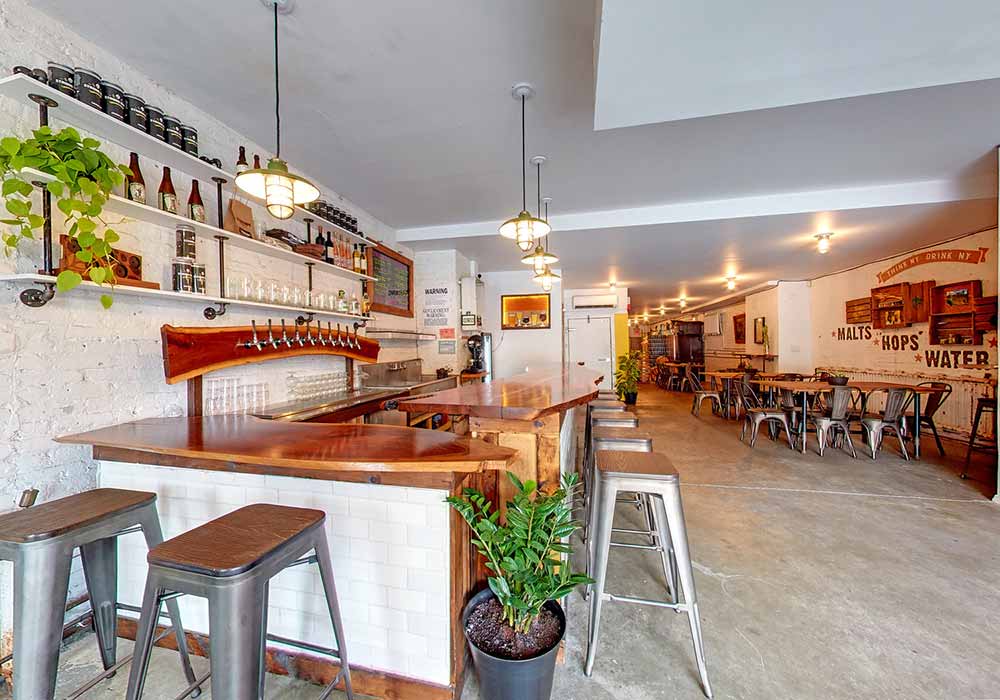 In a world of hazy, West Coast, and American IPAs, Strong Rope has made a name for itself by brewing top-of-the-line British-style ales with 100% New York State hops and malts.
Founded by Jason Sahler and Christina Quintero, Strong Rope stays true to its traditions. And it has paid off. Strong Rope has earned all sorts of local accolades, including SMaSH Beer Competition Winner for Fat Man, Little Stout at NYC Beer Week 2020; a bronze for its Pre-Prohibition Lager, CULLEN, at the Indie Beer Cup 2020; and a gold at TAPNY 2019 for Young Lion of the West Cream Ale, among others.
Transmitter Brewing
141 Flushing Ave, Building 77, Brooklyn, NY 11205 | (646) 378-8529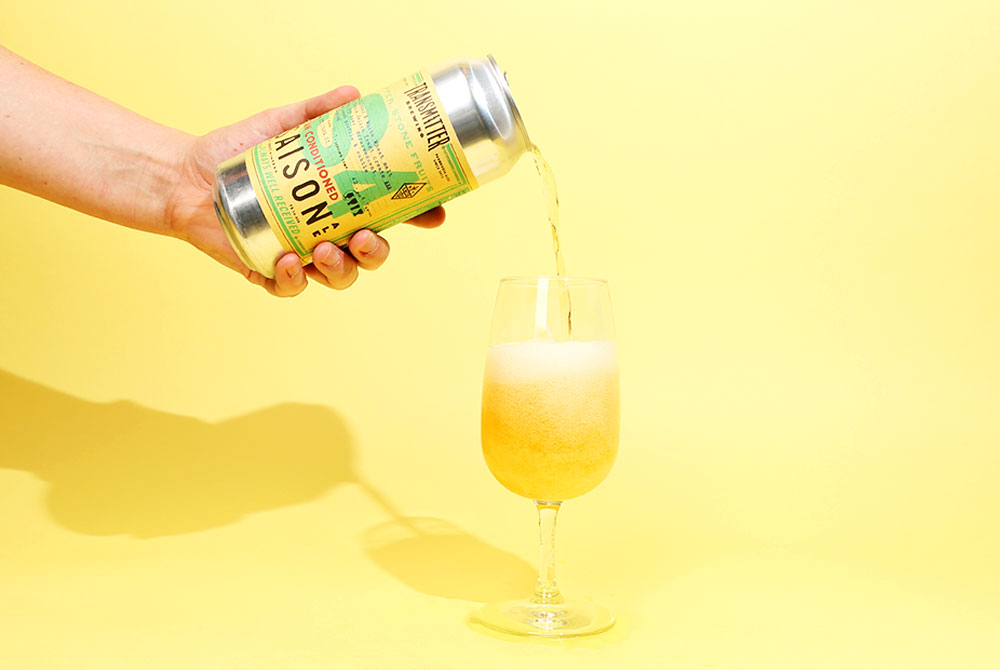 Rob Kolb and Anthony Accardi actually started Transmitter Brewing in Queens in 2014 before opening a new taproom in Brooklyn's Navy Yard Building 77 development in 2019.
With the Queens location now closed, the Brooklyn taproom has become the number-one spot to enjoy the duo's fantastic Belgian- and French-style farmhouse ales.
To understand just how focused these two are on their beers, you should know that they secured over twenty isolated strains of Brettanomyces, Lactobacillus, and Pediococcus, as well as a brewhouse library of traditional Belgian, French, English, and American yeasts. It's just that extra attention to detail that has made Transmitter beers the cream of the crop.
Those like F6, a dry mixed-culture farmhouse ale brewed with flaked corn and fermented with Saccharomyces and Brettanomyces. Or G1, a Belgian-style golden ale hopped with Hallertau Blanc.
Circa Brewing Co.
141 Lawrence St, Brooklyn, NY 11201 | (718) 858-0055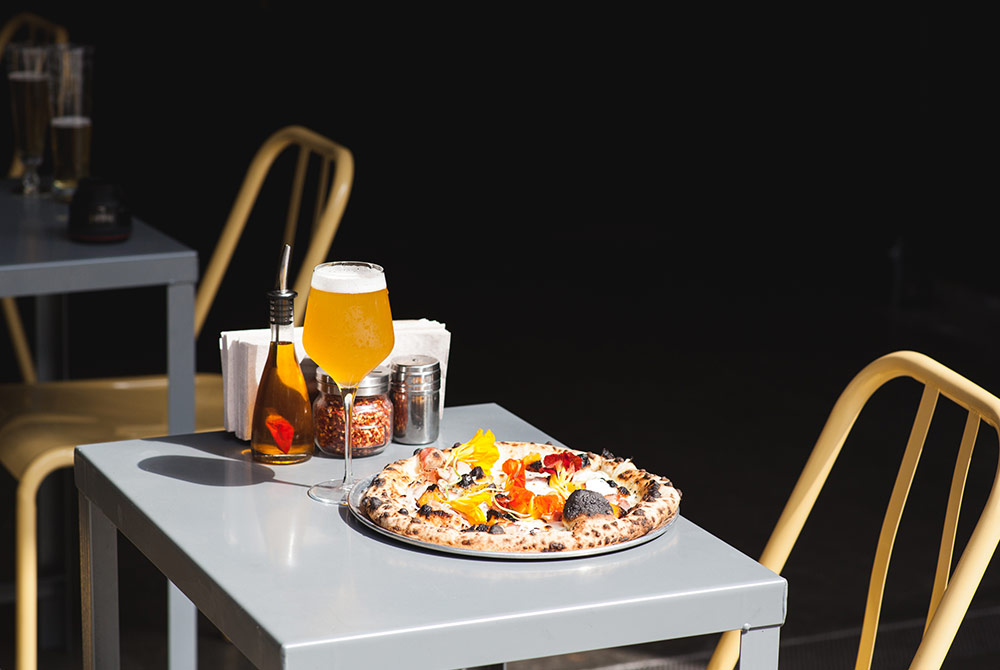 To understand Circa Brewing Co., you only need to hear these two words: pizza and beer. The 6,000 sq-ft brewpub operates a 7-bbl brewhouse while whipping up top-notch neapolitan-style pizzas in the heart of downtown Brooklyn.
We're talking about brick-oven-fired pizzas like the Heirloom with roasted garlic, fontina, fresh mozzarella and cherry tomatoes paired with a Regulate steam beer. Or the '85 Firebird with chipotle barbecue sauce, chicken, pickled onions, and mozzarella alongside a Death or Glory hazy IPA.
Again – pizza and beer. That's all you need to know.
Honorable Mention
Back Home Beer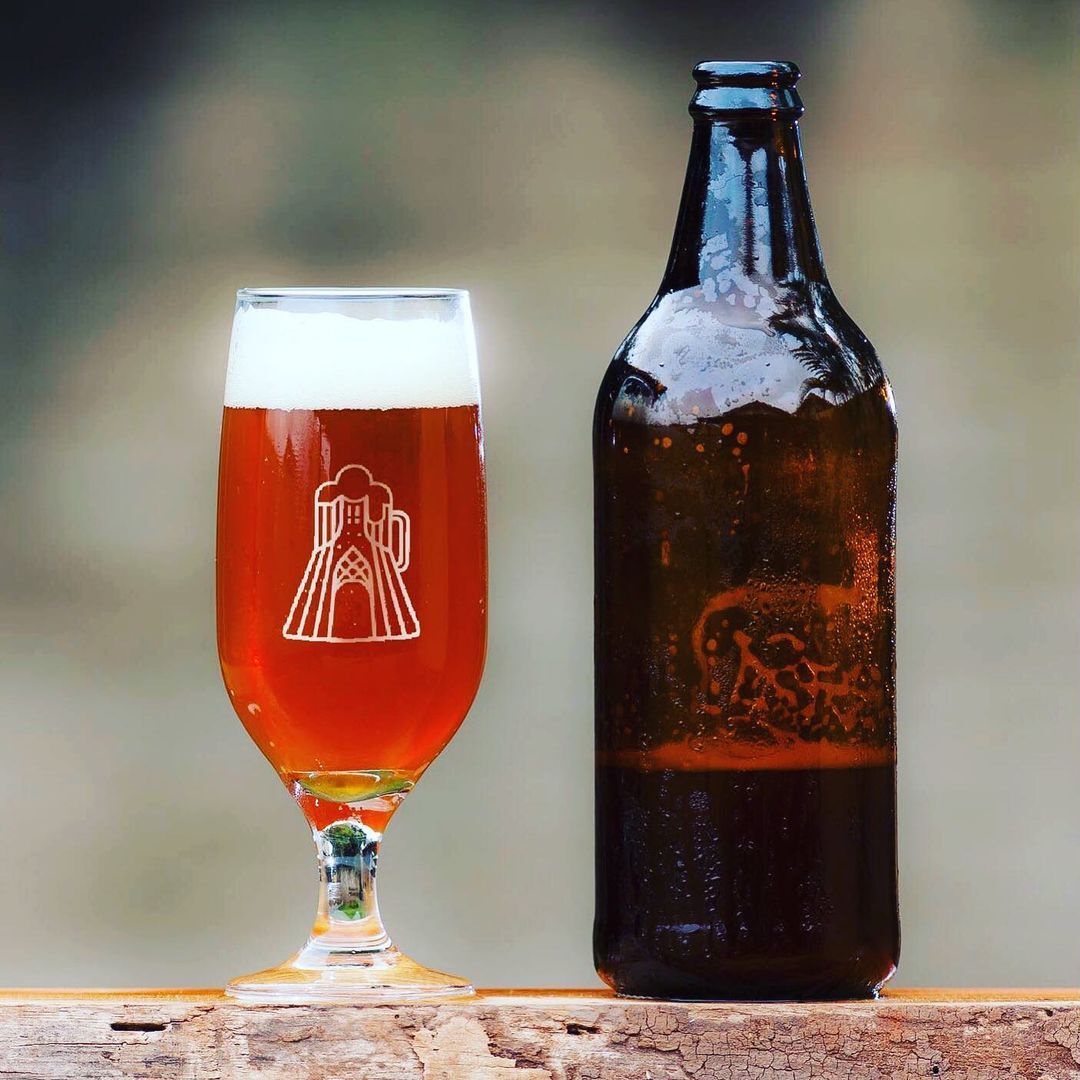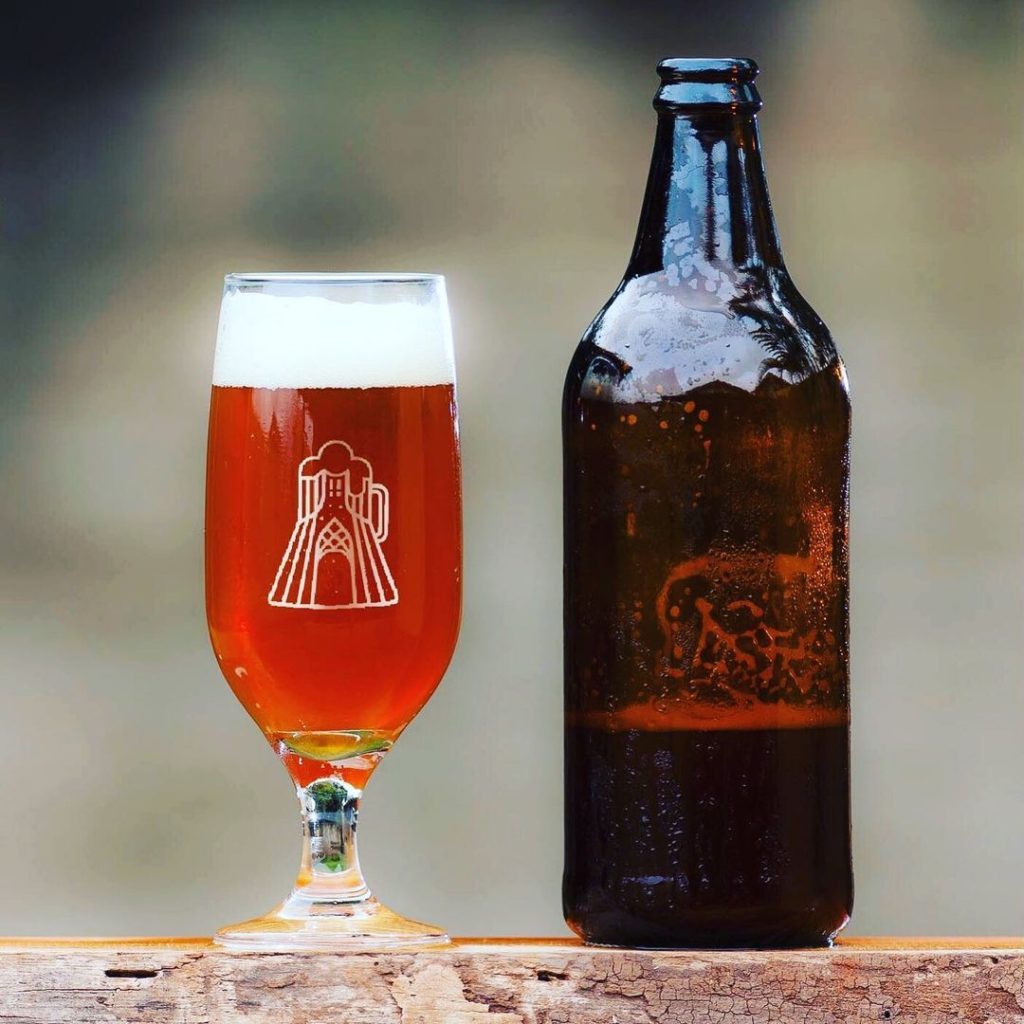 Zahra Tabatabai hasn't been brewing long, but she's already making waves in Brooklyn. The founder of Iranian- and female-owned Back Home Beer, Tabatabai brings a unique background to craft, focusing on flavors and art from Iran and the Middle East.
Tabatabai, the daughter of Iranian immigrants whose grandfather homebrewed in Iran in the 1950s and '60s, started Back Home Beer to share the rich history of brewing in Iran. From the beginning, Tabatabai started homebrewing her grandfather's old recipes. He used a lot of ingredients from his garden in Shiraz, Iran: sumac, salt, barberries, and dried limes.
In the fall of 2021, Back Home dropped their first cans in New York City. The 4.2% ABV Sumac Gose was cured with sumac, tart cherry, and blue salt. At the time of publication, it held a coveted 4.18 out of 5 on Untappd. Tabatabai chose to release her Sumac Gose first because all of those unique ingredients tell a distinct story.
Drinkers have responded to her narrative. Tabatabai's Sumac Gose debuted in mid-October to rave fanfare. It sold out from the shelves of many accounts within just a few hours.
Currently contract brewing, Back Home Beer doesn't quite have a brick-and-mortar to call its own yet, but we're so impressed with Tabatabai's dedication to stay true to her roots.
In 2021, many breweries seem to think that "innovation" involves throwing as many cookies as possible into the mash tun. But thoughtful brewers like Tabatabai find creativity by looking at their heritage. We'll definitely be keeping an eye on what Tabatabai comes up with next.
Brooklyn Kura
68 34th St, Brooklyn, NY 11232 | (347) 766-1601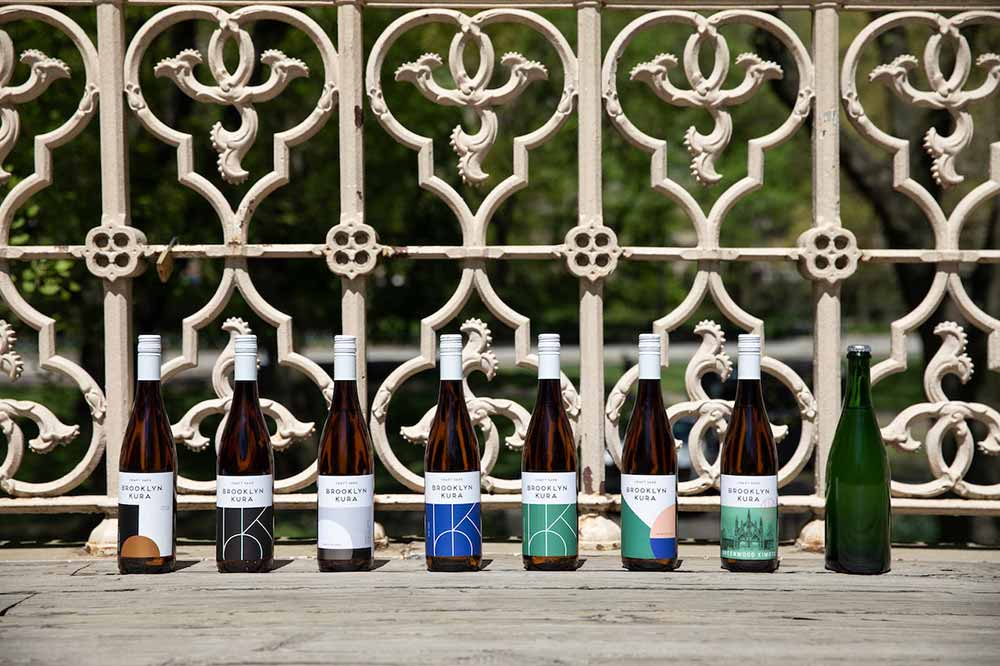 Beer isn't the only fermented drink on the planet. Take sake for example, a fermented rice drink with over 1,000 years of history in Japan.
Brooklyn Kura brought the traditional Japanese beverage to the East Coast when it opened in 2018. New York State's first sake brewery found a home in Industry City, a repurposed industrial complex in Brooklyn's Sunset Park Neighborhood.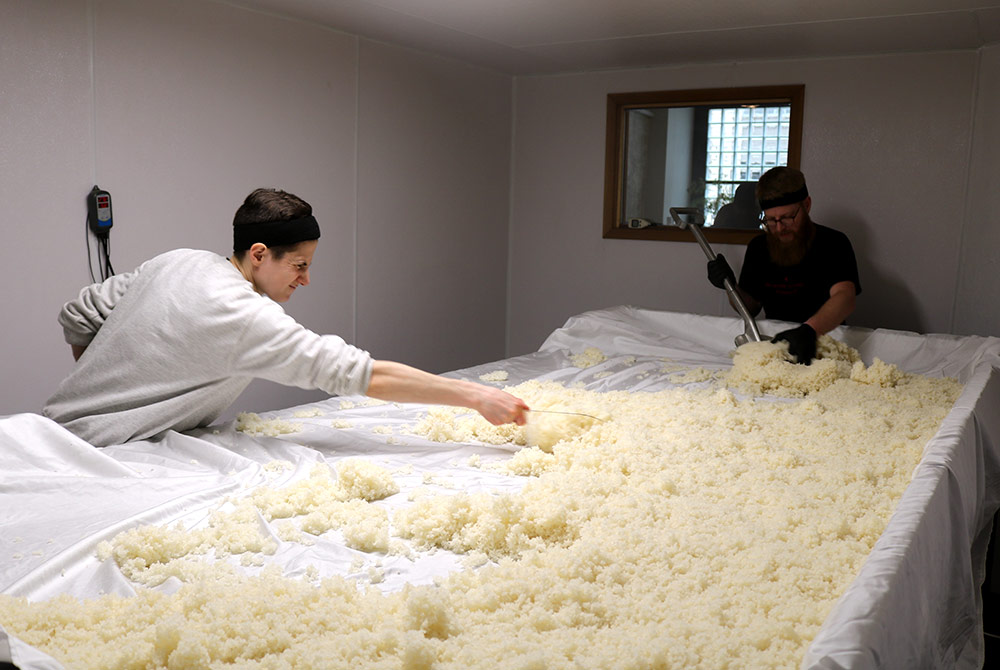 There is an incredible amount of work that goes into making sake (I should know; I tried it once at Brooklyn Kura), so you can be sure that when you drink one of Brooklyn Kura's bottles of sake you are getting a phenomenal sake.
Stop into Brooklyn Kura if you're looking to try something adventurous and new.