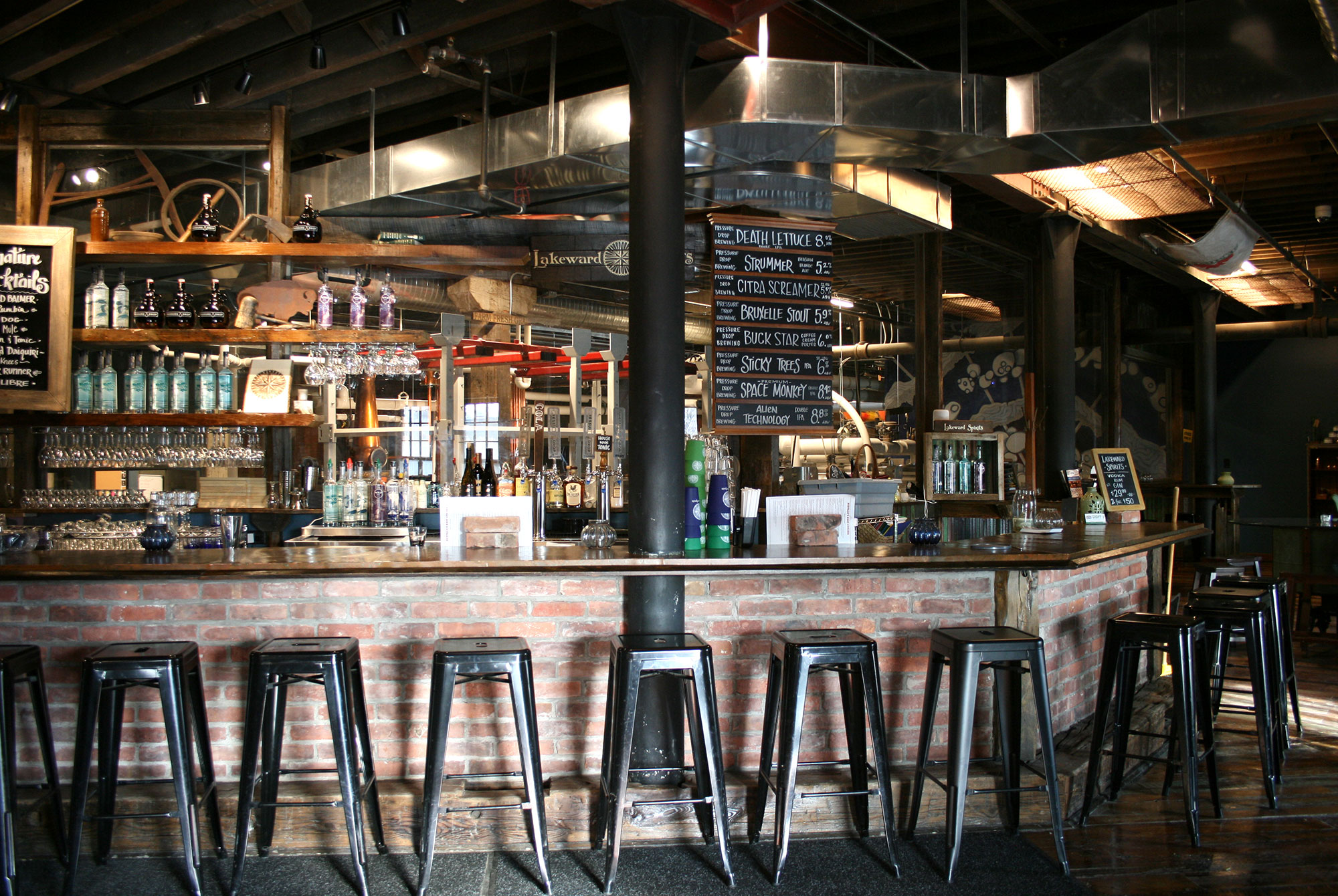 Have you herd? The beer scene in Buffalo, New York, has boomed in recent years, a suds stampede led by an interesting and diverse crop of young breweries producing supremely delicious IPAs, imperial stouts, barrel-aged sours, and more, with something for every drinker, traditionalists and adventure-seekers alike. Many of these beer makers are housed in former warehouses and factories across the city, which is experiencing a bona fide renaissance after decades of decline, like other once-thriving industrial centers.
Brewing is helping revitalize and reshape today's Buffalo, but the industry has a rich history locally; before Prohibition, the city boasted as many as 41 breweries. Most of the dozen or so current producers have opened in just the last few years, and several have already completed or are in the midst of large expansion projects. Still, many don't distribute outside Western New York, so your best chance to taste the sauce—and what place knows more about sauce than Buffalo?—is at the source.
If you're an out-of-towner, you might not recognize some of the brewers leading the charge. We recommend you plan a visit to where they roam for a taste.
Big Ditch Brewing Company
55 East Huron Street | 716-854-5050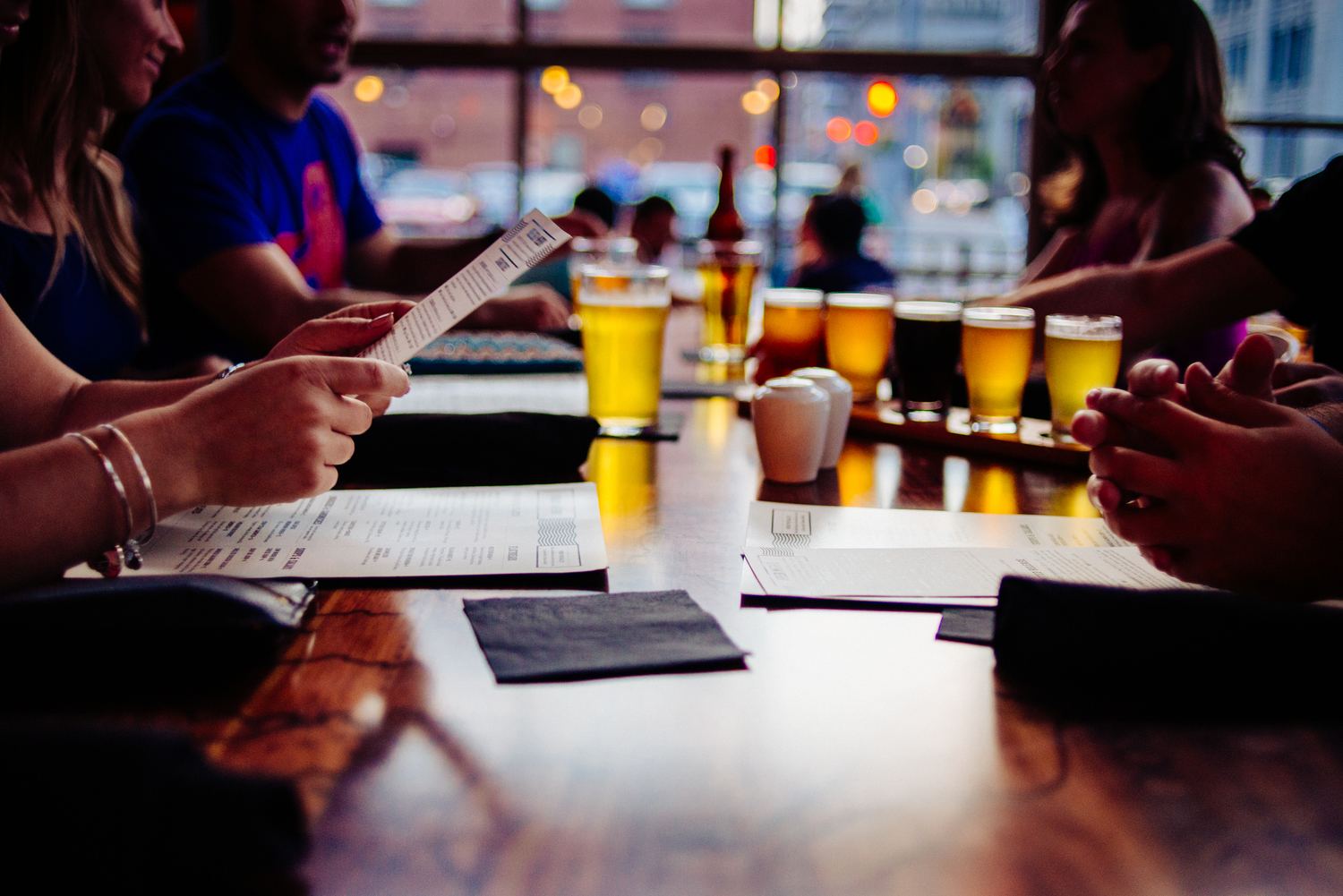 A past winner of the best craft brewery award at TAP New York, the state's largest and longest-running beer festival, Big Ditch pays homage to the Erie Canal. The brewery, which opened downtown in 2014, has built its foundation on well-executed beers referencing the historic commercial waterway that forever altered the trajectory of Buffalo and offered the first direct connection between the Atlantic and the Great Lakes, thus opening up America to westward expansion. This includes the Low Bridge golden ale; Excavator, a brown ale with rye; and Hayburner, an award-winning IPA that accounts for 70 percent of total production from the 20-barrel operation (its success has spawned several variants, including one with an obscene amount of Citra hops).
A high-ceilinged, two-level taproom and restaurant serves these year-round offerings alongside seasonal brews (for winter, Fresh Baked) and limited-edition liquids like the Detour and Lock series of barrel-aged imperial stouts and IPAs, respectively, in a casual atmosphere. When the weather's fine, the glass garage doors open onto Ellicott Street.
Community Beer Works
520 7th Avenue | 716-759-4677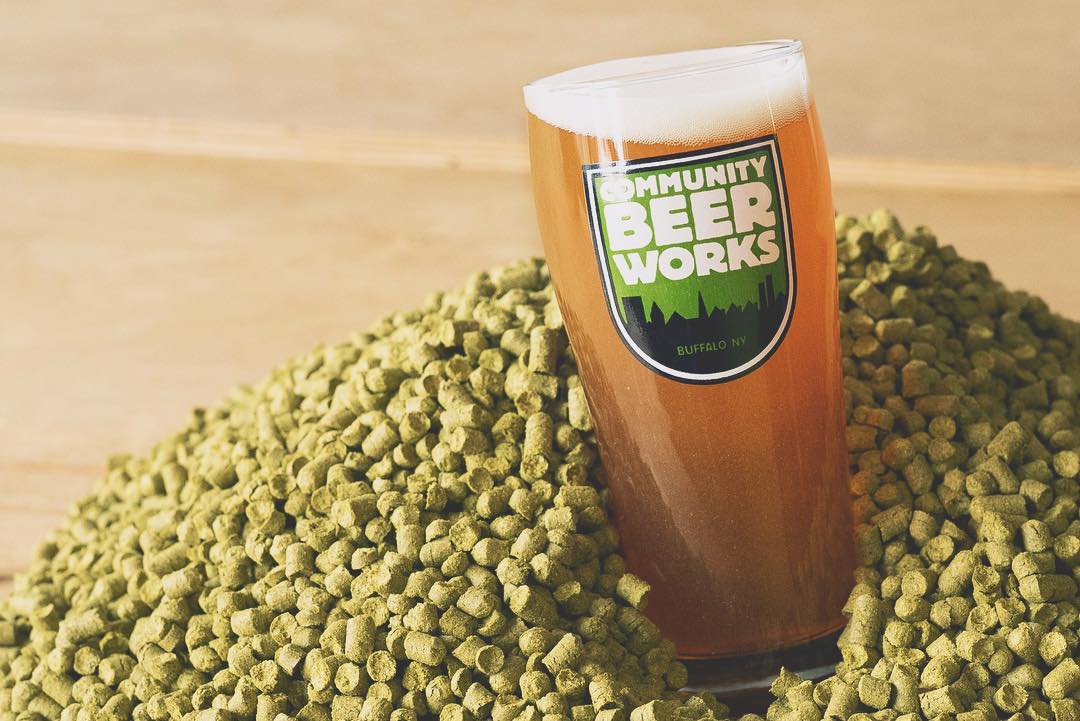 An early player in Buffalo's brewing renaissance, Community Beer Works opened in 2012, the first producer to do so since Flying Bison in 2000. It started humbly, in a small industrial space with a 1.5-barrel brewhouse, but has since grown to include a second, larger location, added last fall, in the rapidly developing West Side neighborhood, adjacent to a building once owned by the Schaeffer Malting Co. (The original Lafayette Avenue facility remains in operation, but is closed to the public.) On the production side, a 20-barrel system will increase total volume this year to 5,000 barrels, and there's enough space to expand to 20,000 barrels. This means more of core beers like the citrusy Frank pale ale and award-winning Whale brown ale—it took the Governor's Cup, for best beer in the state, at 2017's Tap New York—and limited releases such as Bang the 'Uey, a New England-style IPA.
Since day one, the company's mission has been twofold: Create well-executed beers for Buffalo's drinkers and provide a community space to enjoy them in. The sleek 7,000-square-foot brewery, with a taproom offering chicken and waffles and fried cheese curds, succeeds in both. Our advice: Fill a glass with the latest Singularity single-hop IPA and sip it in the open-air courtyard. After, hit the game room for some pinball. But don't forget to leave with some fresh cans.
Thin Man Brewery
492 Elmwood Avenue | 716-923-4100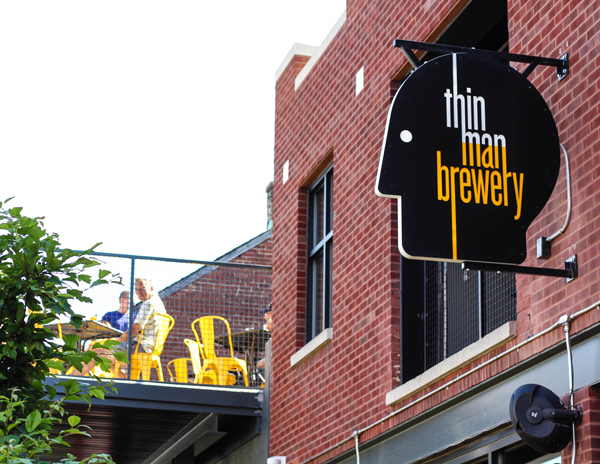 Thin Man may be the brewery in Buffalo's bunch that most fills the Instagram feeds of beer fans, and for good reason. Since opening in the Elmwood Village neighborhood in the fall of 2016—one of the four partners is Mike Shatzel, who owned the beloved Blue Monk bar—it has collaborated on standout beers with several brewers in the industry's vanguard, including Pure Project, Aslin, 3 Sons, and Collective Arts. Solo-produced brews such as Trial by Wombat, a hazy IPA hopped solely with the Galaxy variety, and the Take Precaution imperial stout, are equally excellent. Cans for cultish releases like these are snapped up by diehards quickly, which explains why Thin Man, whose brewing duties are run by Rudy Watkins, a founder of Community Beer Works, is about to get noticeably fatter.
In the coming months, it plans to open a second brewery and taproom, in the Black Rock section. The facility will house a 30-barrel brewhouse and a canning line, with a portion of the 35,000-square-foot space dedicated to barrel aging. For now, you can visit the original location, which has a 240-seat restaurant and two bars offering 24 perpetually rotating taps, some occupied by outside brewers.
SATO Brewpub
110 Pearl Street | 716-248-1436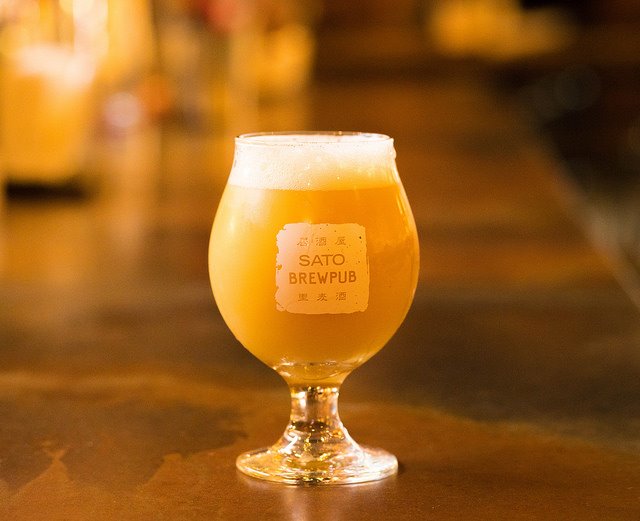 Perhaps the most excitingly original beers in Buffalo come from Satomi and Joshua Smith's third Japanese restaurant, a casual yet chic izakaya-style spot with a brewery. It's tucked in the brick-lined basement of the stunning Dun Building downtown, a few hundred feet from the Pearl Street Grill & Brewery. Andrew Hardin, who began his career at Community Beer Works, makes memorable beers meant to complement the satisfying range of delicious small plates coming out of the kitchen, such as takoyaki (octopus balls), deep-fried skewers, okonomiyaki fries, and karaage fried chicken. He does so on a small 1.5-barrel system visible behind glass, providing a window on the world of hands-on brewing, utilizing Japanese ingredients like yuzu and soba buckwheat, in combination with hops grown in nearby Niagara County. Standouts include the Rabbit in the Moon, a take on table beer touched with green tea; Shudo-In, a Belgian-style dubbel dosed with persimmon juice; and Bento cream ale, made with white miso.
Resurgence Brewing Company
1250 Niagara Street | 716-381-9868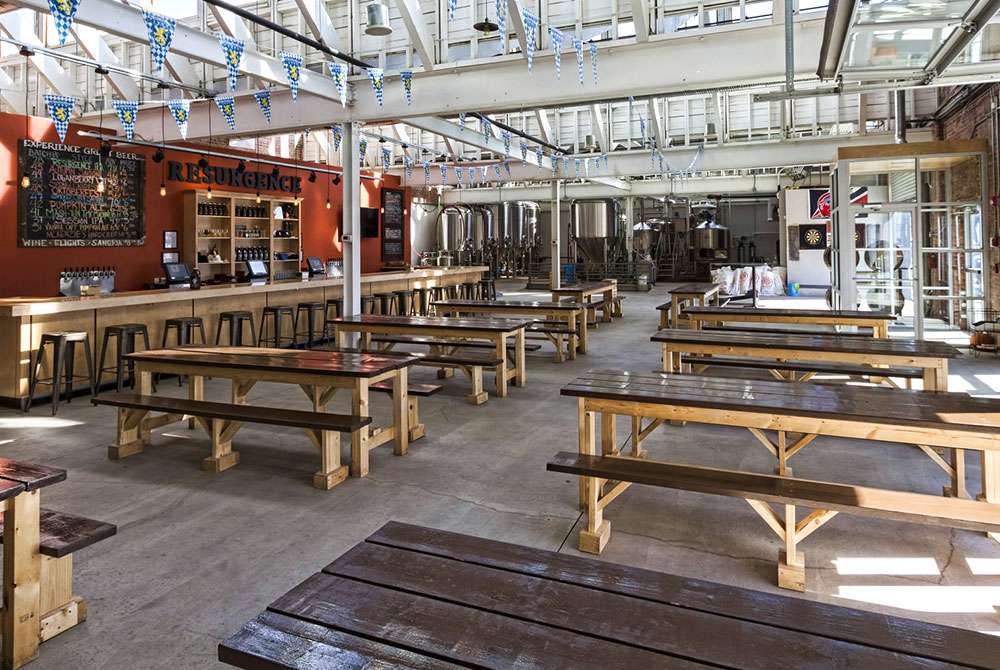 After working in sales for Boston Beer Company in New York City, Jeff Ware left his Queens apartment and returned home to the Queen City to open Resurgence in 2014 in an old warehouse in the West Side. Garage doors and skylights invite lots of natural light into the sprawling taproom with communal tables (though the outdoor patio is the place to tip back on a pleasant day), better for when a giant Jenga tower is in the balance, and a chalkboard above the long birchwood bar lists what's on tap. Look for a witbier laced with loganberries; the Sponge Candy stout, starring the adored local confection (the several special-edition variants are worth soaking up, too); and the hazy double IPA, Head in the Clouds. There is also the Ice Boom Bock and the Cucumber Saison, both of which bagged bronze medals at 2017's Best of Craft Beer Awards. Operating at a production threshold of 3,000 barrels, the company plans to open a second, larger brewery and taproom this summer, in the Old First Ward neighborhood. When the 25,000-square-foot facility does, the original location will transition to a playground for producing experimental beers.
Pressure Drop Brewing
65 Vandalia Street | 716-848-9942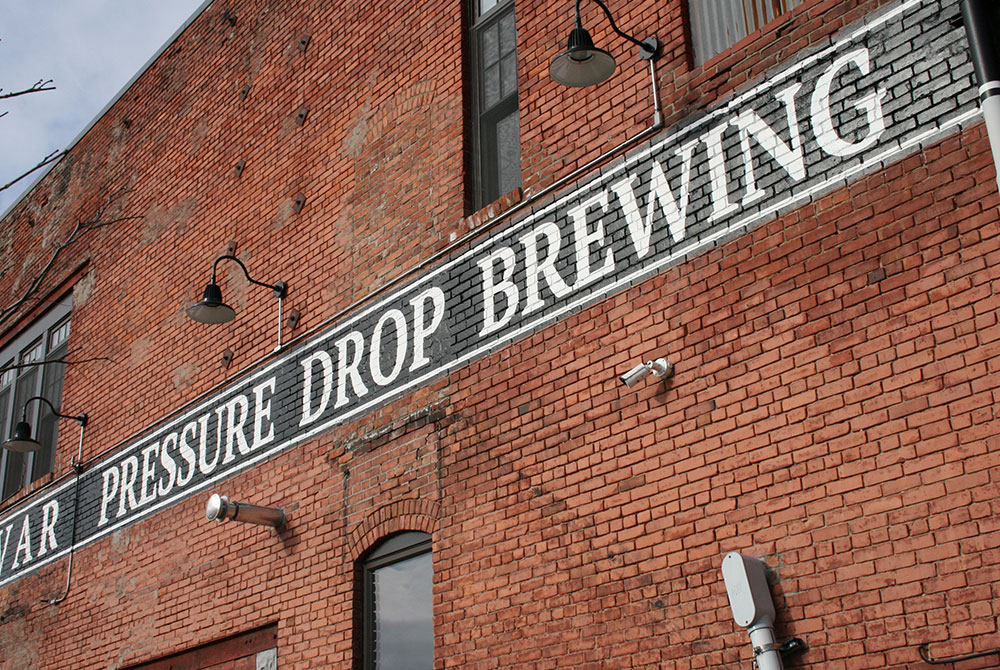 Karl Kolbe, a Buffalo native, spent almost a decade living and brewing in California, first snagging a few medals in amateur competitions before turning pro with Knee Deep. In late 2017, Kolbe returned home to open Pressure Drop inside The Barrel Factory, a lovingly restored 115-year-old historic factory in the Old First Ward. (The building sits across the street from the longstanding Gene McCarthy's pub, which houses Old First Ward Brewing. Pro tip: Try the on-point hefeweizen.) Unsurprisingly, Kolbe's focuses lean left of the map, on well-bittered West Coast-style IPAs and double IPAs you can see through like Sticky Trees and Space Monkey. But fret not, fans of the New England sub-genre: Dank Sinatra, a double dry hopped IPA brewed in collaboration with Knee Deep, is soft as a fresh snowfall, foggier than a Phish concert. Whatever your taste for hops, get your fix of Pressure's offerings in the rustic taproom, heavy on wood and warm bartenders, shared with another Barrel Factory tenant, the Lakeward Spirits distillery.
Flying Bison Brewing Company
840 Seneca Street | 716-873-1557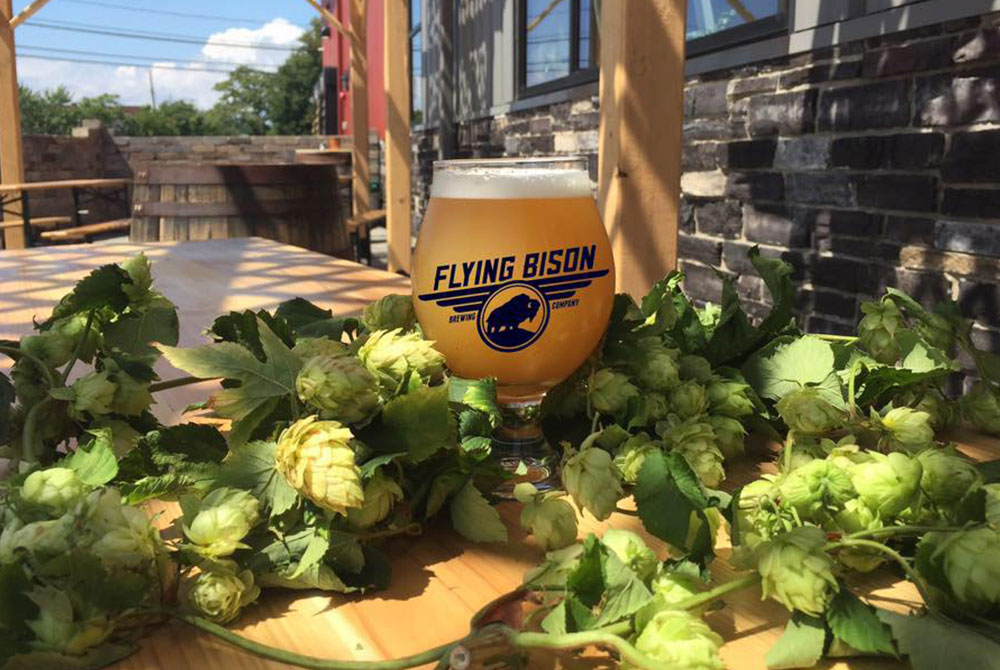 The granddad of Buffalo's craft breweries, Flying Bison opened in 2000 and was the first to do so in the city since the Iroquois Brewing Company closed in 1972. It's helmed by Tim Herzog, who has over 30 years of brewing experience and covers many of the basics. You'll find brews like the toffee-tinged Rusty Chain, an amber lager-ale hybrid; the smooth Blackbird Stout, made with oats; and the cloudy and citrusy Juice Caboose, a New England-style IPA. The taproom is open for drinking Wednesday through Saturday, and tours and tastings are offered.
Liked this article? Sign up for our newsletter to get the best craft beer writing on the web delivered straight to your inbox.