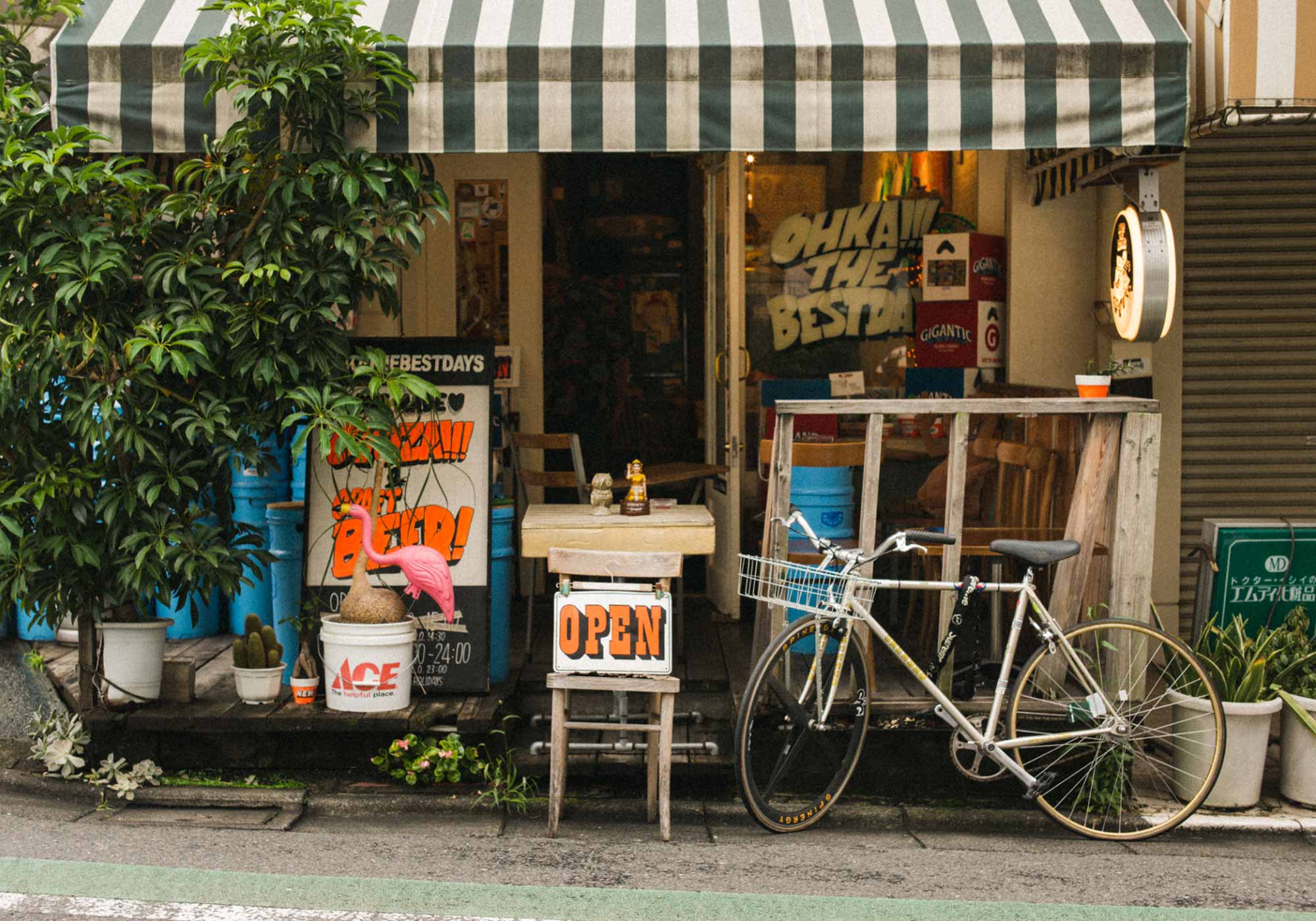 Photography courtesy of Ohka the Best Days
When Hop Culture Founder Kenny Gould spent two weeks in Japan in 2019, he came back regaling the country's whiskey producers. But the best breweries in Tokyo? Or for that matter craft beer at all?
Well, this industry in Japan hasn't reached the same heights as in America. In fact, while you can purchase the equipment, it's technically still illegal to homebrew anything over 1% ABV.
Without a steady stream of homebrewers looking to open their own place or a demand for ingredients and equipment, craft beer in Japan has sort of slowly plodded along.
"Craft beer is still very young here," says Hamilton Shields, Mikkeller Tokyo's manager and partner, who has been compiling his own Google Map of the best spots to drink craft beer in the city. "One of the strong things about Japan bar culture and craft beer culture is there are these little places and that's where it shines, where the owners personality really comes out."
Places like Two Fingers, a maybe fifteen-seat, nine-tap craft beer pub in the Ikebukuro neighborhood of Tokyo. "It has been a steady growth," says Two Fingers Australian Co-Founder Stefan Lovell of craft beer in Japan. "I wouldn't say it exploded like in the States or back home in Australia, but I think that's been a good thing."
For Lovell, the slower growth has meant that the places that do open have put a lot of care, craft, and consideration into their business model.
So when my wife, Stacey, and I visited Japan a couple weeks ago, I was eager to seek out these maybe not straight-up breweries, per se, but rather incredible (and incredibly tiny) hideaways, pubs, and craft beer bars filling their nooks and crannies with sought-after bottles and taps. And of course, we found a few breweries too.
While in Tokyo I found my favorite places to drink, but I'm also supplementing this list with a few Gould wrote about during his travels in a previous article.
Together we've put together a great list of spots to satiate your thirst while in Tokyo. In America, we say cheers. But in Japan, you say kanpai (かんぱい).
No matter how you toast, here are the fifteen best craft breweries and bars to visit in Tokyo, Japan.
The Best Craft Beer Bars in Tokyo, Japan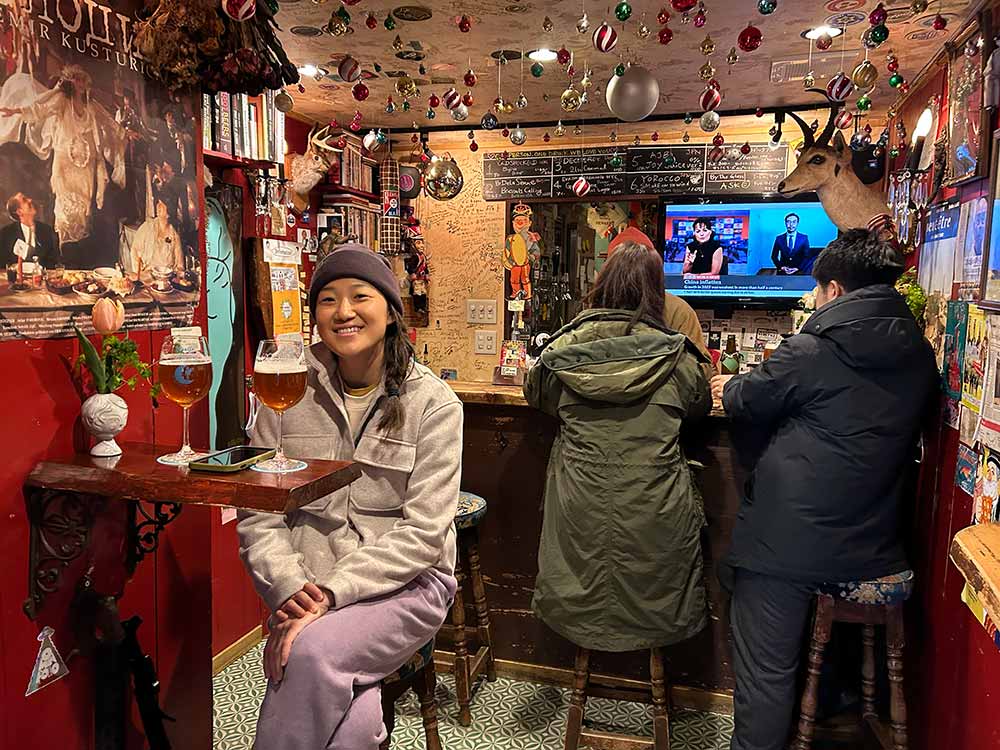 Pigalle
2 Chome-15-8 Taishido, Setagaya City, Tokyo 154-0004, Japan | (+81) 3-6805-2455
Labeled as "absolutely essential" by Shields, Pigalle is a distinctly Japanese bar that offers six taps and over seventy bottled options.
"Pigalle is incredible," he says, mentioning that this tiny five-seat pub is the perfect example of where Japanese bar culture really shines.
Why?
First, there's the husband-wife owners—Hide and Chie Yamada, who liberally practice the concept of omotenashi, the "correct" way to treat a guest. When Stacey and I visited on a snowy and rainy Thursday that meant coming outside to greet us, showing us where to stow our umbrella, and ushering us into the quirky, yet comforting space.
Once Chie realized our Japanese didn't extend much beyond ordering a couple beers, she ran down the menu for us in English. And then left us to mull over the options and take in our surroundings.
An eclectic mix of Japanese movie posters, portraits, flyers, framed prints, and ornaments hanging from the ceiling, Pigalle has this ephemera-chic kind of vibe.
Then there's the beer. When we visited Hide and Chie had five beers on from around the world, including Morland Old Speckled Hen, an ESB from Greene King in Suffolk, England, Greenhouse Imperial Lager form Evil Twin Brewing in New York City, Brussels Calling Belgian IPA from Brasserie de la Senne in Belgium, Joy Juice IPA from AJB Co. in Nagano, Japan, and Smoke On the Wind saison from Yorocco Beer in Kamakura, Japan.
Stacey and I both went for the latter. Light smokiness from the house smoked malt gave this saison a drier finish with notes of banana, bubblegum, and cranberry.
Located in Sangenjaya, just southwest of Shibuya, the bar is a bit outside any major neighborhoods and you'll have to navigate down a small side street to find it. But don't let the bar's small size fool you. Pigalle's impeccable hospitality and curated draft list make for a friendly and intimate drinking experience you won't soon forget.
Two Fingers
Japan, 〒171-0014 Tokyo, Toshima City, Ikebukuro, 3 Chome−54−2 アーバンベルメゾン 101号室 | (+81) 3-6882-4300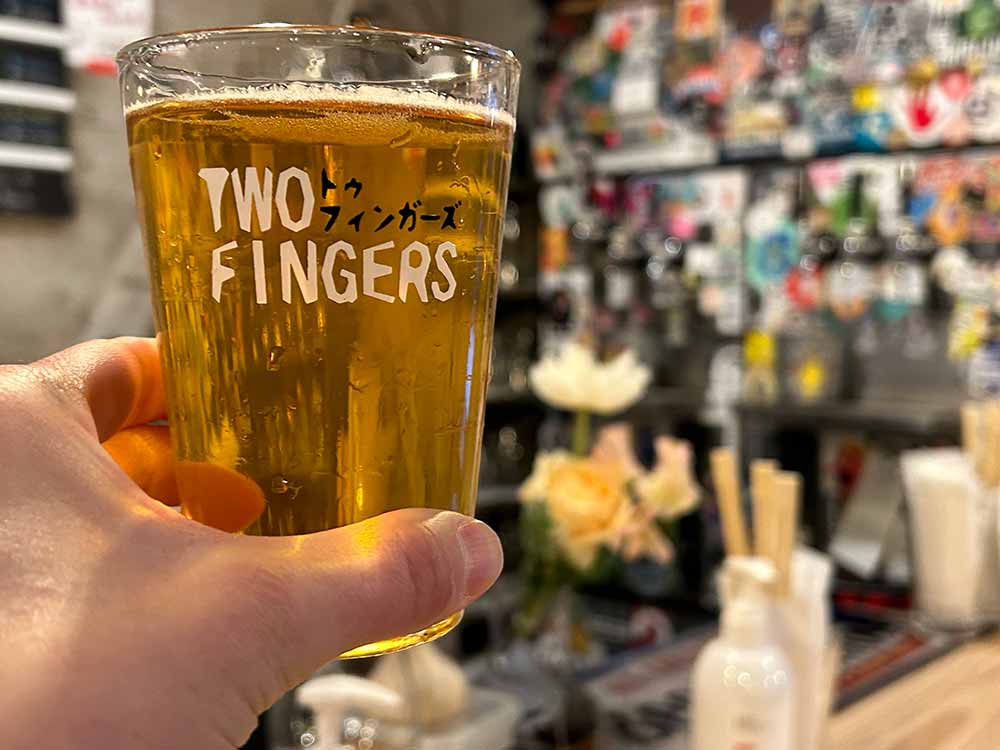 Before starting this fifteen-seat pub in northwestern Ikebukuro, Australian Lovell and his Japanese partner Naoko Sumiya (together known as Stef and Nao) ran the beer geek Instagram account @sekainobeer.
The two actually first bumped into each other at Mikkeller Tokyo. Ten years ago there weren't that many Japanese craft beer bloggers and IG personalities so the two started meeting up every Thursday to go drink craft beer.
And in 2019, they opened up Two Fingers together, where the couple's humble IG beginnings live on.
The name Two Fingers? It's an inside joke. "When we were doing Instagram we always tried to take good photos of beer and as I'm trying to take a photo [Nao[ would photobomb it with her middle finger and I would do the same thing to her photos," laughs Lovell. "People would know, oh, that's Stefan's finger."
The double act now has plenty of pictures to post, as their nine taps at Two Fingers serve a variety of pale ales, saisons, porters, stouts, and sours from local breweries they know and trust.
"It's basically what we want to drink," Lovell told us when we visited.
Luckily for us, when we stopped by, Two Fingers had just celebrated its fourth anniversary. So I had the chance to try a unique collab the pub made with Inkhorn Brewing, a nearby Japanese brewery.
Although Lovell described Aphex Wing as a West Coast IPA he also told me that they used a lager yeast fermented at warmer temperatures. Along the lines of a Cold IPA, Aphex Wing tasted delicious. Leveraging Galaxy hops (of course, because Lovell is from Australia) grown in the front of Two Fingers, this IPA arrived clear, but drank more like a hazy—super juicy, fresh, not too bitter, with notes of passionfruit, guava, pineapple, and mango. The clean, dry finish from the lager yeast, helped me down that half pour quicker than I thought.
"Even though it's dry it doesn't feel like a lager or an IPL; it feels like an IPA," says Lovell. "Its taste has a white wine grape fruitness to it. It's a really interesting project; We're really happy with it."
Overall, Lovell told us that the philosophy at Two Fingers is to have fun. "It sounds stupid, but we like people who like beer, who enjoying drinking beer," he says. "I want it to be a fun experience. Whether you like the beer or don't like the beer everyone's tastes are different, but as long as you're enjoying yourself."
Although the bar only opened in 2019, Two Fingers has thrived on the knowledge and passion that Lovell and Sumiya bring to their small project. This craft beer bar is an easy choice for any wandering traveler.
Ohka The Best Days
Higashiyama, 2 Chome−4−8, Meguro-ku, Tōkyō-to 153-0043, Japan | (+81) 3-5708-5873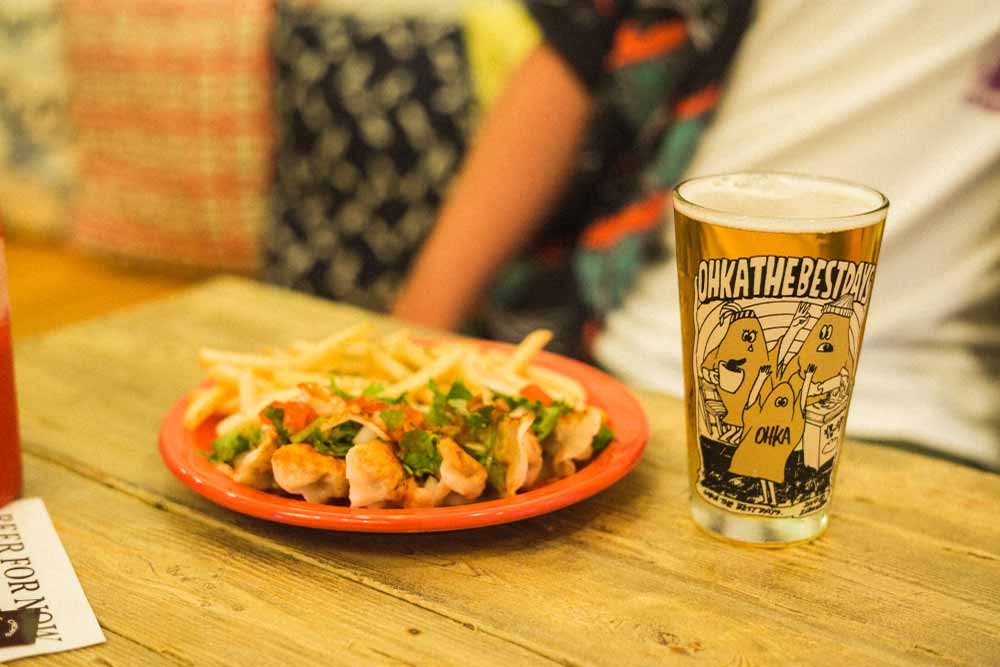 Before the river got cleaned up, Naka-Meguro (commonly called "Nakame" by locals) was a place for the young and hip. Now, only a few remnants of the storied time survive in this upscale residential neighborhood. One of them is Ohka the Best Days, a craft beer bar that serves homemade gyōza.
"They're great and the gyoza is so good there," Shields told us.
Although we ventured out on a rainy night to grab some beer and gyoza, Ohka was curiously closed. So while we disappointingly didn't get a chance to actually sit down and drink in this pub, the good vibes that both Shields and Lovell gave us about Ohka should be enough for you to seek it out too.
Mikkeller Bar Tokyo
2 Chome-19-11 Dogenzaka, Shibuya City, Tokyo 150-0043, Japan | (+81) 3-6427-0793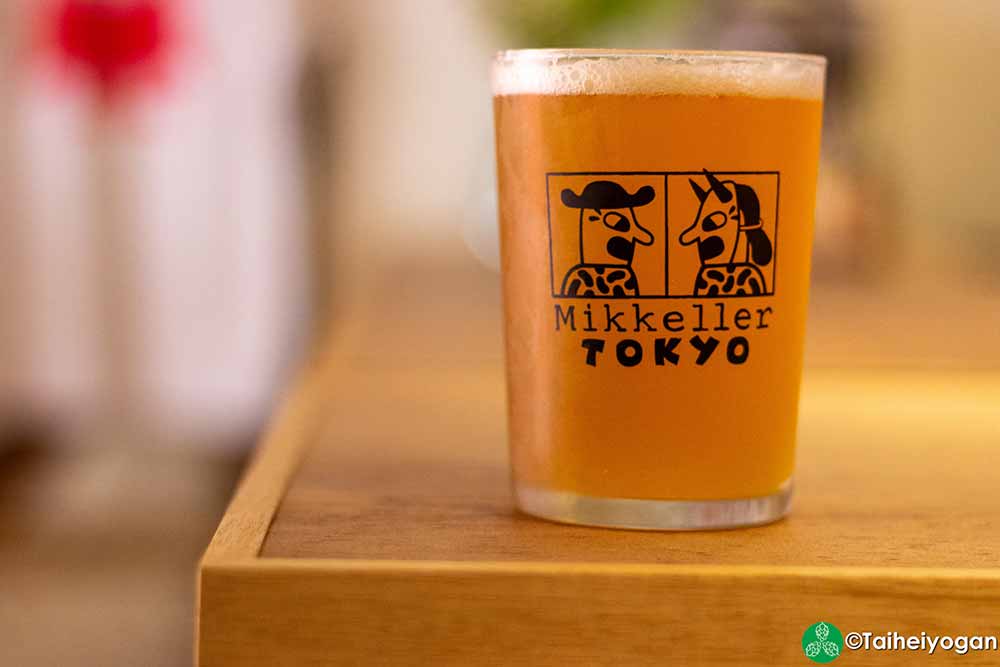 Mikkeller actually has three locations in Tokyo—the original taproom, Mikkeller Kanda, which opened in 2020 and offers smash burgers and beers, and the Kiosk. This corner spot attached to a hotel designed by Danisuko Motagi opened in April 2022. Called Kiosk because the location will eventually serve beer to go from its beautifully fabricated fridge, the bar also has places to sit and enjoy fresh pulls from a variety of taps along with coffee from a partner roaster that shares the space called Onibus Coffee.
Despite some shinier toys in the sandbox, Shields emphatically recommends going to the OG taproom if you only have time to stop at one.
Located off the beaten path in Shibuya's back streets, the twenty taps of Mikkeller Tokyo are as strange as the neighborhood, which includes a love hotel, sex shop, and shrine.
The OG Mikkeller bar opened in the area when prostitution and other entertainments were still prevalent. But over time the craft beer pub helped revive the neighborhood, bringing back business for a lot of the older generation shops.
"People waiting for the restaurants next door now hang out in the bar and people come grab them for the restaurant which is not so normal in Japan," says Shields. "It's been cool to push for that."
The pub itself "It's more like a cocktail bar with people standing around having beers, having a good time, and hitting on each other," laughs Shields. "Lots of Tinder dates."
Many of the available beers are rare releases from the eponymous Danish brewery. I guess we can't technically call this one of the best breweries in Tokyo, but it is a common watering hole for expats and tourists and an easy place for a lone traveler to make new friends. Or even go on a date.
Bar Martha
1 Chome-22-23 Ebisu, Shibuya City, Tokyo 150-0013 | 03-3441-5055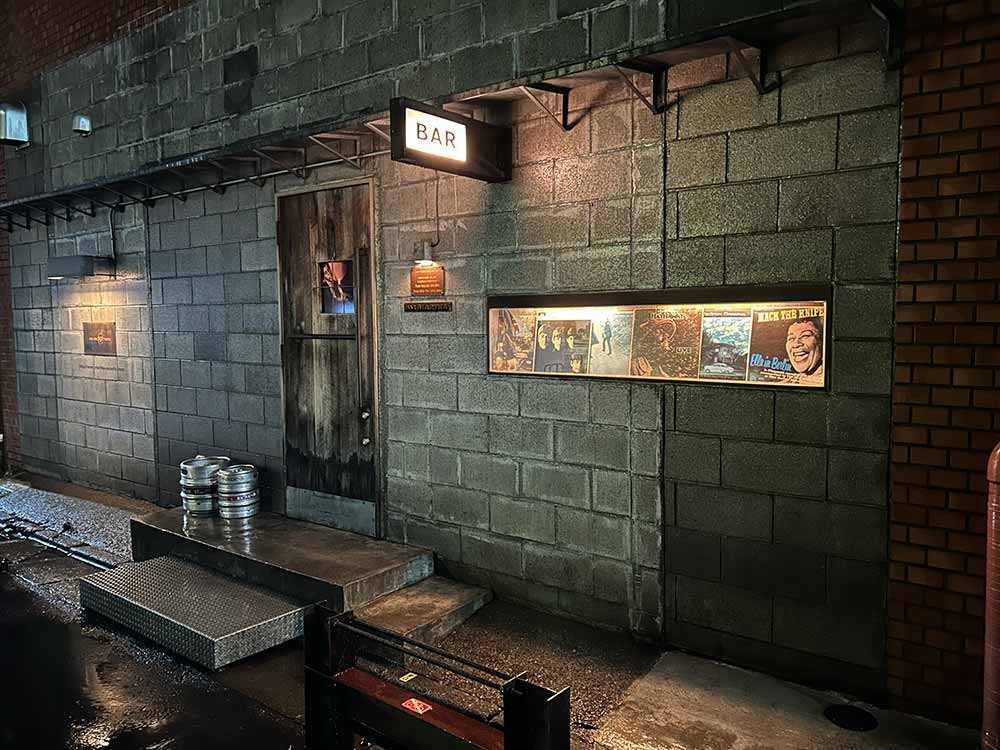 Bar Martha is quite possibly the best bar I've ever been to.
Consider a listening bar, Bar Martha captures a mystique in Tokyo that first popped up after World War Two. These days listening bars have been replicated the world over, but you won't find a place like Bar Martha anywhere else.
They don't allow photos inside and usually frown upon talking. Although at 8:30pm on a Friday night there were definitely couples quietly conversing, adding to the din.
But by far and away, it was the music that permeated the entire place.
Once your eyes adjust they'll rove past two men chipping ice into perfect balls, behind warmly glowing Edison bulbs, and over the ombre of whiskey bottles stacked meticulously on shelves behind the bar to a corner of what we estimated to be 2000 records.
Presiding over it all, a man dressed simple in jeans and a white T-shirt with thin-framed glasses pushed back into salt and pepper hair. That's Wataru Fukuyama, the casually cool owner switching out records like he's nonchalantly spinning plates in the air.
Fukuyama bends your ears, catering the tunes to the vibe of the crowd.
Those closest to him sit alone quietly sipping on two fingers of whisky, packs of cigarettes laid out in front of them like decks of cards, heads slightly cocked to the side and eyelids half drawn almost as if in a trance.
Just simply listening
Farther away from the vestibule of vinyl couples chatted.
You'll probably want to order some of the hard stuff here. A quick glance around and we saw everyone fingering tumblers of brown liquid or cocktails of some sort.
But much like everything else in this place, the beer is also meticulously poured.
You'll have two choices—Yebisu, a premium lager from Sapporo, and Guinness.
As the bartender poured my Irish dry stout, tilting the glass about halfway at 45 degrees from the branded nitro tap before setting it to cascade openly on the bar, a couple walked in.
He must have been a big shot because a clear bottle of shiny gold liquid magically appeared at his seat before their coats even came off. His big square-suited shoulders belied a hearty yet surprisingly high-pitched laugh as he gruffly greeted the staff.
Afterwards the bartender returned to tend my Guinness finishing the pull straight down this time till it foamed over frothing like a bubble bath.
As soon as he set the glass down in front of me…the older man four seats over ordered one, then gentle Mr. Hulk next to me asked for one too.
It was perhaps the greatest moment of my beer-loving life. To see two macho men who may have never even touched a Guinness in their lives, follow my lead.
Everything in Bar Martha had a place. Bottles were put back exactly where they'd been taken from. People walked with fluid practiced movements. The music expertly tailored to who was in the bar at a given time.
Even the bar snacks—sesame sticks and peanuts, corn puffs, chocolate crisps that looked like espresso beans, sweet banana chips and wasabi peas—were perfect accompaniments.
Oh and did I mention the beers were poured perfectly.
Like I said in the beginning, just the most incredible bar I've ever been too. One I never wanted to leave.
Popeye
Japan, 〒130-0026 Tokyo, Sumida City, Ryogoku, 2 Chome−18−7 ハイツ両国駅前 102 | (+81) 3-6805-2455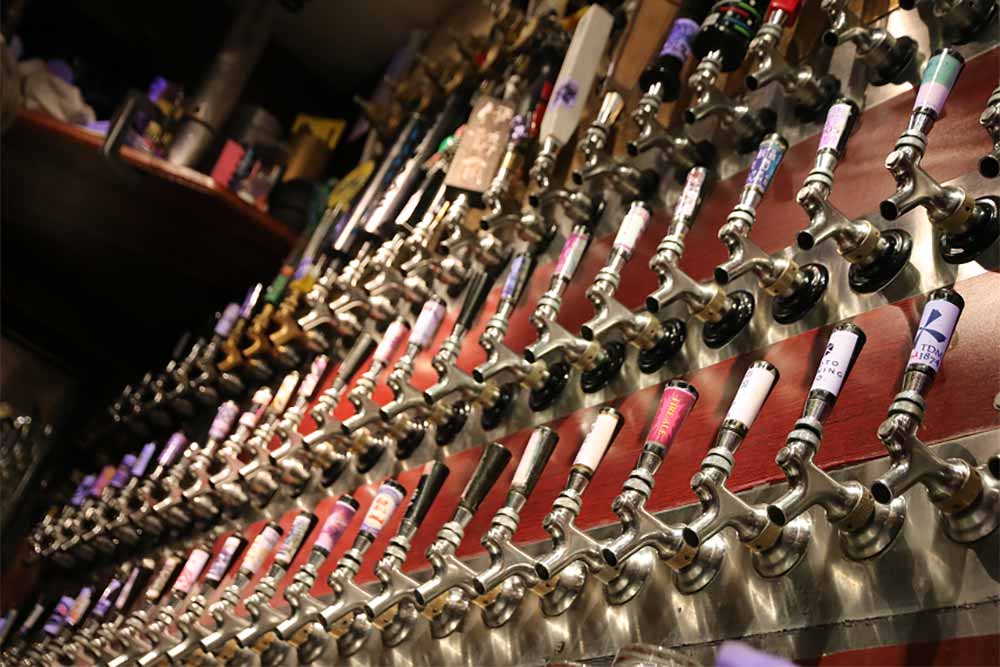 Popeye has been recognized as one of the go-to craft beer destinations in the city. With over one hundred beers on tap, Popeye really takes care of its pints.
If the Popeye cartoon character ate spinach to gain strength, then the Popeye craft beer bar lets you drink pint after pint to power up.
And most of them focus on Japanese breweries, meaning you can visit Popeye in an afternoon and travel around the country all through a few glasses.
To show you how serious Popeye feels about beer, they planned to host a Cask Condition Festival the Sunday after we left.
Watering Hole
Japan, 〒151-0051 Tokyo, Shibuya City, Sendagaya, 5 Chome−26−5 代々木シティホームズ 103 | (+81) 3-6380-6115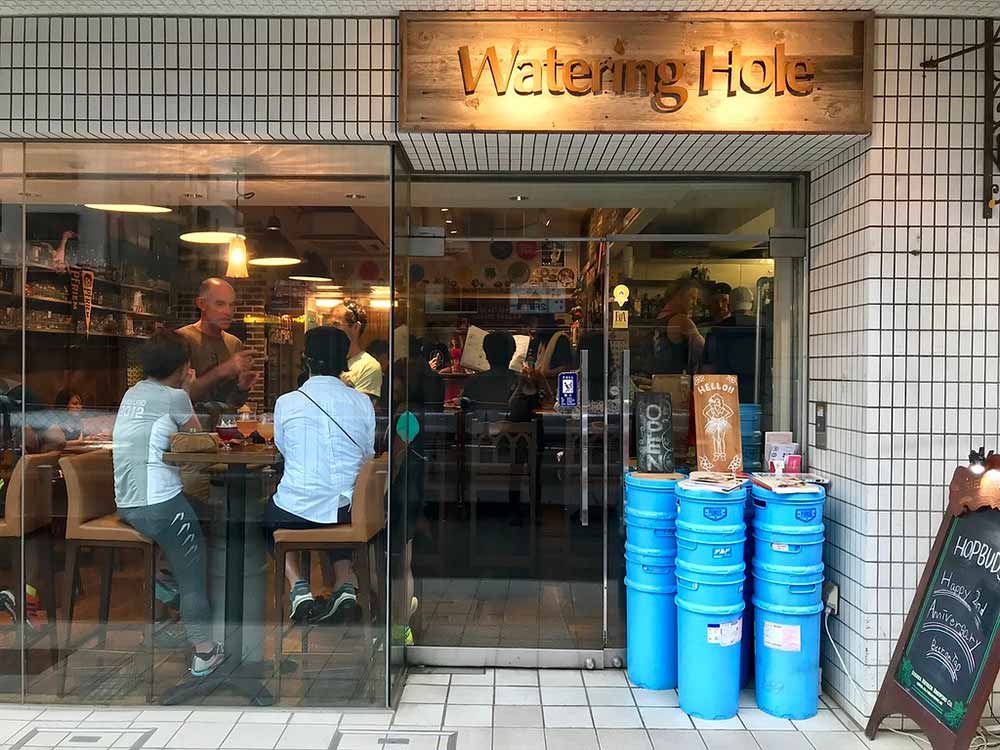 Here's the thing about craft beer in Japan: You need to seek it out. That often means that the places you do find are small, hidden away, tucked into nondescript buildings, or off-the-beaten track, per se.
But that makes them all the more worth discovering. Because you know if you do that, inside you'll find folks like yourself who have made the journey just to plop down on a stool and drink a cold one.
That's Watering Hole. It's all in the name, for goodness sakes!
Started by award-winning brewer Ichiri Fujiura, this tiny watering hole near Shinjuku Gyoen National Garden has a pretty robust draft list with a mix of Japanese and non-Japanese drafts.
If possible, try to snag one of Fujiura's own creations; he has his own nano-brewery in Watering Hole.
Brussels Beer Project Shinjuku
2 Chome-20-16 Yoyogi, Shibuya City, Tokyo 151-0053, Japan | (+81) 3-5388-5523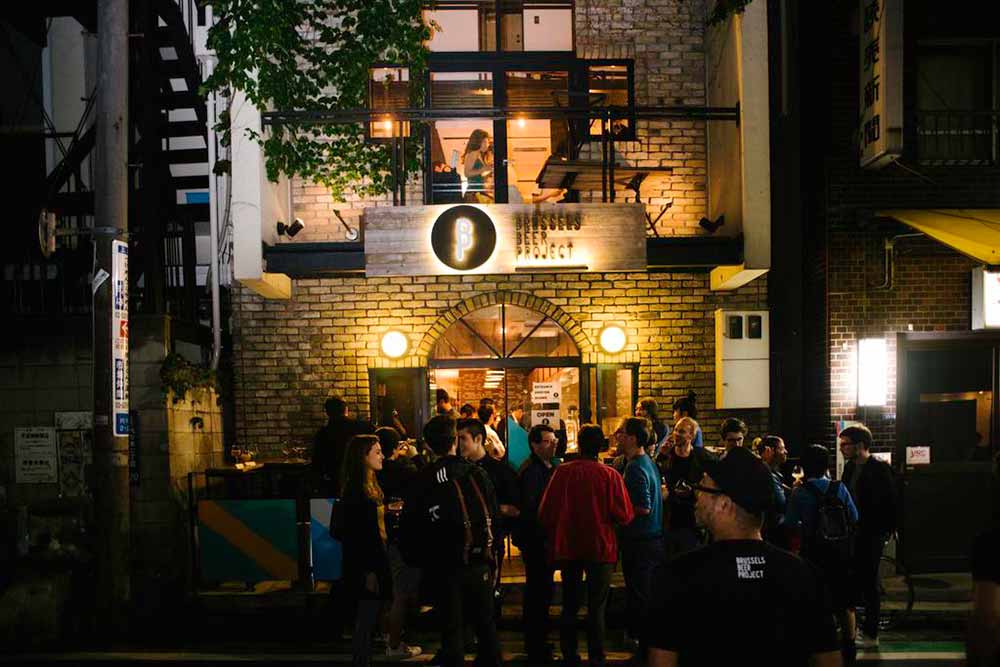 The famous Belgian-style pub came to Tokyo with a specific goal to help craft beer grow in Japan, crossing that bridge between Europe and Asia. So while the focus is on Belgian beers, Brussels Beer Project also incorporates some local breweries or Japanese flavors into its lineup.
You'll find all-star creations like the Delta Belgian IPA and Grosse Bertha Belgian hefeweizen next to pop-ups like Black Hole, a strawberry waffle imperial stout, and Slowmo, a beetroot and pear farmhouse saison.
Small World Records
〒154-0004 Tokyo, Setagaya City, Taishido, 5 Chome−30−6 伊藤ビル 1F | (+81) 3-5787-8806
If beer and music are your jam, you'll get along well with Tomonori Tanaka, the owner of Small World Records, which features curated vinyl and Japanese beers from Shiga Kogen, Ise Kadoya, Hansharo, and more. You'll also have plenty of time to chat and chill—Small World Records only has three stools.
The Best Craft Breweries in Tokyo, Japan
Inkhorn Brewing
Japan, 〒171-0031 Tokyo, Toshima City, Mejiro, 2 Chome−2−2 1F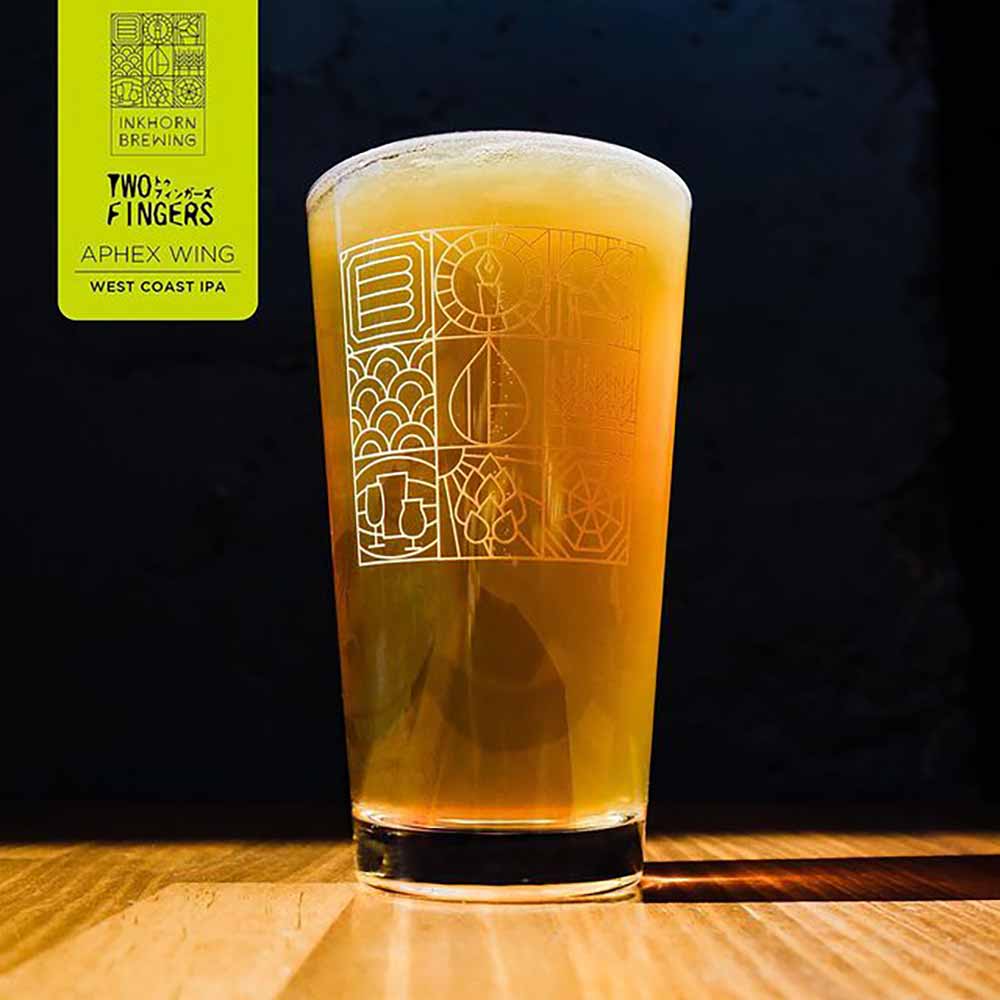 What Lovell called "one of our favorite new Japanese breweries if we're really honest," Inkhorn is just one subway stop south of Two Fingers on the Yamanote line. So you could plan a nice little beer hopping day here.
The taproom is fairly quiet and unassuming, but the beers churning out from inside are pretty bold. For instance, the aformentioned Two Fingers collab called Aphex Wing. Or the Java Finch West Coast IPA, Hawkling imperial porter, and Rockaway Peach sour IPA.
Folkways Brewing
3 Chome-6-3 Hirano, Koto City, Tokyo 135-0023 | (+81) 3-6427-0793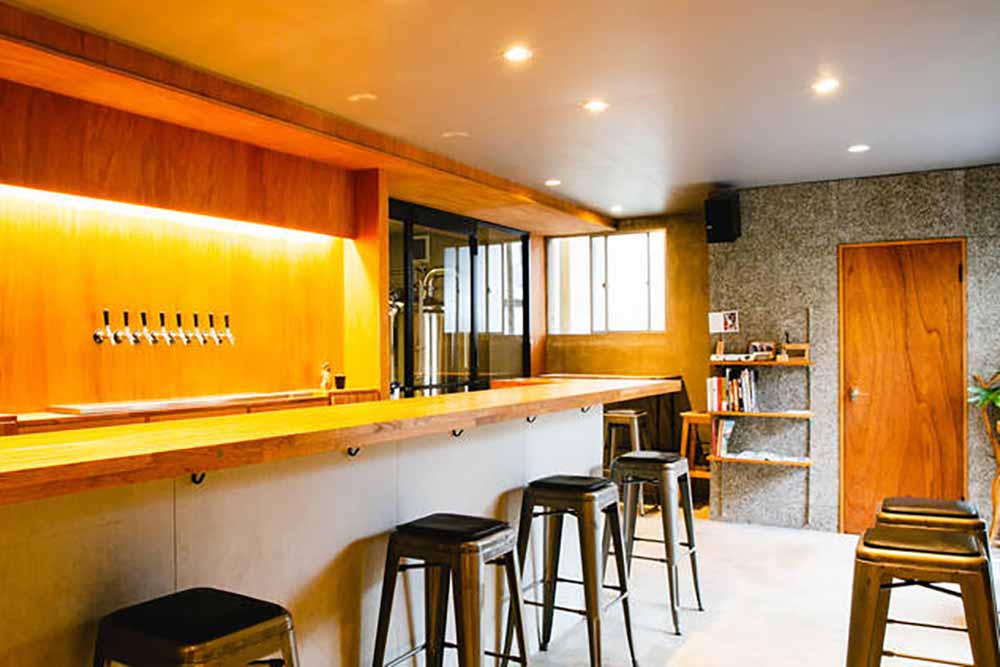 There's a brewery in Philadelphia, PA, we named one of our favorites of 2021 because it's hidden down a small alley and when the green light above the door goes on, you know that the beer is fresh and ready to drink.
Similarly, when searching out Folkways Brewing a short walk from the Kiyosumi Shirakawa Station, you need to keep your eye out for a beer keg. That vessel means you've found the brewery hidden in an otherwise plain-looking neighborhood.
But what you'll find inside is anything but plain. In fact, you'll probably find one of the best breweries in Tokyo.
First, the gorgeous yet restrained taproom has accents of chestnut-colored wood and sleek grey floors.
But it's the beer you're here for.
Brewer Daisuke Furusawa meticulously pumps out classics that are simply named after a style. For instance, the insanely popular porter. Or the bitter, IPA, and gose.
But at times you'll find slightly more inventive interpretations like a blood orange wheat beer or blueberry sour ale.
Snark Liquidworks
Japan, 〒171-0031 Tokyo, Toshima City, Mejiro, 2 Chome−2−2 1F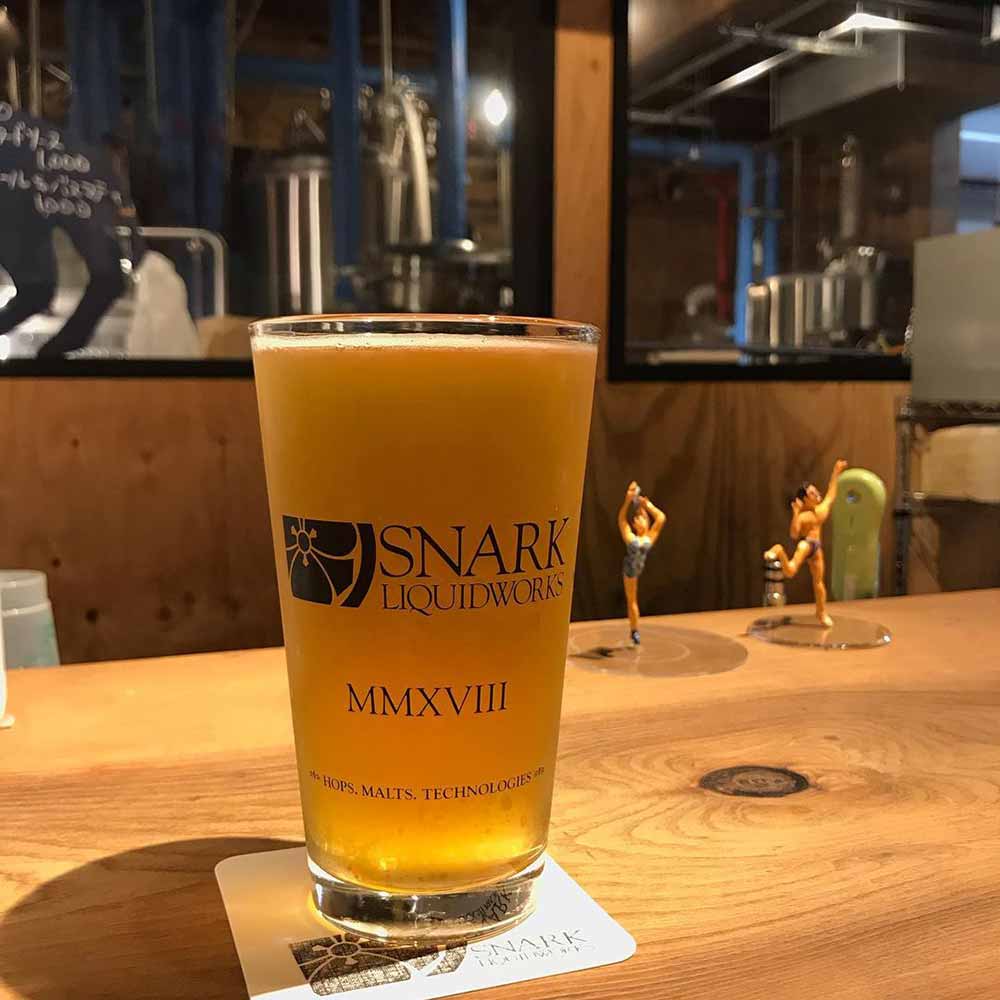 A small brewpub with a restaurant near Kanamecho Station, Snark Liquidworks is another suggestion from Lovell at Two Fingers.
Cozy might be the best word to describe this brewery. Inside the snug Snark you'll find beers from a legendary homebrewer Mr. Fujiura that run the gamut.
Nothing is off limits here. On the current draft list you'll find an Italian pilsner next to a helles and kölsch, which are cozying up to a black IPA and New Zealand-style pale ale, which are snuggly brushing up against a British brown ale, best bitter, and wee heavy.
Go here, get comfortable, and drink away the afternoon or evening.
Tokyo Aleworks
Japan, 〒173-0004 Tokyo, Itabashi City, Itabashi, 1 Chome−8−4 1F | 50-5258-5207
Japan, 〒100-0006 Tokyo, Chiyoda City, Yurakucho, 2 Chome−9−7 JR東日本有楽町駅高架下 | 3-5843-2787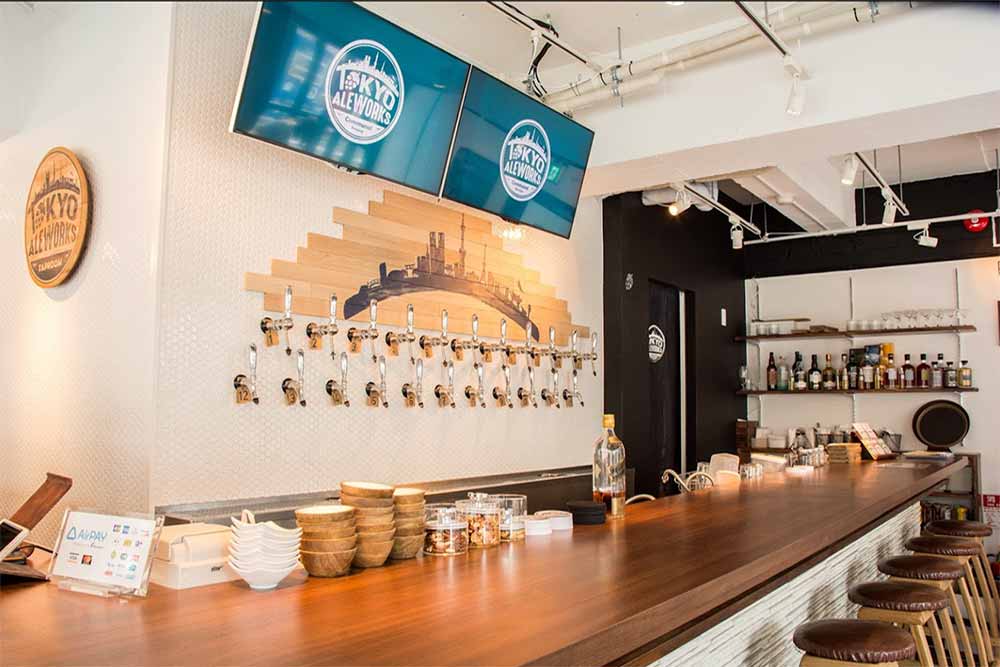 Tokyo Aleworks has two taprooms, but we recommend the one Itabashi taproom, a mere twenty minute walk from Two Fingers. This is a playful, whimsical brewery where you'll find beers like Arnold Schwarzenbier next to Kenny is Dead Irish Red and Junior's Cream Ale.
Cranc Brewing
Japan, 〒173-0004 Tokyo, Itabashi City, Itabashi, 3 Chome−40−16 エマーレ板橋F | 3-6909-6672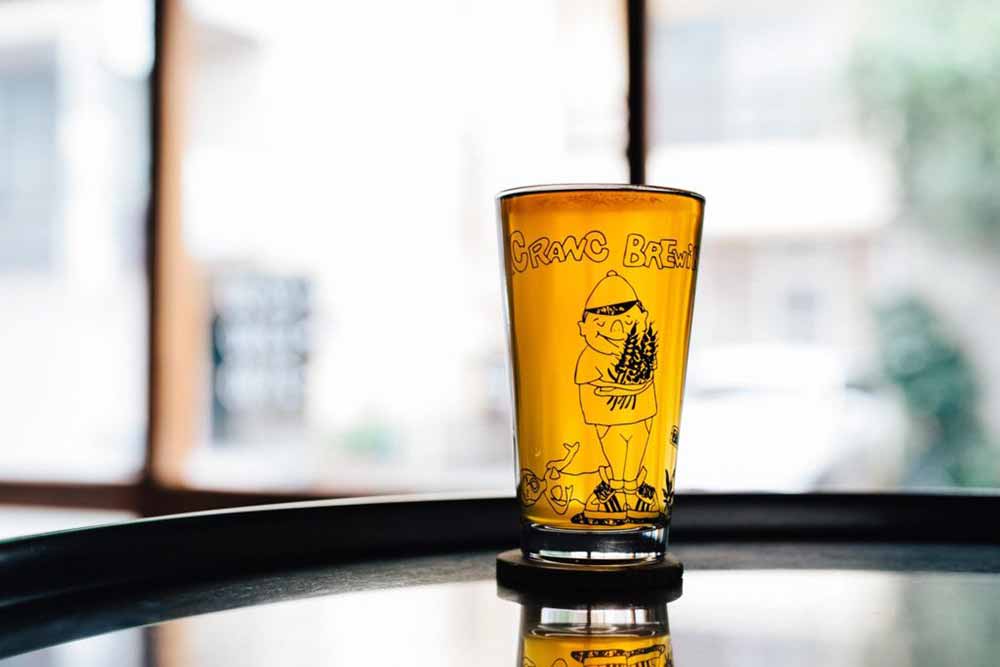 Launched in 2018, Cranc is a nano brewery on the north side of Tokyo. Because they're so small, Cranc cranks (cough cough) out a rotating variety of small-batch beers. So chances are that whenever you visit you'll get to try something here today, gone tomorrow.
Hyouko Yashiki No Mori Brewery (Swan Lake) – Pub Edo
Japan, 〒105-0014 Tokyo, Minato City, Shiba, 5 Chome−21−15 三勝ビル 1F | (+81) 3-6453-7928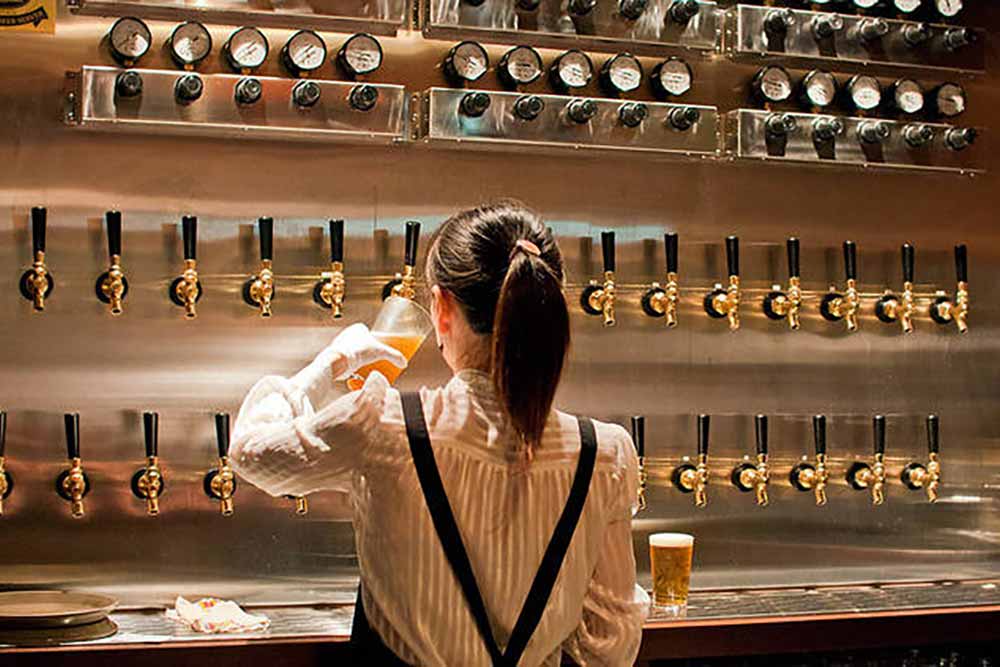 While you'll find the original, historic Swan Lake in Niigata, the brewery also has multiple pubs across Tokyo.
But it's Swan Lake Pub Edo where you want to go. When the original brewery turned fifteen, they opened up this spot in May 2012.
Here you'll find the brewery's award-winning Amber Ale and Porter alongside micro lagers such as Asahi and Aqula.
The crowd will be a bit of a mix. Since this bar is located near Tokyo Station, you'll find a lot of post-work people just trying to consume a good amount of beer, but if you feel strong enough to brave that jostle, you'll find thirty taps ready to fill you up.
For that reason too, the beers will be a bit pricier than other pubs around the city. But it might be worth it for the service, which is top-notch. For instance, the bartenders wear white gloves. At what craft brewery or beer bar in America can you find that literal 'white glove service'?