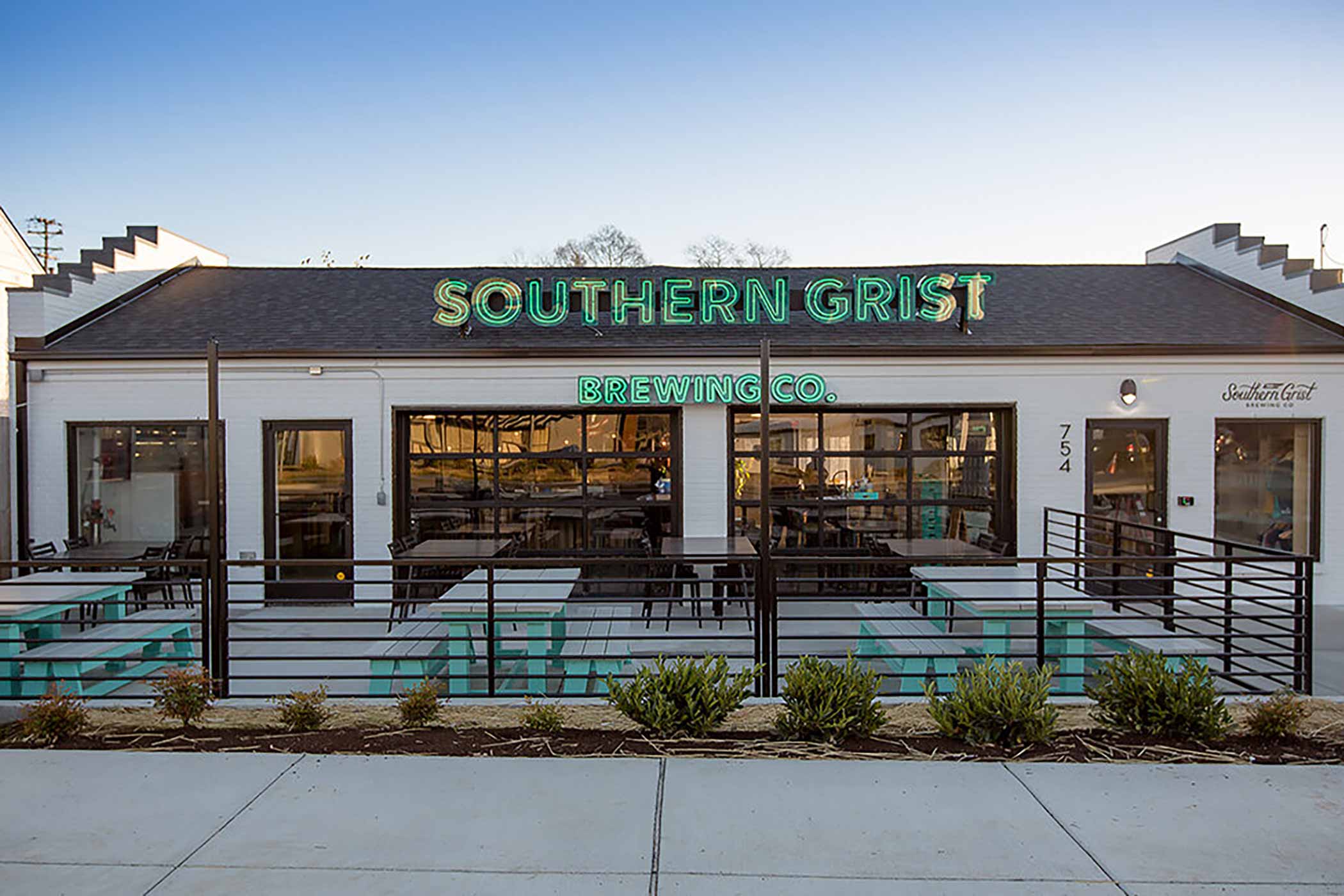 Photography courtesy of Southern Grist Brewing Co.
The city planner responsible for architecting modern-day Nashville and giving it shape must have been drinking on the job; the place is a hodgepodge, as if put together using jigsaw puzzle pieces procured from different sets. Up and coming residential zones abut commercial districts next to disused streets and weathered industrial areas that, in at least one instance, sit smack dab across the street from a cemetery. Getting around is its own challenge, too. Nashville is hostile to cars and foot traffic alike.
But, when the music is this good, and the beer this varied, who cares? Nashville hosts an array of breweries with distinct character, each slinging beers that range from classic to trendy—and they're all really, really fantastic. Here are our seven picks for the Music City's best breweries.
The 7 Best Breweries in Nashville
Southern Grist Brewing
754 Douglas Ave | (629) 203-7159
5012 Centennial Blvd | (615) 864-7133
An established brewery in Nashville's hierarchy of beer, Southern Grist boasts the epitome of Southern hospitality, constantly pushing the boundaries of what it means to be a beer. Along those lines, the brewery has not one but two locations: Their original spot in East Nashville, and the recently opened Nations taproom.
The East Nashville location actually made moves last December, opening in a new spot at 754 Douglas. The updated taproom features two large patios, a huge bar, and twenty-five beers on tap. Plus, Southern Grist took the opportunity to launch Lauter, their first restaurant concept inside of a taproom. Helmed by Executive Chef Andrew Coins, Lauter features a seasonally focused, international menu meant to be shared and paired with Southern Grist's beers.
For example, sourdough focaccia with garlic, sourdough butter, and strawberry jam should go nicely with Newton's Cradle, a West Coast double IPA brewed with Amarillo, Centennial Cryo, and Simcoe. Or a Nashville staple fried chicken sandwich with hot chicken spice, butter lettuce, smoked dukes, pickles, and a potato bun should be complemented perfectly by a DDH Mixed Greens LVIII, the 58th iteration of the brewery's rotating NEIPA series.
But whether you go to one or the other probably depends on where you're staying, whether you have a rental car (pro tip: you will want a rental car), and whether you're into delicious food or not. For our money, with this new restaurant launching, the East taproom is preferable. But you can't go wrong with either. Just don't forget to get one of their outrageously good dessert sours, a la the Imperial Aronia Strawberry Blackberry Hill.
And for those who don't drink, Southern Grist even launched a non-alcoholic line this year, including a NA sour and NA pils.
Bearded Iris Brewing
101 Van Buren St | (615) 928-7988
14101 Charlotte Ave, Suite 49 | (615) 681-5598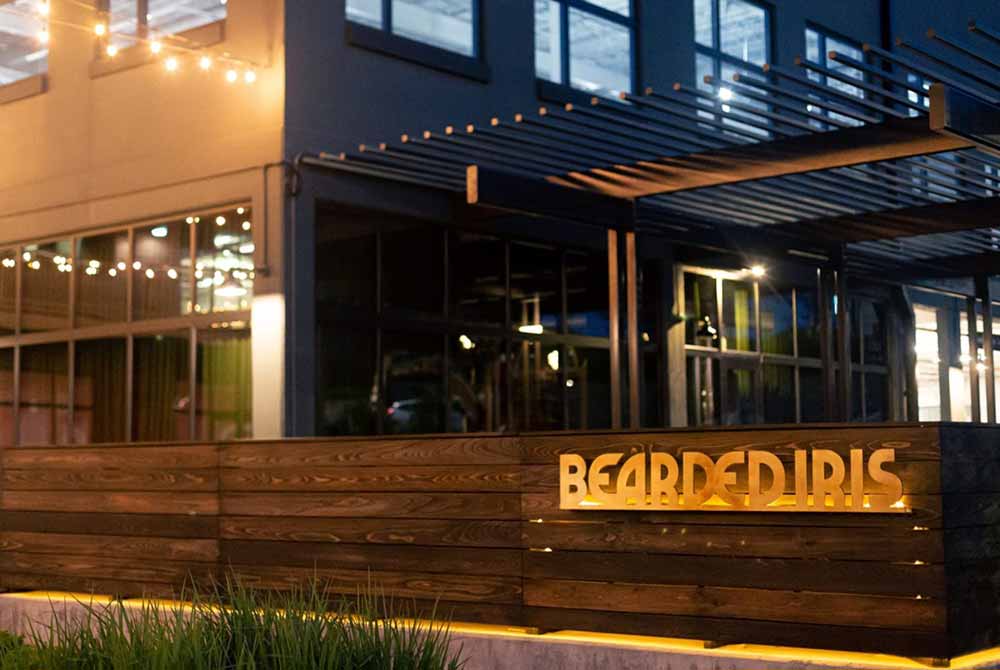 East Germantown, one of Nashville's budding neighborhoods, mixes and matches lofts and warehouses as befits the city's urban transformation. Comfortably nestled amongst developments new and old is Bearded Iris Brewing's original taproom, which is itself styled on division.
On one side, the taproom, where a classic, speakeasy-style bar holds the center, and on the other, the brewery itself, with all of its equipment open for visitors to see. Rather than clash with the taproom atmosphere, the contrast facilitates it. Bearded Iris boasts a cool vibe maintained via a terrific soundtrack and top-notch beer, including DDH IPAs that demonstrate what a good DDH IPA should taste like, and Moon Dust, an imperial milk stout smoother than butter.
Plus, just last year, the brewery opened a cool, eclectic satellite called Sylvan Supply in the eponymous development on Nashville's West Side. Here, Bearded Iris planted its R&D system and lager program. Which means you can expect more niche, small-batch beers alongside a selection of favorites from the Germantown location. Such as Bold Butler, an English porter brewed with chocolate rye and brown malt. Or Homestyle, an oated IPA brewed "intensely and singularly with Mosaic." And if you're into ramen, Black Dynasty Secret Ramen House sets up shop here.
We guess the secret is out. Go to Sylvan Supply for experimental beer and slurp-worthy ramen.
Living Waters Brewing
1056 E Trinity Ln #101 | (615) 669-6035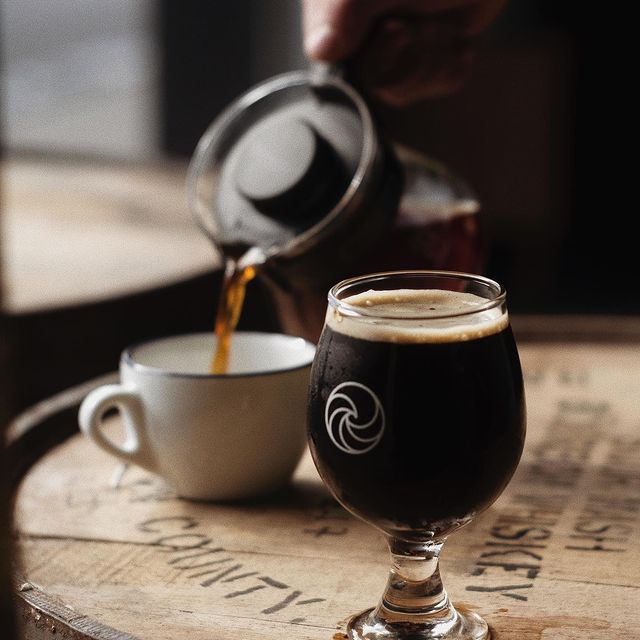 A brewery focused as expertly on its coffee program as the beer? It's like this place was made just for the Hop Culture crew. Focusing on "small-batch beer and coffee experiences," Living Waters actually represents life itself. Or, as co-founders Ryan McCay and musician Thomas Becker write on the website, "the ever changing nature of flowing water, yeast, and the constant pursuit of perfection."
Beerwise, this journey often takes Living Waters to the bountiful lands of New England-style IPAs, fruited sours, and stouts. Broken into two categories—waterfalls, which should be enjoyed soon after purchase, and rivers, which can be cellared or drunk over a period of time—Living Water's beers embody that crucial sense of time and place.
For example, Yosemite B8, a hazy IPA that evokes the forest with notes of grass and pine. And Rhein, a coffee stout.
Speaking of coffee, Living Waters also excels with caffeine, offering espresso, filter, and signature coffee drinks alongside local Crieve Hall Bagels, Brightside Bakeshop pastries on the weekdays, and Conny & Jonny donuts on the weekends.
This is just a dope spot that's in tune with our inner sense of calm and all the things we love.
New Heights Brewing
928 5th Ave S | (615) 490-6901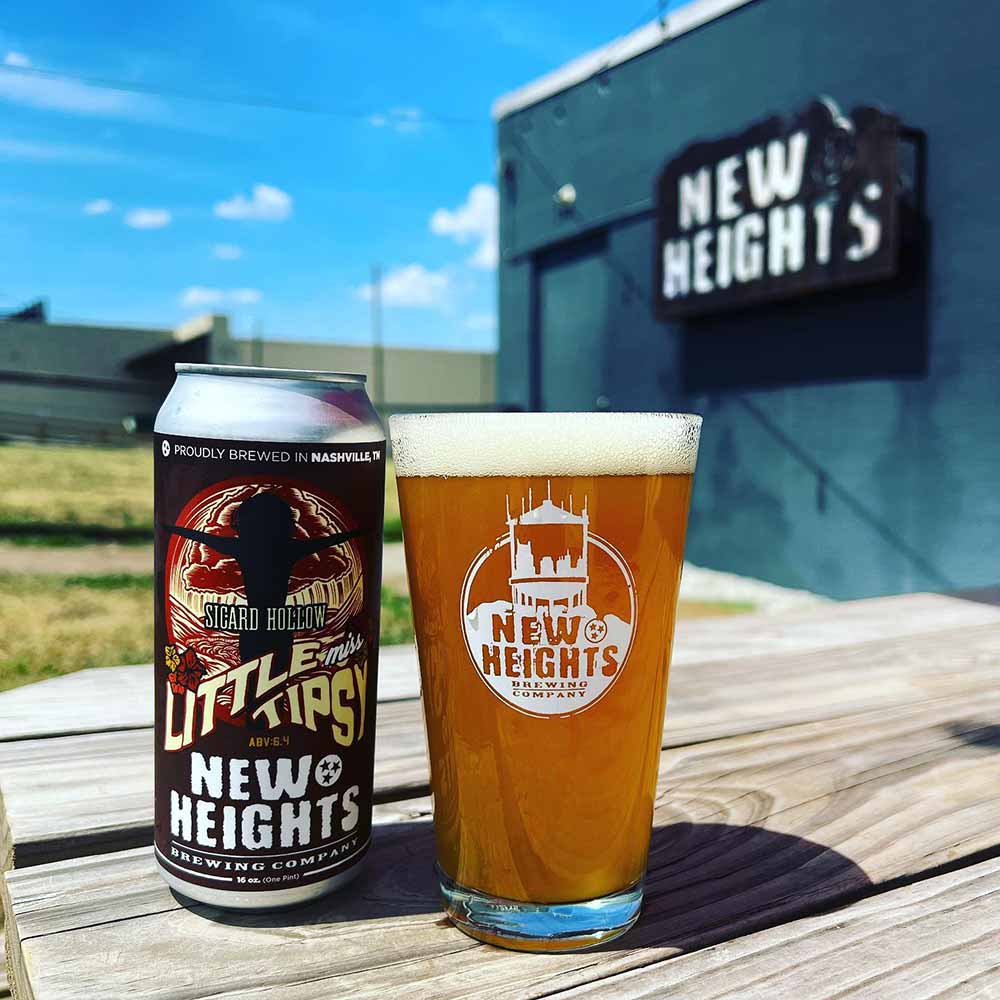 A trip to New Heights Brewing means playing real-life Frogger, but the team behind this six-year-old outfit rock a rich tap list, so the rewards of visiting outweigh the risks. IPAs provide the lineup's bedrock, but the true standouts are its cream ales, including Coffee & Cream, Nothing Fancy, and Fancy Monkey. Along with creative takes like Kinda Fancy, a dry-hopped session cream ale generously dry hopped with Amarillo hops. If you've already walked Broadway and had your fill of honky-tonks, head to New Heights, grab a table, order up a 312 Pizza (another local Nashville favorite), and play a few board games while you lose yourself in the brewery's depth of selection.
Jackalope Brewing Company
429B Houston St. | (615) 873-4313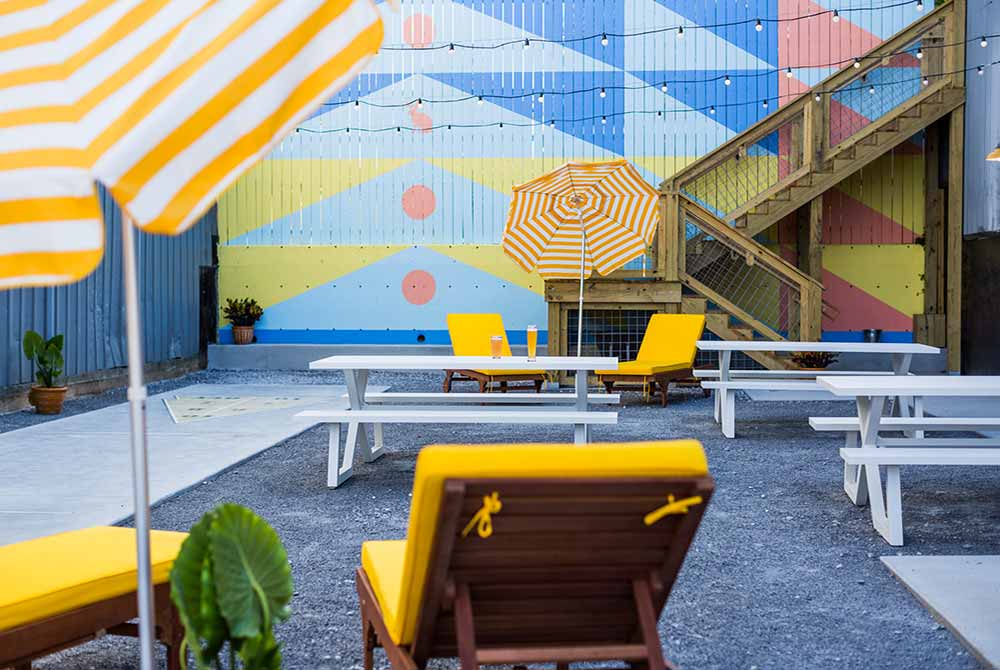 In February 2021, Jackalope Brewing announced that it would be moving all of its operations to a new Wedgewood-Houston neighborhood spot lovingly dubbed The Ranch. Fittingly, this is a terrific stopping place for drinks that lives up to its pastoral name.
Here in the sunny, colorful space you'll find all of Jackalope's four year-round beers, two seasonals, and limited releases on tap to enjoy.
For example, Jackalope's core Bear Walker, a maple brown ale, and Thunder Ann, an American pale ale. (Insider secret: Ask the bartender to mix Thunder Ann with Lovebird, the brewery's seasonal strawberry raspberry wheat.)
This gorgeous location with a dog-friendly patio just begs for folks to stop by on a hot summer's day, soak in the chill vibes, and enjoy a beer or two.
Smith & Lentz Brewing and Pizza
809 Ewing Ave | (615) 436-0050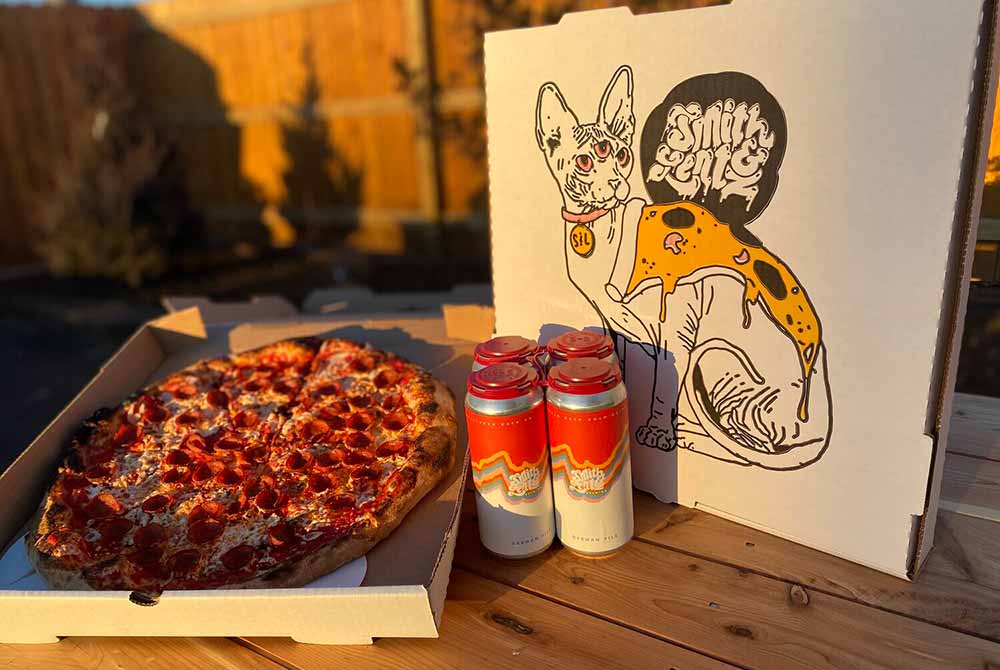 In a true comeback-kid story, Smith & Lentz Brewing and Pizza reopened after thirteen months of rebuilding from the effects of a tortuous tornado. In March 2020, a twister tore through Nashville, destroying dozens of restaurants, including Smith & Lentz. The tornado tore up twenty percent of the brewery's Main Street building, along with destroying electrical service and plumbing, according to Kurt Smith as reported in this Eater Nashville article.
Instead of throwing in the towel, the team went to work rebuilding Smith & Lentz into someplace even better.
In April 2021, the brewery reopened not only with a new look, but also with an incredible pizza menu. For example, a White Pie with garlic, oregano, mozz, ricotta, black pepper, chopped parsley, and olive oil. Or the Mushroom Pie with roasted mushrooms, garlic, thyme, provolone picante, and mushroom pie. No matter which round circle of dough you choose, don't skip out on "Taking Your Pie to Prom." That's the brewery's code for adding garlic, butter, parm, oregano, and chili flake to any pie for a mere $2 additional.
Beerwise, you have plenty of happy pints to snuggle up to your cheese and dough. For instance, the aptly named Pizza Palace Pilsner dry hopped with Citra. Or the Dear Hummingbird IPA with Citra, Talus, and Strata hops.
The story of Smith & Lentz is one that warms your heart. And if you can go help them by warming your belly with great pizza and beer…well, that seems like a win-win to us.
Tennessee Brew Works
809 Ewing Ave | (615) 436-0050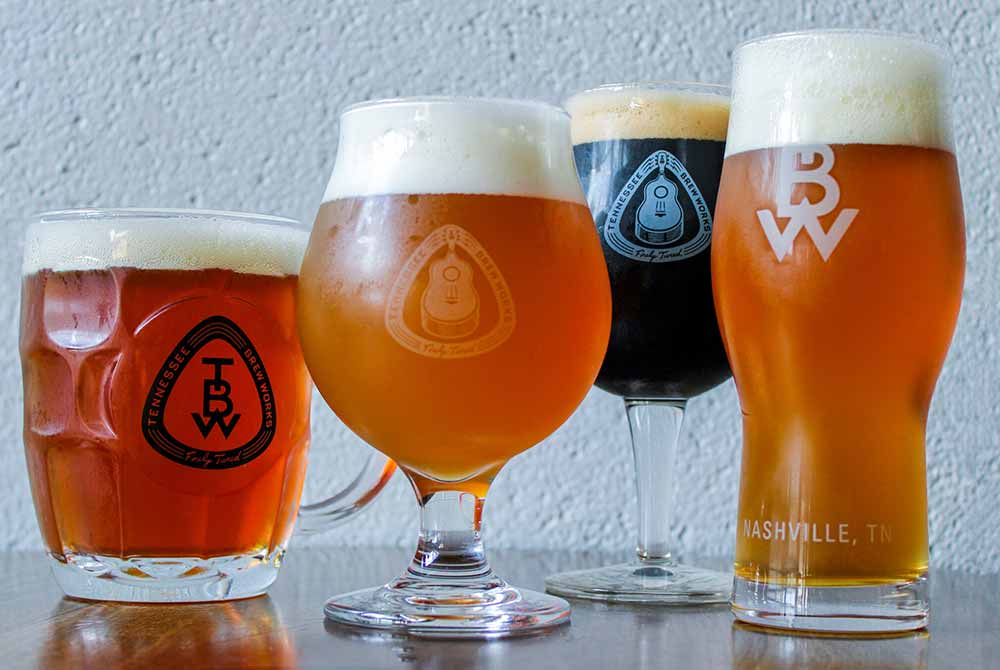 Last but not least, there's Tennessee Brew Works. At this brewery, the sun shines bright on the roof deck and the kitchen puts out scrumptious food. For instance, a red pepper hummus plate, spent grain falafel, or the Nashville delicacy, hot chicken. And downstairs the live music rings out nearly every night of the week.
The beer's pretty good, too, with a lens on European styles and Southern American flavors. IPAs do appear on the menu, but they're tokens. Tennessee Brew Works focuses more on farmhouse ales, brown ales, porters, ESBs, and witbiers, and they're all beautifully balanced. (They're also one of the few breweries to name a beer in honor of the Ryman Auditorium: Basil Ryeman. It's a saison made with Thai basil and rye malt.)
Liked this article? Sign up for our newsletter to get the best craft beer writing on the web delivered straight to your inbox.