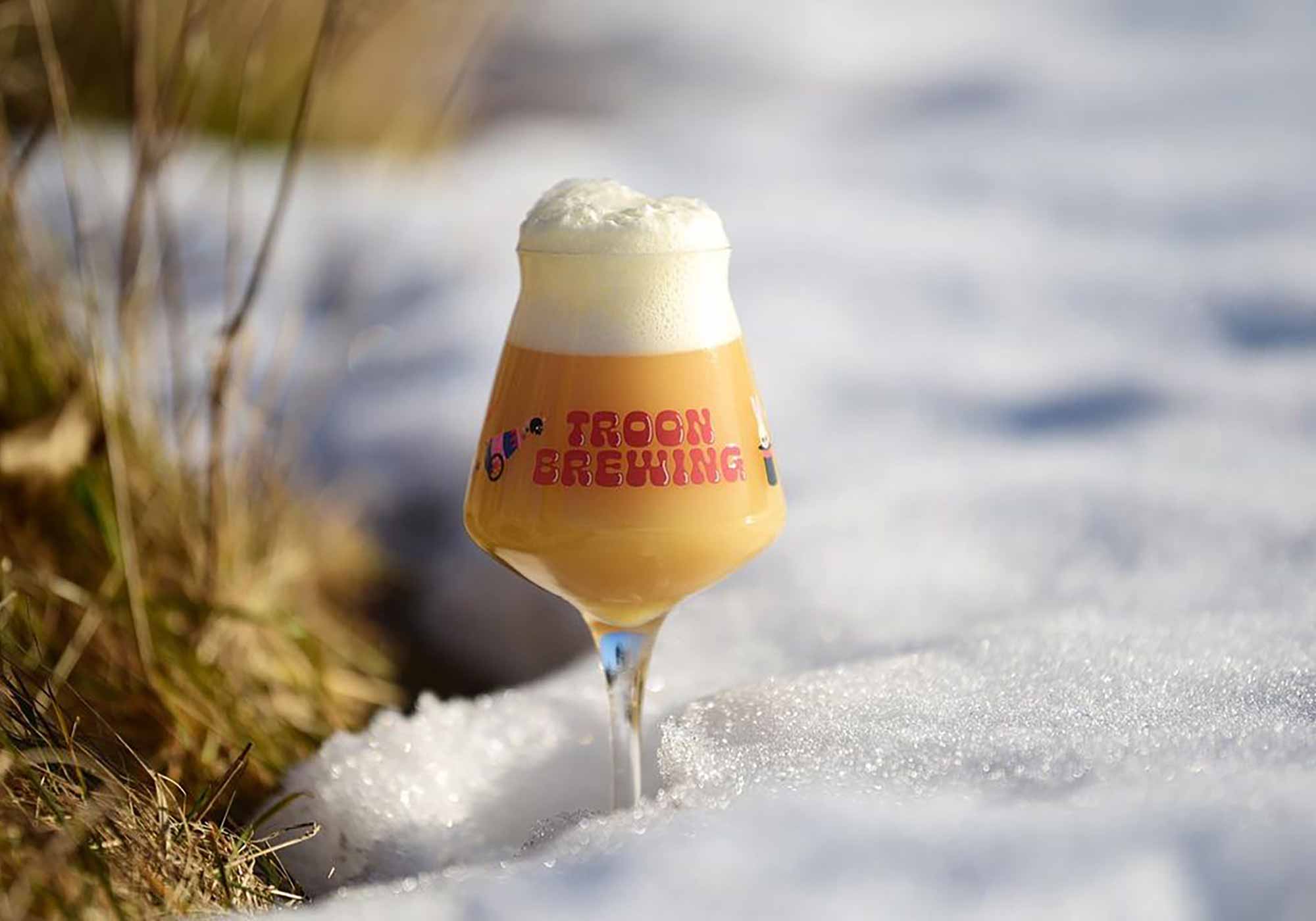 Photography courtesy of Troon Brewing
Famous for its beautiful coastline, seaside resort towns, and long winters, New Jersey now boasts a bevy of the best breweries in the Mid-Atlantic and Northeast.
Officially nicknamed the Garden State by Abraham Browning, the third state in our nation has a bountiful list of breweries that you should visit. According to the Official Site of the State of New Jersey, Browning said that the Garden State, "is an immense barrel, filled with good things to eat and open at both ends, with Pennsylvanians grabbing from one end and New Yorkers from the other. While New York has plenty of great breweries, and Pennsylvania certainly has no shortage of top taprooms, New Jersey shouldn't be overlooked.
In this piece, we're giving the Garden State new life. We've tracked down the taprooms to stop at as you drive the 150 miles from top to bottom.
This isn't a concentrated city guide. You won't be able to just hop on public transit or walk to all these spots. Instead, you'll need to pack up the car and drive. But that's what makes the trip worth it. In New Jersey, you'll find a tiny hut out in a field serving crowlers of some of the best beer in the state. You'll discover a brewery owned by a man who considers brewing a religion. And, you'll come across two breweries that we noted in our list of the top forty women-led breweries in the country.
Officially, there are 134 breweries in New Jersey. But, since the state was one of the original thirteen colonies, we found thirteen of the best breweries to visit while in the Garden State.
Hop Culture's 13 Best Breweries to Visit in New Jersey
Troon Brewing
130 Hopewell Rocky Hill Rd #5, Hopewell, NJ 08525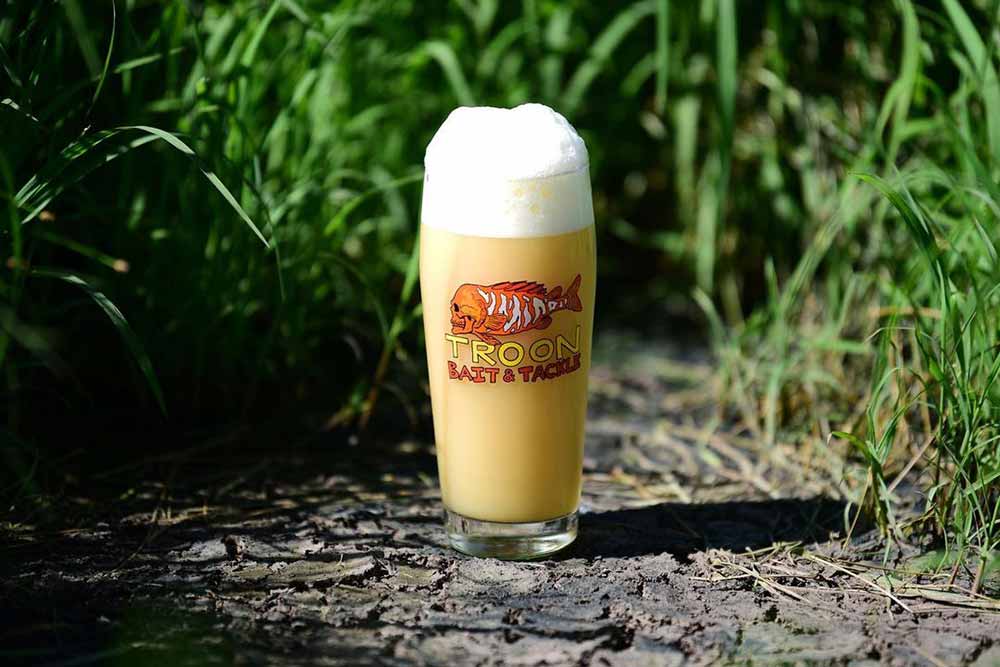 Here's the deal at Troon: They make some of the best beer in the state. From hazy IPAs to the occasional pilsner, Founder and Head Brewer Alex Helms brews world-class beers. But there's a catch: The brewery is small. So small, in fact, that availability is limited. As a result, this makes releases both elusive and exclusive.
Therefore, if you're looking to snag a crowler or occasional bottle of Helms' newest beer, you'll need to be in tune with Instagram. Troon announces new beer releases exclusively only on the social media app. They add the link to purchase in their newest release post and remove it once it's sold out.
If you're visiting New Jersey, you'll want to turn on Troon's post notifications. Because for the last three years, Troon and its releases have peppered our "best-of" lists, including the 15 best beers of 2018, the 20 best beers we drank in 2019, and the 15 best breweries to watch in 2019.
Helms' talent runs the gamut from alluring fruited sour ales to a plethora of precision hoppy ales. In other words whatever you happen upon from Troon, we guarantee it'll be well-crafted and expertly made.
Pro tip: If you do miss a release, head to the nearby Brick Farm Tavern. The brewery's one and only draft account serves several of Troon's latest beer releases on draft.
The Referend Bier Blendery
1595 Reed Rd Unit 2, Pennington, NJ 08534 | (609) 474-0443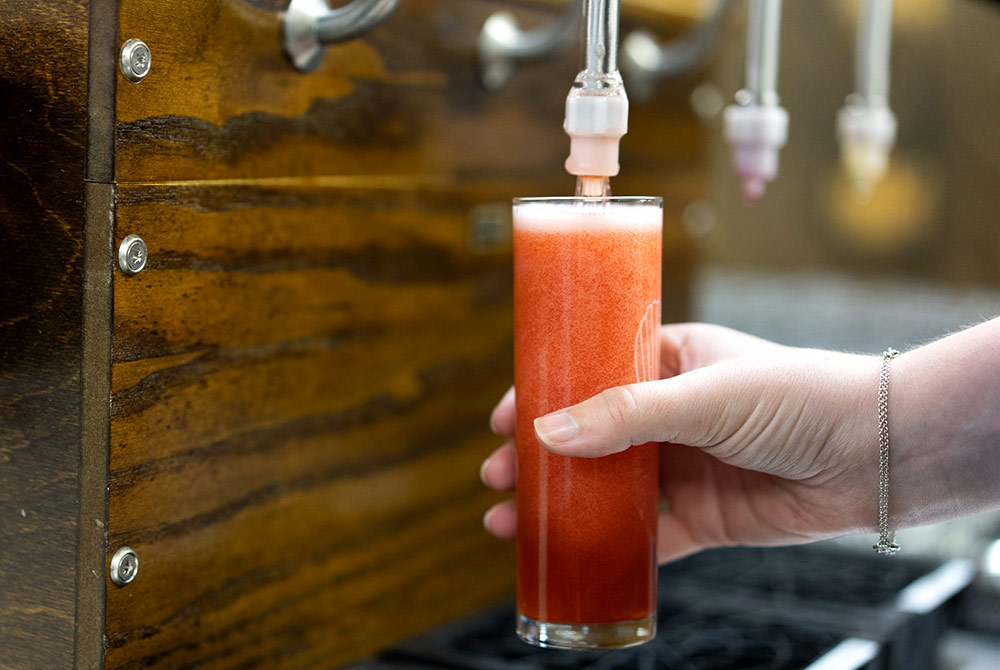 Another perennial favorite of the Hop Culture team, The Referend Bier Blendery is a short twenty-minute drive from Troon.
Since 2016, Founder James Priest has been brewing spontaneously fermented beers like it's his religion. Looking at the current bottle list is like walking through an orchard. For instance, there's a spontaneously fermented pale wheat ale conditioned on 2020 harvest "spent fruits," like New Jersey blackberries and red raspberries. And a spontaneously fermented golden ale fermented on local New Jersey yuzu.
It's these lambic-style ales conditioned on a cornucopia of fruit that first caught our attention in 2018. Since then, Priest's saintly suds have made our lists of the 20 best beers to drink in fall 2020, the 20 best beers to drink in winter 2020, and the 20 best beers to drink this past spring. Perhaps it's Priest's time working in wineries and bigger breweries. Maybe it's how strongly he believes in the godly power of spontaneous fermentation. Whatever the reasons, each Referend brew day is like a special communion, turning water, barley, hops, naturally occurring yeast, and a variety of fruits into beer.
Pro tip: At the time of publication, The Referend's Pennington, NJ taproom is closed to the public. Hop Culture also learned at the beginning of the year that The Referend is officially moving its operations to a new taproom and farm in Kutztown, PA. In the meantime, plans are in the works for a farewell party at the current taproom in December, and you can still order online here to pick up at the New Jersey Blendery.
Kane Brewing
1750 Bloomsbury Ave, Ocean Township, NJ 07712 | (732) 922-8600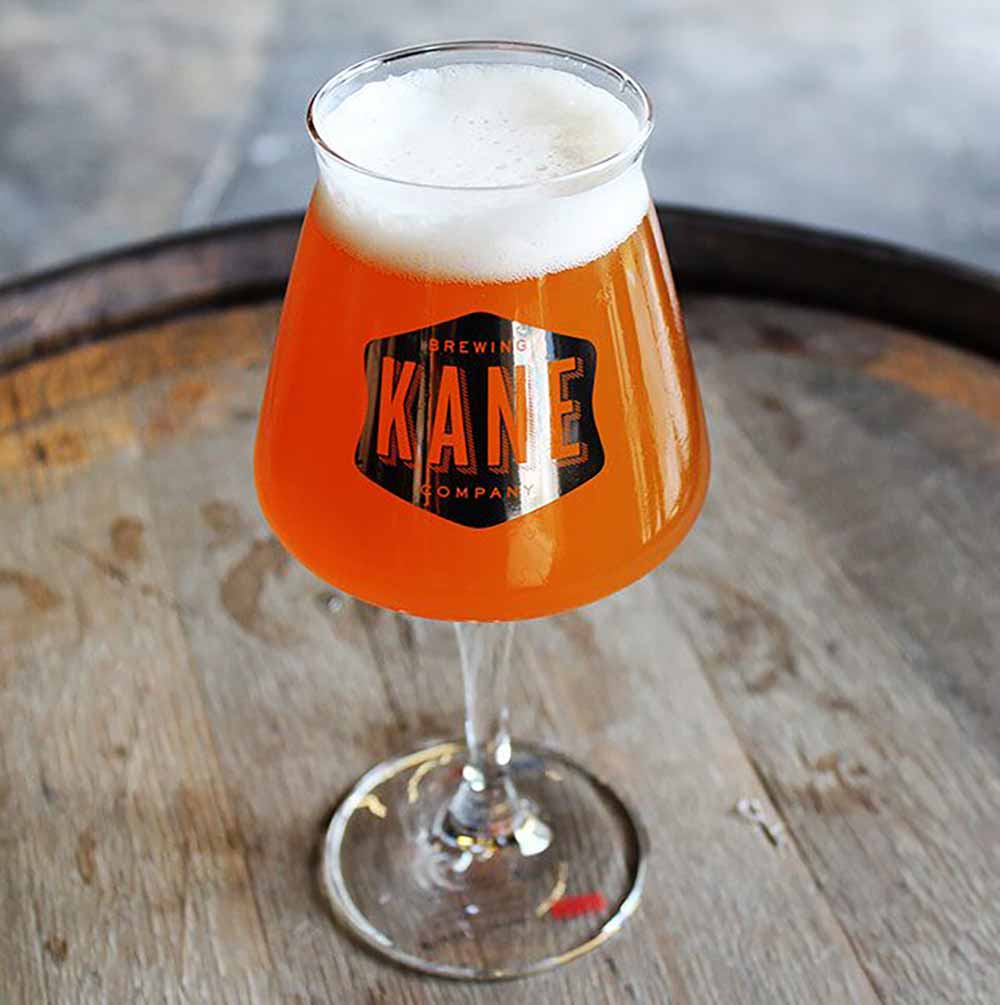 Before opening his eponymous brewery, Co-Owner Michael Kane earned awards as a homebrewer. His medal-winning nature translated well at the professional level.
Kane has really been an OG on the New Jersey craft beer scene. Since 2011, Kane Brewing has made a name for itself by brewing consistent, high-quality IPAs and Imperial stouts. But what impresses us the most is that over the past decade Kane's popularity has only continued to grow. Prior to the COVID-19 pandemic, people would dependably line up for periodic releases. Today, you'll find beers like Phantasm Effect, a 6.5% ABV IPA hopped in the whirlpool with Nelson Sauvin and Citra and during fermentation with Phantasm. Or Indicators, a 7.4% IPA hopped with Citra and Galaxy in the whirlpool and dry-hopped with Waimea, Galaxy, and Citra.
If you visit New Jersey, you should absolutely pay homage to a brewery that set the tone for the entire craft beer scene in the Garden State.
Double Nickel Brewing Company
1585 NJ-73, Pennsauken Township, NJ 08110 | (856) 356-2499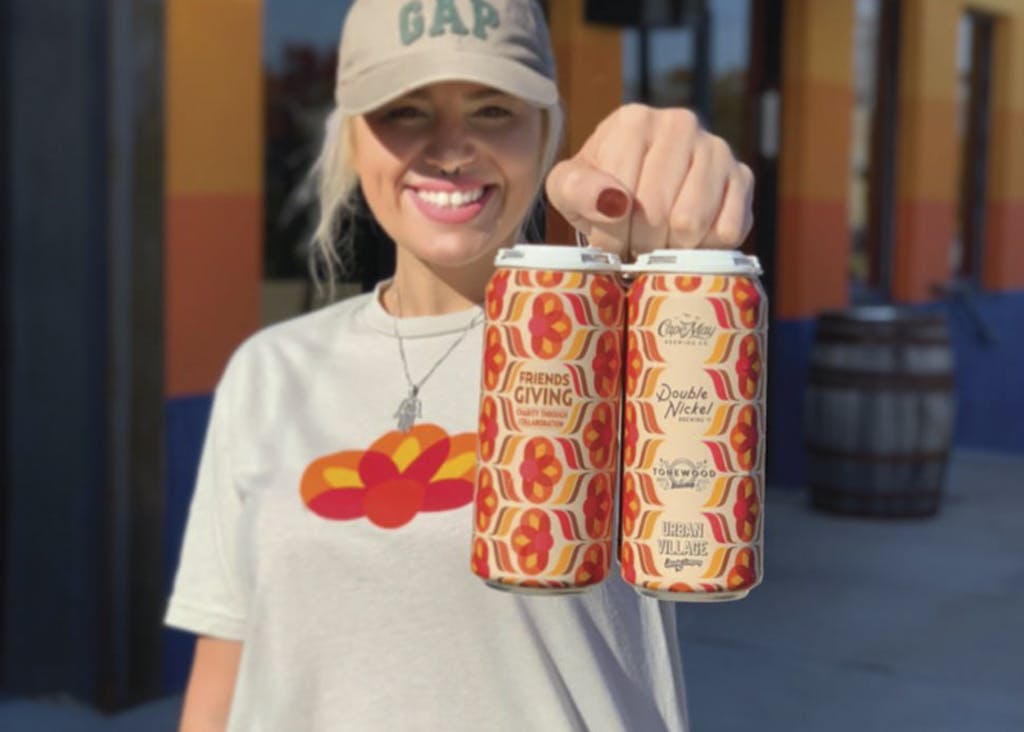 We've found something special happening at Double Nickel Brewing Co. Co-Founders Drew Perry, Brian Needham, Bob Dalsey, and John Dalsey create the brewery not just to make great beer, but to make great memories and an impact. For instance, every year, the brewery releases Friends Giving Potluck-style IPA, a Thanksgiving inspired beer where all the proceeds go toward local organizations fighting food insecurity in New Jersey, Philadelphia, and Virginia. Over the last two years, Friends Giving has raised more than $200,000.
Plus, Double Nickel makes fantastic beer. The Weekend Warrior hazy pale ale made our list of top beers to drink in spring 2020 and the Super Mega Dank 420 Kush Grand Daddy Supreme is a 4/20 inspired beer that always crushes it. And we've heard they have the best water in the state.
This is a feel-good brewery brewing beer that makes you feel good. We really can't say it any other way. If you want to have a good time with good people, you need to hit up this brewery while you're in New Jersey.
The Seed: A Living Beer Project
807 Baltic Ave #4, Atlantic City, NJ 08401 | (609) 246-7324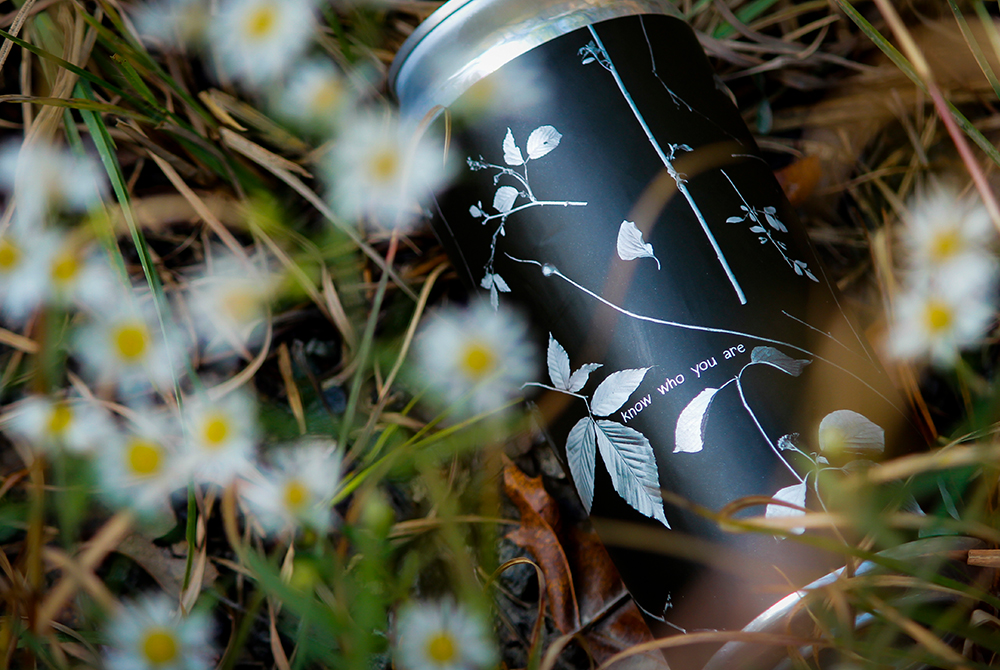 Atlantic City is usually associated with nightlife, casinos, and gambling. But Sean Towers and Amanda Cardinali's "living beer project" in a seaside adult playground that offers a different type of entertainment.
At The Seed, the interaction of naturally occurring microflora and fauna is on full display. The two-year-old brewery focuses on saisons and mixed-fermentation ales that have caught our attention throughout the last year. Their "living beers" include Wheat Fields and Swallows house saison and Lights Please 3, an IPA with Cashmere and Galena hops. And though they specialize in rustic, earthier beers, The Seed offers something for everyone.
We told you to keep an eye on this brewery in 2020. And we were right! The Seed is a must-stop even if you're just in Atlantic City for high stakes.
Twin Elephant Brewing Company
13 Watchung Ave, Chatham, NJ 07928 | (973) 507-9862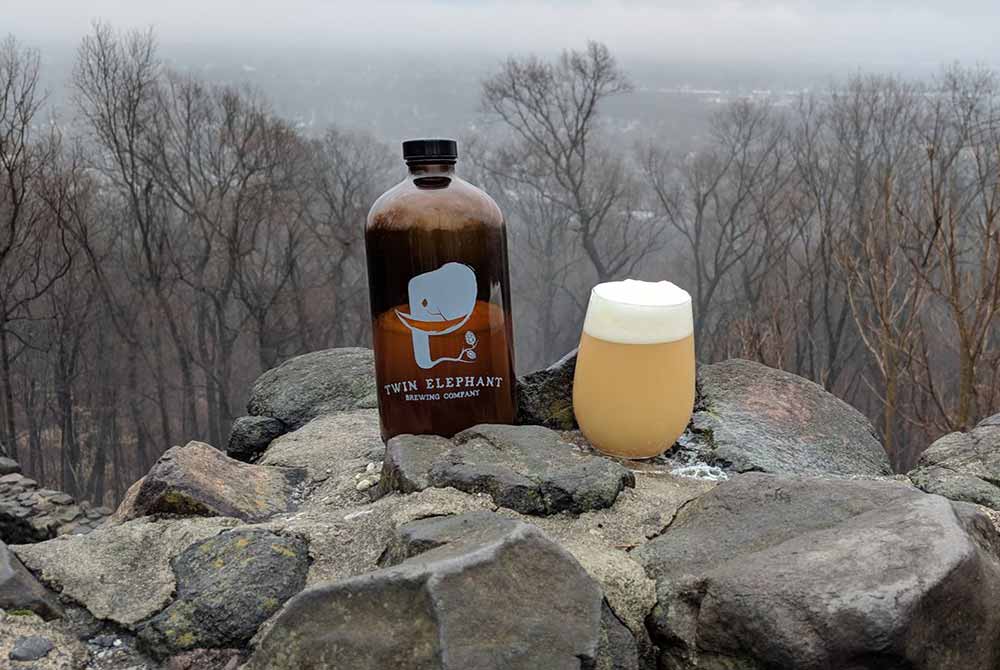 Opened in 2016 as Chatham's first official brewery, Twin Elephant has been quietly blowing up the Northeastern New Jersey beer scene. In our experience, friends and homebrewers Cindy De Rama, Tim Besecker (De Rama's husband), and Scott McLusky are making some of the juiciest IPAs in the Northeast.
One of our top forty women-led breweries in the country, Twin Elephant credits De Rama with "a proclivity for recipe formulation with unique ingredients." For example, Mighty Winooski, a double IPA the brewery calls, "a magically creamy loving cup to calm the body and mind." And Quested, a quaffable, "hella dank" West Coast IPA that according to Twin Elephant, "tastes like sweet and chewy candied white grapefruit with a clap of pineapple.
Mindful Ales
https://mindfulales.com/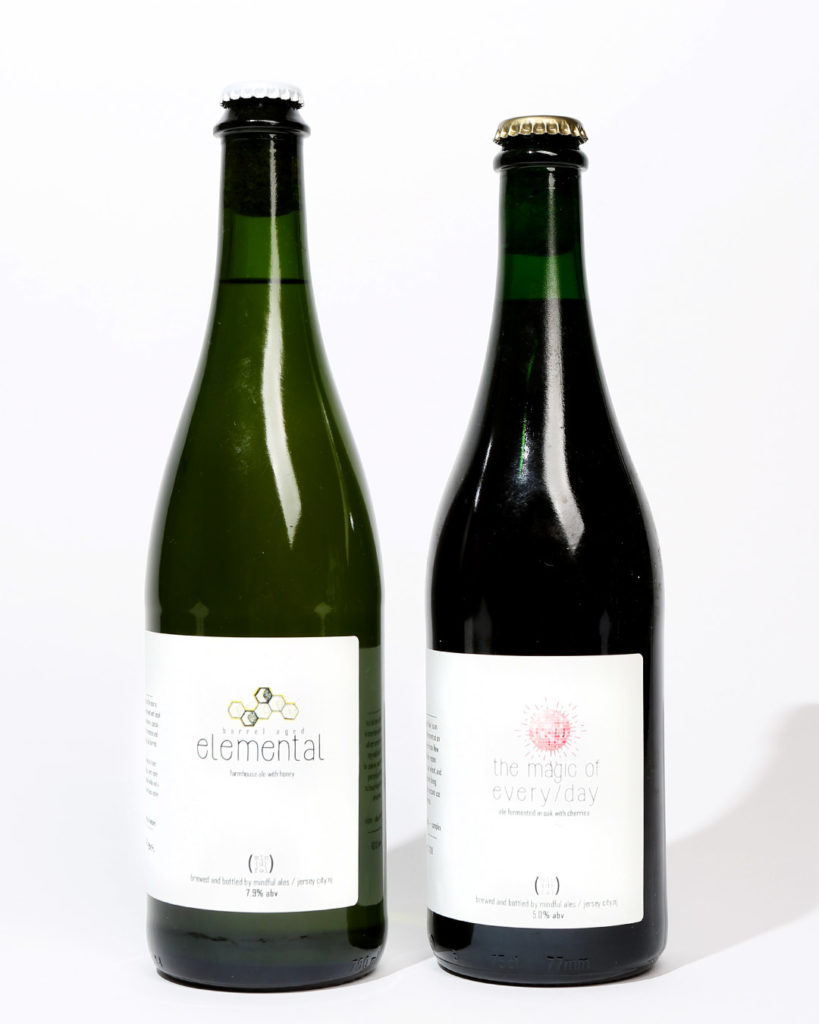 A one BBL brew system helmed by Dave Martin, Mindful Ales keeps things small and simple. Meaning, it can often be hard to find the small number of 750mL bottles Martin puts out into the market. To find them, you'll need to keep an eye on Martin's Instagram or events page.
However, the quality of the beer is worth the hunt. If you can grab something like Botanic Origins, a barrel fermented Berliner Weisse with hibiscus and roses, you'll be treated to one heck of a beer.
In 2019, we named Mindful Ales one of our top new breweries of the year. And it hardly seems possible, but age has only made the beers better. When it comes to the juice at Mindful Ales, it's definitely worth the squeeze!
Icarus Brewing
1790 Swarthmore Ave unit 3 lot 2, Lakewood, NJ 08701 | (732) 276-6273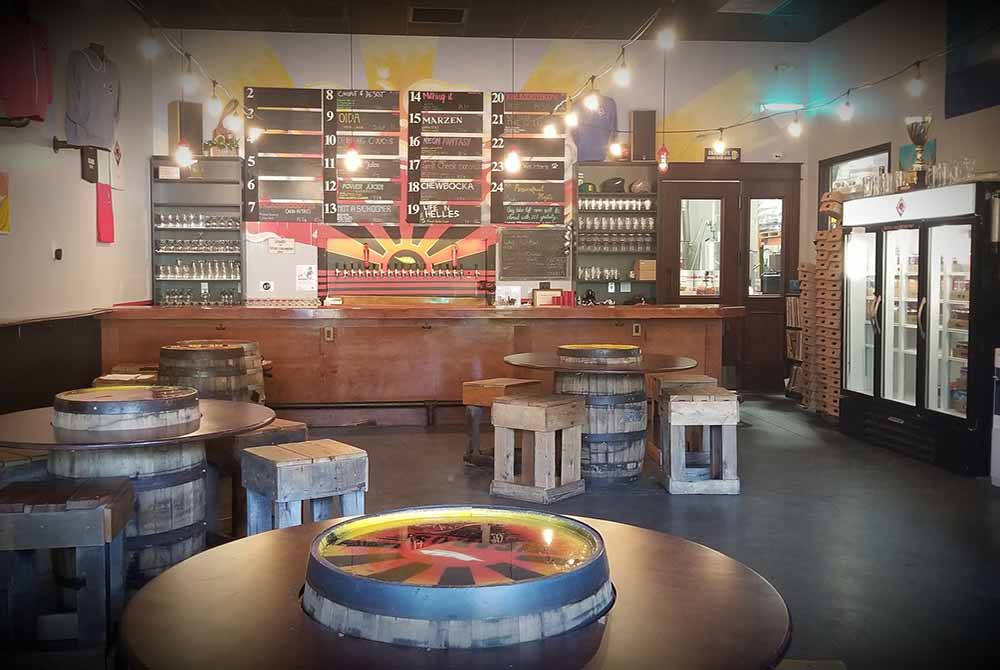 Opened in 2017 by Jason Goldstein, Icarus Brewing has quickly vaulted into the conversation of "brewery making the best New England-style IPA." After working for over a decade in the industry before starting his own place, Goldstein has put the Garden State on notice by churning out an overwhelming amount of hazies. With beers like DDH Spelt Check (Meridian), DDH Power Juicer HBC-586, Yacht Juice, and DDH Karmen Line Comet, Icarus has some of the top hazy IPAs you want to be drinking right now. If you're a hop head, bine purist, or cone connoisseur, Icarus is the brewery you can't miss in New Jersey.
Brix City Brewing
4 Alsan Way, Little Ferry, NJ 07643 | (201) 440-0865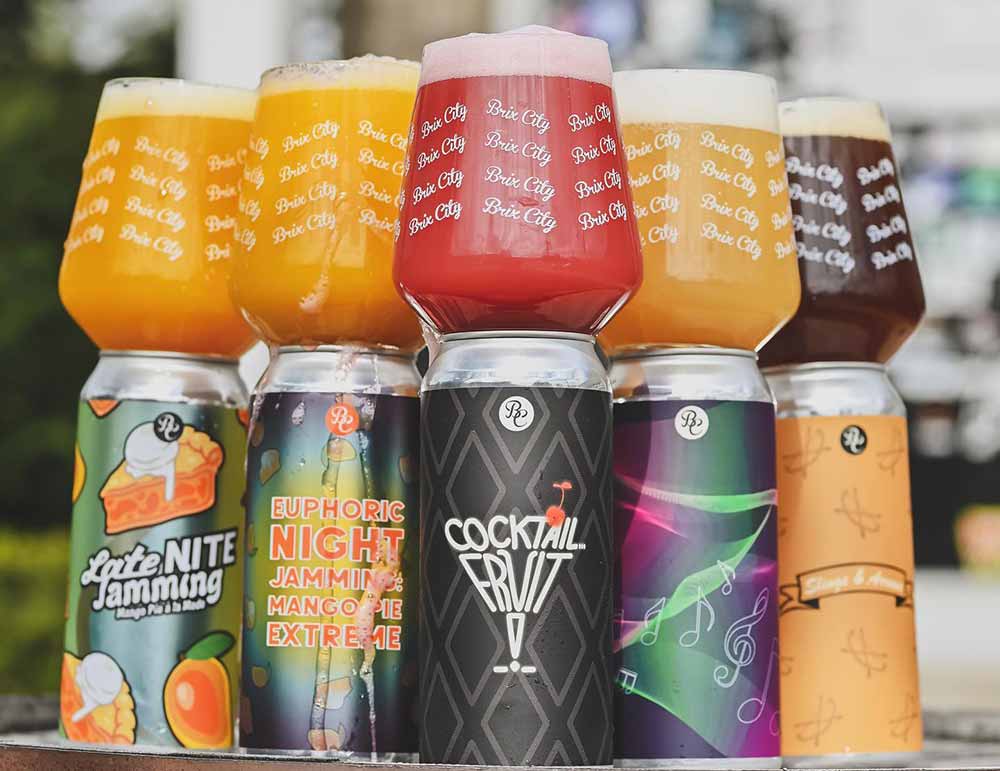 Let's be honest — when you're asked to name big-time beer states, New Jersey usually isn't the first one that comes to mind. But if you've learned anything from this list so far, it's that the Garden State needs to be taken seriously.
But even among people who know and love the Jersey beer scene, Brix City Brewing is a bit of a a bit of a hidden gem brewery. But their buzzy hazy IPAs and sensational sours should capture your attention.
If you visit, keep an eye out for Brix City Power Jams, a hazy triple IPA dry-hopped with Citra, Mosaic, Citra Cryo, and Mosaic Cryo. Or Late Nite Jamming: Mango Pie Á La Mode, an Imperial pastry-style sour ale collab with Definitive Brewing that includes mango purée, vanilla beans, graham crackers, and cinnamon.
Magnify Brewing Company
1275 Bloomfield Ave Building 7 Unit 40C, Fairfield, NJ 07004 | info@magnifybrewing.com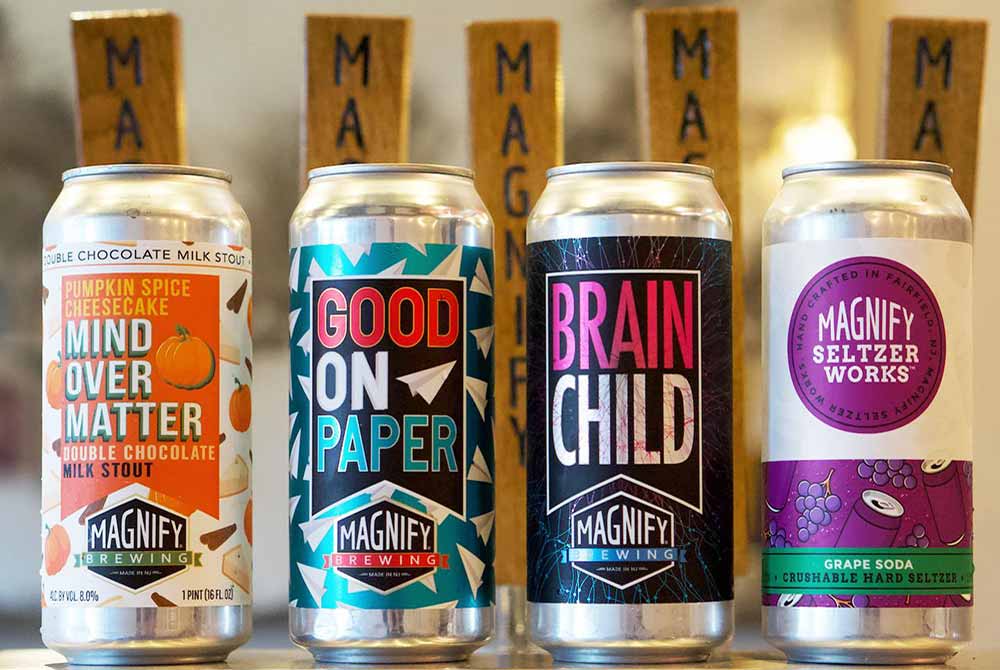 You think we'd talk about the New Jersey beer scene without mentioning Magnify? In 2015, Eric Ruta knew he wanted to start a brewery, but he had trouble finding a space and securing the necessary permits. Despite the challenges, Ruta finally found the perfect spot in Fairfield, NJ, opening six years ago with just four employees. And after doing much of the legwork himself for the first couple of years, Ruta and his team grew the brewery from obscurity into popularity.
Known for hop-forward beers, Magnify often attracts lines for its releases. While the brewery also pulls out a sour, saison, or stout or two on the occasion, for the most part, it's triple, double, or single IPA releases that call aficionados from far and wide.
Carton Brewing Company
6 E Washington Ave, Atlantic Highlands, NJ 07716 | (732) 654-2337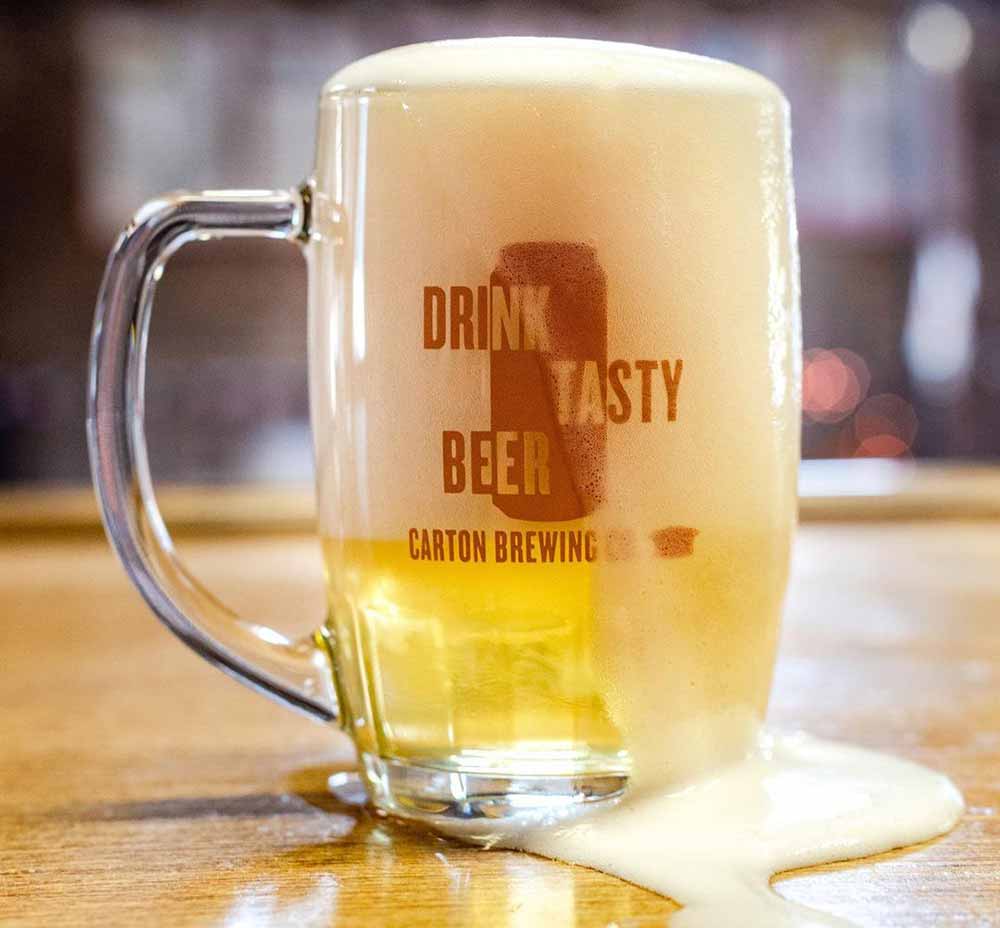 Two words: Boat Beer. Carton Brewing's 3.5% ABV hazy, hoppy session ale–aka Boat Beer–has made waves as one of the most drinkable beers in New Jersey. Somehow, Carton sailed right by the haze craze and crashed on the shore with a session ale. And we're so glad they did. Made with Kölsch yeast, German malts, and American hops, this is one crisp, refreshing ale. You can take a boat out along the beautiful Jersey coastline and crush a couple in one afternoon without being crippled.
Carton beer is New Jersey-made beer to its core. In fact, cousins Augie and Chris Carton started the brewery in 2011 after they had a hard time finding kegs of New Jersey-brewed beer. In 2019, Carton expanded to help the cousins keep up with growing demand and distribution.
And while we love Boat Beer, it's not the only Carton product we enjoy. Today, you'll find Carton of Milk session nitro milk stout and Whaler NEIPA, among others.
Backward Flag Brewing Company
699 Challenger Way, Forked River, NJ 08731 | (609) 622-8911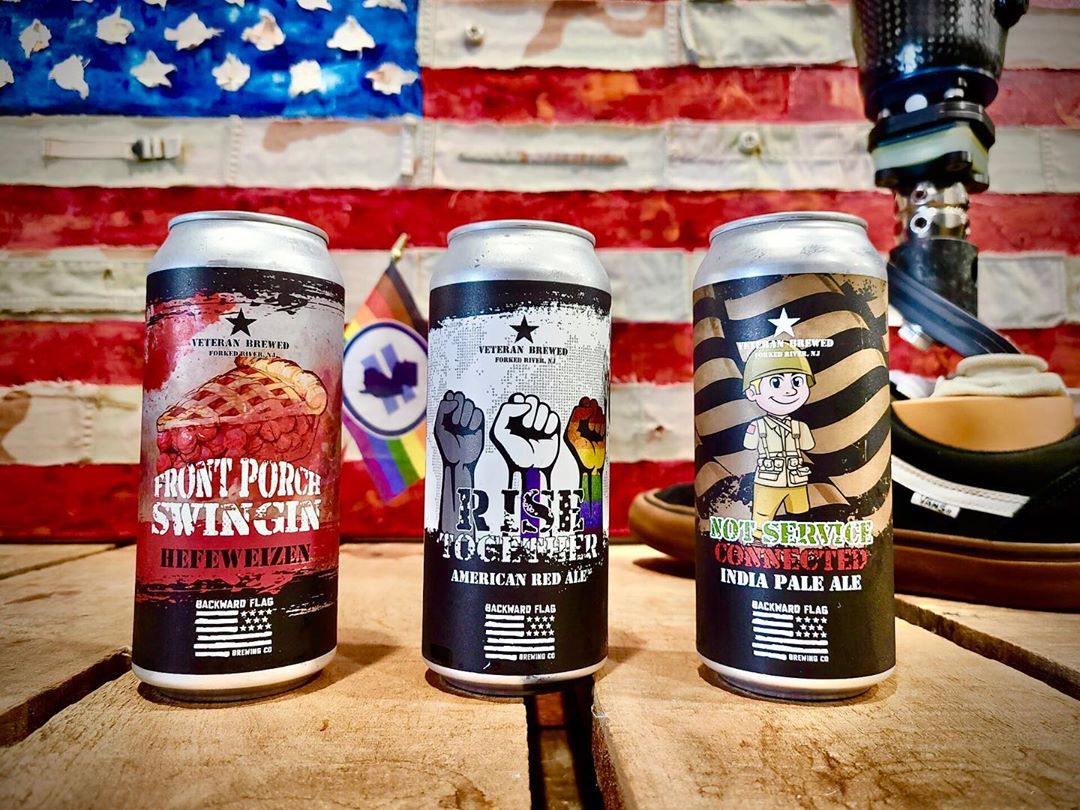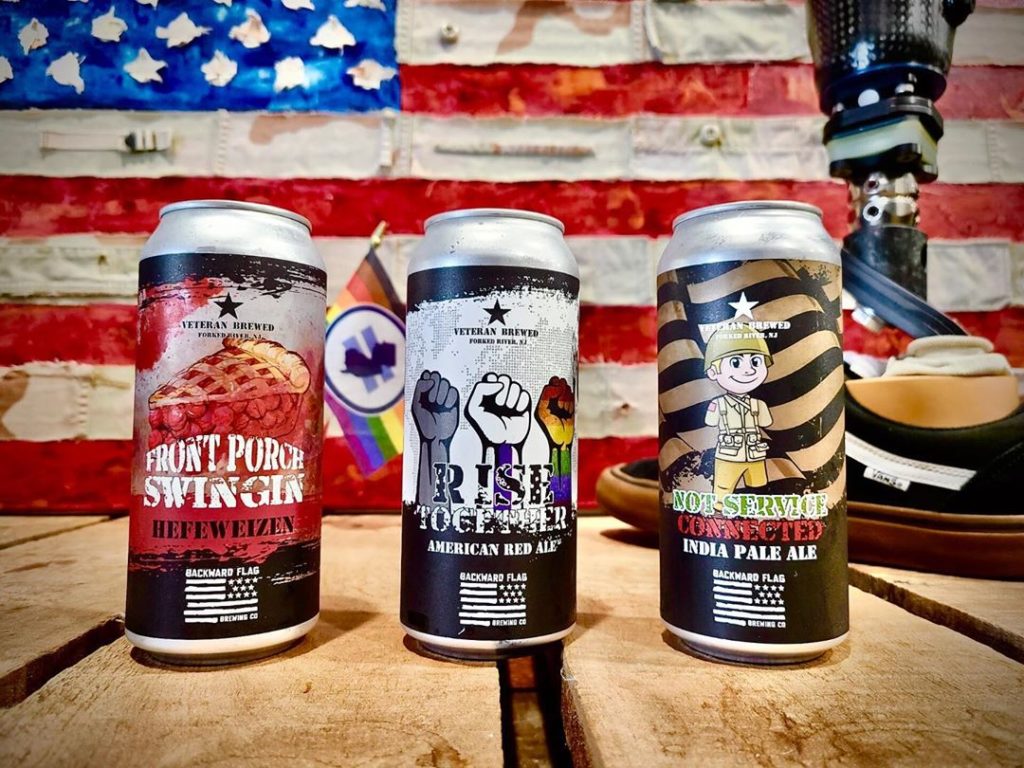 Veteran- and women-owned Backward Flag in South Jersey works hard to raise awareness about veteran's issues… while also making fantastic beer, of course. If we're visiting, we're looking for Backward Flag Something's Missing IPA, a juicy, hazy IPA with Citra, Cascade, and Simcoe, where 100 percent of all proceeds go to a Veteran mental health charity. Or S.T.F.U, a pale ale conditioned with vanilla that's brewed with Veteran-owned Black 6 Coffee.
Conclave Brewing
11 Minneakoning Rd, Flemington, NJ 08822 | (908) 392-0893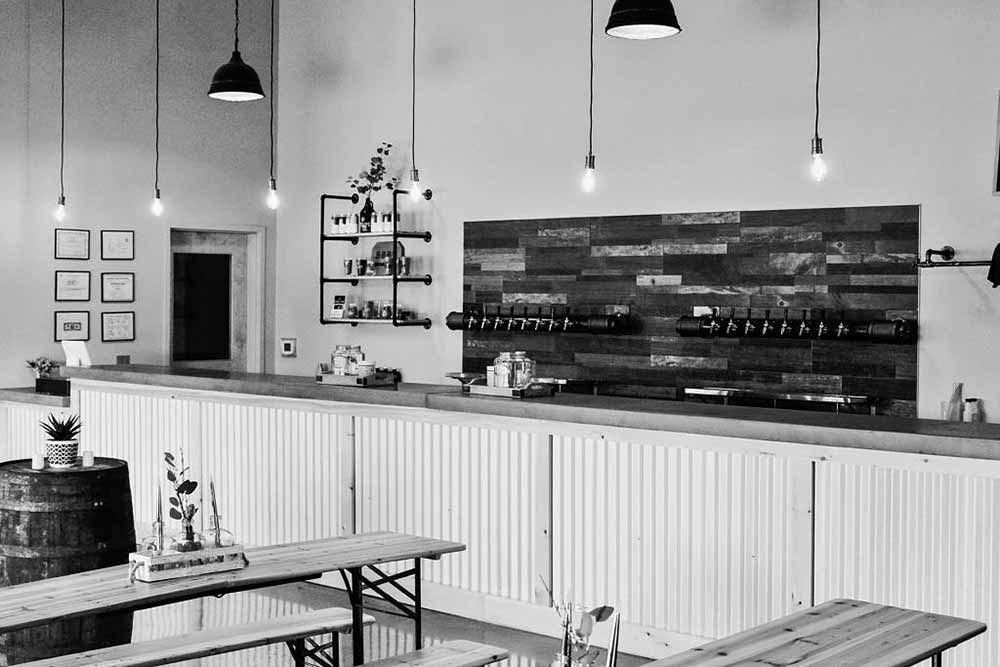 New releases come out of Conclave Brewing about once a month, and they often sell out in a single weekend. Why? Because Co-Owner Carl Alfaro brings his twenty-plus years of civil engineering experience to brewing beer.
Like Upstate New York's Equilibrium Brewery, where Dr. Peter Oates and partner Dr. Ricardo Petroni use science to perfect their product, Alfaro lets his former career inform excellent versions of classic beer styles. Subsequently, the results include Gravitational Waves, a 6.8% IPA dry hopped with Galaxy, Citra, and Mosaic, as well as Lilting Grace, an 8.0% ABV DIPA with Cashmere, Vic Secret, and Enigma. It's one of Conclave's largest hopped beers.
However, Conclave doesn't just make IPAs. Their rotating list includes a Belgian dark strong, Märzen, pilsner, extra special bitter, and oak-aged farmhouse ale, meaning the brewery usually offers something for everyone.
Honorable Mentions
Eight & Sand Beer Co.
1003 N Evergreen Ave, Woodbury, NJ 08096 | (856) 537-1339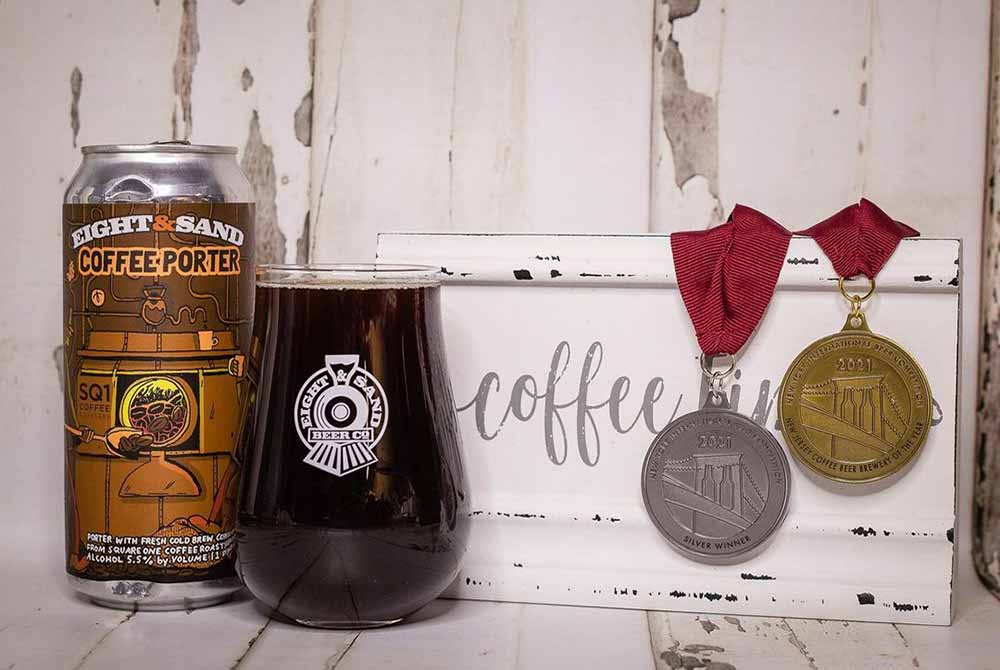 Named for a saying among train engineers that wished crews a quick and safe journey, Eight & Sand Beer Co. has picked up steam the last few years. In 2018, USA Today called the brewery one of the top 10 in America. Moreover, in the same year, the brewery's Bad Hombre chili stout took home a silver medal from the Great American Beer Festival.
Eight & Sand focuses on marrying old European styles with new American ingredients. With most of the beers falling under sessionable, Eight & Sand crafts award-winning yet approachable beers that wish everyone who stops by a quick and safe journey.
Ghost Hawk Brewing Co.
321 River Rd #6, Clifton, NJ 07014 | (973) 259-6037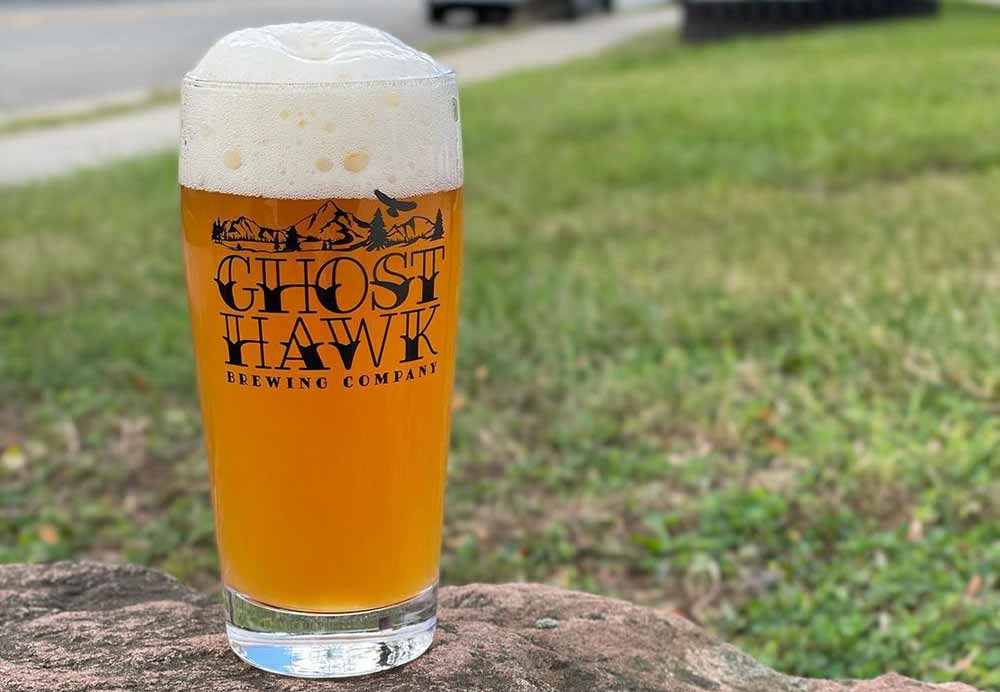 Ghost Hawk just landed on our radar (get it?) thanks to the friendly folks at the "America The BREW-tiful" podcast, which recently featured Hop Culture Founder Kenny Gould.
In our opinion, Clifton-based Ghost Hawk makes great IPAs and lagers. For example, check out the Ghost Hawk Lager, brewed according to the German Beer Purity Law of 1516. Or Apex Predator, a NEIPA with loads of Simcoe, Citra, Mosaic, and Ekuanot hops. But they also have an incredible story. Ghost Hawk is definitely one to watch. That is to say, we have a feeling that this brewery is set to soar to great heights (get it??).