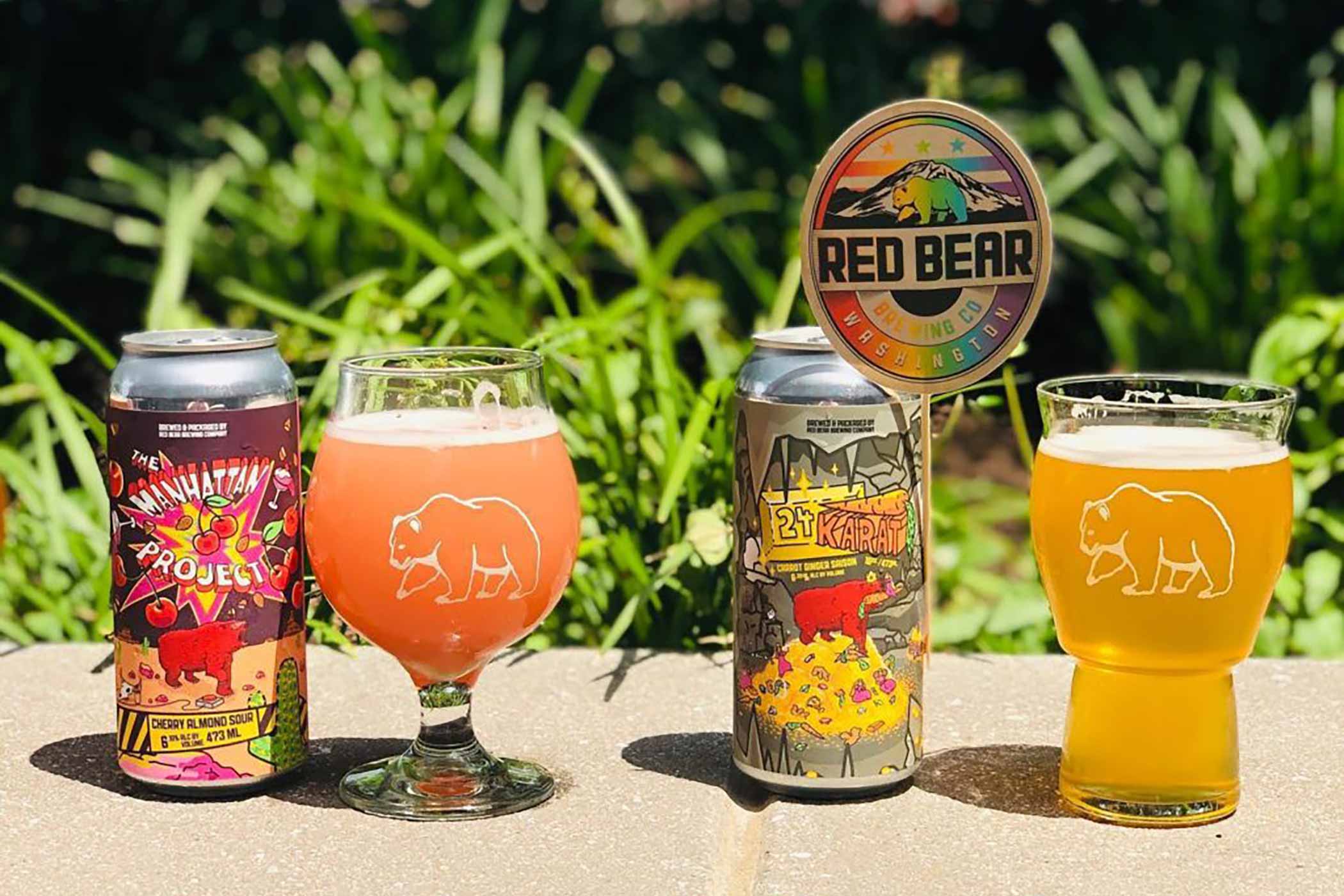 Photography courtesy of Red Bear Brewing Co.
Updated on April 11, 2022
America's capital is full of great beer, with D.C.'s breweries churning out brews that are as diverse as they are delicious. Which is why we thought it would be the perfect place to host our second annual and first ever in-person Hop Culture x New Belgium presents Queer Beer Fest, taking place on June 3rd and June 4th, 2022, at the Wharf in Washington, D.C.
In 2020, Hop Culture managing editor Grace Weitz, who identifies as Queer, conceptualized the first Queer Beer festival to capture the unique, vibrant, diverse, and thriving voices of the Queer community in the industry. As an evolution of our groundbreaking women in craft beer festival Beers With(out) Beards, this event represents another underserved community in beer.
We're honored that this year the amazing and thriving Queer community in Washington D.C. will be hosting Hop Culture for this incredible event. The festival will feature thirty Queer-owned or Queer-supporting breweries. Many located right in Washington, D.C., such as Right Proper Brewing, Red Bear Brewing Co., DC Brau, Denizens, and more.
GET TICKETS TO THE BEST PRIDE PARTY OF THE YEAR
To celebrate we rounded up our list of the eleven best breweries in Washington, D.C.
And because D.C.-based beer fans get the benefit of adding breweries from southern Maryland and northern Virginia to their repertoire, we felt it would be criminal not to include a couple of our favorites that reside a little bit beyond the D.C. border. So don't be afraid to hop in an Uber and see what the neighboring states have to offer.
Hop Culture's 11 Best Breweries in Washington, D.C.
DC Brau
3178 Bladensburg Road NE B | (202) 621-8890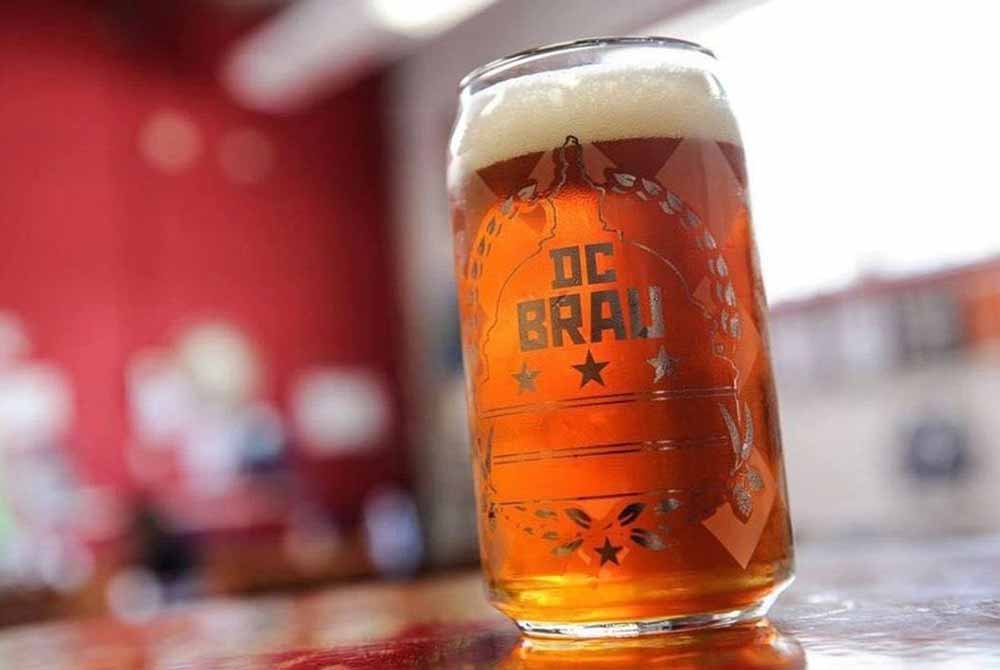 As the first packaging brewery in D.C. since Prohibition, DC Brau is a significant part of the beer history in the District. The taproom is small and very much out of the way, but it's worth heading out for a short tour and chatting up the DC Brau team. You'll easily find their solid flagships like The Public Ale and The Corruption throughout the city, but seek out cans of their harder-to-find On the Wings of Armageddon, a dank DIPA.
And come Pride month in June, the D.C.-based brewery rebrands its flagship Brau Pils to Pride Pils, collaborating with the Washington Blade, America's oldest LGBTQ newspaper that originated just a few months after the infamous Stonewall riots in 1969. All proceeds from the sale of the limited-edition beer benefit SMYAL, the Sexual Minority Youth Assistance League and The Blade Foundation that funds enterprise journalism projects focused on LGBTQ+ and other underrepresented communities. Over the last two years through the Pride Pils project, DC Brau has raised over $40,000 for these organizations.
Note: DC Brau will be joining us for the Hop Culture x New Belgium presents Queer Beer Fest. Get your tickets here.
GET YOUR TICKETS TO QUEER BEER
Right Proper Brewing Co.
624 T Street NW | (202) 607-2337
Right Proper brews some of the best sour beers around. Find their beer on tap around the city or head to Shaw for their brewpub or Brookland for their production facility. Usually, there are a few unique beers only available at one or the other, so even a double visit isn't a bad idea.
Right Proper specializes in tart, funky beers often at low ABVs. Yeast is the name of the game at Right Proper, and head brewer Nathan Zeender, who loves to mess around with house blends and the fickle fermentation process, handles the beer with care. Some personal favorites include Baron Corvo, a 7% Bière de Garde, and Kick.Kick.Snare, a crisp and tart Berliner weisse.
Note: Right Proper will be joining us for the Hop Culture x New Belgium presents Queer Beer Fest. Get your tickets here.
GET YOUR TICKETS TO QUEER BEER
Red Bear Brewing Co.
209 M St NE | (202) 849-6130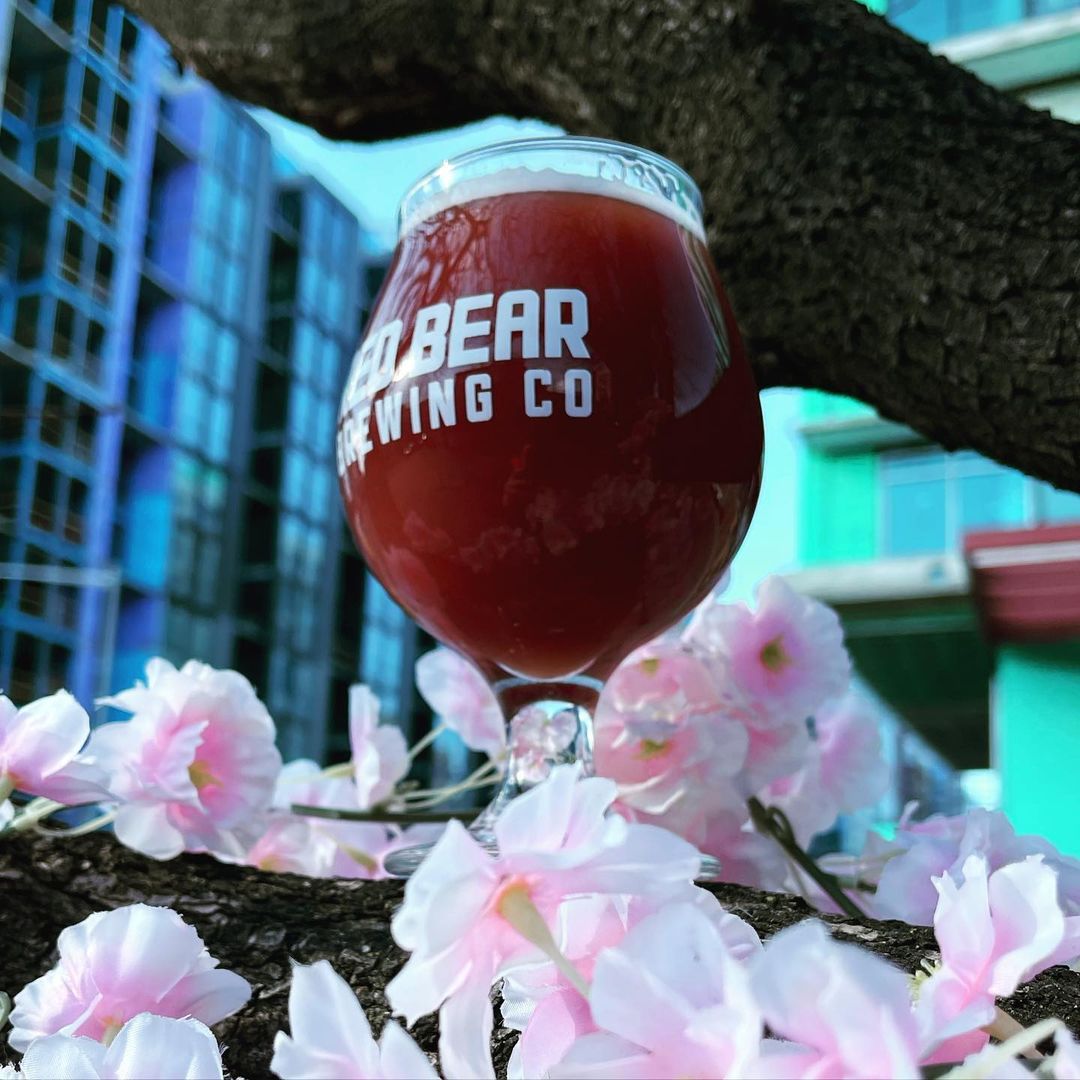 Washington, D.C.'s first entirely gay-owned brewery brought an incredible taproom to the NoMa neighborhood when it opened in the spring of 2019. Red Bear Brewing Owner and Director of Marketing and Events Bryan Van Den Oever oversees operations, giving life and spirit to the brewery.
A focus on West Coast-style ales is a nod to Van Den Oever and his partners' Pacific Northwest roots, but you can also find excellent sours, imperial stouts, and a PNW red ale called Skookum.
This is a true community center that warmly welcomes every single human being to come inside its doors and enjoy delicious beer.
Note: Red Bear will be joining us for the Hop Culture x New Belgium presents Queer Beer Fest. Get your tickets here.
GET YOUR TICKETS TO QUEER BEER
Denizens Brewing Co.
1115 E W Hwy., Silver Spring, MD 20910 | (301) 557-9818
4550 Van Buren St., Riverdale Park, MD 20737 | (240) 582-6817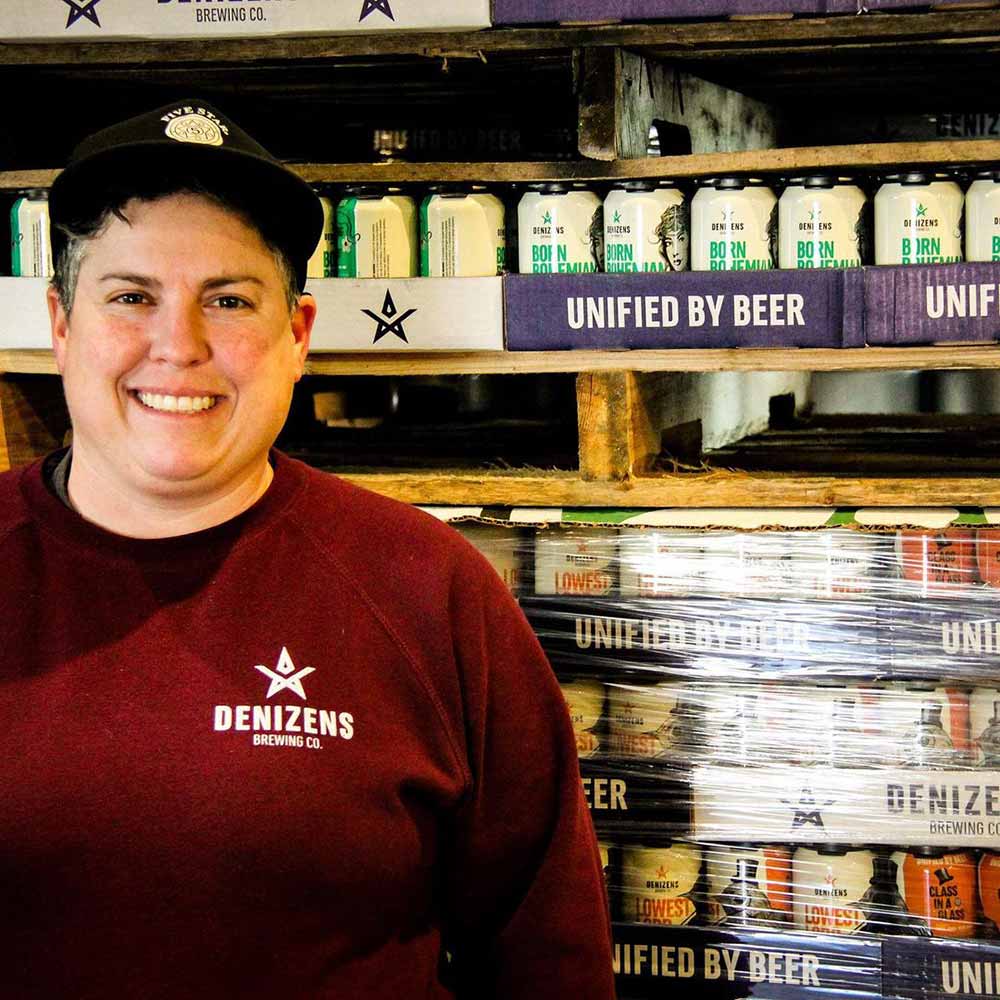 Since 2014, after co-founding Denizens in Silver Spring, MD, wife-and-wife team Julie Veratti and Emily Bruno have been consistent advocates and voices for the queer community in the craft beer industry. As one of the only women and minority-owned-and-operated breweries in Maryland, Denizens focuses as much on community organizing as on their crisp lagers, hoppy IPAs, and barrel-aged stouts.
The idea behind the brewery is to be a gathering place for all, often hosting (pre-pandemic) craft fairs, trivia, live music, a running club, and drag shows.
And the brewery has often given back to specific LGBTQ+ organizations such as the Human Rights Campaign, SMYLA, and the MoCo Pride Center.
While you'll need to make your way to either Silver Spring or Riverdale Park to visit one of the brewery's two taprooms, the visit is worth the drive.
Note: Denizens will be joining us for the Hop Culture x New Belgium presents Queer Beer Fest. Get your tickets here.
GET YOUR TICKETS TO QUEER BEER
Atlas Brew Works
2052 West Virginia Avenue NE #102 | (202) 832-0420
1201 Half St SE | (202) 525-2001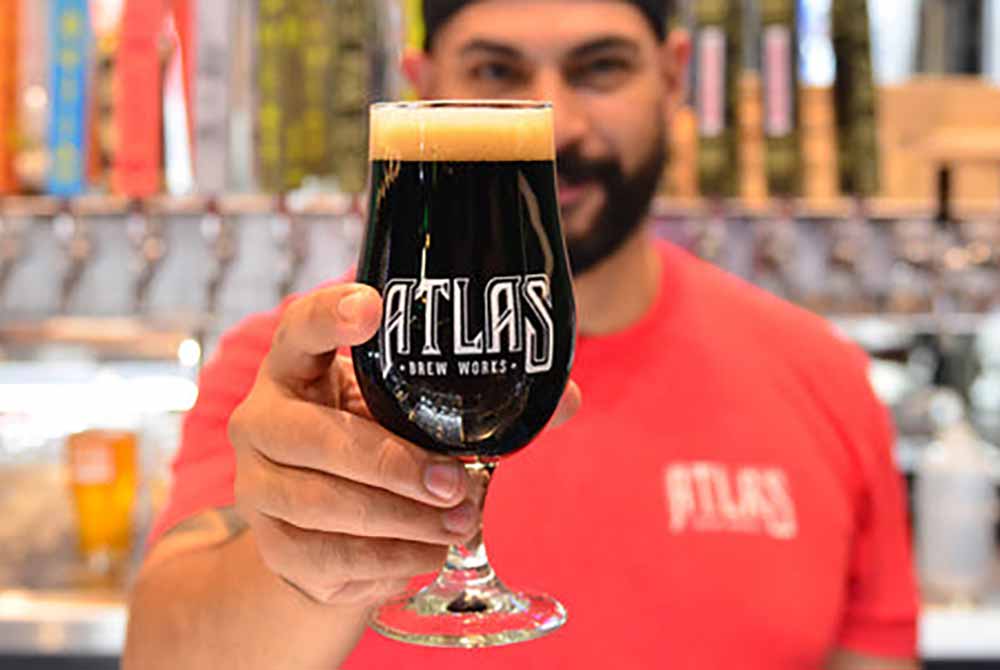 Solar-powered beer pours aplenty in D.C.'s Ivy City neighborhood at Atlas Brew Works, which became 100 percent solar-powered in 2015.
In June of 2020, Atlas Brew Works expanded to a second location—Half Street Brewery & Taproom, offering artisan pizzas by the slice or the whole pie. Located right next to Nats Park and Navy Yard, Atlas Brew Works' two-year-old taproom is the perfect place to eat pizza, drink beer, and catch the Nats game.
Beerwise, find easy-drinking brews like District Common, Atlas' take on a California common, and Rye, Rye My Darling, a rye-forward saison. Or take it up a notch with NSFW, a 9.2% black imperial IPA.
Bluejacket
300 Tingey Street SE | (202) 524-4862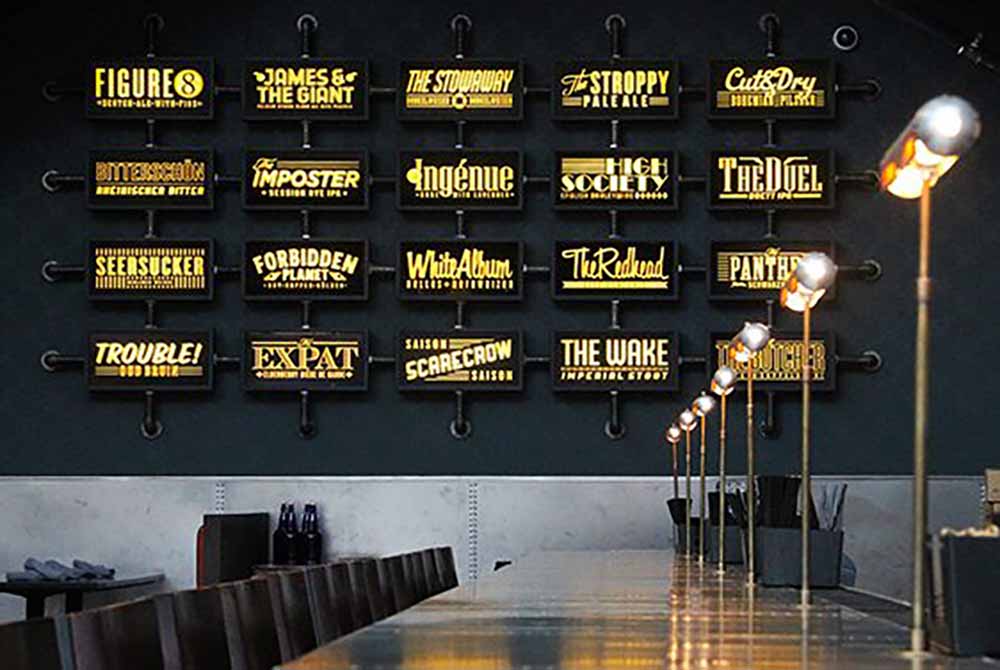 Located in D.C.'s Navy Yard, Bluejacket is a great spot for quality beers and a fun time. Enjoy an afternoon on Bluejacket's patio with one of Bluejacket's fresh, delicious cask ales. Or try some of the stellar food served by Bluejacket's restaurant, The Arsenal. The beers range in styles like Lost Weekend, a citra IPA, and Lagerfarm, a farmhouse lager. Bluejacket's coolship program also means that unique, spontaneously fermented beers are pouring at the taproom.
Pro tip: Atlas Brew Works Half Street taproom is less than a ten-minute walk from Bluejacket. Get to brewery hopping!
Other Half Brewing
1401 Okie St NE, Washington, DC 20002 | (202) 747-0050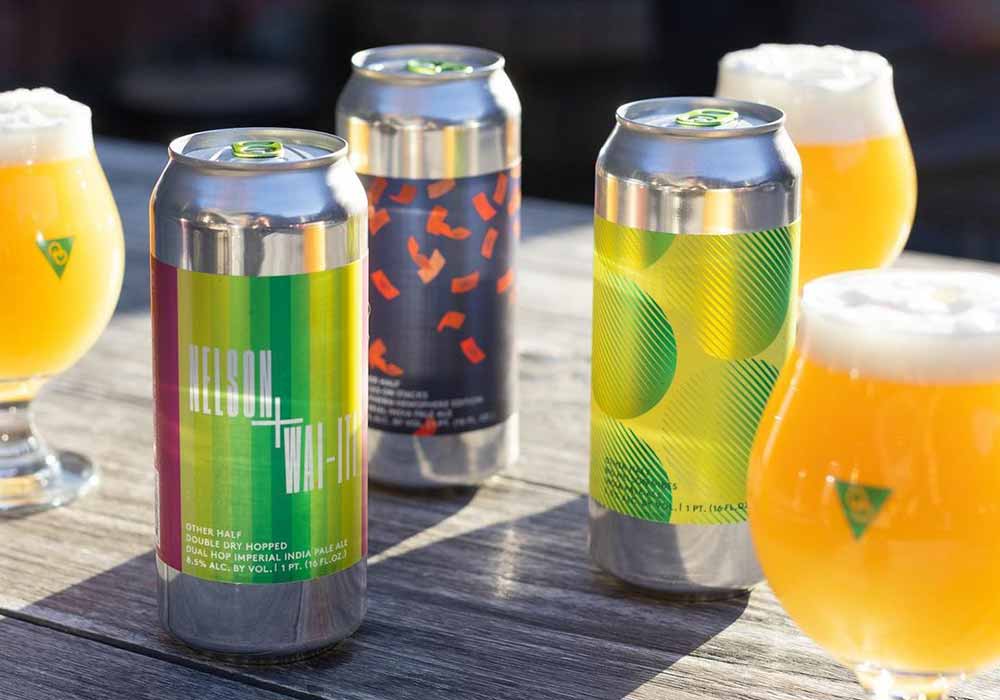 Rejoice! The brewery that made a name for itself when it was just a tiny operation welcoming lines wrapped around the block in the Gowanus neighborhood of Brooklyn expanded to Washington, D.C., in October 2020.
Located in Ivy City, Other Half's D.C. taproom is a mere five-minute walk from Atlas Brew Works' own space. So make a day of it. Hit Other Half for incredible single, double, and hazy IPAs, and then stroll on over to Atlas Brew Works to continue the party.
Port City Brewing Co.
3950 Wheeler Avenue | (703) 797-2739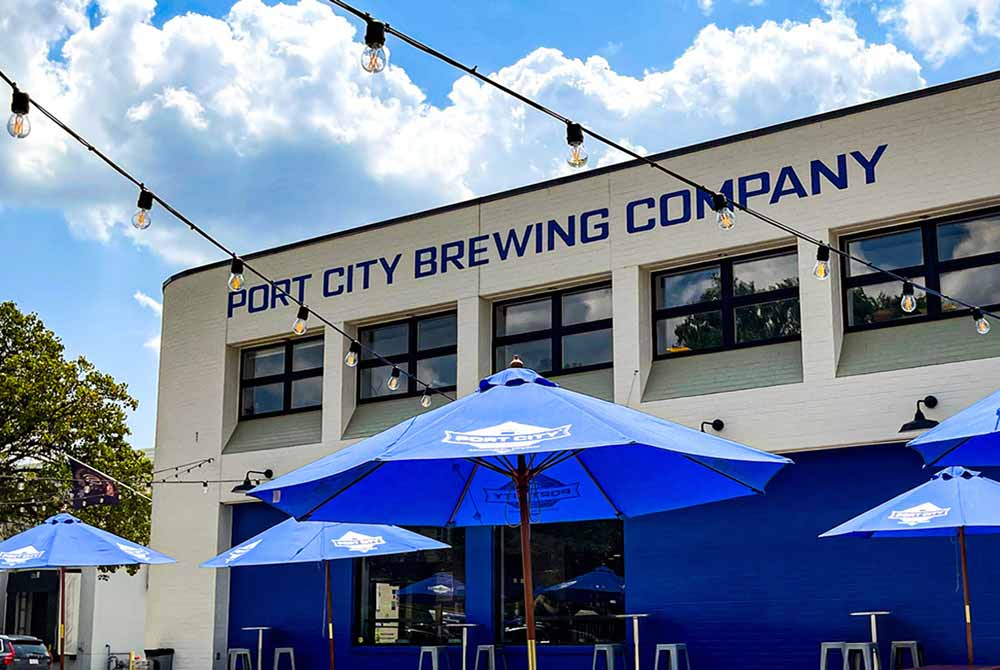 Located in nearby Alexandria, Port City is just a short metro ride away from downtown D.C. Although they brew a variety of beers, Port City is known for their Optimal Wit, a true-to-style Belgian witbier. Optimal Wit has grown into Port City's best-selling beer, spurred no doubt by winning gold in the Belgian-style Witbier category at the 2013 Great American Beer Festival (GABF).
And their year-round golden ale, Beach Drive, just made our list of the "Top 10 Beers We Drank in March." Why?
The hop inside. Port City adds Adeena, recently named one of our hottest hops of 2022, a hop geared specifically toward lager-style beers.
Formerly known as ADHA 1940, Adeena was commercially released in 2020 and has quickly gained traction.
A bit of a rarity in the American hop world, Adeena works beautifully in Beach Drive. Slightly spicy and a tad floral, this golden ale is the perfect beer to break out on the way to the beach, lake, or pool. Or to just enjoy under one of the umbrellas at a table on the patio in Port City's taproom.
Aslin Beer Co.
257 Sunset Park Drive | (703) 787-5766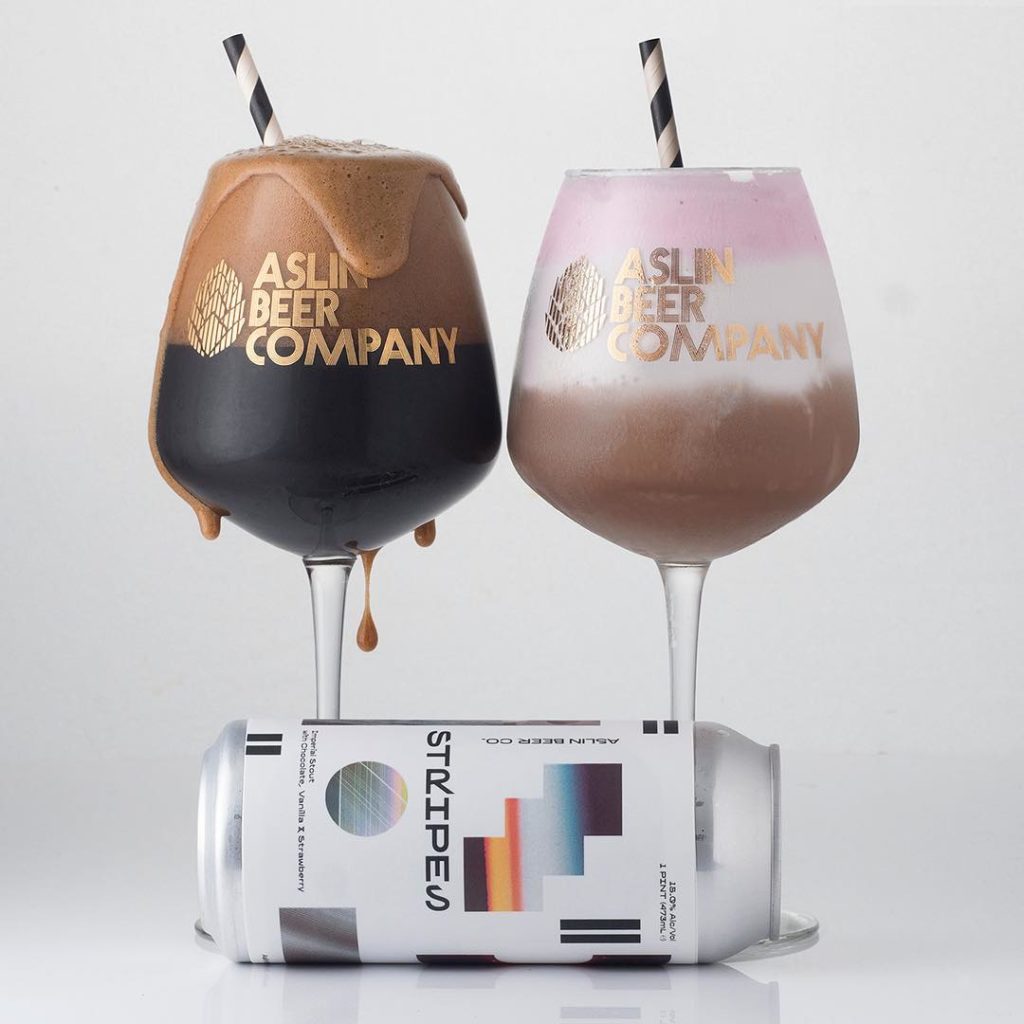 You won't be able to reach Aslin Beer's original taproom, located in Herndon, VA, on the metro, so driving is your best bet. Or you can take an hour trip by train and a bus to the renowned brewery's semi-new Alexandria location, opened in the summer of 2019. Or maybe the twenty-five minute drive is easier! Either way, both are well worth the trip.
If you pick the closer taproom in Alexandria, you'll be treated to a sleek, industrial space with subway tiling, concrete floors, trippy murals, and vintage '80s neon signs. And even though the space is cool, you're almost certainly at Aslin for the equally psychedelic beers, which for years saw only limited distribution around the D.C. area.
Now the new taproom / production space in Alexandria allows Aslin to make ten times the amount of beer. You'll definitely want to settle in and try Aslin's funky sours and IPAs, but more resources also mean you can expect experimentation with things like lagers, spiked seltzers, and pastry stouts.
Aslin always has something quirky and new coming out, so be sure to check social media for beer releases each week before you go.
Oh and by the way, another great reason to check out the new Alexandria spot? Aslin Kitchen, a scratch kitchen concept thought up by Aslin Co-Founders Andrew Kelley and Kai Leszkowicz and Chef Taylor Gates. It's all about the round pies with naturally leavened and fermented dough, the base for a series of simple and unique sixteen-inch pies. There are also Sicilian slices and a tight list of sandwiches, salads, and fries.
Ocelot Brewing Co.
23600 Overland Drive #180 | (703) 665-2146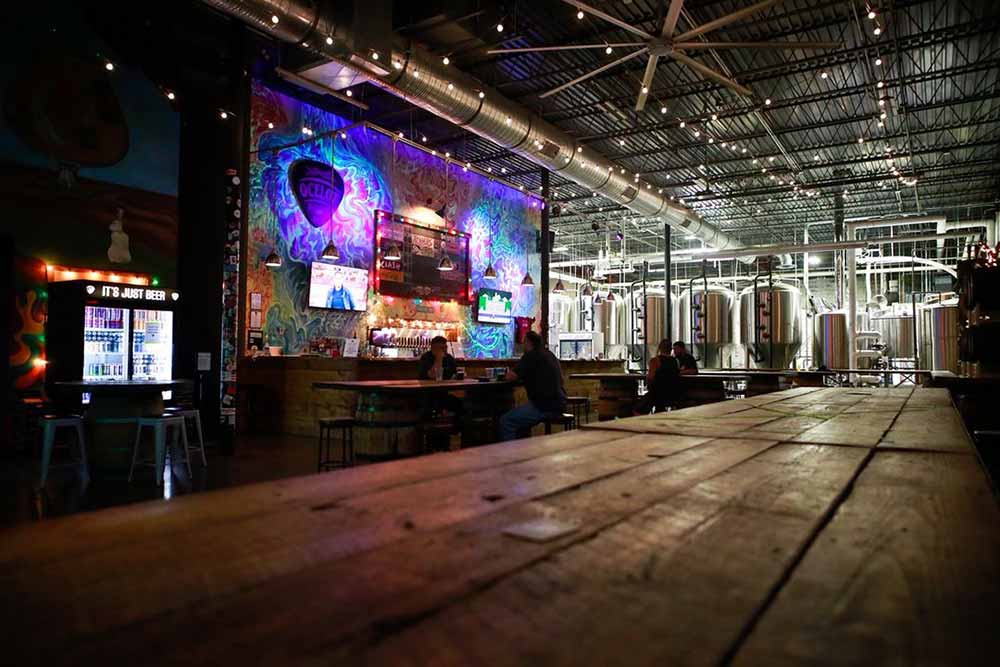 Drive forty minutes to Dulles, VA (or another fifteen minutes if you're coming from Aslin's Herndon taproom), to check out nearby Ocelot Brewing. Settle in and be sure to grab a few of Ocelot's delicious IPAs at their taproom. But you'll also find a rotating tap list with a whole bunch of styles. Recently, we found a pilsner, an imperial coffee stout, an American lager, a kellerbier, a helles, and a German pilsner. On your way out, pick up some bottles and growlers to go.