Photography courtesy of Dovetail Brewery
Updated on February 21, 2022
People love to drink in Chicago. From something as simple as chugging Old Styles watching the Cubs to downing a shot of the infamous Malort to taproom hopping to some of the best breweries, Chicago has a storied and beautiful beer culture.
In fact, Chicago, IL, topped the charts on the Untappd app as the city with the most number of venue check-ins at 355k in 2021. With almost 230 breweries in the Chicagoland area and even more in planning, you could spend a whole year in Chicago and still find new spots to explore. Take it from Managing Editor Grace Weitz, who lived and worked in the beer industry in Chicago for several years!
Actually, the entire Hop Culture Team loves the Windy City. We hosted the Juicy Brews Art Gallery Fest at Marz Community Brewing in 2019.
While visiting, we ate hot dogs, sampled local fare at Cellar Door Provisions (recommend!), and even checked out natural wines at Diversey (sister to our favorite Oakland-based wine store, Ordinaire). And, of course, we visited lots and lots of breweries.
Undoubtedly, Chicago is one of our favorite hidden-gem beer cities in the country. Mostly because it has one of the most mature beer markets. It has something for everyone: traditional European styles, experimental American styles, and everything in between.
Because Chicago is so big, for this article we're focusing our list of the breweries in Chicago-proper. While Mikerphone and 3 Floyds are definitely team favorites, they're a little further out. As a result, they don't qualify. But combine a visit to these eleven breweries with a trip to The Art Institute or Museum of Contemporary Art and a meal at Cellar Door and you've got yourself a fantastic weekend.
A List: The Best Breweries in Chicago, Illinois
Dovetail Brewery
1800 W Belle Plaine Ave | (773) 683-1414
If you're a sucker for rustic beers, Dovetail is for you. Rather than naming their products in the confusing (though often hilarious) American tradition, Dovetail opts for a purist's route, choosing titles that highlight the product's style or key ingredient —try Dovetail Lager, Dovetail Hefeweizen, or Dovetail Kölsch.
And if you like a little age on your beers, check out Dovetail's barrel program, where you'll find complex, nuanced expressions of traditional European styles. Such as X01: Flanders Rauch, a blend of Franconian smoked lagers and Belgian sours in one crazy beer. Or X04: Wild Vienna, Dovetail's Vienna Lager put into a barrel and blended with some of their spontaneous beer. Pure magic.
Combined with the traditional styles, the barrel program makes Dovetail Brewery the perfect spot for someone who has gone through the beer flavor wheel (lager, stout, IPA, sour) and has come all the way back.
Marz Community Brewing
3630 S Iron St | (773) 579-1935
On the opposite end of the spectrum from Dovetail is Marz, a uniquely American brewery that houses an arcade and serves beautifully packaged, experimental concoctions.
The perfect place for a wild first date or a fun get-together with work friends, the Marz taproom regularly features twenty-four on-tap libations, which run the gamut from Chug Life, a sparkling lager, to Marz Beer, a hazy DIPA.
Currently, their food menu brings 'za to the table. For instance, the Besto Pesto with red sauce, fresh mozzarella, and kale lemon pesto.
And if you're a sucker for cool art, Marz has your number. We named "Cloudy Boyz," their collaboration with Collective Arts Brewing, our favorite label of 2018.
Half Acre Beer Company
2050 W Balmoral Ave | (773) 754-8488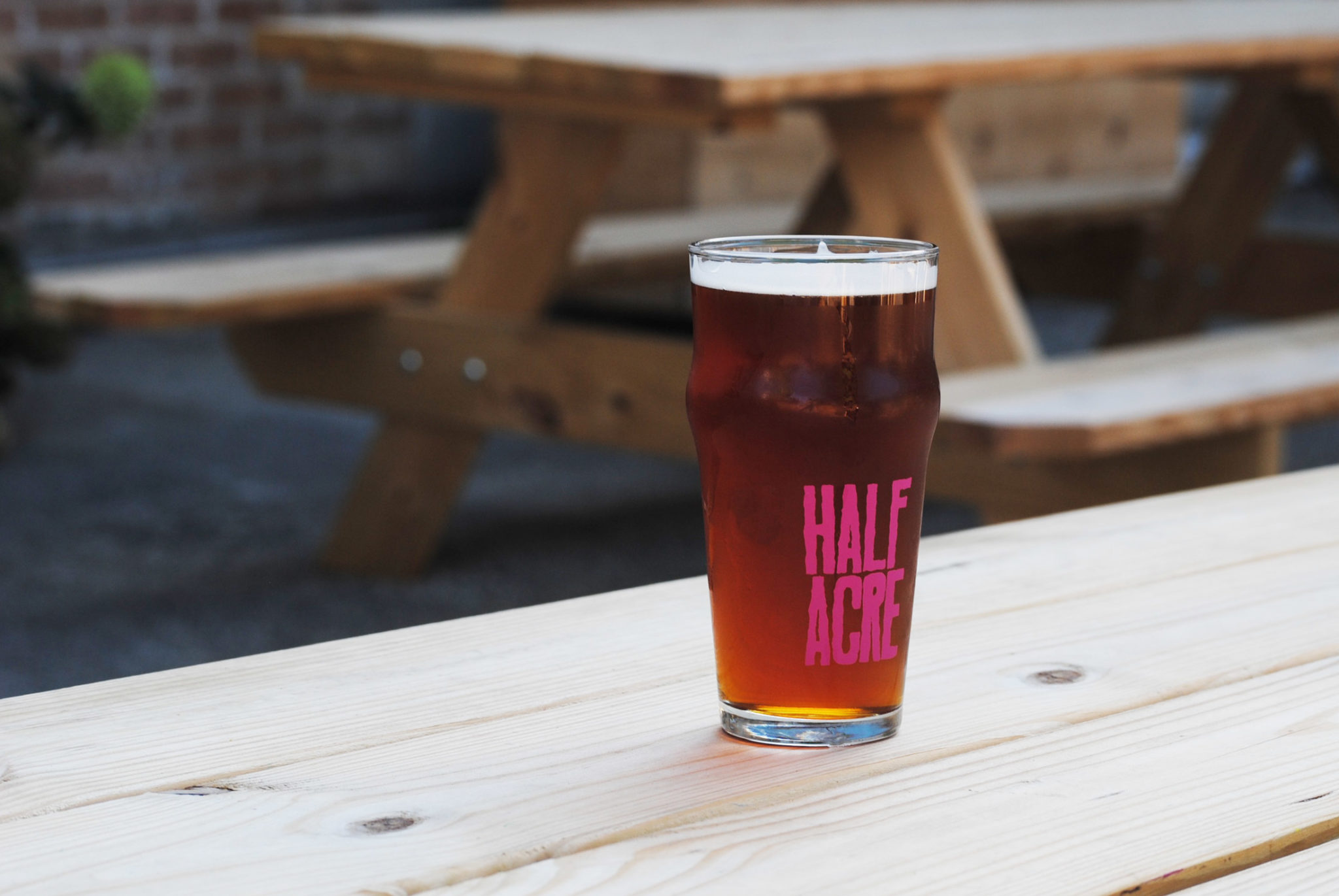 Somewhere between Dovetail and Marz is Half Acre, a relative OG brewery founded by Gabriel Magliaro in 2006. While you may have heard of packaged brewery staples like Daisy Cutter West Coast Pale Ale or Pony Pilsner, the brewery also makes several draft-only offerings that are best experienced at their Balmoral taproom.
In the 60,000-square-foot space, which also includes an outdoor beer garden, sip on Tome (one of the best hazy IPAs you can find in most stores right now) and Big Hugs, an Imperial stout with coffee.
For food, you'll find a menu full of favorites that go perfectly with beer. For instance, pretzel bites with zesty beer cheese, Daisy Cutter mussels, and bratwurst. You can even visit for brunch, available from 11AM-3PM, Friday through Sunday, offering biscuits and gravy, a breakfast burrito, and more.
Corridor Brewery & Provisions
3446 N Southport Ave | (773) 270-4272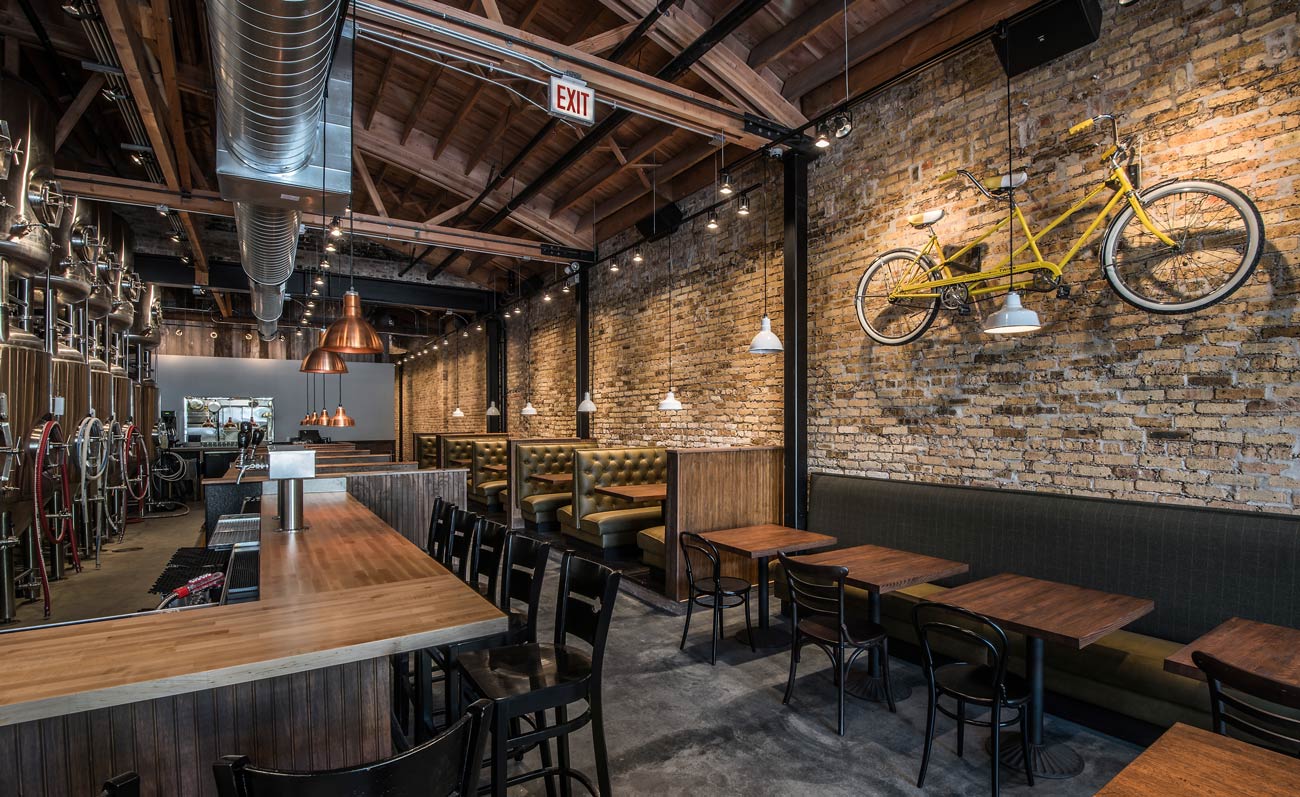 Corridor is a sophisticated project, the brainchild of Siebel- and Doemens-educated Greg Shuff. Also on the team are Director of Brewing Operations Brant Dubovick, who previously led Pittsburgh's Church Brew Works to the Great American Beer Festival's Large Brewpub Brewer of the Year Award, and Executive Chef Ryan Henderson, who cut his teeth at Momofuku, Empellon, and Alder.
The outstanding pedigree has led to flavorful hop bombs like Metamorphazed double dry-hopped double IPA and powerful Belgian beers like Fiendish Ol' Monk tripel.
Beyond the beer, you'll find a refined food menu featuring delicate salads, hearty sandwiches, and artisan pizzas. Plus, fun bites like cauliflower and curds and pickle fries.
It's Chicago's equivalent to Austin's Jester King.
Forbidden Root Restaurant & Brewery
1746 W Chicago Ave | (312) 929-2202
4710 N Ravenswood Ave | (773) 961-7919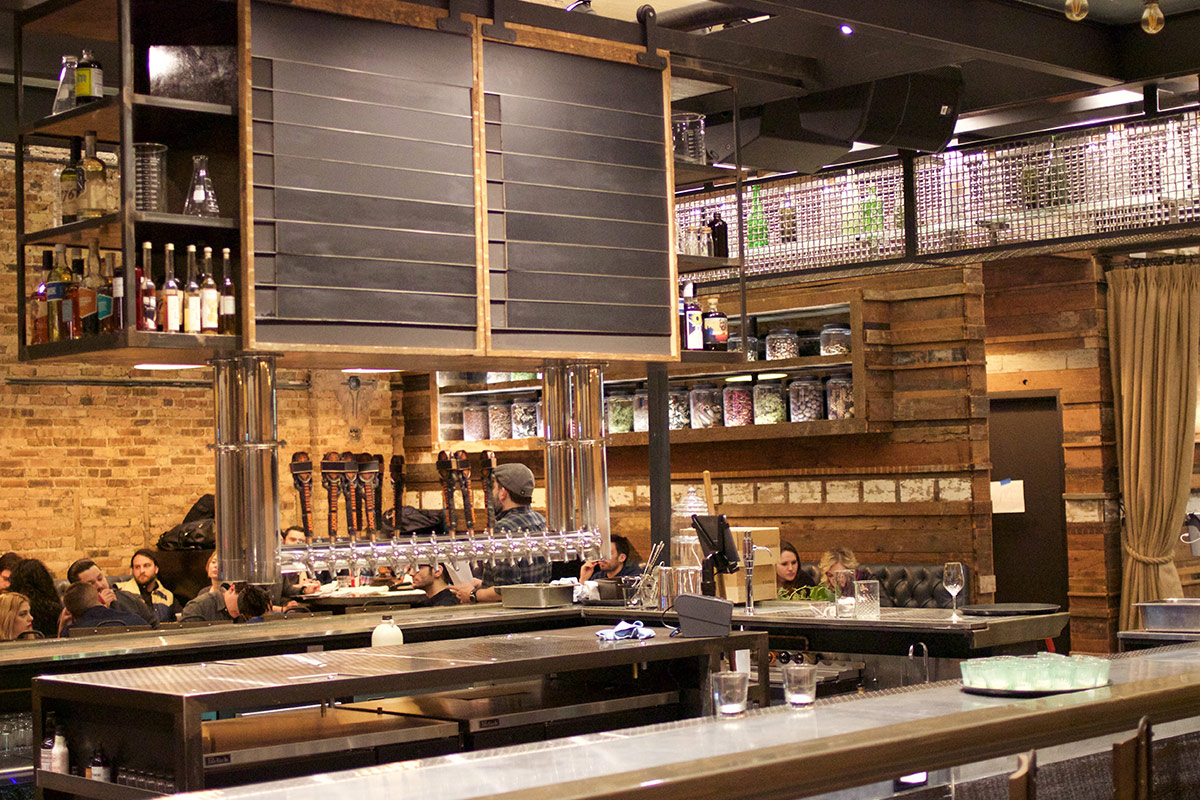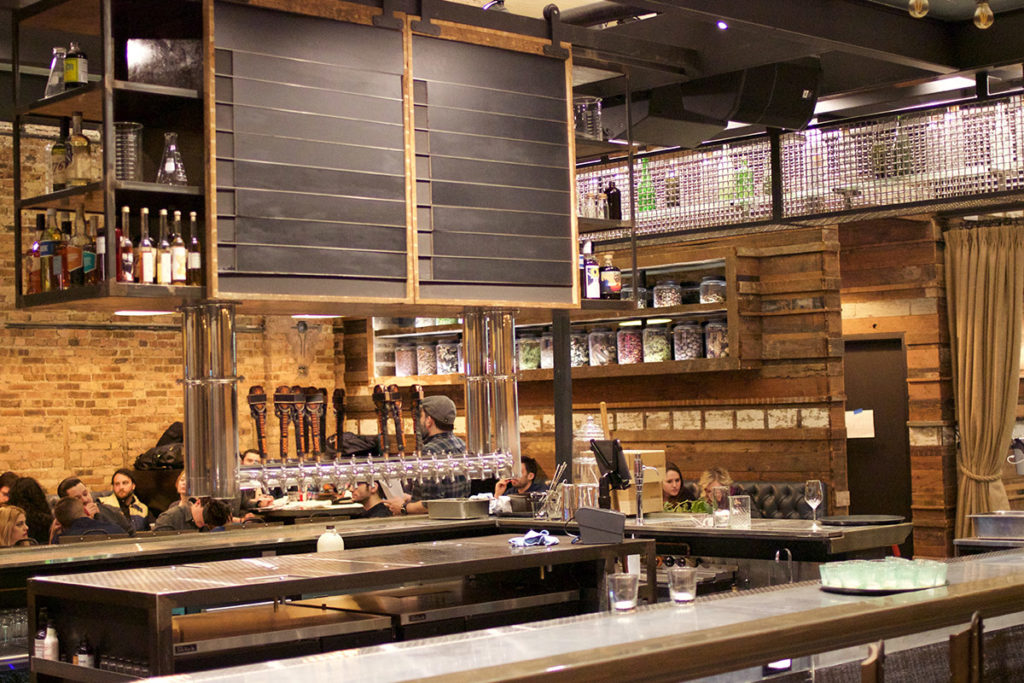 We owe discovery of this one to our friend Al Maka, gueuze geek and founder of A.J. Maka Distributing. As Chicago's first brewery dedicated to using botanicals in its beers, Forbidden Root implements barks, stems, flowers, herbs, spices, leaves, and even roots to create beers for even the most adventurous palate.
Additionally, the food menu at Forbidden Root pairs well with the beer, with items like the brussel sprouts with miso butter and everything-spiced almonds and the Duck and Dumplings with duck confit, ricotta gnocchi, mirepoix, duck jus, and crispy duck skin.
And with 100% of all non-consumable merchandise profits going to charity, you can indulge responsibly.
In 2019, the "botanical brewery" expanded, bringing its innovative approach to beer and food to Columbus, OH. Most recently, Forbidden Root continued building its brand in its own backyard, opening Cultivate by Forbidden Root, a new taproom and kitchen in Chicago's Ravenswood neighborhood.
Revolution Brewing
2323 N Milwaukee Ave | (773) 227-2739
If you've seen Drinking Buddies, you probably recognize Revolution Brewing. After all, the fictional characters portrayed by Olivia Wilde and Jake Johnson work at the brewery.
Founded as a Logan Square brewpub in 2010, Revolution Brewing has since grown to become the state's largest independent craft brewery. You really can't go wrong with any of the beers, though we're particular fans of the Deep Wood Series, which sees barrel-aged beers canned and sent into distribution.
Off Color Brewing
1460 N Kingsbury St | (312) 929-2916
Another Chicago staple, Off Color was founded in 2013 by John Laffler (formerly of Goose Island Brewery) and Dave Bleitner (formerly of Two Brothers Brewing).
As you might expect, the pedigree of the founders is obvious in Off Color Brewing's mature and technically excellent beers, which lean toward European styles. While the beers are serious, the branding is fun, leading to a very silly and unique taproom experience at both the original location and The Mousetrap, located on the North Branch Canal just west of the Old Town neighborhood.
If you're looking for an Off Color beer to sample, try Very, Very Far, a Belgian-style Ale that won Gold at the Great American Beer Festival.
Maplewood Brewery & Distillery
2717 N Maplewood Ave | (773) 270-1061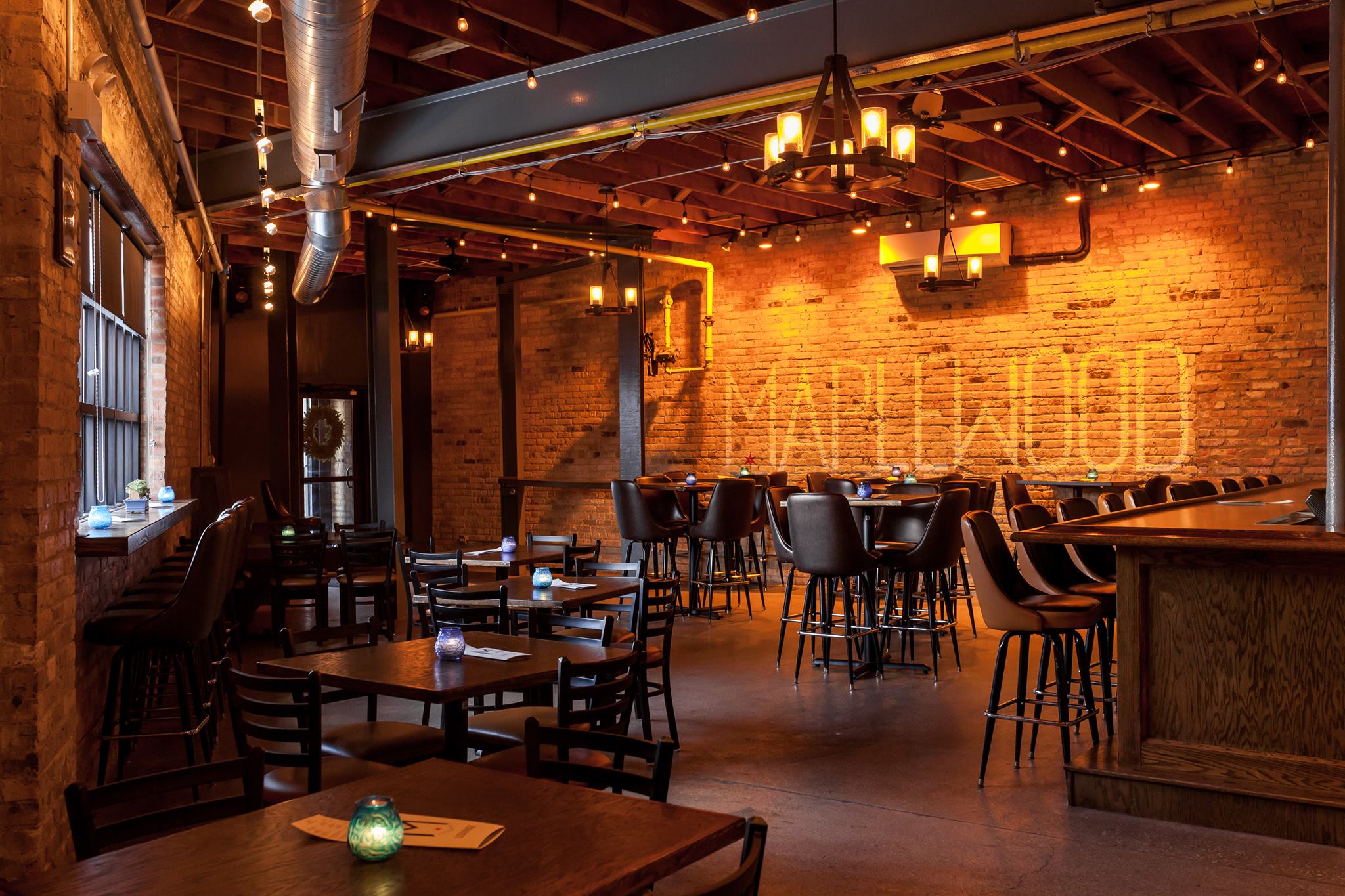 Right in Logan Square you'll find Maplewood, a brewery that makes both beer and spirits. Between their year-round pale ales, pilsners, and stouts, as well as their seasonal and specialty sours and barrel-aged releases, they have something for every palate.
And if you're not in the mood for beer, you can always snag a single malt whiskey. The taproom is a great place for a casual meetup.
Pilot Project
2140 N Milwaukee Ave | (773) 270-5995
With nearly 9,000 breweries operating in the United States, opening up a brewery has many challenges. But especially minority-owned businesses face special hurdles. Contract brewing or alternating proprietorships offer one solution, as do mentorship programs like Samuel Adams Brewing the American Dream. But what if a place existed especially for the minority community where you could come in for eight to sixteen months, develop and scale your recipes with a professional brewer, test them in a taproom, distribute them in a major beer market, and grow your brand? All without the financial burden required to open up a place of your own? That's the dream of Pilot Project Brewing, a Chicago-based brewery incubator helping minority-owned businesses "pilot" their brands.
Does it sound too good to be true? (Spoiler alert: It's not.)
Founded in August 2019 by Dan Abel and Jordan Radke, Pilot Project has helped launch thirteen beverage alcohol concepts. Like South Asian-owned Azadi Brewing Company, women-owned Luna Bay Booch, and Black-owned Funkytown Brewery.
Touted as the first space of its kind dedicated to the brewing community, Pilot Project strives to support folks in underrepresented communities in a predominantly white, male brewing industry with high barriers to entry.
With over twenty-four taps available, Pilot Project's tasting room features up to five different beverages from each of the five brands in the project. For instance, Azadi's Gir, an IPA inspired by the kesar mango, a vibrant orange fruit native to India. Or Funktyown's flagship pale ale, Hip-Hops and R&Brew, bringing 90s hip-hop culture into craft beer.
Come here to try a variety of beers from innovative new minority-owned breweries breaking into the industry.
Metropolitan Brewing
3057 N Rockwell St | (773) 754-0494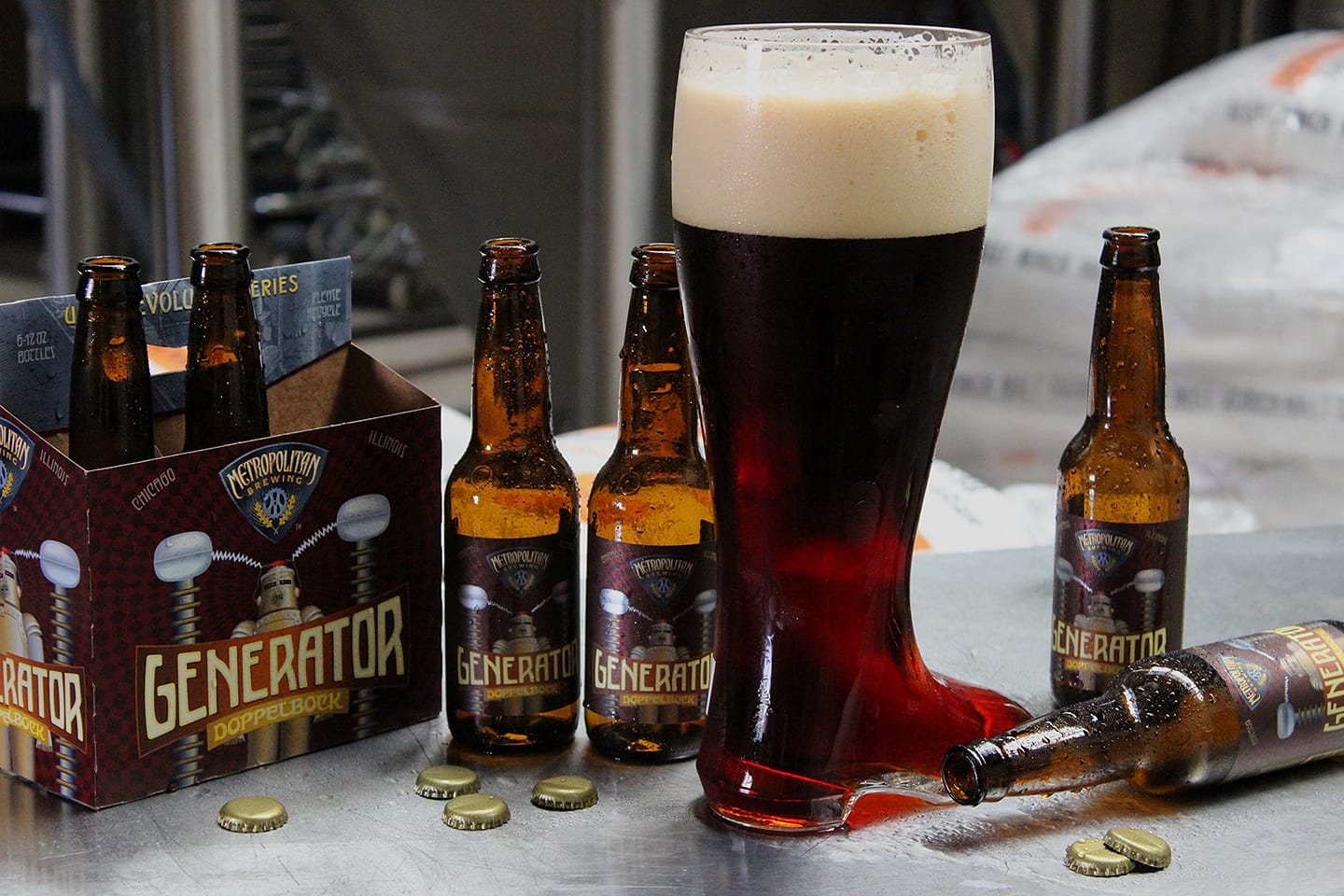 These days you'll most likely find any member of the Hop Culture team ordering up a lager. To us, this deceptively hard style of beer to brew truly highlights a brewery's capabilities. No one in the Midwest brews better pilsners, festbiers, and German-style lagers than the all-lager microbrewery Metropolitan Brewing. After all, these folks focus full-time on executing these finicky, bottom-yeast-feeding, and cold-temperature-loving beers.
In fact, they make one of our all-time favorite Oktoberfest beers. But if you don't happen to be here in the fall, pair their flagship Krankshaft Kölsch-style beer or Flywheel Pilsner with an iconic burger from nearby Kuma's Corner, which you can have delivered right to the taproom.
Ørkenoy
1757 N Kimball Ave Floor 1 | (312) 929-4024
Located in the Kimball Arts Center, Ørkenoy serves up creative beers and eats with a Scandinavian flair. As Humboldt Park's first craft brewery, Ørkenoy carries the title flawlessly.
Beerwise, you'll find lesser-known styles like Django Pennsylvania, a grodziskie— aka a low-alcohol, smoked Polish beer—or Cole Thumper, a rye ale with figs.
Foodwise, indulge in Nordic-inspired creations like the Sloppy Bjorn, slow-roasted oxtail and pork shoulder with Dr. Pepper pickle, and caraway knots served with Alpine cheese sauce.
Liked this article? Sign up for our newsletter to get the best craft beer writing on the web delivered straight to your inbox.