Photography courtesy of Jamie Squire | Getty Images
Updated on September 7, 2022
Brew thirty-two. Brew thirty-two. Hut. Hut. Hike!
Oh glorious day. The 2022 NFL football season kicks off tomorrow night with a clash of two potential playoff contenders (and one who honestly should have gone to the Super Bowl last year). The Buffalo Bills take on the LA Chargers in the first of what promises to be another sensational season.
The tantalizing storylines have already been pouring in…
Will Baker Mayfield actually play well as a Panther?
Will Jonathan Taylor return as the best running back in the NFL?
Will Lamar Jackson sign a new contract?
Will Steeler fans get over the new name on their stadium?
Will Aaron Rogers R-E-L-A-X with his rookie wide receivers? Davante Adams is gone, okay.
Will the LA Rams repeat?
Will Tom Brady actually retire after this season? He did take eleven days off during training camp.
If you're still with me at this point, you're probably a football fan.
Full disclosure here: I'm a huge Minnesota Vikings buff. I grew up going to every single game with my parents on Sunday afternoons. We'd sneak in peanut butter sandwiches, bags of mini carrots, and juice boxes for a picnic in the Metrodome. Scandalous I know.
These days when I watch football I'm much more likely to order a pizza and grab a six-pack of Sierra Nevada Pale Ale or New Belgium Fat Tire. Something light and easy that goes well with carbs and shouting.
Now that I live in Oakland, I don't have as many opportunities to go to actual games. But last year, I did manage to make my way to Levi Stadium when my purple people eaters came to town. Luckily, the 49ers serve Anchor Steam® Beer inside the arena, so my wife and I were set for the game.
But the one-hour trip down to Santa Clara got me thinking. Where could I drink around the stadium if I wanted a great craft beer?
Because one decision you shouldn't have to officially review: the best brewery to stop at on the way to or from the field. To make your game day easier, we've found our favorite taprooms to hit up around all thirty NFL stadiums in the country.
Maybe you need a growler of the crispest, brightest session IPA for your team tailgate. Or you simply want to relive that last-minute field goal (which I've never personally experienced as a Vikings fan: see here, and here, and here 🤦‍♀️) with a celebratory stout. Whatever your plans, here are the "ale" mary taprooms that will have you cheering your team all the way to Super Bowl LVII.
Editor's Note: The breweries selected for this list were chosen by the following criteria: 1) proximity to the NFL football stadium; 2) their reputation for making great craft beer. Although not necessarily in that order. In some cases bigger cities afforded us more options, but we chose those closer to the stadium. Whereas in smaller markets, we might have looked a little farther from the stadium to find breweries we love. Regardless, you won't find a taproom on this list farther than a thirty-minute drive. We understand that this isn't an exhaustive list. Plus, based on where you are in the country, you probably have your own best brewery close to your home team stadium. Feel free to drop us a line (grace@hopculture.com) to let us know your favorite!
Hop Culture's Best Breweries Near Every NFL Stadium
Feel free to skip down to your favorite team:
Arizona Cardinals
State Farm Stadium, 1 Cardinals Dr., Glendale, AZ 85305
Touchdown: Wren House Brewing Company
2125 N 24th St, Phoenix, AZ 85008 | 30-minute drive
Yes, this may seem like a bit of a longer drive. But trust us, the longer haul is worth it. Whether or not Kyler Murray's big, new $230.5M contract is worth it, on the other hand, remains to be seen. But we're not football analysts. Just beer lovers. So we'll stick to what we know best.
And what we know is that Wren House is one of our five best breweries to visit in Phoenix for a reason.
Making finely crafted beer with Arizona roots, Wren House isn't only a gem in Phoenix, but in the entire United States. Over and over again, the beers from head brewer Luke Wortendyke continue to impress us.
2020 Great American Beer Festival Gold Medal Spellbinder crushes it on the hazy side with Arizona-grown Sonora white wheat and Cascade, Citra, and Mosaic hops.
While Wren House's Valley Beer popped up on our list of the 10 Best Beers to Drink in the Shower, it could have just as easily been one of our best tailgating beers. Because at 3.8% ABV, this beer is built for drinkability.
From IPAs to lagers and everything in between, Wren House makes stunning beers with a touch of Arizona in each can.
First Down: Four Peaks Big Red Brew Haus
1 Cardinals Dr, Glendale, AZ 85305 | Inside
You can also simply head to State Farm Stadium early. Four Peaks Big Red Brew Haus opens inside the arena 3.25 hours before every home game, featuring a variety of craft beer selections and full pregame coverage.
Atlanta Falcons
Mercedes-Benz Stadium, 1 AMB Dr NW, Atlanta, GA 30313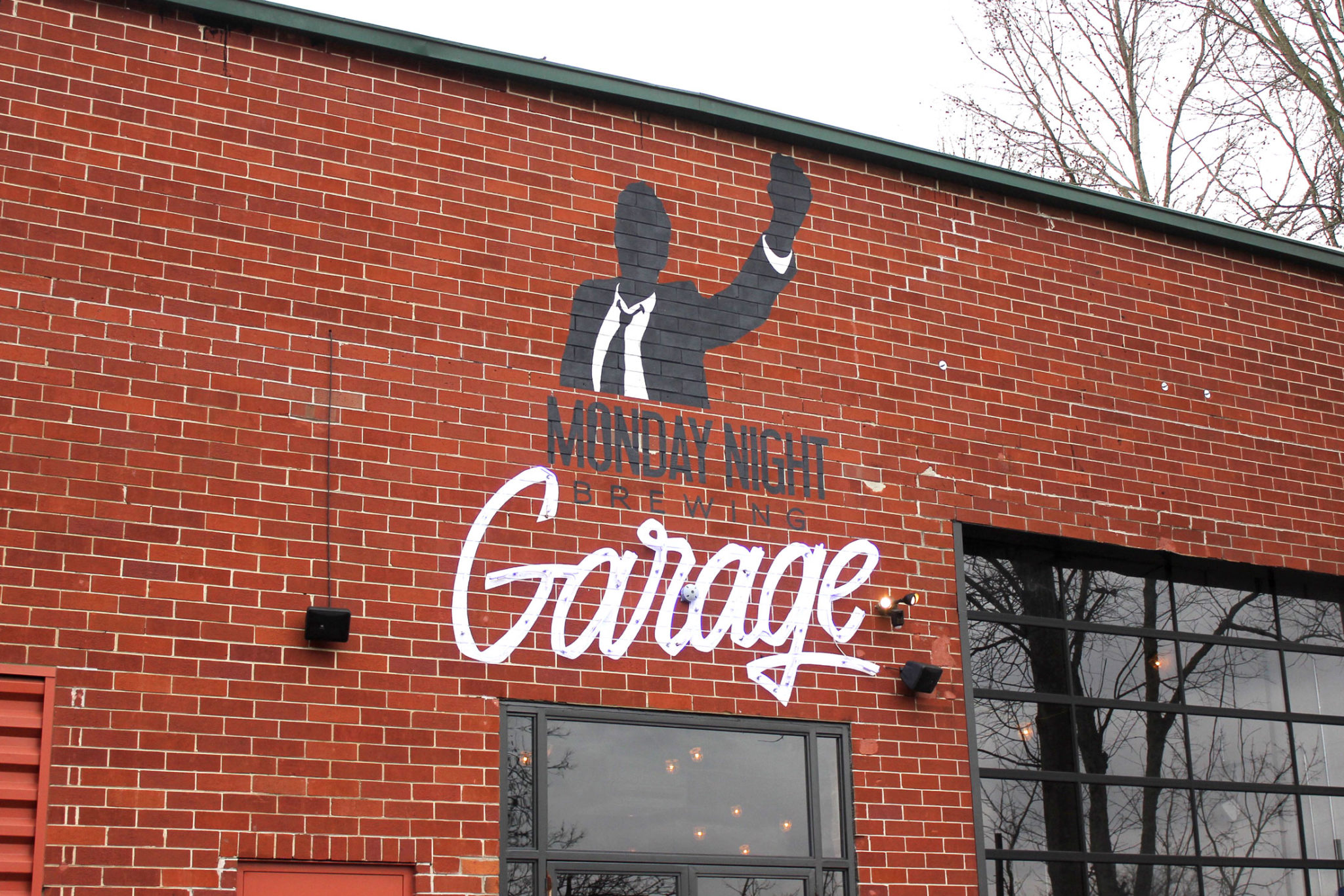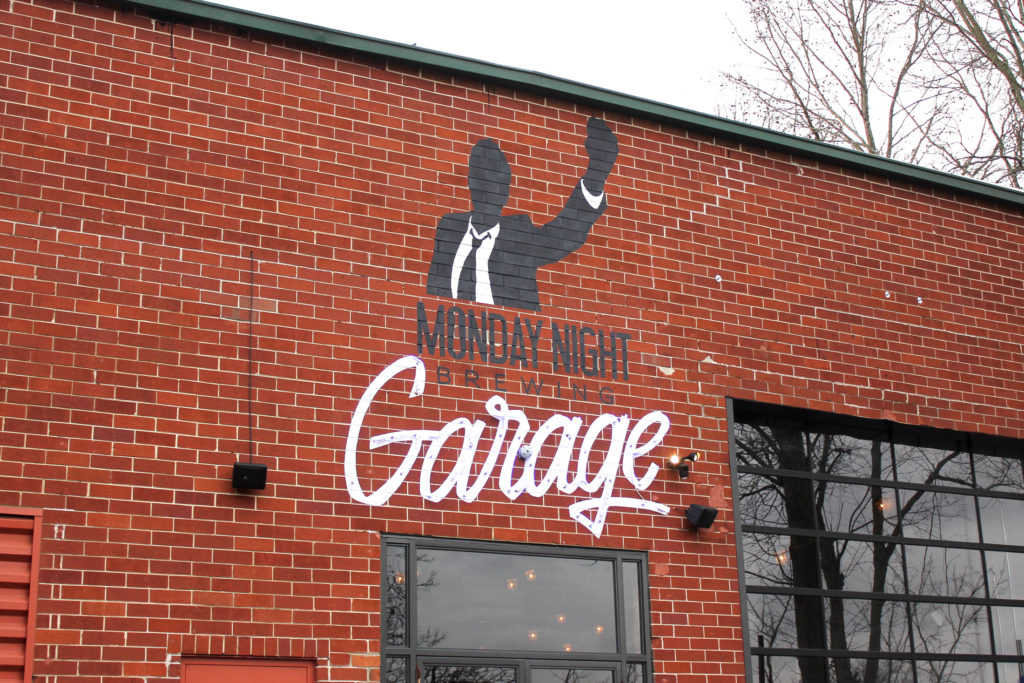 Touchdown: Monday Night Garage
933 Lee St SW, Atlanta, GA 30310 | 6-minute drive
Is it a coincidence that Monday Night Football and Monday Night Brewing have the same name? Probably. At least we cannot confirm or deny. What we can confirm is that Monday Night makes some of the most award-winning craft beers in Atlanta.
That's why we named them to our list of "5 Best Breweries in Atlanta, Georgia."
Although Monday Night Brewing has a solid selection of year-round beers, at the Garage you're mostly getting the brewery's small-batch sours and barrel-aged beers. Accordingly, this is probably a celebratory stop for you if new QB pickup Marcus Mariota can find a continuous connection with rookie Desmond Ridder.
Try Double Barrel Aged For My Friend, a blend of two double barrel-aged strong ales: an Imperial Milk Stout and an English Barleywine. That's respect.
Or Conversations with Myself, a 6.8% ABV sour barrel aged in Sauvignon Blanc barrels.
On the lighter side, find Shwaka Pils and a couple juicy IPAs.
First Down: Elsewhere Brewing
1039 Grant St SE Suite B34, Atlanta, GA 30315 | 13-minute drive
One of our "10 Best Breweries to Watch in 2021," Elsewhere Brewing may be newer to the scene, but co-founders Sam and Sara Kazmer have already vaulted themselves into Georgia's craft beer hall of fame. Up there with Halfway Crooks, Good Word, and the aforementioned Monday Night.
Like Halfway Crooks, Elsewhere has led with eye-catching design and soft, approachable beers. Like Grant Park Menagerie, a Belgian blonde style that made our list of the "21 Best Beers We Drank in 2021."
Beyond the beer, chef Tyler Edwards creates a menu around "nose-to-tail" cooking, seasonal produce, and flavors from around the world that are a significant upgrade from your standard pub fare. Ultimately, the reason Elsewhere makes this list is in its cohesion. The disparate parts—great merch, good beer, tasty food—unite with intentionality and warmth. The brewery is inviting and charming and sure to make you feel good whether you're celebrating a Falcons win or commiserating a loss.
Baltimore Ravens
M&T Bank Stadium, 1101 Russell St, Baltimore, MD 21230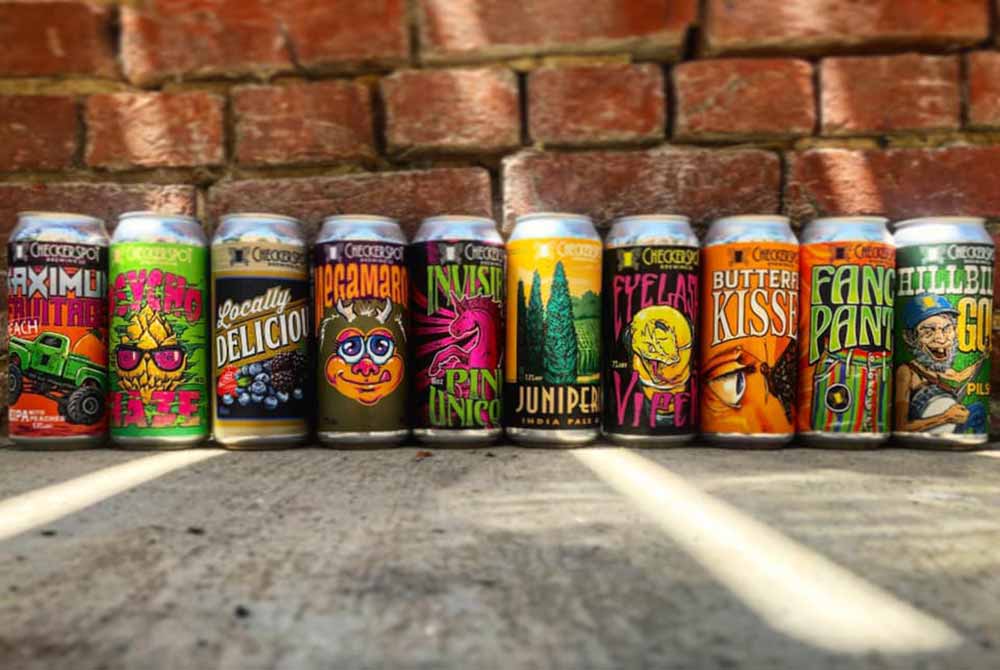 Touchdown: Checkerspot Brewing Company
1399 S Sharp St, Baltimore, MD 21230 | 3-min drive, 9-min walk
Named after the Maryland state butterfly, Checkerspot Brewing Company does a little bit of everything. Kind of like Lamar Jackson, who last year was almost like a one-man show for the Baltimore Ravens, leading the team in rushing with 767 yards (in all fairness, he's led the team in rushing for the past three seasons) and passing with 2,882 yards. Actually, Lamar is the only player in NFL history to pass for 2,500-plus yards and rush for 1,000-plus yards in a single season. The man is a machine.
And at Checkerspot, they have beer dialed down to a science, literally. Co-owner Dr. Judy Neff received her PhD in microbiology from the Johns Hopkins Bloomberg School of Public Health, so she is pretty familiar with capital 'S'" Science.
Along with her husband Rob Neff, who handles all of the sales and distribution, the two craft beers like Bramble, a blackberry ale; Hillbilly Gold, a German-style pilsner; and 395 Rye, a Maryland-style red amber lager.
See, like we said, a little bit of everything.
First Down: Suspended Brewing Company
912 Washington Blvd., Baltimore, MD 21230 | 4-min drive, 17-min walk
Co-founded by four University of Maryland, Baltimore County graduates, Suspended Brewing Company places a huge emphasis on social justice and sustainability. Accordingly, all the energy at the 3,000-sqft taproom is offset by a wind farm in Pennsylvania and the brewery donates its spent grain to the neighborhood's community garden and nearby farm. They're also completely vegan and nearly waste neutral.
Minority- and women-owned by Yasmin Karimian, her brother Amir Karimian, and Joey Schwartz and George Himonas, Suspended Brewing focuses on small-batch mixed fermentation. For instance, their flagship lambic-inspired Leda. Or Sour Persian, Leda refermented with Maryland red raspberries, peaches, and barberries.
This is a pretty special place that should be on everyone's radar in Baltimore.
Buffalo Bills
Highmark Stadium, 1 Bills Dr, Orchard Park, NY 14127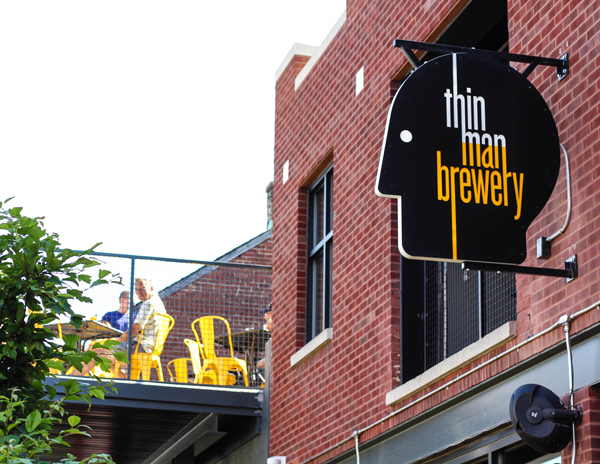 Touchdown: Thin Man Brewery.
492 Elmwood Ave, Buffalo, NY 14222 | 25-min drive
Oh how they take their football seriously in Buffalo. I'm not going to lie, I fully believe that Josh Allen and the Buffalo Bills deserved to play in the Super Bowl last year. Damn, if one could just erase that freak thirty seconds from Patrick Mahomes. But that's sports for you. I mean, Josh Allen played a near perfect game, right?
Well, it's a new season, which means a clean slate. And the hype is real.
Much like at Thin Man Brewery, one of our favorite breweries in Buffalo. Since the fall of 2016, Thin Man has brought fantastic beer to the Elmwood Village neighborhood. Collaborations with the industry's vanguard such as Pure Project, Aslin, 3 Sons, and Collective Arts helped put the brewery on the map.
But solo-made beers like Trial by Wombat, a hazy hopped with Galaxy, have made the brewery a local darling.
While Thin Man has two locations mere minutes apart from each other, we recommend staking out at the OG Elmwood taproom. First, it's two minutes closer to Highmark Stadium. But second, the 240-seat restaurant with twenty-four rotating taps means even if you don't make it to the stadium, you'll still be treated to delicious bar food and beers while watching the game.
First Down: Resurgence Brewing Company
55 Chicago St, Buffalo, NY 14204 | 20-min drive
In 2014, Jeff Ware opened Resurgence in an old warehouse on the West Side. Resurgence checks many of the perfect taproom boxes.
Garage doors that open to the outside ✅
Skylights that let in tons of natural light ✅
Communal tables ✅
A giant Jenga tower ✅
A chalkboard above the long birchwood bar listing what's on tap ✅
Oh, and the beer's pretty great, too.
Lookout for the Sponge Candy stout, starring the adored local confection; the Green Heart hazy, "brewed for the hoppy at heart;" and the Blood Orange Saison.
Carolina Panthers
Bank of America Stadium, 800 S Mint St, Charlotte, NC 28202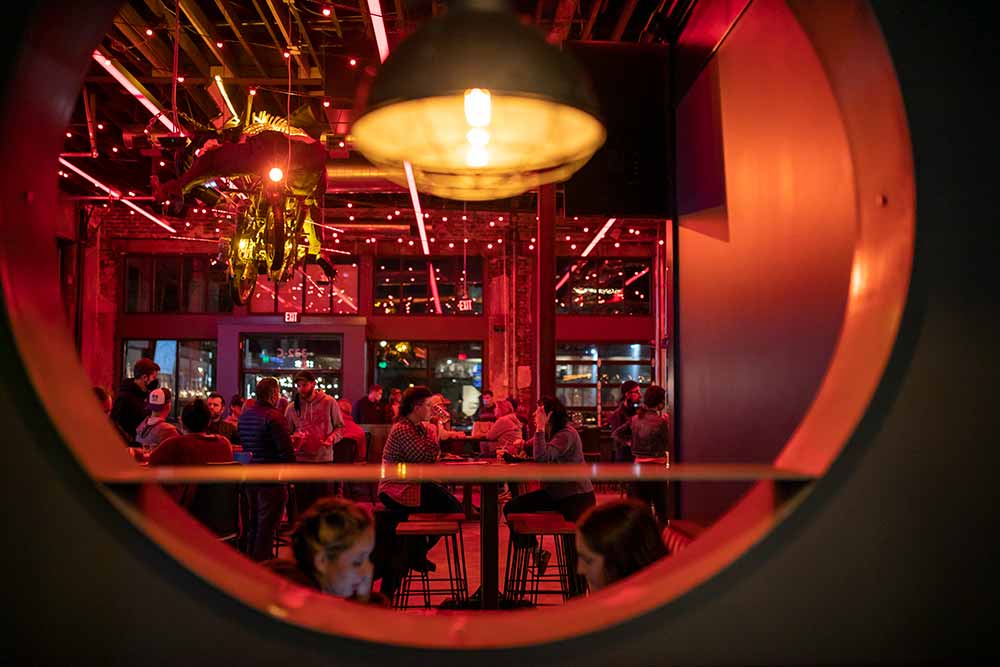 Touchown: Resident Culture Brewing Company – South End
332 W Bland St Suite C, Charlotte, NC 28203 | 3-min drive, 12-min walk
Resident Culture has made a name for themselves with their outrageous can labels and seriously delicious beer from helles lagers to juicy, juicy IPAs.
The original Midwood Plaza taproom has been a pillar of the Charlotte craft beer scene for years. Spend only a couple of minutes with wife-and-husband duo Amanda and Phillip McLamb in their brewery and you'll feel as if you've stepped directly into their living room. Actually, that's not a far-off analogy—Resident Culture put down roots in a building that previously housed Phillip's family printing company.
This magical sense of neighborhood permeates everything at Resident Culture from the cheery taproom to the unparalleled mixed-fermentation beers and West Coast IPAs constantly flowing out of the taps. Behind it all, you'll find Amanda and Phillip constantly exuding warmth and welcoming people from all communities into their quote-unquote home.
Most recently, Resident Culture opened up a new spot in the South End, a mere three-minute drive from Bank of America Stadium.
Walk in and you'll immediately get a feel for the brewery's wacky, creative vibe. A motorcycle hanging from the ceiling greets you on the way to the bar where you can order a Lightening Drops hazy or a perhaps a more apt Hello CLT West Coast IPA collab with Highland Park.
Bonus: Taco standout El Toro Bruto pops up inside the brewery offering tacos to crush alongside your pints.
First Down: Wooden Robot Brewery
1440 S Tryon St #110, Charlotte, NC 28203 | 15-min walk
Take a post-game stroll from Bank of America Stadium to Wooden Robot Brewery, a tap room focused on the intersection of beer and science. A sip of the Overachiever juicy pale ale could pay homage to Christian McCaffery, who, even with an injury last year, became the fastest player to reach 3,000 receiving yards and 3,000 rushing yards in NFL; it took him only fifty-seven games. Or be an overachiever yourself and order two post-game pints.
Chicago Bears
Soldier Field, 1410 Special Olympics Dr, Chicago, IL 60605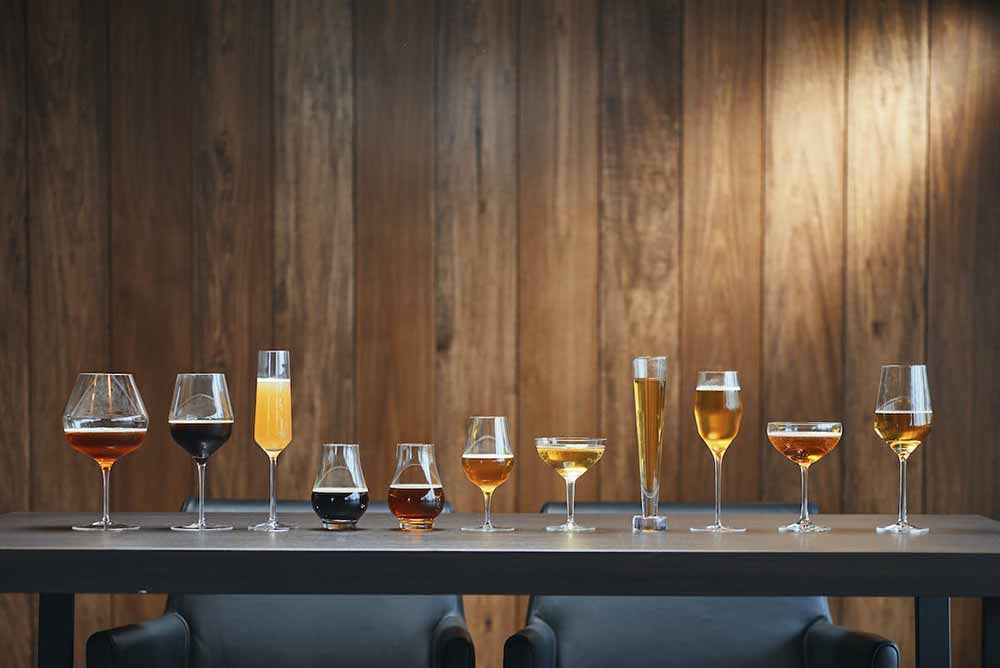 Touchdown: Moody Tongue Brewing Company
2515 S Wabash Ave, Chicago, IL 60616 | 3-min drive, 20-min public
Bears fans, prepare yourselves for this stat: Last year, Justin Fields ranked dead last in total QBR with a 26.4. Big yikes! If you feel like drowning your sorrows, we wouldn't blame you. Luckily, impeccable breweries like Moody Tongue are only a short three-minute drive from Soldier Field.
The world's first two-star Michelin brewery, Moody Tongue isn't just a place to drink away your Bears' blues; it's also a place to eat them away.
Here, culinary-inspired beers dominate the taplist. Such as the Peeled Grapefruit Pilsner and Steeped Emperor's Lemon Saison. This brewery even makes a shaved black truffle pilsner for gosh sakes .(Editor's Note: This is an extremely rare release. At the time of writing, $50 bottles were available here, but we can't guarantee they are still in stock by the time of publication.)
Foodwise, you have two options. The 28-seat dining room is fine dining at its best. Ten-time Michelin-starred executive chef Jared Wentworth curates a seasonal tasting menu while brewmaster Jared Rouben provides beer pairings.
However, we recommend the more casual bar and tasting room where you can order a la carte dishes like Burrata Tartine, Lobster Gazpacho, and Crispy Whole Market Fish.
And please, oh please, do not leave Moody Tongue without ordering a slice of the famous 12-layer German chocolate cake.
First Down: Duneyrr Artisan Fermenta Project
2337 S Michigan Ave, Chicago, IL 60616 | 4-min drive, 25-min walk
Just when we thought beer couldn't get any more innovative, Duneyrr Artisan Fermenta Project popped up on our radar. Specializing in the "co-fermentation of wine, cider and mead ingredients with artisanal craft beer," Duneyrr makes mixed-culture wild ales from a blend of winemaking, cidermaking, and beermaking techniques. The brewery calls it "blurring the vines."
They've already won us over with the wordplay. But it's the beers that truly impress.
For instance, Sabro Et Blanc, an IPA hopped with Sabro, Southern Passion, and Southern Tropic hops and co-fermented with Chenin Blanc Grapes.
Or Sauvyn Tropica, a hybrid ale co-fermented with sauvignon blanc grapes, dragon fruit, mango, papaya, and pineapple.
Cincinnati Bengals
Paycor Stadium, 1 Paul Brown Stadium, Cincinnati, OH 45202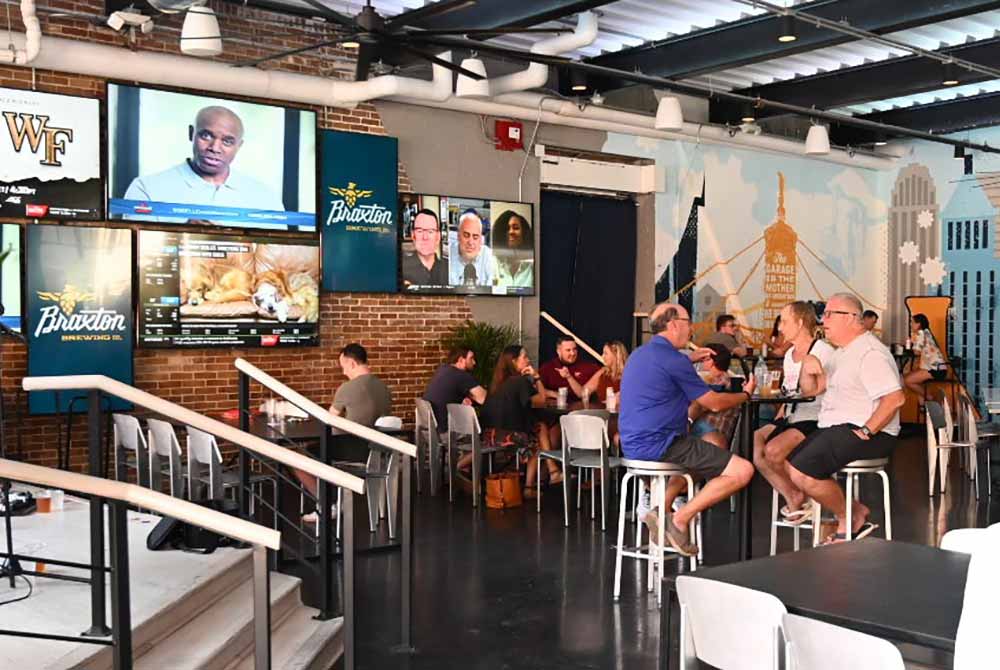 Touchdown: Braxton Brewing Company
331 E 13th St, Cincinnati, OH 45202 | 7-min drive, 20-min public, 30-min walk
Do you smell smoke? The Bengals were on fire last year under the helm of Joe Burrow, making it to the big show for the first time since 1989.
Braxton Brewing Company's tap list is full of beers that ironically seem geared directly towards firing up the Bengals. For instance, Catalyst: Black Pepper, a Czech-style pilsner with a decoction mash, tons of Saaz hops, and an infusion of black pepper. Or Graeter's Orange & Cream cream ale inspired by local favorite Graeter's Ice Cream.
Hops and haze seem to dominate the taplist. We're impressed with the range of beers, including a Dortmunder lager, English-inspired bitter, and a few different American lagers. All excellent beers for gameday and tailgating.
First Down: Rhinegeist Brewery
1910 Elm St, Cincinnati, OH 45202 | 7-min drive, 20-min public
A Cincinnati staple, Rhinegeist literally translates to "Ghost of the Rhine," referring to the brewery's home in the historic Over-the-Rhine Brewery District.
At Rhinegeist, you're getting beers that bring people together in a space that values the Queen City community. As the brewery likes to say, "We aim to brew beers where the first sip calls for the third."
Cleveland Browns
FirstEnergy Stadium, 100 Alfred Lerner Way, Cleveland, OH 44114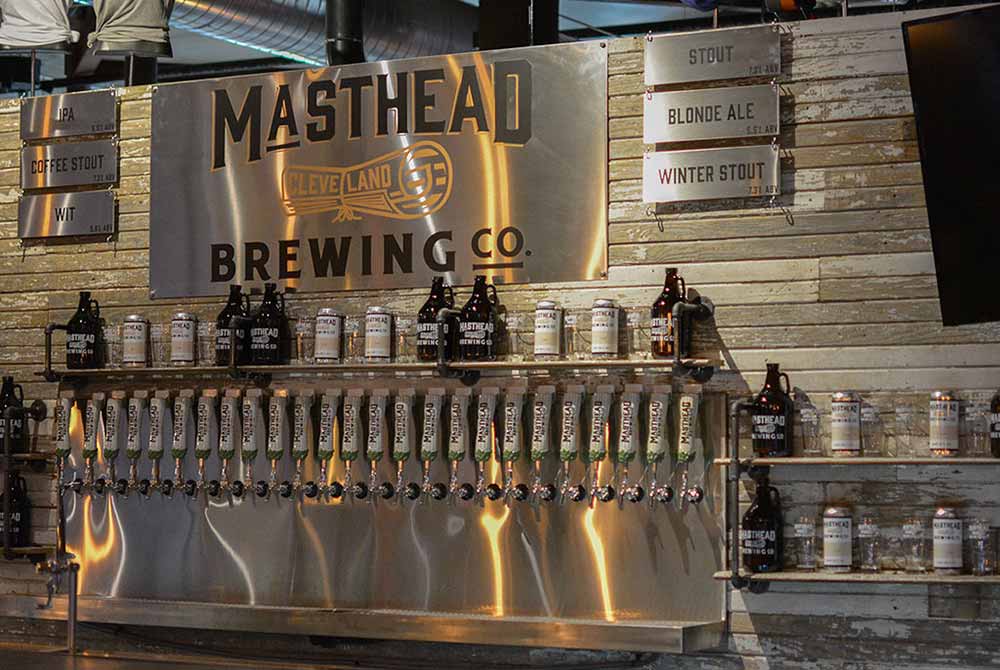 Editor's Note: As a woman in a male-dominated industry, I cannot in any way endorse a team that has literally paid a man with twenty-four alleged counts of sexual misconduct against him a guaranteed $230 million over five years to throw a ball. So as we have nothing to say about the team, we will tell you about these great breweries instead.
Touchdown: Masthead Brewing Company
1261 Superior Ave, Cleveland, OH 44114 | 4-min drive, 15-min public, 20-min walk
Located in the historic Bryant Building, Masthead Brewing Co. combines the history of Cleveland with historically well-brewed beer. Co-founders Frank Luther, Matt Slife, and Mike Pelechaty named their brewery after a little local lore.
Prepare yourself for a great tidbit of trivia—Ohio's second largest city was originally named Cleaveland after General Moses Cleaveland, a veteran of the Revolutionary War, who settled the town. By 1831 Cleaveland had grown large enough to warrant a local newspaper. The editors of the paper ran into a problem when they tried to fit the name "Cleaveland" on the top of their publication, leading them to boldly drop the extra "a" from the paper's name on the masthead. The Cleveland Advertiser went to print on January 6th, 1831.
With a spirit for bold and innovative beers, Masthead Brewing Co.'s nostalgic sense of place is reflected in their brews. For instance, Ice Melter, a spicy IPA with grapefruit and habaneros that made our list of "The 20 Best Beers to Drink in Winter 2021." Or Haunted Hayride Pumpkin Ale and Phantasmal Bliss, an imperial New England IPA double dry hopped with YCH 303, an experimental blend from Yakima Chief Hops. Citra, Mosaic, and Simcoe Cryo Hops have been blended with Phantasm.
First Down: Collision Bend Brewing
1250 Old River Rd, Cleveland, OH 44113 | 4-min drive, 10-min public, 15-min walk
Barrel into Collision Bend Brewing for crisp, bright beers from a former brewmaster of Great Lakes Brewing Company.
Luke Purcell opened Collision Bend in 2017. During his first Browns season in the Flats—a mixed industrial and residential area of Cleveland that has seen a recent revival—he was blown away by the Browns mania.
"Driving through [the Flats] on that first Sunday of the NFL season, I was surprised to see all the tailgaters in the area," says Purcell. "It's eye opening to see this dead space in town…making a big comeback."
With such a swell in the neighborhood, Purcell even moved the opening hours of his taproom to 11:30am on Sunday to accommodate football fans. At Purcell's suggestion, try the uber popular Lake Erie Sunset blood orange American wheat.
Second Down: Noble Beast Brewing Co.
1470 Lakeside Ave E, Cleveland, OH 44114 | 3-min drive, 15-min public/walk
Following the model of a traditional brewpub, Noble Beast Brewing Co. showcases ridiculously delicious beer alongside innovative food. Started by Shaun Yasaki in 2017, this 10BBL brewhouse puts a heavy focus on pairing beer with bites.
Shaun's past experience brewing at Fat Head's Brewery and Platform Beer Co. prepared him to venture out on his own. Proud of its grassroots heritage, Noble Beast is a nod to both the traditional German roots of Noble hops and the American beast side of creativity and innovation.
All told, sounds like a perfect pairing for a day of football.
Dallas Cowboys
AT&T Stadium, 1 AT&T Way, Arlington, TX 76022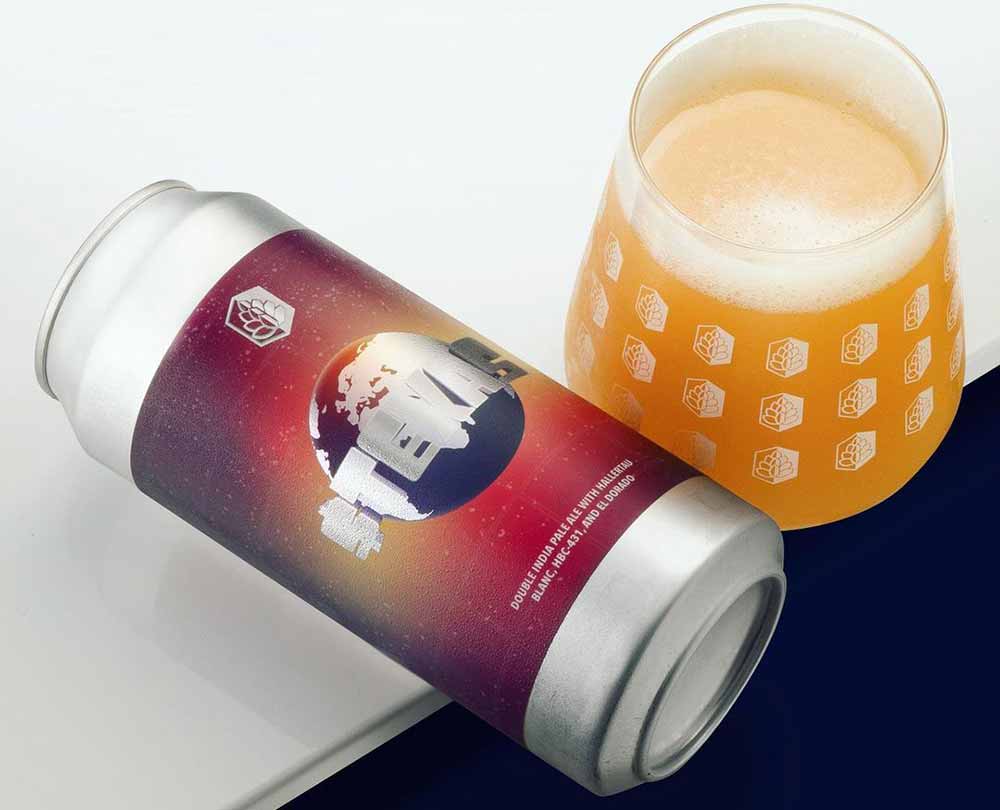 Touchdown: Turning Point Beer
1307 Brown Trail, Bedford, TX 76011 | 20-min drive
Between the incredible hazy beers coming out of breweries across New England and the West Coast, we bet that you wouldn't put your money on a Dallas brewery becoming one of the most hyped IPA producers in the country.
So that's exactly why Turning Point Beer made our list of "The 5 Best Breweries to Visit in Dallas, Texas."
Snugly situated near a church in a Bedford strip mall, Turning Point Beer focuses mostly on NEIPAs. And their rotating collection has been off the chain, with standouts like A Nu Start, a DDH Triple NEIPA with Azacca, Idaho 7, and El Dorado. Or $Texas, a flagship NEIPA with HBC-431, Hallertau Blanc, and El Dorado hops.
At a mere twenty-minute drive from AT&T Stadium, Turning Point has to be at the top of your must-stop list.
First Down: Celestial Beerworks
2530 Butler St, Dallas, TX 75235 | 25-min drive
This one is probably better for after the game, when you want to head downtown and keep the fun going.
Preferably you'll want to visit after Zeke rushes for over 100 yards (heck, we'll take over fifty yards this year). Or after Dak showcases his cannon of an arm (without getting hurt) while defeating division rivals Philadelphia Eagles.
Celestial Beerworks has been pumping out cosmic juice since 2018. Former art teacher Molly Reynolds and her husband Matt opened the brewery in Dallas' Medical District four years ago. Since then, the duo has slowly been carving out a name for themselves with their attention to composition across their beers and taproom.
Art, science, space, and beer harmoniously collide for a brewery popping off celestial fireworks of hoppy and hazy stars. Such as Double Stars, the ultra-smooth double NEIPA that made our 5 Best Beers We Had This Week back in October 2020. Hopped with Idaho 7 and Vic Secret, this creamy, hazy IPA impressed us for its dank tropical fruitiness and balanced drinkability. Any beer you can grab from this completely unique brewery will be heavenly.
Denver Broncos
Empower Field at Mile High, 1701 Bryant St, Denver, CO 80204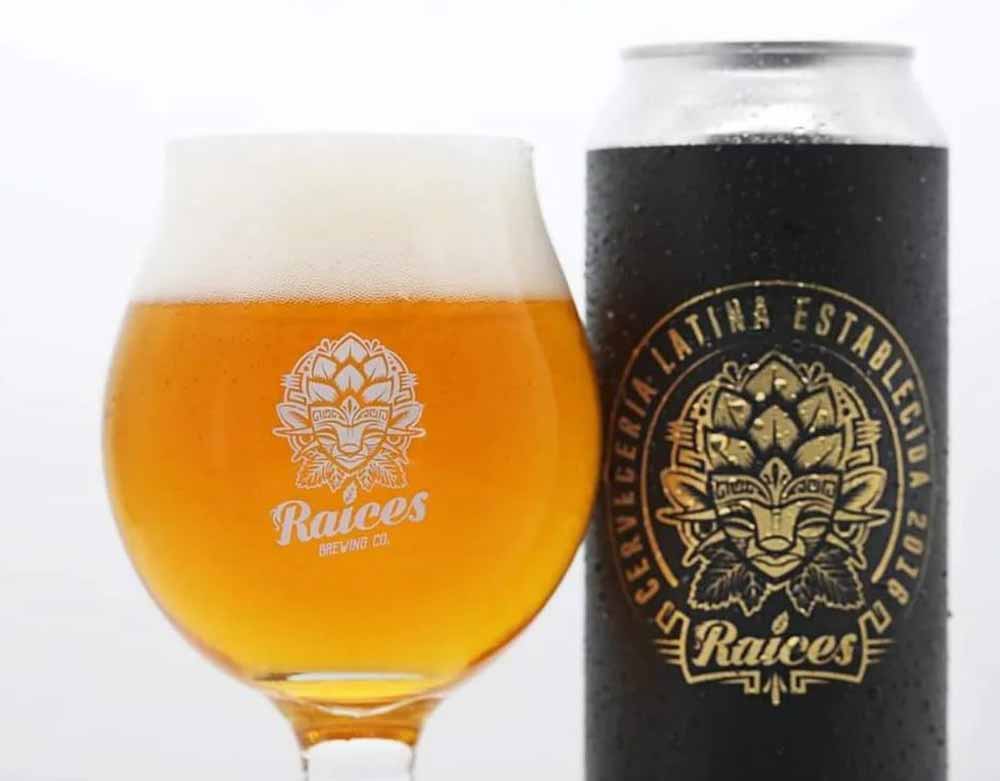 Touchdown: Raíces Brewing Company
2060 W Colfax Ave, Denver, CO 80204 | 1-min drive, 1-min walk
You can't find a brewery any closer to Empower Field at Mile High than Raíces, a mere one-minute walk.
The Latine-owned brewery seeks to promote and celebrate Latine culture in craft beer. For that reason, we named CEO Jose Beteta, one of our "Most Important Voices in Craft Beer in 2020."
Beteta moved to the U.S. from San José, Costa Rica, in 1992, living as an undocumented immigrant for twenty-six years until officially earning his citizenship in 2018. Despite all of those challenges, Beteta was the first member of his family to graduate college and consequently open a brewery. Beteta's own life experiences have shaped his business, embodying the change he would like to see in the craft beer industry.
You can find beers like Cinnamon Horchata Ale, an homage to the classic hispanic drink, and Cafecito, a specialty coffee blonde ale featuring beer from indigenous women-owned fair-trade coffee farms from Huahuatenango, Guatemala.
First Down: Seedstock Brewery
3610 W Colfax Ave, Denver, CO 80204 | 2-min drive, 15-min walk/public
Seedstock does things a little differently. The brewery focuses on old-world family recipes from Czech Republic and Germany. Beers like Dusseldorf Alt, a clean, malty beer balanced by assertive hoppiness that made our list of the "20 Best Beers to Drink in Fall 2021."
A brewery focusing on old-school styles seems like a pretty perfect place to welcome veteran Russell Wilson to his first game in a Broncos uniform.
Detroit Lions
Ford Field, 2000 Brush St, Detroit, MI 48226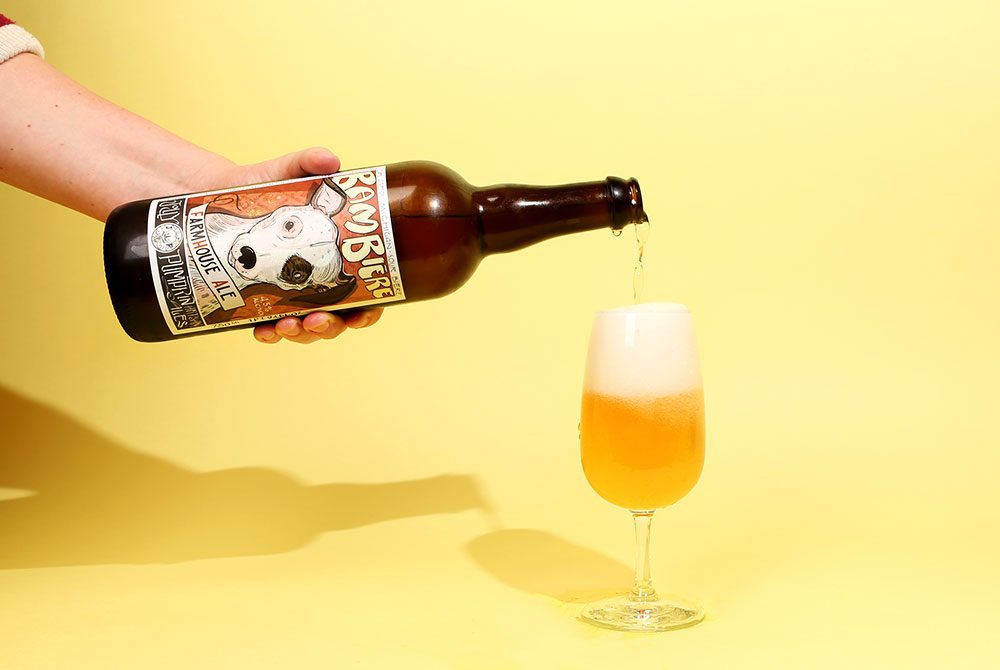 Touchdown: Jolly Pumpkin Pizzeria & Brewery
441 W Canfield St #9, Detroit, MI 48201 | 7-min drive, 18-min public, 30-min walk
Feeling sour with the Lions three-win season last year? We feel you.
Feeling like sour beer? Visit the renowned Jolly Pumpkin Artisan Ales Detroit taproom.
Specializing in beer with French and Belgian yeasts that wildly ferment before slumbering in oak casks for months, Jolly Pumpkin beers run the gamut from electrifyingly unique to tame but deep.
Try a Bam Biere to give Jared Goff and the No. 2 overall pick in the 2022 NFL draft Aidan Hutchinson-led Detroit defense a smack in the rear. Bam!
First Down: Eastern Market Brewing Co.
2515 Riopelle St, Detroit, MI 48207 | 4-min drive, 15-min public
Eastern Market Brewing Co.'s goal is to create classics that continue the tradition of craft beer in the city of Detroit, plus one-of-a-kind beers with local flavors like hop-forward Elephant Juice and easy-drinking Wunderboi.
Over the past century, dozens of breweries have called this area of Detroit home, but Eastern Market Brewing Co. is bringing something truly unique and special to the area, mixing experimental beers with local ingredients.
Green Bay Packers
Lambeau Field, 1265 Lombardi Ave, Green Bay, WI 54304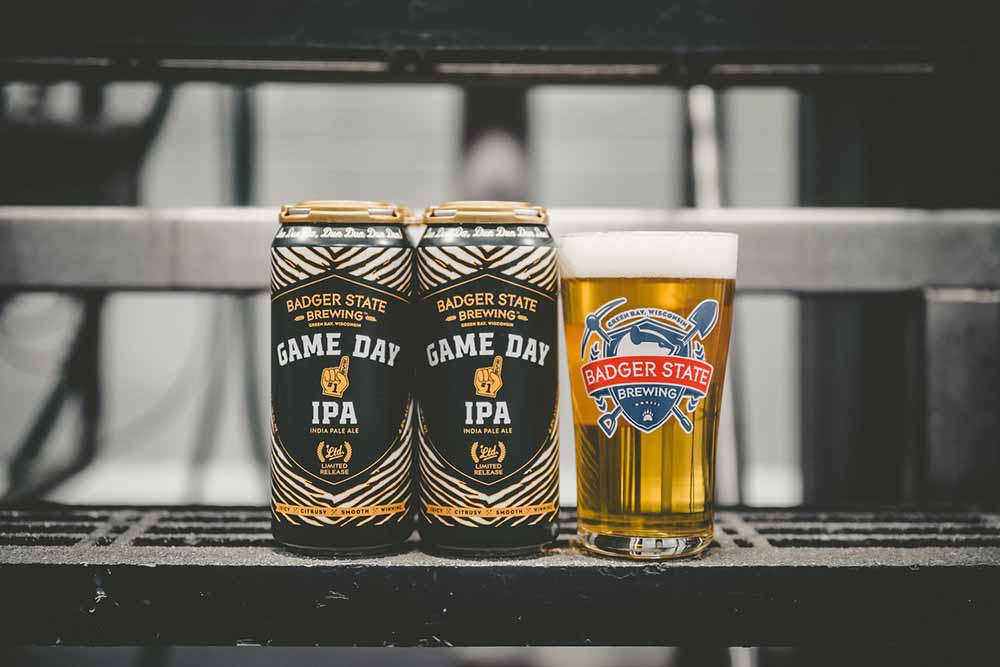 Touchdown: Badger State Brewing
990 Tony Canadeo Run, Green Bay, WI 54304 | 3-min drive, 20-min walk
Badger State Brewing knows the importance of game day in Green Bay. They even made a beer for it. Game Day IPA recognizes that "game days in Wisconsin are something special." The small hazy includes dry hop with Mosaic and Galaxy hops for a crushable bite at only 4.4% ABV.
First Down: Hinterland Brewery
1001 Lombardi Access Rd, Ashwaubenon, WI 54304 | 1-min drive, 2-min walk
You're in green and gold country when you cross into Green Bay, WI. For a true Packer fan, Hinterland Brewery's Packerland Pilsner is a clean and classic tribute to the equally crisp throws of Brett Favre and Aaron Rodgers. Although, whether Rodgers can continue to dominate after the Packers bid farewell to star receiver Davante Adams remains to be seen. Actually, who are we kidding. We're talking about Aaron Rodgers; he'll be F-I-N-E.
Originally brewed to celebrate Green Bay's Championship in 1997, this lager made a resurgence from the bench in 2014 for a bottle perfect for any tailgate.
Or just celebrate the state with Wiscransin, a kettle sour wheat ale with cranberry (the Wisconsin state fruit) and tangerines.
Bonus—Hinterland also includes two restaurant concepts: a beer hall and High Gravity Test Kitchen.
Houston Texans
NRG Stadium, NRG Pkwy, Houston, TX 77054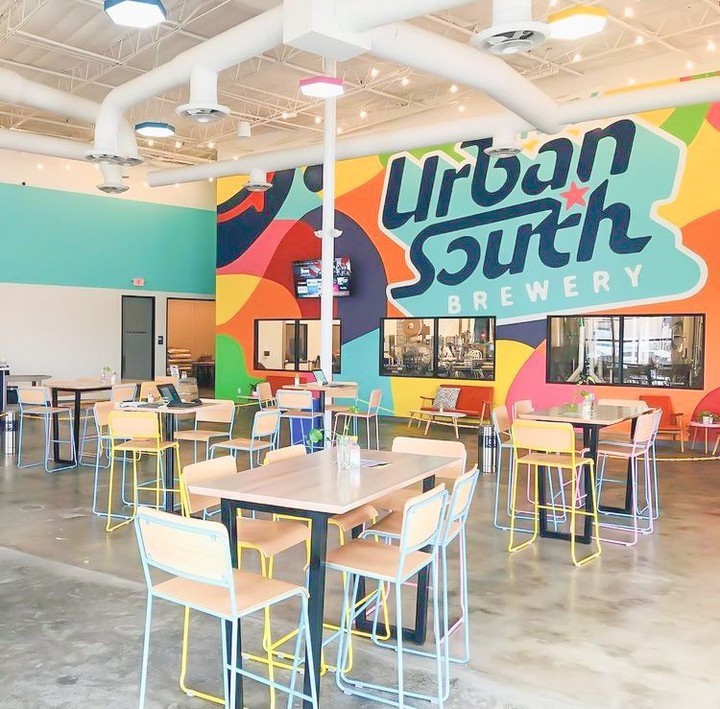 Touchdown: Urban South Brewery – HTX
1201 Oliver St #10, Houston, TX 77007 | 18-min drive
Originally started in Louisiana, Urban South brought its vibrant beers to Houston in January 2020. They say everything is bigger in Texas and boy did they go big. The 14,000-sqft facility includes a 10BBL brewhouse, dedicated barrel and blending room, and a beer garden and outdoor patio.
Situated in Houston's Sawyer Yards, an eighteen-minute drive from NRG Stadium, Urban South's Houston outpost focuses on what they call "creative, Housing-specific experimental beers."
For instance, Spilled, a fruited sour made with different variants and candies each week. Urban South actually creates a series upping the amount of fruit from Double Spilled to Triple Spilled. As the brewery likes to say, these ones "pair well with the Texas heat."
If sours aren't your thing, and you're more in the game day mode, there is always the brewery's pilsner—Tighten Up.
Something the Texans secondary needs to do this year after ranking worst in the NFL in 2021.
First Down: Whole Foods Market Brewing Company
1700 Post Oak Blvd, Ste 100, Houston, TX 77056 | 17-min drive
Wait, Whole Foods? Like the Whole Foods Yup. Chris Shelton, brewmaster at Whole Foods Market has emerged as one of the top hazy-producing brewers in all of Houston (aka Juiceton). Together with Larry Koeslter at Music Box Brewing, the pair have been brewing up some incredible New England-style IPAs. Accordingly, when we wanted to take the pulse on the pulp in the country, we called up Shelton and Koestler. They had a few suggestions for the best under-the-radar breweries with the best hazy IPAs.
But we also suggest checking out Whole Foods Market Brewing Co. We actually consider this a bit of a secret stop. You'll find the brewery inside the Whole Foods Market in its Houston Post Oak store.
Indianapolis Colts
Lucas Oil Stadium, 500 S Capitol Ave, Indianapolis, IN 46225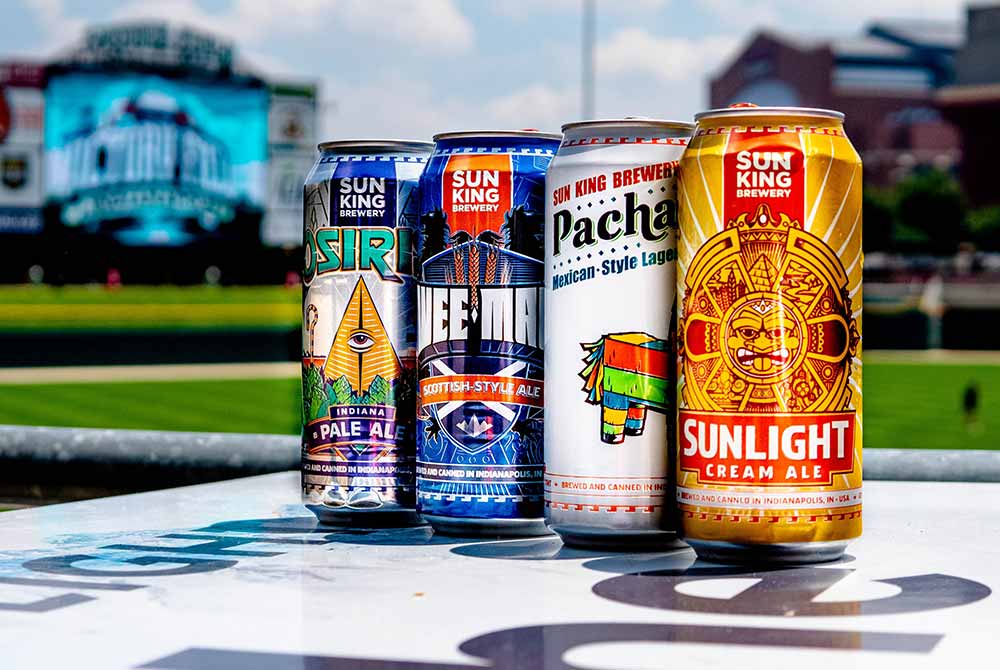 Touchdown: Sun King Brewery
135 N College Ave, Indianapolis, IN 46202 | 6-min drive
The revolving door of quarterbacks for the Indianapolis Colts continues to turn. Since Andrew Luck retired suddenly in 2019, the Colts have featured a different man under the helmet at QB every season, including Jacoby Brissett, Phillip Rivers, Carson Wentz, and now this year, Matt Ryan. But really it's hard to mention the Colts and QB in the same sentence without thinking about Peyton Manning.
Much like you can't mention Indianapolis craft beer without thinking about Sun King Brewery.
When Dave Colt, Clay Robinson, and Andy Fagg rolled the first kegs of beer out the door in July 2009, Sun King became the first full-scale production brewery in the city since Indianapolis Brewing Company closed in 1948.
Now the city's largest brewery (and the second largest in the state), Sun King crafts beers that have been nationally recognized at both the Great American Beer Festival (GABF) and the World Beer Cup (WBC). Actually, the brewery ranks in the top five breweries in the world for most medals won between both GABF and WBC.
Sun King paved the way for brewing in Indiana and therefore should be a top spot to stop at pre- or post-game no matter who's running the show behind the Colts offensive line. Get a staple such as the Osiris Pale Ale or Sunlight Cream Ale (if you don't know what a cream ale is, this story will help). Or try something fun like Stuck in the Middle S'mores Stout.
First Down: Chilly Water Brewing Company
719 Virginia Ave #105, Indianapolis, IN 46203 | 5-min drive, 20-minute walk
Another award-winning brewery in the "Crossroads of America," Chilly Water Brewing Company started when co-owner Dan Krzywicki showed up to The Alcatraz Brewing Co. on a bike and professed that he was ready to take his homebrewing hobby to the next level. After a stint at The Alcatraz and at Fountain Square Brewing Co., Krzywicki opened up his own spot with partners Matt Chandler and Skip DuVall.
Winner of Indiana State Fair Brewers Cup Best in Show, Indiana Brewery of the Year, and Grand Champion Brewery of the Year (and one of our 6 Best Breweries to Visit in Indianapolis, Indiana), Chilly Water has some serious cred to back up its beers. Add Krzywicki's knack for knocking out pilsners and we have a real gem on our hands.
With that in mind, Chilly Water's Built to Last Pilsner is not to be missed. For the hoppy at heart, try Hop Wonder IPA. Bonus—this brewery also makes killer hoagies that are perfect for game day, such as the Mighty Fine Heirloom BLT with Nueske's bacon, heirloom tomatoes, lettuce, and Duke's mayo on Amelia's loaf of the day.
Jacksonville Jaguars
TIAA Bank Field, 1 TIAA Bank Field Dr, Jacksonville, FL 32202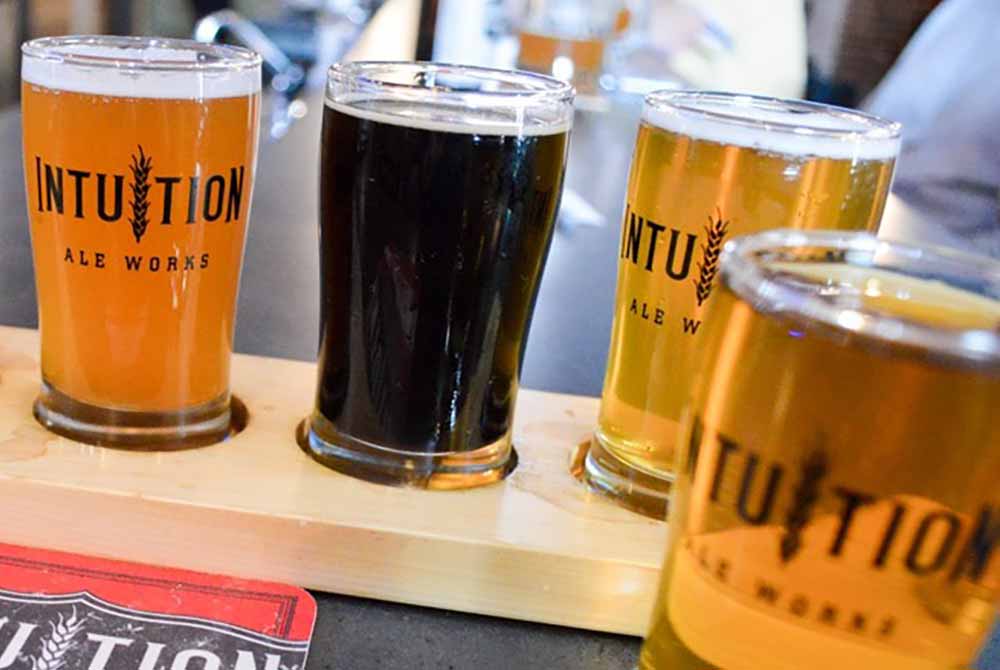 Touchdown: Intuition Ale Works
929 E Bay St, Jacksonville, FL 32202 | 4-min drive, 15-min walk
Essential tailgating gear: smoking grill, plethora of chips and dips, beer cans. Yes, any pro Sunday partier knows that ditching breakable glass for flexible cans is a solid move. Thankfully, Intuition Ale Works became the first Florida-based craft brewery to exclusively can all of their beer. Grab a pack at the handy walk-up window or sidewalk bar.
We suggest the I-10 IPA, which Taproom Manager Riley Leuthold says, "We have a hard time making fast enough." For a less hoppy option, Leuthold suggests the Jon Boat Coastal English Golden Ale. Light-bodied with a super crisp finish, Leuthold says Jon Boat "is a people pleaser that anyone can crack into."
Intuition's prime location two blocks from TIAA Bank Field makes for an easy stroll, but if you've had one too many flagship I-10 IPAs, take advantage of the brewery's partnership with a local golf cart service for a free ride right up to the arena's front door.
First Down: Aardwolf Brewing Company
1461 Hendricks Ave, Jacksonville, FL 32207 | 8-min drive
Here are all the things we love about Aardwolf Brewing: They have a beautiful beer garden to drink in the Florida sunshine; that beautiful beer garden allows dogs; they always have a great lineup of food trucks.
And we haven't even mentioned the beer yet. The tap list is huge. And we mean huge. You'll find everything from the hoppy—pale ales, American IPAs, session IPAs—to the malty—imperial stouts, vienna lager—to the fruity—berliner weisse, American wild ale—to the seltzy—hard seltzer.
Kansas City Chiefs
GEHA Field at Arrowhead Stadium, 1 Arrowhead Dr, Kansas City, MO 64129
Touchdown: Alma Mader Brewing
2635 Southwest Blvd, Kansas City, MO 64108 | 16-min drive
The Chiefs may have lost their speediest player in Tyreek Hill, but don't worry, you still have Patrick Maholmes. And at Alma Mader Brewing, a mere sixteen-minute drive from GEHA Field at Arrowhead Stadium, slower is actually better.
Wander into the taproom and you might see a stack of glasses behind the bar waiting to be filled, slowly building up an incredible ice cream cone-like head of foam. It's a technique called slow pouring and something that has been stunning those Midwestern imbibers willing to wait.
Alma Mader Co-Founder Nick Mader has a pedigree that looks something like Joe Montana's (hey, he played for the Chiefs for one season from '93-'94)—illustrious. After starting as a bartender at Boulevard Brewing, Mader worked his way up, eventually moving to Denver and landing gigs on the ground floor at Crooked Stave and later Fremont in Seattle, WA.
Looking to move home to Kansas City, Mader started his own place focused on lager, IPA, and stouts. With that in mind, at Alma Mader you'll find an incredible Italian pilsner called New World Geo Italian-style Pilsner along with a Czech-style pilsner called Premiant.
Often Mader chooses to slow pour his Premiant off the brewery's beautiful Czech Lukr side-pour faucet. It's a pouring technique popularized by Bierstadt Lagerhaus that builds an incredible whip cream-like head of foam, showcasing the beer's beautiful aromas and presentation.
The catch?
It can take five to seven minutes to pour. But trust us, it's worth the wait.
First Down: Crane Brewing Company
6515 Railroad St, Raytown, MO 64133 | 10-min drive
Known for wild fermented sour beers aged in wood and steel barrels, Crane Brewing Company brings a touch of the whimsical to Kansas City. Of course you'll find some gameday-friendly cores like the Odd Bird corn lager or Thundergong American wit. But you'd be missing out if you passed up some of the stunning sours. For instance, the Strawberry Rhubarb gose, Beet Weiss, or Gooseberry Gose. The move? Pick up your crowler for Sunday's tailgate from the beautifully reclaimed-wood-worked taproom on Saturday.
Las Vegas Raiders
Allegiant Stadium, 3333 Al Davis Way, Las Vegas, NV 89119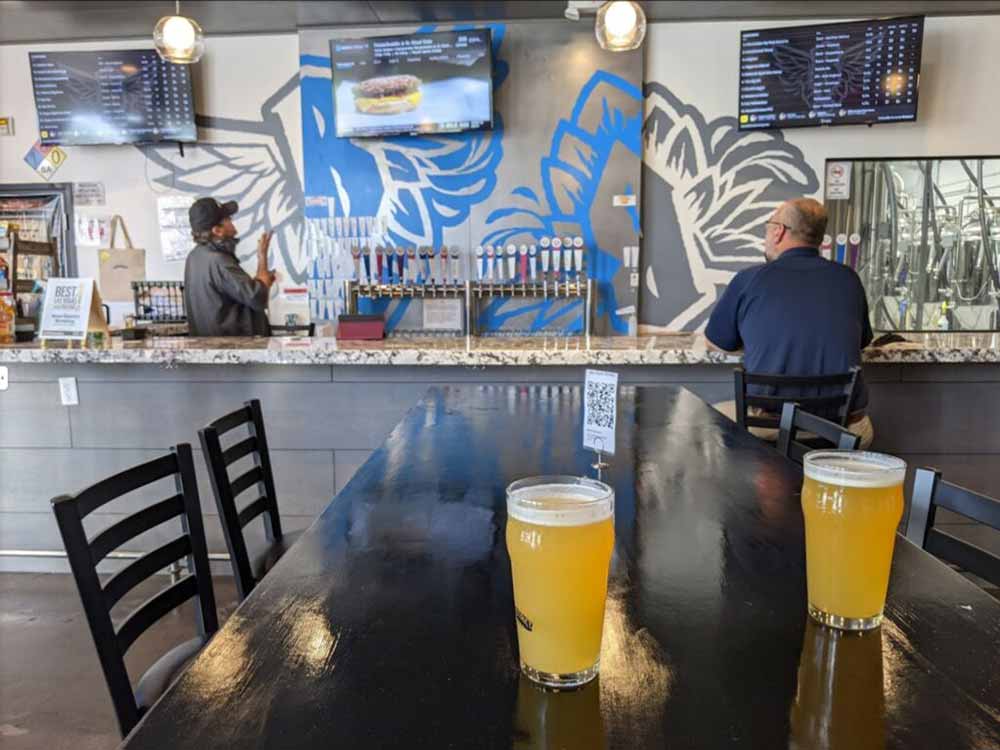 Touchdown: Neon Desert Brewing
914 S Main St, Las Vegas, NV 89101 | 12-min drive
Are Derek Carr, the newly acquired Davante Adams, and the Oakland Las Vegas Raiders finally settled in the desert? This season may answer that question. Neon Desert embodies the best of Vegas: bigger, better, and brighter. The menu pops with beers that aren't necessarily stretching the imagination, but rather more like old reliables. Which is exactly what you want on an NFL Sunday.
Beers like Captain Haze, a juicy IPA with Mosaic, Sabro, Citra, and Galaxy hops. Or Heaven is Helles and Hue Hefeweizen.
First Down: Able Baker Brewing Company
1510 S Main St, Ste. 120, Las Vegas, NV 89104 | 11-min drive
You've hit the jackpot at Able Baker Brewing Company simply because of the breadth of beers. On the tap list you'll find about thirty different beers running the gamut from a host of IPAs to stouts and porters and English brown ales to cream ales and American lagers. This is a crowd-pleasing brewery with tons of open space that will be perfect for posting up with your crew.
Los Angeles Chargers / Los Angeles Rams
SoFi Stadium, 1001 Stadium Dr, Inglewood, CA 90301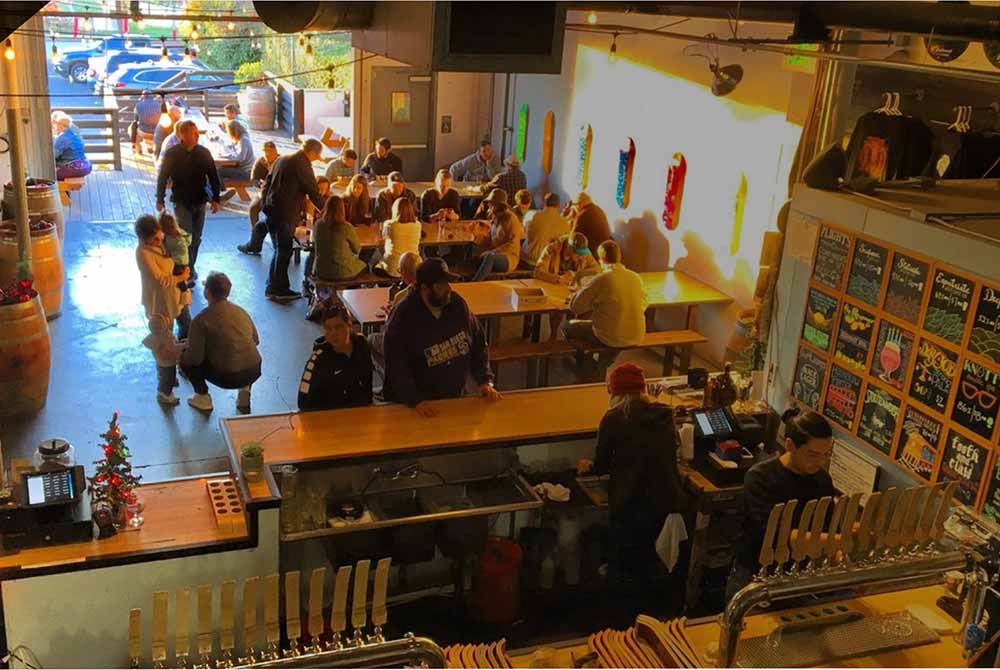 Touchdown: Three Weavers Brewing Company
1031 W Manchester Blvd A-B, Inglewood, CA 90301 | 13-min drive
Since the Los Angeles Rams won the Super Bowl last year, it makes sense that you can find an equally award-winning brewery close by to SoFi Stadium. Currently, Three Weavers Brewing Company in Inglewood, CA, holds a World Beer Cup Gold Medal from 2016, a GABF Silver Medal from 2017, a European Beer Star Bronze from 2017, the Australian International Beer Awards Best IPA and Champion International Beer from 2018, and many more we probably could list here.
But the brewery goes beyond just beer. Pride. Unity. Fairness and honesty. These are just a few of the core values at Three Weavers, one of the largest independent craft breweries in Los Angeles County.
Founded in 2013 by CEO Lynne Weaver and brewmaster Alexandra Nowell, the brewery was named for Weaver's three daughters and serves as an example of a business that puts people above profits.
Because sometimes winning isn't everything. But stopping at Three Weavers either before or after a Rams or Chargers game will guarantee a beer win no matter if the Rams repeat or not.
First Down: Common Space Brewery
3411 W El Segundo Blvd, Hawthorne, CA 90250 | 15-min drive
This is the ethos at Common Space: "We believe that people are more similar than different and beer has the power to help us all find a Common Space." Beer, like sports, can help bring people together. The beer garden and taproom at Common Space in Hawthorne does exactly that, bringing folks together over dangerously good drinks.
We named the Common Space and Three Weavers collab Natural Rise Light Lager one of our "20 Best Beers to Drink in Spring 2022." And while you probably can't find that beer anymore, you can find standouts like Food Fight hazy IPA, Chubby Unicorn Peach Milkshake Hazy IPA, a milkshake IPA, and Upside Right Hazy IPA.
Second Down: Monkish Brewing Co.
20311 S Western Ave, Torrance, CA 90501 | 23-min drive
Yes, Monkish is one of our favorite breweries in all of California, but it just happens to be a bit more of a stretch from SoFi stadium. Which is why we're kicking it down to our "second down." Throw the challenge flag if you want to, that's fine with us.
But we can probably all agree that one of your favorite hazy IPA-producing breweries, Monkish, makes some of the most well-regarded hazy IPAs in the country.
For example, Life Is Foggier, a DDH NEIPA with Citra, Nelson Sauvin, and Galaxy. Or LA Freshie, a hazy double dry hopped with Citra and Nelson Sauvin.
Miami Dolphins
Hard Rock Stadium, 347 Don Shula Dr, Miami Gardens, FL 33056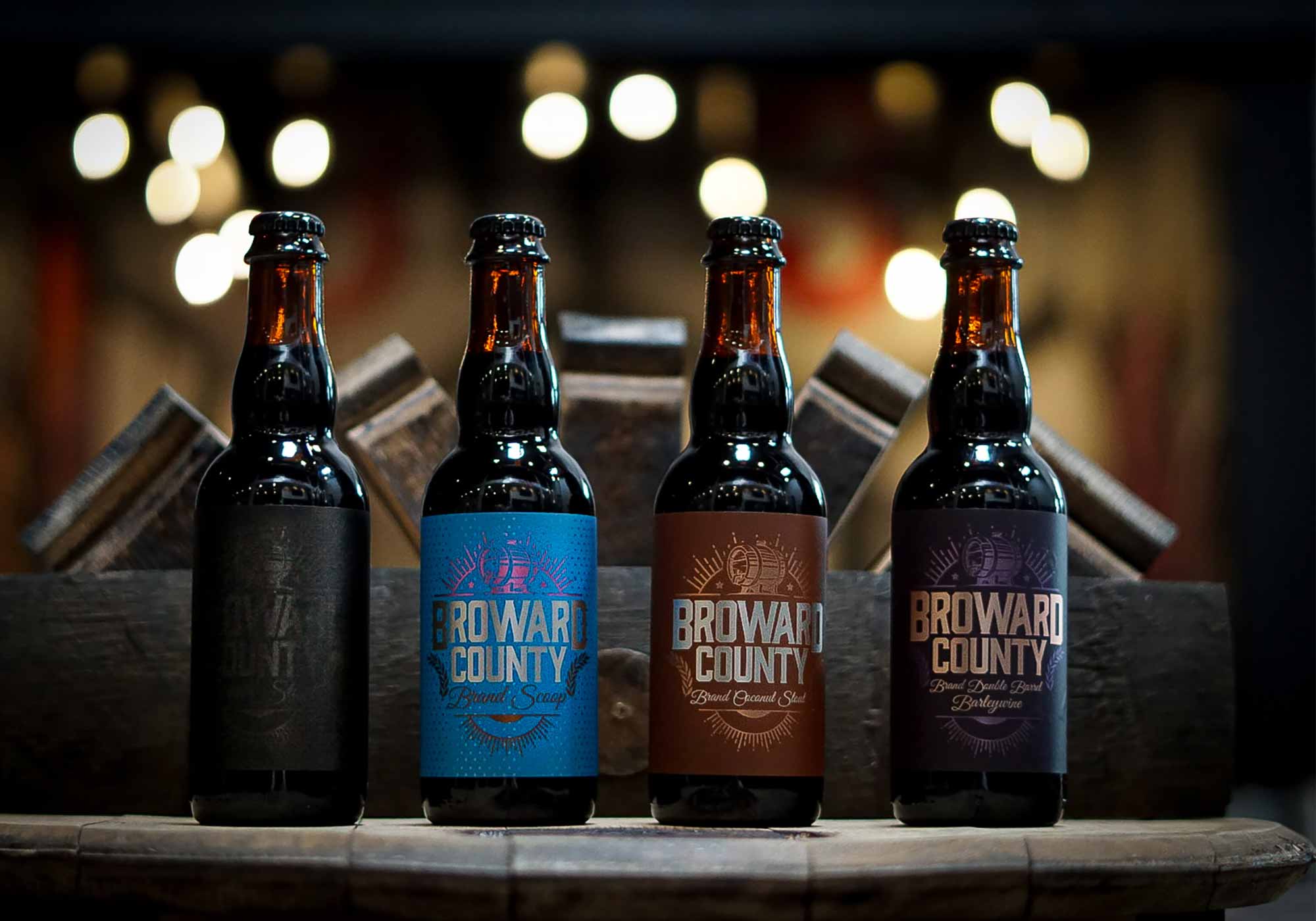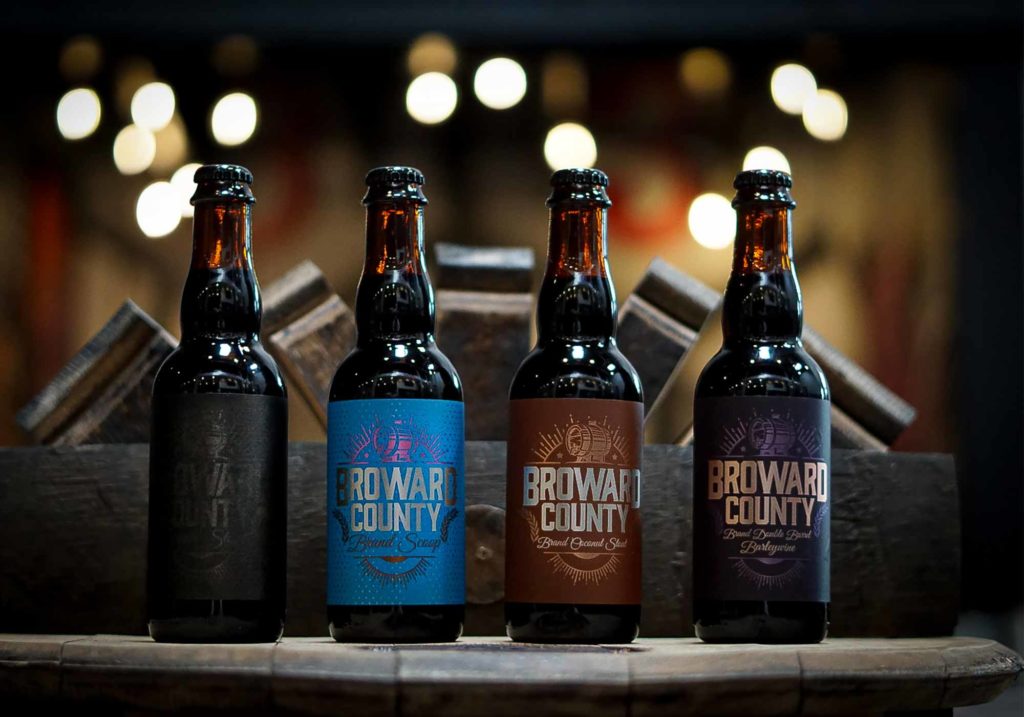 Touchdown: 3 Sons Brewing Co.
236 N Federal Hwy #104, Dania Beach, FL 33004 | 20-min drive
Tua and Tyreek, a match made under the sea for the Miami Dolphins? Only time will tell. Beer and barrels? Now that's a time-tested match made in heaven, literally. And something that 3 Sons Brewing Co. Owner and Head Brewer Corey Artanis has perfected.
For the past three years, 3 Sons Brewing Co. has been one of South Florida's hottest breweries. In fact, before Artanis even opened the taproom doors back in 2019, Ratebeer.com had ranked 3 Sons the Best New Brewer in the world.
It's Artanis' pinpoint-perfect pastry stouts that have garnered a devoted following. And a gaggle of awards. Such as Summation, a bourbon barrel-aged Imperial vanilla and coffee stout inspired by Goose Island's 2010 Vanilla Bourbon County stout. Or Broward County Brand Stouts (BCB), a set of special barrel-aged stouts released once every year usually around November.
And since 3 Sons is only a twenty-minute drive from Hard Rock Stadium, we bet this could be a perfect place to stop after the game and celebrate.
Also because there's a wood-fired kitchen serving plates like wood-fired dashi butter wings and wood-roasted sausage pizza.
First Down: Unbranded Brewing Company
1395 E 11th Ave, Hialeah, FL 33010 | 21-min drive
When Zachary Swanson founded Unbranded Brewing in Hialeah, Florida, it was the first brewery to ever open in the predominantly Cuban city. Even though many other brewers were putting down roots in the trendy Miami neighborhood of Wynwood, Swanson went against the grain by choosing a very close-knit Hispanic community about twenty miles north.
"People from Hialeah have a deep attachment to the city," says Swanson. "That's why I thought it would be great for a craft brewery…because craft breweries do well in those neighborhoods where people have a strong civic pride."
One of the "18 Best Breweries in South Florida," Unbranded includes local nods everywhere. Like in the Hialeah Light, a highly crushable Florida lager that's bright, crispy, and representative of its namesake town. Or in weekend events such as Brews & Tunes that features musicians like Alvaro Alcocer Y Las Buenas Influencias, a Spanish South Florida rock band.
Minnesota Vikings
U.S. Bank Stadium, 401 Chicago Ave, Minneapolis, MN 55415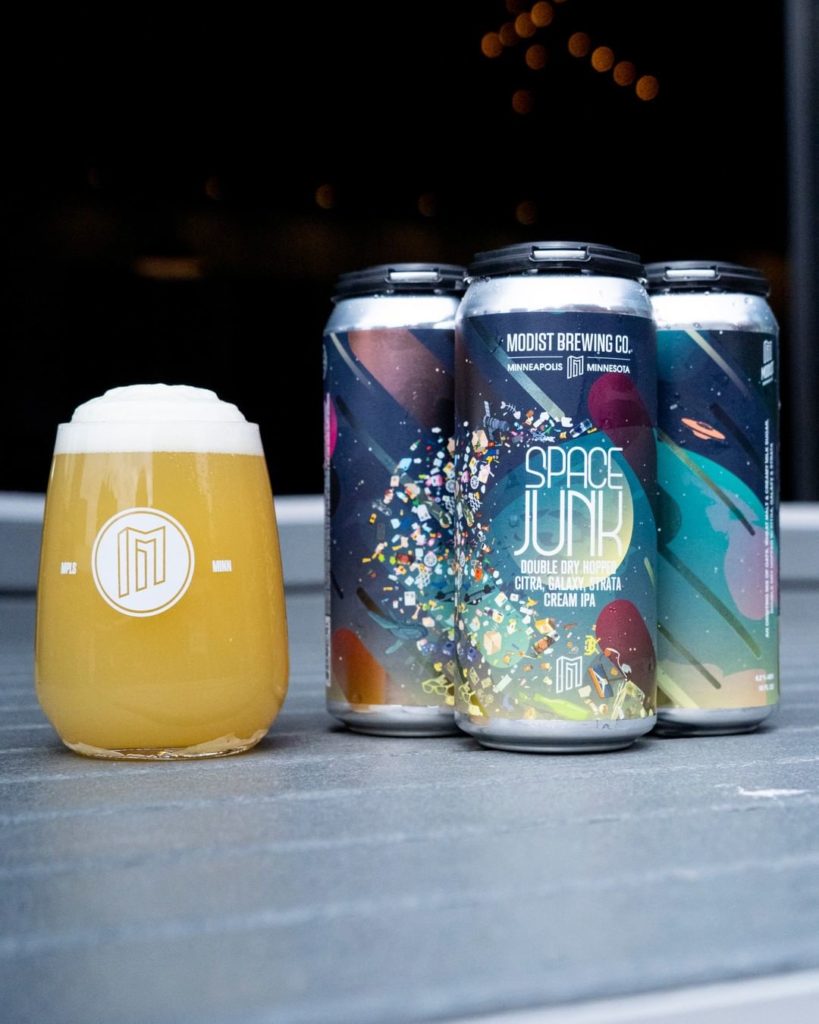 Touchdown: Modist Brewing Co.
505 N 3rd St, Minneapolis, MN 55401 | 7-min drive, 15-min public
As a diehard Vikings fan, it's hard to keep my excitement in check for the upcoming season. It seems that under new head coach Kevin O'Connell's innovative offense this is truly the time to unleash all our offensive weapons—Justin Jefferson, Dalvin Cook, Irv Smith Jr. (if he can stay healthy), Adam Theilen, K.J. Osborn, and even fifth-round draft pick Ty Chandler.
I'm expecting exciting things from the Vikings this year. Likewise, I always expect exciting things from Modist, one of Minnesota's most innovative breweries.
Modist bucks trends with both its beers and its taproom. There you'll find bold beers with intriguing ingredients.
"We make alternative beers," Modist boldly claims on its website.
Such as Space Junk, a double dry-hopped cream IPA orbiting a galaxy of oats, wheat, malt, creamy milk sugar, and Citra, Galaxy, and Strata hops.
All in a space that makes the impossible possible. Focused on creativity and experimentation, Modist doesn't follow traditional style guidelines, but rather looks to hit a specific flavor or experience with each of its beers.
That means Modist literally built a custom brewhouse to make the beers they wanted. For example, the brewhouse includes the region's first mash filter, a piece of equipment that allows Modist Head Brewer and Co-Founder Keigan Knee to use any grain he wants in any percentage with only a fraction of the water used in a traditional brewery.
This is just an uber cool brewery at the vanguard of the craft beer scene. We expect big things from Modist in the future.
And from the Vikings. 🤞
First Down: Fulton Beer
414 N 6th Ave, Minneapolis, MN 55401 | 8-min drive, 15-min public
Right next door to Modist is Fulton Beer, an institution in Minnesota. It's a classic American craft beer story. Started in 2009 out of a South Minneapolis garage, Fulton founders Ryan Petzo, Jim Diley, and Brian Hoffman built the brewery into Minneapolis' first taproom (when it officially opened in 2011).
Fulton's one of the top IPA breweries in the state from its flagship Sweet Child of Vine to the award-winning 300 Mosaic IPA.
But you'll also find classics such as The Lonely Blonde, Chill City Chugger golden lager, and Northern Standard amber lager, among others.
This is just a damn good brewery that has been around the Northeast Minneapolis block.
New England Patriots
Gillette Stadium, 1 Patriot Pl, Foxboroguh, MA 02035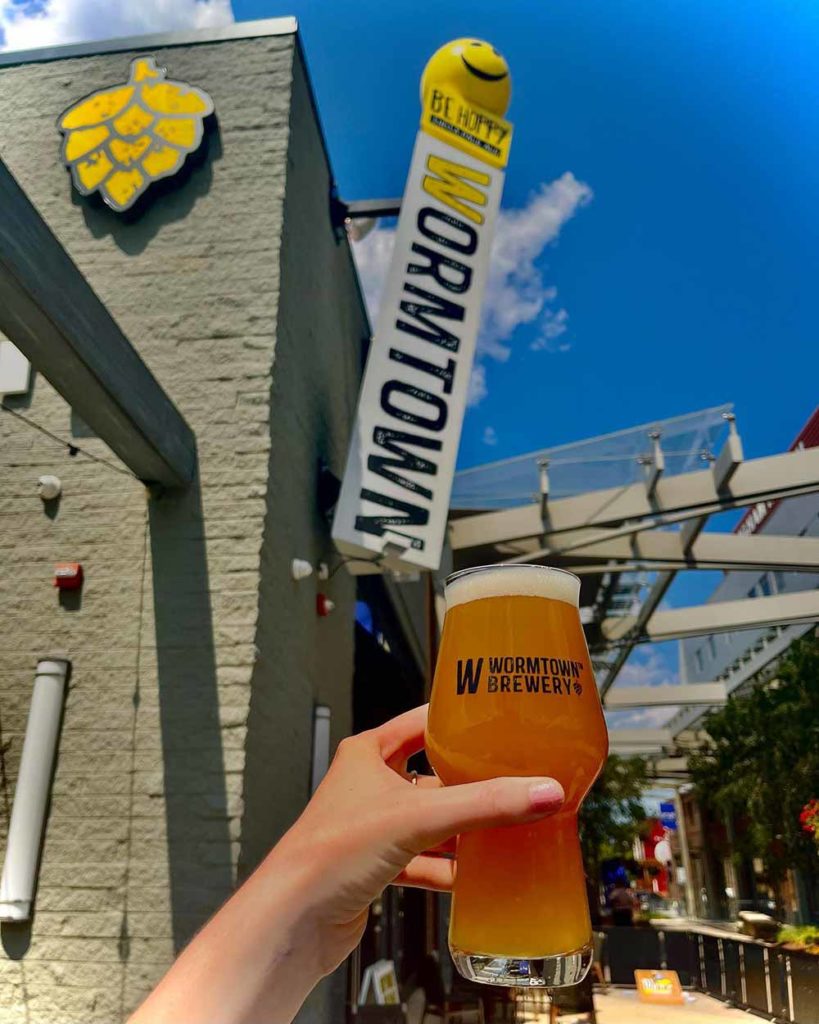 Touchdown: Wormtown Brewery – Patriot Place
250 Patriot Pl, Foxborough, MA 02035 | 3-min drive, 4-min walk
You really can't find a taproom much closer to a stadium than Wormtown Brewery. The brewery literally opened up a spot right across from Gillette Stadium. Which makes sense because the brewery's motto is: "A Piece of Mass in Every Glass."
Accordingly, you'll find beers like Be Hoppy, a Left Coast IPA with copious amounts of Citra and Cascade. Or Mass Whole, an American lager chockful of Massachusetts ingredients including hops from Four Star Farms in Northfield, MA, and barley and heirloom corn from Valley Malt in Hadley, MA.
We can think of no better place to celebrate the Patriots than with a glass of Mass right next to the stadium.
First Down: Trillium Brewing Company
100 Royall St., Canton, MA 02021 | 17-min drive
We don't think this one needs much explanation. Yes, it's a bit farther of a drive, but it seems to be worth it to visit one of the best breweries in Massachusetts slash the entire country. Plus, we can just hear the NFL-stadium-sized screams ringing in our ears if we somehow didn't mention Trillium on this list. And absolutely for good reason.
Second Down: Castle Island Brewing Company
31 Astor Ave, Norwood, MA 02062 | 15-min drive
Another Massachusetts staple, Castle Island has been serving up classic craft beers in Norwood since 2015. Although the brewery recently opened up a second location in South Boston, the OG taproom is a bit closer to Gillette Stadium.
For our money, we love Fiver, Castle Island's hazy IPA that also gives back as a part of the Fiver Initiative. One of our "Top 10 Beers We Drank in June," Fiver impressed us with its juicy combination of Citra, Simcoe, and El Dorado hops.
But beyond the beer, we loved how Castle Island pledged to donate five percent from all sales of Fiver to five different local organizations.
"We really wanted to be able to build more long-lasting relationships…and focus on giving back more to the community around us," says Lauren Horgan, director of regulatory affairs and operational effectiveness and Fiver committee chair at Castle Island.
Unsurprisingly, in the land of New England-style IPAs, this new hazy from Castle Island resonated like a cannon shot. According to Horgan, Fiver consistently lands in the brewery's top three best-selling beers, especially at the brewery's new South Boston taproom.
New Orleans Saints
Caesars Superdome, 1500 Sugar Bowl Dr, New Orleans, LA 70112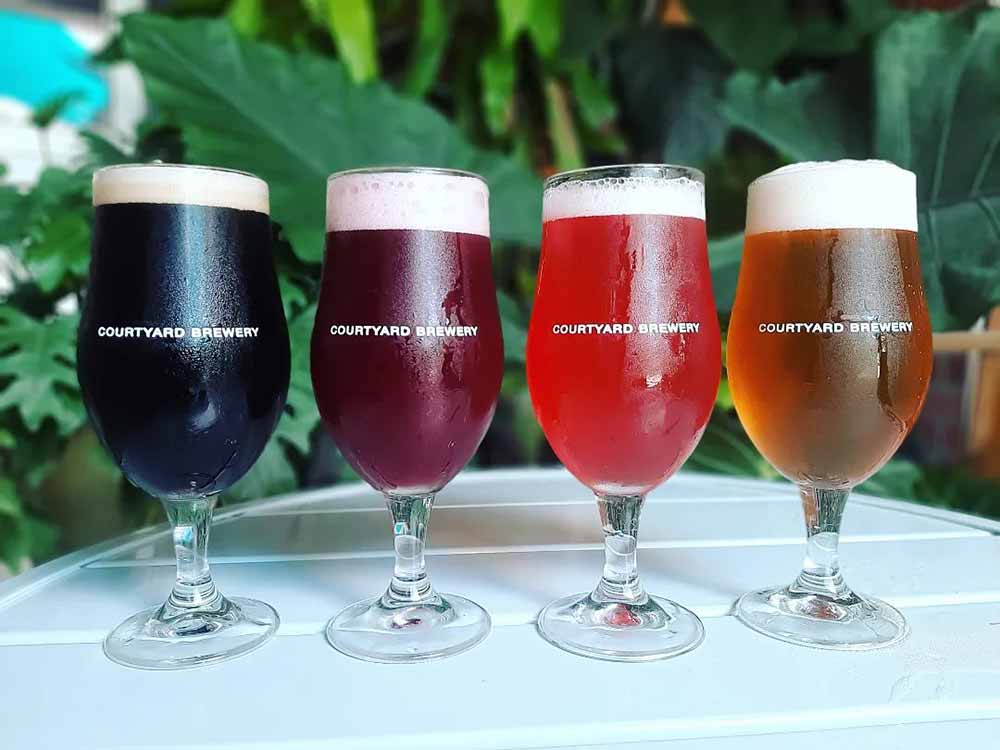 Touchdown: The Courtyard Brewery
1160 Camp St, New Orleans, LA 70130 | 5-min drive, 20-min public, 30-min walk
The Courtyard Brewery's rotating food truck schedule makes this taproom and outdoor beer garden perfect for an after-arena ale session. Expectations are high for the Saints this year, even though they'll be Sean Payton-less for the first time in sixteen seasons.
Last year, the Saints powerful offense underperformed after a series of injuries, so in 2022 expect fans to be rabid for a furious start under new head coach Dennis Allen. With that in mind, would it be too on the nose to drink Courtyard's Preach! IIPA with Mosaic and Citra hops? Or Luck, Love, Money, a Belgian yeast with orange blossoms. Saints Quarterback Jameis Winston will probably need a bit of all three. And if this season goes down the tubes? Well, then Allen will probably be downing a See You in Mexico pale wheat.
First Down: The Avenue Pub
1732 St Charles Ave, New Orleans, LA 70130 | 8-min drive, 27-min public/walk
Widely listed as one of the best bars in not just New Orleans, but also all of America, the humble Avenue Pub is the place to drink craft beer in the Crescent City. Which is why it's the one of the only straight-up craft beer bars to make this list. "Cocktails be damned," we say. Only a NOLA Brewing Darkest Before Dawn dunkel Munich lager or Parish Brewing Envie 3.0 American Pale Ale will do. Feeling bold this Sunday? If you have the balls, ask for a Bayou Teche Brewing Techticles, a 12% IPA.
New York Giants / New York Jets
MetLife Stadium, 1 MetLife Stadium Dr, East Rutherford, NJ 07073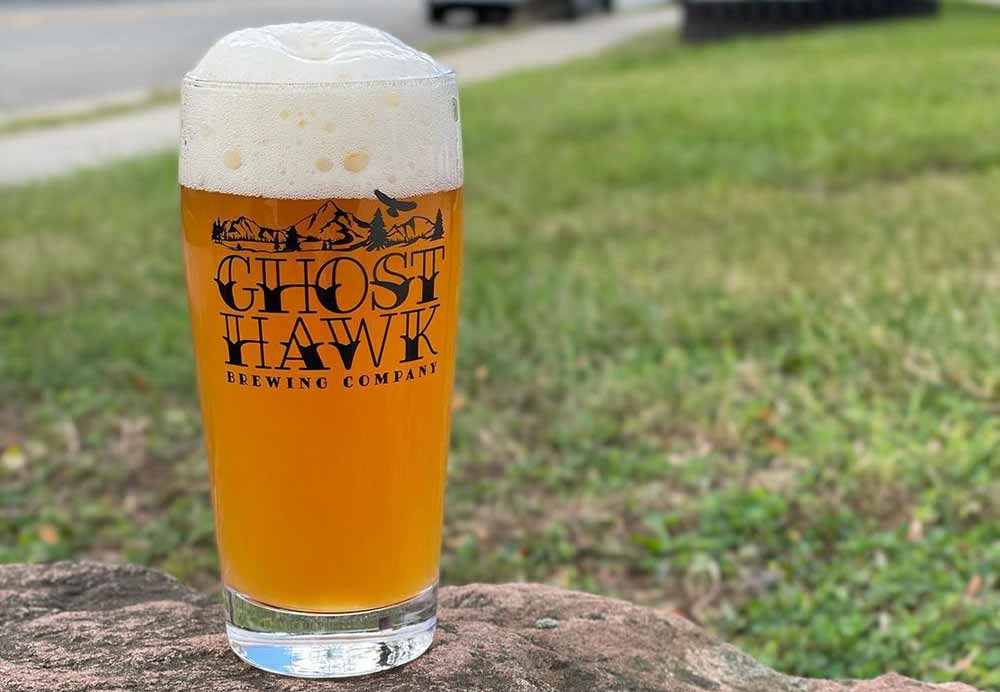 Touchdown: Ghost Hawk Brewing Company
321 River Rd #6, Clifton, NJ 07014 | 7-min drive
Five years ago you might be hard pressed to find a decent taproom within spitting distance of MetLife Stadium. Now, toss the rock (preferably more like Jets QB Zach Wilson than Giants QB Daniel Jones—although both are a little up in the air) and you'll score some great beer.
For our money though, we're fans of Ghost Hawk, one of our "13 Best Breweries to Visit in New Jersey."
Ghost Hawk landed on our radar (get it?) thanks to the friendly folks at the "America The BREW-tiful" podcast, which recently featured Hop Culture Founder Kenny Gould.
In our opinion, Clifton-based Ghost Hawk makes great IPAs and lagers. For example, check out the Ghost Hawk Lager, brewed according to the German Beer Purity Law of 1516. Or Apex Predator, a NEIPA with loads of Simcoe, Citra, Mosaic, and Ekuanot hops.
But they also have an incredible story. Ghost Hawk is definitely one to watch. That is to say, we have a feeling that this brewery is set to soar to great heights (get it??).
Whether Wilson or Jones soar to great heights though, that's an entirely different story.
First Down: Brix City Brewing
4 Alsan Way, Little Ferry, NJ 07643 | 10-min drive
Even among people who know and love the Jersey beer scene, Brix City Brewing is a bit of a hidden gem brewery. But their buzzy hazy IPAs and sensational sours should capture your attention.
If you visit while in the area for a Giants or Jets game, keep an eye out for Brix City + Conclave Gravitational Jams, a hazy DIPA double dry hopped with Citra, Mosaic, and Galaxy. Or Acid Blend Strawberry Rhubarb Alarm Clock, a sour ale with lactose conditioned on strawberry puree and fresh rhubarb.
Philadelphia Eagles
Lincoln Financial Field, One Lincoln Financial Field Way, Philadelphia, PA 19148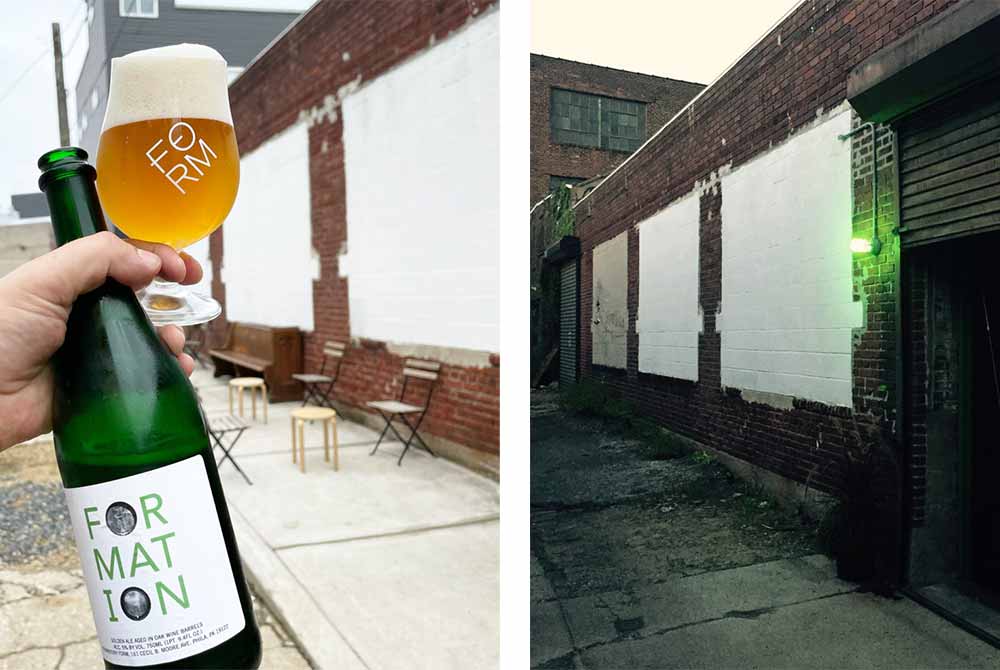 Touchdown: Fermentery Form
1700 Palethorp St, Philadelphia, PA 19122 | 15-min drive
Honestly, this probably isn't the best choice here because Fermentory Form owner Ethan Tripp kind of decides to open the taproom's garage door and turn on the green light down a random alleyway whenever he wants. Although Google does list the brewery's hours as open on Saturday from 12-4pm, the brewery specifically states on its website that it is "open by announcement only." Meaning you need to stay tuned to social media for a chance to snag one of the brewery's large-format mixed-fermentation bottles.
But we just couldn't help ourselves because we named Fermentory Form one of our "Best Breweries of 2021."
Focusing on mixed-fermentation ales, Fermentery Form bottles are impeccable and also extremely elusive. For that reason, you'll find beer fans eagerly posting "ISO" (in search of) on most of Fermentery Form's Instagram posts.
It's the same reason that folks are so passionately attracted to breweries like The Referend, The Ale Apothecary, or Floodland. These breweries are unabashedly themselves and produce such special, engaging beers that fans desperately want to be a part of their world.
Our suggestion: Stay tuned to when this taproom opens, grab some bottles to go when you can, and be the best friend at your tailgate on Sunday when you surprise everyone with the best beer of the afternoon.
First Down: Second District Brewing
1939 S Bancroft St, Philadelphia, PA 19145 | 9-min drive
One of our "7 Best Breweries in Philadelphia, PA," this five-year-old South Philly taproom places an emphasis on quirky and unconventional ingredients. Head Brewer Ben Potts counts Dogfish Head and Tired Hands on his past resume and now helms the mash tun at Second District cranking out some of the most consistent and creative beers in Philly.
Beers like Vibrosa, a mixed fermentation saison conditioned on fresh Valencia OJ and zest. And Chadwick, an OG Philly-style porter brewed with a special blend of roasty malts, East Kent Goldings hops, and Second District's house ale strain. These are the beers that prove Second District isn't afraid to play with flavors.
Or you can never go wrong with Bancroft Beer, what the brewery calls its "daily drinker" with Pilsner and Maris Otter malt and just Mosaic hops. You can even get a pitcher!
Pittsburgh Steelers
Acrisure Stadium, 100 Art Rooney Ave, Pittsburgh, PA 15212
Touchdown: Cinderlands Beer Co – Warehouse
2601 Smallman St, Pittsburgh, PA 15222 | 8-min drive
For true Pittsburgh Steelers fans, the newly named Acrisure Stadium will always be Heinz Field. Some things in Pittsburgh should never change.
One thing we know will never change is that Cinderlands Beer Co. is one of the best breweries in Pittsburgh. An absolute innovator in the Pittsburgh craft beer scene, Cinderlands actually has two locations.
Co-owners Jamie and Joanna Warden and Paul Schneider opened a new taproom in 2019 that the Hop Culture team named one of the top 10 breweries of 2019.
And while Cinderlands Warehouse in the Strip District is a bit closer to the stadium, don't sleep on the original location in Lower Lawrenceville, Cinderlands Foederhouse, which impresses with its thoughtful farmhouse and mixed-fermentation beers (and bangin' food!).
"They've done a nice job of repurposing that Foederhouse and making it a more saison-forward experience," says Aadam Soorma, former Digital Curator for Very Local Pittsburgh and tour guide for Porter Brewery Tours, and current Head of Marketing and Guest Experience at Trace Brewing. "It's probably the only spot in Pittsburgh doing that, especially on a regular rotation."
If you're visiting, Soorma recommends his favorite saison, Gregg.
"I've honestly been in love with that beer for over a year," says Soorma. "It's light and refreshing and obviously has gotten a ton of hype in the last few weeks since it won gold at GABF. Believe in saison!"
First Down: Dancing Gnome
1025 Main St, Pittsburgh, PA 15215 | 10-min drive
You can't talk about beer in Pittsburgh without mentioning Dancing Gnome in the same breath. Quite simply, it's one of the best places to drink in Pittsburgh.
"In my opinion, they've never made a bad beer," says Soorma in a previous article for Hop Culture. "Every single beer I've ever had from them has been completely top-notch incredible."
The brewery made a name for itself off juicy pale ales (Dancing Gnome Lustra might be one of the best American pale ales we've ever had) and hop-forward IPAs. Their menu is even organized by hops.
And while there's no doubt DG nails hoppy styles, our sneaky recommendation is Bants, an English-style bitter or ESB.
For Soorma, this five-year-old brewery thrives on the idea of community and neighborhood friendliness preached by one of its most famous residents, the late Fred Rogers.
"It's the way they approach service and hospitality," says Soorma. "I love these guys. I love their beer and I love their vibe."
Second Down: Aslin Beer Company (coming soon)
1800 Smallman St, Pittsburgh, PA 15222 | 6-min drive
We would have put Aslin Beer Co.'s new Pittsburgh taproom first, but it isn't quite open yet. The Virginia-based brewery plans to bring a new 10BBL location to the Steel City in the fall of 2022. Keep your eyes peeled for this new site opening in the Strip District near Cinderlands Warehouse in the iconic Produce Terminal building soon.
San Francisco 49ers
Levi's Stadium, 4900 Marie P DeBartolo Way, Santa Clara, CA 95054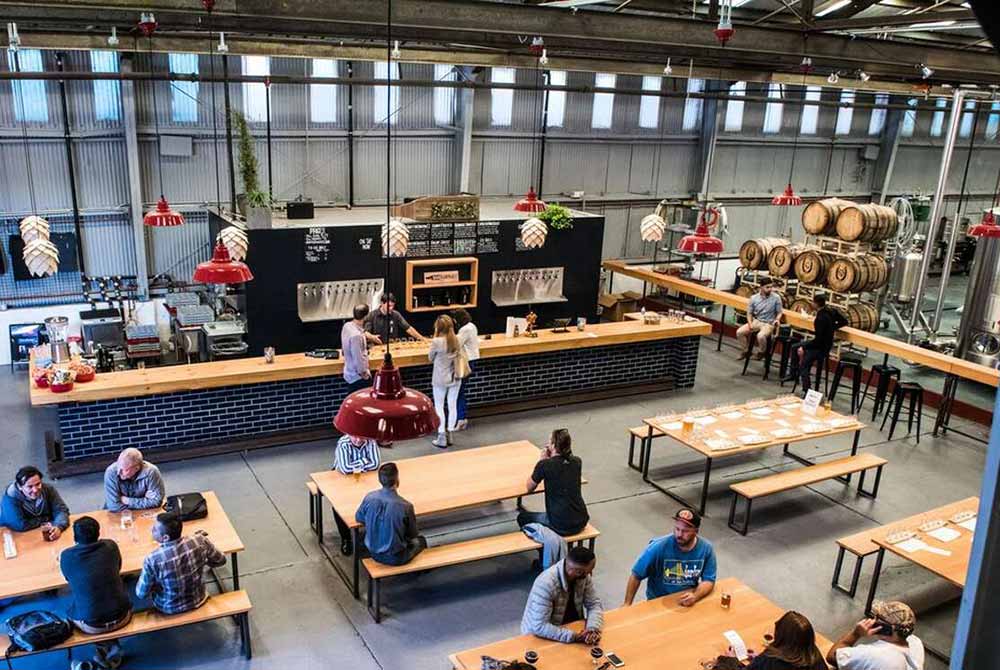 Touchdown: Barebottle Brewing Company – Santa Clara
2520 Augustine Dr, Santa Clara, CA 95054 | 6-min drive
AAPI-owned Barebottle Brewing Company had been slinging creative beers in the Bernal Heights area of San Francisco for three-and-a-half years before their success allowed them to open a second location, a mere six-minute drive from Levi's Stadium in Santa Clara.
Thankfully, 49ers fans now have a reason to cheer as loud as when Trey Lance throws his first touchdown pass in the regular season. Because not only does Barebottle fill an extreme need for quality taprooms in the South Bay, but Barebottle also executes some of the most innovative beers in the entire Bay Area.
For instance, Regal Cinnamons, a cinnamon coffee nitro porter. Or Drinking in Another State, an orange radler that raises funds for BIFE Emergency Health Fund, which provides emergency assistance to invidivudals in the craft beer and alcohol industry seeking abortion care. Or Dank Dank Revolution Hazy IPA, an uber juicy IPA with Enigma, Nelson, and Strata hops.
Barebottle's beers are big, bold, and beautiful. Just like its Santa Clara taproom. And just like the 49ers.
First Down: Humble Sea Brewing Company – Pacifica or Santa Cruz Taprooms
5560 Pacific Coast Hwy, Pacifica, CA 94044 | 59-min drive
820 Swift St, Santa Cruz, CA 95060 | 49-min drive
Yes, we broke our rule to bring you breweries within a thirty minute drive from the stadium. So that should tell you how much the drive is worth it. If you're in the Bay Area you need to stop at Humble Sea.
The fairly new Pacifica location and original Santa Cruz taprooms are both a little under an hour drive from Levi's Stadium without traffic. But either would be worth your time in the car.
The Santa Cruz location is the OG, so it's more of a quaint place in a great oceanside-cum-getaway town.
The newer Pacifica location is big, bright, bold, and beachside. Located right on the water, you can pick up any one of Humble Sea's here-now-gone-tomorrow foggy IPAs (much like Karl the Fog itself).
Or you can stop for a longer jaunt, tucking into the location's excellent menu of beer-friendly food.
We consider Humble Sea the ultimate hidden gem brewery in Northern California. Although, at the rate they're going, they won't be hidden for long. In fact, since we named them one of our "12 Best New Breweries of 2021" (thanks to their new Pacifica location), the secret is probably already out.
Seattle Seahawks
Lumen Field, 800 Occidental Ave S, Seattle, WA 98134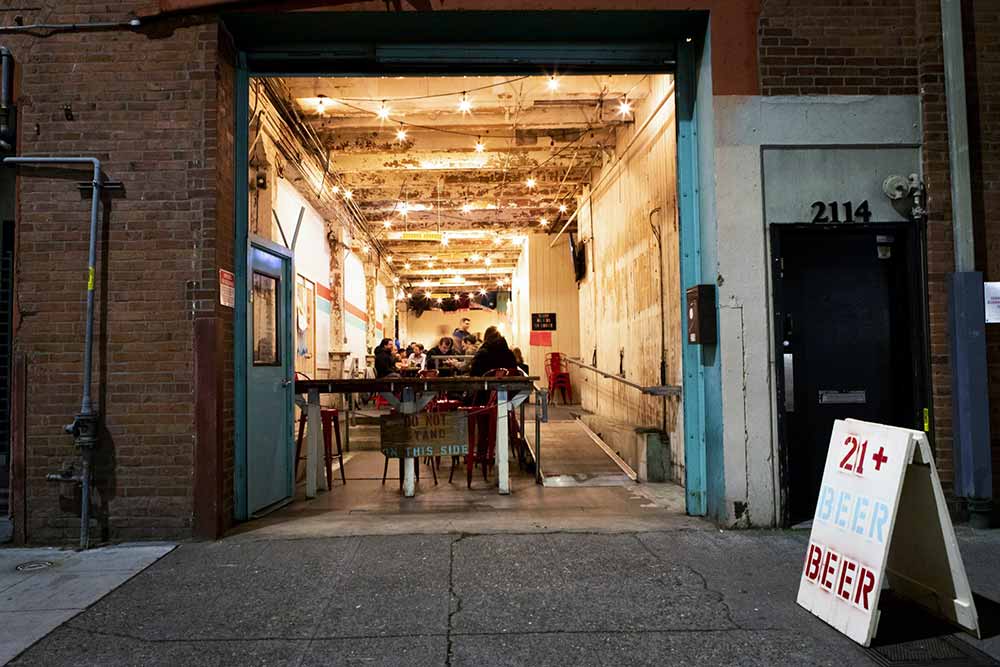 Touchdown: Cloudburst Brewing
2116 Western Ave, Seattle, WA 98121 | 7-min drive, 20-min public
Drew Locke or Geno Smith? Drew Locke or Geno Smith? Hmm, so the choices at quarterback for the Seattle Seahawks may be lacking. Good thing then that there are a plethora of excellent choices for taprooms close to Lumen Field, starting with Cloudburst Brewing.
In 2016, Cloudburst Founder Steve Luke, a former production brewer at Allagash and Elysian, opened his own brewery. Specializing in hazy IPAs, Luke quickly made a name for himself for being humble and fiercely independent.
IPAs are certainly the name of the game here with standouts like Cosmic Lust, Verse Jump, and Jump to Conclusions, to name a few.
But don't sleep on Happy Little Clouds, an American-style pilsner and nelsonnugz.com, a pale ale collab with Cellarmaker Brewing.
Keep in mind: At the moment, the brewery's Western Ave location, which is closer to Lumen Field, serves to-go beer from Monday through Thursday. If you want to drive a few more minutes north, you can hit up Cloudburst's Shilshole Ave taproom to drink on site.
First Down: Fremont Brewing
1050 N 34th St, Seattle, WA 98103 | 10-min drive
If you love stouts, look no further than Seattle's Fremont Brewing, which maintains one of the best barrel-aging facilities in the country.
The brewery, located in Seattle, WA, was co-founded by Sara Nelson and her husband, Matt Lincecum. In addition to award-winning stouts, the brewery's proximity to the Yakima Valley gives it unparalleled access to fresh hops, and thirsty fans arrive by the droves during harvest season for their wet-hopped IPAs.
So whether you enjoy the roasty, more structured flavors of stouts or the bitter bite of an IPA, you're set at Fremont Brewing.
Second Down: Fair Isle Brewing
936 NW 49th St, Seattle, WA 98107 | 13-min drive
A brewery that specializes in mixed-culture saisons, Fair Isle's philosophy honors the beautiful malt, hops, and ingredients (some foraged and almost all local) of the Pacific Northwest.
It's a belief—scratch that—almost a fierce pride that you can taste in all of their beers.
The brewery almost immediately caught our attention when they opened in January 2020. Their thought-provoking and impeccably crafted farmhouse ales have continually impressed us in only a short amount of time.
Quite simply: They're stunning.
You don't have to take our word for it, but it also couldn't hurt. Last year we named Diane, their imperial saison with blueberries and foraged fir tips, one of our "21 Best Beers We Drank in 2021."
It's no coincidence that Fair Isle's elegant, harmonious saisons have landed on many of our 'top' lists over the years. For instance: "The 20 Best Beers to Drink in Summer 2022," "20 Best Beers to Drink in Spring 2021," and "The 20 Best Beers to Drink in Summer 2020."
Obviously, they're doing something right.
"The brewery is all about making nuanced and simple saisons with our house culture, wild yeast, and bacteria, taking advantage of everything that grows around here," says Andrew Pogue, co-founder at Fair Isle.
This is a brewery that evokes Seattle through-and-through.
Third Down: The Good Society Brewery & Public House
2701 California Ave SW Unit A, Seattle, WA 98116 | 20-min drive
We did say there are a bunch of incredible options for drinking around Lumen Field, so we couldn't help but go three downs in Seattle.
The Good Society Brewery & Public House serves as a model example for being a community space. The Good Society earned the Small Brewpub Award for 2020 at the Great American Beer Festival in recognition not only for the beer they craft but also the work they do in their community.
Which is why we named them one of "The 10 Best Breweries to Watch in 2021." Go see why this is one place in Seattle you can't miss.
Tampa Bay Buccaneers
Raymond James Stadium, 4201 N Dale Mabry Hwy, Tampa, FL 33607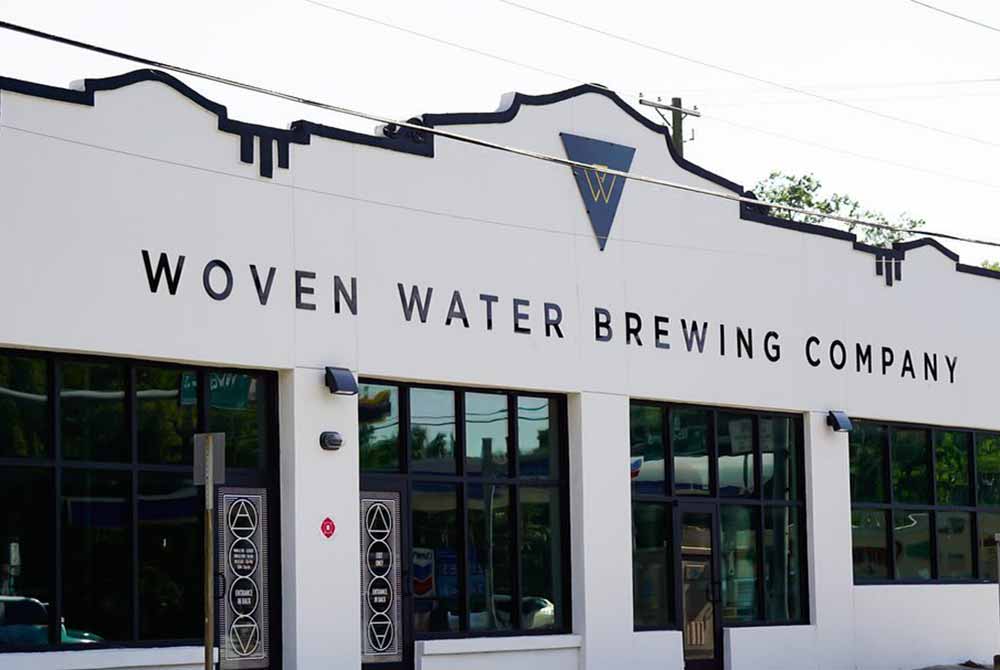 Touchdown: Woven Water Brewing
456 W Columbus Dr, Tampa, FL 33602 | 6-min drive
We could make some kind of joke about Tom Brady here. But why would we do that? Every year when we think Tom Brady's skills will decline, he goes and wins the Super Bowl (or gets mighty close). He is the GOAT, plain and simple, blurring the lines between the believable and the unbelievable.
Similarly, one of our "12 Best New Breweries of 2021," Woven Water impressed us with its "blurry" IPAs. For instance, Photonic, a "blurry" IPA dry hopped with Strata, Mosaic, and HBC 586. And Lost Current, a Vitamin Sea collab and "blurry" IPA dry hopped with Vic Secret, Nelson Sauvin, Kohatu, and Rakau hops.
Co-founders Ciara Jones and her husband Jay Jones and Niki and Eric Childs also brew some pretty killer dessert-inspired sours. For example, Banana Split Fusion, a sour conditioned on bananas and strawberries with vanilla, chocolate, and strawberry soft serve (but no lactose!).
Beyond the beer, Woven Water prides itself on creating a third space—i.e. a place outside home and work where the community could come together. Just like most Tampa Bay fans have rallied around Brady and Bucs new head coach Todd Bowles.
First Down: Angry Chair Brewing
4101 N Florida Ave, Tampa, FL 33603 | 9-min drive
If you've heard of Angry Chair, it's probably because of beers like Double Stuffed Oreo Fudge Bucket and Imperial German Chocolate Cupcake Stout, which turn decadent desserts into liquid. But the Tampa brewery wants to be so much more than a one-trick pony. Equally as delicious as their pastry stouts are their sours, which also garner critical acclaim.
Ben Romano, head brewer at Angry Chair, has helped drive a craft beer renaissance of sorts in Tampa. Not everyone born and raised in Tampa Bay sticks around, but those who do have a fierce love for their hometown. Romano and Angry Chair Brewing are one of the best examples, pushing out epic stouts, porters, IPAs, and sours from their 1,900-sq-ft brewery and 2,000-sq-ft barrel house.
Second Down: Green Bench Brewing Co.
1133 Baum Ave N, St. Petersburg, FL 33705 | 23-min drive
"This might be the best beer I've ever had," said Hop Culture Founder Kenny Gould while recounting a beer he had at Green Bench, one of the 12 best breweries he visited in 2020.
Head Brewer/Co-owner Khris Johnson has put this BIPOC-owned brewery on the map.
The brewery's sublime lagers and magical meads have vaulted this brewery to the top of our must-try lists. Most recently, we spotlighted Green Bench for its fantastic saisons and mixed-culture beers aged in foeders.
Tennessee Titans
Nissan Stadium, 1 Titans Way, Nashville, TN 37213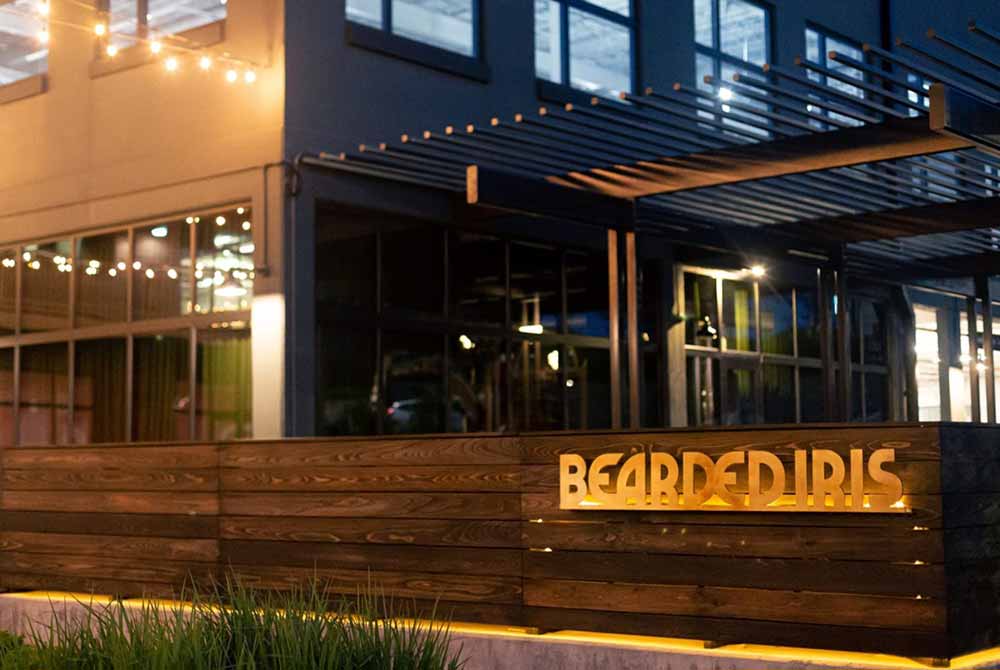 Touchdown: Bearded Iris Brewing
101 Van Buren St, Nashville, TN 37208 | 6-min drive
East Germantown, one of Nashville's budding neighborhoods, mixes and matches lofts and warehouses as befits the city's urban transformation. Comfortably nestled amongst developments new and old is Bearded Iris Brewing's original taproom, a mere six-minute drive from Nissan Stadium.
One of the best breweries in Nashville, Bearded Iris boasts a cool vibe maintained via a terrific soundtrack and top-notch beer. For example, DDH IPAs that demonstrate what a good DDH IPA should taste like, and Moon Dust, an imperial milk stout smoother than butter.
First Down: Southern Grist Brewing Company – East Nashville Taproom
754 Douglas Ave, Nashville, TN 37207 | 6-min drive
An established brewery in Nashville's hierarchy of beer, Southern Grist boasts the epitome of Southern hospitality, constantly pushing the boundaries of what it means to be a beer. Along those lines, the brewery has not one but two locations: their original spot in East Nashville, and the recently opened Nations taproom.
The East Nashville location actually made moves last December, opening in a new spot at 754 Douglas within six minutes via car from Nissan Stadium. The updated taproom features two large patios, a huge bar, and twenty-five beers on tap.
Plus, Southern Grist took the opportunity to launch Lauter, their first restaurant concept inside of a taproom. Helmed by Executive Chef Andrew Coins, Lauter features a seasonally focused, international menu meant to be shared and paired with Southern Grist's beers.
Washington Commanders
FedEx Field, 1600 Fedex Way, North Englewood, MD 20785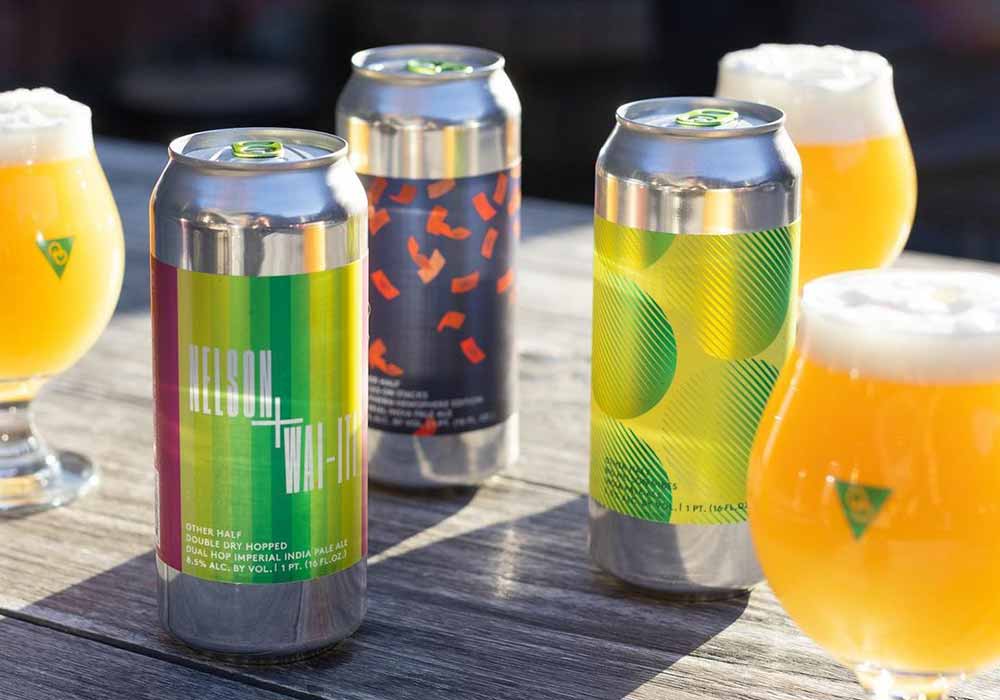 Touchdown: Other Half Brewing Co.
1401 Okie St NE, Washington, DC 20002 | 15-min drive
Touchdown! The brewery that made a name for itself when it was just a tiny operation welcoming lines wrapped around the block in the Gowanus neighborhood of Brooklyn expanded to Washington, D.C., in October 2020.
Located in Ivy City, Other Half's D.C. taproom is just a fifteen-minute drive from the Washington Commanders stadium. So you're pretty close to pinpoint hazies, session IPAs, American IPAs, DIPAs, and even TIPAs.
We're not sure we need to say much more.
First Down: Aslin Beer Company
1740 14th St NW, Washington, DC 20009 | 27-min drive
Certainly one of our "11 Best Breweries in Washington, DC", Aslin Beer has a new 211-seat location in Logan Circle featuring over twenty Aslin drafts and the very first Aslin Coffee bar. So if you're going before the game, you can make both your caffeinated and craft friends happy.
From our point of view, Aslin actually has a great lager menu to choose from, including Scuzzi Italian pilsner and Much Ado helles lager.
But we understand if you go for Aslin's more classic funky sours and IPAs. Such as Volcano Sauce conditioned on blackberries, blueberries, and vanilla. Or Power Moves, dry hopped with Chinook, Simcoe, Citra, and Mosaic.
Really you can't go wrong here.
Now whether the Commanders went wrong by signing Carson Wentz to be their veteran quarterback…well, we can't say that for sure….yet.
Second Down: Denizens Brewing Co. – Riverdale Park
4550 Van Buren St, Riverdale, MD 20737 | 23-min drive
Since 2014, after co-founding Denizens in Silver Spring, MD, wife-and-wife team Julie Veratti and Emily Bruno have been consistent advocates and voices for the Queer community in the craft beer industry. As one of the only women- and minority-owned-and-operated breweries in Maryland, Denizens focuses as much on community organizing as on their crisp lagers, hoppy IPAs, and barrel-aged stouts.
The idea behind the brewery is to be a gathering place for all, often hosting (pre-pandemic) craft fairs, trivia, live music, a running club, and drag shows.
And the brewery has often given back to specific LGBTQ+ organizations such as the Human Rights Campaign, the Sexual Minority Youth Assistance League, and the MoCo Pride Center.
Third Down: ChurchKey
1337 14th St NW, Washington, DC 20005 | 27-min drive
This is not only one of our favorite beer bars near FedEx Field, it's one of our favorite beer bars in the entire country. So we had to toss it in here for a third down. We're talking world-class beers paired with expertly prepared drinking food.
ChurchKey's robust and thoughtful beer program is organized by Greg Engert, who also oversees The Sovereign's beer operations. At ChurchKey, expect a diverse tap and bottle list as well as a unique cask program. Over the years, ChurchKey has hit legendary status and is absolutely a must-visit to get a better sense of D.C.'s beer scene.