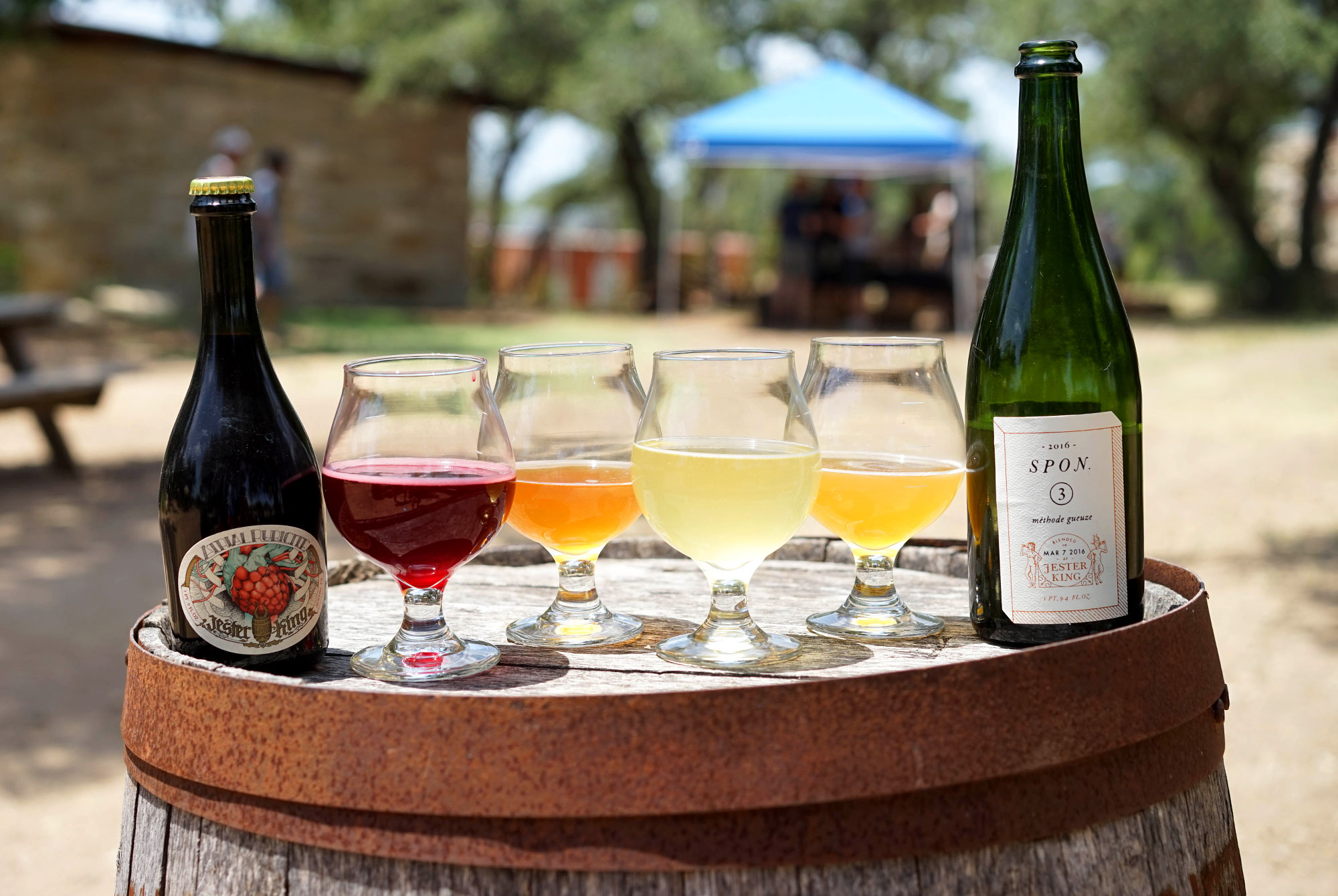 Editor's Note:
An earlier version of this article appeared in a previously published guide to Austin, TX's beer scene.
Austin is often looked to as one of America's rising cities. It's become a destination for a younger population seeking great food, a vibrant music scene, and abundant open air. Austin's food is one of its highest-selling points. It's long been a haven for expertly smoked BBQ and delicious Tex-Mex fare. But, enterprising entrepreneurs have taken the city's love of meat and expanded it to include some fantastic ramen, pizza, and burgers. A burgeoning food scene goes hand in hand with stellar beer. And Austin is in no short supply. In fact, some of the best breweries in Austin, Texas also sport standout kitchens. To help guide you throw the diverse landscape of the city's craft breweries, we've put together a list of the seven best breweries in Austin.
The Best Breweries in Austin, Texas
Austin Beer Garden Brewing Company
1305 W. Oltorf | (512) 298-2242
Austin Beer Garden Brewing racks up medals from the Great American Beer Festival like Michael Phelps at the Olympics.
Last year's haul included honors for Rocket 100, a pre-prohibition style pilsner that won gold. However, don't sleep on Hell Yes, a beautiful Helles lager with just the right amount of spice.
The long beerhaus-style tables fill quickly, particularly on Saturday night when the bands take the stage, but it's absolutely worth fighting the crowd.
Austin Beerworks
3001 Industrial Terrace | (512) 821-2494
Let's head north of the city and work our way back. Austin Beerworks is the ubiquitous beer brand synonymous with the city. Try any of the seasonal releases or whatever fresh hoppy experimentation is available.
Hold Out Brewing
1208 W 4th St, Austin, TX 78703 | (512) 305-3540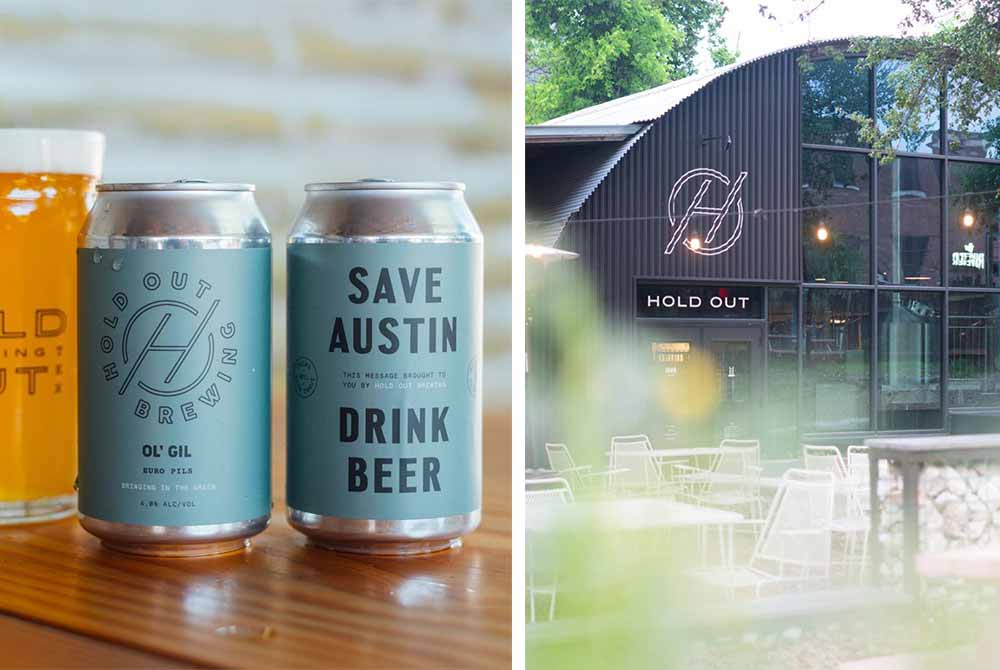 Patio Pounders! Austin can't get enough of outside drinkin'. And since opening in the middle of a lockdown in March 2020, Hold Out Brewing has been teaching a masterclass in crushable pints. The funky quonset hut came out the gate firing on all cylinders. That is to say Hold Out has become one of the best taprooms in town with a crazy-talented team on the beer side as well as the kitchen side.
Their serious, hop-focused beer program offers approachable options (primarily top-notch pale ale and legit lagers) that let you consume plenty in the beautiful Texas sunshine. The brewery's focus on community partners means recipes include largely local ingredients, with yeast banking and malt production all coming from Central Texas.
Beyond the beer, the menu comes from a CIA-trained chef who served time at Momofuku (among other fancypants places). Plus, there's a full bakery department whipping up hamburger buns and decadent cookies, which means much more than "pub grub."
Built as a neighborhood hub, the taproom recently hosted a hardcore noise show instead of a polka band for their Novemberfest release. That's chutzpah. Hold Out is keeping Austin on its weird toes and pushing the envelope of quality forward.
Jester King Brewery
13187 Fitzhugh Rd
It's about a half-hour drive southwest from Austin to Dripping Springs, where Jester King makes its home. But it's absolutely worth every minute.
Jester King is easily one of the best breweries in the country, let alone one of the best breweries in Austin. And the setting is a feather in the brewery's cap.
The bucolic setting in Texas Hill Country pairs beautifully with each beer served at the four bars on the ranch. Grab a pizza or some charcuterie for lunch, order a draft, and enjoy the view.
Before you go, jump on the 1:00 PM tour of the brewhouse and barrel room — and bring your beer with you! Alternately, take the 2 PM farm tour, where the co-founders will talk about growing hops and wine grapes.
We highly recommend buying a shipping box at the beer-to-go stand, loading it up with bottles to go, and dropping this back at your hotel before leaving. After all, what's a brewery visit without a souvenir?
Live Oak Brewing Co.
1615 Crozier Ln, Del Valle | (512) 385-2299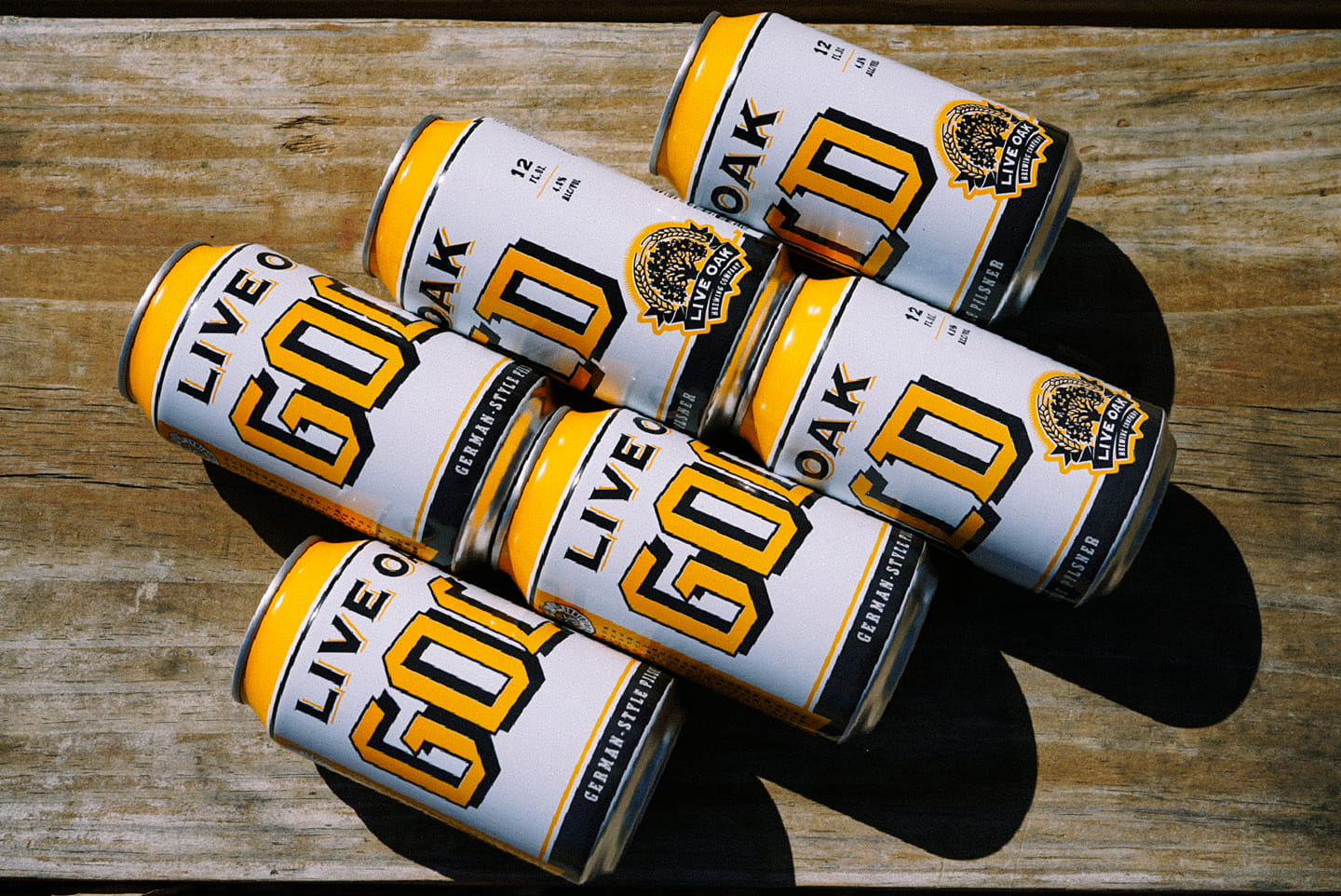 If you needed to pick just one brewery to visit in Austin…it should probably be Jester King. But if you could visit two Austin breweries, make the second one Live Oak. Live Oak Brewing Co. eschews hype for quality. Many breweries have gone the way of hazy IPA and loaded up stouts (not that there's anything wrong with that). But, Live Oak has stuck it out with esoteric beers like Grodziskie and Rauchbier.
Even if smoked beer isn't your jam, Live Oak's pilsner and hefeweizen are two of our favorite American representations of the style. For quality crushable beer alone, Live Oak holds a spot as one of the best breweries in Austin.
Pinthouse Pizza
4729 Burnet Rd | (512) 436-9605
Although you probably had pizza at Jester King for lunch, get yourself to Pinthouse Pizza and order the Banh Mi pie made with local sausage and pickled vegetables.
And if you want something to drink, Pinthouse Pizza's Green Battles IPA won gold at the 2018 Great American Beer Festival and World Beer Cup. If you're a hophead, you can't do much better than Pinthouse Pizza.
Zilker Brewing Co.
1701 E 6th St | (512) 712-5590
Head from Downtown to East Austin and visit what The Austin Chronicle called the most underrated brewery in Austin.
Zilker's storefront taproom is moderately-sized, and patrons at the bar can face the glimmering steel tanks.
As for the beer, the coffee milk stout is modeled after Cuban coffee, with a soft, creamy texture and sweet caramel flavor. Additionally, don't sleep on the Parks & Rec Pale Ale, which is a well-balanced, clean-drinking standout.
Liked this article? Sign up for our newsletter to get the best craft beer writing on the web delivered straight to your inbox.