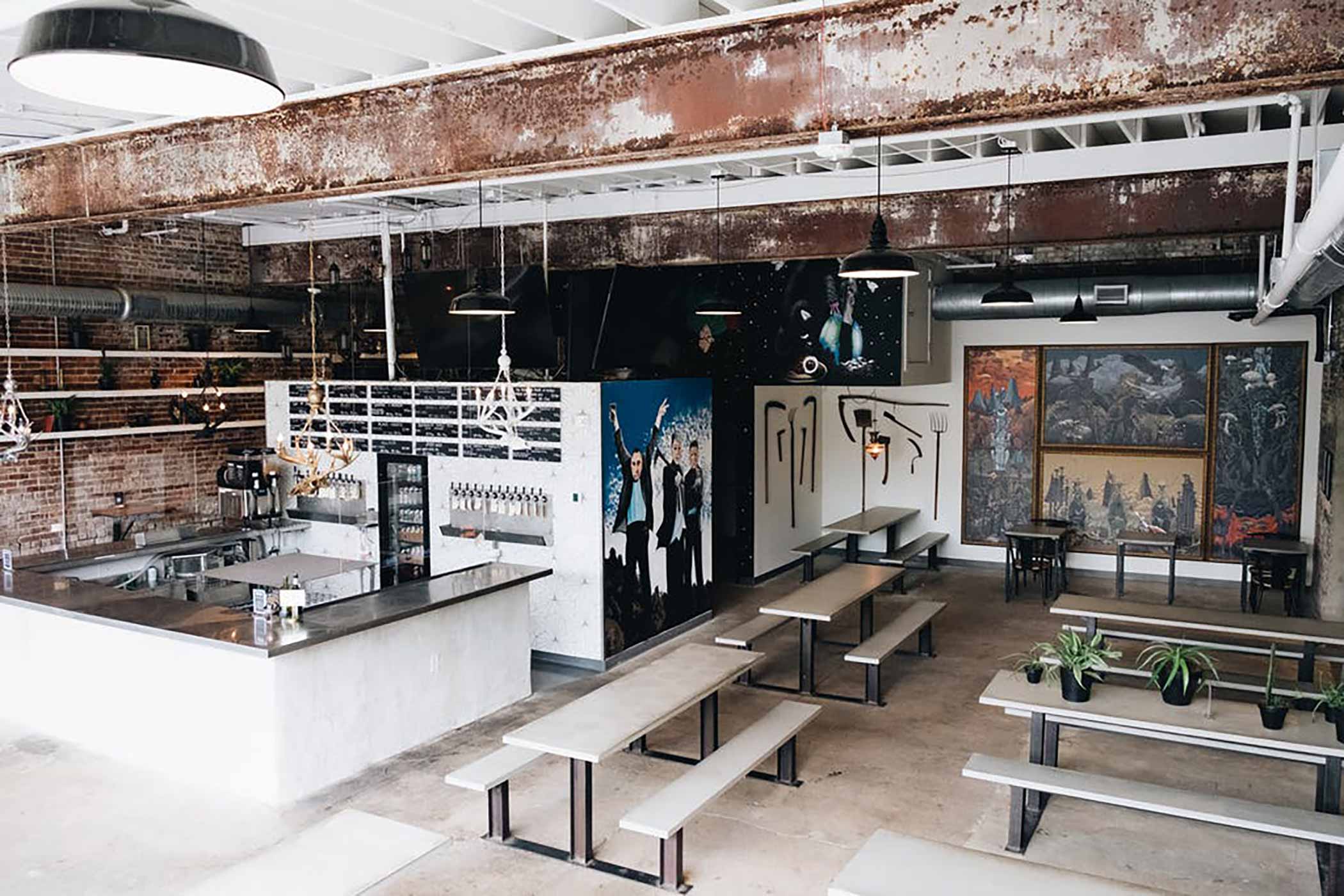 Photography courtesy of Burial Beer Co.
Updated on May 10, 2022
Asheville, North Carolina's legacy largely consists of two things: Pisgah National Forest and some of the best breweries in the country.
In fact, those two things likely go hand in hand. Asheville had been consistently named "Beer City, USA" by popular polls until Grand Rapids, Michigan, eventually dethroned them.
And the reason that Asheville has some of the best breweries is that, reportedly, the water flowing from the mountains of the Pisgah National Forest is ideal for brewing.
Regardless, Asheville has a storied beer history.
The History of Asheville's Beer Scene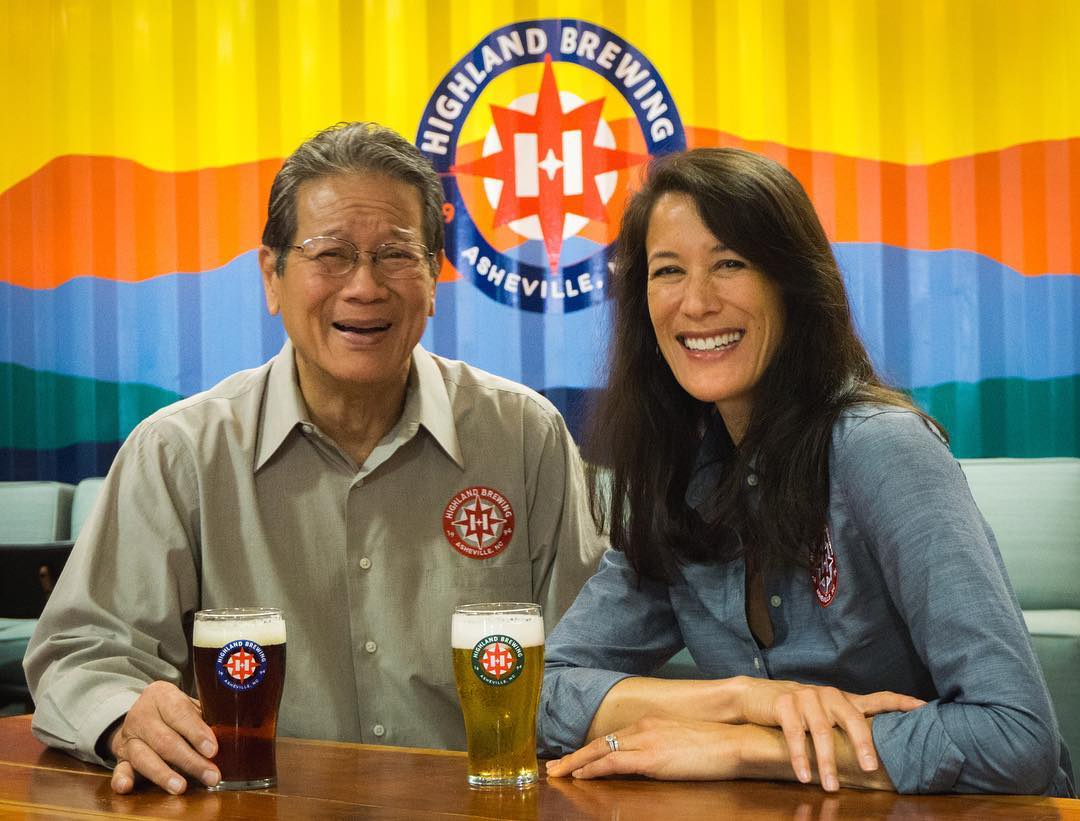 Beginning with retired engineer Oscar Wong, who opened Highland Brewing in 1994, Asheville has played home to some stellar breweries. In fact, many large-scale craft breweries have set up satellite locations in Asheville, including Sierra Nevada, New Belgium, and Oskar Blues. Asheville's reputation as a brewery-friendly city has attracted brewers and craft beer drinkers alike for decades.
The conversation about the "best beer city in the US" tends to be a controversial one. While many are quick to list storied cities like Grand Rapids, Denver, San Diego, Chicago, and Asheville, Hop Culture has typically picked cities with craft beer scenes that are a little more under the radar.
Asheville's history has played a major role in its beer city status, as did the high profile acquisition of local favorite Wicked Weed by Anheuser-Busch. But we've been particularly excited by the latest crop of breweries popping up and innovating in Beer City, USA.
The Future of Asheville's Beer Scene
Whether any city deserves to be dubbed the "best beer city in the country" is sort of moot. But we want to highlight cities creating an exciting environment for breweries to be innovative and create inventive beer. To do so means not just playing host to great breweries but also fostering a culinary scene and investing in the agriculture and infrastructure around craft beer.
For instance, Riverbend Malt House, a small malt manufacturer, and White Labs, a yeast laboratory production site, have settled down in Asheville.
With that in mind, below we picked out nine of the best, most exciting craft breweries operating in and around Asheville, NC.
The 9 Best Breweries in Asheville
Highland Brewing
12 Old Charlotte Hwy, Suite 200 | (828) 299-3370
156 Patton Ave, Suite 200 | (828) 243-6925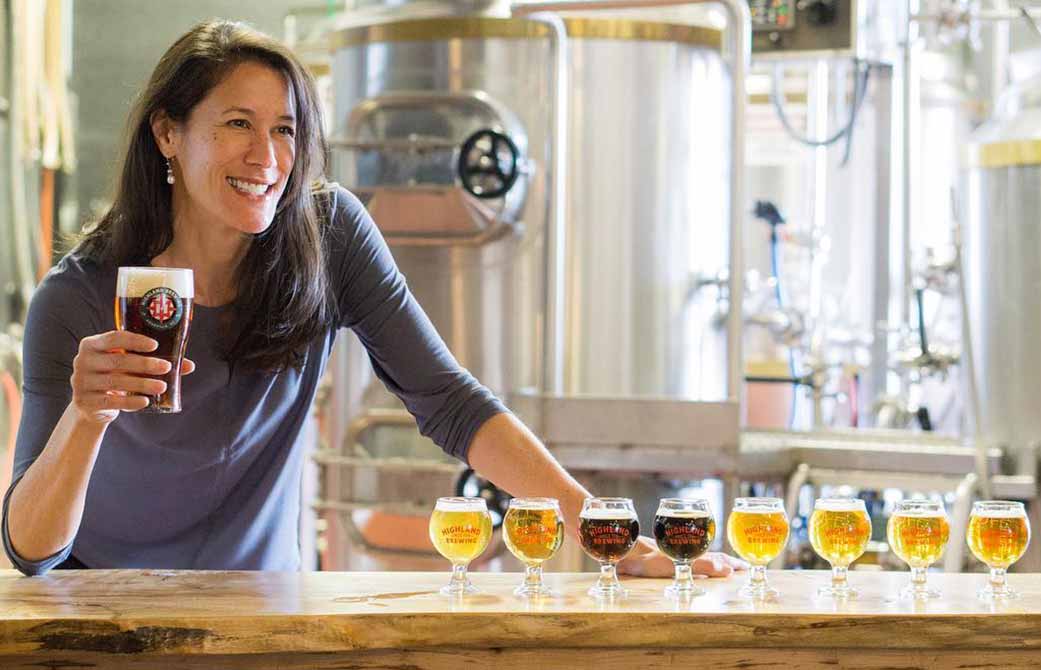 Highland Brewing is the de-facto godfather of Asheville's craft beer scene. Started by the Jamaican-Chinese Oscar Wong, Highland has grown into the largest independent brewery in North Carolina.
This AAPI-owned brewery is a family affair with Oscar's daughter, Leah Wong Ashburn, taking over as president in 2015.
Under Leah's guidance, the brewery opened a second taproom in downtown Asheville in 2019. Meanwhile, the original taproom has become a true destination located on a beautiful 40-acre hilltop in Asheville complete with three professional-grade sand volleyball courts, a nine-hole disc golf course (that will expand to eighteen holes this summer), and trails built by a professional trail builder.
Highland Brewing is a gem of a brewery not only for its location, but also for its beer. For example, Gaelic Ale, dubbed "Asheville's First Beer" or Rising Haze IPA, a freshly unfiltered hazy IPA.
In a nod to the family's Jamaican-Chinese heritage, for the past two years during the Chinese New Year, Highland has collabed with Asian-owned Lucky Envelope in Seattle, WA, to create beers such as Metal Rat and Water Tiger. Each named after the Chinese Zodiac that corresponds with the given year.
Highland Brewing has made an indelible mark on Asheville. If you visit this area you must pay homage to this beautiful brewery.
Burial Beer Co.
40 Collier Ave | (828) 475-2739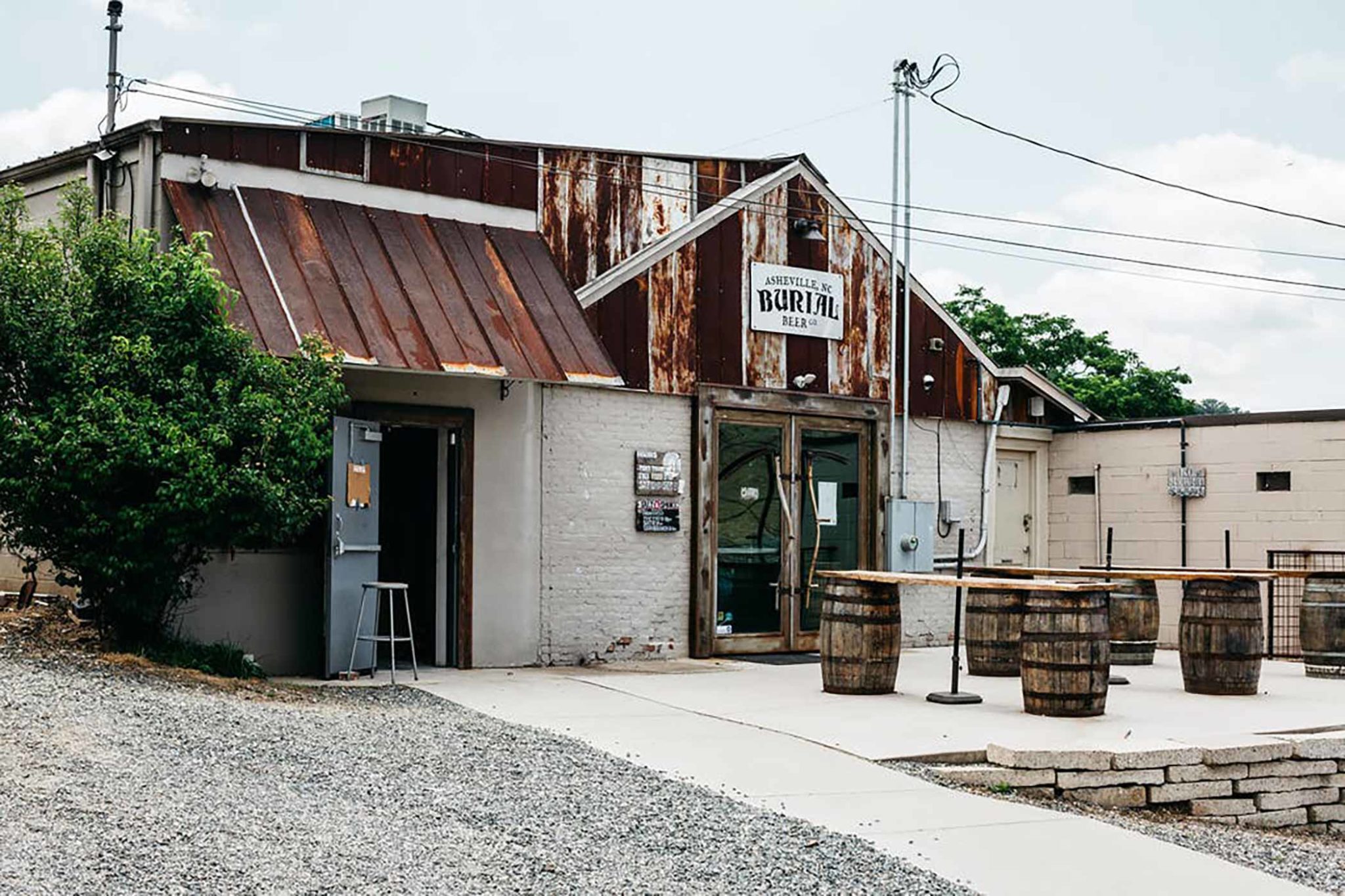 There's a case to be made that Burial is one of North Carolina's best breweries, let alone Asheville's.
From the eye-catching can art to the rusted farm equipment adorning the South Slope District taproom's walls, Burial appears to have a spiritual connection with the metalheads at TRVE Brewing Co. in Denver.
Hardcore comparisons aside, Burial excels at nearly every beer style. Their mainstay IPA Surf Wax is a North Carolina classic. And just about every farmhouse ale and lager is gentle, refreshing, and complex in the best way. Not to mention their highly sought-after lineup of stouts.
Burial has gone on to open a second location in Asheville, an outpost in Raleigh, NC, and will be opening a taproom and bottle shop soon in Charlotte, NC (at the time of publication, the bottle shop was open for online orders, but the taproom was not yet open to the public).
Zillicoah Beer Co.
870 Riverside Dr, Woodfin | (828) 424-7929
Technically, Zillicoah is located just outside of Asheville in the neighboring Woodfin, but as one of the best craft breweries in the region, we'll let this one slide. The charming riverside brewery produces some of the most enticing yet simple beers we've had in a long time.
With a focus on gentle though complex flavors, Zillicoah specializes in open-fermented lagers and ales, a traditional approach that feels progressive in today's beer industry.
Such as Glow, a sessionable farmhouse ale foeder fermented with a mixed culture for a funky, oaky IPA. We love Glow so much we named the beer one of our "20 Best Beers to Drink in Spring 2020."
Initially, Zillicoah brewed its wort offsite at Asheville's Eurisko Beer Co. before toting it back to ferment in Zillicoah's barrels. But in 2020, the brewery purchased a full brewhouse to bring the entire brewing process under their roof.
Alongside the exquisite beer, food from resident food truck Taqueria Muñoz includes authentic, delicious tacos. You must grab some during any stop at Zillicoah.
DSSOLVR
63 N Lexington Ave
One of the slightly newer additions to the Asheville craft beer scene, DSSOLVR has led with exceptional branding and fresh, progressive beers. Take one look at their Instagram feed (which we named one of our "20 Best Instagram Accounts of 2020") and you'll see the commitment to both exciting beer and engaging artwork. Plus, you'll consistently find labels on the beers both surreal and quirky. In fact, we named DSSOLVR's Thank You For Existing one of our "Best Beer Labels of 2020."
DSSOLVR is a brewery long in the making, with co-founder Vince Tursi cutting his teeth in Boston at breweries like Night Shift and Lord Hobo. Along with co-founder Mike Semenec, Tursi has built a modern brewery that manages to keep a close eye on tradition.
Bhramari Brewing Company
101 S Lexington Ave | (828) 214-7981
A funky, quirky taproom behind Asheville's well-known and thriving Orange Peel music venue, Bhramari Brewing Co. takes its name from the Sanskrit term for "bee". The term refers to the brewery's hive mentality, an ethos the extends from the brewery, out to the bar, and into the kitchen.
Yes, Bhramari brews sensational sours and brave barrel-aged beers.
For instance, Kitsune A Go-Go, a mixed-culture farmhouse collab with Urban South Brewing that includes jasmine, pink peppercorn, and grains of paradise. Or Don't Burn the River, an imperial stout with Buckeyes.
But don't sleep on the food either. At Bhramari you'll find hearty mountain food with a global twist. Such as the Burger and Beer Bargain only served on Wednesdays where you'll get a beer and a spent-grain black angus burger with American cheese, lettuce, tomato, onion, pickles, and special sauce for six bucks. Or Cheshire Pork Rangoons and Patatas Verde—potatoes smothered in chile verde sauce, carnitas, mornay, pickled red onion, corn, and cotija cheese. This is drinking food at its finest!
Archetype Brewing
265 Haywood Rd | (828) 505-4177
We've only really gotten to know Archetype over the last couple of years, but we were won over by their delicious beer and beautiful visuals. For instance, we named the brewery's Cowboy Poet one of our "20 Best Beer Label Designs of 2019."
Beerwise, Archetype has pursued "complex, mindful, living beer" and comes through in their dynamic wild ales, farmhouse ales, and easy-going hoppy beer.
The devil is in the details with this brewery. Nothing is particularly "hype" or buzzworthy at Archetype. But the consistent beer and delightful easter eggs like playful packaging that includes a haiku on each label have made us instant fans.
ZEBULON Artisan Ales
8 Merchants Alley, Weaverville, NC
While technically a good twenty-minute drive from downtown Asheville, Zebulon is producing some stellar farmhouse ales and deserves a visit if you're in the area. Although hip and happening, Zebulon actually focuses on the art of Belgian, French farmhouse, and historical beers.
Everything coming out of this warehouse is unfiltered. And with no flagships, Zebulon's beers are often seen once and never again, making this brewery even more of a coveted stop.
Plan accordingly though: At the time of publication, Zebulon's taproom is only open from 1pm-6pm on Friday and Saturday.
New Origin Brewing Company
131 Thompson St | (701) 261-5861
A small 7-BBL brewery that focuses on new-school and experimental beers, New Origin Brewing Company set up shop in Biltmore Village. In the gorgeous industrial taproom you'll find modern, stylish beers like Pickles, a New England-style IPA, alongside more humble classics Focal Point, a Vienna lager.
Hi-Wire Brewing
197 Hilliard Ave | (828) 738-2452
Opened in 2013 soon after Wicked Weed, Hi-Wire Brewing has become one of the more established breweries in Asheville. Since then, Hi-Wire has opened a second Asheville location as well as spots in Durham and Knoxville, TN.
The circus-themed brewery produces a wide variety of beers but has earned acclaim for its tart kettle sours, complex wild ales, and easy-drinking lagers.
Hi-Wire is a fundamental part of the Asheville community and is worth a visit any time you're in town, especially if you're taking a bike trip through the region.
Liked this article? Sign up for our newsletter to get the best craft beer writing on the web delivered straight to your inbox.