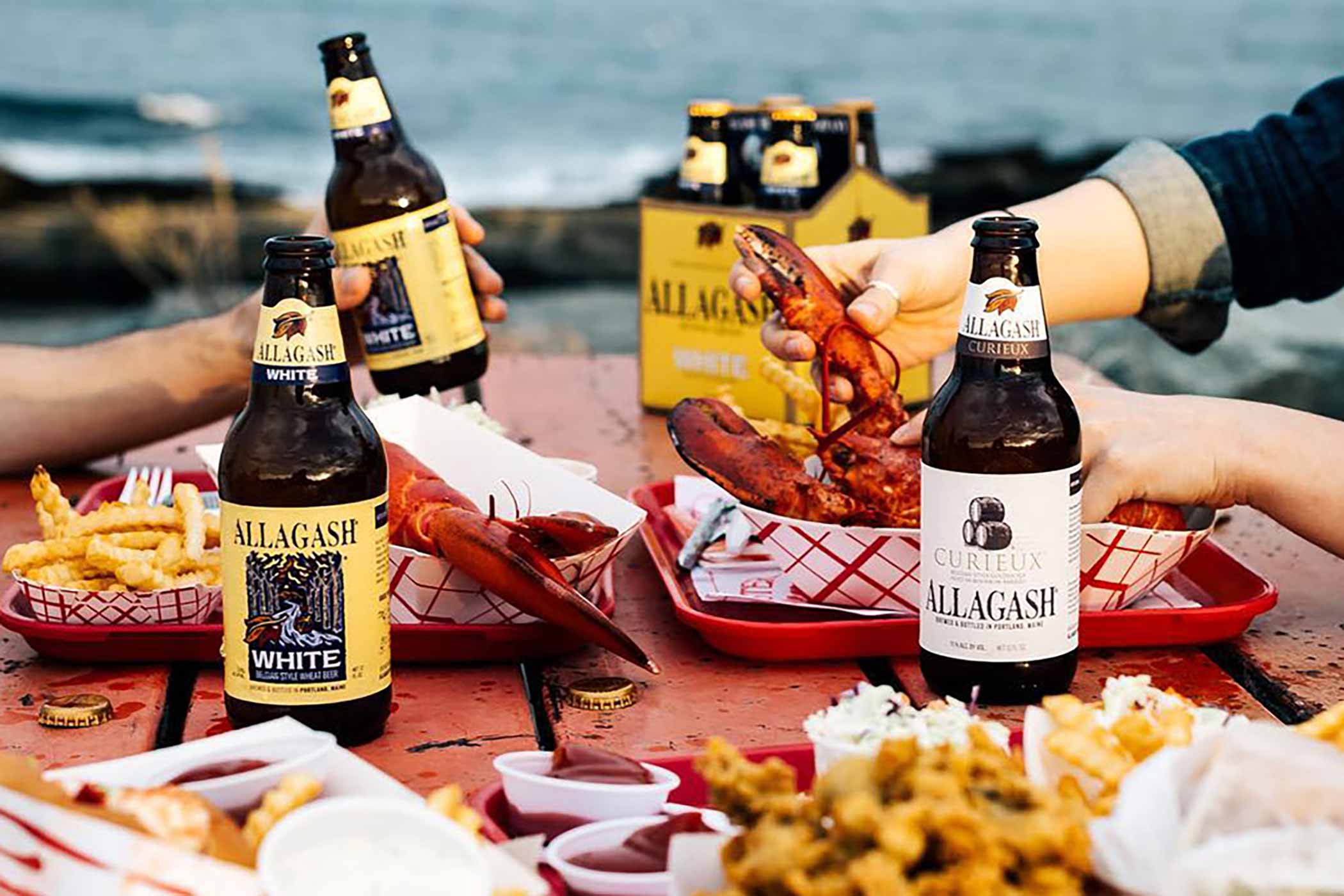 Photography courtesy of Allagash Brewing
Updated on March 29, 2022
Next month, Hop Culture will visit the iconic city of Portland, ME, to host its fifth annual women in craft beer festival Beers With(out) Beards. For the first time in two years, we'll be bringing this groundbreaking event back in person!
Join us at Brick South on April 9th, 2022, to drink beer from some of Portland, ME's best breweries along with a bunch of our favorite women-led breweries from across the country.
Visiting Portland, ME, should be on any beer lover's bucket list. The city has a very legitimate claim to "Beer Capital, USA." With a vibrant bar scene and a city overflowing with incredible breweries, it's an easy choice for a craft beer destination. Come for Beers With(out) Beards and stay to explore Portland's outstanding breweries. While the entire state has incredible breweries (Maine Beer Co., Barreled Souls, Mast Landing), we've limited this article to those operating within the city limits of Portland.
So if you're planning a weekend to come to Portland for Beers Wit(out) Beards or to simply eat some lobster rolls and drink great beer by the ocean, these are our picks for the seven best breweries in "The Forest City."
The 7 Best Breweries in Portland, Maine
Allagash Brewing Co.
50 Industrial Way | (207) 878-5385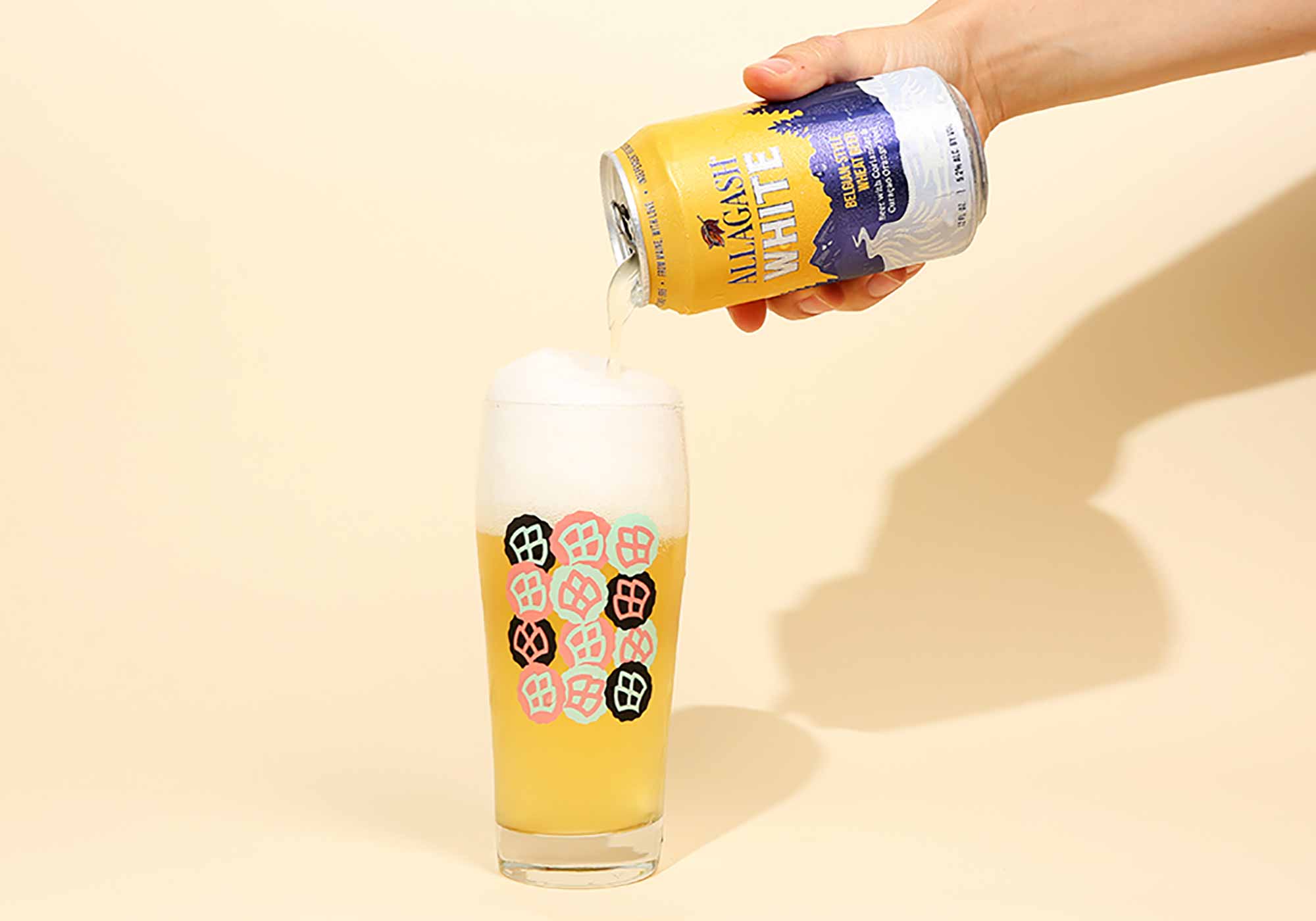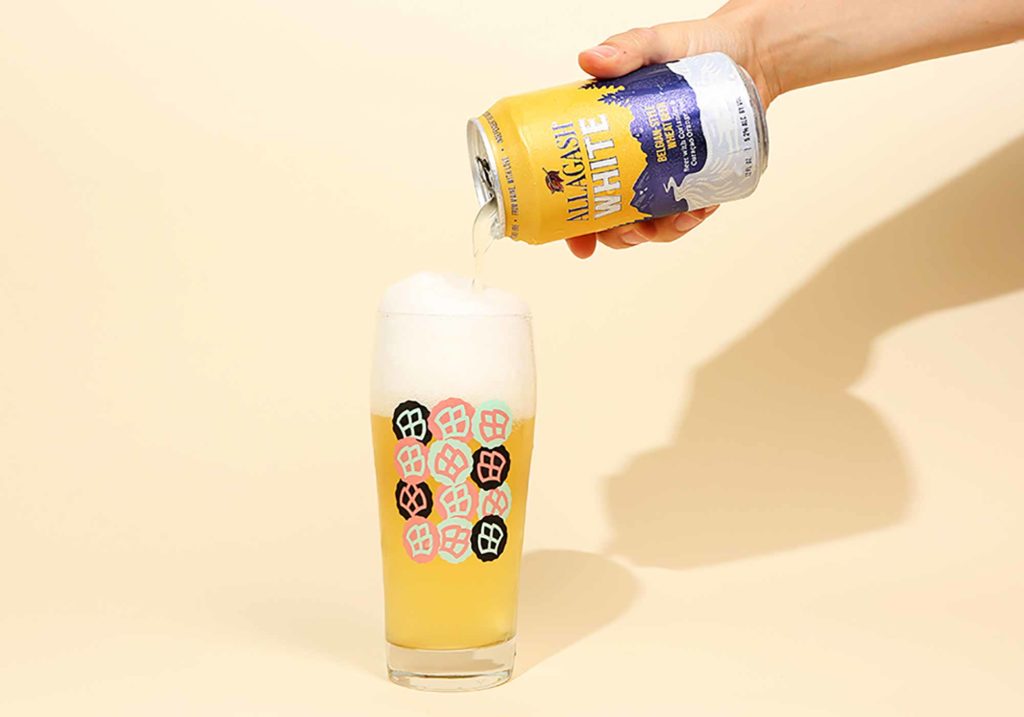 This was an easy choice; Allagash is not only one of the best breweries in Portland, Maine, but also one of the best breweries in the world. From its work in creating a more sustainable business to producing just straight-up exceptional beer, we've long been enamored of Allagash.
While the Portland brewery has become a national force with distribution that extends far beyond Vacationland and White is the stereotypical gateway drug to "craft," a visit to the Forest City taproom is a must. Sample the brews that don't make it beyond the brewery and pick up rare bottles to bring home with you. Allagash might not be the sexiest brewery on this list, but they've proven their excellence time and time again.
Plus, we're thrilled to partner with Allagash to bring you an exclusive VIP experience at Beers With(out) Bears. This is the Bad & Boujee of VIP experiences, including exclusive VIP-only beers and bite pairings from Allagash Brewing. Plus, 4.5 hours of unlimited beer sampling, early admission one hour before the public, access to an exclusive VIP section, and more.
Pioneers in more ways than one, Allagash is committed to supporting women in brewing and beer. A strong female-led marketing, sales, events, HR, and front-of-house team helps run the day-to-day operations of the brewery. And in the past, brewers such as Emily Powers have been instrumental in bringing Allagash beers to life
GET YOUR VIP TICKETS PRESENTED BY ALLAGASH
Bissell Brothers Brewing Company
38 Resurgam Pl | (207) 808-8258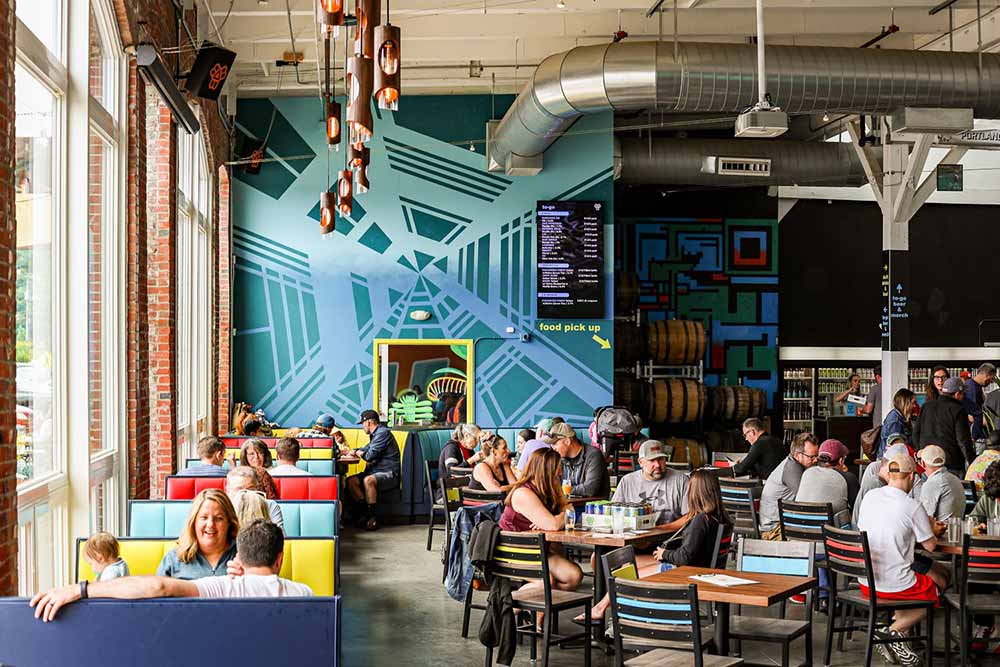 Bissell Brothers' IPAs have become trend-setters in the New England IPA scene. A healthy balance of dank and juicy, the Bissell Brothers influence is felt throughout East Coast hoppy beer. And, instead of fading into obscurity, Bissell Brothers has continued to put out inventive and progressive beers that rival the country's hottest breweries.
Plus, the brewery stands for more than just dope beer. Following many conversations on diversity and inclusion in the beer industry, the women of Bissell Brothers decided to brew a beer meant to inspire similar conversations around breaking through barriers in the industry. Released in August 2021, Something Of Ourselves is a light rice lager perfect for, as the brewery writes, "refilling over thoughtful, engaging conversation." Beyond the beer, Bissell Brothers recently started a paid production internship program to help promote diversity in the industry. For these reasons Bissell Brothers will also be joining Hop Culture at Beers With(out) Beards 2022.
GET YOUR TICKETS TO DRINK BISSELL BROTHERS
No Portland visit is complete without a stop at the Bissell Brothers' brewery. Pick up whatever is fresh and bring it home to share with friends. You won't be disappointed.
Austin Street Brewery
1 Industrial Way UNIT 8 | (207) 358-0492
115 Fox St. | (207) 358-0492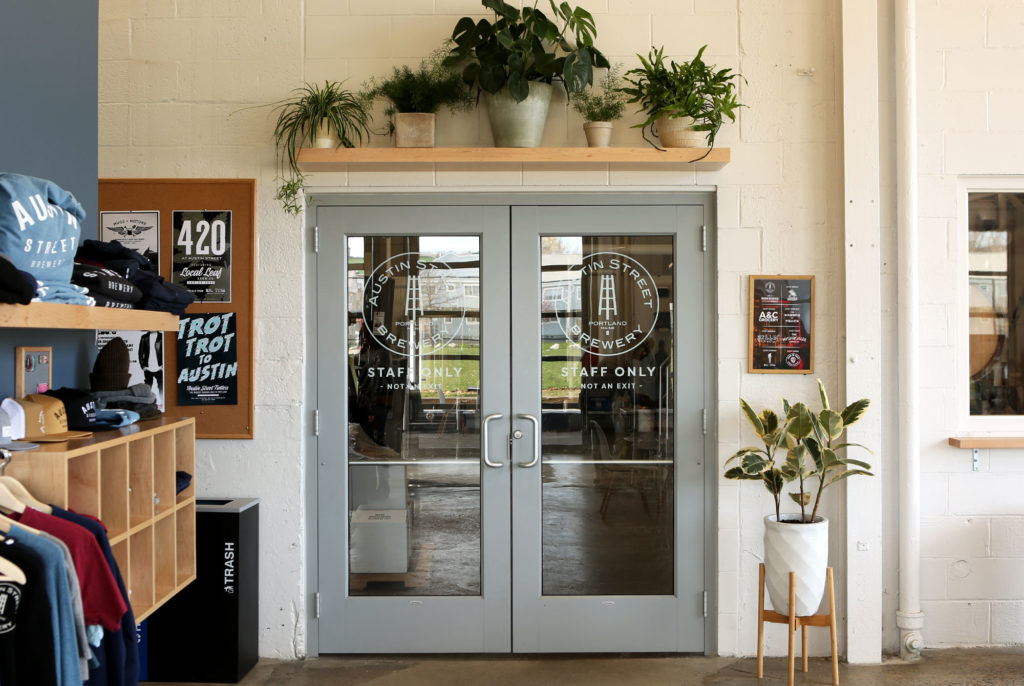 Austin Street has quickly (and relatively quietly by today's standards) become a top-tier brewery. And they've done so by brewing quality, consistent beers. Because they've grown so rapidly, Austin Street opened a brand new Fox Street location in 2018. The second location might be the most aesthetically pleasing brewery we've visited in Portland. Swing by either location for fresh Anodyne or Rally, two of our favorite Austin Street beers.
Editor's Note: Austin Street will be attending the fifth annual Beers With(out) Beards in Portland, ME, on April 9th, 2022. GET YOUR TICKETS HERE.
Battery Steele Brewing.
Industrial Way Unit 12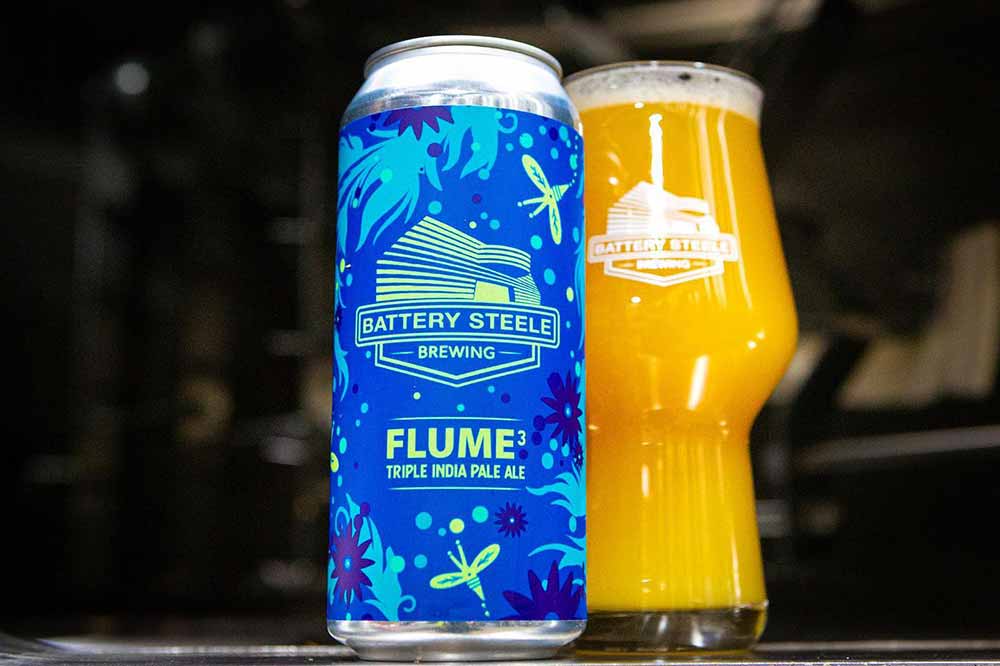 Less than a hop, skip, and a jump from Austin Street's Industrial Way taproom, Battery Steele offers a steady stream of IPAs that will jump start your juice-loving tastebuds. For example, Flume Cubed, a pumped-up version of their revered double IPA Flume. This version amps up the volts as a triple IPA with loads of Galaxy, Citra, and Mosaic.
That's just one of the outstanding beers you can expect from the brewery started in an old barn in South Portland by founders Jacob Condon and Shane Noble.
Besides IPAs, Battery Steele also brews pale ales, pilsners, stouts, and lagers.
With two fantastic breweries in one location, visit Industrial Way for a day of epic Portland, Maine taproom hopping.
Oxbow Blending & Bottling
49 Washington Ave | (207) 350-0025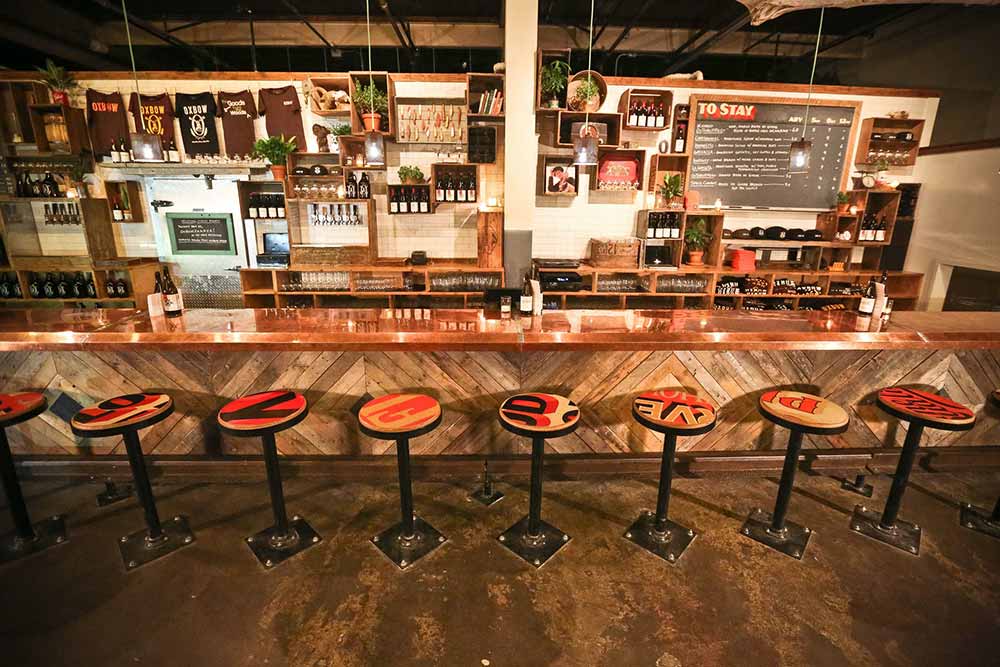 Although Oxbow's home base is in Newcastle, ME, and they have a beer garden in Oxford, ME, the farmhouse-forward brewery is as much a part of Portland's beer scene as any other brewery on this list. Oxbow's Portland location houses hundreds of oak barrels used for blending and packaging their mixed-culture and spontaneously fermented farmhouse ales beers and visitors can swing by for a sample from the tap or the bottle.
On top of incredible beer, Oxbow happens to have some of the freshest merch in the game, so get your wallets ready. And with frequent DJ nights and vinyl swaps, the Belgian-inspired brewery is always a good time, particularly in the wee hours of the night. Plus, Oxbow is licensed to serve spirits, so you can end your night properly with a glass of amaro.
Lastly, they've also partnered with the award-winning Duckfat to offer Belgian-inspired food in their beer garden. Getting an order of frites is basically mandatory.
Goodfire Brewing Co.
219 Anderson St Suite 6 | (207) 808-8910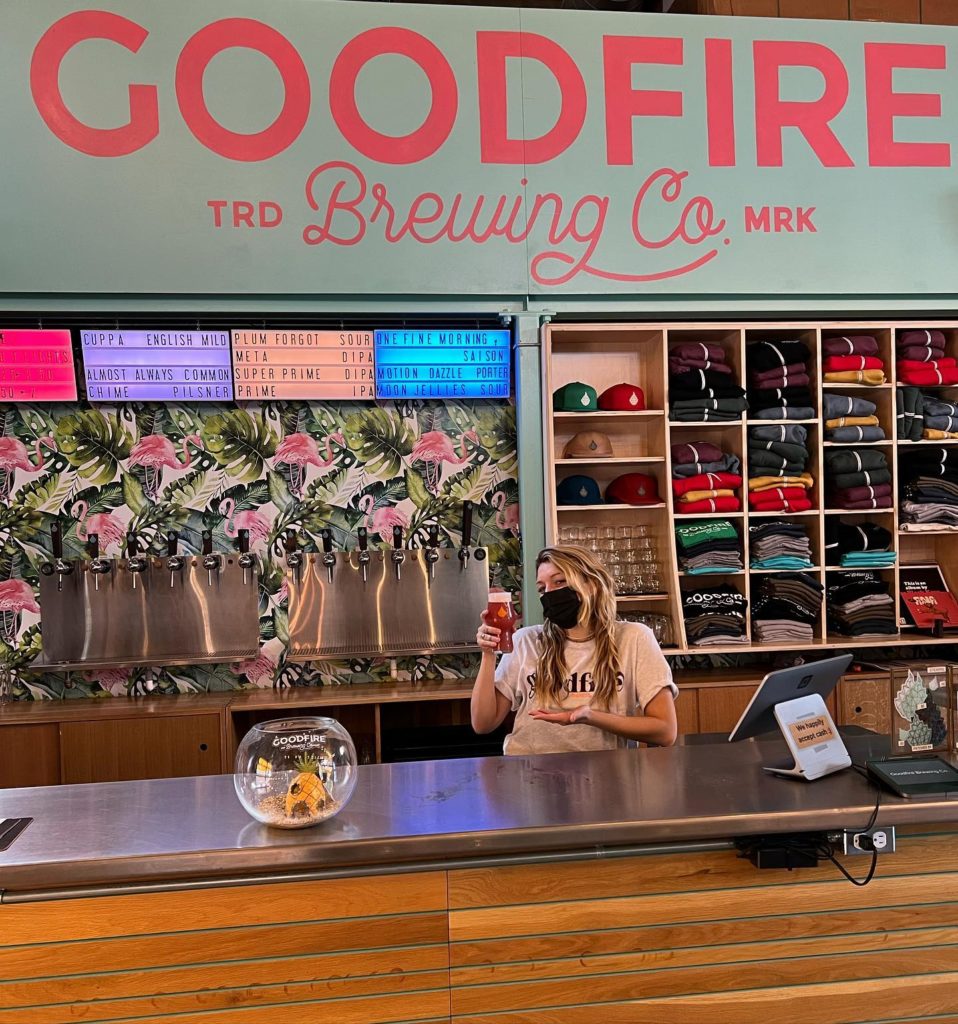 One of the most recent additions to Portland's beer scene, Goodfire has just about mastered the haze game. We were also pleasantly surprised to see a tasty lager on tap, which was exactly what we needed after sampling my way through Portland's breweries.
Food is never far away either; you'll find the city's best food trucks popping up in the taproom and slinging handrolls or sandwiches. Goodfire shares a building with Lone Pine, another standout Portland brewery, and is a short walk from the new Austin Street location. Allagash may have set the tone for craft beer in Portland, but Goodfire is carrying the torch into the next generation.
Lone Pine Brewing Company
219 Anderson St | (207) 536-4952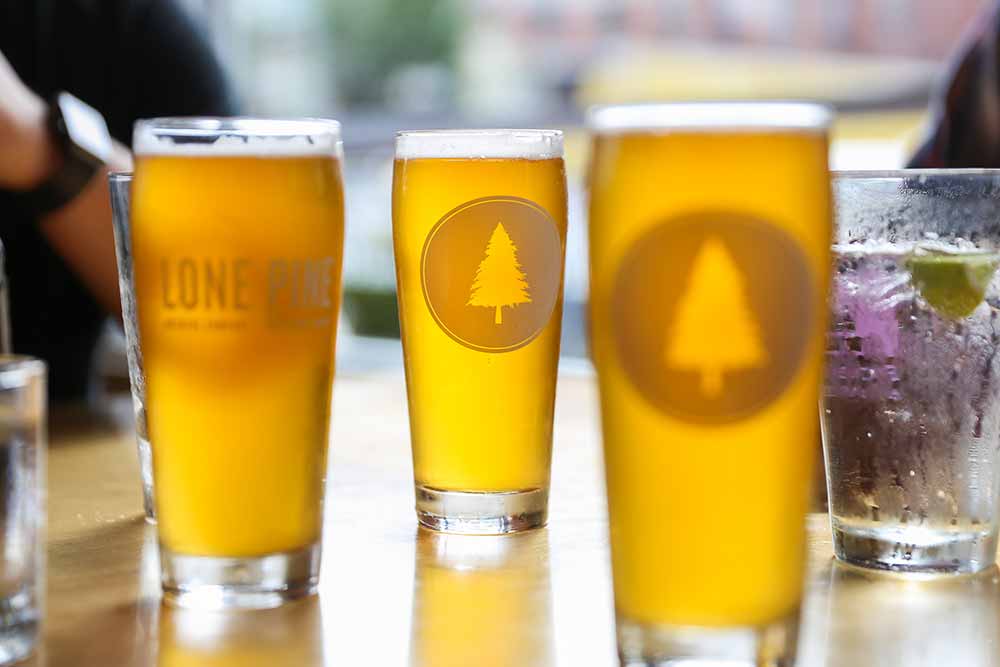 Located a snappy one-minute stroll from Goodfire in the same industrial complex, Lone Pine brews some of the most exciting New England IPAs in Portland. For instance, Neon Balloon Dog, a hazy featuring Citra, Ella, and El Dorado that's deliciously pine-y. And Money Gun, an imperial New England IPA with Talis and BRU-1 for a super hazy that makes it rain in juice. If you know what we mean.
Plus, with many of the city's best food trucks making frequent appearances, you can head to Goodfire and Lone Pine and make it a real day of drinking and eating at two of the best breweries in Portland, Maine.
Liked this article? Sign up for our newsletter to get the best craft beer writing on the web delivered straight to your inbox.