Photography courtesy of Deciduous Brewing Co.
We've heard it said that New Hampshire is just a pass-through while driving to Vermont or Massachusetts, but we think that's crazy. In fact, the Granite State has some of our favorite breweries. Local treasures such as Deciduous Brewing Company, Garrison City Beerworks, and Branch and Blade Brewing have made numerous appearances in the magazine and at our craft beer festivals, and we'd put them on par with almost any other beer producer in the country.
You could zip your way through New Hampshire on a Southeasterly route via Interstate 89 in about three hours. But like we said, if you took a straight shot across this humble state, you'd be missing out on a plethora of great craft breweries. Because across all 9,350 square miles of quaint towns and expansive wilderness, you'll find exquisite taprooms.
Our recommendation: Start in Littleton, up near the picturesque White Mountain National Forest, and leisurely wind your way down Interstate 91 to Keene. Head a bit northeast through Concord and end around Dover, Newmarket, and Portsmouth.
If you follow this route, you'll pass a brewery at the top of its lager game. You'll also drink at a nanobrewery making some of the best IPAs in the country, and detour to a taproom with a resurrected sour program and cloudy IPAs that are blowing us away like a Nor'easter.
Here are our picks for the six best breweries to visit in New Hampshire.
Hop Culture's 6 Best Breweries to Visit in New Hampshire
Schilling Beer Company
18 Mill St, Littleton, NH 03561 | (603) 444-4800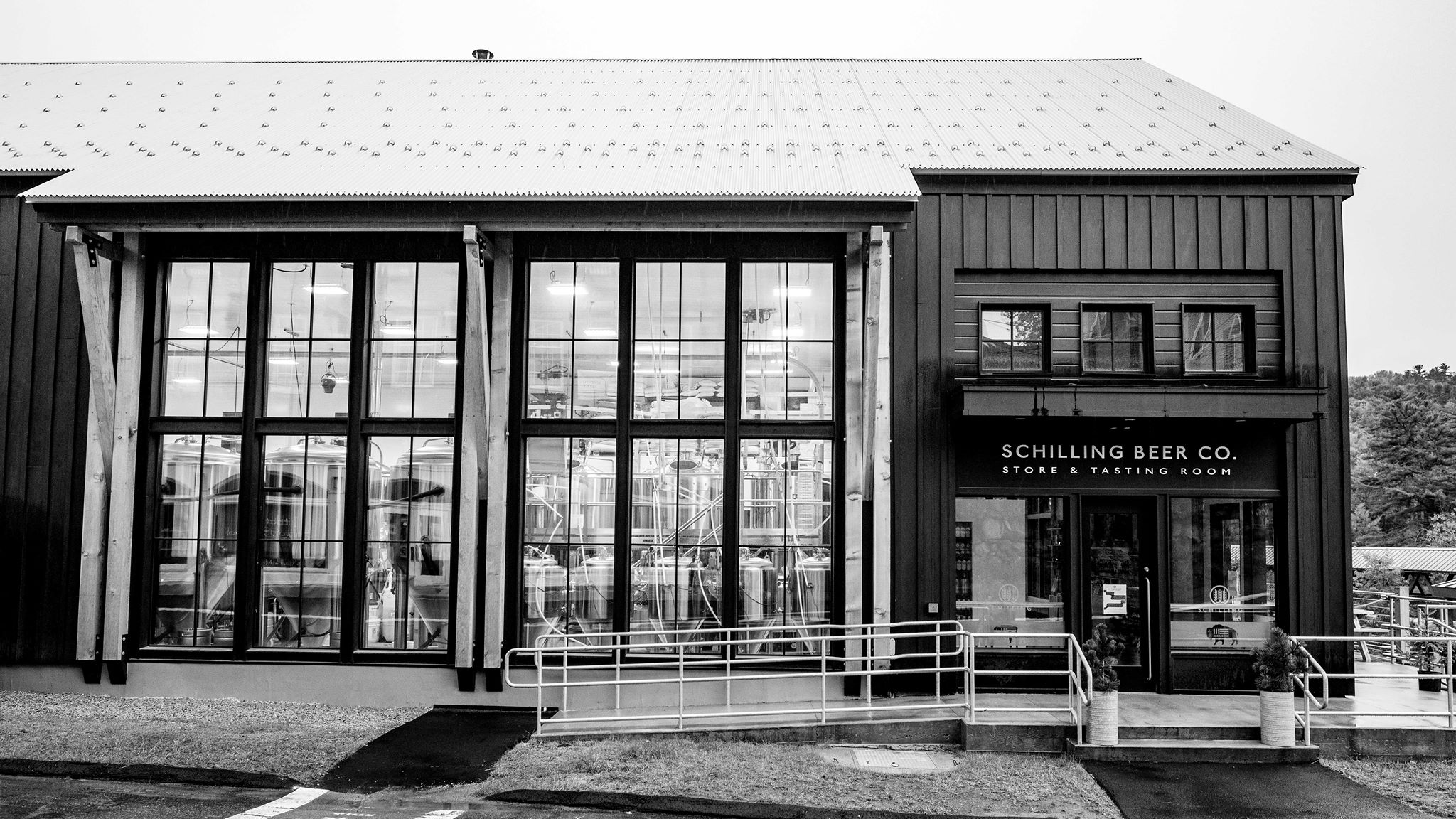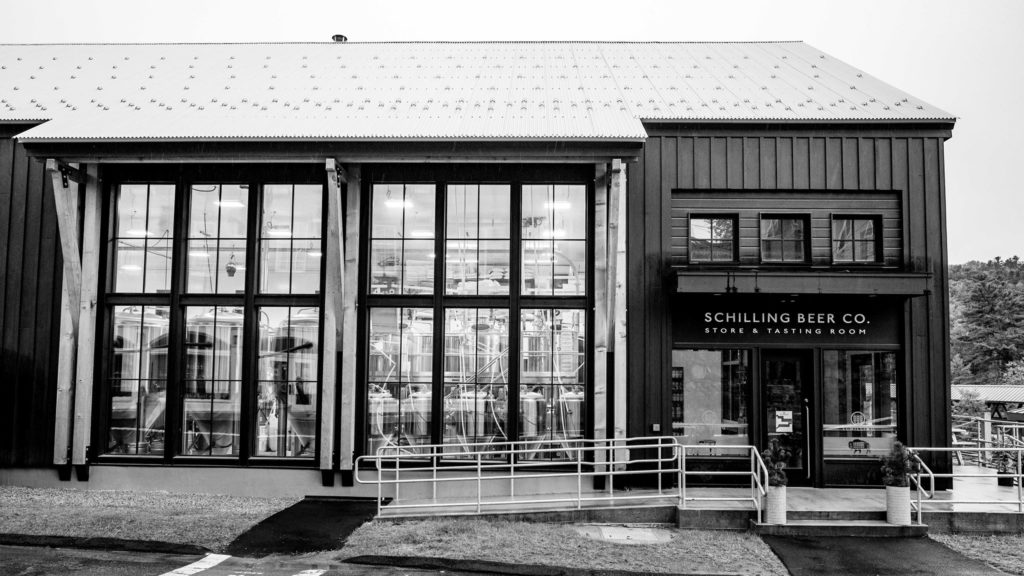 Start your epic road trip at one of our most underrated breweries of the year (and one of the best breweries in New Hampshire). Schilling Beer Company specializes in European style lagers and ales. You probably won't find any hopped-up hazies, adjunct-packed stouts, or crazy fruited sours (though there will be some spontaneously fermented sours thanks to the brewery's koelschip and North Country microflora). Instead, you'll be rewarded with just clean, crisp, honest-to-goodness beer in the vein of Czech- and German-inspired lagers. We named the brewery's Merriment, a pale lager collab with Threes Brewing featuring Mandarina Bavaria hops, as one of our 20 best beers to drink in the fall of 2020. This is just brewing at its finest!
Branch and Blade Brewing
17 Bradco St, Keene, NH 03431 | (603) 354-3478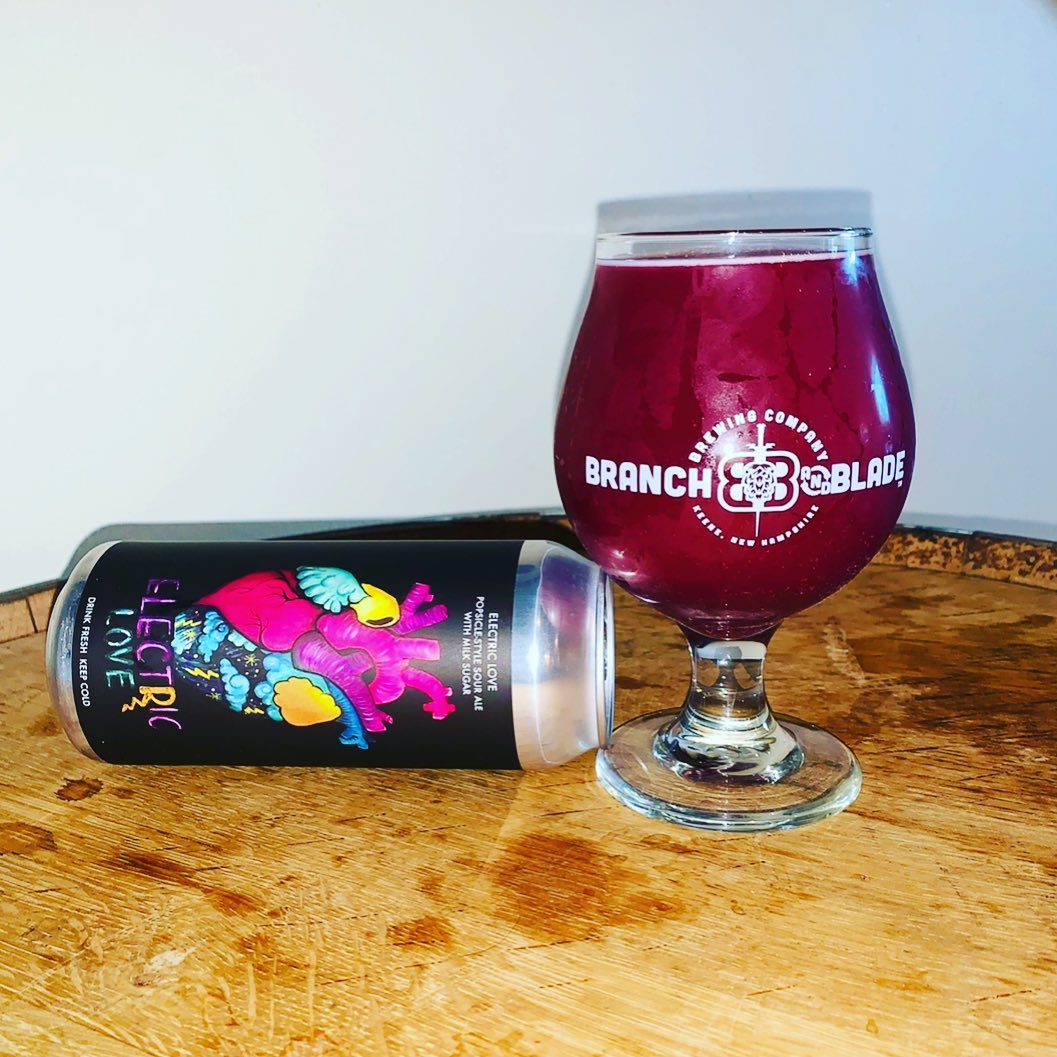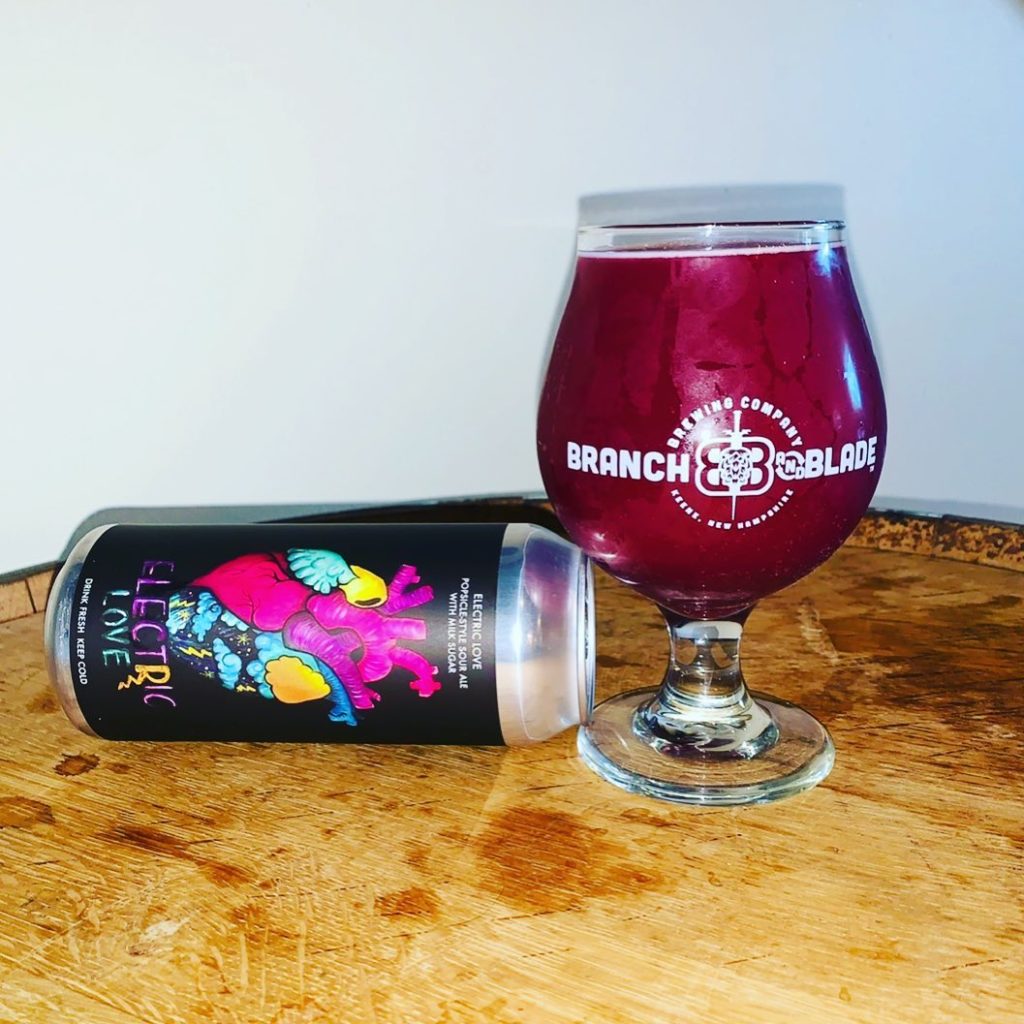 Meander your way down to the Southern part of the state and you'll stumble upon Keene, a quintessential New England town in the heart of Cheshire County. A tiny town with a mighty craft beer community, Keene is home to both Branch and Blade Brewing and Modestman Brewing (see below). Known for well-crafted, creative beers, Branch and Blade is a colorful, eclectic brewery giving Keene a distinctive pop of craft culture. Time your trip right and you could be in town for Branch and Blade's Munchie Madness, a beer festival that brings some of their best friends across the country to the Northeast.
Modestman Brewing
100 Main St, Keene, NH 03431 | (603) 352-7695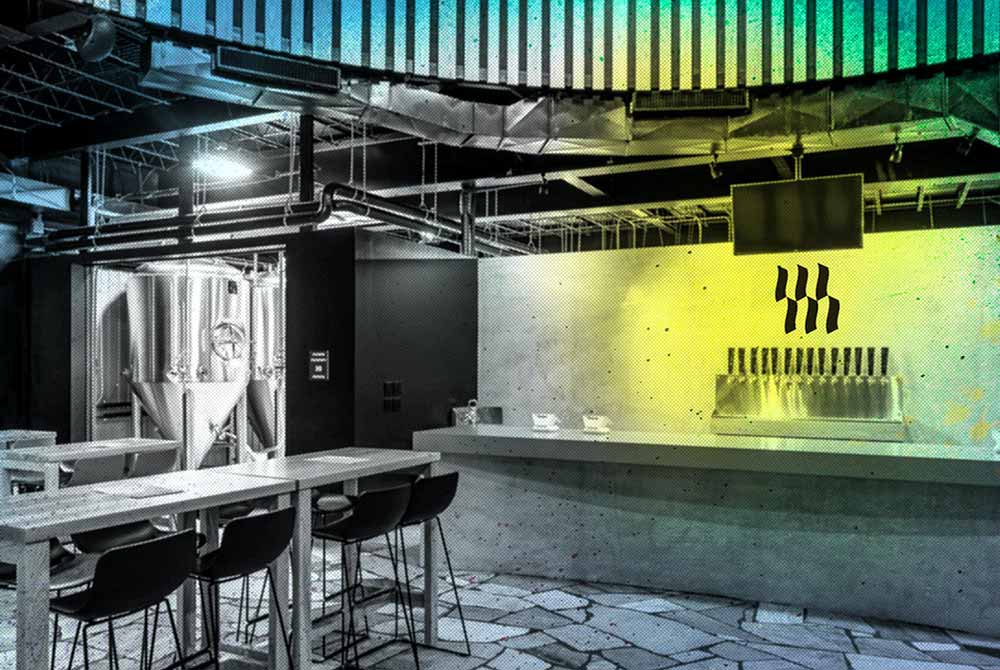 "Beer Different." That's how Modestman approaches brewing. The brainchild of Ash Sheehan, the brewery embraces a vibrant, technopop approach to its can art, graphics, and beer. For example, look at the brewery's newly released Run Come Save Me NEIPA with Idaho 7 and Citra, or F*** What You Think DIPA with Amarillo and Citra. Cultivating a colorful culture and community, Modestman is seeking to put the New Hampshire craft beer scene on the map.
Garrison City Beerworks
455 Central Ave, Dover, NH 03820 | (603) 343-4231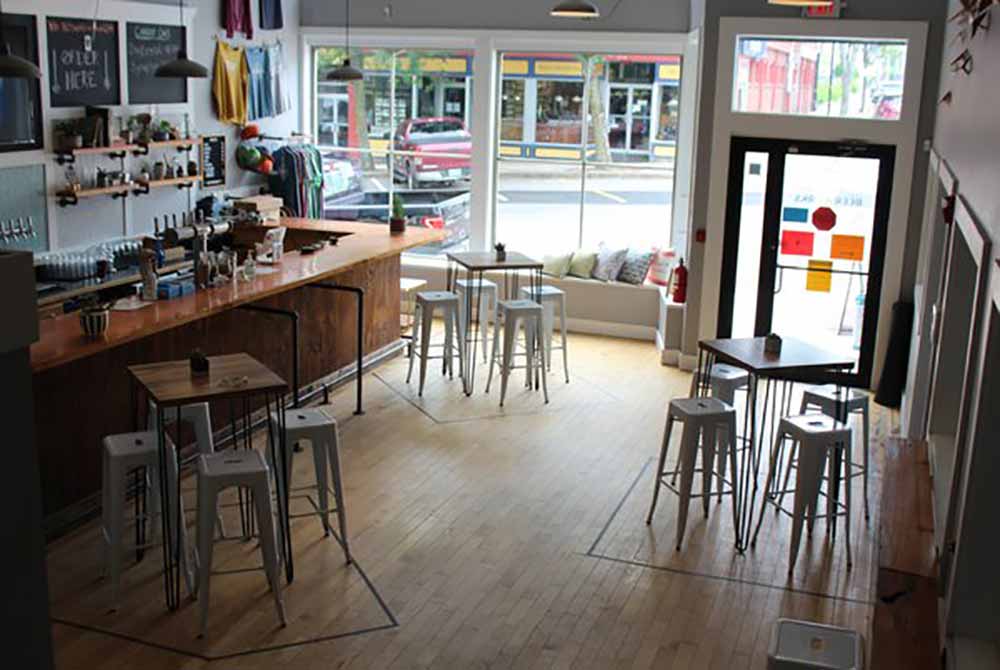 After a pit stop in Keene, coast up through Concord, down to Manchester, and due east to Dover. Here, you'll find one of our top 40 forty women-led breweries in the country and another one of the best breweries in New Hampshire. Garrison City Beerworks is the kind of brewery that reminds you why you love IPAs so much. When it comes to brewing, they just have the "X factor." Whatever it is, the brewery consistently puts out some of our favorite IPAs in the country. And all from a 3bbl nanobrewery (that also happens to serve tacos)! Because the brewery is so small, Co-Founders Nicole and Andy Gray only package a limited quantity of 16oz cans during each run, meaning that whenever you stop at the brewery, you know you're getting fresh, stunning beer. For any hopheads, this is a must-hit on your New Hampshire craft beer circuit.
Deciduous Brewing Company
12 Weaver St, Newmarket, NH 03857 | (603) 292-5809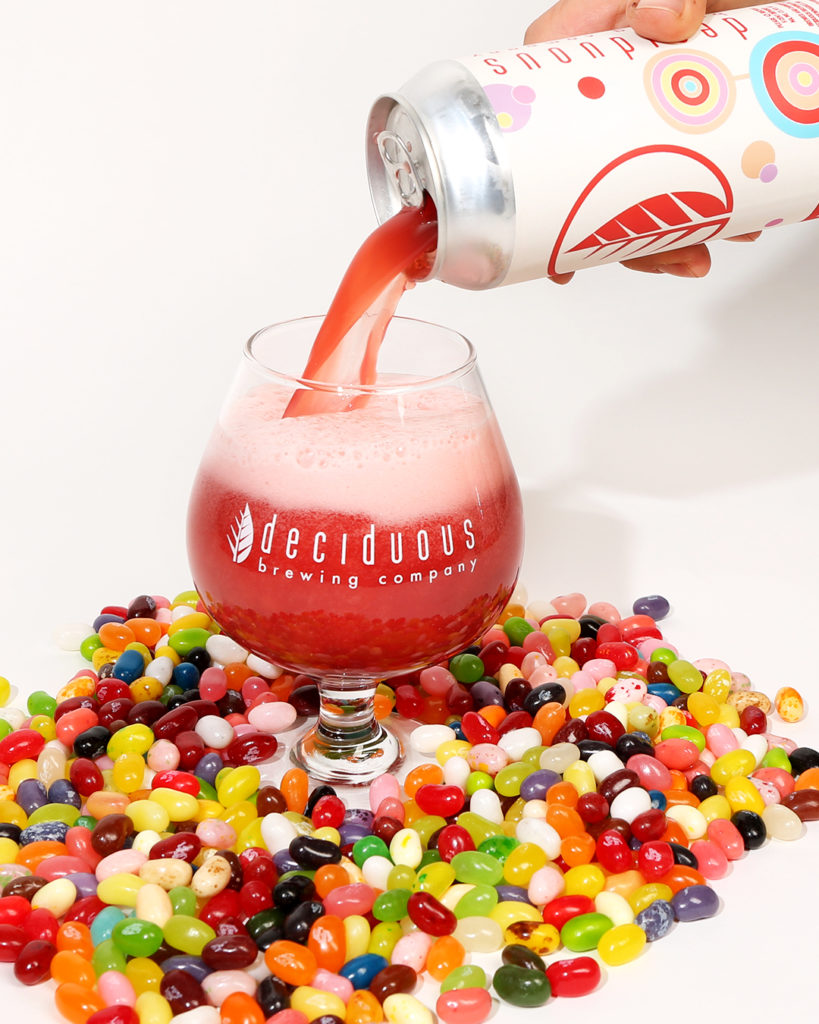 Before you head to historic Portsmouth, make a side trek to Newmarket and stop at Deciduous Brewing Company. We could tell you it's this brewery's stunning resurrected sour program or cloudy IPAs that have landed them on our 20 Best Beers to Drink in Summer 2021, 20 Best Beers to Drink in Winter 2019, or 5 Best Beers of the Week, but we'd only be telling half the story. Deciduous is one of those precious places where the people behind the brewery match the quality of the beer. Frank Zagami, Co-Founder and Brewer at Deciduous, is just one of the best people in the biz. It's no wonder that he's making some of the best beer in the state — and the country.
Earth Eagle Brewings
175 High St, Portsmouth, NH 03801 | (603) 502-2244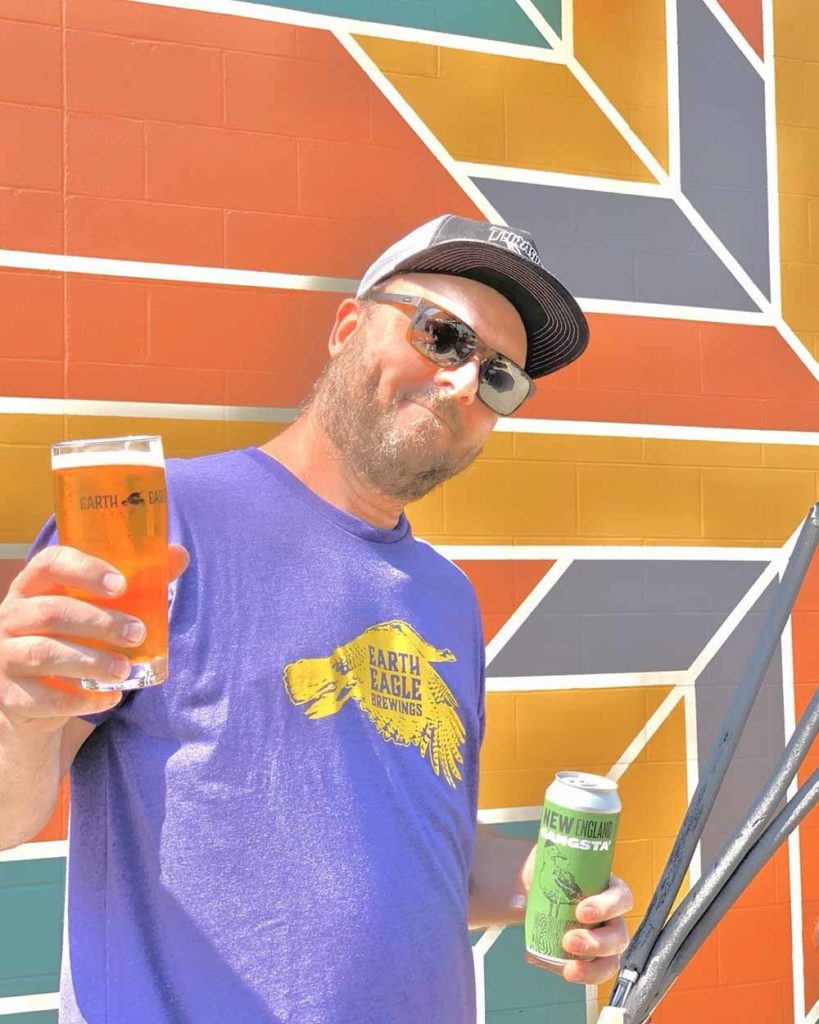 Ten years ago Alex McDonald co-founded Earth Eagle Brewings in Portsmouth, NH. Since then the 5-BBL brewhouse has grown into something of a local gem with a skosh of West Coast flair. Probably due to McDonald's time spent in Colorado and Arizona (and his wife Gretchen McDonald's time in Portland, OR).
One of only two craft breweries in downtown of the historic seacoast town of Portsmouth, the brewery's original taproom is located a short walk from Market Square. So, while very much rooted in New England, Earth Eagle also includes those West Coast touches.
For instance, the flagship and best-selling New England Gansta, an OG West Coast-style IPA with Pacific Northwest hops that perfectly reflects the brewery's marriage of East Coast and West Coast vibes.
But it's not just IPAs that have drawn the locals. People have gone gaga for the brewery's innovative fruited sours. Such as Samantha, a strawberry sour perfect for the summer, and Tabantha, a cranberry and tangerine sour Earth Eagle releases every year around Thanksgiving. Plus, around Halloween look out for Puca, an uber popular curry pumpkin porter made with Thai chili pepper, pumpkin and coconut.
Recently, Earth Eagle opened a second location in Somersworth, NH, called Earth Eagle North. About a fifteen minute drive away from the original brewery, the larger facility has allowed McDonald to move brewing operations to the new spot while converting the old brewhouse into a dining area. There, you'll find outrageous hot dogs and burgers.
For example, Cujo, a dog with crushed pineapple and house-made hot pepper relish. Or Winnie The Moo, a burger with goat cheese, bacon, jalapeños, and house-made hot honey. (Good thing to note: Veggie options are available for both menus)
In other words: delicious drinking food.
Pro tip: If you go don't skip out on Earth Eagle's very own homebrew shop attached to the original brewery. Gretchen oversees everything here, where you'll find homebrewing supplies along with everything you mind need to brew kombucha, make cheese, or ferment wine.
Those who are in the know have already deemed this place a truly authentic brewery.
Well, now you're in the know.
Go for the West Coast-style IPAs, go for the sours, go for the unique seasonal releases, or just go for a true day out in New Hampshire.