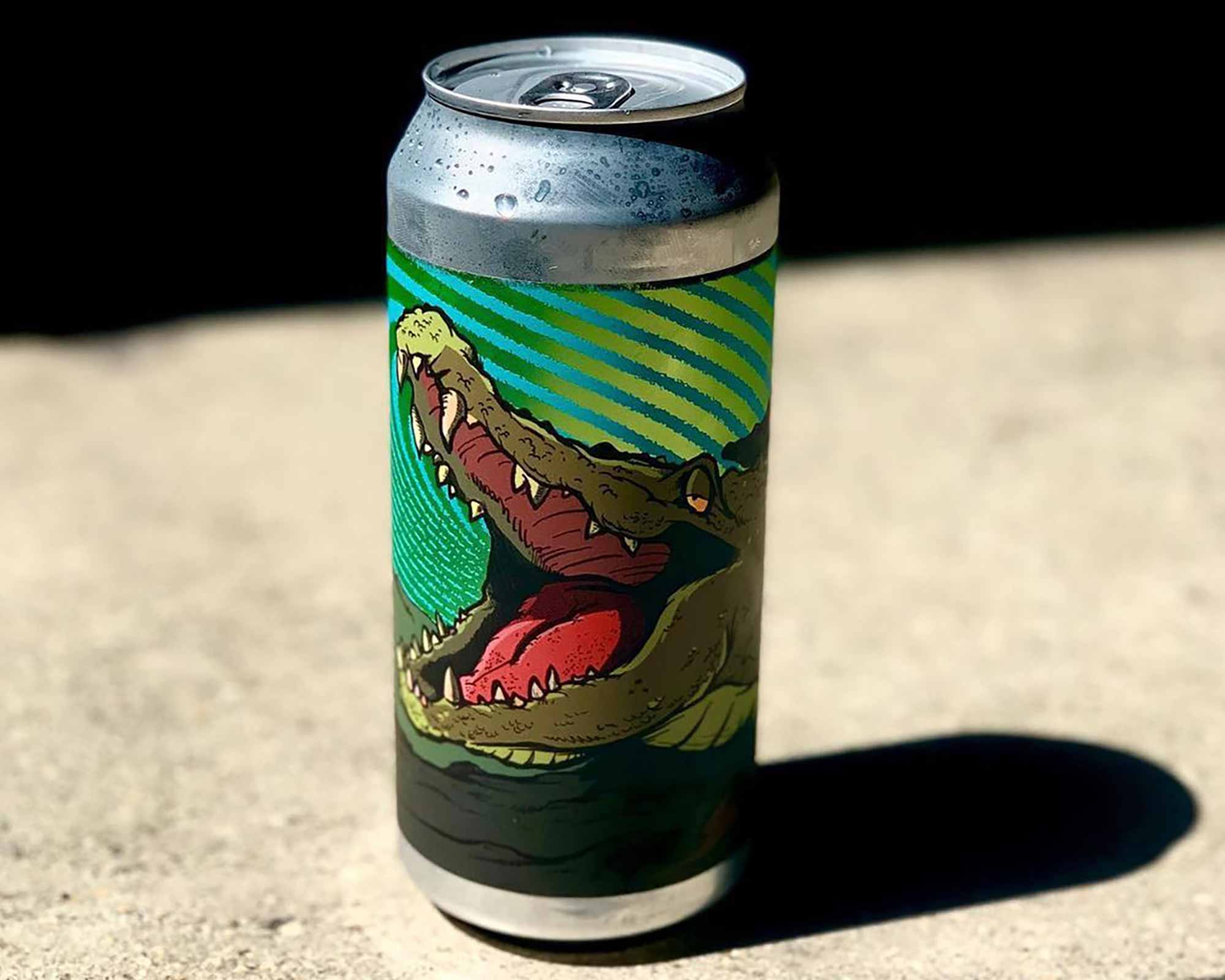 Photography courtesy of Tripping Animals Brewing Co.
Florida's craft beer scene has passed an important turning point. For years, two breweries – Funky Buddha and Cigar City – represented beer in the state. But in the last half a decade or so, breweries like J. Wakefield, Angry Chair, and Cycle Brewing have defined Florida's craft beer community. And even more recently, a new crop of breweries – such as Unseen Creatures, 3 Sons, Odd Breed, Tripping Animals, and more – have taken the lead as some of the best breweries in South Florida.
With an emphasis on hype and an understanding of what's popular, these breweries and others have earned national attention for hazy IPAs, robust stouts, and fruited sours.
And with all of them located in South Florida, the lower region of the Sunshine state has certainly made a splash.
We named Miami one of the best beer cities of 2019 for good reason. But since then, other hotspots around South Florida have landed on the map with fantastic craft breweries opening in St. Petersburg, Tampa, and everywhere in between.
Alongside a ridiculously talented lineup of craft breweries, South Florida also has a very vibrant culture. One that often seeps in the breweries' ethos and beers
This is one of our largest travel guides yet because everytime we thought we'd finished this list…another brewery came to mind. Each and every brewery on this list is a banger. So without further ado, here are our picks for the eighteen best breweries in South Florida.
Hop Culture's 18 Best Breweries in South Florida
3 Sons Brewing Co.
236 N Federal Hwy #104, Dania Beach, FL 33004 | (954) 601-3833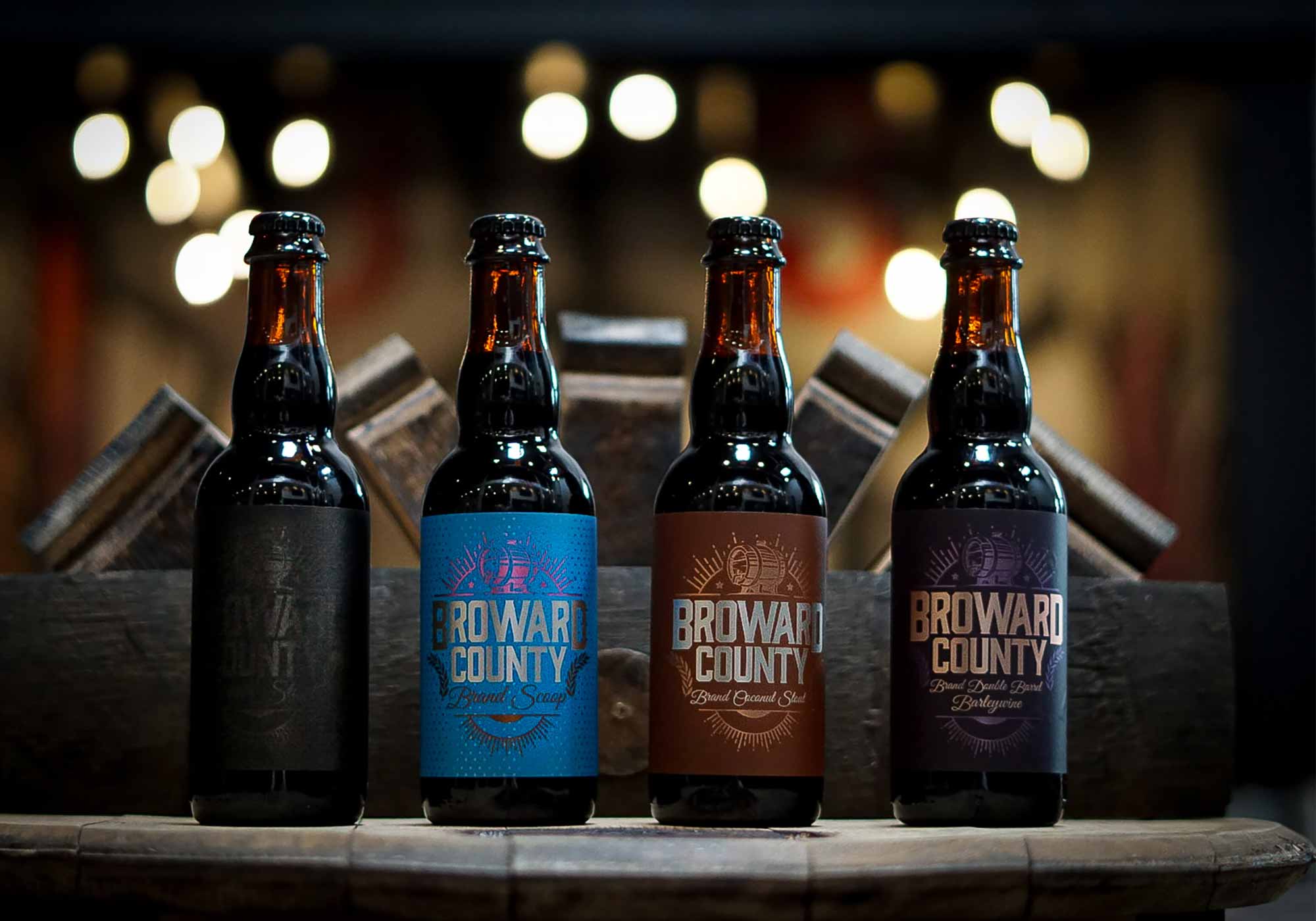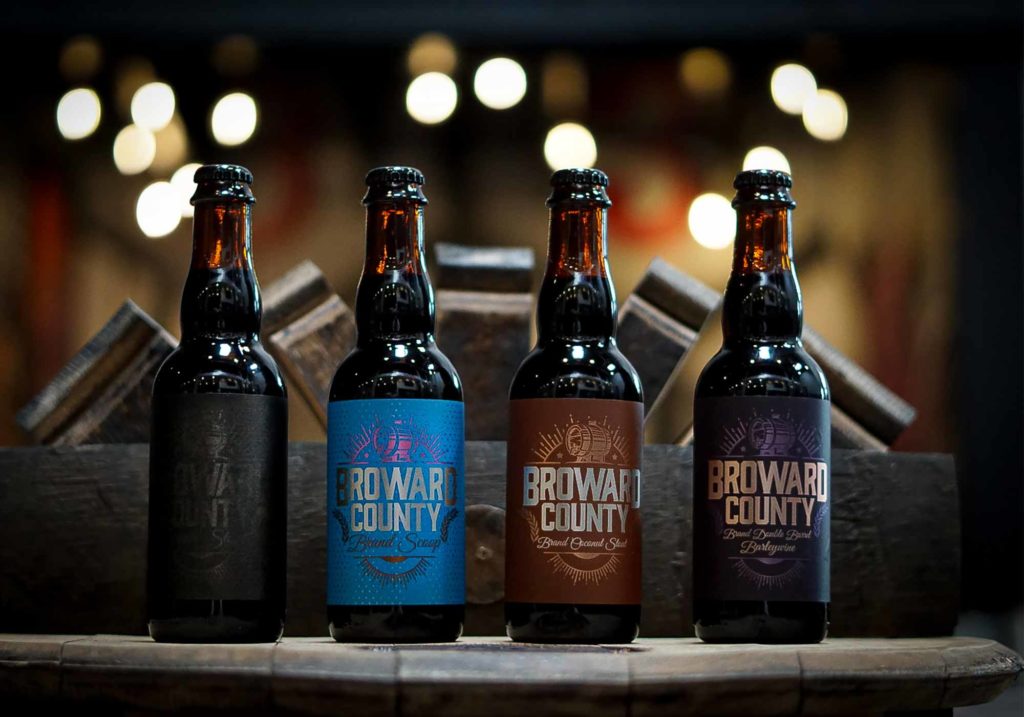 For the past two years, 3 Sons Brewing Co. has been one of South Florida's hottest breweries. In fact, before owner and head brewer Corey Artanis even opened the taproom doors back in 2019, Ratebeer.com had ranked 3 Sons the Best New Brewer in the world.
It's Artanis' pinpoint perfect pastry stouts that have garnered a devoted following. And a gaggle of awards. Such as Summation, a bourbon barrel-aged Imperial vanilla and coffee stout inspired by Goose Island's 2010 Vanilla Bourbon County stout.
Similarly, for the past two years, 3 Sons has released Broward County Brand Stouts (BCB), a set of special barrel-aged stouts. Last November, for his third annual release, Artanis aged BCB in Elijah Craig and EH Taylor small batch bourbon barrels with Madagascar vanilla and Guyanese cacao. Other variants include BCB Coconut Stout, BCB Scoop Stout, and BCB Double Barrel Barleywine, aged in Woodford Reserve and California brandy barrels.
Visit 3 Sons if you're looking for killer, award-winning barrel-aged stouts.
Angry Chair Brewing
6401 N Florida Ave, Tampa, FL 33604 | (813) 238-1122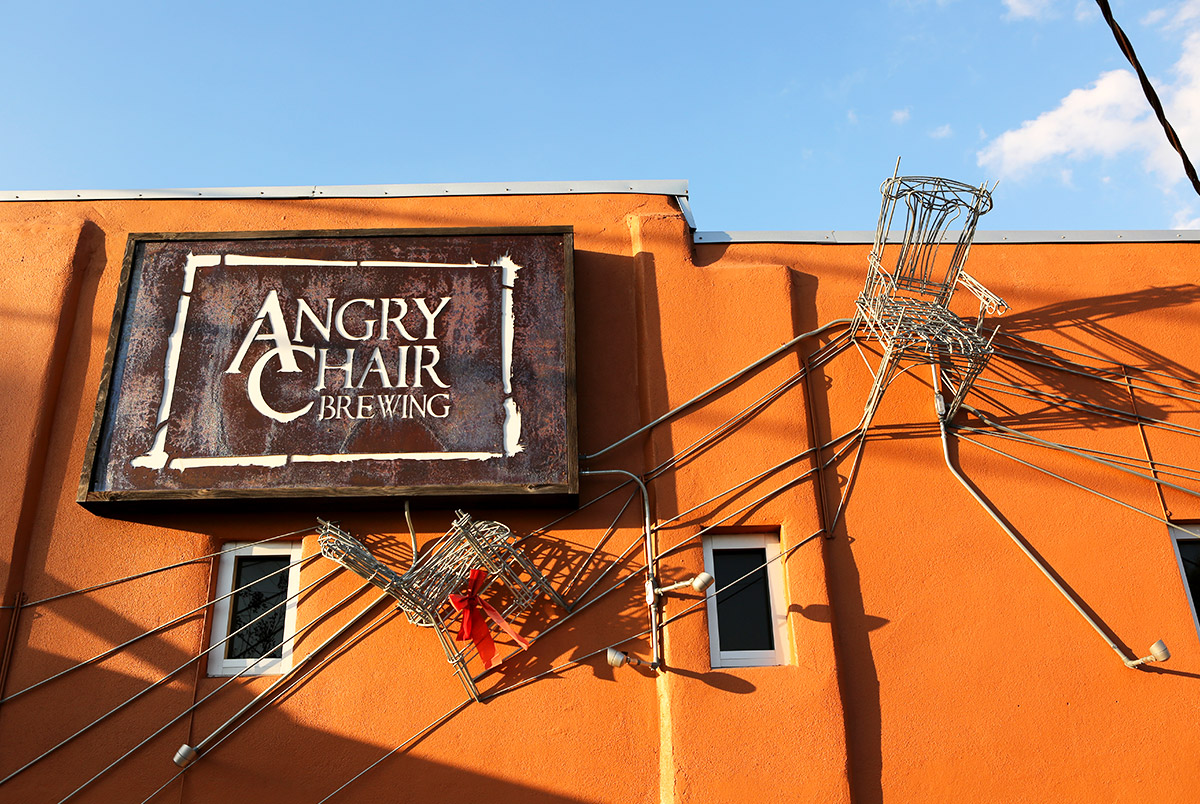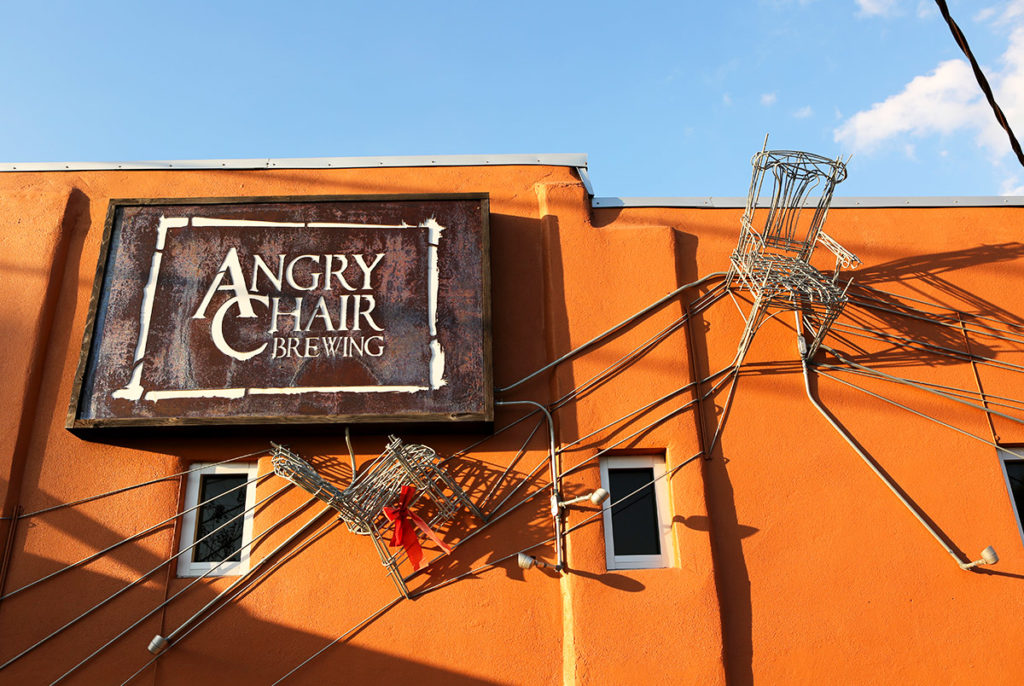 If you've heard of Angry Chair, it's probably because of beers like Double Stuffed Oreo Fudge Bucket and Imperial German Chocolate Cupcake Stout, which turn decadent desserts into liquid. But the Tampa brewery wants to be so much more than a one-trick pony. Equally as delicious as their pastry stouts are their sours, which also garner critical acclaim.
Ben Romano, head brewer at Angry Chair, has helped drive a craft beer renaissance of sorts in Tampa. Not everyone born and raised in Tampa Bay sticks around, but those who do have a fierce love for their hometown. Romano and Angry Chair Brewing are one of the best examples, pushing out epic stouts, porters, IPAs, and sours from their 1,900-sq-ft brewery and 2,000-sq-ft barrel house.
Calusa Brewing
5701 Derek Ave, Sarasota, FL 34233 | (941) 922-8150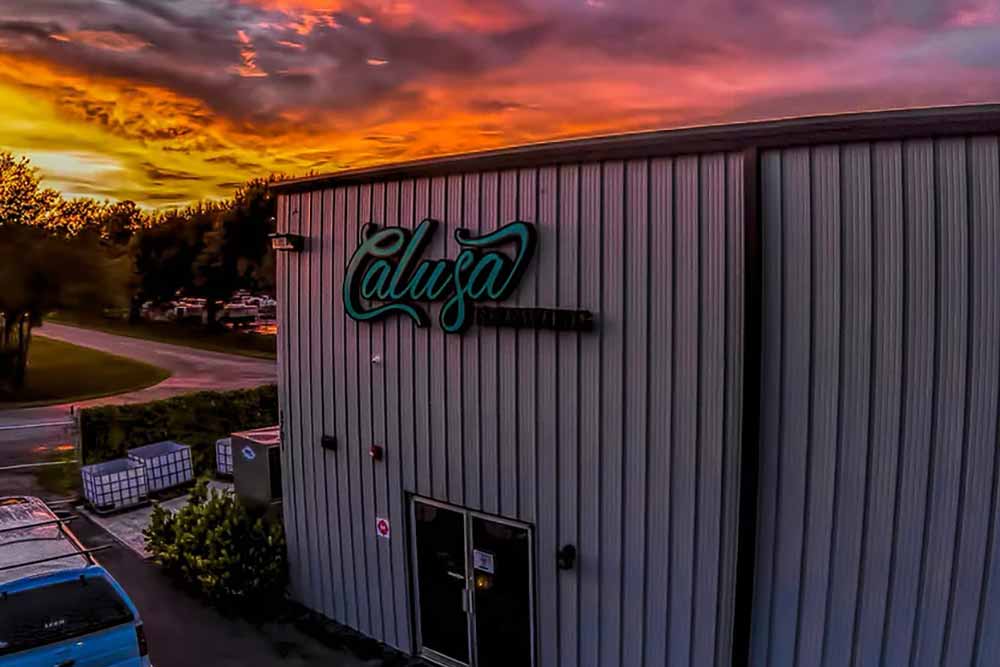 Tucked away into an industrial park in Sarasota, Calusa first came onto our radar in 2018. But the Veteran-owned and family-owned operation immediately impressed us, earning a spot on our "15 Best Breweries of 2018."
"Inspired by Florida's rich aquatic heritage and culture," Calusa makes some of the best mixed-culture-fermentation wild ales and hop-forward IPAs. Such as the Citrtonius Big IPA, a big New England-style hop bomb that often sells out quickly. Or Pixel Vision, a fruit beer with passion fruit and lactose.
Civil Society Brewing Co.
1200 Town Center Dr #101, Jupiter, FL | (561) 855-6680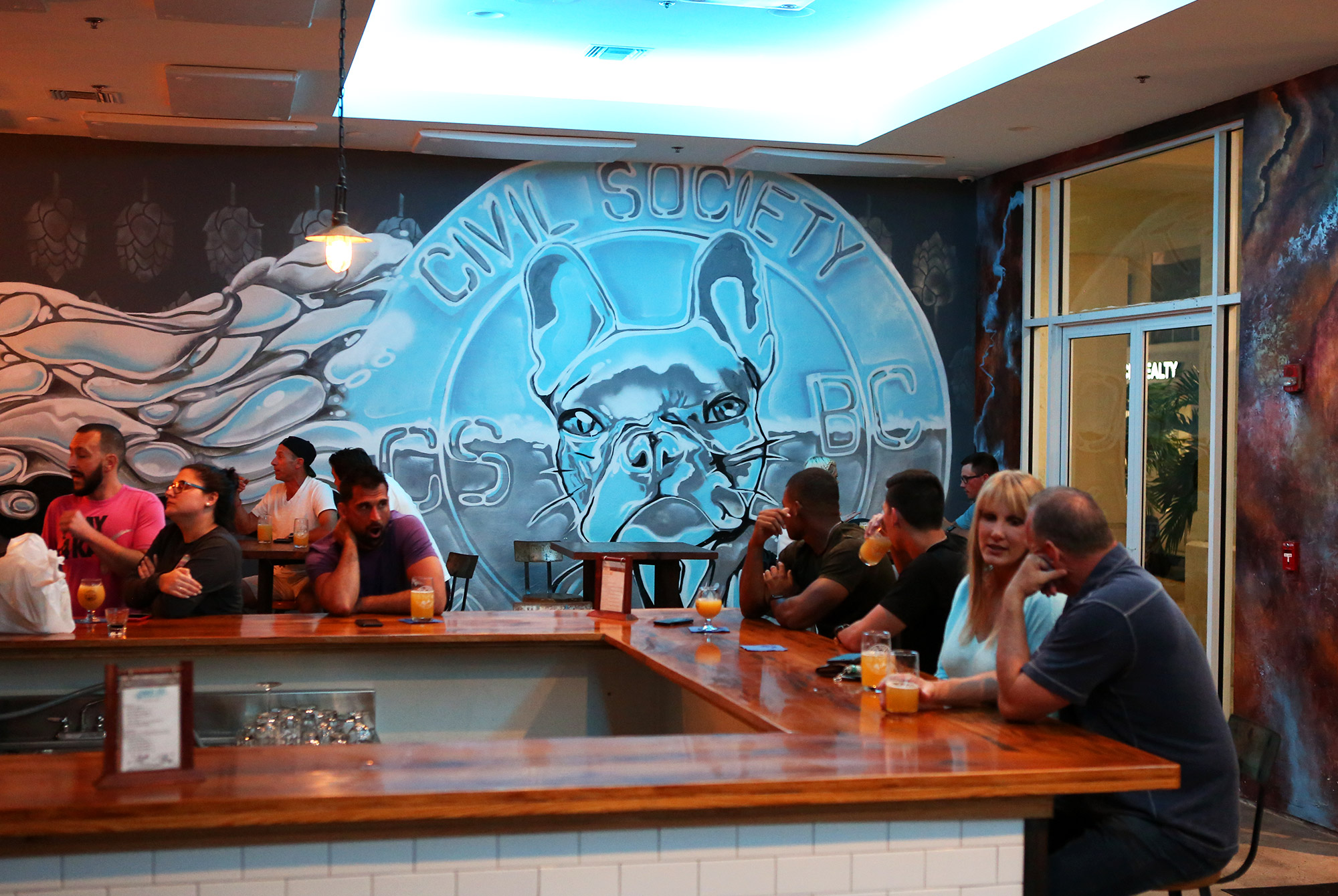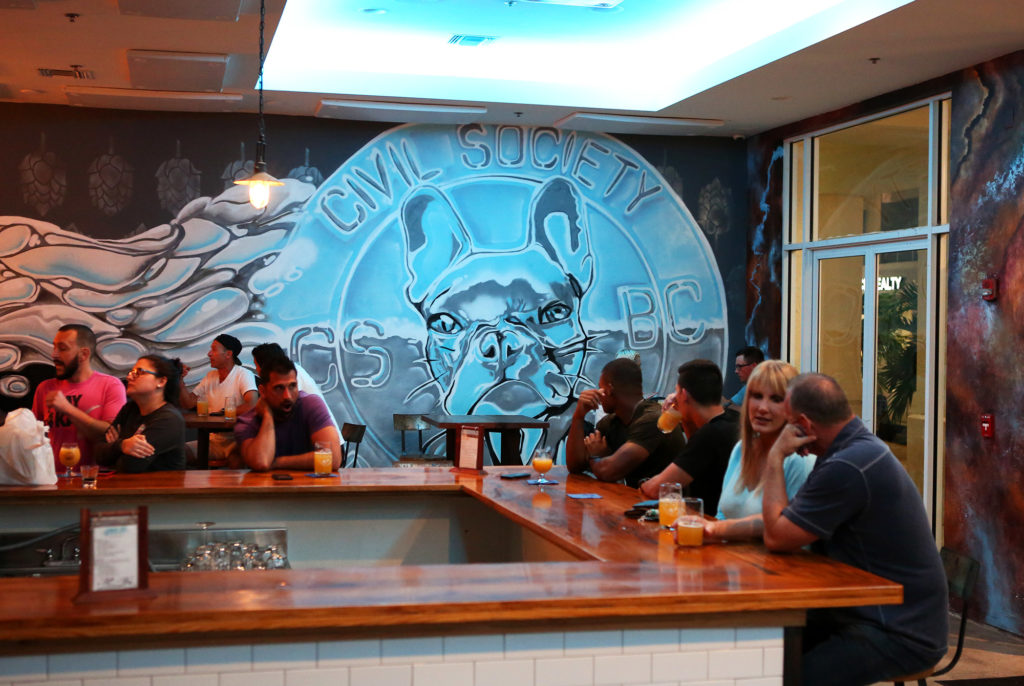 You'll find the original Civil Society taproom on a sunny street in Jupiter next to a boutique women's clothing store and restaurants. But don't be fooled by the surroundings – this should be considered a true Florida brewery. One that serves sunny, bright, juicy beers.
Walk in and you'll find an equally vibrant taproom covered in colorful art and graffiti.
Back in pre-pandemic times when Civil Society dropped cans, you'd often find lines wrapped around the block.
A creation of Karl Volstad, Evan Miller, and Chris Volstad, Civil Society leads South Florida's beer scene by brewing "ISO"-worthy hazy IPAs. Such as the core Fresh IPA or Walking on Air, featuring Mosaic Cryo, Mosaic T90, Motueka, Simco, and Citra Cryo hops (which dropped last Friday).
But also favorites like Pulp American wheat ale.
The brewery's instant success led to Volstad and Miller opening a second 5,200-sq-ft location in West Palm Beach in 2019. Whichever taproom you visit, you can't go wrong here.
Corporate Ladder Brewing Co.
4935 96th Street East, Palmetto, FL 34221 | (941) 479-4799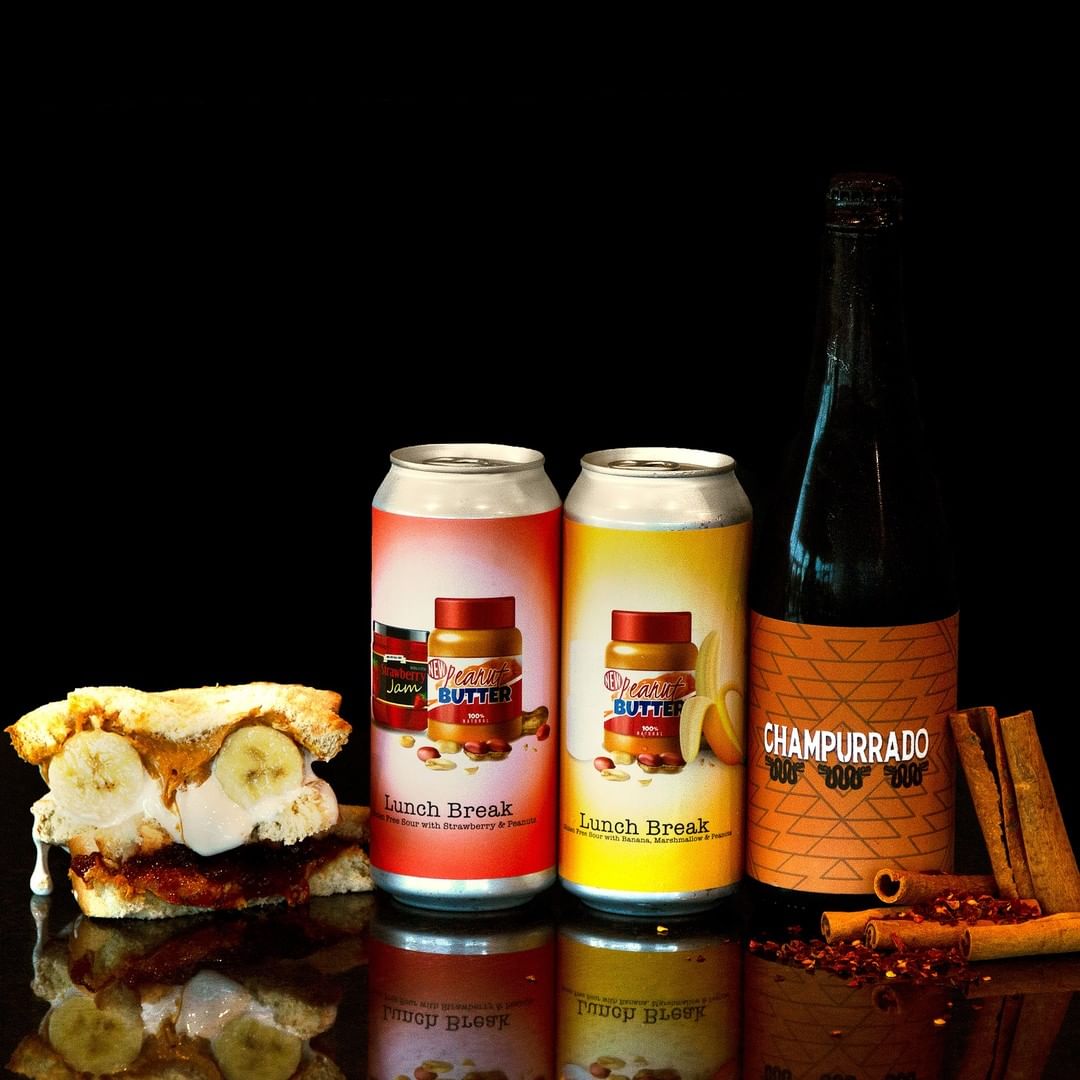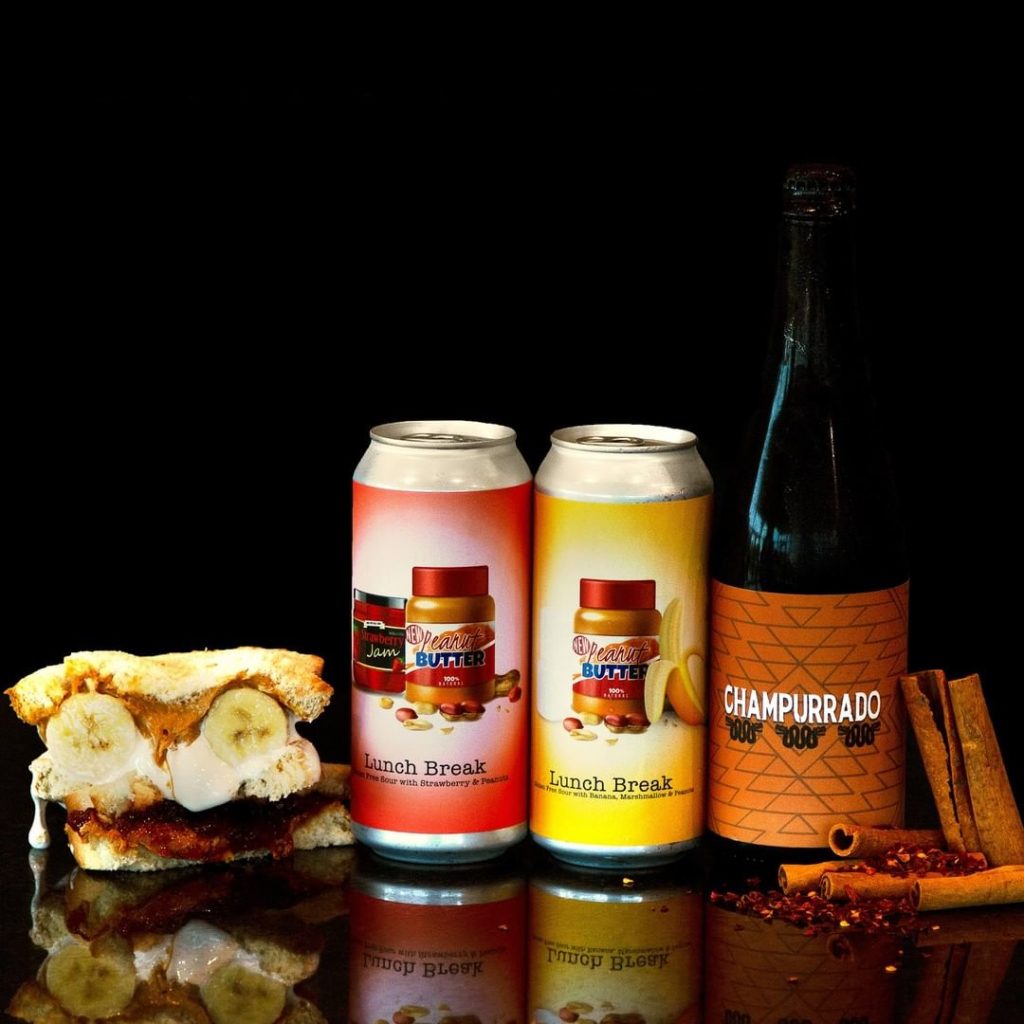 As we said, big things are happening in Florida's beer scene. Although the Sunshine State has earned its fair share of derision, there are some truly exciting craft breweries making a name for themselves.
We're keeping an eye on relative newcomer Corporate Ladder. The Palmetto, Florida, brewery hit the ground running with a wildly diverse lineup of beer. Take a look at their taplist and you'll see a table beer beside a pastry kettle sour beside a schwarzbier beside a double hazy IPA.
Now, we haven't had a chance to try every single beer, but we have been thoroughly impressed by Corporate Ladder's latest offerings. Beyond just making exciting beers for the sake of hype and Instagram beer fame, Corporate Ladder is making fun beer. There's a sense of joy with their beer. And that's something worth seeking out in today's world.
Cycle Brewing
534 Central Ave, St. Petersburg, FL 33701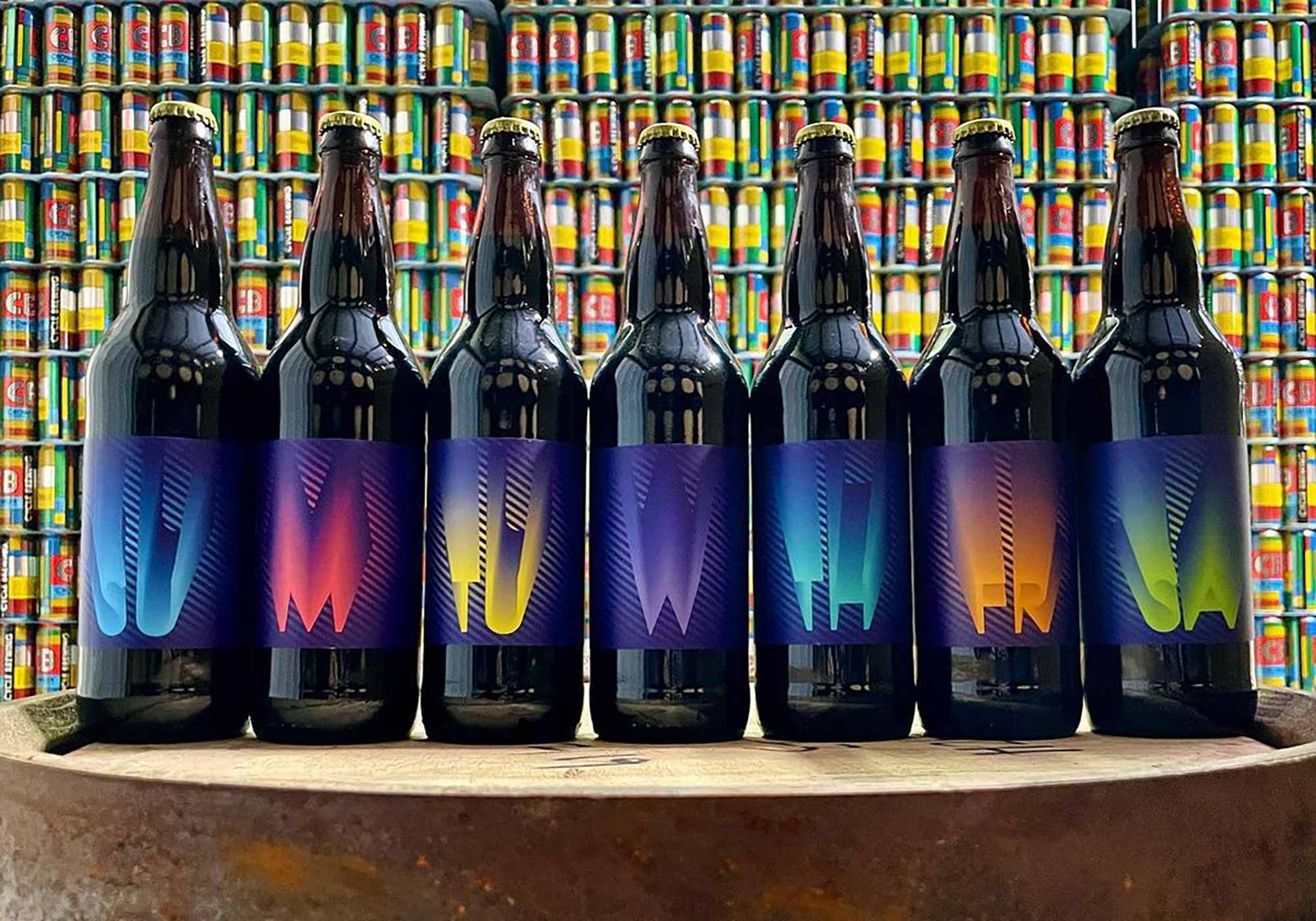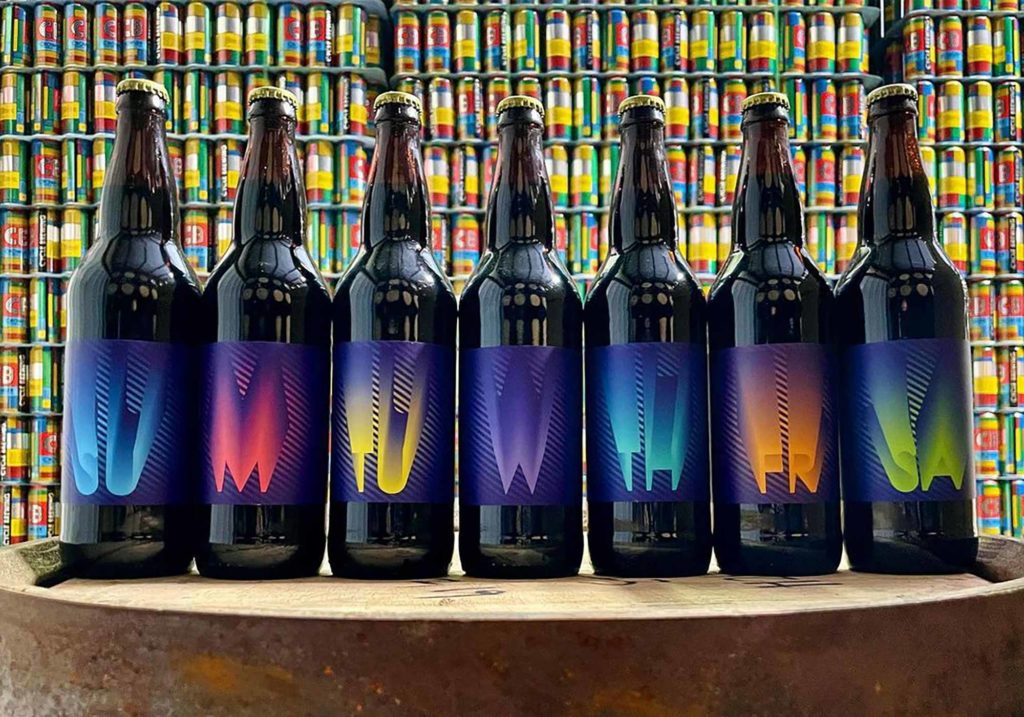 Cycle Brewing Founder and Brewmaster, Doug Dozark, originally started brewing at his dad's brewpub Peg's Cantina in Gulfport before finding his own spot in St. Pete's in 2013.
For a while now, we've been enamored with Cycle's exquisite Weekday Series – Monday, Tuesday, Wednesday, Thursday, Friday, Saturday, and Sunday.
Overall, Cycle Brewing spends an inordinate amount of time perfecting the process of barrel aging. And it shows. The timeless adage things get better with age certainly applies here.
Cycle's eighth-anniversary beer, which they released mid-October 2021, made our list of The 21 Best Stouts to Drink for International Stout Day. And that should pretty much say it all when it comes to this St. Petersburg-based brewery.
Green Bench Brewing Company
1133 Baum Ave N, St. Petersburg, FL 33705 | (727) 800-9836
"This might be the best beer I've ever had," said Hop Culture Founder Kenny Gould while recounting a beer he had at Green Bench, one of the 12 best breweries he visited in 2020. Head brewer/co-owner Khris Johnson has put this BIPOC-owned brewery on the map.
The brewery's sublime lagers and magical meads have vaulted this brewery to the top of our must-try lists. Most recently, we spotlighted Green Bench for its fantastic saisons and mixed-culture beers aged in foeders.
Green Bench Brewing has seen the market for foeder-fermented and barrel-aged wild and mixed-culture beers grow slowly over the last eight years as more people understand and experience the styles. As a result, the brewery built Webb's City Cellar (right next door) to "not only make really great products with a dedicated space, but to better control the conversation and people's introduction and experiences with these types of beers," says Johnson. "We were able to build, from the ground up, simultaneously a space where we could create the best examples of these styles that we ever could and curate people's participation with them."
For instance, Alice (Blend #3) is a mixed-culture golden ale foeder-fermented and wine barrel-aged beer featuring peach and citric tangerine aromas, spicy wood tannin, white grape skin flavors, rich minerality, and a medium acidity.
Or Saison de Banc Vert, which is aged in wine barrels prior to conditioning with Brettanomyces and fermenting in 100% oak.
Invasive Species Brewing
726 NE 2nd Ave, Fort Lauderdale, FL 33304
With "a vibe as original as the beers," Invasive Species cranks out juicy IPAs and tart sour ales in the heart of Fort Lauderdale. Lauded as making some of South Florida's most innovative beers, Invasive Species has certainly "invaded" the Sunshine State.
Step inside the taproom and you'll see quirky nods to the Florida lifestyle including stuffed animal bodies and gator skulls chilling behind the bar, a large marlin posted above the window, and signs warning of alligators and snakes.
The vibe carries over into the beers with its Yacht Club German-style pilsner, Snake Jazz hazy IPA, Iguanadon bourbon barrel-aged Imperial stout, Hot N' Hefe German-style hefeweizen, and more.
As one of the craziest and coolest breweries we've seen, Invasive Species will invade your mind and never leave.
J. Wakefield Brewing
120 NW 24th St, Miami, FL 33127 | (786) 254-7779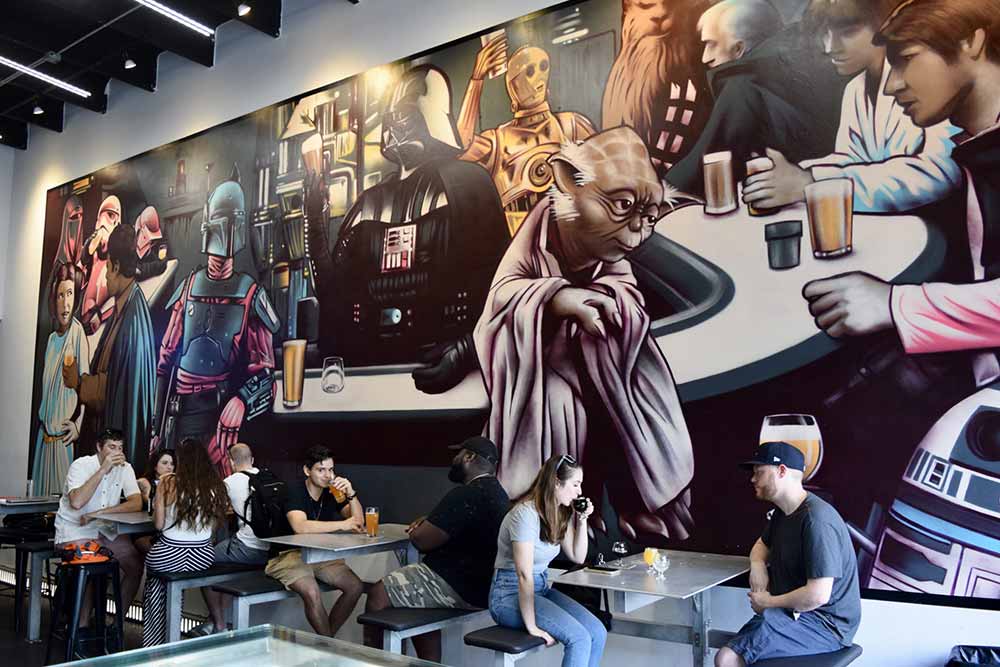 Come on, did you think there'd be a list of best breweries in South Florida that didn't include one of the godfathers of craft beer in the Sunshine State? Known for their incredible sours and standout imperial stouts, J. Wakefield is the standard bearer in the Miami beer scene.
We've seen breweries from far and wide come to Florida just to collab with J. Wakefield. And the brewery's anniversary festival, Wakefest Invitational, often brings more than 120 independently owned craft breweries to the city in February (in pre-pandemic times).
J. Wakefield has become synonymous with beer in Florida. Need we say more?
Lincoln's Beard Brewing Co.
7360 SW 41st St, Miami, FL 33155 | (305) 912-7390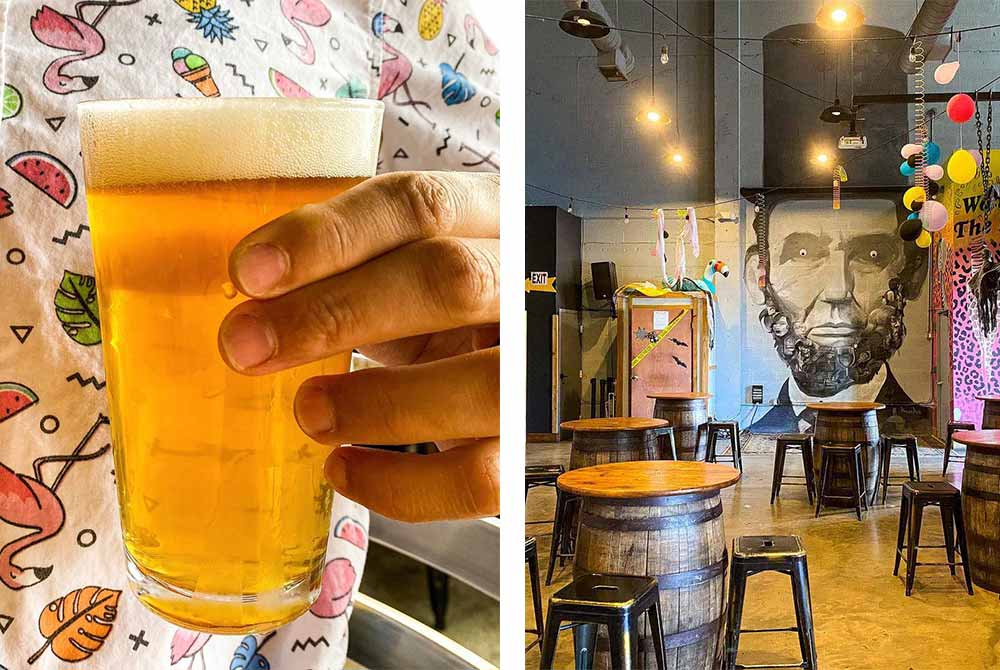 Apparently, Lincoln's Beard Founder John Falco thinks he can be one of the nicest people in beer, help support an entire community, and still fly under the radar. Hardly! Hop Culture Founder Kenny Gould blew up his spot by naming Lincoln's Beard one of our best breweries of 2021.
A staple in the Miami beer community, Lincoln's Beard has been putting out awesome beer, great art, and high-quality vibes since 2016. But unless you live in the area, you probably haven't heard of this hidden gem. With humility and talent, Lincoln's Beard has helped make South Florida a destination for craft beer lovers, and was one of the reasons I called Miami one of the five best beer cities of 2019.
If you visit, try the Morning Glory, a 5.2% ABV crushable blonde ale that's perfect for beating the Florida heat.
Odd Breed Wild Ales
50 NE 1st St, Pompano Beach, FL 33060 | (754) 220-6099
A small brewery focused on the production of wild ales and farmhouse ales in Pompano Beach, Florida, Odd Breed Wild Ales loves everything to do with wild yeast and bacteria.
On the menu you'll find beers inspired by the lambic-style and farmhouse ales of Belgium, but with a Florida twist. Many include indigenous ingredients from the Sunshine State like various citrus and tropical fruits.
For instance, Mango Marauder, a blend of two golden wild ales aged in French oak puncheons before taking a nap on Kent mango chunks to the tune of two-and-a-half pounds of mangoes per gallon of beer.
Or Citrus Farmer, a farmhouse ale brewed with coriander and bitter orange peel and aged in French Oak puncheons for a year before refermenting with a dose of Florida oranges and lemons.
These are stunning beers capturing the terroir of Florida.
Shōjō Beer Co.
Miami, FL | (786) 355-7105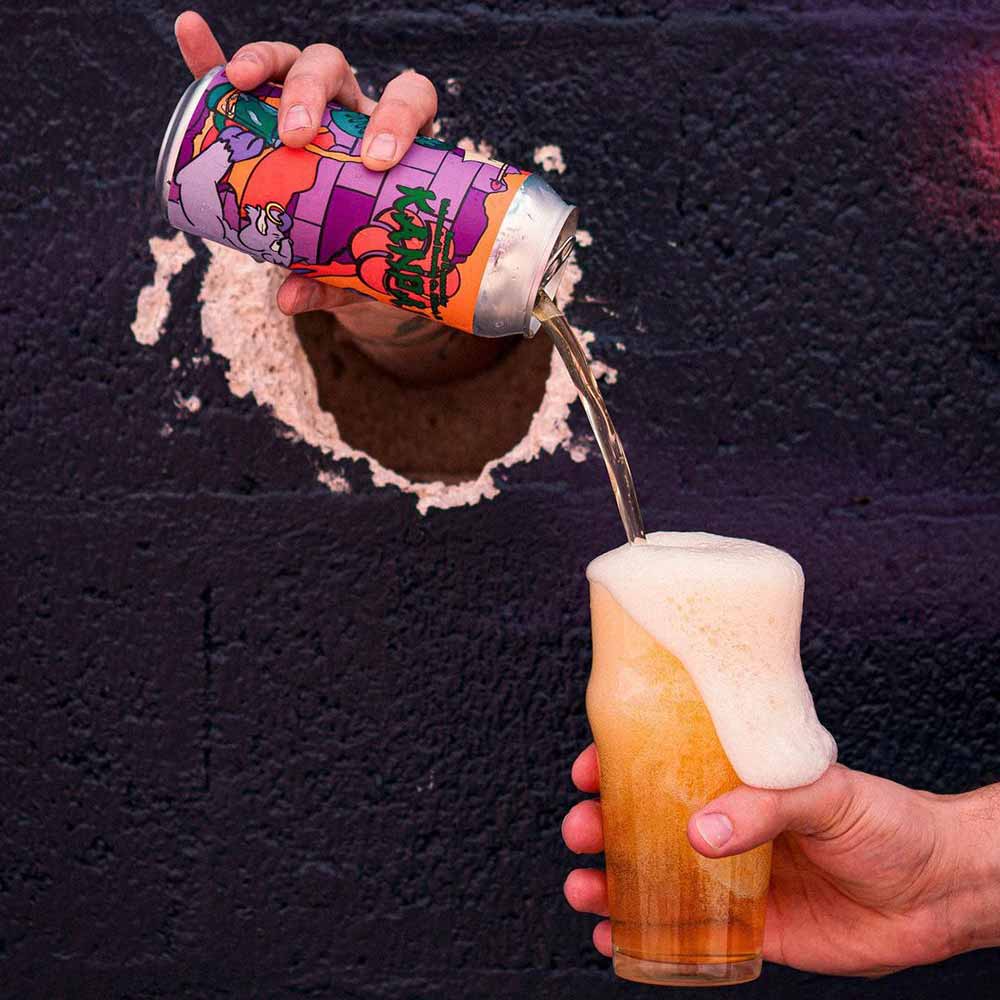 Early in 2021, we wrote about the story behind Shōjō Beer Co., a contract brewing project out of Miami, Florida. Founded by Marilyn "Mari" Orozco and Haidar Hachem, Shōjō Beer Co. takes inspiration from Orozco and Hachem's Nicaraguan and Lebanese cultures, respectively. Back in May 2021, Orozco and Hachem had yet to brew a beer.
Flash forward to the end of 2021 and we named them one of our 11 Best Breweries to Watch in 2022.
With a brewing pedigree from Lincoln's Beard (one of Hop Culture's Best Breweries of 2021) and Strange Beast Brewpub and Pizzeria, Hachem is no stranger to the brewhouse. And Orozco adds her marketing and storytelling talents.
Look for plenty of influences from Hachem and Orozco's respective cultures. Like Kitsune, a 5% ABV fruited sour with dragonfruit, yuzu, and watermelon that reminded Hachem of times he spent in Lebanon with his family eating watermelon. We named this beer one of our top fall beers of 2021.
While Shōjō is currently contract brewing, you can often find their beers released at Strange Beast. Stay up to date by following Shōjō on Instagram (@shojobeerco).
The Tank Brewing Co.
5100 NW 72nd Ave A-1, Miami, FL 33166 | (786) 801-1554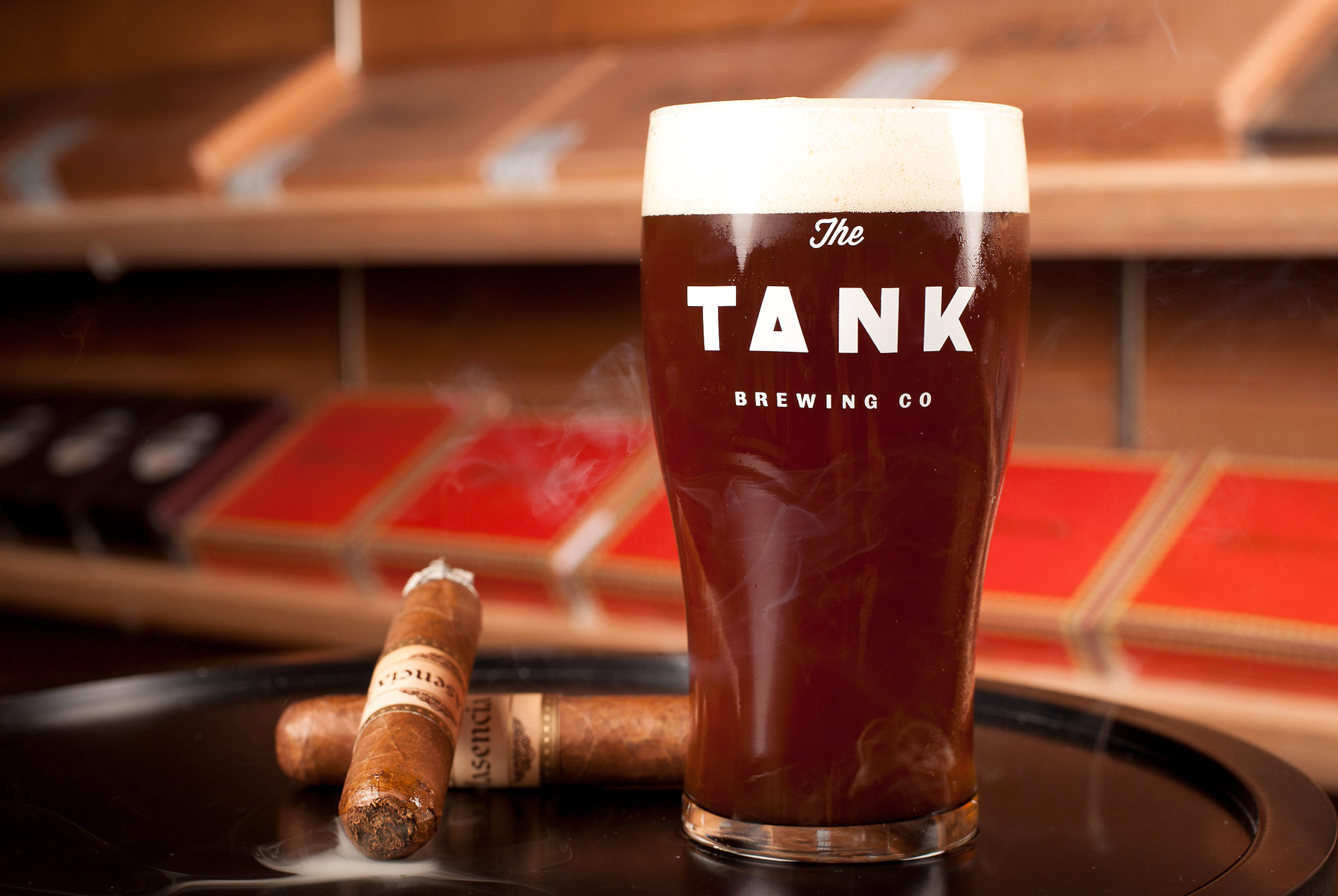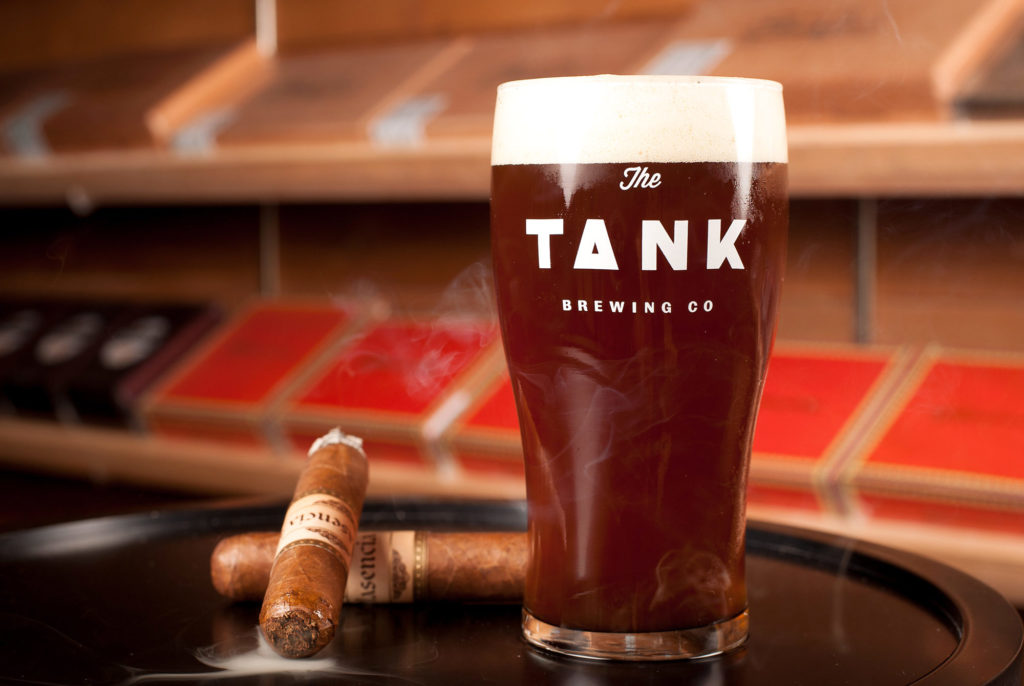 No other brewery can boast what The Tank can; it's the only brewery in the country with a cigar lounge on site. The Fort Lauderdale-based brewery even has staff members who will gladly help you pair the two.
But The Tank is not just a gimmick, either. They have a dialed-in core series that allows them to have fun with their more unique seasonal offerings, including a wet-hopped rye IPA that I'll start ordering even though it's still 80 degrees during Miami's September evenings.
Tripping Animals Brewing Co.
2685 NW 105th Ave, Miami, FL 33172 | (305) 646-1339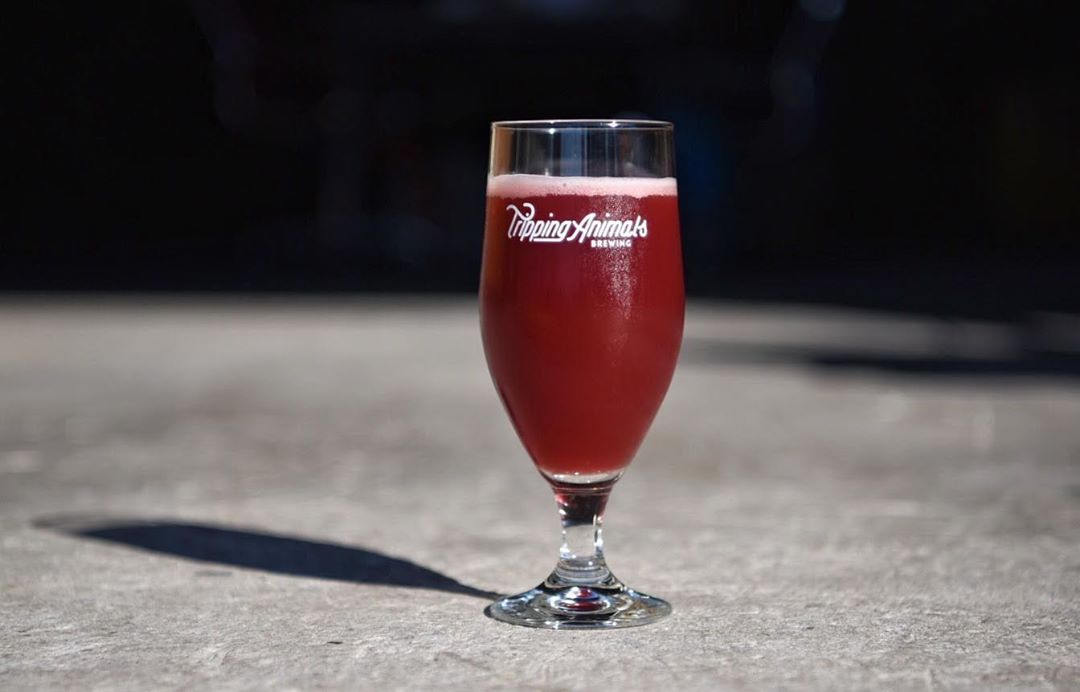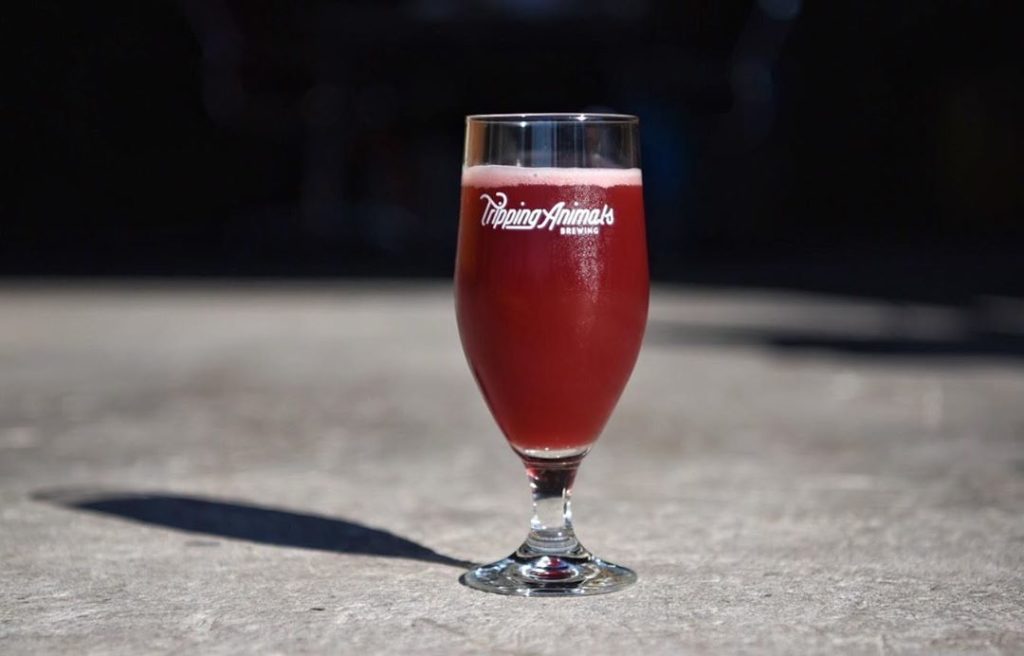 In Venezuela, when you're tripping, it means you're having a great time. And though the Tripping Animals art – featuring a different stoned animal on each can – might suggest otherwise, that's the spirit in which Daniel Chocron, Ignacio Montenegro, Iker Elorriaga, and Juan Manuel Torres founded their brewery in Doral, Florida, just outside Miami.
As former Hop Culture Managing Editor John A. Paradiso wrote in a past article on Tripping Animals, "On paper, Tripping Animals isn't so different from many of the other breweries pursuing in-vogue beer styles. Perhaps what best separates the Tripping Animals team is their sense of community. While most fans are quick to sing the praises of Tripping Animals' beer, they're just as likely to say how welcoming and kind Chocron, Torres, Montenegro, and Elorriaga are."
In fact, that year Tripping Animals made our list of the best breweries of 2020.
For good vibes, great art, and amazing beer, visit Doral – aka Miami's "Little Venezuela" – for an IPA or sour and to party it up with the fun-loving team at Tripping Animals.
Unbranded Brewing Co.
1395 E 11th Ave, Hialeah, FL 33010 | (786) 332-3097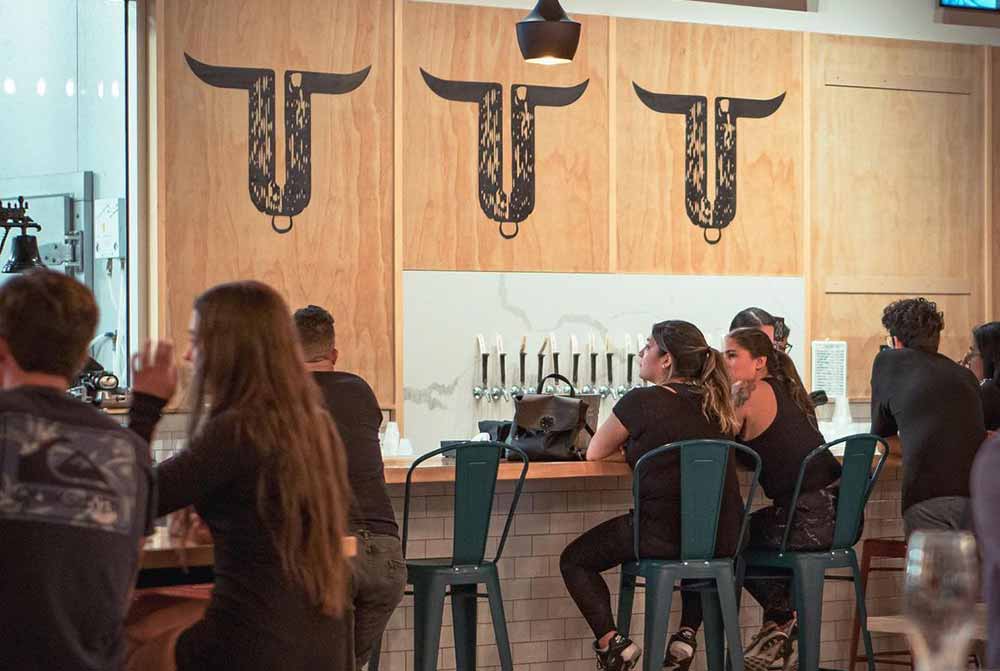 When Zachary Swanson founded Unbranded Brewing in Hialeah, Florida, it was the first brewery to ever open in the predominantly Cuban city. Even though many other brewers were putting down roots in the trendy Miami neighborhood of Wynwood, Swanson went against the grain by choosing a very close-knit Hispanic community about twenty miles north.
Swanson believes that every city deserves a local craft brewery. And he hopes he can introduce more South Floridians to craft beer. It's an ethos that's obvious at Unbranded and one he carried through in the brewery's first festival last year called Maverick Town.
"People from Hialeah have a deep attachment to the city," says Swanson. "That's why I thought it would be great for a craft brewery…because craft breweries do well in those neighborhoods where people have a strong civic pride."
At the brewery, you'll find local nods everywhere. Like in the 1925 Anniversary Lager collab with Old Deck Beer that celebrates the City of Hialeah's anniversary. Or in weekend events such as Brews & Tunes that feature musicians like Alvaro Alcocer Y Las Buenas Influencias, a Spanish South Florida rock band.
Unseen Creatures Brewing & Blending
4178 SW 74th Ct, Miami, FL 33155 | (786) 332-2903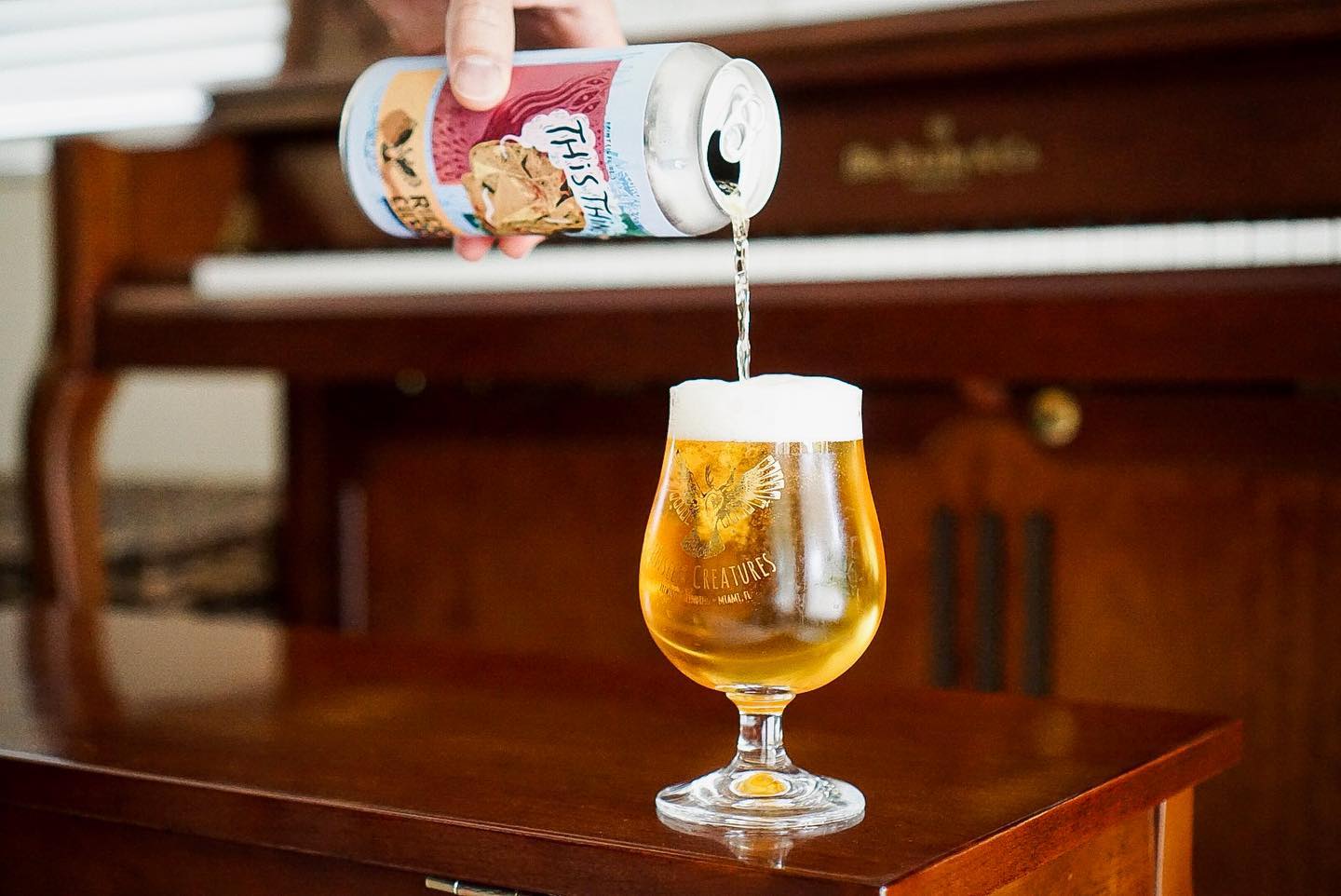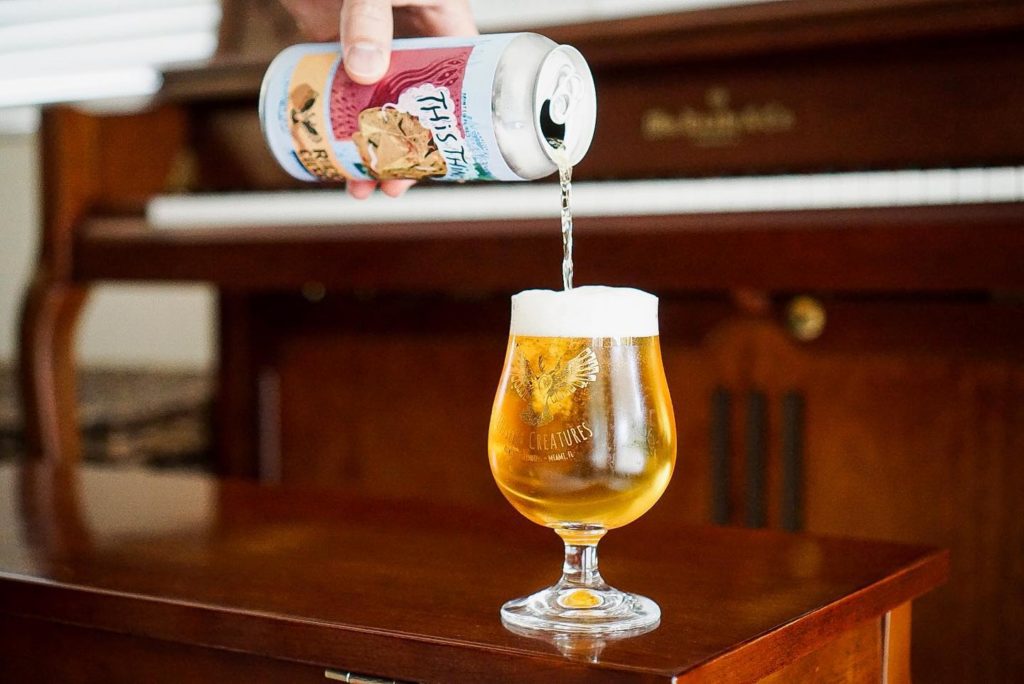 Once our pick for one of the best new breweries of 2019, Unseen Creatures has since grown into one of the most in-demand breweries in South Florida.
Their farmhouse-inspired beers grip South Florida with their focus on using local ingredients to express Miami terroir. Named for the mercurial yeast that is the lifeblood of any brew, Unseen Creatures specializes in oak barrel-aged, mixed-fermentation wild and sour beers, brewing with a special house culture to maintain that unique, neighborhood point of view.
Telling the vibrant and eclectic story of Miami has been vital to husband and wife team Marco and Vicky Leyte-Vidal's approach to Unseen Creatures' every breath.
One can see it in Unseen Creatures' location in the heart of Miami's Bird Road Art District, in the 5,300-sq-ft taproom, and certainly in the beer, where core offerings such as Artifact, a house Petite Saison with Brettanomyces and dry-hopped with Cascade, blur the line between the beauty of what is seen and unseen.
Walking Tree Brewery
3209 Dodger Rd, Vero Beach, FL 32960 | (772) 217-3502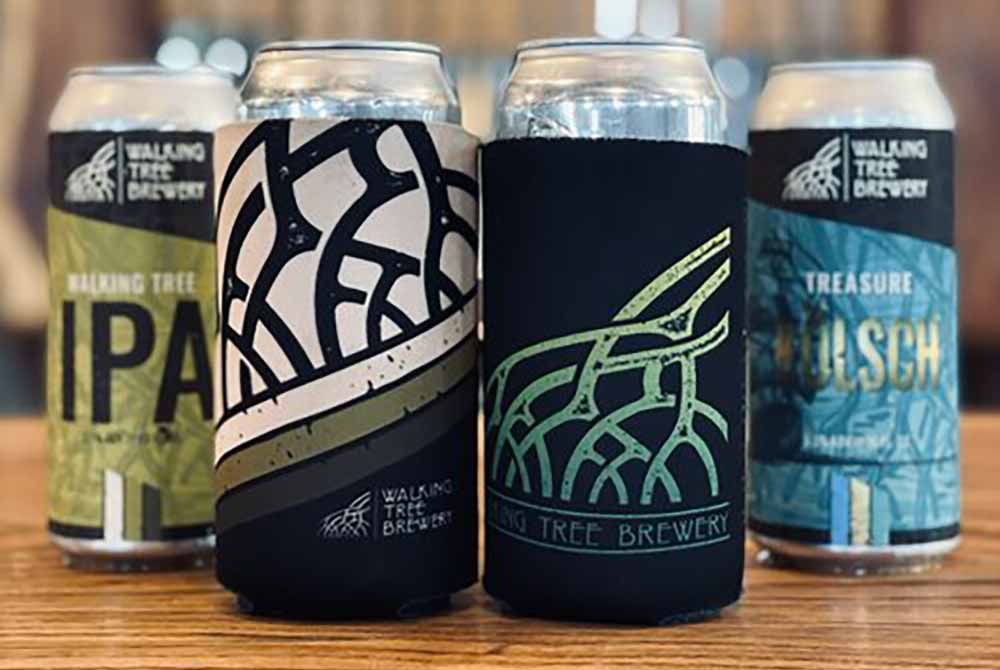 Built into an old 1945 airplane supply warehouse, Walking Tree Brewery aims to be a community space for those "that work hard and play hard to get away and have the best damn beer we can craft," as written on the Walking Tree website. And they've certainly been making some damn fine beers, picking up medals in Best Florida Beers and the Great American Beer Festival.
Here you won't find some of the crazy pastry stouts or sours from their neighboring breweries across the state. Instead you'll get straight-up, true-to-tradition styles. Such as Straw Hat Blonde Ale, Babycakes Oatmeal Stout, Duke Snider's Imperial Stout, and Prop Root English Pale Ale.
To us it's refreshing to see a brewery plant its roots in the ground to stick to making clean, classic beers. And to do it with such aplomb.
Woven Water Brewing Co.
456 W Columbus Dr, Tampa, FL 33602 | (813) 443-9463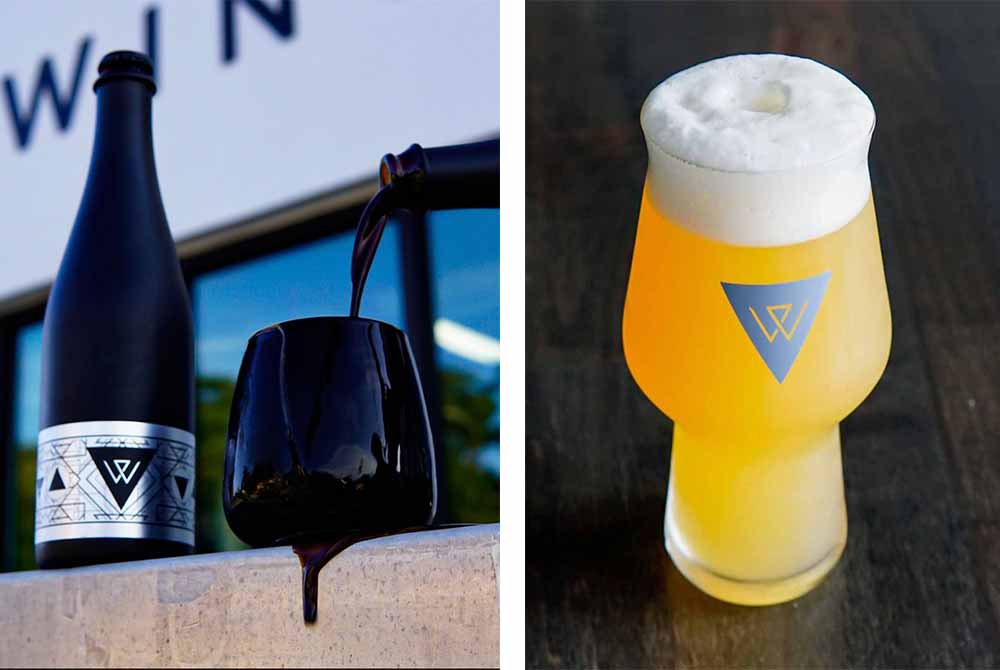 Born in the pandemic, Woven Water Brewing Company opened in Tampa Heights on Oct. 17th, 2020.
Started by Ciara Jones and her husband Jay Jones and Niki and Eric Childs, Woven Water focuses on creating a third space – i.e., a place outside of home and work where the community can come together.
From a brewing perspective, Woven Water specializes in what they call "blurry" IPAs. There's Photonic, a blurry IPA dry hopped with Strata, Mosaic, and HBC 586. And Lost Current, a Vitamin Sea collab and blurry IPA dry hopped with Vic Secret, Nelson Sauvin, Kohatu, and Rakau hops.
You'll also find a few crazy dessert-inspired fruited sours such as Banana Split Fusion, a sour conditioned on bananas and strawberries with vanilla, chocolate, and strawberry soft serve (but no lactose!). And Blue Hawaiian Fusion, a sour conditioned on pineapple, cream of coconut, and lime (this one does have lactose).
We've been so impressed with their lineup that we named Woven Water one of our Best New Breweries of 2021.
Go for the vibes. Stay for the sours and blurry IPAs. And above all, have an amazing time in one of the hottest beer states in the country.