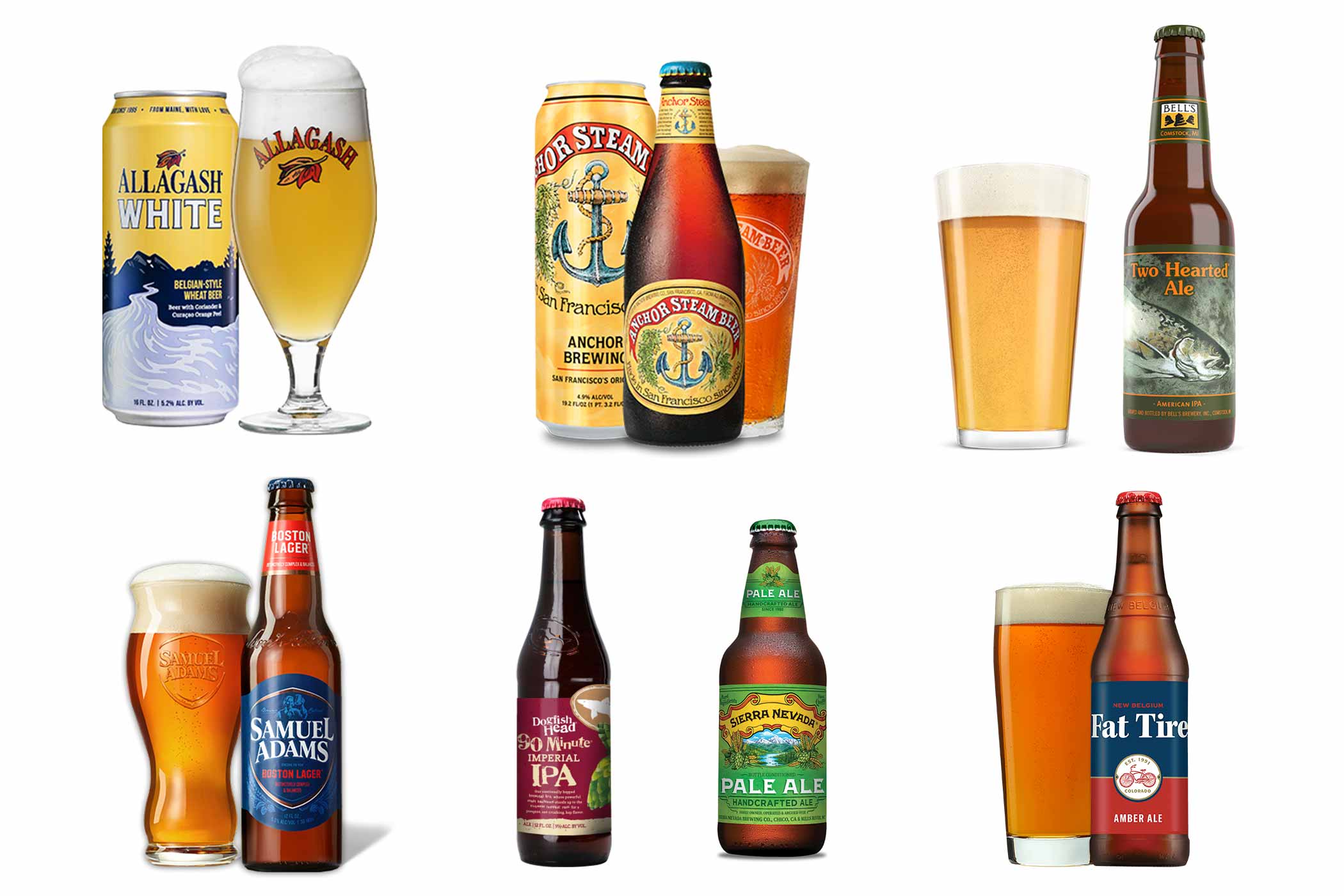 Celebrated every year on April 7th, National Beer Day recognizes the day President Franklin Delano Roosevelt (FDR) legally allowed beer to once again be manufactured and sold in the United States after Prohibition.
Consequently, this special day in April is one we should all honor the best way we know how. By drinking beer. But not just any beer. It makes sense to celebrate such an important unofficial holiday with equally iconic American craft beers.
Afterall, much like we can thank President FDR for helping repeal Prohibition, we have hallmark American craft brewers such as Ken Grossman, Rob Tod, Fritz Maytag, and so many more to thank for kickstarting the American craft beer movement.
So this National Beer Day let's pour one out and toast to all the icons of American craft beer with one of these fourteen classics.
First, A Short History Behind National Beer Day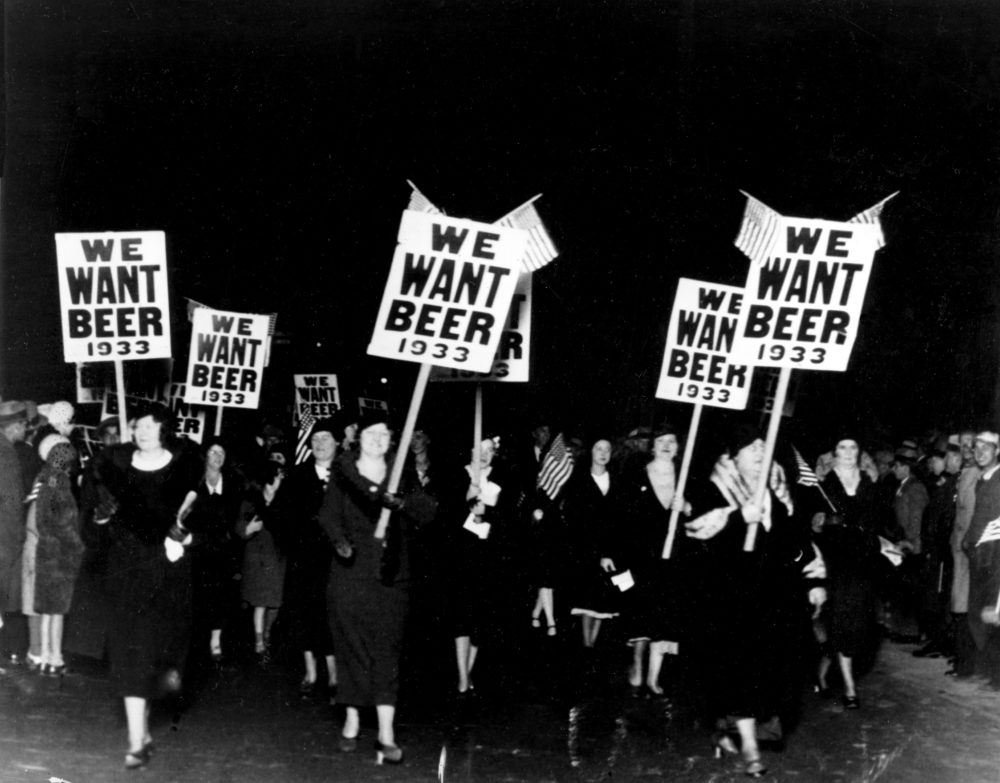 It all started when Congress passed the Eighteenth Amendment along with the Volstead Act in 1919. Also known as the National Prohibition Act, the law prohibited the sale, transport, and production of alcoholic beverages.
Prohibition forced Americans to illegally homebrew, sell, and drink beer under the radar for fourteen years. It's hard for us to even imagine a time like this!
Luckily, President FDR finally freed parched beer lovers from their prison by passing the Cullen-Harrison Act passed on March 22nd, 1933.
The act made selling and consuming low-alcohol beverages (such as beer and wine) of 3.2% ABV and under in public legal in the United States.
Nineteen states officially ratified the act on April 7th, 1933. Hence why we celebrate National Beer Day in early April every year.
If you're wondering just how thirsty folks were after fourteen years of Prohibition, take a look at this statistic…
On that same glorious day, the Budweiser Clydesdales made history with their public debut, pulling a beer wagon through the city of St. Louis, MO, and helping the Gateway to the West bring in an estimated $5 million in beer sales.
And while drinking was finally legal again, it would be another forty-five years before homebrewing would be allowed.
In 1978, President Jimmy Carter removed the final Prohibition law when he signed a bill permitting homebrewing, paving the way for what would eventually become the thriving American craft beer industry.
Without President Carter acknowledging the craft of homebrewing, Americans would not have the ability to appreciate and indulge in the many flavors of craft beer. So make sure you give ol' Jimmy (and FDR) a toast this April 7th.
For our part to celebrate the country surviving fourteen years of Prohibition, we're naming our top fourteen iconic American craft beers we're drinking on National Beer Day.
The 14 Iconic American Craft Beers We're Drinking on National Beer Day
Allagash White – Allagash Brewing Company
Portland, ME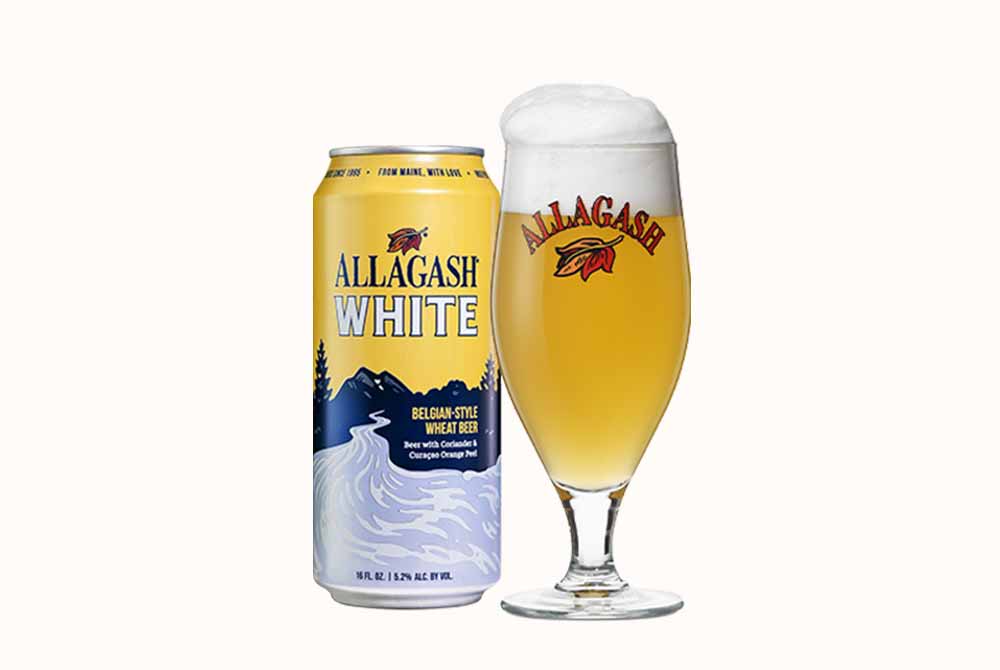 Witbier – Allagash Founder Rob Tod was working as a keg washer at Otter Creek Brewing when a Belgian-style witbier called Celis White eventually inspired him to start his own brewery. In 1994, Tod created Allagash Brewing Company out of a warehouse in Portland, ME.
After many trials, Tod released his own Belgian-style witbier, Allagash White.
Ironically, for the first ten years hardly anyone appreciated Allagash White. ​​Today, it seems silly to include "stubborn" in the same sentence as Allagash's current best-selling White. However, during the 1990s, Allagash's first beer was completely unknown. Think about 1994: American pale ales and English-style beers reigned supreme. Craft beer as we know it today was just a distant twinkle.
But Tod stuck to his guns. ​​He solely brewed Allagash White, shopping it around to anyone who would listen.
During the early 2000s, Allagash finally grew, but not in the way you'd expect. Because White wouldn't sell at home, Tod and Allagash Brewmaster Jason Perkins took their beer into as many states as they could. Finally, after ten years of hitting the road, people's perceptions and palates changed. Somewhere between 2006 and 2007, consumers came to understand and appreciate the nuances, spices, and appearances of Belgian-style beers. Slowly, Allagash White became Tod's namesake, evoking the family, passion, caring, and innovation that Allagash now counts as its core values.
Now, the spices and traditional Belgian witbier ingredients that are used in Allagash White have made it iconic. For instance, Curacao orange peel, coriander, and one undisclosed spice.
And as a flagship of the brewery, Allagash White has won multiple awards and become a "go-to gateway" to craft beer.
Pale Ale – Sierra Nevada Brewing Co.
Chico, CA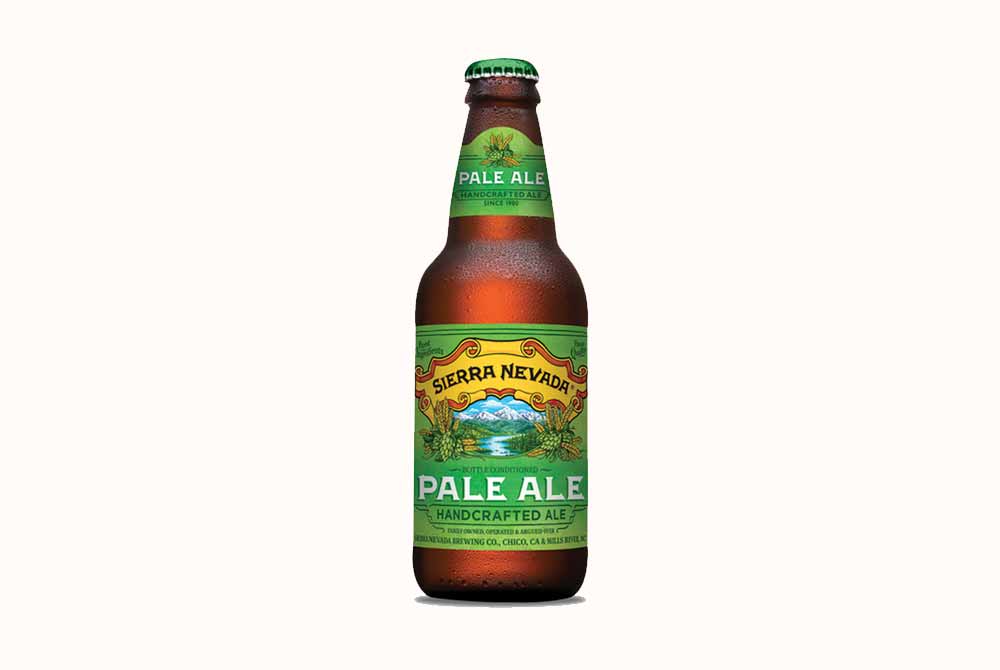 Pale Ale – Sierra Nevada Brewing Co. Founder Ken Grossman began dabbling in homebrewing as a teenager in 1969. But it was during a climbing trip to the Sierra Nevada Mountains in 1978 when the idea to build a brewery first came to mind. Grossman set out creating Sierra Nevada Brewing Co., handbuilding the brewhouse from scratch using primarily dairy equipment. Eventually, he turned his attention to brewing the perfect pale ale.
On November 21st, 1980, Grossman attempted brewing his first pale ale. Ten batches later he had perfected Sierra Nevada Pale Ale. Grossman used Cascade hops, which weren't nearly as popular at the time as they are today. The signature hop gave Pale Ale distinctive aromas and flavors of pine and citrus and helped turn the beer into a sort of stepping stone to the American and West Coast IPAs to come.
For that reason, Sierra Nevada Pale Ale should be considered a beer crucial to igniting the craft beer revolution within the States.
Pliny the Elder – Russian River Brewing Company
Windsor, CA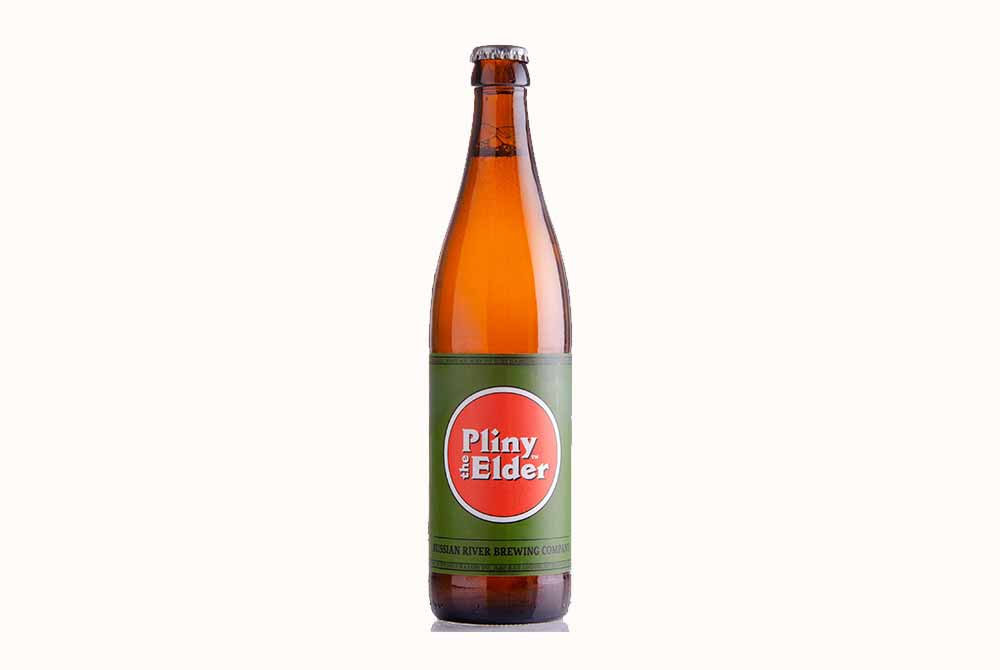 Imperial/Double IPA – During 1997, Korbel Champagne Cellars established Russian River Brewing Company. Six years later, Korbel left the beer business, handing over the brand and recipes to the head brewer—and previously the initial sole employee—Vinnie Cilurzo. Cilurzo and his wife Natalie Cilurzo have built Russian River into one of the most revered breweries in the country today. The duo helped pioneer the entire double IPA style for gosh sakes! And while Pliny the Younger may be considered one of the rarest beers in the world, it's Pliny the Elder that truly started it all.
According to legend, Vinnie brewed the world's first commercially available double IPA back in the mid-nineties when he worked at Blind Pig Brewing, and brought the recipe with him to Russian River in Santa Rosa.
Pliny the Elder gets its name from Pliny, a man who lived during the first century, 23 to 79 A.D. According to brewing history, Pliny and several others are said to have invented the botanical name Lupus Salictarius, aka hops.
And speaking of hops…
Brewed with Amarillo, Centennial, CTZ, and Simcoe hops, Pliny the Elder is a classic double IPA, well balanced with pine, resin, and citrus hop aromas with a lingering, dry finish. This trendsetting imperial IPA is slightly bitter with an aroma of floral hops, citrus, and pine; this staple beer is best enjoyed fresh and is brewed in limited quantities.
Setting the standard for double IPAs, Pliny the Elder has won countless awards and continues to be the brewery's most popular beer, making it the perfect 510mL bottle to enjoy on National Beer Day.
That is, if you can get your hands on one.
Abraxas – Perennial Artisan Ales
St. Louis, MO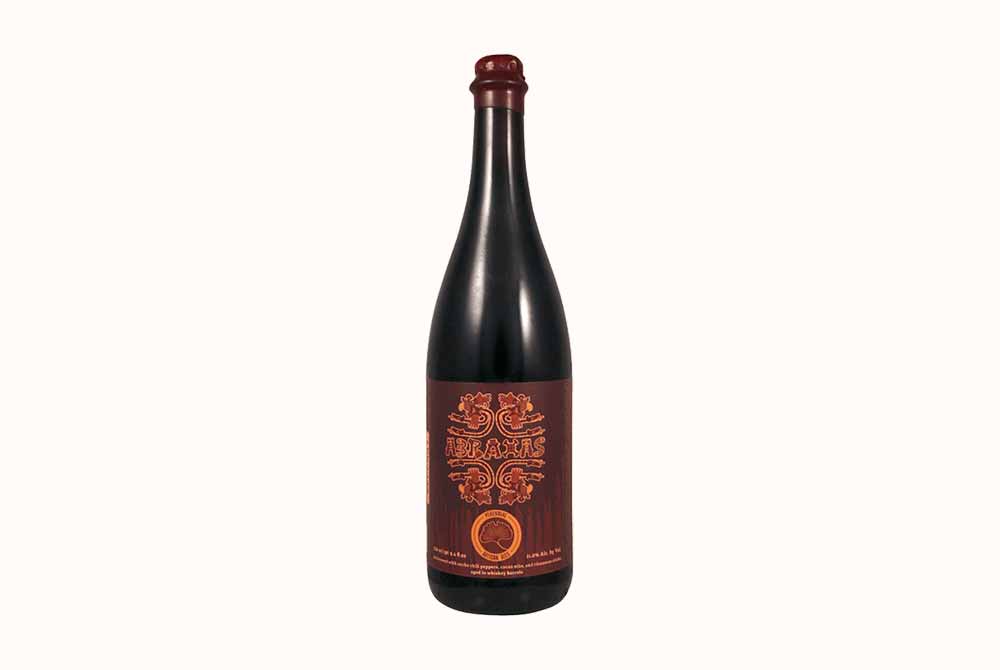 Imperial Stout – Established in September 2011 in St. Louis, MO, Perennial Artisan Ales prioritizes using local, seasonal, and organic ingredients in small batches. Influenced by Belgian and American craft beer styles, Perennial's beers often include various fruits, spices, and wild yeasts that permit these unique beers to go beyond the traditional. For example, the brewery's most-recognizable Abraxas imperial stout.
A Mexican imperial stout brewed with ancho chili peppers, cacao nibs, vanilla beans, and cinnamon sticks, Abraxas changed the entire imperial stout game
One of our "21 Best Stouts" and also one of the rarest beers in the world, Perennial's Abraxas is a stout packed with a punch at 11.5% ABV.
Even to this day, when Perennial releases the beer once a year, folks go crazy for Abraxas' deep, dark depths, complex body, and delectable roastiness.
Hunahpu – Cigar City Brewing
Tampa, FL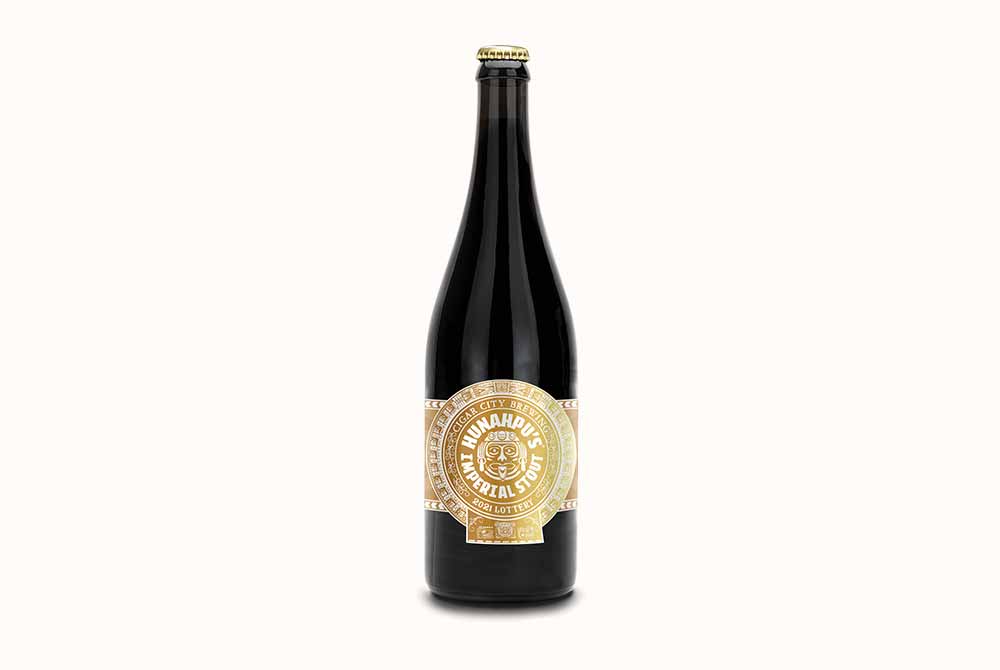 Imperial Stout – Another revolutionary imperial stout worthy of slugging (or perhaps carefully sipping) on National Beer Day is Tampa-based Cigar City Brewing's Hunahpu.
Similar to Perennial's Abraxas, Hunahpu is brewed with cinnamon, vanilla, cacao nibs, and chili peppers.
Inspired by Mayan mythology, Hunahpu and his twin brother, Xbalanque, known as the Hero Twins, originated when evil deities from Xibalba murdered their father. Their father's corpse turned into a cacao tree that created the two heroes. After defeating their enemies, the heroes were sent to the heavens where they became the sun and the moon.
A 2017 gold medal winner in the category of experimental beer in the U.S. Open Beer Championships, Hunahpu's Imperial Stout will be available exclusively in 16oz cans in 2022.
As has been done for the last twelve years, Cigar City released the 2022 version of Hunahpu in March. This year, Cigar City will also celebrate Hunahpu's Day on April 12th, 2022, by offering a never-before-released version of Hunahpu called Camazotz's Imperial Stout brewed with blackberries.
Heady Topper – The Alchemist
Stowe, VT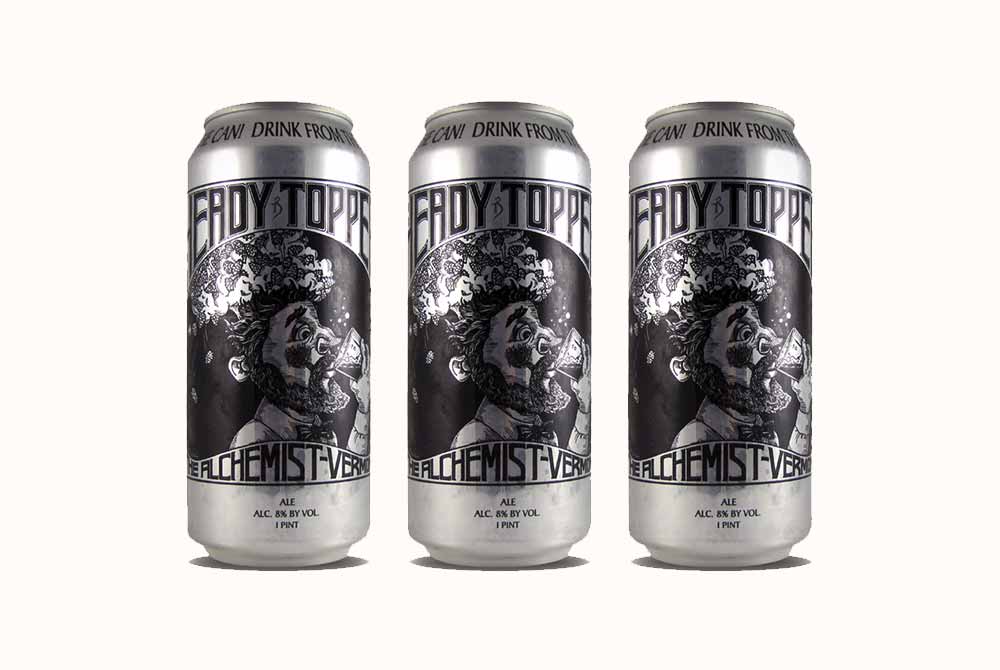 Imperial/Double IPA – John and Jen Kimmich opened The Alchemist Pub and Brewery in Waterbury, VT, with only about four or five rotating beers, including Heady Topper. John brewed the now-infamous double IPA just two months after opening. But the beer didn't take off right away. At the time, The Alchemist thrived locally, with very little national presence. But everything changed when Tropical Storm Irene caused a flood that put the pub out of business in August 2011.
That's when John turned all of his attention to Heady Topper, canning the now-iconic double IPA right after the flood in The Alchemist's production space. It was one of his smartest moves.
Arguably, this beer catapulted The Alchemist into craft brewing lore. Most likely, if you mention The Alchemist it's followed quickly by the words "Heady Topper." Today, it's one of the most famous breweries in the world. And Heady Topper is one of the most famous beers.
And for good reason.
An all-American beer, Heady Topper is a hoppy, American double IPA clocking in at 8% ABV. If you read the can, it instructs the drinker to consume the dank goodness straight from aluminum in order to preserve the flavor.
Which meant that for the first eight years you could only find Heady Topper on draft at The Alchemists' 7-bbl brewpub in Vermont. And even after that, The Alchemist only let a set number of cases make its way to a small number of bars and bottle shops in the area. The limited distribution ensured freshness, but also helped increase the beer's rarity and created its "unicorn" status.
In 2011, The Alchemist built a cannery, a 15-bbl brewery with an ACS automated Cask canning line to produce and package the flagship IPA. And eventually John decided to distribute Heady Topper outside of Vermont.
Today, Heady Topper is much more readily available, but it is still one of those life-changing beers that every craft beer lover should drink at least once in their lives. So why not on National Beer Day?
Two Hearted Ale – Bell's Brewery
Comstock, MI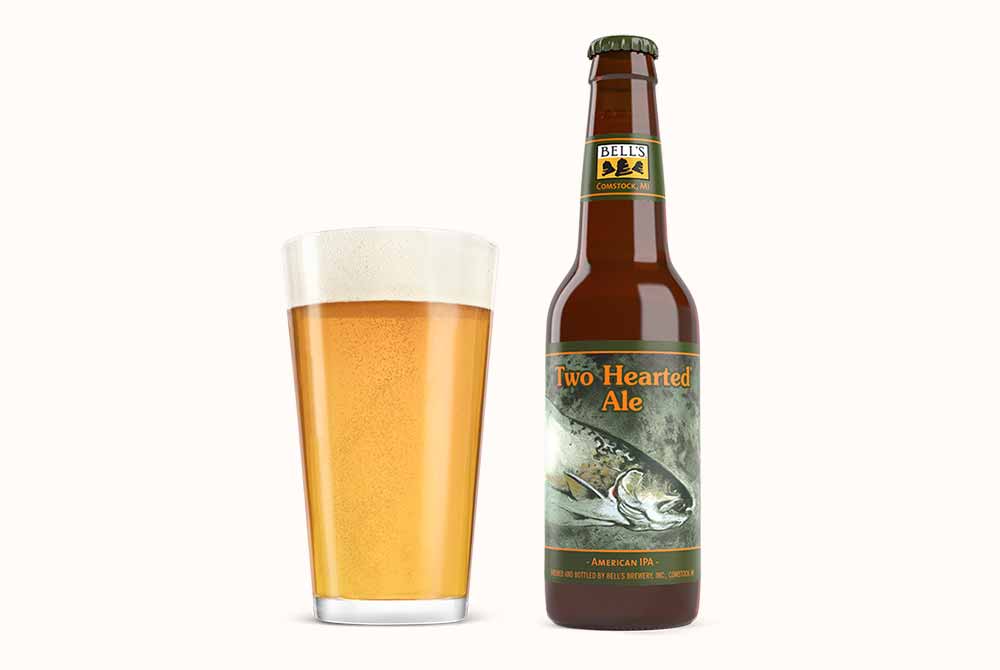 American IPA – One of the most revered beers at one of the most revered breweries in the country, Bell's Two Hearted Ale has been crowned the "Best Beer in America" in a survey conducted by Zymurgy Magazine for four years in a row. Now running in its nineteenth year, the survey asks members to choose up to five of their favorite commercial beers that are available in the U.S. For many years, it was Russian River Brewing Company's Pliny the Elder that took top marks. But in 2017, Two Hearted bumped off Pliny the Elder for the title of Best Beer in America. And since then, Bell's hasn't looked back.
It's an incredible achievement for Bell's Founder Larry Bell, who started the Michigan-based brewery in the early 1980s with only a 15-gallon soup pot.
The story of Bell's Two Hearted begins with a single hop and a single brewer. In 1992, Bell's brewer Rob Skalla began experimenting with a single-hop recipe. Three years later, he suggested to Larry Bell that the brewery try its hand at making an all-Centennial IPA.
At the time, Centennial hops had started to pick up some steam. Officially recognized as a hop in 1989 and named Centennial after the 100th birthday of Washington State, these Pacific Northwest hops became known for their aromatic pine, citrus, and floral notes.
Bell's officially brewed the first batch of Two Hearted in 1997, but only as a winter seasonal. It'd take six more years before Two Hearted became a year-round offering.
By 2004, John Mallett had taken over as Bell's Brewmaster (he officially came to Bell's in 2001). And during his two-decade tenure, Mallett and his brewing team perfected Two Hearted.
Named after the Two Hearted River in Michigan's Upper Peninsula, Bell's Two Hearted has wound its way into the hearts of consumers across the country.
Packed with hop aromas from grapefruit to pine and brewed with 100 percent Centennial hops originating from the Pacific Northwest, Two Hearted is pure beer gold.
Today, the current version of Two Hearted ranks as Bell's best-seller and it's clear to see and taste why this all-Centennial America IPA should be on any beer lover's list of beers to try before they die.
Anchor Steam Beer – Anchor Brewing Company
San Francisco, CA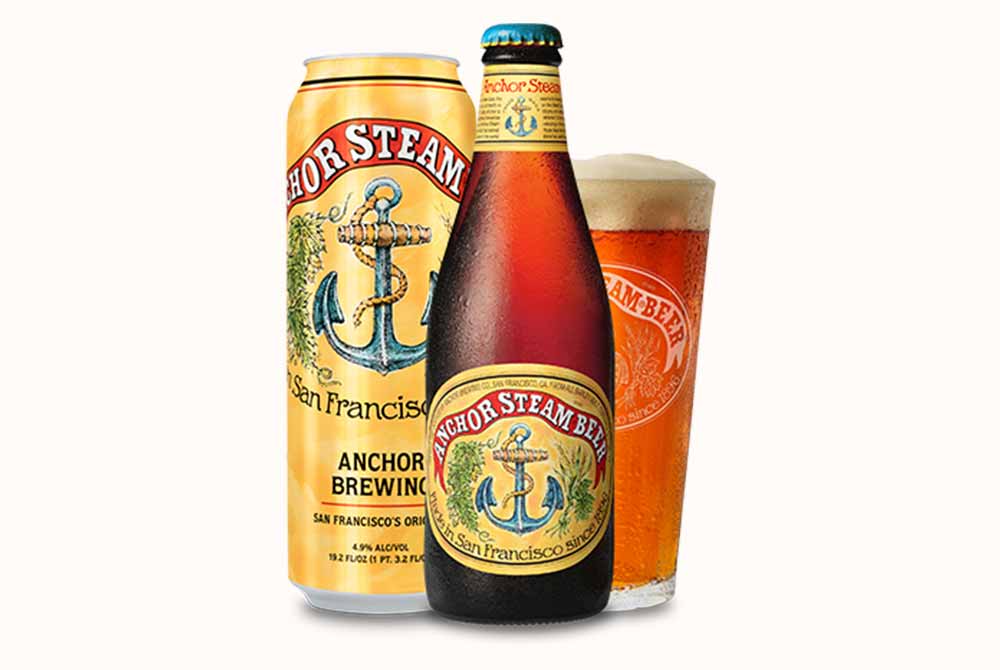 California Common – Many might not know the official history of Anchor Brewing. Sure, you probably know that Fritz Maytag bought a fifty-one percent stake in the brewery as it headed for bankruptcy in 1965, saving it from certain doom. Okay, maybe you didn't know that. Maytag would go on to revolutionize Anchor, brewing some of the San Francisco-based brewery's most iconic beers. For example, Anchor Porter®, Liberty Ale®, Old Foghorn® Barleywine, and Christmas Ale. But he wasn't the one who first brewed Anchor Steam® Beer.
That honor goes to a few Germans. Such as Bavarian brewer Gottlieb Brekle, who arrived in San Francisco during the gold run in 1849. The intrepid immigrant bought a saloon on Pacific Street that he transformed into a brewery. And in 1896, German brewer Ernst F. Baruth and his son-in-law Otto Schinkel, Jr. bought the brewery and officially renamed it Anchor. Over the years, Anchor would survive the death of its co-owner, a devastating fire, an earthquake, and Prohibition. Somehow always finding a way to survive. And good thing because Anchor Steam® is a special beer with a special past.
First brewed in 1896, Anchor Steam® Beer is rich with history. The name itself derives from the special way brewers brewed beer on the West Coast during the nineteenth century. At the time, brewers fermented beer on the rooftops. See, it's said that the chilly climate and foggy night air of San Francisco naturally cooled the fresh batch of beer, causing steam to roll off the top. Hence, steam beer.
This historic brewing process makes Anchor Steam® Beer unlike any other. In addition to fermenting in those iconic shallow open-air fermenters, Anchor Steam also gets a dose of pale ale and caramel malts. Plus, the beer ferments with a lager yeast at warmer ale temperatures for a truly unique profile.
Although Anchor only bottled Anchor Steam® Beer for the first time in 1971, today, it's an all-American craft beer!
Kentucky Breakfast Stout (KBS) – Founders Brewing Co.
Grand Rapids, MI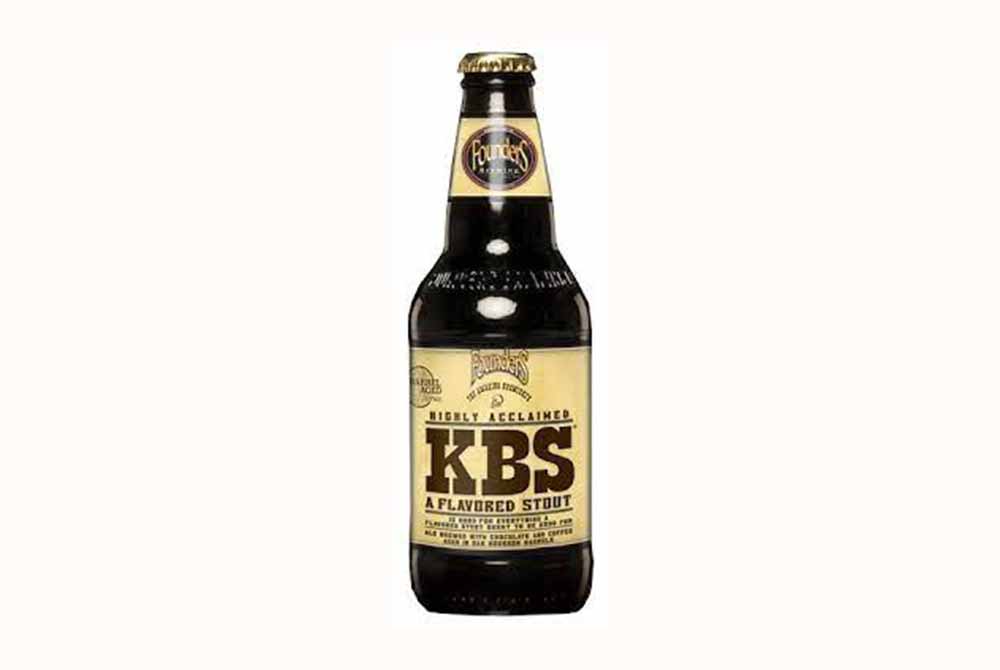 Imperial Coffee Stout – Twenty-one years ago Tom Griffin, known in the craft beer industry as "The Barrel Guy," offered Founders Brewing Co. a couple of bourbon barrels. At the time Founders Head Brewer Nate Walser decided to throw some of the brewery's popular Breakfast Stout inside for a nice little slumber. The beer turned out okay, but the team thought they could do better. Why not turn everything up a notch? More malt, more coffee, more chocolate! What came out became one of the brewery's most coveted beers.
It took a few years, but by 2006 Kentucky Breakfast Stout (KBS) had become one of those white whales or unicorns, a rare, mythical creature.
People clamored for this imperial coffee stout because of its silky smooth body and big notes of vanilla, cocoa, roasted coffee, and charred oak.
By 2010, release day meant lines of over 1,000 fans wrapped around the brewery.
Today, KBS and all its variants remain a pillar in Founders' portfolio. But it's the original that sparked it all and is therefore worthy of drinking on National Beer Day.
Samuel Adams Boston Lager – Boston Beer Company
Boston, MA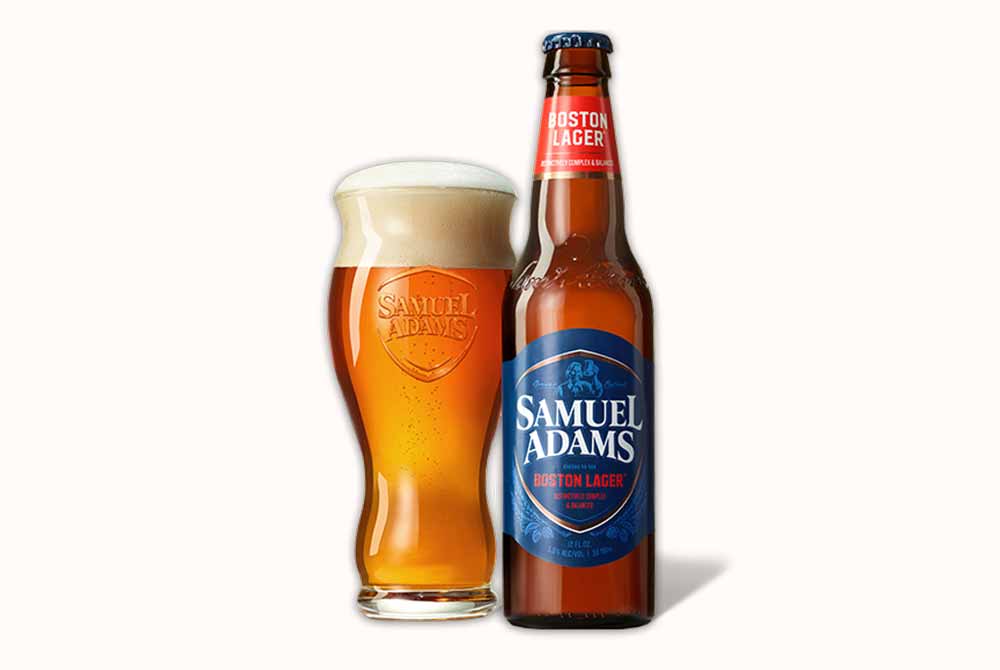 Vienna Lager – In 1984, Jim Koch, founder of The Boston Beer Company, discovered his great-great grandfather's recipe for Louis Koch Lager in his father's attic. He began brewing what is now known as Samuel Adams Boston Lager in his kitchen and eventually ventured out to start The Boston Beer Company. It's a classic beer that goes beyond the bottle, representing the journey of one man to revolutionize American craft beer. See, as Boston Beer writes on its website, "Jim had a belief: that beer drinkers deserved a better American beer than what was available at the time."
And Boston Lager delivered in spades. First released in 1985 on Patriots Day at about a dozen bars and restaurants around the city, this Vienna-style lager quickly impressed for its roasted malts, floral hops, and hint of caramel.
Today, Boston Beer remains a pioneer in the industry. And for more than just beer. Programs like Brewing the American Dream in partnership with Accion Opportunity Fund provide more than 3,200 loans totaling $65 million to food and beverage businesses in thirty-nine states. Additionally, the program has helped these businesses create more than 9,000 jobs and provided free business coaching to over 12,000 entrepreneurs.
So on a pioneering day like National Beer Day, sit back and relax with the beer that started it all—Boston Lager.
Fat Tire – New Belgium Brewing Company
Fort Collins, CO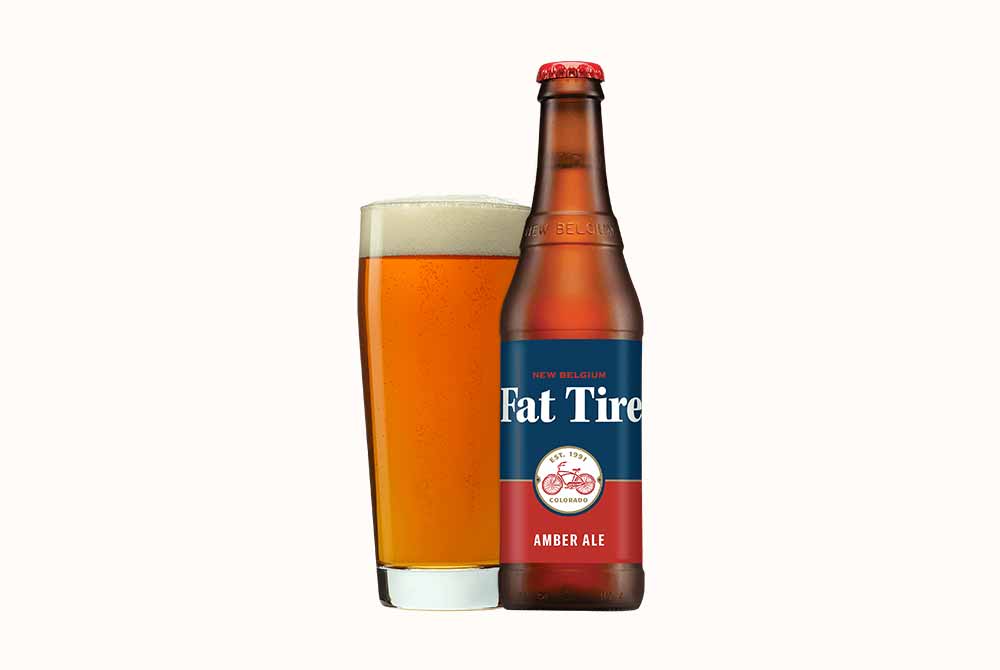 American Amber/Red Ale – A biking trip through Europe in 1988 inspired New Belgium's epochal Fat Tire. When New Belgium Co-Founder Jeff Lebesch returned home, he began to recreate the flavors he enjoyed across the pond in his Colorado basement. Fittingly, Fat Tire hits all those notes of beer in 1930s Belgium—herbal hops, subtle malt, and fruity yeast. While Fat Tire sold for the first time at the Colorado Brewers' Festival in 1991, over three decades later this beer continues to innovate.
In August 2020, Fat Tire became America's first certified carbon neutral beer. It's just one of the many ways New Belgium has pushed boundaries in our industry from strict standards of sustainability to becoming one of the most LGBTQ+ friendly breweries in the country.
Above all, Fat Tire is a timeless beer keeping up with the times and a fine pint to kick the tires with on National Beer Day.
Dark Lord – 3 Floyds Brewing
Munster, IN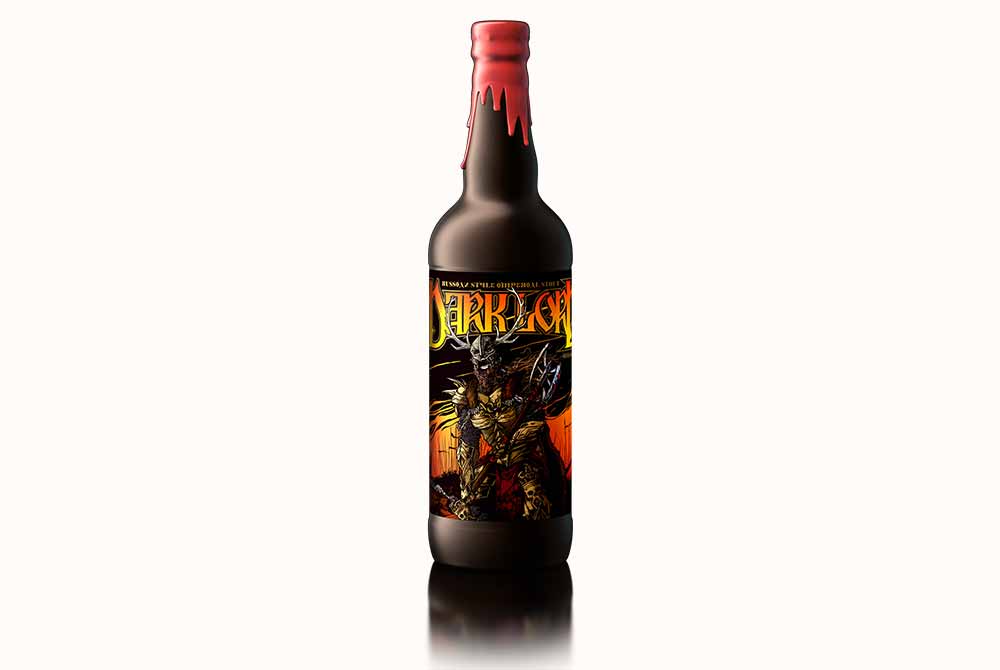 Russian Imperial Stout – The beer that inspired an entire festival, Dark Lord not only made waves in American craft beer as a revolutionary Russian imperial stout, but also as a beer that often broke the internet. Yes, we're talking about all those $500+beer trades you could often find on the interwebs for Dark Lord variants. But hey, that's as much a devilish part of craft beer culture as waiting in line for an Other Half release.
3 Floyds Brewing brewed Dark Lord as "a demonic Russian-style imperial stout with coffee, Mexican vanilla, and Indian sugar," as the brewery writes on its website.
This powerful 15% ABV stout is only available in bottles one day per year called Dark Lord Day. It's a day where folks from around the country come to stand in line, drink sometimes ridiculously rare beers they bring from their personal stash, and get excited for the year's Dark Lord release. The event itself has become almost as important as the beer.
Overall, this is a beer that has developed a devout cult-like following. And for good reason. It's damn delicious (pardon our French, but this is a beer inspired by hell after all).
Of course, the fact that Dark Lord is only released once a year only ups its exclusivity.
If you are one of the lucky few that has this beer stashed away from previous years, National Beer Day might be the time to break it out.
Or if you're saving your store for Dark Lord Day 2022, you might have to wait another year. As of publication, we haven't heard any rumbling about the status of this year's festival.
Consider National Beer Day a perfect time to bust out your reserves and indulge.
Union Jack IPA – Firestone Walker Brewing Company
Paso Robles, CA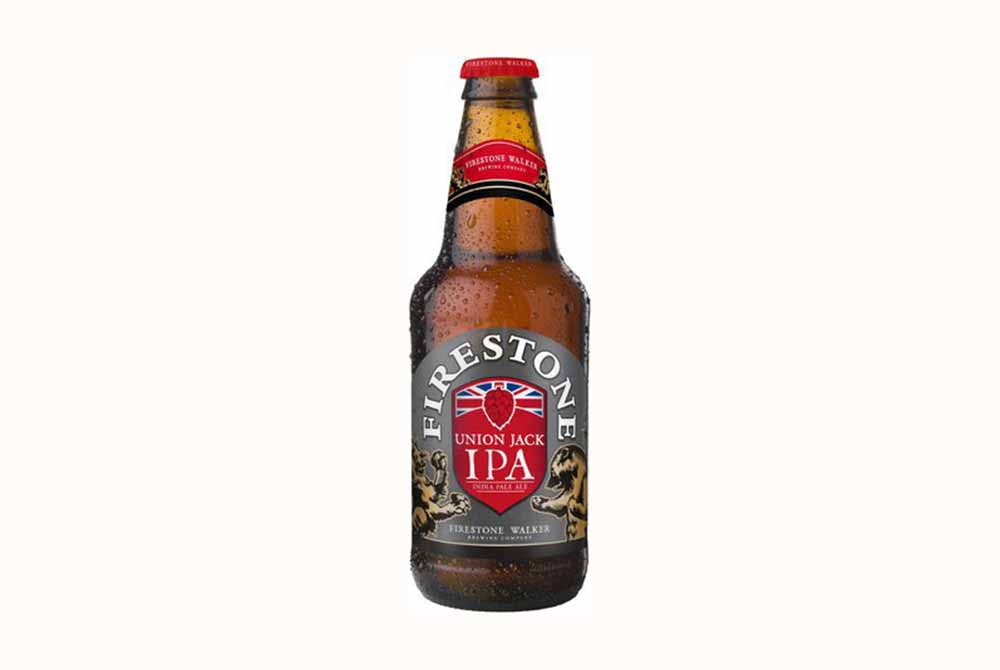 American IPA – What is a West Coast IPA? It's a bright, clear IPA, known for its Pacific Northwest hops popularized by West Coast breweries from the 1970s all the way to today. Many of the brewers we've already mentioned on this list helped establish the style from Ken Grossman and his Pale Ale at Sierra Nevada and Fritz Maytag and his Liberty Ale at Anchor (both featuring Cascade hops) to Vinnie Cilurzo and his Pliny the Elder. Add to that list Matt Brynildson at Firestone Walker. Union Jack, Firestone Walker's version of a West Coast-style IPA, helped set the tone for the entire modern movement.
Named after David Walker and Adam Firestone, the Brits who co-founded the brewery, Union Jack is a beer for any hop head. Packed with Cascade, Centennial, Simcoe, Citra, Amarillo, Chinook, and CTZ, Union Jack should please any IPA enthusiast with huge notes of pine, pineapple, grapefruit, and tangerine. All perfectly balanced by a hint of malt sweetness.
In 1996, Firestone Walker started as a brewery focused solely on barrel-fermented beer. Over the years, each time the brewery has decided to dip its toe into non-barrel-fermented beer, it's been at the vanguard of that style.
Union Jack is the perfect West Coast IPA to enjoy on National Beer Day.
90 Minute IPA – Dogfish Head Craft Brewery
Milton, DE
American IPA – Arguably one of the most important American craft beers ever made, 90 Minute IPA was inspired by—of all things—a bowl of soup and a thrift store football game. Picture this: Dogfish Head Craft Brewery Founder Sam Calagione watched a cooking show episode focusing on soup. The video instructed home cooks to continuously season the broth over time as it simmered. Are you getting the gist here? Calagione wanted to see if he could apply that same principle to beer.
90 Minute IPA features a revolutionary continual hopping process. Calagione rigged a thrift store electric football game over the brew kettle and poured hops on top. When the game shook, hops tumbled down into the boiling wort at a consistent rate. Calagione literally jerry-rigged this continual hopping technique from scratch (and his mad genius brain).
The proof is in the pudding with 90 Minute IPA. Ninety minutes of repetitive hopping make this beer beyond bitter with robust pine and citrus aromas and flavors. All striking against a deep malt backbone.
Many including Food & Wine and Esquire have called 90 Minute IPA among the best in America. This is truly a fantastic beer with the history to back it up. We highly recommend you enjoy a 90 Minute IPA on National Beer Day.