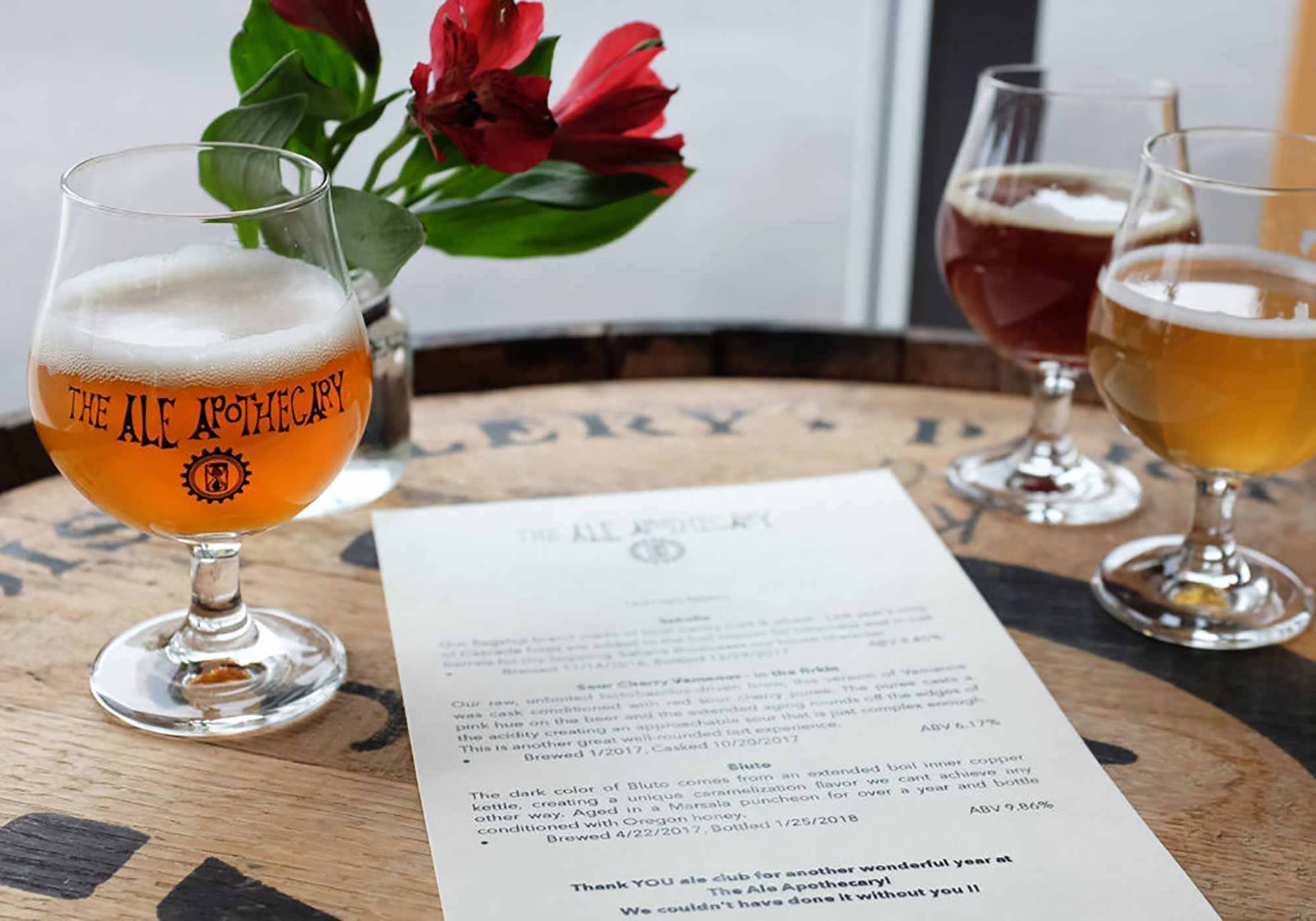 Photography courtesy of The Ale Apothecary
Originally named Farewell Bend, the gorgeous city of Bend, Oregon, found its name shortened when the Post Office Department in Washington, D.C. thought the moniker too long. But while the name may have been shortened, the town takes no shortcuts when it comes to two things: the outdoors and craft beer. Some of our favorite breweries can be found amongst the lush forests and towering mountains of Bend, OR.
Often described as "picturesque," the largest city in Deschutes County is known for a healthy, active outdoor community, thanks in large part to the spectacular Deschutes River and breathtaking Central Cascades. Originally a logging town, Bend now specializes in lagers, porter, IPAs, sours, and pretty much any style of beer that tickles your fancy. In fact, the area even launched its own Bend Ale Trail in 2010 to showcase all the local watering holes.
Many of the breweries within Bend, OR take advantage of the town's magnificent surroundings, offering plentiful outdoor seating and fire pits that allow consumers to sip while enjoying the views. From an emerald gem of a brewery in the forest to one of our favorite new breweries of 2020, these are the taprooms that have made Bend the next beervana.
Here are our picks for the seven best breweries to visit in Bend, OR.
Hop Culture's 7 Best Breweries to Visit in Bend, OR
The Ale Apothecary
30 SW Century Dr Suite 140, Bend, OR 97702 | (541) 797-6265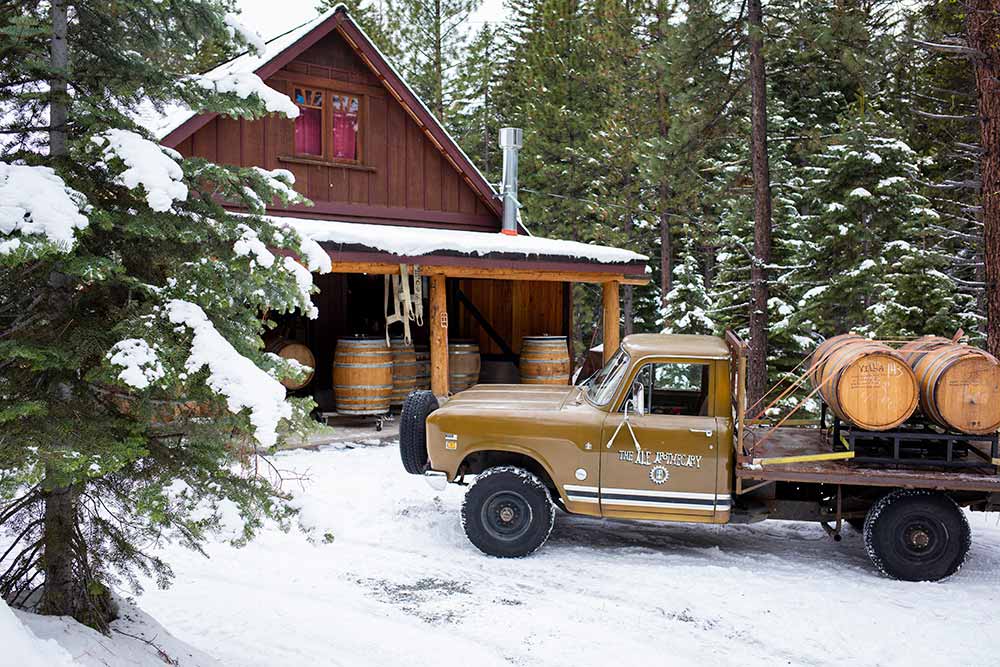 If there's one brewery in Bend, OR that truly encapsulates the town's ethos, it's The Ale Apothecary. What's so unique about The Ale Apothecary is how Co-Owners Staci and Paul Arney have magically rooted this brewery in the earth. From spontaneously fermented beers that use the forest's natural yeast, water that comes from the picturesque Tumalo Creek, and foraged ingredients like black currants and spruce tips, The Ale Apothecary captures a perfect slice of a very unique lifestyle.
In order to reach the actual brewery, one drives down a forest road full of thick conifers to a barn adjacent to the house of brewery founders Staci and Paul Arney (Seriously, Hop Culture Founder Kenny Gould made the drive himself).
Over the past few years, the love and care going into all of this brewery's beers have taken our breath away. I mean they take the time to age each and every one of their beers for anywhere between six to eighteen months for crying out loud! For those reasons we've included them on countless best lists including: 21 of the Best Saison Breweries to Try Right Now, 15 Best Breweries of 2018, and 15 Best Beers of 2018. This is the kind of brewery you make a pilgrimage to and remember for the rest of your life.
In our humble opinion, this isn't only one of the best breweries in Bend, but in the entire country. We can't stress this enough: if you're in Bend, you must visit The Ale Apothecary taproom.
Boss Rambler Beer Club
1009 NW Galveston Ave, Bend, OR 97701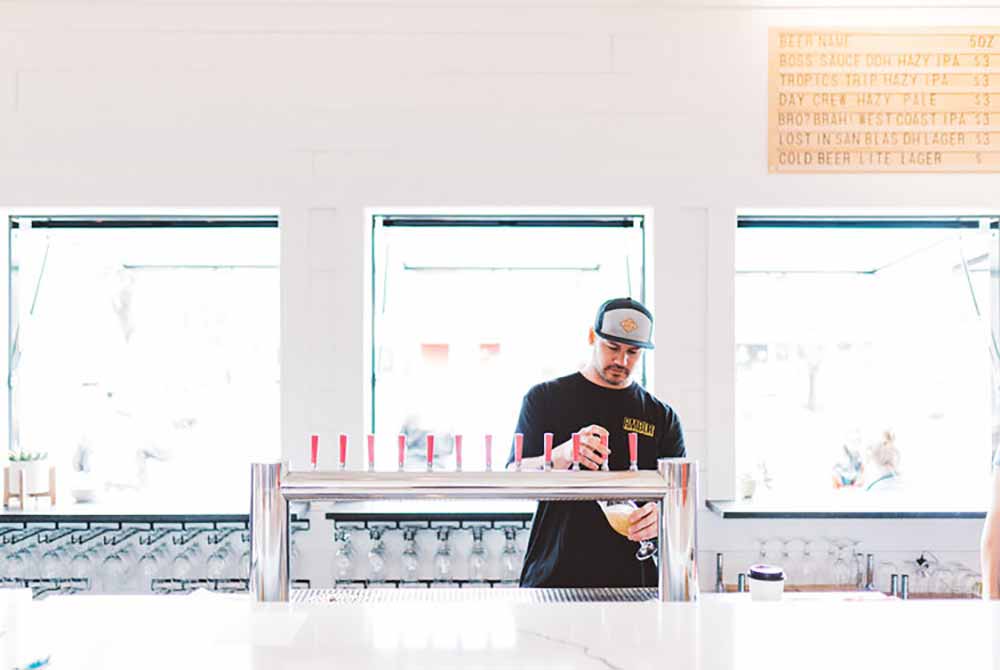 Last year, we named Boss Rambler Beer Club one of our 10 Best New Breweries of 2020. And we weren't the only ones. The brewery also nabbed the title of "Best New Brewery" at the Oregon Beer Awards.
Personally, we're fans of their expertly executed hazy and West Coast IPAs, sincere sours, and precise lagers. Take their latest can drop: Sol Sips DDH hazy IPA is juice to the extreme, with a double dose of Strata and Simcoe hops. Purée Vida super fruited Berliner weisse has loads of guava, mano, pineapple, and coconut, and Chata Chill hazy lager is an uber chill lager-meets-IPA that's equal parts crisp, light, and juicy.
Plus, their can designs and branding are on point. Boss Rambler Beer Club is like the cool new kid on the block that's made a name for itself and is here to stay.
Deschutes Brewery Bend Public House
1044 NW Bond St, Bend, OR 97703 | (541) 382-9242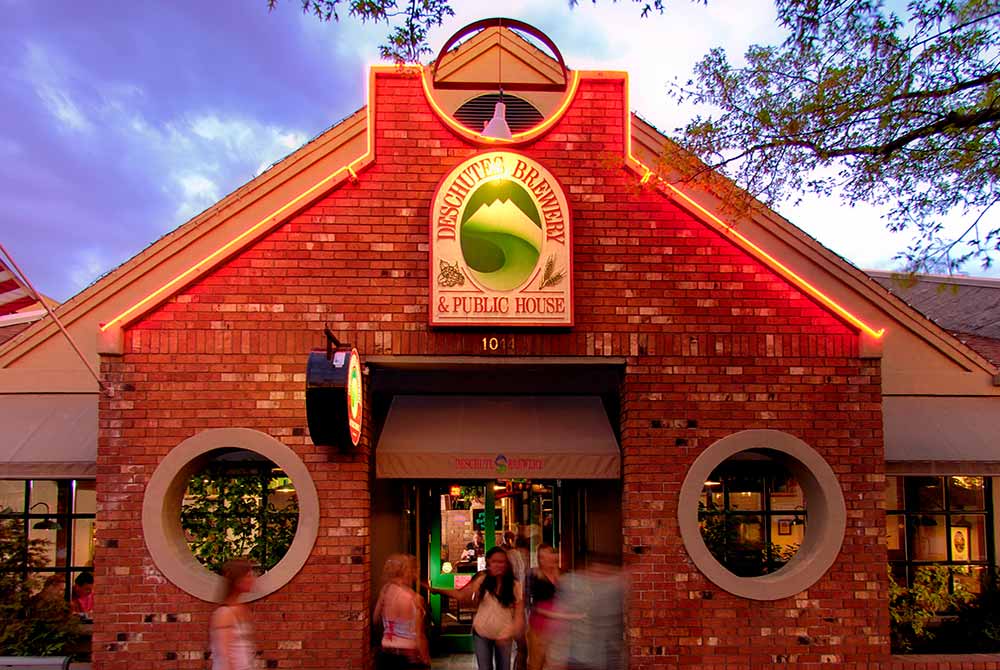 One of the OG breweries in Oregon, Deschutes Brewery Bend Public House has been defining craft beer both at home and across the country for over 30 years!
Deschutes' first-ever beers, including the iconic Black Butte Porter and Jubelale, were brewed here. And many renown Oregon craft brewers cut their teeth in this brewhouse including Paul Arney from the aforementioned The Ale Apothecary.
Deschutes is a must visit taproom to pay homage to one of the greats that started it all.
Crux Fermentation Project
50 SW Division St, Bend, OR 97702 | (541) 385-3333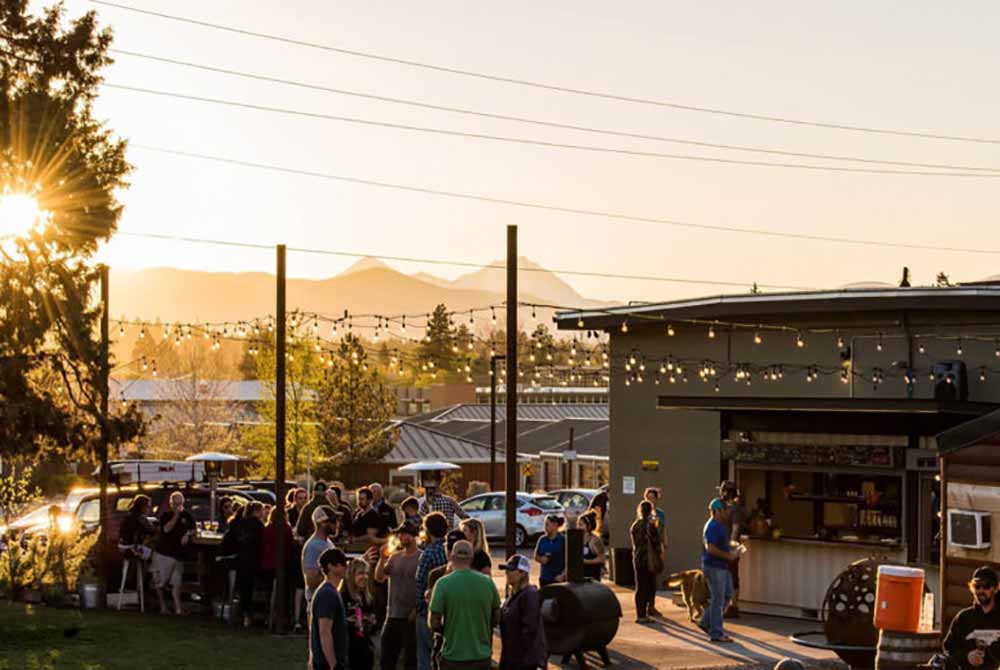 Another hidden gem, Crux Fermentation Project is a little bit off the beaten path. But, it's a destination worthy of the journey. With one of the best beer gardens in Bend, Crux Fermentation Project's taproom offers breathtaking vistas of the Cascade Mountains. And the beers are as amazing as the views.
With a focus on non-traditional brewing methods (think decoction mashing, spontaneous fermentation, and barrel-aging), Crux Fermentation Project crafts wonders like the new Prince Nelson saison with triticale, wheat, and "wind-malt" barley from Madras, OR, as well as Nelson Sauvin hops and raspberry puree. Pay attention to a special series the brewery calls [BANISHED] that "banishes" certain beers to oak barrels to nap for several months to allow flavors to mature, meld, and mellow. These beers will appear on the menu with the aforementioned "[BANISHED]" next to the name. We're talking barrel-aged blackberry or marionberry sours, barrel-aged oud bruins with Brettanomyces, barrel-aged Flanders-style red ales, and more.
Boneyard Beer
1955 NE Division St, Bend, OR 97701 | (541) 241-7184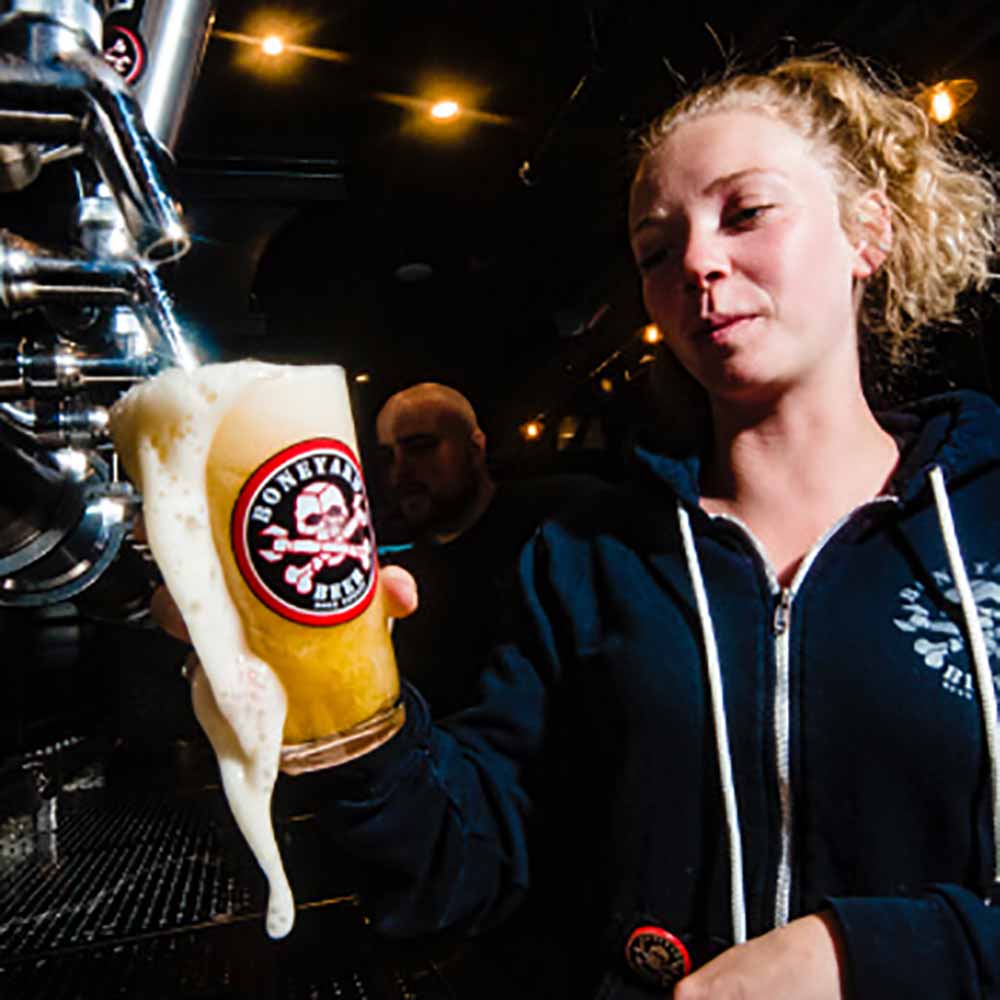 Brewing is in the bones of Boneyard Beer. Opened in 2018, this brewpub embraces its junkyard personality. Over the last couple of years, an eclectic mix of hop-focused beers and sours have drawn the attention of locals. We're talking beers like RPM, a flagship IPA dry hopped with four Northwest hops, and Diablo Rojo, a GABF gold medal-winning amber ale. Despite their awards, it's still a relatively low-key place that most Bend beer nerds are happy to recommend.
Sunriver Brewing Co. Galveston Pub
1005 NW Galveston Ave Bend, OR 97703 | (541) 408-9377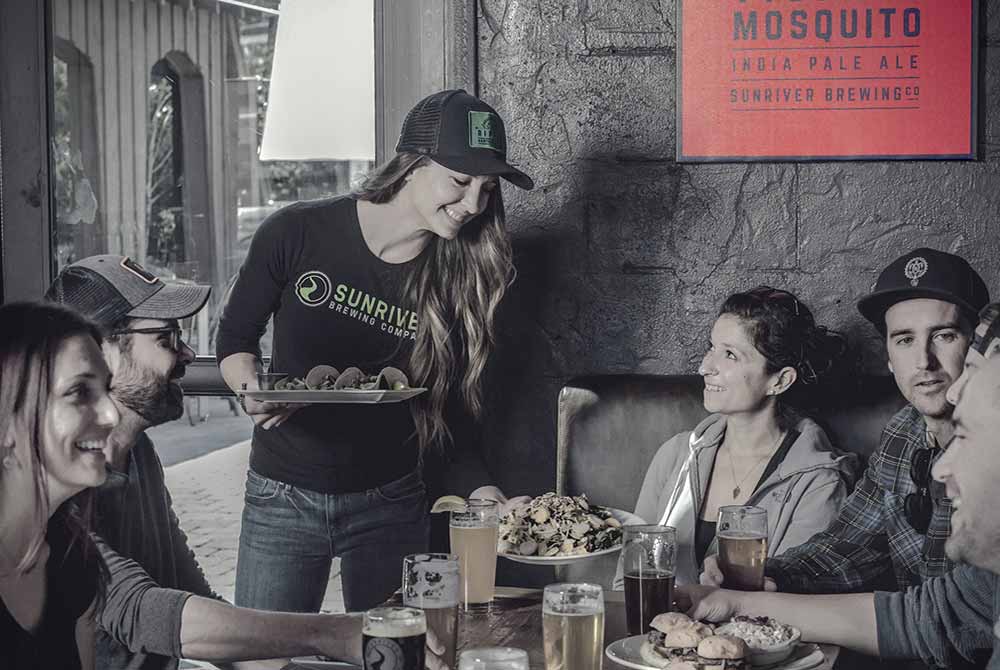 Opened in 2012, Sunriver Brewing Co. has been brewing up award-winning beers for almost the last decade. Tell us if you can paint a picture that sounds more Oregonian: sipping a Northwest pale ale alongside a humongous Bavarian pretzel and cheese on an outdoor patio around a fire pit. Go ahead, we dare you. But that's the type of experience you'll have at Sunriver, and it's the magical combination of innovative pub grub and top-notch pints that draw us to this special place.
Brasserie at Monkless Belgian Ales
803 SW Industrial Way Suite 202, Bend, OR 97702 | (541) 797-6760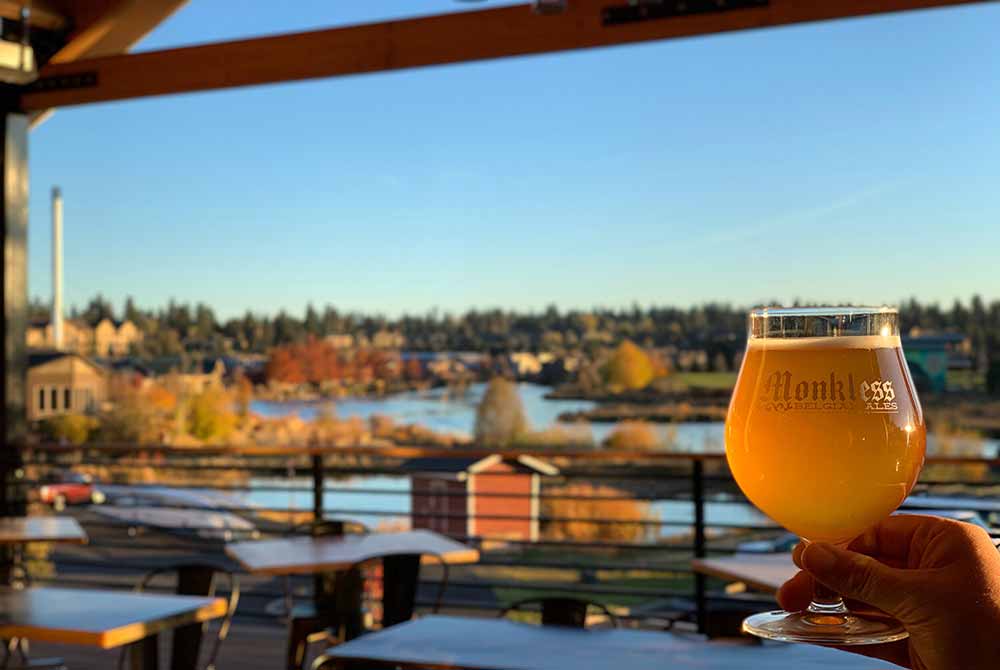 Like Crux, the views at the Brasserie at Monkless Belgian Ales are just incredible. I'm sure by now you've noticed that Bend, OR is just a beautiful place to drink beer. Nestled next to the Deschutes River and Bend's Old Mill, the Brasserie at Monkless Belgian Ales features award-winning Belgian-style ales alongside European-influenced eats. Exemplary steamed mussels and duck fat fries pair perfectly with beers like the 2019 Oregon Beer Awards bronze medal-winning Peppercorn Imperial Wit and 2018 USA Beer Ratings silver medal-winning Capitulation, a dry hopped Belgian-style tripel ale. With beer like this, it's clear as a Bend evening why Monkless Belgian Ales recently won Mid-Size Brewpub of The Year and Mid-Size Brewpub Brewer of the Year at GABF in 2020.