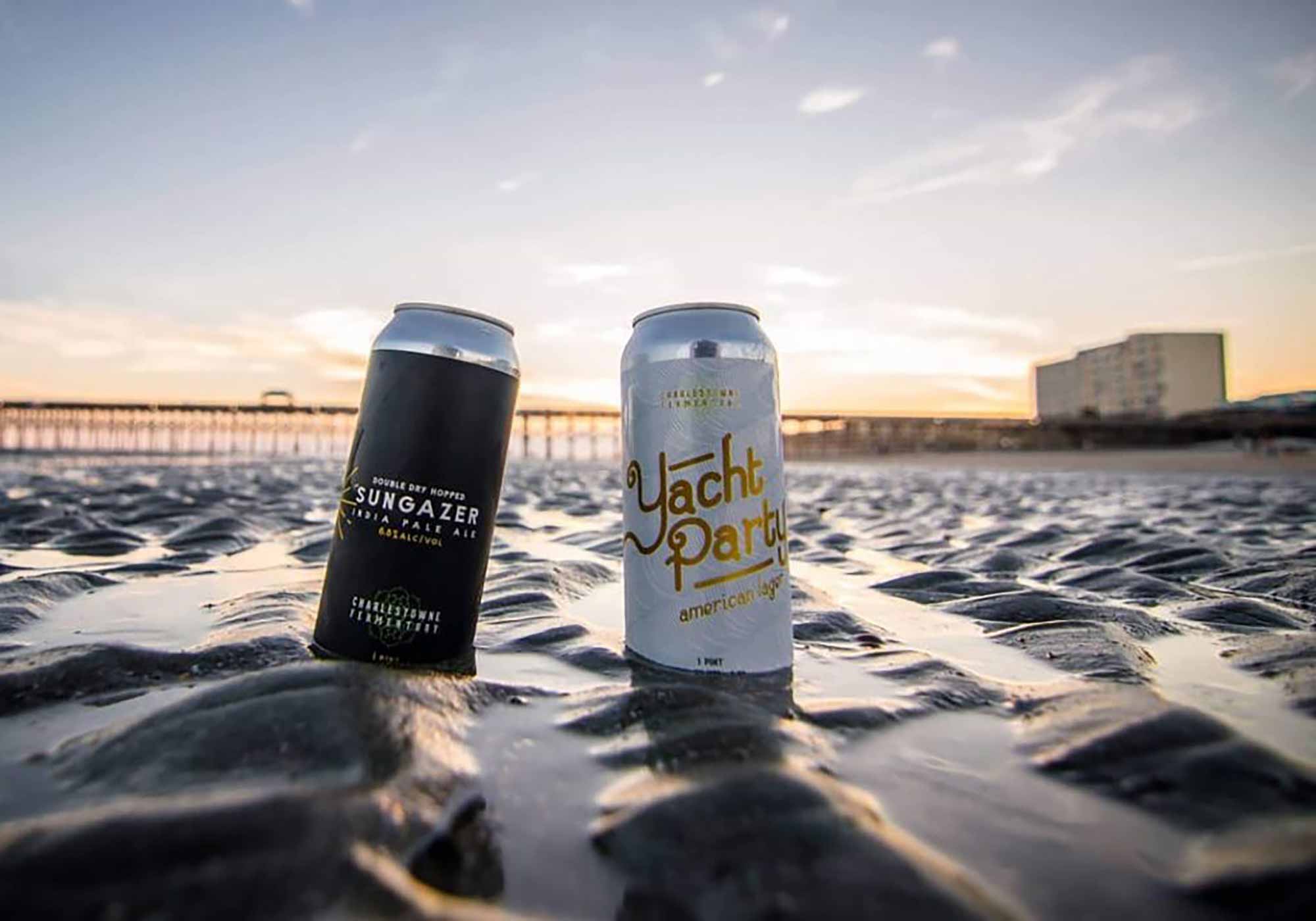 Photography courtesy of Charles Towne Fermentory
Perhaps best known for its white-sand beaches and green golf courses, South Carolina is also famous for its palmetto trees. According to legend, the tree was used as a barrier against cannon fire in the Revolutionary War. You'll see the trees across the state, dotting streets and lining neighbors' yards. They're a symbol of toughness and tenacity, which are two words we'd use to describe the state's craft beer scene. In fact, South Carolina is home to several of the best craft breweries in the Southeast.
With only 95 breweries across the entire state, South Carolina isn't known as a craft beer powerhouse. Especially compared to its neighbor North Carolina, which currently ranks ninth amongst all states for its number of breweries (359, to be exact). However, that only means the Palmetto State's breweries have worked that much harder to make a name for themselves.
From a skilled saison project in Greenville to a professional ale and lager fermentory in Charleston, here are the six best breweries in South Carolina. Like the Palmetto tree, all these breweries have braved the elements and set down roots for years to come.
Hop Culture's 6 Best Breweries to Visit in South Carolina
Birds Fly South Ale Project
1320 Hampton Ave, Greenville, SC 29601 | (864) 412-8825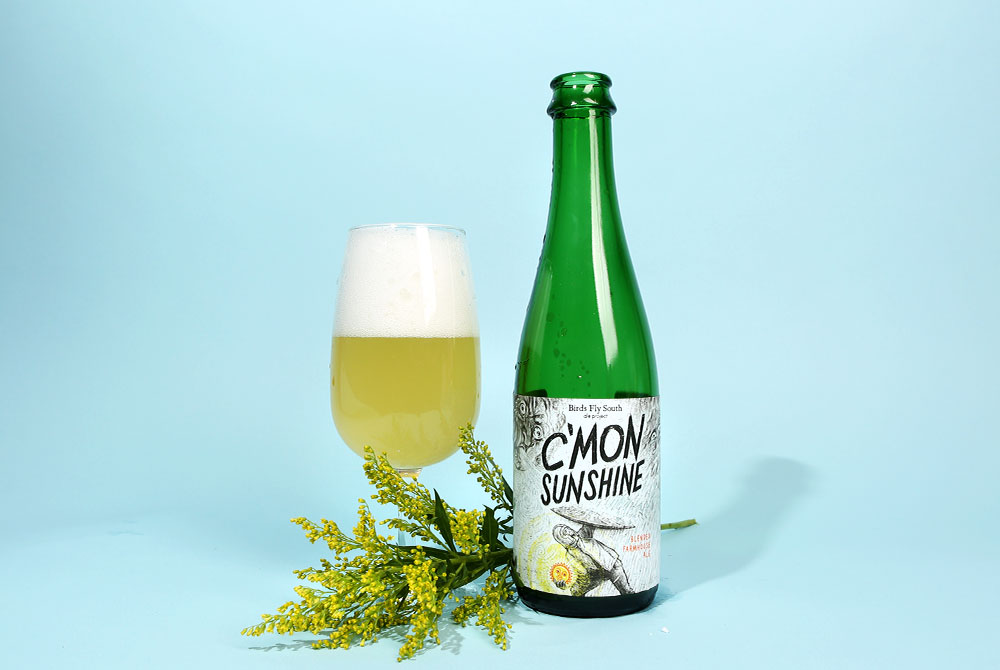 One of the most exciting breweries in the Southeast, Birds Fly South soars high with exceptional farmhouse ales. And while this Greenville-based brewery also makes excellent clean beers, they're a purveyor of funky beers at heart.
Saisons like Skin & Bone, C'mon Sunshine, and Saison Is Dead are the backbone of this brewery. In particular, Saison Is Dead — a single-hopped Mosaic saison — made our list of top beers to drink in winter last year because it reminded us of a quiet New Years' Eve in front of the fire. And C'mon Sunshine symbolizes a masterful execution of Brettanomyces and barnyard funk. With Birds Fly South nailing what they call "progressively old school" beers, this brewery brings a touch of class and expert creations to the South Carolina beer scene.
Charles Towne Fermentory
809 Savannah Hwy, Charleston, SC 29407 | (843) 641-0431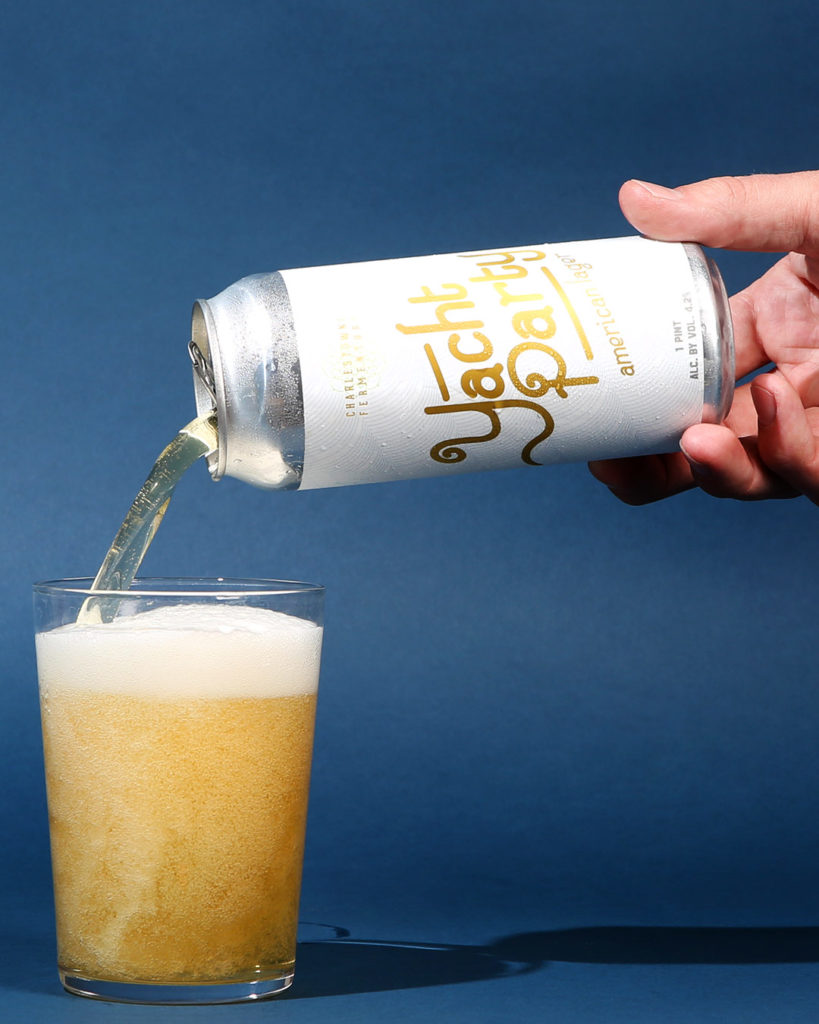 Ask Charles Towne Fementory founder Adam Goodwin to use four words to describe the brewery and he'll probably share the Charleston-based brewery's motto: "Hop Forward. Yeast Driven." As you might expect, the hyper-focused fermentory does make highly approachable IPAs.
But if you ask us to describe Charles Towne in four words, we might write "Lager, lager, lager, lager." Why? Well, Profunda — the brewery's dark Mexican lager — made our list of the best craft lagers to buy right now. Along with Yacht Party, an American-style craft lager that we've raved about for years and considered the top American lager to drink this past summer.
Whatever words you use to describe Charles Towne Fermentory, we can all agree that it's one of the best breweries in the country. Even though it might not be as groundbreaking as flashier places like Burley Oak, Other Half, or Monkish, Charles Towne has an owner whose pedigree is on par with these behemoths. A former brewer at Trillium and Tired Hands, Goodwin brought his expertise to his own place when he opened in 2016. As a result, Charles Towne has continued to impress us.
The Eighth State Brewing Company
400 Augusta St, Greenville, SC 29601 | (864) 609-4590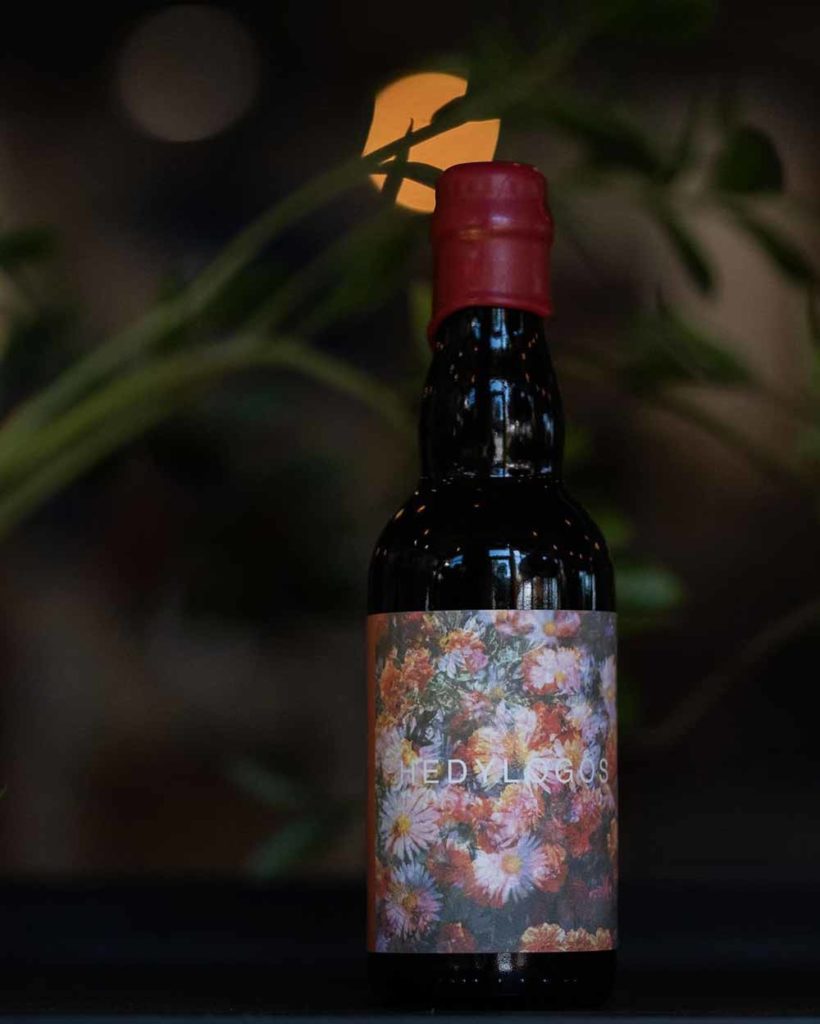 Small in size but big in beer. That's how we'd describe The Eighth State Brewing Company in Greenville, SC. The tiny three-barrel brewery made our list of the best craft breweries in 2020 for its outstanding lineup of stouts, many of which see label designs from friend-of-Hop-Culture @nico.p.nico.
The Eighth State's current tap list includes Hedylogos, a 15.9% ABV Imperial stout collab with Untitled Art inspired by cookies and cream. It also features A Subtle Explanation of Fate's Role In Nothing, a 15% ABV Imperial stout collab with Burial that contains coconut, pecan, peanut butter, cocoa butter, and maple syrup. And don't miss Fauconnerie: Pistachio & Coconut, a 14.4% ABV collab with Horus Aged Ales that has roasted Turkish pistachios, salt roasted pistachios, and coconut macaroons.
What makes The Eighth State almost like the eighth wonder of breweries is their dedication to taking beers to the edge. Name another brewery that's adding Turkish pistachios, pistachio powder, and coconut macaroons to a single beer?
Edmund's Oast Brewing Co.
1505 King St #115, Charleston, SC 29405 | (843) 718-3224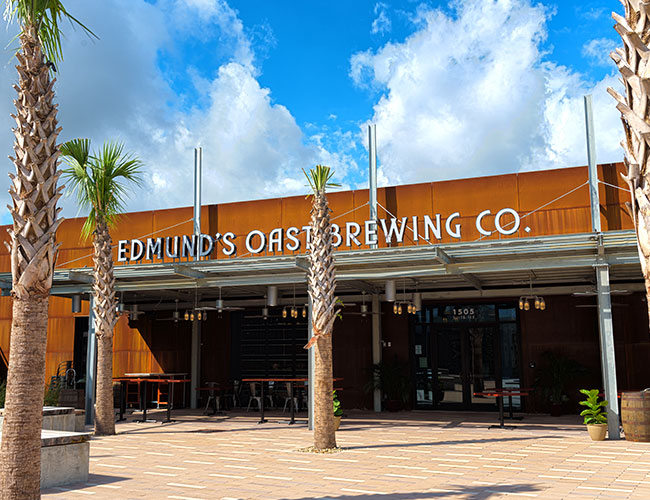 Back in 2017, Edmund's Oast opened an immense 20,000 sq foot facility in Charleston, South Carolina. At the time, the epic taproom caught our attention for its wild barrel-aging program and off-the-wall offerings. Like the Amaretto Sour American sour ale with explosive notes of almond, cherry, and lemon. Or the Honey Drop, a blonde barleywine.
With three locations across South Carolina including The Restaurant and Brewpub, The Brewing Co. and Taproom, and The Exchange, Edmund's Oast describes itself as "a trifecta of gustatory delights." So you can bet that what's on the plate is on par with the inventiveness of what's in the glass. At all of their locations, the menu skews Southern, with snacks like boiled peanuts and pimento cheese alongside a pizza with Carolina Reaper peppers that requires its own asterisk: "spicy AF". If you're looking for adventurous beers and dishes, you've found your place.
COAST Brewing Company
1250 2nd St N, North Charleston, SC 29405 | (843) 343-4727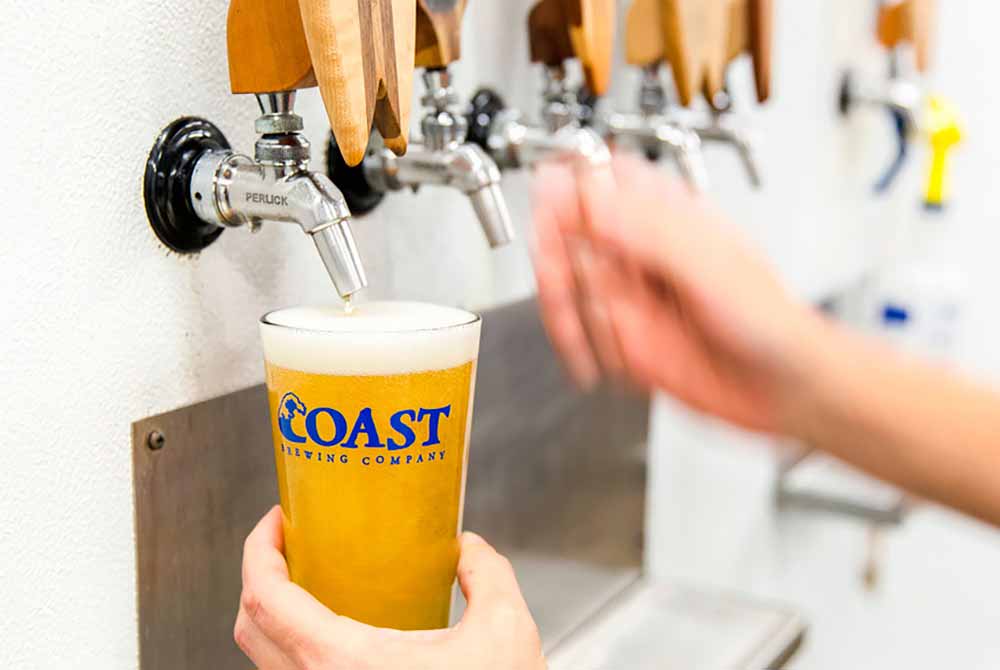 A small, family-owned brewery on an old Navy base, COAST Brewing impressed us for its dedication to organic beer. Yes, that's right–COAST is using choice organic and local ingredients in all of their beers. A dedication to the environment drives the North Charleston-based brewery, and although they're not certified organic (and have no plans to be), all the ingredients used while brewing are indeed organic. And this makes COAST the only brewery in South Carolina to commercially brew organic beer.
We think it's passionate people that make the best beer, and Co-Owners Jamie Tenny and David Merritt's dedication to brewing and the environment have led to a special place. One that makes damn good beer, like their original HopArt IPA and 32/50 Kölsch.
Westbrook Brewing
510 Ridge Rd, Mt Pleasant, SC 29464 | (843) 654-9114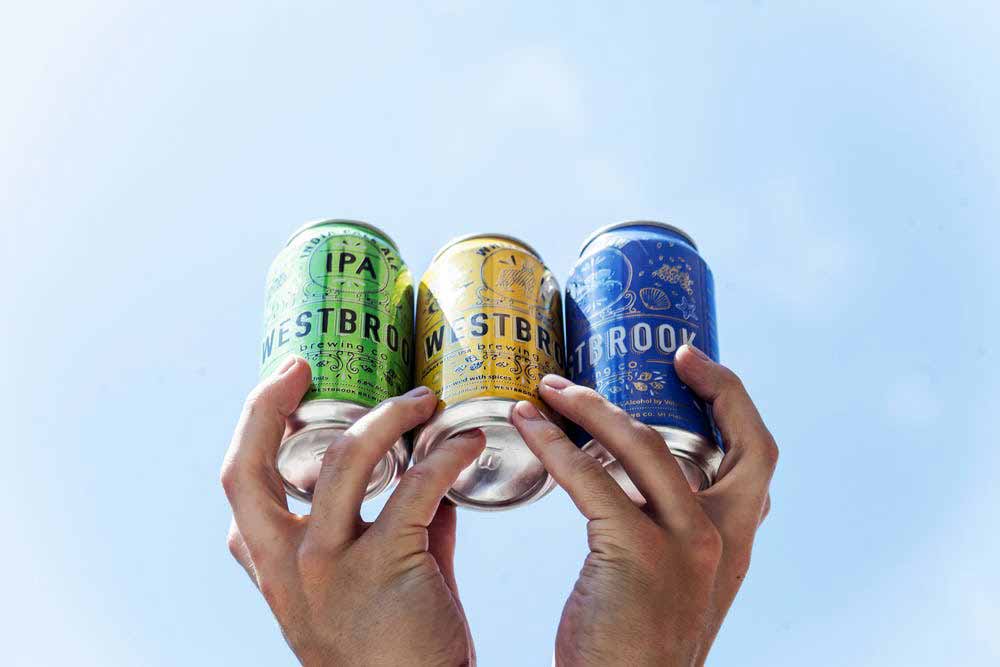 Do us a favor. Visit our friends at BeerAdvocate and look up the top-rated beers in South Carolina. What do you find? TLDR: Westbrook Brewings' beers make up seven of the ten top spots.
Chances are, if you're visiting South Carolina for beer, Westbrook is already on your list. And for good reason. Heck, the Mt. Pleasant-based brewery practically kickstarted the fruited sour movement when they put their Westbrook Gose into cans. Their other beers are equally delicious: keep an eye open for Mexican Cake (and all its variants), Siberian Black Magic Panther Russian Imperial stout, It's Tiki Time sour, and Two Claw IPA, among many others.
Westbrook is an OG Palmetto State brewery that has earned its spot on our "best-of" list.