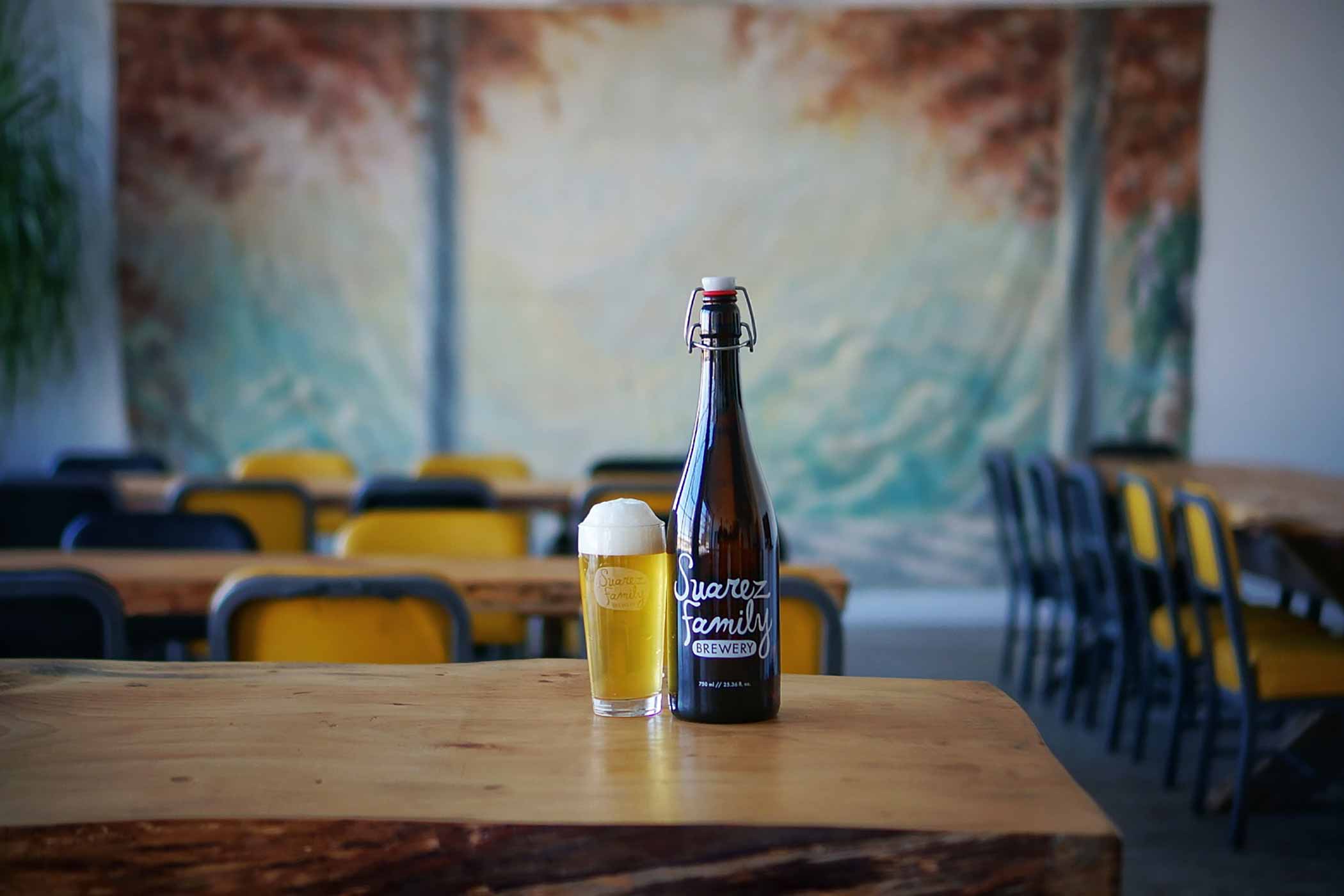 Photography courtesy of Suarez Family Brewery
For those who have never lived in New York City, let me describe the Hudson Valley to you. It's a magical place about an hour's drive north of Manhattan. Flush with rolling hills, bountiful meadows, and rich farmland, the region has become a verdant escape for many of the 8.4 million people living in NYC. It also has some of the best breweries in the country, which is why we named it to a list of "Best Beer Cities" in America even though it isn't technically a city. While you certainly can't go wrong with any of the brewing operations that extend roughly 150 miles up the Hudson River from Manhattan to Albany, we certainly have our favorites, which is why we've made a list of what we think are the best breweries to visit in the Hudson Valley.
Dotted with tiny towns and sleepy riverside villages, the Hudson Valley is the ideal getaway destination. And in the fall? Fughetaboutit. The Hudson Valley transforms into a utopia of foliage, apple orchards, pumpkin patches, and farm breweries. Sipping an Oktoberfest or Märzen at one of these eleven beautiful taprooms completes every fall aficionado's wildest dreams.
From one of the top sour IPA producers in the world to a farm brewery making pickle beer, these are the exquisite breweries that make the Hudson Valley heaven for craft beer lovers.
Hop Culture's 11 Best Breweries to Visit in the Hudson Valley
Hudson Valley Brewery
7 E Main St., Beacon, NY 12508 | (845) 218-9156
To put it quite simply: If there's only one brewery in the Hudson Valley that we could recommend visiting, it'd be Hudson Valley Brewery. Almost five years ago, Co-Founders Jason Synan, Mike Renganeschi, and John-Anthony Gargiulo took the area by storm when they started perfecting the art of sour IPAs. Demand exploded with lines often extending the length of the brewery's parking lot on a Saturday morning just to nab that week's release. And the incredible beer doesn't say anything about the brewery's awesome art.
The sour IPA concoctions coming out of Hudson Valley Brewery are surreal. For example, the freshly dropped Lemon Lime Silhouette, which features wheat, lemon, lime, and Citra. Mirrorshield is a sour IPA with raw wheat, malted oat, milk sugar, Lychee, chamomile, lavender, and Nelson Sauvin and Azacca hops. We love this brewery so much that we named them one of our top breweries of 2017.
In the past, we've spent plenty of time with Synan, Renganeschi, and Gargiulo. We even threw a festival nearby in Pete And Toshi Seeger Riverfront Park. When the Hop Culture team moved away from NYC, we missed many of our friends, and Hudson Valley Brewery was among them. We cannot reiterate this enough: If you're in the Hudson Valley, visit Hudson Valley Brewery. And send us some cans, while you're at it.
The Drowned Lands
251 State School Rd, Warwick, NY 10990 | (845) 986-2337
Is there a Hop Culture "best-of" list The Drowned Lands hasn't made? One of our best new breweries of 2020, one of the 20 best beers we drank in 2020, one of the 20 best beers we had this summer, and one of the 20 best beers we drank last summer.
A brewery that continually comes out on top for us has to be on your own must-visit list if you're in the Hudson Valley. Wondering how a brewery stands out in a landscape of fantastic breweries? For us, it's by producing rustic beer styles in an eye-catching taproom. Think wheat pilsners, foeder-fermented rye saisons, and farmhouse ales alongside excellent single, double, and even triple IPAs. In our opinion, everything at The Drowned Lands works perfectly. We ask that they never change a thing.
Plan Bee Farm Brewery
115 Underhill Rd, Poughkeepsie, NY 12603 | (765) 307-8589
Several years ago, my wife and I were cruising through the Union Square Greenmarket. For those who don't know, this is a very popular farmer's market in the middle of the Union Square neighborhood of Manhattan. Towards the end of our time there, we came across a small stand sampling something called Pickle (Farmstand Ale), which was produced by a tiny brewery in upstate New York. Yes, you read that right. Pickle. A koelschip-cooled, wild ale aged on cucumbers and dill was my first introduction to Plan Bee Farm Brewery.
On a mission to brew one hundred percent New York State ingredient beer, Plan Bee sources all of its ingredients from its home state, with many grown on-site (such as the cucumbers and dill in the above Pickle). We loved the beer so much that on a car trip back from Montreal, my wife and I stopped at the actual brewery. At the time, it was just a yurt set up in the middle of a field. Nowadays, husband-and-wife duo Emily and Evan Watson have expanded and built out an incredible facility. However, even after the expansion, the brewery's original ethos remains: real local beer, made from ingredients grown in New York. Plan Bee's taproom and beer represent the Hudson Valley region to a T.
Suarez Family Brewery
2278 U.S. 9, Hudson, NY 12534 | (518) 537-6464
Take a look at my author bio and you'll see the following: "Currently Drinking: Suarez Family Brewery Palatine Pils". The pilsner from this family-run Hudson Valley brewery has become one of my favorite classic German-style pilsners of all time, and certainly a favorite amongst the Hop Culture team. Hop Culture Founder Kenny Gould named Palatine Pils one of his favorite beers of 2018. Gould made the trip to this upstate gem after reading a great article from Austin. L. Ray.
Founded by Dan Suarez, a former homebrewer who became a protege of Sean Hill, founder of Hill Farmstead, Suarez does all the little things right. They pay attention to detail in the brewing process (making pilsners is not easy, my friends), releasing simple, rustic, well-balanced beers (Dan also makes fantastic saisons) and creating an inviting taproom for families far and wide.
Built inside an old lamp factory, Suarez Family Brewery oozes charm. When my wife and I visited back in the fall of 2018, we fell in love. We tucked into the aforementioned Palatine Pils while watching cars whiz past cornfields and the changing leaves waving in the wind outside.
Equilibrium Brewery
2-8 South St, Middletown, NY 10940 | (845) 956-0211
Equilibrium Brewmaster and Owner Peter Oates has established his brewery as a master of the New England-style IPAs by taking a scientific approach to the style. As a result, fans flock from across the country to Middletown, New York, to try them. Newly-released beers often sell out quickly to folks who have lined up for hours; these are beers like Uncorked, a recent DIPA conditioned on Sauvignon Blanc juice with hand-selected 2021 Nelson hops, and MCity, a DIPA with Idaho 7, Mosaic, Citra, and Galaxy.
As Oates once told us during an interview, "It's about achieving equilibrium in each beer." And it's not just IPAs that have Equilibrium tipping the scales. Wild, fruity, fantastical sours such as Here and Now brewed with blackberry, raspberry, and boysenberry, are equally as balanced and popular.
Foreign Objects Beer Company
150 W. Mombasha Rd. Monroe, NY 10950 | info@foreignobjectsbeer.com
It can be easy to fall into the belief that Foreign Objects is just another hazy IPA brewery, but you'd be wrong. In 2019, Foreign Objects caught our eye on social media with its poppy can art, dedicated following, and buzzy beer. But we went behind the gorgeous Instagram photos and chatted with Co-Owner and Director of Brewing Operation Steve D'Eva about what actually grounds the brewery.
His response? Simple, delicious beer. From hoppy modern ales to clean lagers, D'Eva brews all of his beers with intentionality and precision. Sure, there's creativity (like Apokalyptische, a dry-hopped pilsner). Sure, there's experimentation (like Death Poster, a new-American hoppy ale with Galaxy, Motueka, and Calypso hops). But at the end of the day, it's D'Eva's philosophy to make simple — but damn fantastic — beer that keeps us coming back to Foreign Objects week after week.
Tin Barn Brewing
62 Kings Hwy Bypass, Chester, NY 10918 | info@tinbarn.com
"Turn at the red tractor and drive down the hill. On your right, sweeping grass lawn. On your left, wetlands and old railroad tracks. Go around the bend and in the middle of the idyllic Sugar Loaf artist community, you'll come across a tin barn."
This is Tin Barn Brewing, a one-year-old brewery in Upstate New York that makes some of our new favorite regular, double, and even triple New England-style hazy IPAs, heavily fruited sours, and the occasional Willy Wonka-esque pastry stout. With a touch of what co-owner Lauren Van Pamelen calls "farm shui," Tin Barn Brewing has made a name for itself as a destination brewery.
As a farm brewery, Tin Barn leverages local ingredients where possible. Moreover, Van Pamelen's obsession with brewing the perfect hazy IPA has her churning out stunning NEIPAs and DIPAs.
"I'm a mad scientist… [and] New England IPAs are supreme beings," says Van Pamelen. "I want a beautiful, hazy beer that's opaque and glorious."
This borderline compulsion means folks venturing to Tin Barn are treated to expert expressions of the style. For example, take Tin Barn's most popular beer: Queen Citra NEIPA. Van Pamelen uses Citra hops in the whirlpool; the beer is also triple dry-hopped and bio-hopped, a technique where brewers add hops mid-fermentation. She also tackles sours (her Kaleidoscope Eyes Fruited Sour series made our list of best beers we drank this summer). But if you're turning right at the red tractor (and we highly recommend you do), it's probably to taste and see if Van Pamelen has reached her ultimate goal of crafting the perfect hazy IPA.
District 96 Beer Factory
395 S Main St, New City, NY 10956 | (845) 499-2409
District 96 almost reminds me of a modern Cheers bar in upstate New York. The first time I walked in, I felt right at home. Like everyone knew my name.
Now, don't get me wrong — the space is very modern, beautifully bright, and airy. But it's the vibe. I sat down, ordered an eggplant burger (being the vegetarian that I am) and a Wit House witbier, and immediately felt like I'd been going there for years. The small-batch brewery is actually an extension of owner John Potenza's burger restaurant right next door called The Burger Loft. At D96, you're getting a dependable, reliable brewpub with well-crafted food and approachable beers in a wildly friendly environment.
Decadent Ales
139 Hoyt Ave suite a, Mamaroneck, NY 10543 | (914) 848-4060
Unsurprisingly, decadence rules supreme at Decadent Ales. Known for over the top, dessert-inspired sours and IPAs, Decadent Ales will knock you off your feet. We're talking wacky beers like Double Cherry Blossom Mochi and Mango Coconut Smoothie DIPA. It's pretty easy to see how Decadent follows head brewer Paul Pignataro's ethos: "Eat your beer." These are whimsical concoctions that make you wonder if Decadent isn't Willy Wonka's factory on the other side of town.
Recently, Hurricane Ida hit this superb brewery extremely hard, forcing them to close down the taproom. Over five feet of water entered the establishment and wreaked havoc. Pignataro set up a Go Fund Me to help rebuild Decadent Ales. We encourage all of you who have enjoyed a decadent ale or two in the past from this Hudson Valley brewery to donate!
Industrial Arts Brewing Company
55 W Railroad Ave # 25, Garnerville, NY 10923 | (845) 942-8776
Brewing is a delicate balance of science and art. So is Industrial Arts. I mean, this is a place where everyone excels at the tools of their trade. The brewery has two Hudson Valley locations — one in Beacon, NY, and one in Garnerville, NY — and makes seven core offerings alongside limited releases, seasonals, and one-offs such as their Landscape and State of the Art series.
A perfect example of an Industrial Arts beer is Metric, a classic pilsner with a nice balance of hops, malt, and honey that landed in the top twenty of our blind tasting of the best pilsners. Beyond the beer, each of Industrial Arts' taprooms is gorgeous, modern, and — dare we say — industrial, perfect for an afternoon of drinking.
Obercreek Brewing Company
59 Marlorville Rd, Wappingers Falls, NY 12590 | (845) 632-1078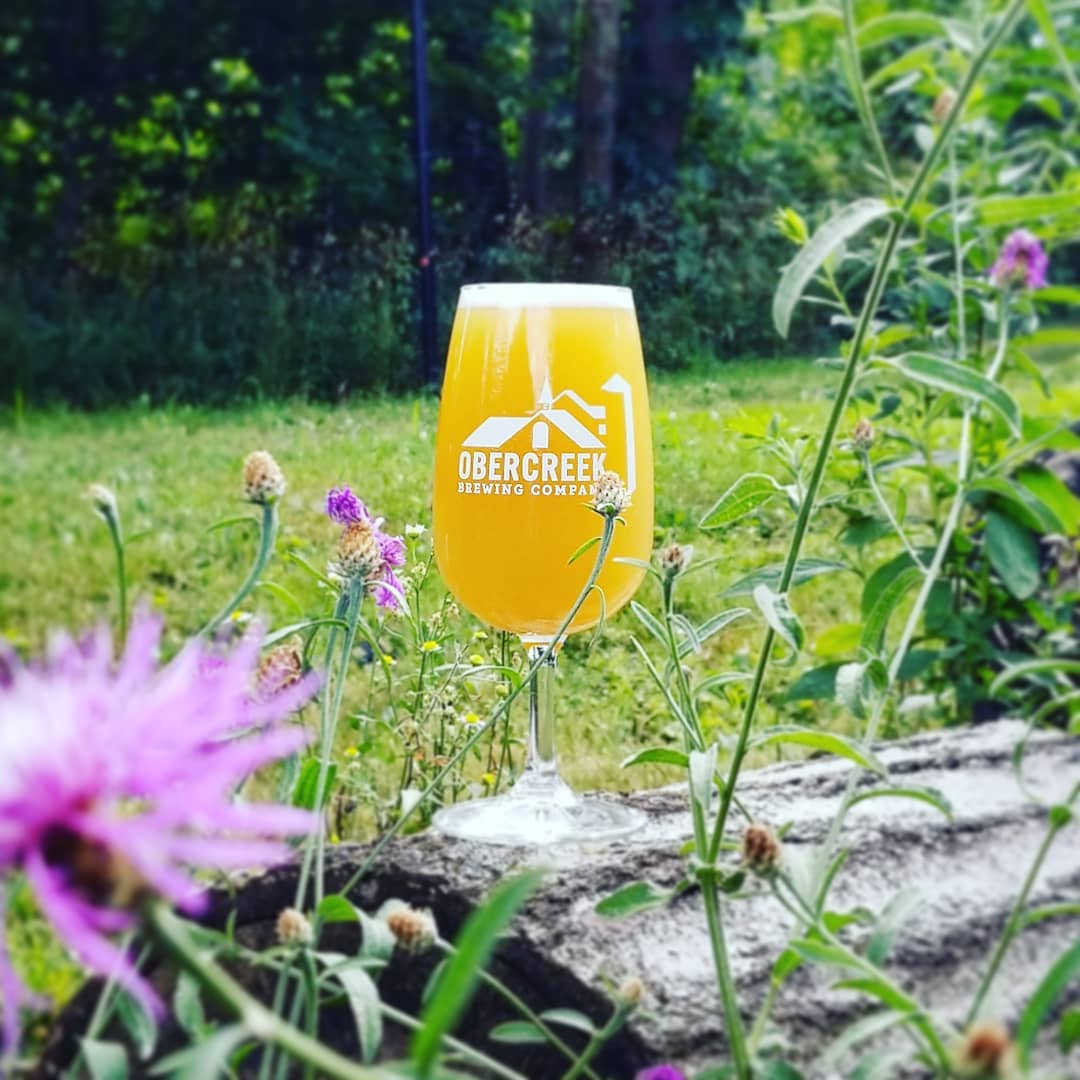 A perennial favorite at our Juicy Brews festivals, Obercreek Brewing Company became the talk of the town when it opened in the back of Obercreek Farms in 2017. As the story goes, Phil Shaw, a former economics professor and twenty-year homebrewer decided to go pro. So he cold-called Alexander Reese, sixth-generation Owner and Operator of Obercreek Farm, and gave him the beer. And Reese loved it.
Four years later, the Wappingers Falls-based brewery has earned a reputation for beers built with creativity and locality. For example, some beers use hops from a small hop yard on the property, and others use fruits from the local Hudson Valley.
Obercreek Brewing is a tiny operation but a mighty one. Keep your eye out for their incredible sours!