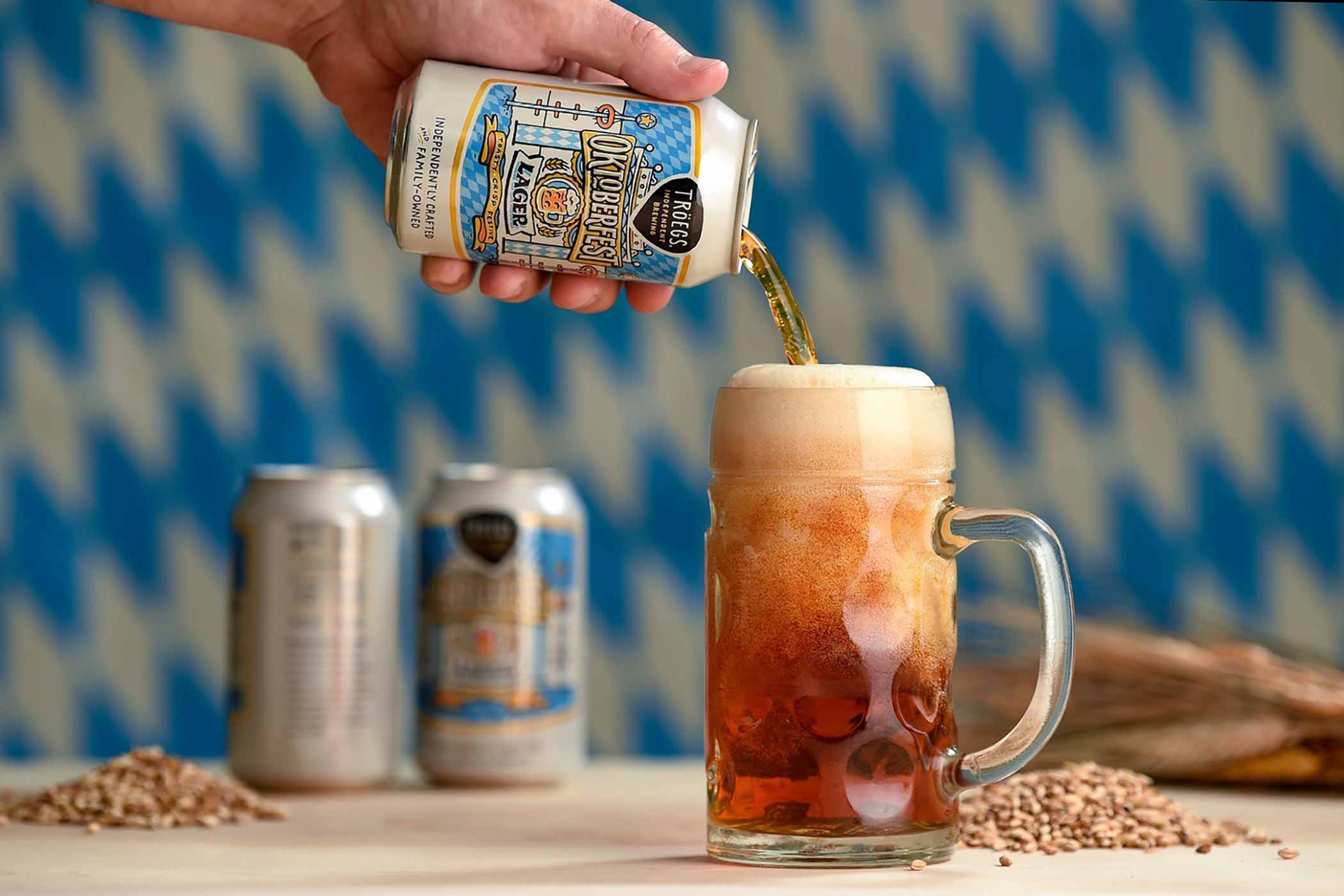 Photography courtesy of @troegsbeers | Tröegs Independent Brewery
Updated on October 3, 2022
Today may mark the official end of the 187th Oktoberfest celebration, but that doesn't mean the party needs to stop. This year was the first time since the global pandemic that the annual festival that attracts millions of visitors to Munich, Germany, to imbibe a very specific style of beer, returned in person.
And you can bet that there were toasts, aka prosts, and beer steins clinking aplenty.
But just because you couldn't make it across the pond this year doesn't mean that you can't find a way to celebrate.
For our part, we wanted to recognize the holiday by digging into its history. Above all, we'll clarify the exact difference between Oktoberfest, märzen, and festbiers. Lastly, we'll give you a few updated recommendations of our favorite classic German and current American versions to try.
Known here in America for roasty, malty notes, Oktoberfests, märzens, and festbiers are perfect pints when the weather turns cold. Whether you're camping out with a classic Paulaner Oktoberfest Bier from the original Munich brewery or enjoying a contemporary Hopewell Brewing Engrain märzen, we've found the best beers to ring in the Oktoberfest season.
But first, a little history lesson.
What Is Oktoberfest?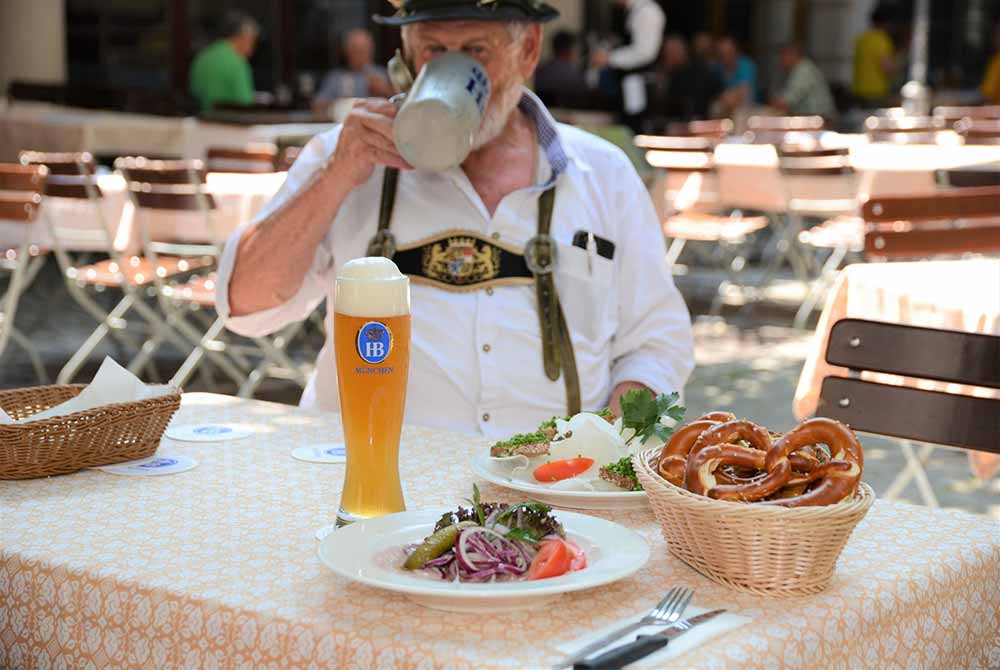 Essentially a lesson in German royalty, Oktoberfest started with a wedding. Bavarian Crown Prince Louis (later King Louis I of Bavaria) married Princess Therese von Sachsen-Hildburghausen on Oct. 12th, 1810.
The nuptials included a raucous party open to the citizens of Munich on the fields in front of the city gates. Named Therensienwiese or Therese's Fields, the Wiesn or outdoor meadow hosted days of drinking and horse races. In the midst of the Napoleonic Wars (1803-1815) this party aimed to unite Germans during a tumultuous time.
Oh, and did we mention the royal family provided beer and food free of charge? So much fun was had by all that the festival became a yearly celebration.
"History, tradition, hospitality—Oktoberfest is not only the biggest but, I think, also the best beer festival in the world," says Christian Dahncke, head brewmaster at Paulaner, one of the six Munich breweries that actually has permission to brew and sell the original Munich Oktoberfest Bier. "It is a combination of old traditions…and a big beer festival, where each of the six Munich breweries tries to brew the best beer for this event."
Hurdles like cholera and now the COVID-19 pandemic have stymied some Oktoberfest celebrations. But for the most part, over the past two centuries every year people gather in Munich to sip overflowing steins in huge beer tents and eat roasted chicken.
Today, Germany's largest folk festival and one of the most famous beer festivals in the world normally welcomes over six million visitors. And has spawned local celebrations at breweries and bars across the globe.
What Is the Difference between Oktoberfests, Märzens, and Festbiers?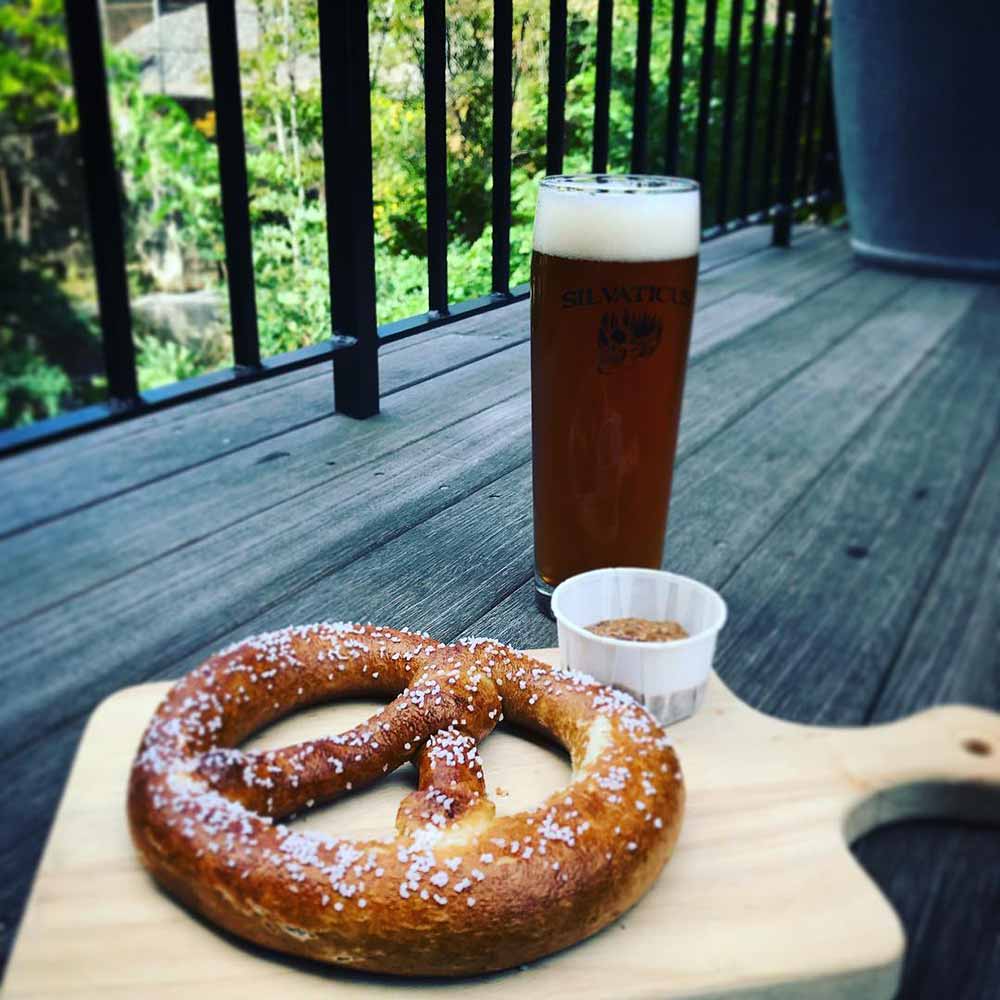 The answer is a little complicated. In Germany, Oktoberfest means beers that are brewed specifically for the Oktoberfest event in Munich.
Historically, the beers served at Oktoberfest can only come from the large breweries inside Munich's city limits including Augustinerbräu Münche (Augustiner), Hacker-Pschorr, Hofbräu, Löwenbräu, Paulaner, and Spaten-Franziskaner-Bräu (Spaten).
"Paulaner brewery is a real traditional Munich brewery and has always played a big part in the history of the city's culture," says Dahncke. "[So Oktoberfest] is an event dear to Paulaner's heart."
Since 1818, Paulaner has brewed its Oktoberfest Bier, but it actually didn't gain popularity at the annual celebration until much later.
Actually, during the first sixty or so years the darker Bavarian dunkel dominated. But by 1872 Spaten brewery introduced the more amber-hued märzen, which became the official beer of the fest. And in the mid 1960s Paulaner's golden-colored Oktoberfest Bier, considered a festbier, began to take over.
Today, Paulaner's Oktoberest Bier is the most-served beer at Oktoberfest in Munich. Although still slightly malty, these lighter-bodied festbiers are super drinkable and perfect for the two-week-long celebration.
So, What Does the Term Oktoberfest Actually Mean?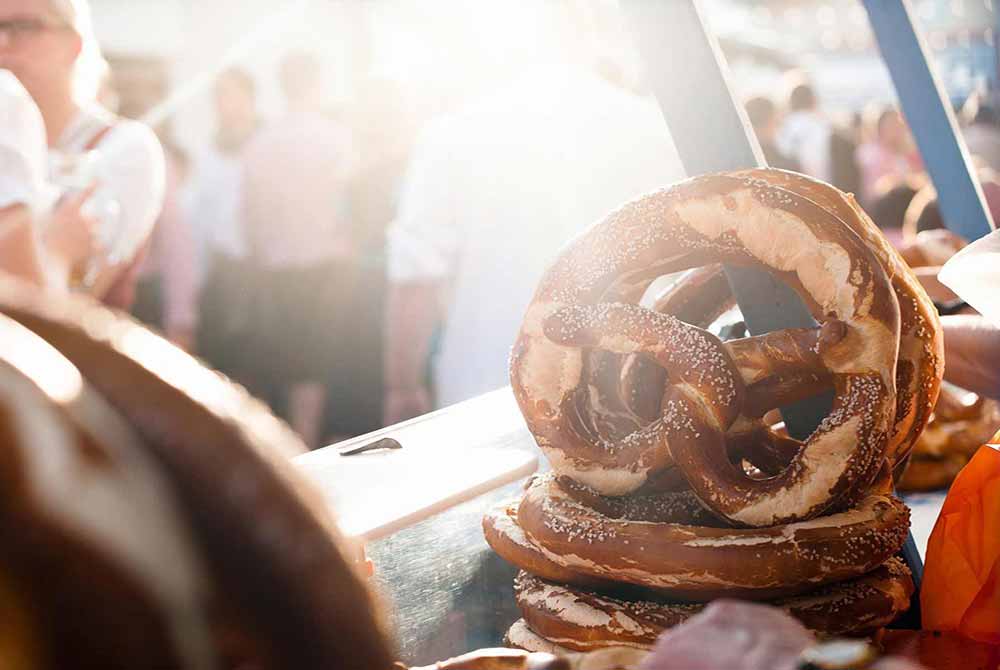 According to European Union regulations, only beers brewed by the aforementioned six breweries can use the label "Oktoberfest" (much like real champagne can only technically come from the Champagne region of France). All other breweries must call their seasonal lagers Oktoberfest-style beer. But that hasn't stopped American brewers from using terms like Oktoberfest, märzen, and festbier pretty much interchangeably. To further confuse things, American breweries will often see beers with punny variations such as Oaktoberfest, Octoberfest, etc.
Today in the States, Oktoberfest is often used as a catchall encompassing märzens and festbiers. The märzens here in America typically feature Munich and Caramel malts for beers that tend to be redder, maltier, and slightly sweeter.
Basically, the Oktoberfest-style beers brewed in America are actually nothing like the festbiers made for the real Oktoberfest in Germany. Instead, they align more closely with the original styles served in the 1870s.
If it helps, the Brewers Association actually separates Oktoberfests into two styles: German-Style Oktoberfest/Wisen and American-Style Märzen/Oktoberfest.
Of course, there are some brewers in the United States that do adhere more closely to the paler, modern German Oktoberfest styles. But for the most part, if you're drinking an Oktoberfest in America, it's probably a copper-hued, toasty märzen lager.
Wait, I'm Still Confused. Can You Recap Everything For Me?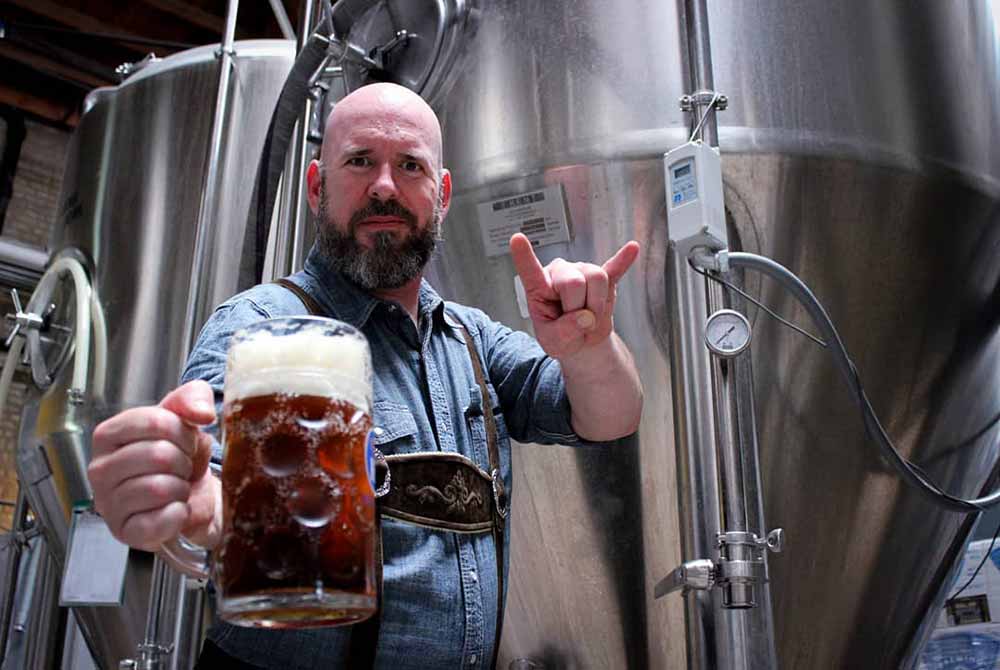 Heck yeah! Basically…
Oktoberfest (Oktoberfestbier) – Any beer formally brewed by one of the six big Munich brewers and served on the Oktoberfest grounds. Over the years these beers have evolved from dunkels to märzens to festbiers. Today, they're light gold in color and easy-bodied.
Märzens – German amber lagers typically anywhere from chestnut to russet in color. Smooth, toasty, bready, slightly spiced with a bit of a Noble hop bite, märzens hit around 5-6% ABV with a dry finish. First brewed by Spaten in Germany, in America this is the most common style of what we've come to call Oktoberfest or Oktoberfest-style beers.
Festbiers – A strong golden German lager similar to a helles just maltier. The floralness and spiciness of Noble hops are more prevalent in this style. And they're slightly meatier at 6-6.5% ABV. First pioneered by Paulaner, festbiers today in Germany are THE official beer of Oktoberfest.
Oktoberfest-style – Normally falling under the style of märzen, these beers are brewed outside the city limits of Munich. Again, if you buy an Oktoberfest-style beer in America, it will most likely be an amber märzen. Technically only beers brewed by one of the six original breweries in Munich can officially use the term Oktoberfest (Oktoberfestbier).
For our purposes, as much as we can, we want to recognize all of the above styles. Oktoberfest is a celebration of tradition and we want to respect that. But there are plenty of modern American versions that deserve recommendation as well. But don't worry, we've parsed through the field to bring you our top picks for the best Oktoberfest beers to drink at home during this year's festival.
Here Are the Top 23 Oktoberfest Beers We're Drinking to Celebrate
The German Classics You Can Find in the U.S.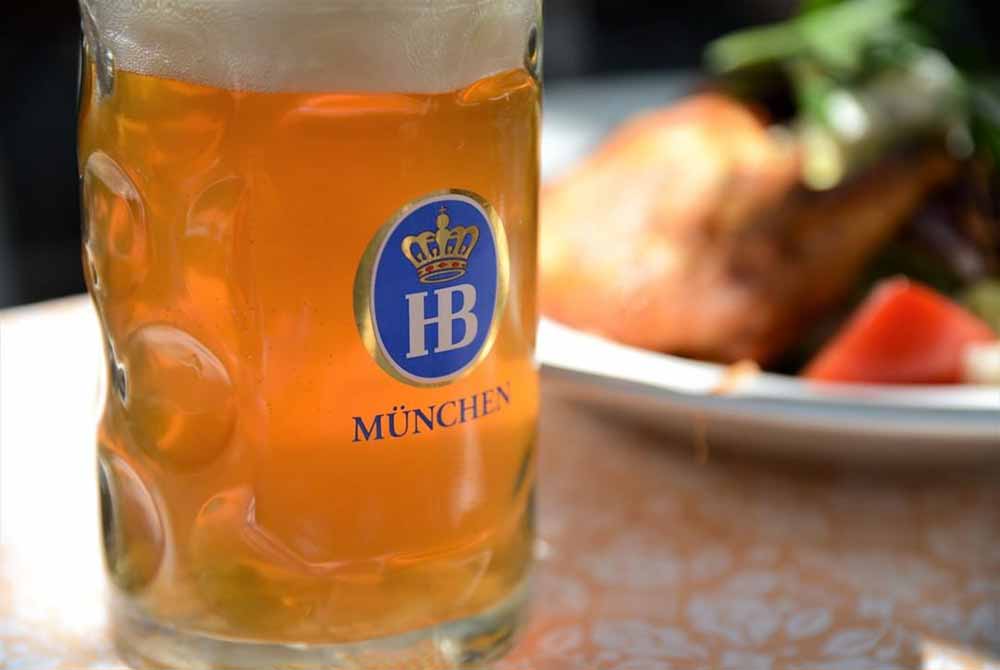 The best way to experience historic, original Oktoberfest beer is to visit Munich, Germany, during the last two weeks of September. Of course, not everyone can travel. So since we're all stuck here in the States for the celebrations, these are the versions of Oktoberfest that you can try from the original six Munich breweries here in America. Prost!
Please note that at the time of publication we could not find Augustiner-Bräu Oktoberfestbier available in the U.S. Similarly, because Anheuser-Busch InBev now owns the rights to brew Löwenbräu in North America at the Labatt Brewing Company in London, Ontario, Canada, we have not included Augustiner or Löwenbräu in our list.
Oktoberfest Bier
Paulaner – Munich, Germany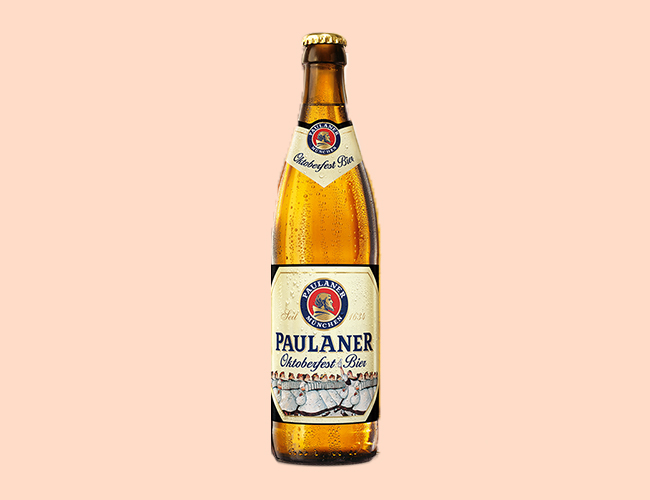 According to Paulaner, its Oktoberfest Bier is "a glass full of October sunshine, strong and golden."
We couldn't agree more.
For Paulaner's Oktoberfest Bier, Dahncke uses local ingredients, including a special Pilsner malt from regional Bavaria along with a small amount of dark barley malt for color, maltiness, and body.
And 100 percent Bavarian hops including Herkules and Hallertauer Tradition hops.
But the true secret according to Dahncke is the bottom-fermenting yeast, which builds a higher alcoholic content together with a full malty body.
"[Oktoberfest Bier] has a smooth, aromatic, malty taste, as well as a slightly delicate bitterness that makes the difference," says Dahncke.
Currently the most-served beer at Munich's official Oktoberfest, Paulaner Oktoberfest Bier is your best chance to down a stein of history and heritage without paying for a plane ticket.
"You'll first notice the malty aroma, followed by a pleasant fresh and hop flower aroma," says Dahncke. "After the first sip you will get the perfect balance from the strong note of malt in combination with some bready and toffee notes, but always the bitterness remains in the back."
Brewed only once a year for the fall celebration, this is authentic Oktoberfest beer at its best.
Bonus: Paulaner also makes an excellent Oktoberfest Märzen, a style first brewed over 200 years ago during the original Oktoberfest. History in a bottle!
Original Oktoberfest Amber Märzen
Hacker-Pschorr – Munich, Germany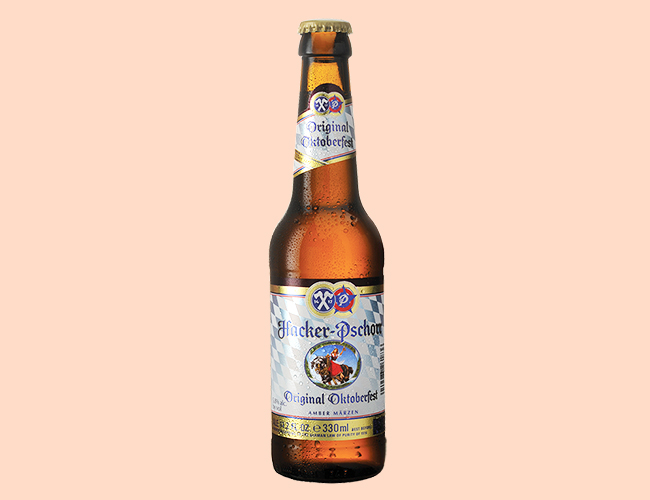 Brewed in reverence to the Bavarian Purity Law of 1516 known as Reinheitsgebot, the Original Oktoberfest Amber Märzen from Hacker-Pschorr is a perennial favorite. Amber in color and stunningly smooth, this märzen stands for everything the style represents—a perfect marriage of sweetness and maltiness.
Oktoberfestbier
Hofbrau – Munich, Germany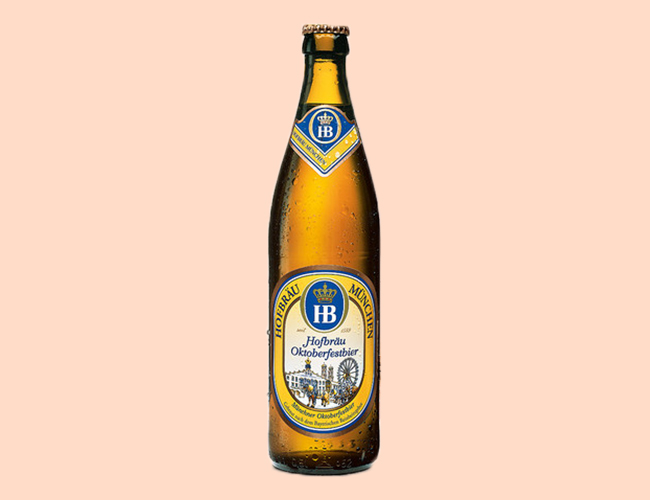 A true festbier, Oktoberfestbier clocks in at 6.3% ABV making it a bit bigger than its traditional counterparts. Still, this beer is intimately quaffable. Pouring a shiny gold thanks to light barley and Munich malts, Hofbrau's version feels soft on the palate. The slightly sweet finish gets you ready to go in instantly for another sip. This is the beer you want alongside some of that traditional Oktoberfest roast chicken.
Oktoberfest
Spaten – Munich, Germany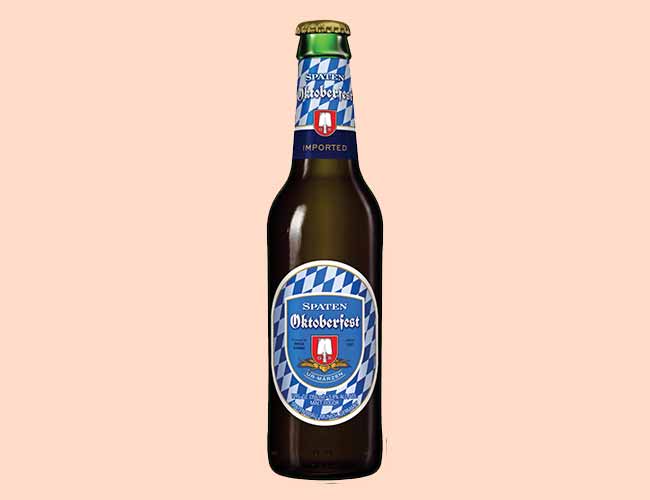 Created in 1872, Spaten Oktoberfest is considered the world's first märzen. Towing a lustrous line between amber and gold, this version boasts deep toasty notes complemented by a crisp citrus lemon bite. Simply put, this version from Spaten is not to be missed. Luckily, it's pretty readily available here in the U.S. Just be careful not to confuse this märzen with Spaten's golden Oktoberfestbier, only available in Germany. The Mayor of Munich kicks off the official Oktoberfest celebration by tapping a keg of Spaten Oktoberfestbier. So, unless you travel to Munich you won't be able to try Oktoberfestbier, but Spaten Oktoberfest is an amazing alternative.
The Modern American Versions We Love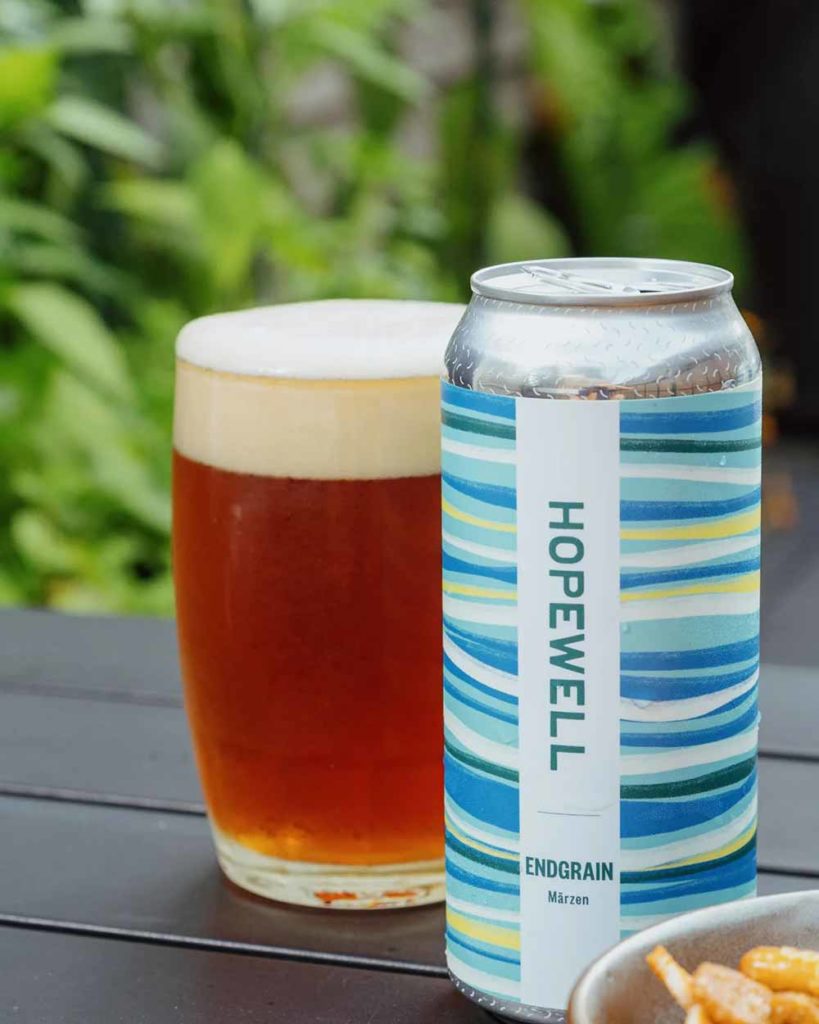 Here are a few versions from American craft brewers that put their own modern spin on the German classic. For the most part these versions will adhere to the more recognizable märzen style that as we've mentioned has become popular here in the States.
Endgrain Märzen
Hopewell Brewing Co. – Chicago, IL
Built to bring in the fall, Endgrain captures the essence of this season in a can. Which is why we love it so much. Rich and malty with a hint of that Noble hop character, the aroma actually presented very juicy to us.
Getting into that first sip revealed a complexity and depth that makes us love the märzen style.
With Endgrain, you peel back the layers with every sip. A bit of dark toast with jam hits first followed by an almost smoked meat finish.
This is just a delicious, smooth, and balanced märzen.
Oktoberfest
Elsewhere Brewing – Atlanta, GA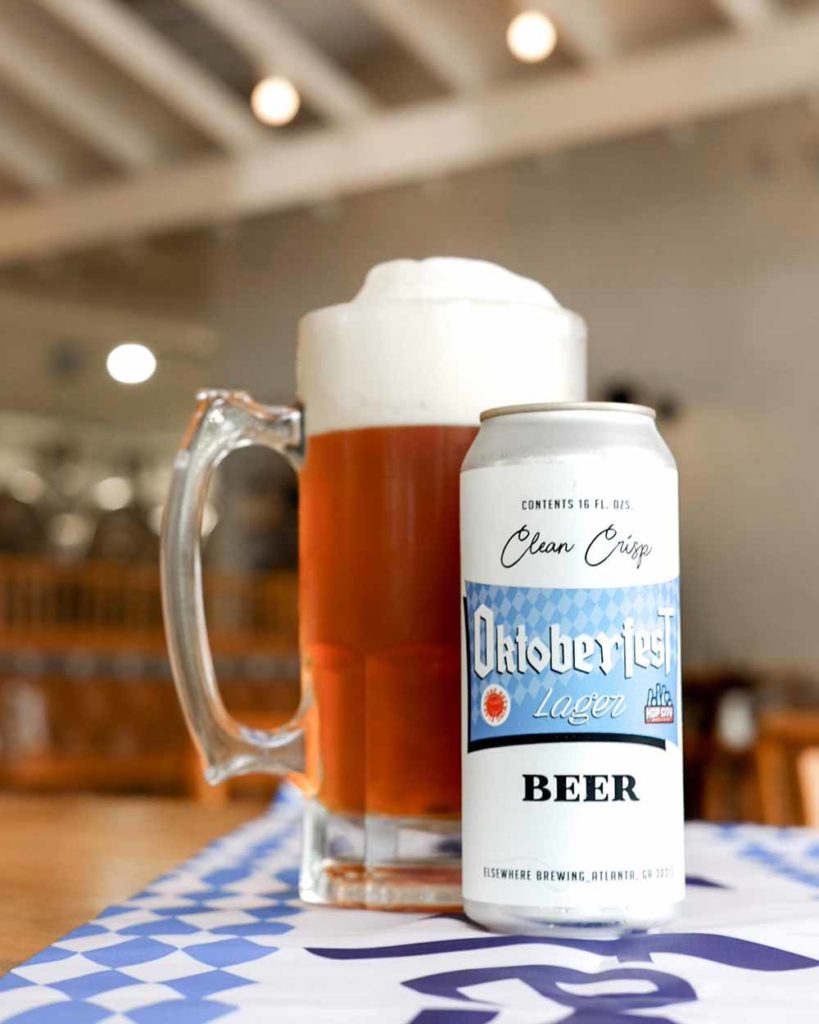 Elsewhere Brewing just continues to impress us with every new beer they send our way (I guess we were right when we named them one of our <"10 Best Breweries to Watch in 2021."
Their German hefe called Promised Marvels made our list of The 20 Best Beers to Drink in Fall 2021, but it's their own Oktoberfest that makes the cut here.
A creamy foam almost like melted ice cream burst with a light floral, buttery biscuit on the nose. But dig underneath the delicate head and you'll discover a clean, crisp Oktoberfest-style beer that's not over the top or too fancy.
Elsewhere's Oktoberfest is just super balanced and beautiful. And to us that is what the Oktoberfest style should be all about. No fuss, no muss, just the good stuff.
Nacht-Toberfest
New Image Brewing – Arvada, CO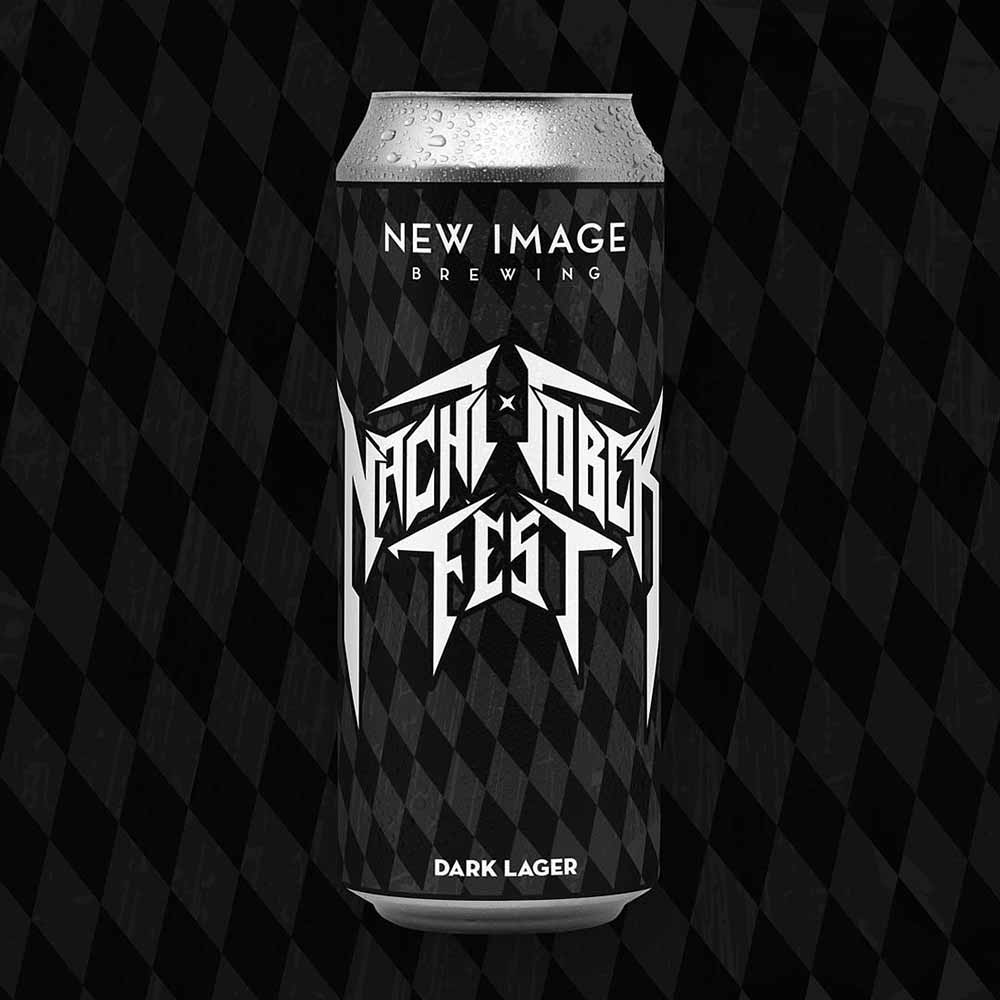 Normally, when we're mentioning New Image it's because of an innovative new IPA—like one with Phantasm. But you may not know that this Colorado-based brewery also kills it with their lager program.
Nacht-Toberfest stunned us with its ombre garnet to dark teak wood complexion. On the nose we immediately detected a great maltiness and charred wood, followed on the sip by a very balanced maltiness. That's probably thanks to Serenade, Blue, and Midnight, dark roasted malt, from Troubador Maltings.
It's the latter grain that gives this particular beer a bit of a darker color than you'll normally see with an Oktoberfest. In fact, New Image actually technically considers this a dark lager.
But don't let that fool you. With Nacht-Toberfest you'll find all the flavor profiles you'd associate with a malt-forward beer: baked dark bread, biscuit, toast, and a little bit of nutty caramel.
For that reason, we're dropping it on this list because it's just a damn good beer.
Oktoberfest
Bierstadt Lagerhaus – Denver, CO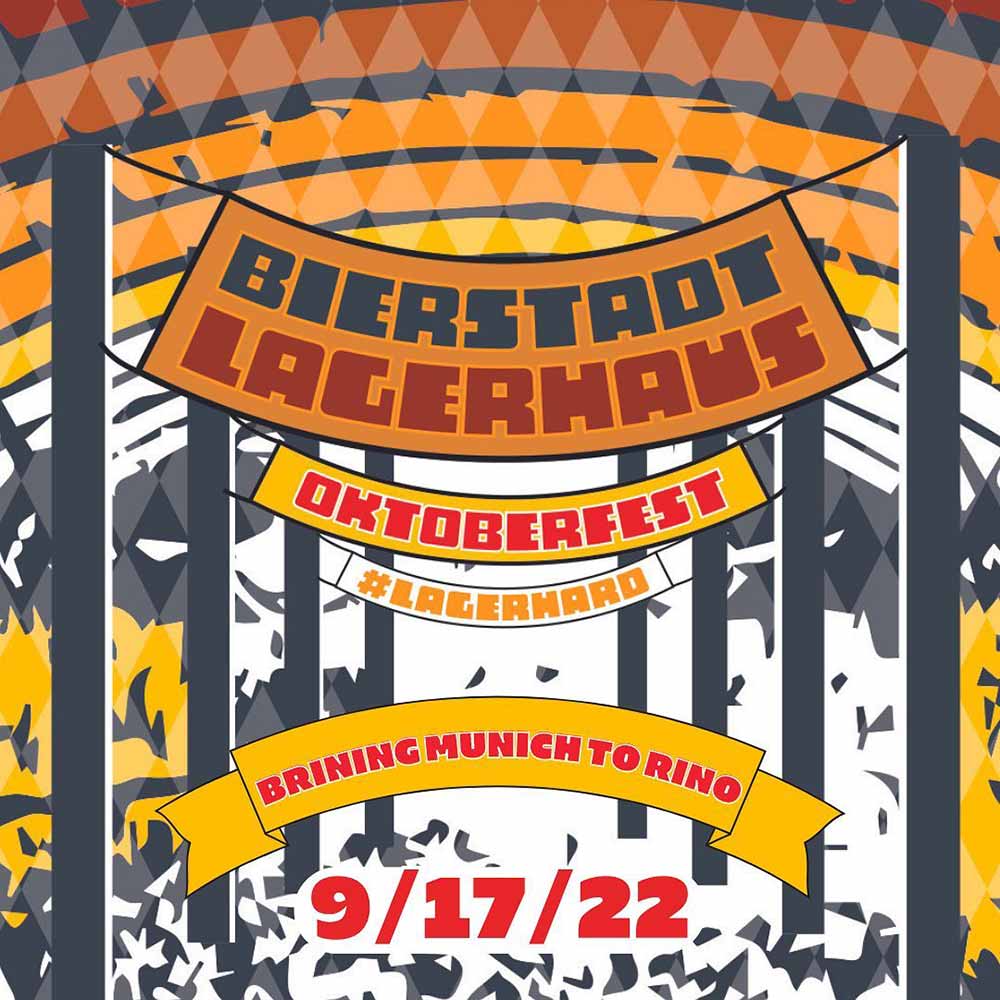 One of the best lager-focused breweries in the entire country does the ultimate justice with its version of an Oktoberfest.
And that's what this beer is all about. Released this year on Sept. 17th, 2022, the exact day Oktoberfest starts in Munich, Germany, Bierstadt's version stays true to the märzen style.
And that's important. This version just nails all the prereqs of a traditional märzen.
Beautiful amber hue ✅
Deep malt character ✅
Luxurious mouthfeel ✅
Clean, crisp finish ✅
Some might argue that it's worth visiting Denver in late September / early October for something other than the Great American Beer Festival. And if you do happen to be there for GABF, maybe consider making a side trip to Bierstadt Lagerhaus to snag a stein of their Oktoberfest (oh, and also this Slow Pour Pilsner is a can't-miss).
Bonus: We can't say with one hundred percent certainty that this beer is still available by the time of publication, but Bierstadt Lagerhaus and Green Bench Brewing Co. in St. Petersburg, FL, teamed up to brew a smoked märzen called Spark. If it is still around, it sounds super interesting.
Festbier
Green Bench Brewing Company – St. Petersburg, FL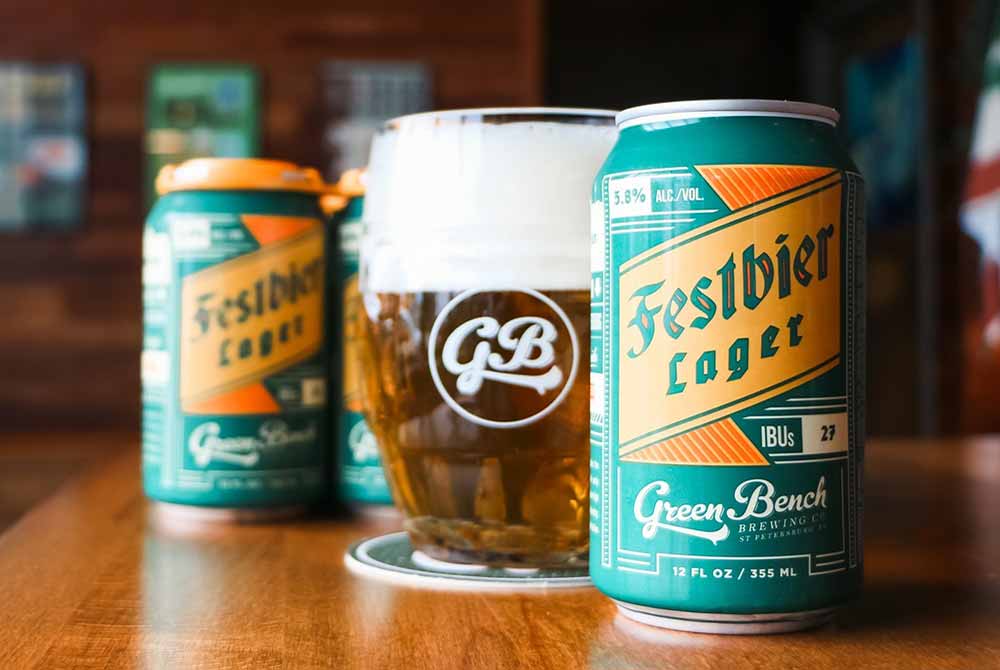 Speaking of Green Bench, Festbier is the brewery's own interpretation of the lesser-known German golden lager now served as the official beer of Munich's Oktoberfest fete.
Brewed with imported German Pilsner, Vienna, and Munich malts, Green Bench's Festbier produces a strong malty backbone tempered by a clean hop bite.
Green Bench Co-Founder and Head Brewer Khris Johnson uses a traditional double decoction process and natural carbonation to truly mimic an authentic German-inspired interpretation of this celebratory harvest beer.
Whisper
Tree House Brewing Company – Charlton, MA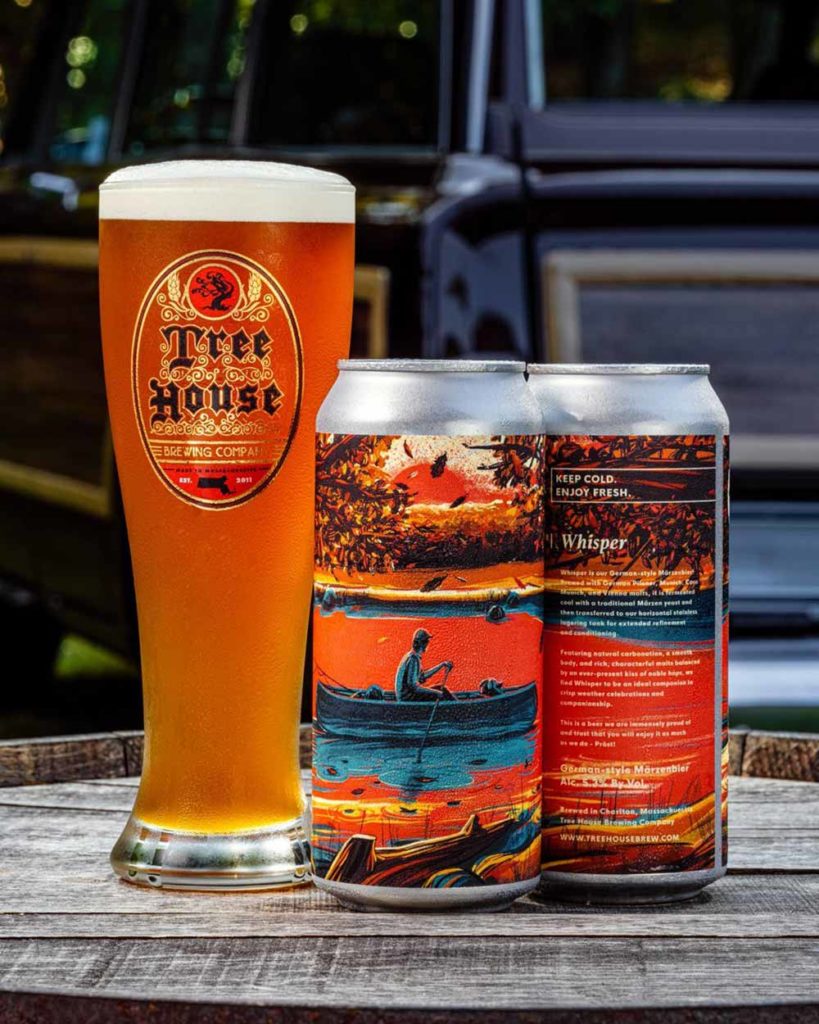 Yes, one of the best IPA-producing breweries in the country makes a damn fine märzen.
Brewed with German Pilsner, Munich, Cara Munich, and Vienna malts, plus a traditional märzen yeast, Whisper is Tree House's culmination of years toying with the idea of a German-inspired lager to celebrate Oktoberfest.
Smooth and rich from the plethora of malts, Whisper also includes just a, well, whisper of noble hop character.
"We find Whisper to be an ideal comparison to crisp weather celebrations and companionship," writes the brewery in the beer's Untappd description. "With a dense, billowing head and a remarkably creamy mouthfeel, this is a beer we are proud of and trust that you will enjoy as much as we do – Pröst!"
Oktoberfest
Westbound & Down – Lafayette, CO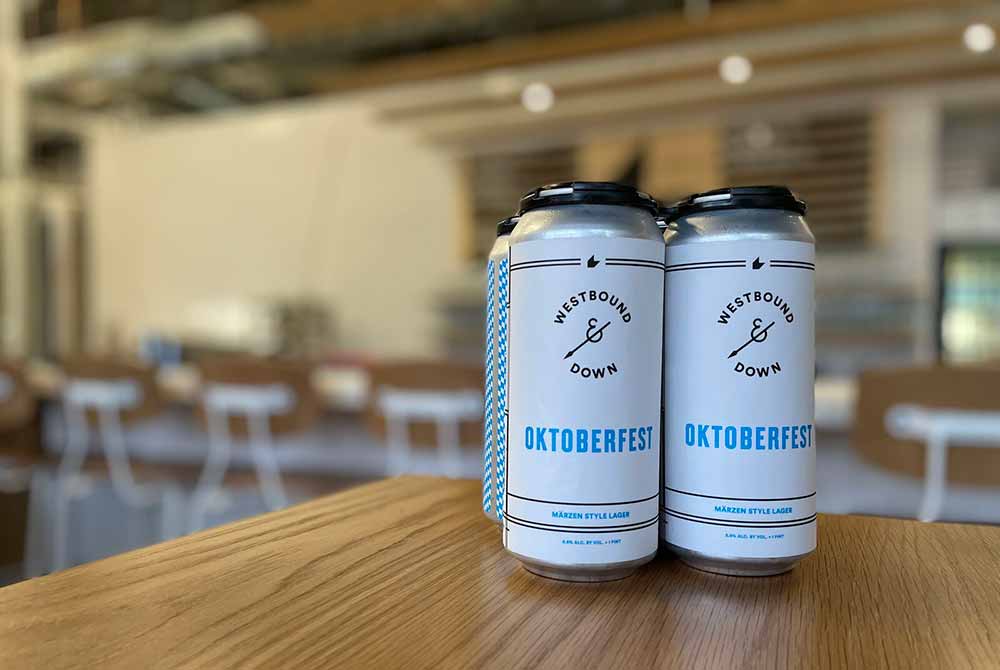 Westbound & Down is like your best friend: solid all the time.
And things are no different with their Oktoberfest. This is a no-frills, unfussy, sturdy märzen.
For us, we get notes of chestnuts roasting over an open fire, like the ones you'd find at a Christmas market in Germany. There is a slight bitterness here, but it's really more about the layered roastiness.
Personally, we like how the brewery describes the beer: "rich malt aroma, flavors of fresh toasted bread and golden brown biscuit tops with a clean, balanced bitterness."
Enough said.
Yard House Give 'Em Helles
Yard House (various locations) x Schneider Weisse G. Schneider & Sohn, Kelheim, Bayern Germany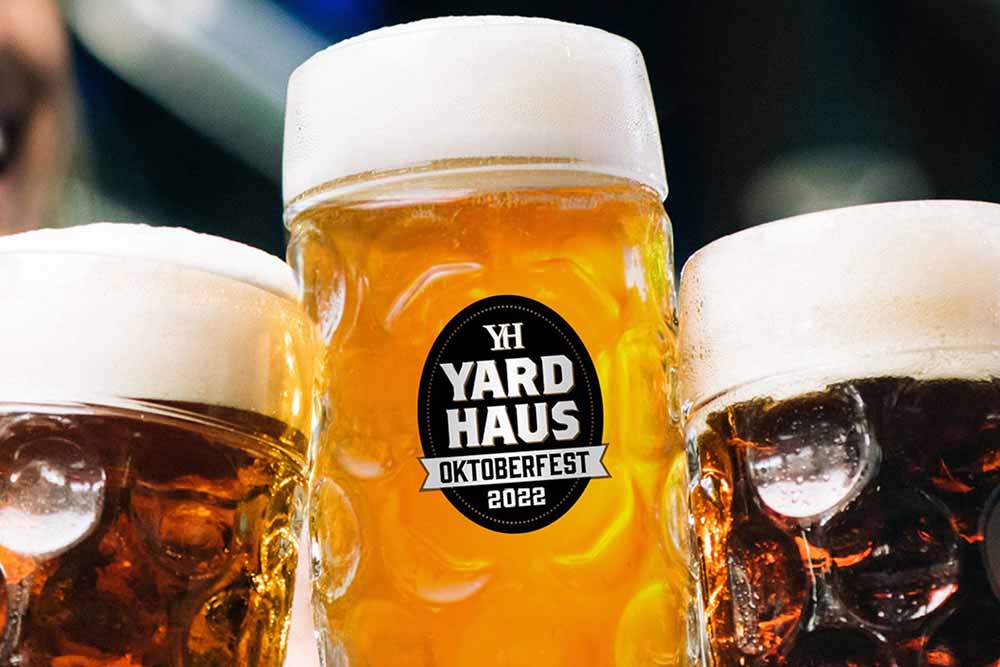 So technically, this is a helles lager, but this uber popular sports bar with over a hundred taps collabed with Schneider Weisse to create the German brewery's only bottom-fermented beer to debut in the United States.
Meaning if you don't make it to a Yard House near you to try it now, during the most perfect time of the year, you might not ever try it at all.
Inspired by the tradition of Landbier in Bavaria, which according to Schneider Weisse Braumeister Josef Lechner is "not a style per se, but a brewing philosophy," the Schneider Weisse Braumeister sourced all the ingredients for Give 'Em Helles from mere kilometers away from the brew house.
Located in a unique place in Germany, Schneider Weisse sits right in between the world-famous hop-growing Hallertau region and the Straubinger Gäuboden area known for its malt.
Accordingly, Lechner incorporates Hallertauer Tradition, Hallertauer Mittelfrüh, and Hallertauer Hersbrucker hops alongside one hundred percent Pilsner malt.
A mildly bitter beer that has a "pleasant bite at the finish…without overpowering the delicate malt flavors in a beer of 4.9% ABV," says Lechner.
Hallertau hops add a mellow bitterness and earthy-floral aroma that add "another dimension of complexity," says Lechner. "Super clean and crisp with nutty notes of grain and a touch of malt sweetness," Give 'Em Helles is probably best for pairing with one of Yard House's jumbo Bavarian pretzels. Lechner calls it, "the perfect pairing!"
Staghorn Octoberfest
New Glarus Brewing Company – New Glarus, WI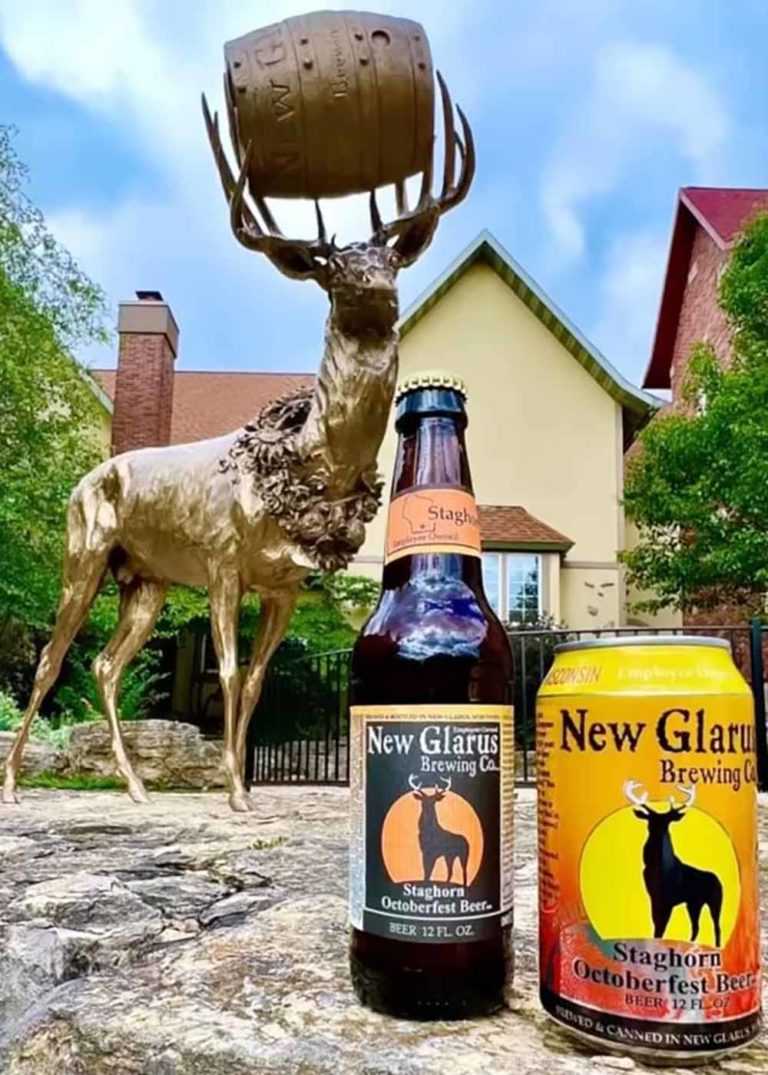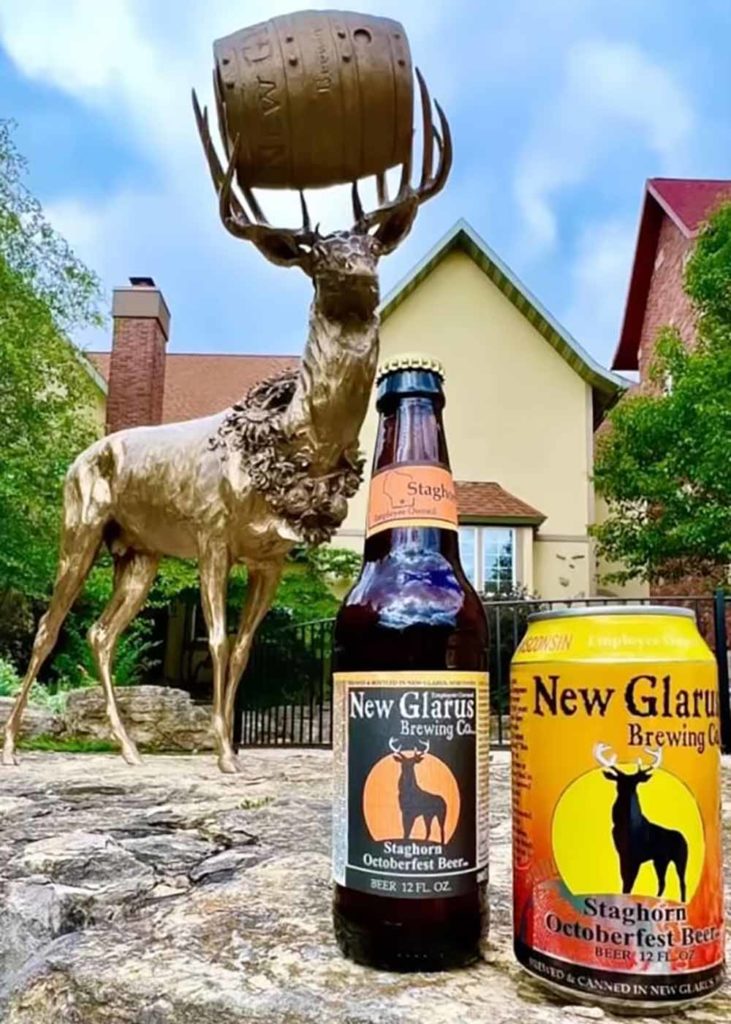 We love how breweries known for other styles put an equal emphasis and care on nailing these German-style märzens.
Best known for farmhouse ales—such as Spotted Cow—and fruited sours, New Glarus puts its own spin on the autumnal German beer with Staghorn Octoberfest.
Featuring both Midwestern and European malts along with German yeast and Wisconsin water, New Glarus' version of the amber German lager marries the brewery's Midwestern mentality with traditional German heritage.
"Be sure to hold this one up to the light of any harvest moon and enjoy 'Wisconsin's Real Red,'" writes the brewery in the beer's Untappd description.
We think that about sums it up.
The Hunt For Red Oktoberfest
Comrade Brewing Co. – Denver, CO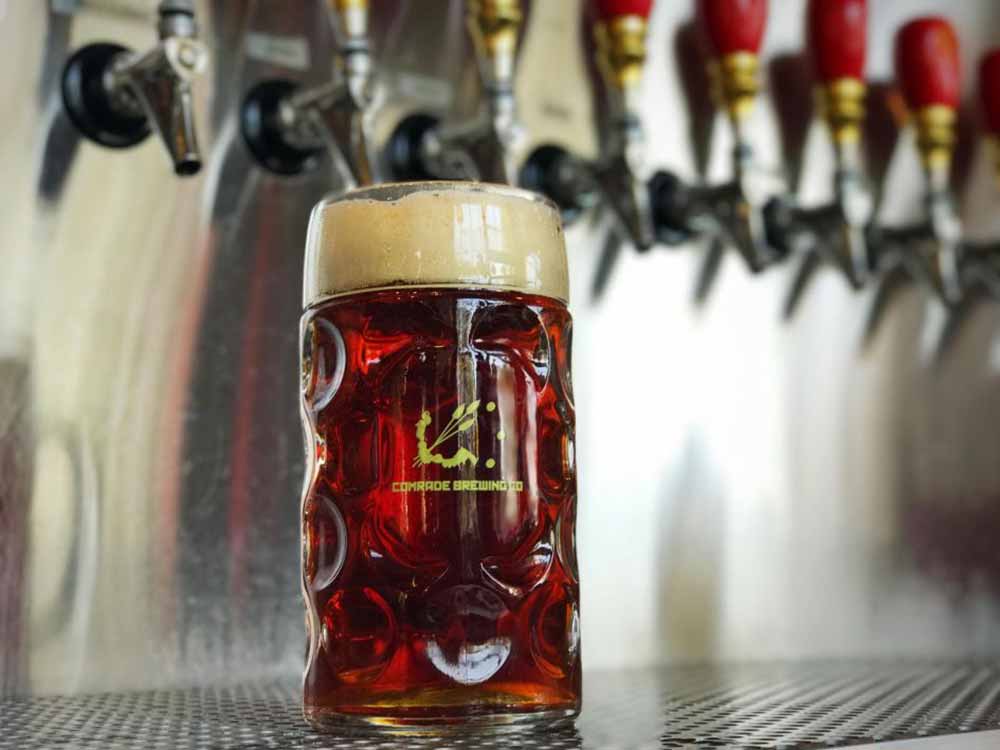 Alright, first and foremost, props for the incredible word play here. One of Sean Connery and Alec Baldwin's classic movies, based on the Tom Clancy novel, "The Hunt for Red October" is an all-too-classic standoff between the Soviet Union and the United States that takes place mostly aboard a couple of submarines.
Likewise, Comrade Brewing's version of a märzen plunges us into its depths with a Swiss bottom-fermenting yeast anchoring this Oktoberfest (enough of the nautical puns!).
Lagered for eight weeks, The Hunt For Red Oktoberfest comes up for air after two months with a beautiful amber body and creamy mouthfeel. This is a deliciously glossy and polished beer. There are just no blunt edges; it's smooth as a cashmere sweater. Which you'll probably need to wear during an autumn in Colorado. Munich malts provide the breadiness while Hallertau Blanc hops add the earth spiciness.
From this beer we get a very rich, complex honied tea, but at the kicker there is this unique slight raspberry lemon meringue profile that perplexed us. In a good way. We kept going back sip after sip to try and decipher it. Before we knew it, that whole twenty-four-ounce bottle they sent us was…gone. Just like the Red October, slipped beneath the surface.
Crisp, clean, this beer will make you stop dead in your tracks…like an American submarine when a Russian one performs a "Crazy Ivan." If that's too deep of a cut for you, stop everything you're doing and go watch "The Hunt for Red October" right now.
Konstantin
Schilling Brewing Co. – Littleton, NH
A bit unique, this märzen from the European-inspired brewery in New Hampshire (one of our favorite to visit in the entire state) is described as an Austrian-style. With a slightly drier finish than its Germany buddy, Konstantin launches only during the Oktoberfest season. Rich caramel and toasted oat notes round out a gorgeous ruby-hued lager. In addition, decoction gives this beer an extra layer of complexity.
Waddle
Off Color Brewing – Chicago, IL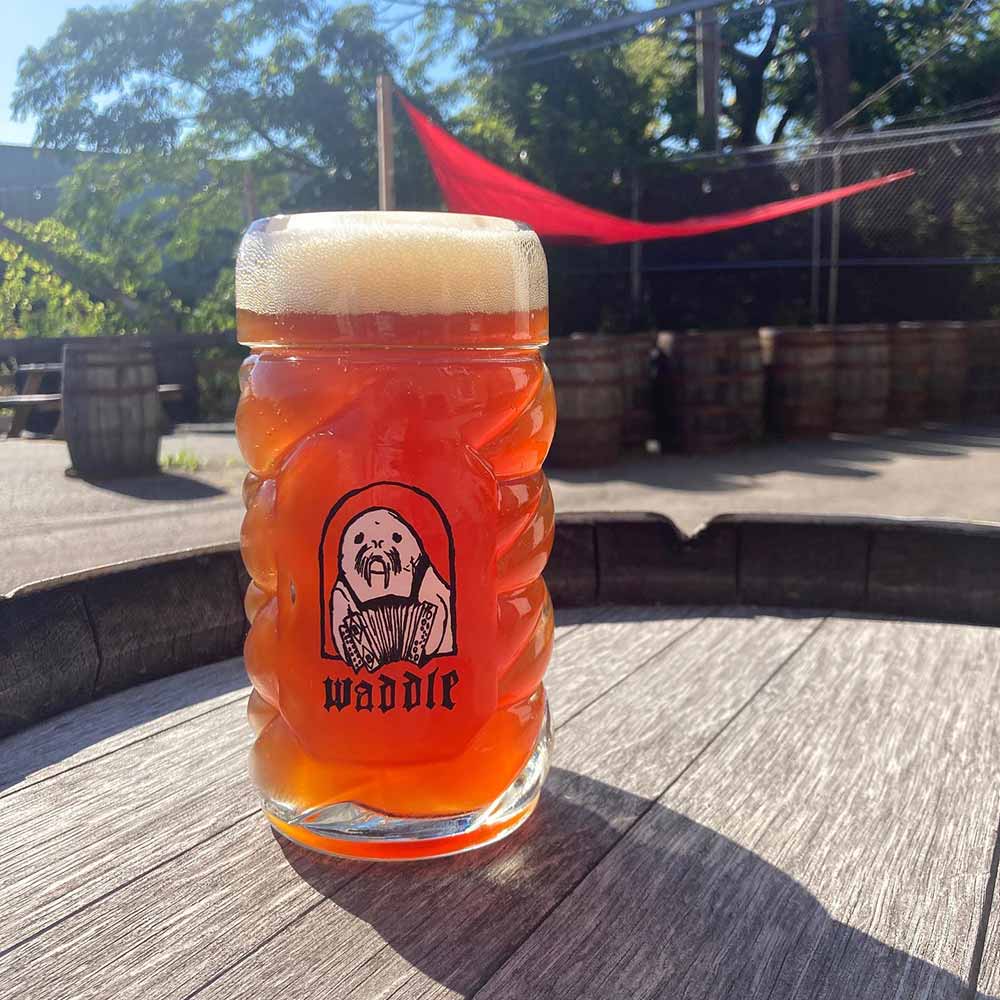 Known for brewing oft-forgotten or a bit off-the-beaten-path styles, Off Color keeps the tradition alive with their own märzen—Waddle.
Funny story, just as the original Oktoberfest started with a wedding, Waddle similarly began with the wedding of one Off Color employee.
Off Color pretty much colors in the lines with their Oktoberfest-style märzen. Pils, Dark Munich, and CaraMunich round out the malt bill, lending a deep biscuit and fresh baked bread backbone. On the hop side traditional Hersbrucker and (perhaps a little less traditional) Nugget hops lend a subtle spiciness to the finish.
All in all, this is a celebratory beer, first brewed for a celebration, and now continually brewed for Oktoberfest celebrations.
In Like A Lion
LUKI Brewery – Denver, CO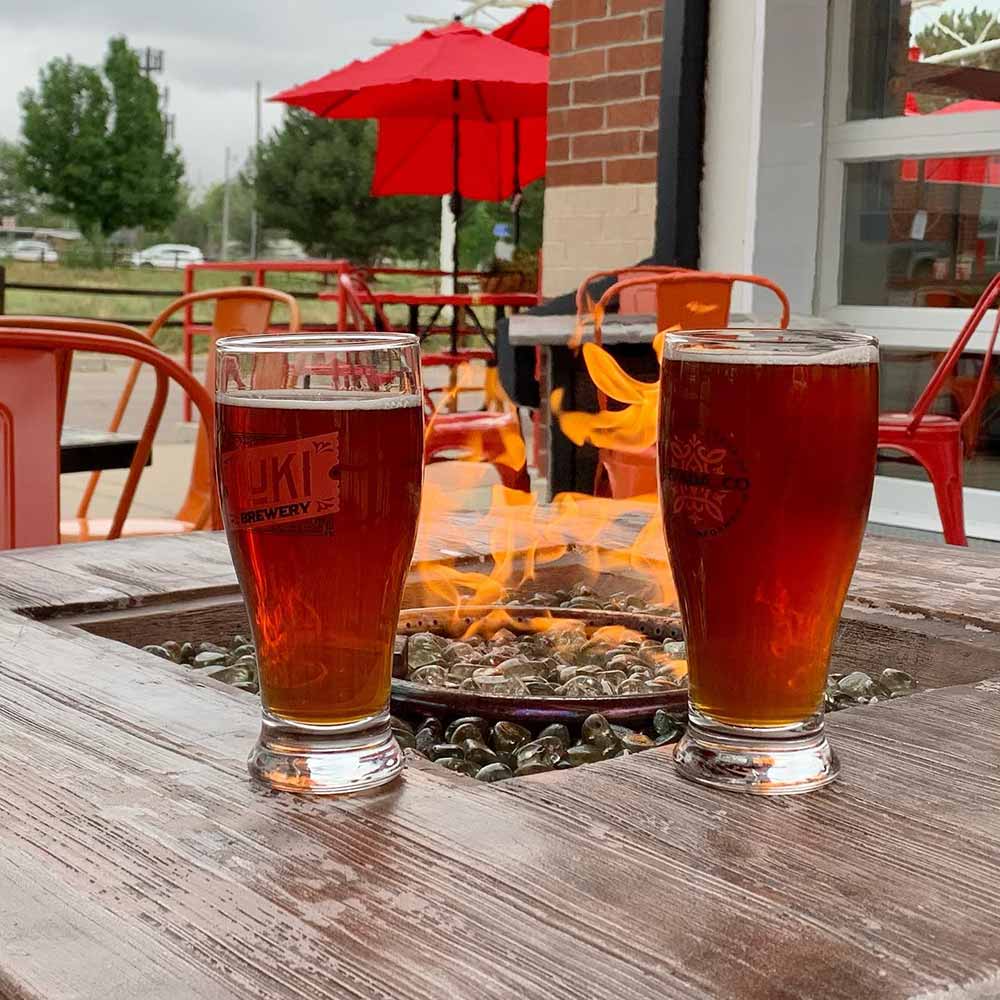 When we say LUKI Brewery followed German tradition when brewing its märzen, we truly mean it. Originally brewed in March, märzens (which literally translates to **surprise surprise** March in English) were stockpiled to survive all through the summer and well into the fall.
Accordingly, LUKI brewed In Like a Lion this past March and lagered it for six months. Now that's what we call an homage.
Super malt-forward thanks to the combination of Pilsner, light Munich, and Vienna malts, In Like A Lion offers a caramel-y, honied sweetness bordering on sticky toffee pudding. What could have been a touch overly sweet gets reigned in with the smart addition of noble Hallertauer Mitelfrüh hops for a lovely floral finish.
"This märzen will knock your loferl off," writes the brewery in the beer's Untappd description, referring to tradition of wearing calf warmers during Oktoberfest.
We happen to agree.
Oktoberfest
Thin Man Brewery – Buffalo, NY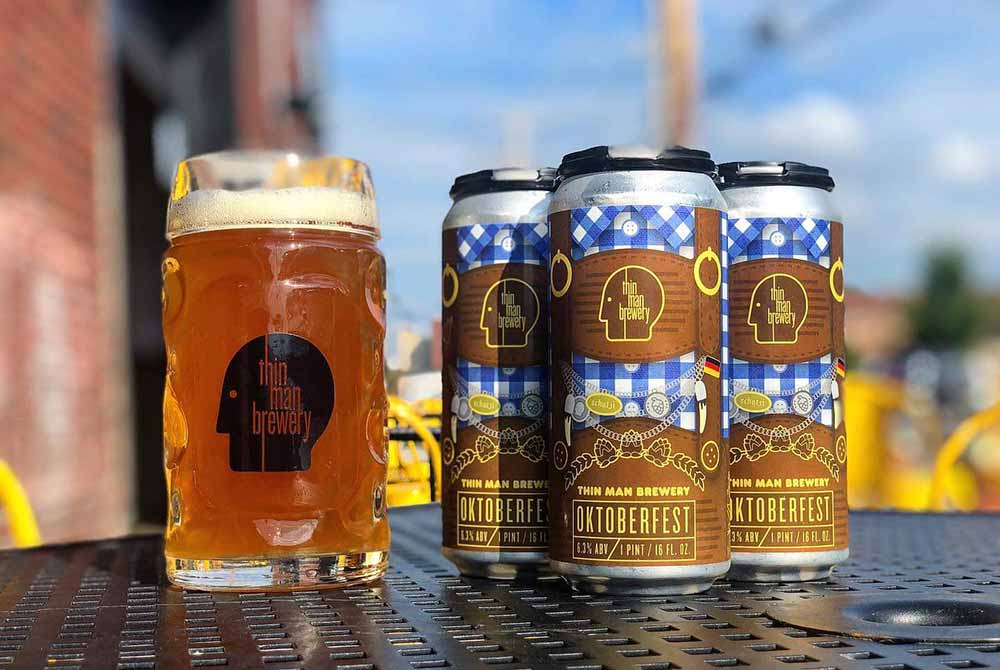 One of our favorite breweries in Buffalo, NY, Thin Man's interpretation of a märzen is spot on.
Bready, toasty, malty, with just a hint of herbaceousness of Hersbrucker hops, Thin Man's Oktoberfest is "rich, but not cloying," according to its Untappd description.
Oktoberfest
Czig Meister – Hackettstown, NJ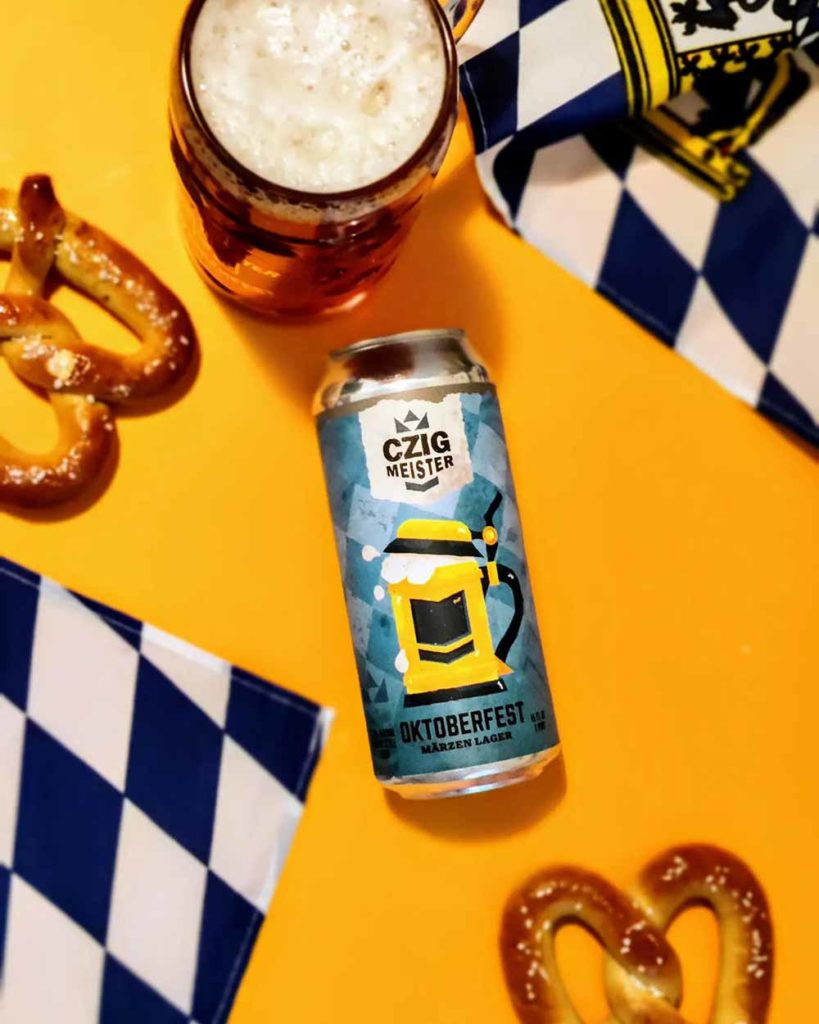 We kind of think of Czig Meister's Oktoberfest as like the goldilocks of American-brewed märzens. It only took us one sip to write in our notes, "Yup, that's a märzen-style beer to a 'T.'"
Pouring a bit more of an orange-gold than the traditional darker ambler, Czig Meister's interpretation presents crisp toast notes alongside honied graham cracker.
Truth be told, we didn't get many floral or herbaceous hoppiness here. Instead, this one is all about the malt.
But hey, we're not mad at that. Not at all.
Oktoberfest
Wallenpaupack Brewing Company – Hawley, PA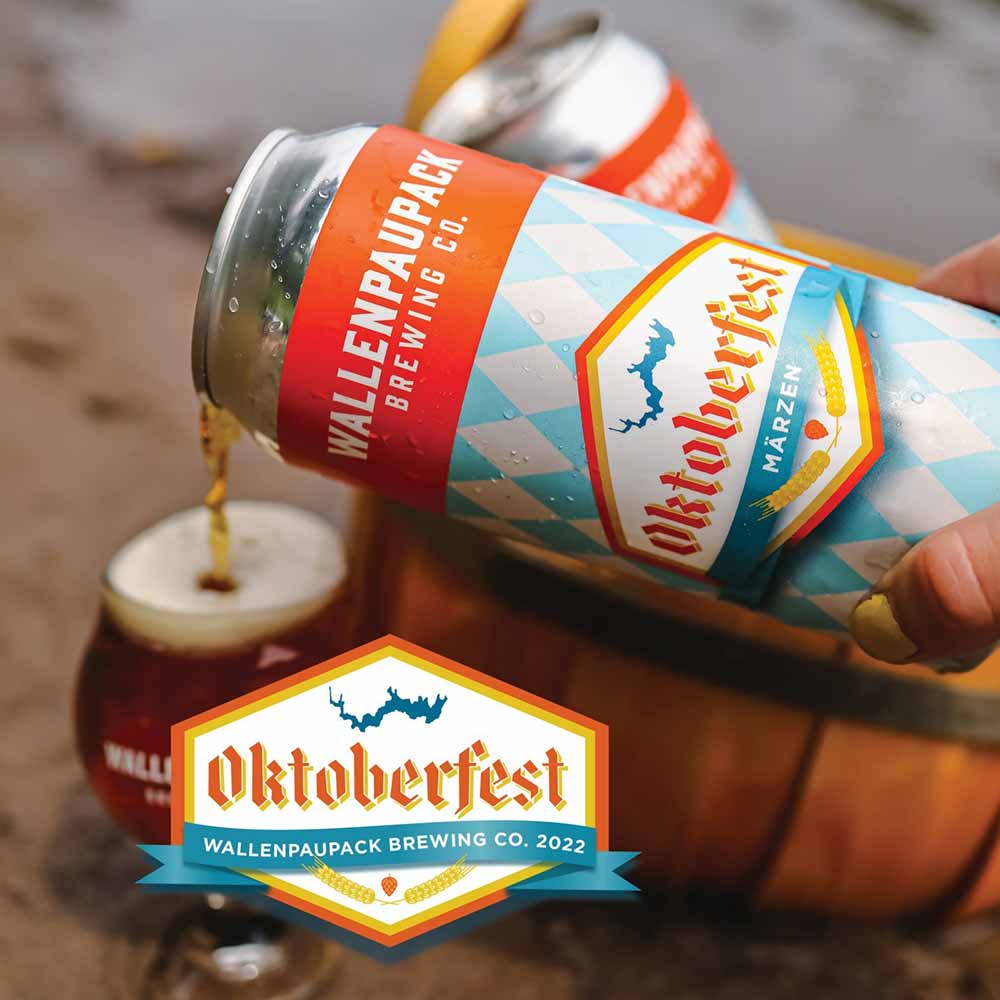 We're big fans of Wallenpaupack's Paupack Cream Ale, naming it one of the best beers we drank last November. So we weren't too surprised when they sent us an Oktoberfest lager and it knocked our socks off.
And if you don't believe us, we're not the only ones!
Wallenpaupack's Oktoberfest won a gold medal from the Brewski Awards in 2021 and VinePair named it one of the "Six Best American Oktoberfest Beers We've Tasted This Year (2020)."
We liked it for its fizzy aroma of cream soda of all things. On the sip it's much toastier and less sweet. Kind of like the charred ends of buttered toast. We actually like that this one is a bit more bitter than some of the other versions on this list. There is a complex depth to the bitterness that rounds out the whole beer, giving it a robust mouthfeel and body.
This is a grown-up Oktoberfest deserving of all its awards and recognitions.
Bonus – Wallenpaupack also makes an award-winning Festbier that follows the recipe for the more traditional German-style pale lager drunk at the official Oktoberfest festival in Munich.
Oktoberfest (2022)
The Virginia Beer Co. – Williamsburg, VA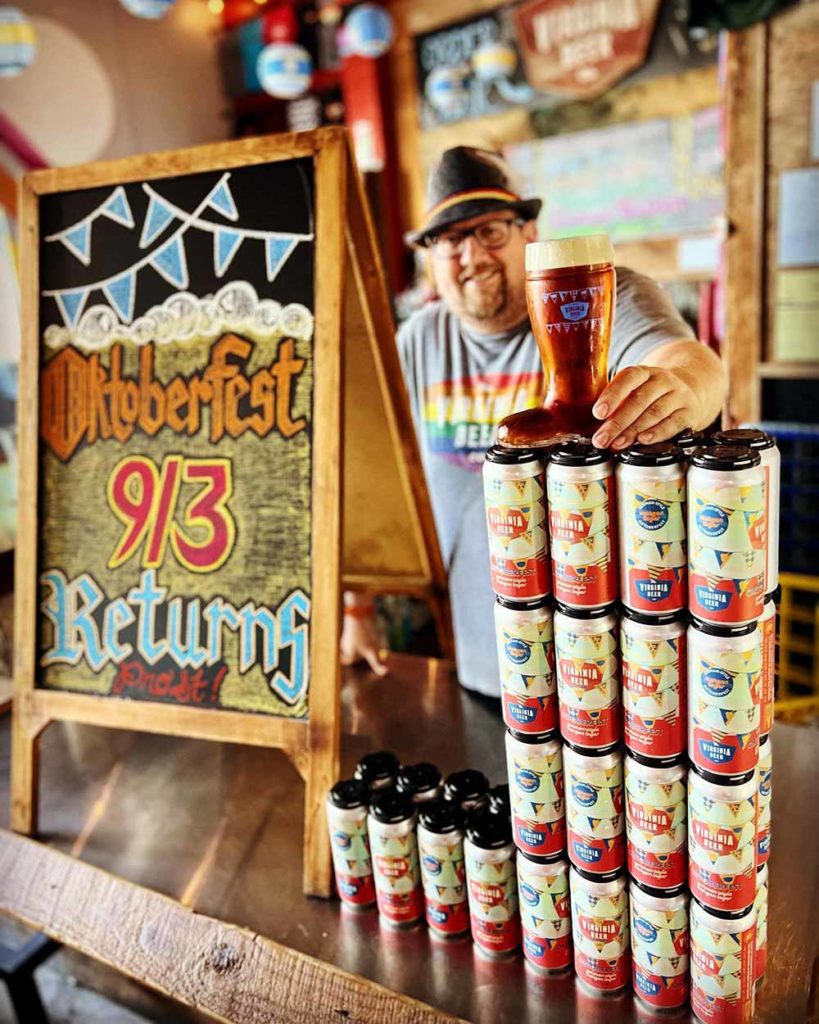 Beer. People. Purpose. Those are the three words that ring true at The Virginia Beer Co (VBC) in Williamsburg, VA.
Kind of fitting, considering those words could probably be used interchangeably to describe Oktoberfest. Accordingly, VBC's iteration includes loads of Munich-style malt, giving the beer that classic copper color.
You'll find much of the classic here: dark toasted bread builds up the malt profile finished with a balanced hop bite.
We get an immediate roastiness like fresh brewed brown tea or a kind of buttery, deep chestnut earthiness.
A touch of minerality finishes, giving this iteration a thirst-quenching crispness that makes you immediately want to take another sip.
"Here at VBC we say that our beers are only as good as the people with whom we share them," writes the brewery in the beer's Untappd description. "We can't wait to hoist a heaping half litre of Oktoberfest with an amazing community of craft beer lovers throughout this celebratory ascent of autumn. ZUM WOHL!"
Copper Legend Octoberfest
Jack's Abby Craft Lagers – Framingham, MA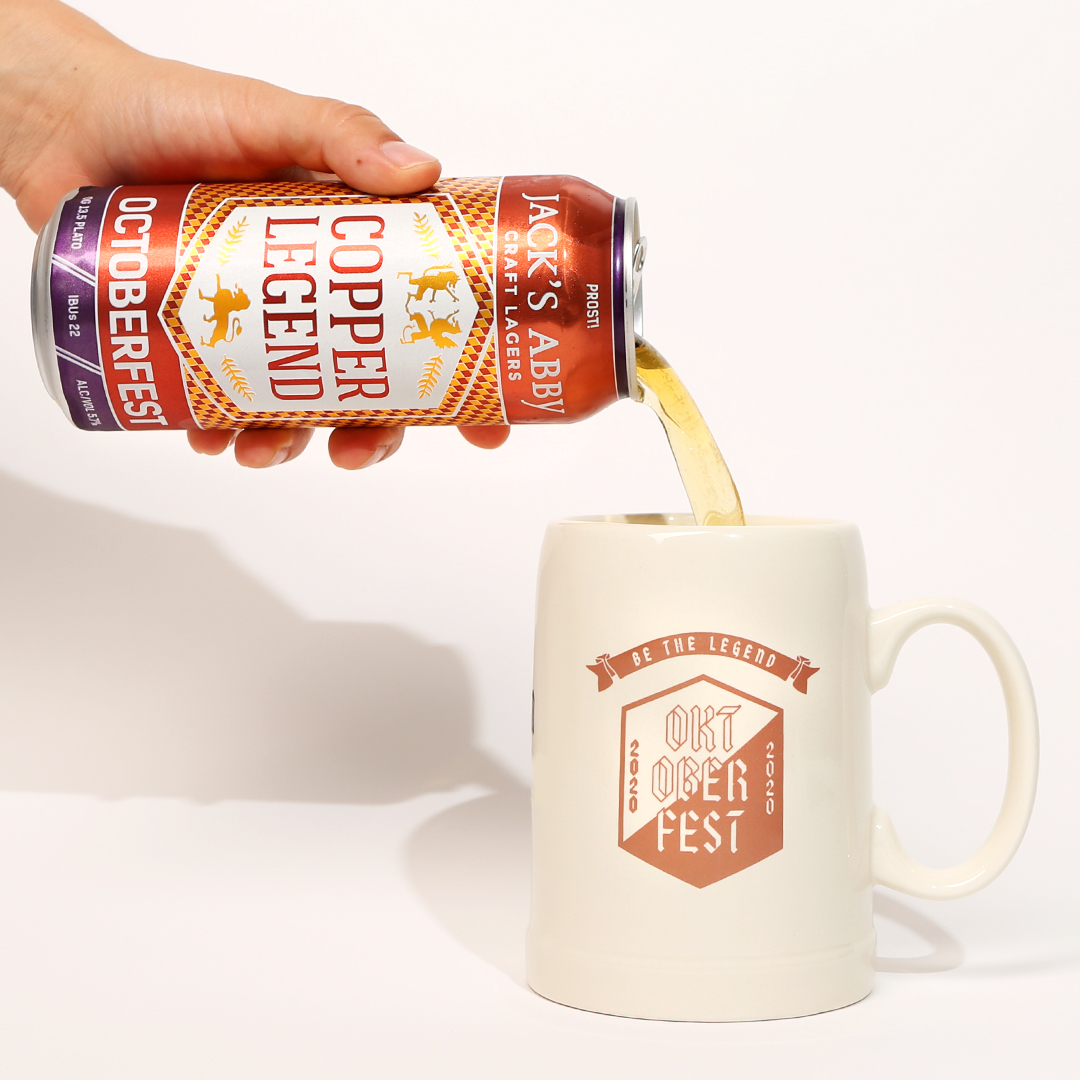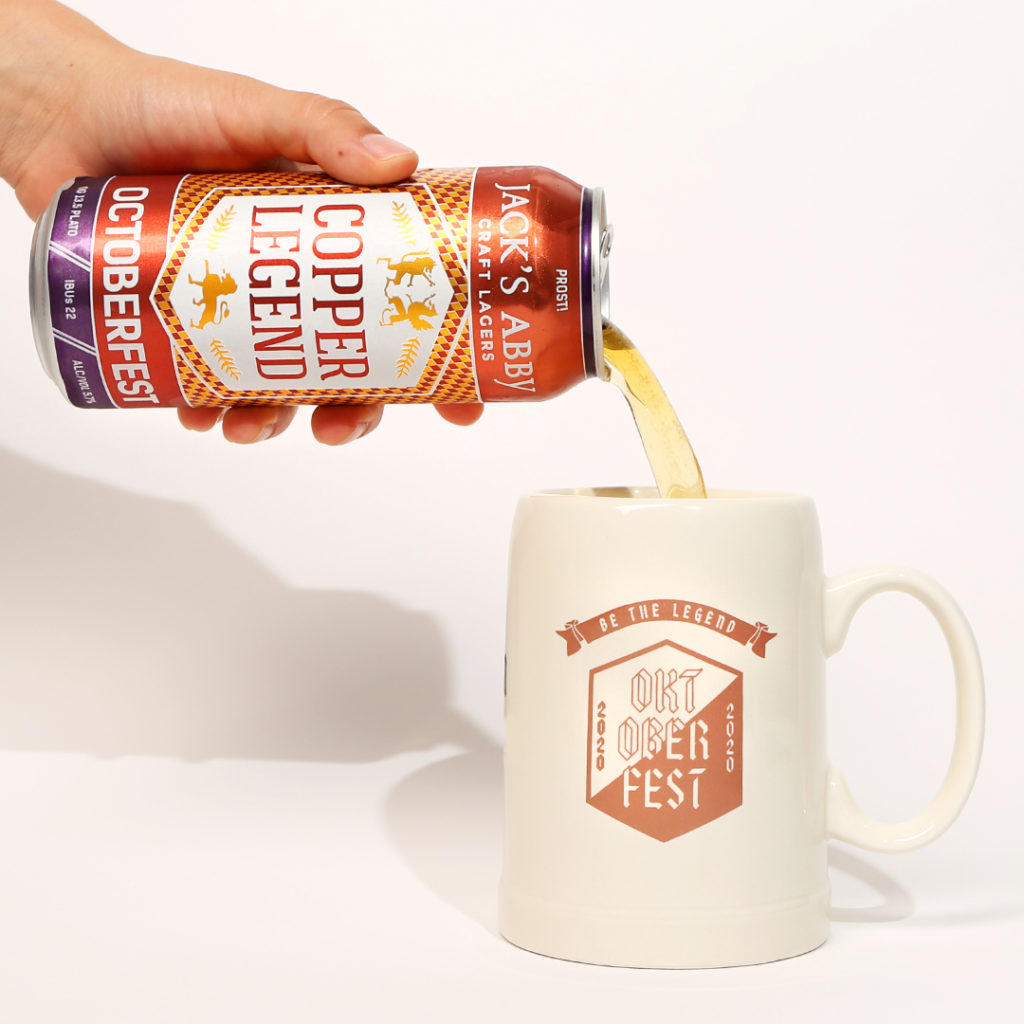 When Oktoberfest rolls around each fall, Jack's Abby's Copper Legend becomes a staple in our beer fridge. Mainly because it's just such an excellent expression of the märzen style. Probably because Jack's Abby Brewmster Jack Hendler painstakingly aims for his German beers to match up to the traditional styles. Smooth, malty, and super quaffable, Copper Legend is a go-to.
Oktoberfest Lager
Tröegs Independent Brewing – Hershey, PA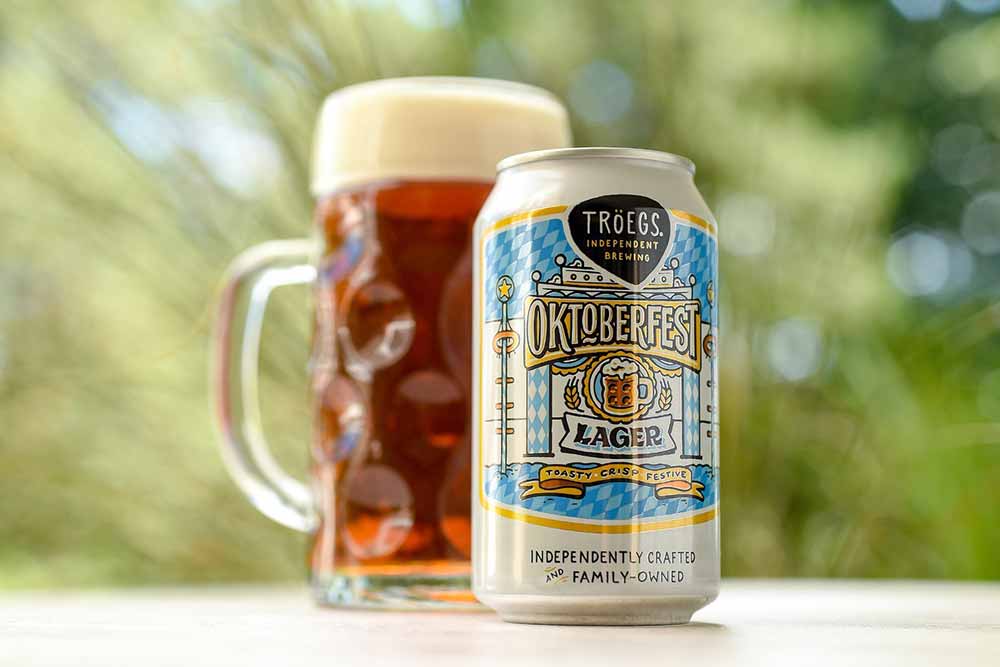 Brewed as a part of the brewery's Long Live Lagers celebrations, Tröegs take on the timeless classic includes leveraging a traditional German brewing technique called decoction.
"By boiling a portion of the mash, we create a bright, dry maltiness," says Tröegs Brewmaster and Co-Founder, John Trogner in an article for Brewbound.
Additionally, Trogner adds Hallertau Tradition hops in the kettle to complement the slightly sweet malts in Oktoberfest Lager with a hint of bright floralness.
Oaktoberfest
Firestone Walker Brewing Company – Paso Robles, CA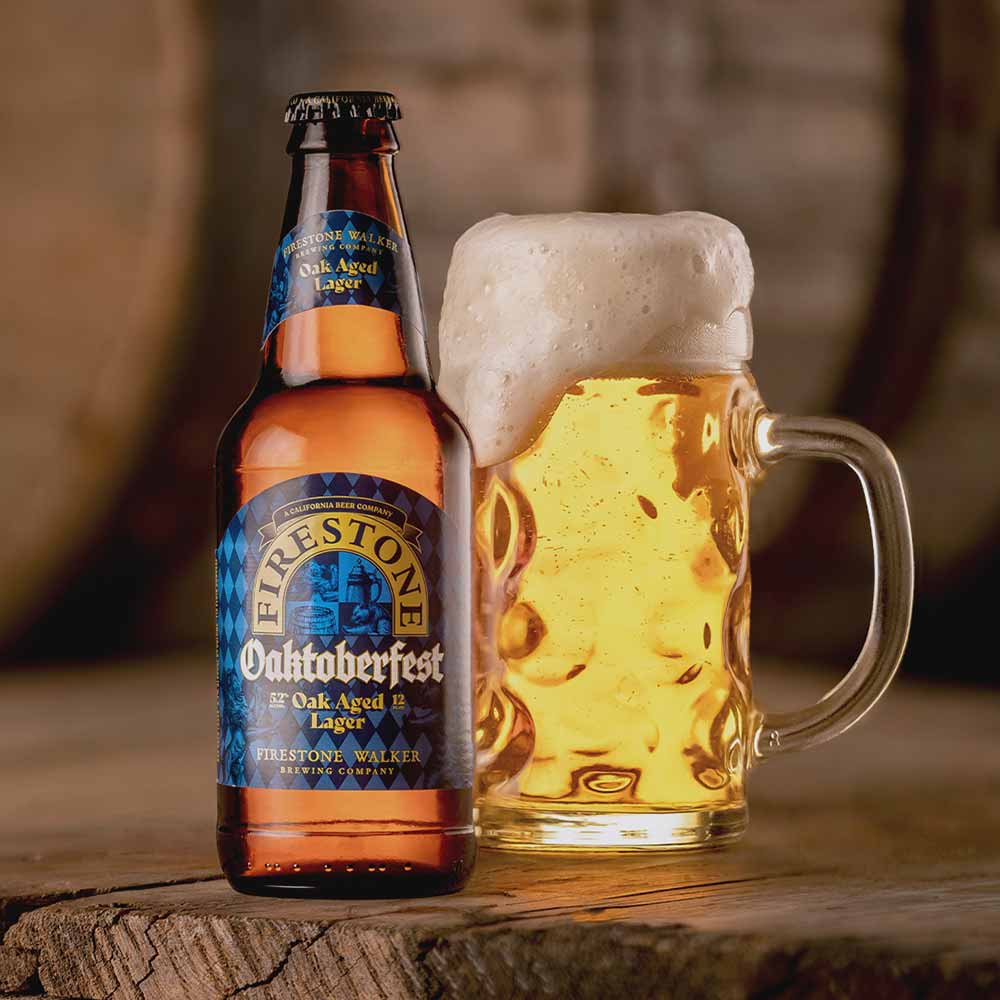 From its unique approach to hop harvest that led to an ingenious IPA combining old- and new-world hops to its experimental hop series, this iconic twenty-six-year-old brewery continues to innovate.
Oaktoberfest is the brewery's oak-inspired festbier.
"Oaktoberfest is our riff on the festbier style—we call it a 'Paso Festbier' as a nod to our hometown," said Brewmaster Matt Brynildson in a press release. "While the recipe is traditional, we lager the beer in French oak barrels to give it an extra smooth mouthfeel with a hint of oak character."
Although it's been around for more than fifteen years, we can't say we've seen another version quite like this one.
Probably because, in 2021, the brewery brought a little bit of California to this traditional German lager, lagering a portion of the beer in French oak barrels from some of Napa Valley's top wineries.
"It's German raw materials meets California wine barrels," said Brynildson in the press release. "We've really honed the recipe and process, and it just seems to get better every year."
Other than that though, the inside of the beer rings mostly German featuring Weyermann Vienna malt, Weyermann Pilsner malt, noble German hops, and Weihenstephan lager yeast.
Expect this classic with a slight twist to be wonderfully malty with a luxurious texture and complexion thanks to the oak aging.