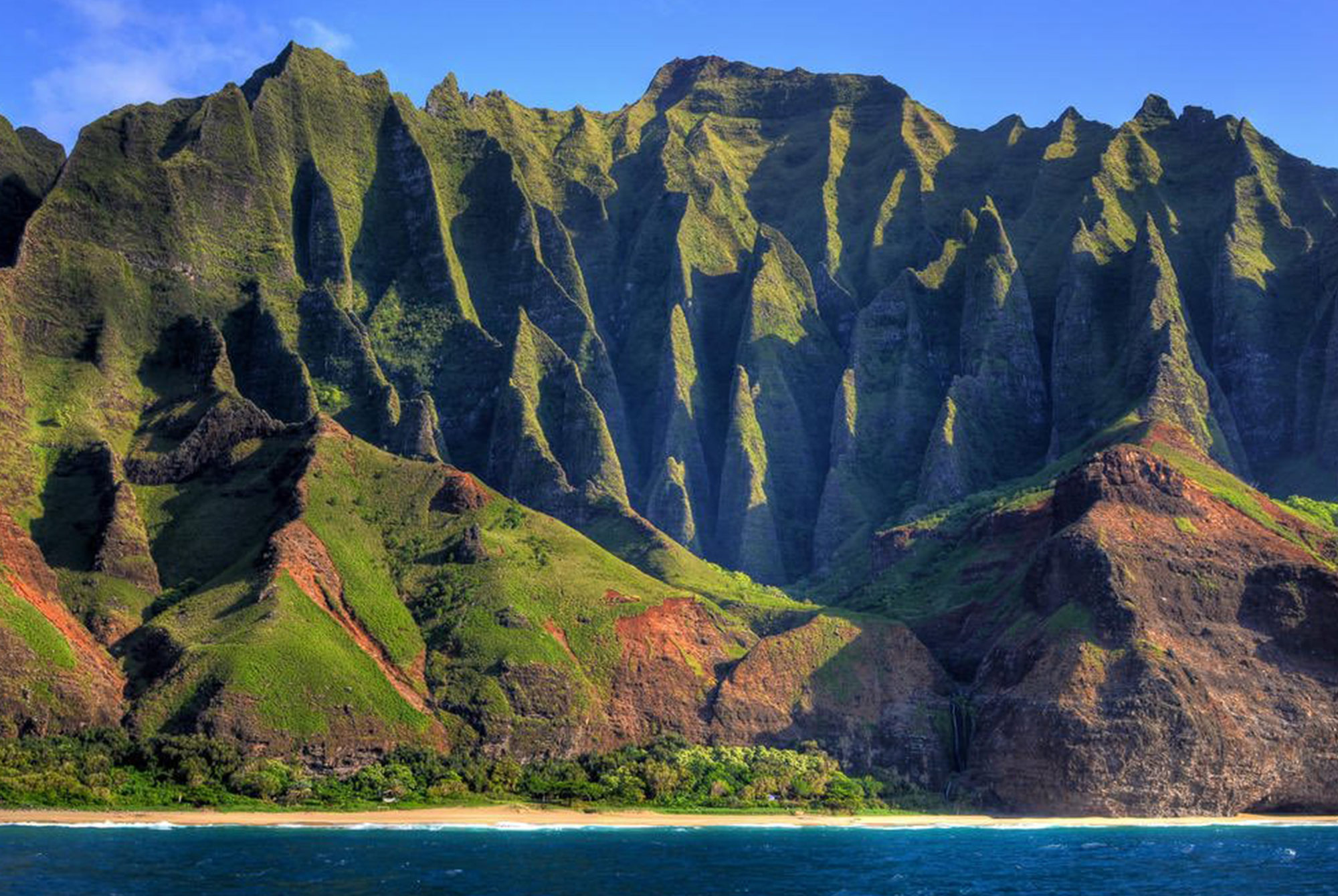 Towards the end of the Hawaiian archipelago is the beautiful island of Kauai. It is known as the "Garden Island" thanks to the tropical rainforest covering much of its surface, but tourists and locals know it more for the vast amount of wild chickens that populate the island. You might also recognize it from the helicopter ride in Jurassic Park.
If you're looking for the best spots to drink great beer with dinner, enjoy the nightlife, and then recover with a hearty breakfast the following morning, we've whipped up an itinerary for you.
Friday
Brennecke's Beach Broiler
2100 Hoone Road | (800)-742-7588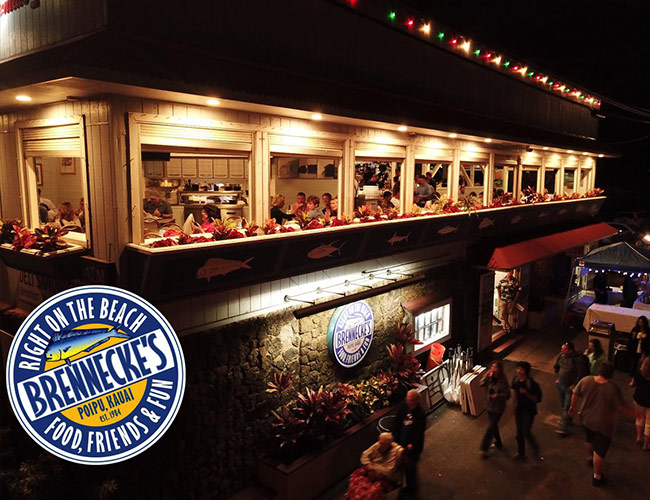 6:00 PM — Pupu Platter
Nestled right on the waterfront of Poipu beach with stunning views Brennecke's, despite being a tourist trap, is the best spot to visit fresh off the airplane. A menu boasting an array of island specialties, The Kama'aina pupu platter, filled with smoked fish, sashimi, ceviche, and lilikoi smoked pork, is a favorite. The tap wall hosts a multitude of Hawaiian beer from Kona, Maui, and Waikiki brewing.
10:00 PM — Beers at Your Condo/Hotel
Kauai may not have the liveliest of night scenes, but the beer scene never disappoints. Instead of venturing to an overpriced hotel bar, I decided to grab some local beers and bring them back to my condo. Get a taste of Hawaii in the Coconut Porter from Maui Brewing Company or Kona's Lemongrass Wheat, both made with local ingredients.
Saturday
Hanalima Bakery
4495 Puhi Road | (808)-246-8816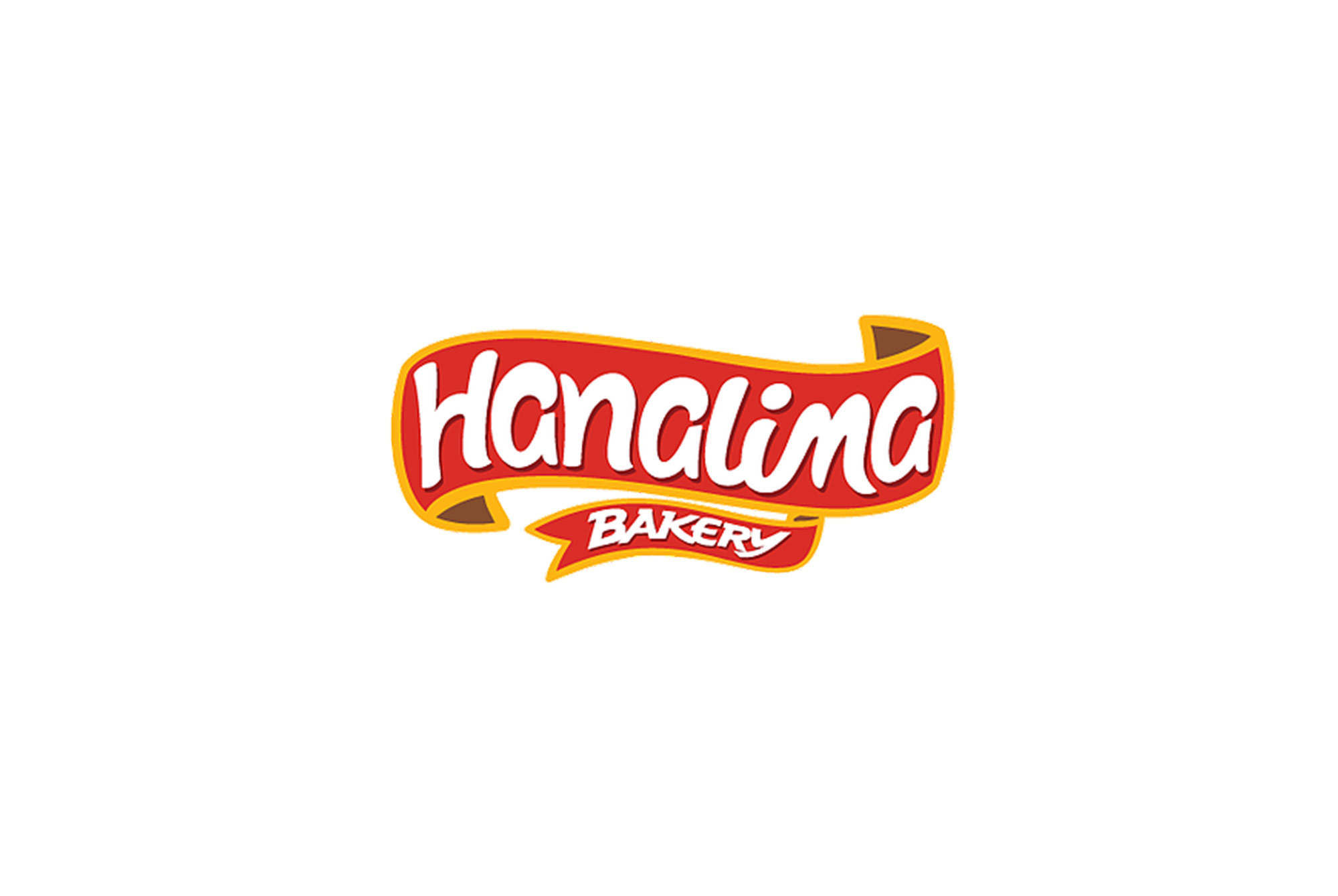 10:00 AM — Breakfast
Hanalima, the best bakery on the island, is family owned and known as the local favorite. Serving both savory and sweet pastries, grab yourself a lilikoi scone and a classic spam roll as well as a few malasadas (Portuguese donuts.) Everything is baked fresh each morning so get there ASAP; they're known to sell out of most things before lunchtime! If you're going later in the morning, like I did, you can also indulge in a kimchi omelet, a loco moco (eggs, rice, hamburger, and egg) or a classic spam and eggs.
Waimea Canyon State Park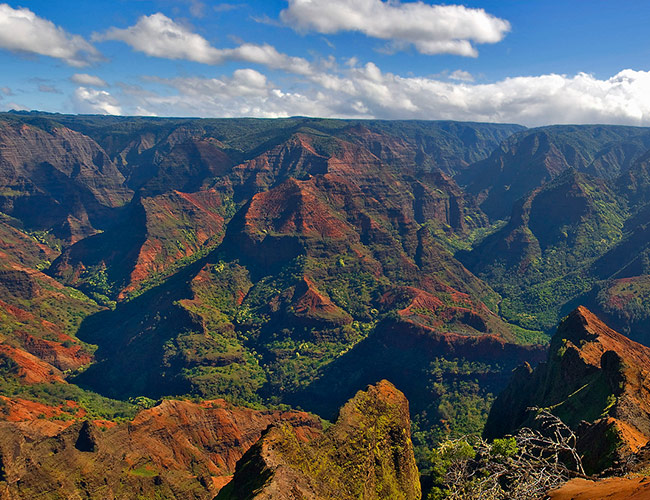 11:00 AM — Work Off Breakfast
Known as the Grand Canyon of the Pacific, the Waimea Canyon is 10 miles long and 3,600 feet deep. After indulging in some sweet and savory carbs, a hike near Waimea Canyon is the best option to work off breakfast. Only 15 minutes from Waimea Canyon is Koke'e State Park–a 6-mile hike to a beautiful outlook that is well worth the trek. Before venturing, stop at the Koke'e State Park museum and grab a coffee and some souvenirs–you can even feed the chickens hanging around if you feel so inclined. After hiking back up the muddy trail, hop back in your rental car and stop at one of the many lookouts of Waimea Canyon on your way down the hill.
Kauai Beer Company
4265 Rice Street | (808)-245-2337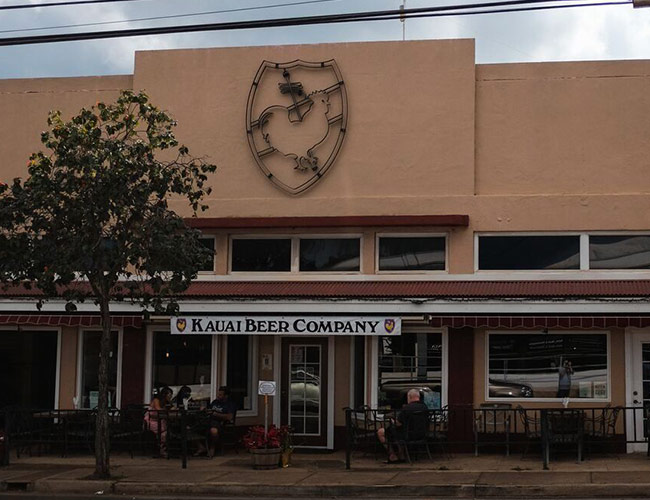 1:00 PM — Kauai Beer
One of only two breweries on the island of Kauai, this brewery is located in a more industrial area near Lihue airport. Breweries have to get their grain and hops imported as they can't grow in the humid and tropical environment that exists on the island. Because of taxes and higher land prices, it costs nearly 40% more to run a brewery in Hawaii then it does anywhere else in the US. So, props to this brewery–and they do it well. Check out the oatmeal pale ale and the rice lager they have on tap-both won't fail to impress you, and the food is killer too.
The Fresh Shave
3540 Koloa Road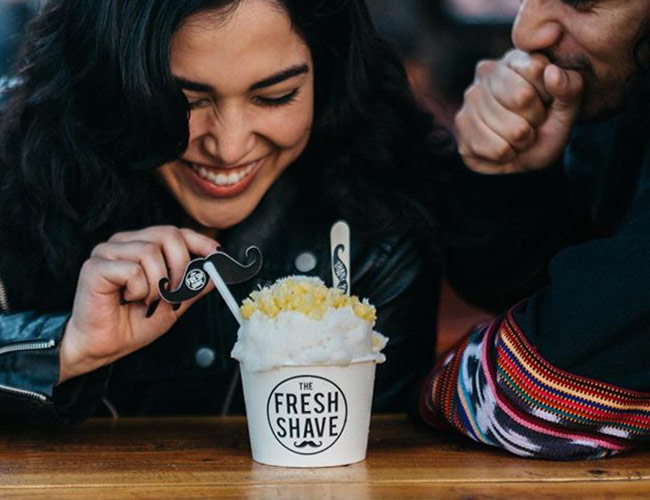 3:00 PM — Shave Ice Is Nice
One of the many things you always need to get when visiting Kauai is shave ice. The Fresh Shave serves ice with the best all-natural, in season, and fresh ingredients found on the island. Best of all, they operate in an old 1961 Aristocrat Lil Loafer and sell some of the most unique flavor combinations I've seen from Kauai honey to fresh pineapple and even a chia seed sweet cream that tops many of their delicious concoctions.
Plantation Gardens
2253 Poipu Road | (808)-742-2121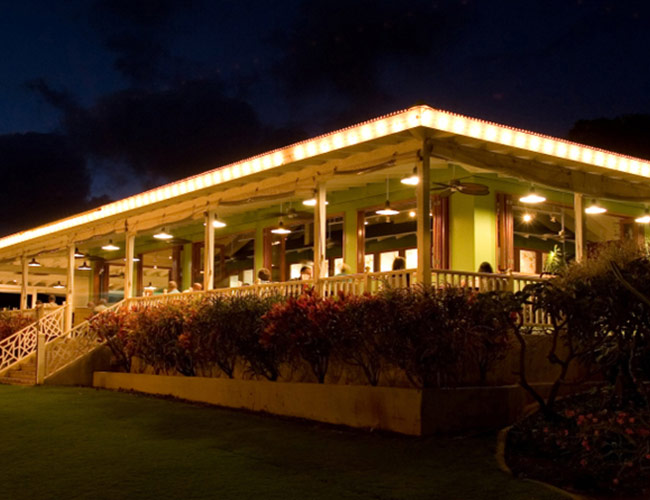 7:00 PM — Dinner
A short walk down Poipu beach is Plantation Gardens, a stunning horticultural marvel. Surrounding this restaurant is an array of succulent gardens, koi ponds, coconut trees, and tiki torches to light up the air. The building is a restored site that once served as the home for the estate manager of Hawaii's first sugar plantation, the Koloa Plantation. Fish served at the restaurant is caught daily by a local fisherman and most vegetables are organic and locally grown, some are even grown in their own gardens on site. The menu reflects the natural abundance of Kauai and surrounding islands, from the furikake fries served with bonito and wasabi (I could easily have eaten 10 plates of this) to the Seafood Lau Lau, a light dish filled with an assortment of local fish and vegetables all wrapped in a ti leaf. In addition to an assortment of cocktails filled with fruits and herbs from the surrounding area, they serve several beers from Maui and Kona brewing. Finish it all off with a local lilikoi cheesecake and a pour of fernet–if you're into that kind of thing–and you'll be a happy camper. As most places close around 9 or 10 pm, you'll likely finish off your night here. So take a stroll through the gardens before you head back to your hotel or condo.
Sunday
Kauai Island Brewery & Grill
4350 Waialo Road | (808)-335-0006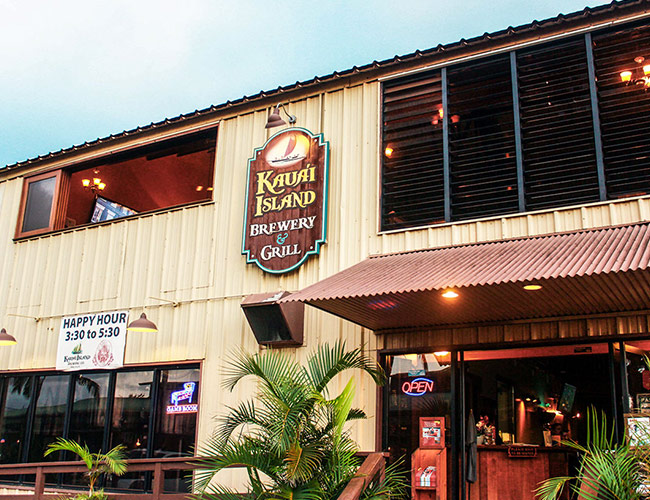 11:00 AM — Kauai Beer Part 2
Located in a more quiet part of the island somewhat off the beaten path is Kauai Island Brewery, with flat screen TV's and a gaming room–often filled with locals camped out for the day. Known as the world's westernmost brewery, owners Bret and Janice Larson originally come from Waimea Brewing, pairing up with Dave Curry and his wife to open back in July of 2012. Considered a microbrewery, they always have 10+ of their own beers and reserve other taps for outside breweries to hold. Being one of two breweries on the island it should be on every beer nerd's list.
Spouting Horn Park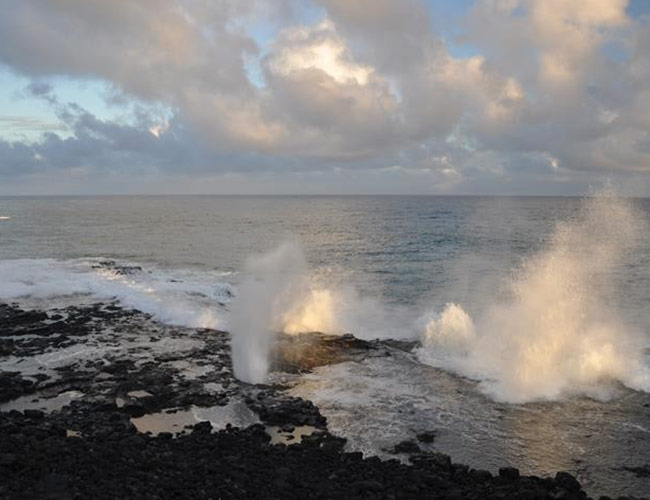 1:00 PM — Photo Op
Known as one of the most photographed spots in Kauai, the Poipu surf naturally tunnels into a lava tube and releases a huge spout of water that can reach up to 50 feet in the air. Most beautiful at sunset, you'll find this spot to be packed no matter what time of day or day of the week. Next to the tourist attraction is an array of vendors selling pearls, locally made knick knacks, and other souvenirs.
Koloa Fish Market
5482 Koloa Road | (808)-742-6199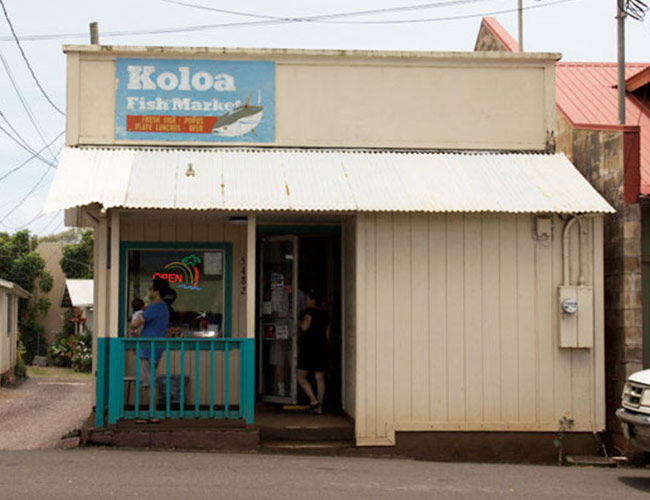 3:00 PM — Poke
If you're a poke fan, don't miss this place. Family-owned since 1994 and located in the little town of Koloa on the south shore, I had some the best poke of my life here. From simple tuna poke served over rice with seaweed, scallions, and sesame seeds to raw octopus and a delicious purple sweet potato and coconut milk shortbread cake, everything you get there is bound to be amazing. A tiny hole in the wall, it's cash only and its takeaway only, so grab some poke, chopsticks, and a lychee lager from Kona brewing and enjoy your last meal on the island!