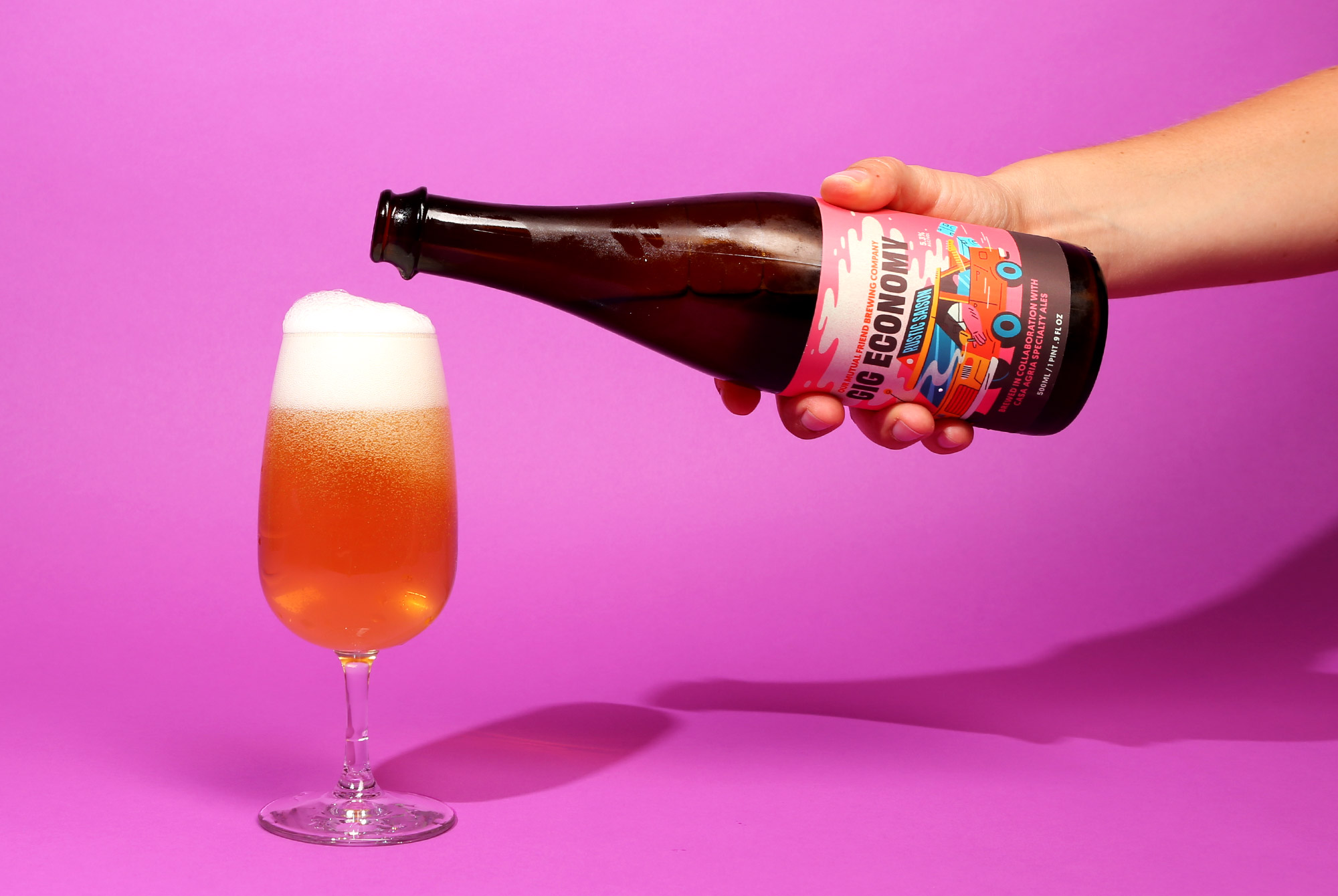 Editor's Note:
Every week we round up the five best beers we tried that week. Have a recommendation? A beer we absolutely need to try? Email us at hello@hopculture.com with your pick.
This week turned a little sour–in the best way possible. We happened to sample quite a few sour ales from world-class breweries, like The Rare Barrel and Our Mutual Friend. Plus, a standout from Ohio darlings Rhinegeist Brewery. We achieved some balance with gentler beers, but we loved sampling the full breadth of acidic flavors.
I also found the time to welcome some friends into our new home and shared a few fun bottles. It was a great time and reminded me of the joy of sharing the excitement of beer, wine, and cider with others.
So, let's jump right in. These are five of the best beers we drank from August 19th to the 26th.
Gig Economy
Our Mutual Friend + Casa Agria — Denver, CO + Oxnard, CA
Rustic Saison — Leave it to these two breweries to deliver a stellar rustic saison. Gently tart with depth and funk, Gig Economy is a highly drinkable example of the farmhouse ale style. Enjoy after a long day of working two jobs with a hearty meal.
Perceptual Passion
Rhinegeist Brewery — Cincinnati, OH
Sour Ale — Rhinegeist Brewery went fully sour with Perceptual Passion, a sour blonde ale aged in oak and refermented on passionfruit. There's a tart funkiness that's softened by the presence of a vanilla oakiness. It may overpower those friends who typically "don't like sours" and sensitive enamels beware, but this is a well-made, bright beer.
Imperfectly Perfect
The Rare Barrel — Berkeley, CA
Golden Sour Ale — Our final sour of the list is a lovely beer from our friends at The Rare Barrel. Imperfectly Perfect began life as a golden sour ale and was aged in oak barrels with yellow nectarines. The fruit additions came from Imperfect Produce, a company that makes use of produce that "is deemed imperfect due to size, symmetry, or discoloration, but is still perfectly full of flavor." These nectarines are lovely and beautiful, and result in a pleasant acidity that never overpowers the rest of the beer.
Other Forms of Evil
Burial Beer Co. — Asheville, NC
Dry-hopped Keller Pils — This is exactly what I needed at the end of the week. Other Forms of Evil is a crisp, crushable Keller Pils from Burial. The beer is double dry-hopped with Strata and Grungeist imparting characteristics reminiscent of an IPA, but it's full-on lager drinkability. Notes of grass, straw, and even light lemon combine for a refreshing beer.
Trial By Wombat
Thin Man Brewery — Buffalo, NY
New England IPA — Last, but not least, is a hazy IPA from Thin Man Brewery, arguably Buffalo's best craft breweries. Thin Man brews a variety of beers but has become known for its balanced and juicy New England IPAs. The brewery opted for a single hop–Galaxy–in this flaked oat IPA. The result is a beer that sings with orange, peach, and tropical fruit flavors rounded out by a pillowy mouthfeel.
Liked this article? Sign up for our newsletter to get the best craft beer writing on the web delivered straight to your inbox.