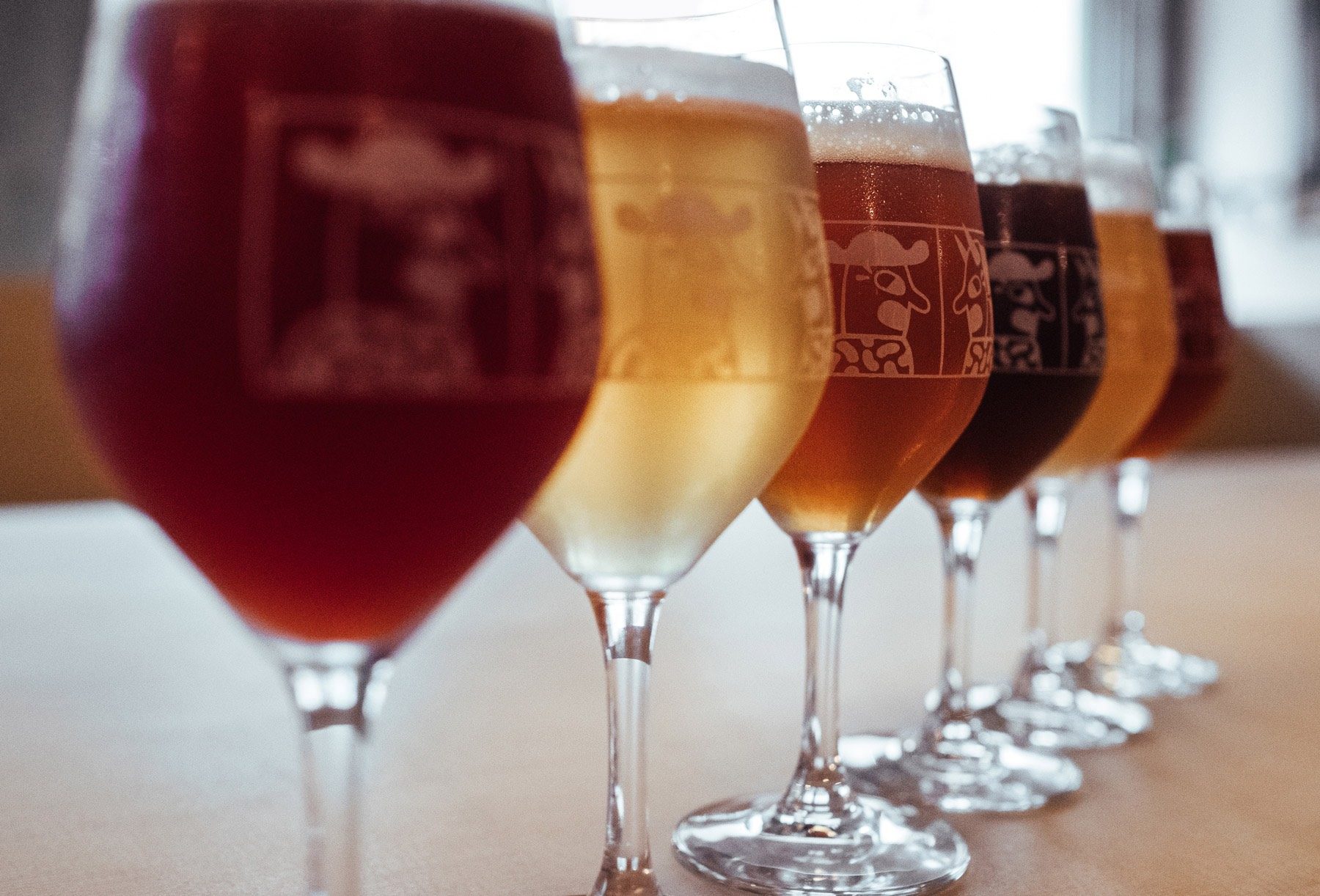 Photo courtesy of Mikkeller Tokyo
Editor's Note:
This is a paid, sponsored article presented by our friends at Mango Languages, the award-winning language-learning system for people who want to challenge themselves to discover something new.
If one wants to trace the proliferation of American craft breweries back to its roots, he or she need not look further than 1978, when homebrewing became federally legal. The new laws created demand for high-quality equipment, hops, grains, and other raw materials — not to mention a growing base of information — which in turn supported the meteoric rise of craft.
Japan hasn't had such legislation. It's still illegal to home-brew beer over 1% alcohol by volume, and there hasn't been a groundswell of knowledge, or demand for ingredients or equipment. As a result, most of the country's beer could use some work.
But it's possible to find hidden gems, which play curator in a market of varying quality. In our opinion, none is better than Shibuya's Mikkeller Bar, run by the vivacious Hamilton Shields. Before you visit, brush up on a little Japanese to pay respects to your hosts. Arigatoo (ありがとう) means "Thank you," while kanpai (かんぱい) is "Cheers." For the more advanced student, tarunama wa nani ga arimasu ka (たるなまはなにがありますか。) means "What's on tap?" while the ever-popular kore wa watashi no ogori desu (これはわたしのおごりです) is Japanese for "This round's on me."
Mikkeller Bar Tokyo
Located off the beaten path in Shibuya's back streets, the twenty taps of Mikkeller Tokyo are as strange as the neighborhood, which includes a love hotel, sex shop, and shrine. Many of the available beers are rare releases from the eponymous Danish brewery. A common watering hole for expats and tourists, it's an easy place for a lone traveler to make new friends. Because of the clientele, some of the bartenders understand English, but practice your Japanese: osusume wa nan desu ka (おすすめはなんですか。) means "What do you recommend?"
Ohka The Best Days
Before the river got cleaned up, Naka-Meguro (commonly called "Nakame" by locals) was a place for the young and hip. Now, only a few remnants of the storied time survive in this upscale residential neighborhood. One of them is Okha The Best Days, a craft beer bar that serves homemade gyōza — kono hen no jibiiru wa nan desu ka (このへんのじビールはなんですか。), or "What's the local specialty?" has an easy answer. If you're cool enough to be searching Nakame for craft beer, take note of Paradise Tokyo / Wacko Maria store across the street. The clothing shop and bar with iconic outerwear influences menswear designers around the world.
Two Fingers
Before starting this fifteen-seat pub in northwestern Ikebukuro, the Australian Stef and his Japanese partner Nao ran the beer geek Instagram account @sekainobeer. The double act now has plenty of pictures to post, as their eight taps serve a variety of pale ales, saisons, porters, stouts, and sours from local breweries they know and trust. Although the bar opened just this year, the knowledge and passion that Stef and Nao bring to their small project make this an easy choice for any wandering traveler. Be sure to try the tofu, which is made by an artisan in the neighborhood.
Pigalle
Labeled as "absolutely essential" by Hamilton Shields, owner of Tokyo's Mikkeller Bar, Pigalle is a distinctly Japanese bar that offers six taps and over 70 bottled options. What's so Japanese about the place? First, there's the husband-wife owners, who liberally practice the concept of omotenashi, the "correct" way to treat a guest. Then there's the ephemera on the walls–a strange mix of Japanese movie posters, portraits, flyers, and framed prints. Located in Sangenjaya, just southwest of Shibuya, the bar has only five seats and limited standing room, meaning you'll inevitably be saying Sumimasen (すみません), or "Excuse me," when you bump into the person next to you. The bar's small size and impeccable hospitality makes for a friendly and intimate drinking experience you won't soon forget.
Small World Records
If beer and music are your jam, you'll get along well with Tomonori Tanaka, the owner of Small World Records, which features curated vinyl and Japanese beers from Shiga Kogen, Ise Kadoya, Hansharo, and more. You'll also have plenty of time to chat — Small World Records only has three stools. Impress Tanaka and your two other companions by saying, "Oishii biiru desu ne!" (おいしいビールですね!) — "It's a good beer, isn't it!"
Liked this article? Sign up for our newsletter to get the best craft beer writing on the web delivered straight to your inbox.