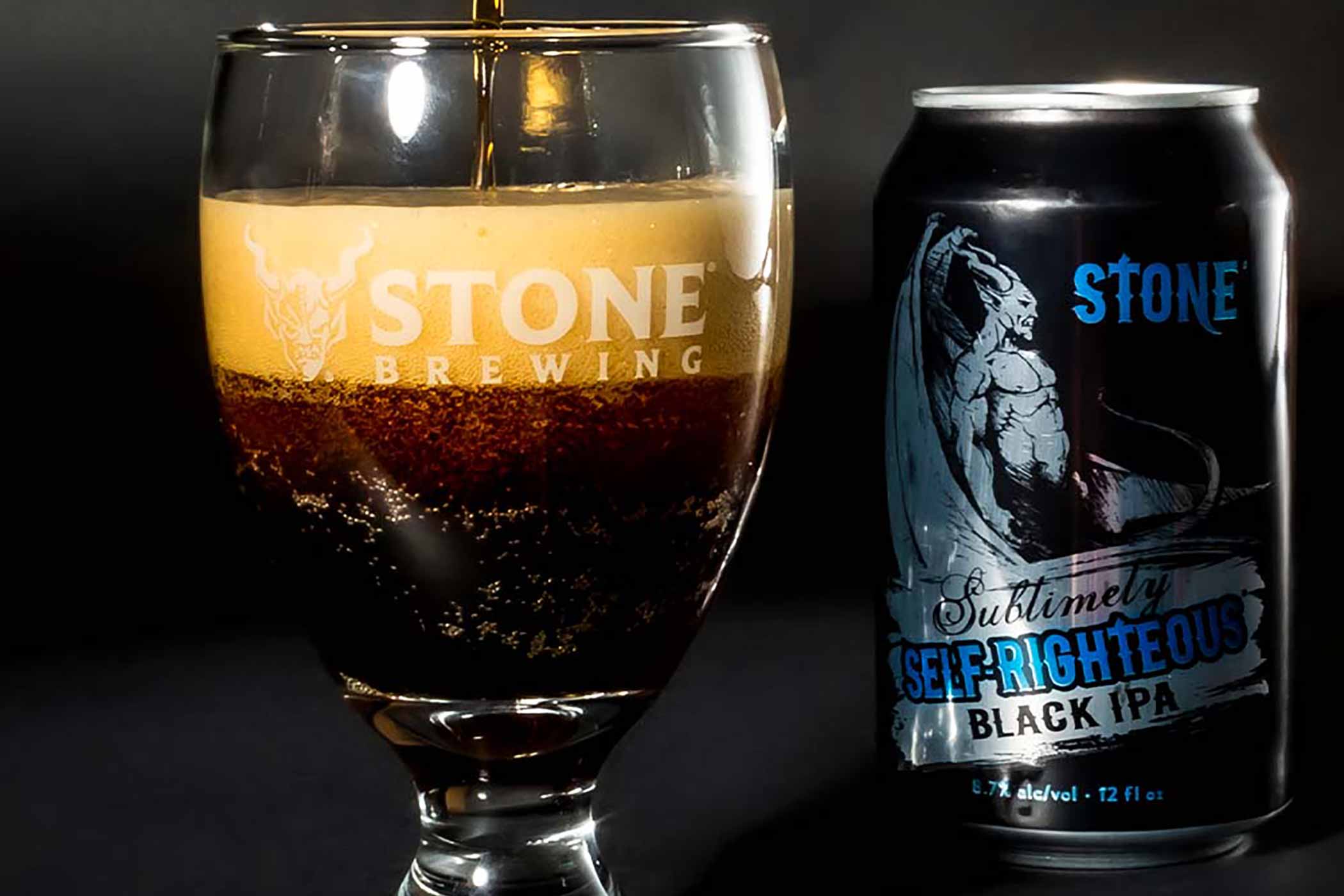 Photography courtesy of Stone Brewing
An intriguing style, black IPAs combine darker malts with a bevy of hops. This style falls perplexingly in the middle of a Venn diagram with a sort of dry Irish stout in one circle and a West Coast IPA in the other.
"In simple terms, it's an IPA using dark malts," says Jeremy Moynier, senior manager of innovation & supply chain at Stone Brewing. "I'm a stout lover and an IPA lover, so this is a sweet spot for me."
Sound polarizing?
That's because this style is.
"I was one of those naysayers when the style came onto the scene because it didn't make sense to me," says Matt Brynildson, brewmaster at Firestone Walker Brewing Company. "Do you mean a hoppy porter?"
But one by one, brewers and drinkers alike have been bowled over by the black IPA. Brynildson eventually brewed Firestone Walker's own version, the gnarly Wookey Jack, in 2012.
Discontinued in 2016, Firestone Walker brought Wookey Jack back for a limited run last year at the Propagator, their R&D brewhouse in Venice, CA, to much fanfare.
And will be doing a limited re-release sometime this winter as well.
Similarly, Stone stopped brewing their own black IPA, Sublimely Self-Righteous, in 2016, before bringing it back for a here-until-it's-gone canning back in early 2022.
"This was our number one most-requested beer from our fans," says Moynier, in regards to retired beers.
And to us, that's what makes this style so intriguing.
What is it about a black hoppy beer (performing Jedi mind tricks) that has developed such a cult-like following?
First, Let's Define a Black IPA (If We Can)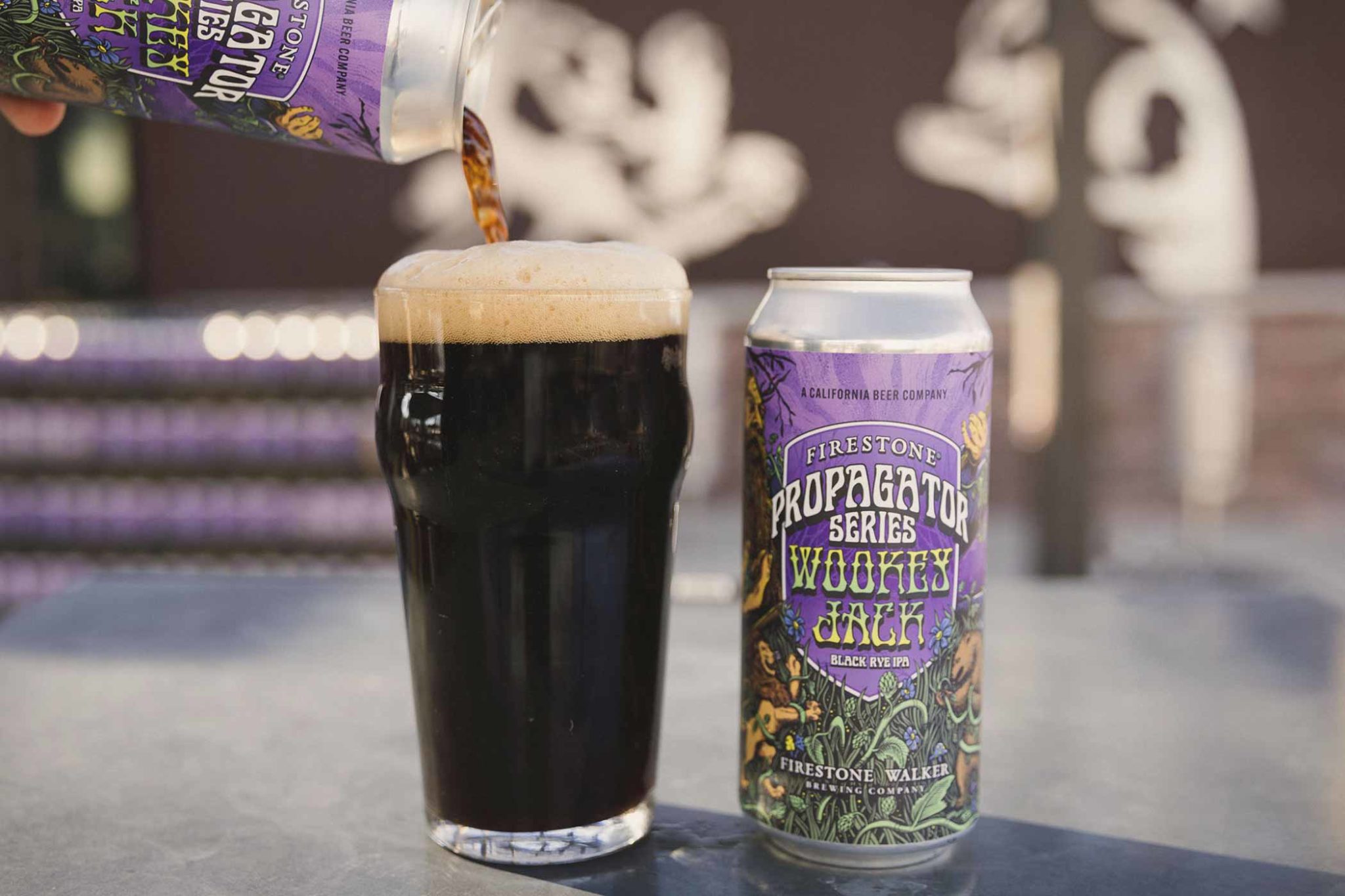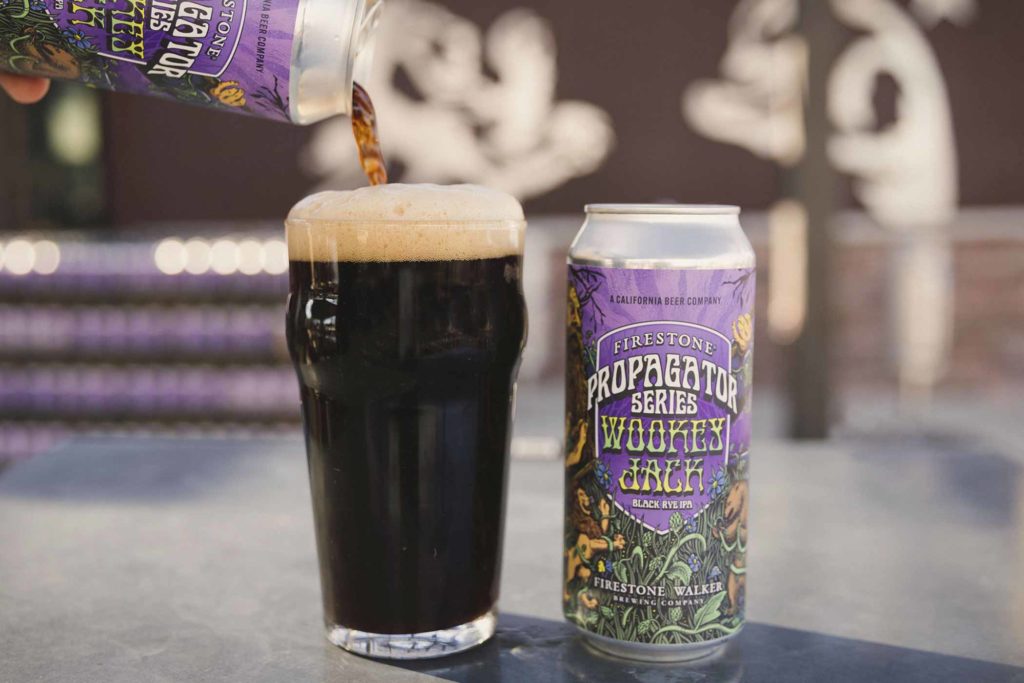 Honestly, Moynier probably said it best, "It's a hoppy dark beer; that's the simplest way to put it."
Similarly, Brynidlson may have been onto something when he used the words "hoppy porter." For him, the building blocks of a black IPA (sometimes also referred to as a Cascadian Dark Ale) start by looking at some of those early porters from Bell's, Great Lakes, and Sierra Nevada.
Speaking on Sierra Nevada's Porter specifically, Brynildson says, "Back in the day that beer specifically was pretty American-hop forward, so when we start talking black IPA, the real focus is to keep the roast malts down so that when you close your eyes and taste it you don't know you are tasting a roast malt based beer."
In other words, a black IPA incorporates darker malts, yes. But those roasty grains meld together with American hops for a beer that pours out dark but drinks with the body and hop-forwardness of a West Coast or American IPA.
Darker Malts Dominate Black IPAs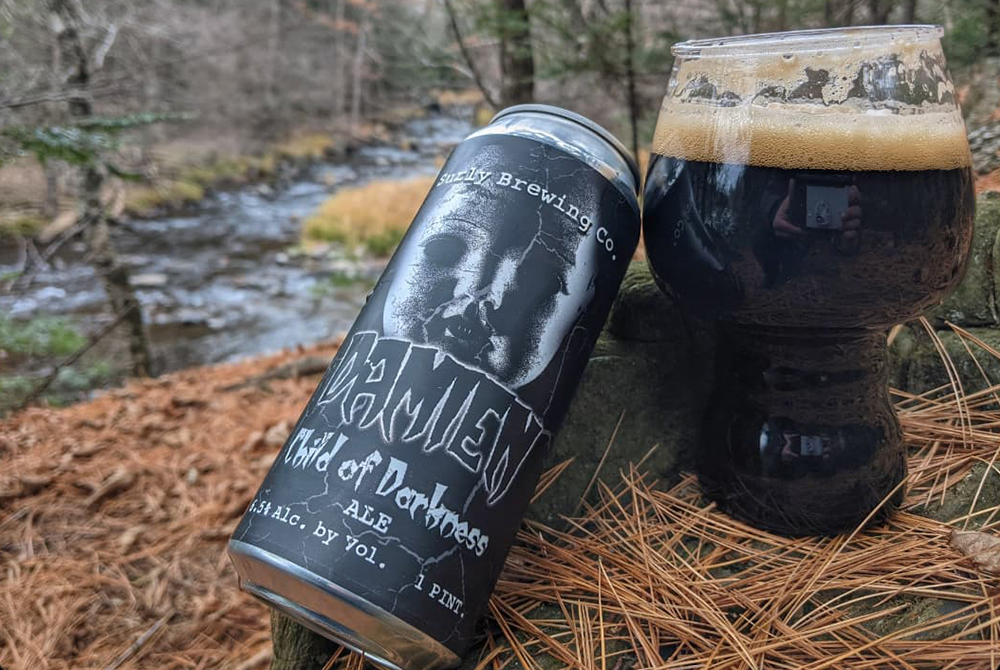 The darker malts are one defining characteristic of a black IPA. But not just any dark malt; it has to be one that imparts color without the astringency associated with a stout or a porter.
Accordingly, to achieve that black color without imparting bitterness, a few traditional malts make sense here.
Brynildson mentions that, in almost every black IPA, it's common to find a type of debittered black malt, "so you get a ton of color, but you don't get the astringency."
For example, Weyermann is famous for their dehusked Carafa III, which is a barley that's been pearled (i.e. dehusked) and roasted.
In Wookey Jack, Brynildson incorporated Weyermann's Carafa III alongside a Midnight wheat (roasted wheat) from Briess, and a slightly unique one for black IPAs—rye.
Similarly, Moynier used Carafa III in Stone's black IPA. "That's a nice dark malt where you don't get any roast astringency," says Moynier. "That's one of the big things you want to avoid with this style; it can be bitter from the hops, but you don't want it to be super roasty or astringent [from the malt]."
But malt is only one part of the equation
Hops are the other, of course.
Make No Mistake, This Is an IPA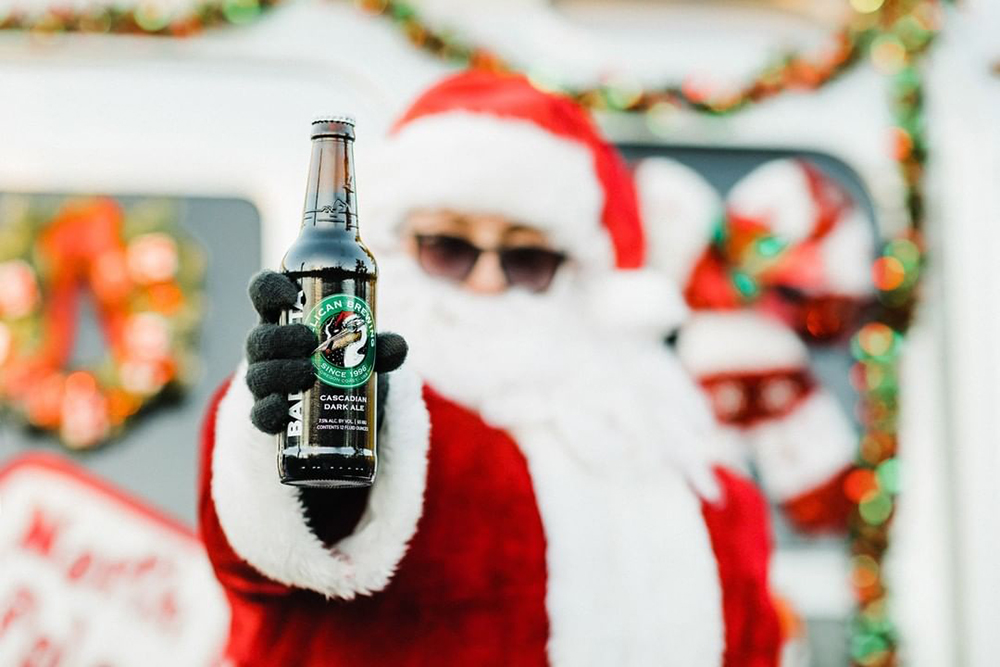 "If you ran into this beer on the street and no one told you it was a black IPA, you'd think this is a delicious hoppy IPA," says Brynildson. "It's almost a mind trick to see a dark beer that tastes more like an IPA than say a stout or a porter."
But make no mistake—at its core, this beer is an IPA.
Which becomes very apparent when you look at the list of hops going into both Wookey Jack and Sublimely Self-Righteous.
"You have to use hops and probably a lot," laughs Moynier, who tossed in Simcoe and Amarillo for Sublimely Self-Righteous. In 2007, these were fairly new hops. "Obviously, those hops are huge now…but back in the early and mid 2000s, these were two hops we had our eye on," says Moynier. "It seemed like a no-brainer to put them together."
Amarillo also made a big appearance in Wookey Jack along with Citra because, "by far, that is the most caddy, dank, wookey hop we had to use," says Brynildson. When the Firestone Walker Brewmaster finally caved to fans shouting for a black IPA, they decided to really go for it. "If we do it, we're going to make the gnarliest, crazy beer," laughs Brynildson.
That meant using the "two gnarliest and intense hops in our hop closet," says Brynildson, which in 2012 were Citra and Amarillo. Firestone Walker had used small amounts of both hops in other beers, but never focused specifically on that hop combination.
"We tried to make this aggressively hopped, high-ABV black IPA as an answer to folks saying we hadn't gotten aggressive enough yet with our hopping," says Brynildson. At 8.3% ABV, Wookey Jack came out…well, pretty wookey.
Brynildson used CTZ hops to bitter, followed by a mid-hop addition of Citra, "which seemed audacious in those days," says Brynildson. Amarillo and Citra followed as the finishing hop before Brynildson and his team dry hopped Wookey Jack twice with two-thirds Citra and one-third Amarillo. "It was as aggressive as we ever hopped anything," says Brynildson.
And it's that unique interplay between big hops cozying up to dark malts that has folks either hating or loving black IPAs.
The Rise and Fall and Rise of Black IPAs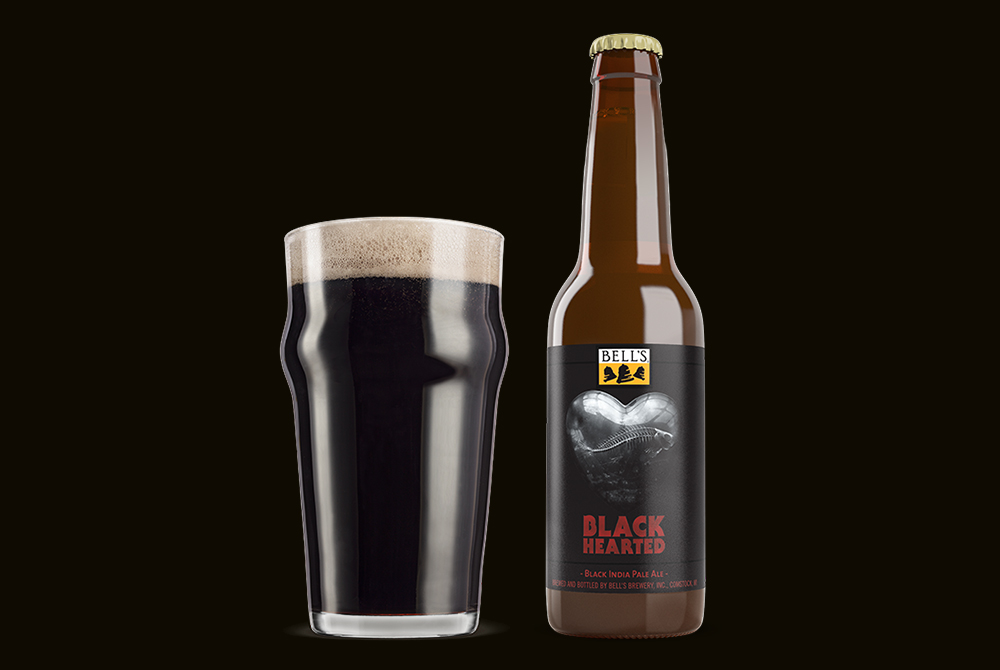 Without a doubt, this style sends folks into two separate camps.
For that reason, "black IPAs were a little flash in the pan," says Brynildson.
Rising to prominence around the early 2010s, black IPAs eventually fizzled out after about five or so years.
Firestone Walker continued to brew Wookey Jack as a year-rounder for the next few years (picking up a couple gold medals at the Great American Beer Festival in 2012 and 2013 along the way), but eventually discontinued the brand four years later. "It had some glory days, but it never reached the success of our double IPA or Union Jack by any stretch," says Brynildson.
Likewise, Stone's Sublimely Self-Righteous initially received great fan feedback, eventually becoming a core beer. But in 2017, the California-based brewery took the beer out of the portfolio to free up room for newer beers.
Today, in an interesting plot twist, we're starting to see black IPAs make a comeback.
Since taking its black IPA out of rotation, Stone says that beer has been the most requested from fans to bring back.
So last year Stone did a very successful limited-edition run of Sublimely Self-Righteous.
Similarly, after hearing constant clamor to bring its own black IPA back, Firestone Walker brewed a small, exclusive run of Wookey Jack at the Propagator, its R&D brewhouse in Venice, CA. Albeit with a new look courtesy of artist Juan Marante (aka "El Gran Tocayo").
The beer sold out within just a few days.
Based on that experiment, Brynildson will be brewing a larger scale amount of Wookey Jack at the brewery's hometown Paso Robles location for release at some point in late fall.
"It's one of those beers that sticks in people's memories," says Brynildson.
Don't Call It a Comeback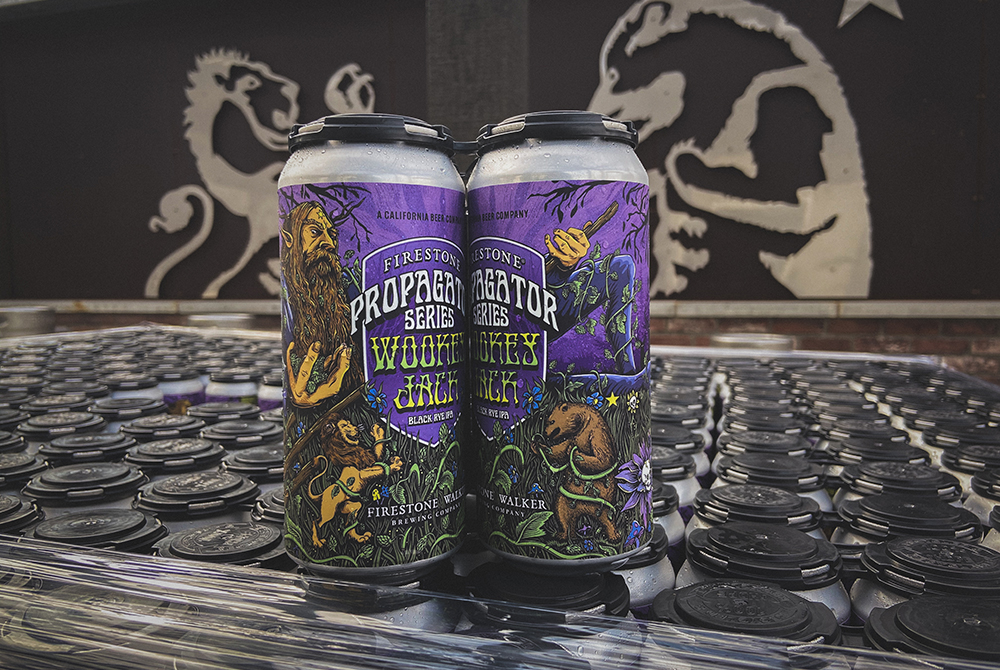 Alright, so comeback might not be the right word here. Think of black IPAs more like that Backstreet Boys or N*SYNC reunion; they're getting back together for a one-night-only event.
You might go to that concert to relive the glory of '90s pop music, right?
In general, neither Stone nor Firestone Walker have plans to bring their black IPAs back into a core rotation.
And Brynildson points out that might have been the mistake with black IPAs from the beginning.
"Those beers were built to be more seasonal and one-offs," says Brynildson. "In my mind, I don't want to drink a black IPA all year round."
But every now and then, the complexity and mystery shrouded around a black IPA has its merits.
"They're unique beers, right?" says Moynier. "You don't see them everywhere…but the idea behind a dark IPA is fascinating to people…and now more than ever, consumers are more open to trying different kinds of IPAs."
All in all, it's worth going over to the dark side. If only once in your life.
A Few of our Favorite Black IPAs to Try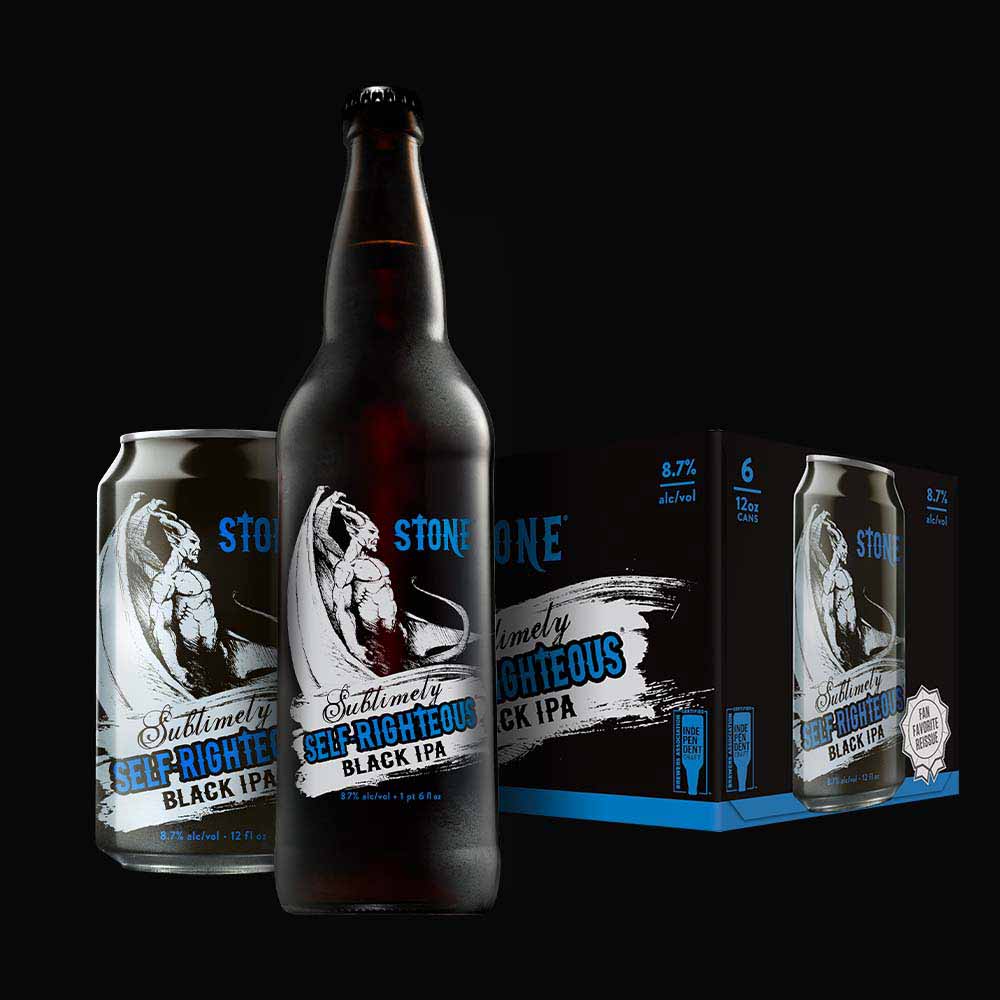 Sublimely Self-Righteous – Stone Brewing
Escondido, CA
Even when Stone re-released this beer after a five-year hiatus, the recipe didn't change. Amarillo and Simcoe hops give this black IPA a "real bright hoppiness with that citrus, grapefruit, but also real tropical fruit punch," says Moynier.
A strong malt backbone works in tandem with the sunny hops for that sort of intriguing intertwining. "Right away, you get what you expect from a dark beer with some coffee and roast notes, but it's real mellow, followed by some citrus and berry components in the middle," says Moynier.
A medium-bodied beer that's not too heavy and not too light, Sublimely Self-Righteous hits that sweet spot. Creamy and smooth, this black IPA finishes with a backing bitterness that "makes you want to have another sip," says Moynier. And another…and another.
Raven – Tree House Brewing Company
Charlton, MA
A Pacific Northwest hop bill of Simcoe, Centennial, and Amarillo stands in line next to roasted malt. Expect to find those classic American IPA notes of grapefruit, citrus, and dank pine nestled next to a touch of chocolate and roasted coffee character.
Black Hearted Ale – Bell's Brewery
Comstock, MI
Bell's went fairly poetic with its black IPA. Tapping into the "Black Hearted" moniker, Bell's describes this one as, "Love isn't always handwritten notes and candy hearts. Sometimes, it's a sinkhole full of skeletons and worn-out platitudes, yet here you stand with your chin held high. Our latest member of the Hearted family, a black IPA, holds no ire towards love lost, it thrives on it. Remember your ex, take a few sips, and then go back to enjoying your day. They're someone else's problem now anyway."
Beyond the fancy words, Black Hearted hits the style pretty perfectly. Notes of grapefruit and pine pair together with a tiny bit of roast.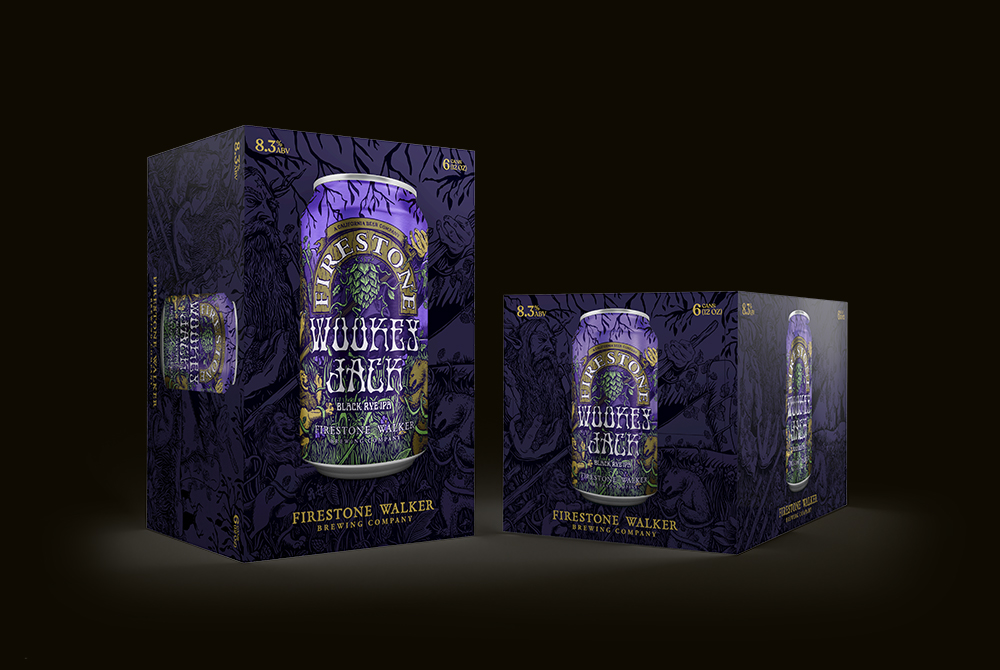 Wookey Jack – Firestone Walker Brewing Company
Paso Robles, CA
A nice interplay between malt and hops, Wookey Jack is a beer where Firestone Walker went as gnarly as possible, deploying both Amarillo and Citra in a double dry hop to "saturate and just hammer it with hops," says Brynildson. "Amarillo has a bit of that orange marmalade that comes through in the beer that works well with the rye and dark malts."
Speaking of malts, Firestone Walker paired Midnight wheat and a debittered black malt, Carafa III, alongside rye malt, among others. The rye in particular imparts a distinct earthy spiciness that's a bit hard to define.
All in all, "[Wookey Jack] drinks with a fairly firm bitterness that's very West Coast," says Brynildson. "But the maltiness balances everything out. You might still get a little bit of that roast or black malt quality, but it's not chocolatey or overly roasty."
Damien – Surly Brewing Company
Minneapolis, MN
"Spawned from the usually discarded remnants of Darkness, Damien is a dry-hopped black ale," writes Surly in the beer's Untappd description. "Flavors of roasted malt and dark brown sugar suffocated by aromas of tangerine and pine."
Bad Santa – Pelican Brewing Company
Bend, OR
Brewed as a seasonal during the holidays, Bad Santa pours out a deep reddish brown, with a pleasant roasty malt character next to a distinct herbal quality from the addition of Fuggle and Cascade hops.