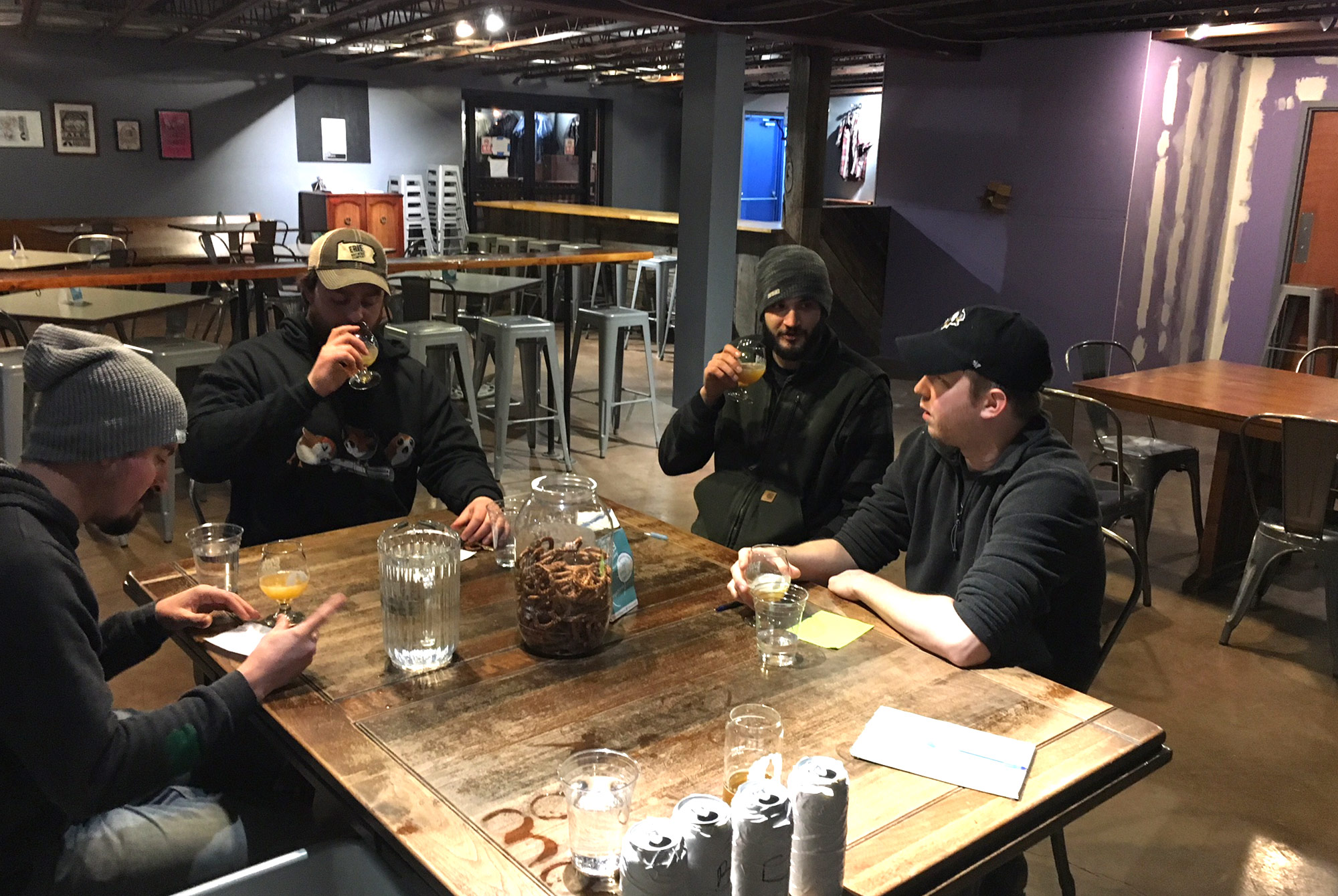 Editor's Note:
The blind tasting was conducted on January 30.
The rising popularity of craft beer canning, especially among the hazy IPA crowd, has spurred new beer creation at amazing rates. Wednesdays are now release days instead of hump days, a mid-week respite for hopheads in need of the freshest batch of liquid. I've taken it upon myself to find and highlight these awesome weekly brews with help from local industry experts.
But picking up a case of hyped beer and sharing a few cans with friends is not sufficient for discerning quality. We have biases. The brewery is in our hometown. Everyone says it's amazing. The beer has a 4.7 rating on Untappd. What better way to test out newly released beer than with a blind tasting.

The Rules:
No one knows which beer is which
All cans must be canned/released within a single week (1/10/18 – 1/17/18 for this trial)
Two categories: IPAs and Double/Imperial IPAs
Four beers in each category
Judges rank beers from one to four, with one being the best score
Score is based on beer "enjoyment" which means taste, look, nose, etc. all rolled into one
Lowest score wins
The tasting was comprised of NE-style single and double IPAs from a handful of East Coast breweries producing highly sought after and well-rated beer: Other Half, Magnify, Tired Hands, Levante, and Dancing Gnome. Our judges included a select group of Pittsburgh craft brewers with an affinity for hazy IPAs, stone fruit aromas, and free beer: Justin Strzelczyk Jr (11th Hour Brewing), Sean Biby (Grist House), Adam Kubala (Rock Bottom) and Andy Kron (East End Brewing).
IPA Group
The Beers:
Dancing Gnome Astroid
Levante Tickle Parts
Other Half IPA
Tired Hands Alien Church
The Tasting:
Beers A, B, and D were straightforward NE style IPAs while Beer C was more of a hybrid east meets west IPA. All beers were between 7 – 7.2 percent ABV. Judges compared A and D favorably, with A having a little more dankness compared to the more balanced D. Sweet honey malt was possibly noted in beer C with good bitterness on the back end, while beer B exhibited more of an oat-heavy body with good creaminess and a "grainy, cereal" flavor described by Sean. Justin stated that Beer D had the "best nose" and ranked it his favorite of the group. The other judges agreed as Beer D was a unanimous first choice among everyone. Look for the next article, where the winners will be revealed. Just kidding, of course. Could you imagine?
The Result:
Our winner of the single IPA blind tasting, Beer D was Levante Brewing's Tickle Parts. Beer A was Dancing Gnome Astroid, Beer B was Tired Hands Alien Church, and Beer C was Other Half IPA.
Imperial/Double IPA Group
The Beers:
Dancing Gnome Spy Dolphin
Magnify Imperial Cold Side
Other Half Oh…Forever
Tired Hands American Elder
The Tasting:
All four beers were a similar NE style double between 8 – 8.5 percent ABV. Beer C seemed to prompt the most conflicting comments from our experts, as some detected strong alcohol where others found very little. Most agreed there seemed to be a presence of spice, perhaps a different malt than traditionally used. Beer B was the juiciest of the group and Adam remarked that it was "soft for a double IPA". Beer A was described as having a resiny fresh-hop dankness, but one judge thought the alcohol came through too hot. The judges described beer D as a great balance of dank and juice, with soft creamy feel. "Exactly what you want from a New England-style double IPA" Andy stated.
The Result:
With two first-place votes and two-second place votes Tired Hands American Elder (Beer D) took home a first-place finish in the double IPA category. Beer A was Magnify Imperial Cold Side, Beer B was Dancing Gnome Spy Dolphin, and Beer C was Other Half Oh…Forever.
The Verdict:
Much of the internal discussion among brewers focused on the subjectivity and fickleness of beer tasting in general. There were several instances where judges seemed to have opposite opinions of a single beer (i.e. hop discernment, alcohol detection, fruit aromas). I would agree that different people perceive tastes and aromas differently and beauty is in the eye of the beholder. However, I found it interesting that all four judges ranked the single IPAs in the exact same order, best to worst. In the double IPA category there was a clear winner as well, so perhaps there is an objective "perfect beer" out there.
Special thanks to all the judges and to East End Brewing for hosting.