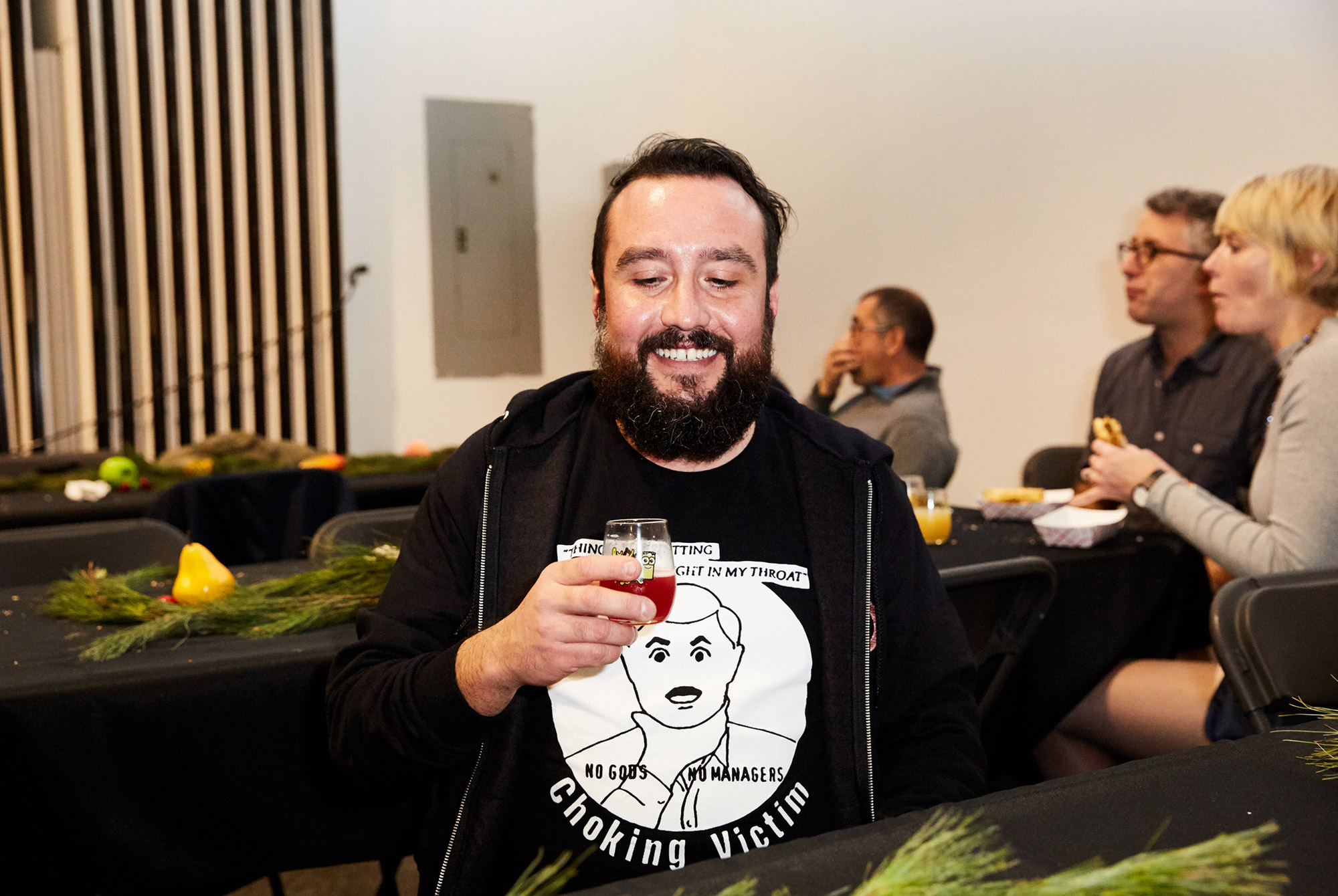 "Craft beer" doesn't have an exact translation in Spanish. Typically, most breweries that seem "craft-y" (I hate writing that) call themselves cervecerias artesanales — "artisanal breweries." But when most folks think of Mexican beer, they're not thinking "artisanal." They're thinking Dos Equis or Corona. They should start thinking of Cielito Lindo.
Cielito Lindo could be translated as "lovely sweetheart," a term of endearment, or — more literally — pretty sky. I imagine Hector Vielma, the founder of Cielito Lindo, is invoking both translations. The brewery is his love letter to the natural beauty of Guadalajara, where the brewery is located.
I had a chance to speak with Vielma and his business partner, Edgar Vallin, at the Juicy Brews NYC Festival. The duo traveled over 2,500 miles just to get some juicy beer. Crazy, right? But this kind of trip wasn't new to them. Vielma and Vallin fell in love with American craft beer during their time in California, as well as on their numerous trips to the East Coast, and they frequently travel for beer. When we spoke in New York City, they explained how much they love the citrusy, aromatic East Coast Double Dry Hopped IPAs. When in Brooklyn, they'll line up for new releases of a hazy IPA from Other Half. The goal is to share their love of craft with friends and family back home. They're juice prophets, spreading the good news of New England IPAs.
However, Vallin and Vielma add their own twist by making use of Guadalajara's bounty. They aim to forage for ingredients that are native to the region. "We want to showcase the flavors and aromas of the local environment," Vallin said. "That's how we get our identity. Winemakers call it terroir; this is our terroir."
Unfortunately, palates in Guadalajara have not yet grown accustomed to the intensity of these heavily-hopped, taste-bud destroying beers. Traditionally, brewers have found more success with beers like Xocoveza, Stone Brewing's Mexican hot chocolate stout. "Stone will sell out in the Mexican market," Vallin told me. I asked him if he thought that American breweries are appropriating Mexican ingredients, styles, and culture; Vallin explained that as long as breweries properly pay tribute to the origin of the style or ingredient, he doesn't mind. In fact, according to Vallin, it brings more attention to the culinary potential of Mexico. "It's good that breweries are looking south."
The free flow of ideas from south to north and north to south is good for an industry currently dominated by mass-produced lagers. Vallin and Vielma don't have a problem with lagers, specifically, but they want to showcase the other possibilities of beer. In Mexico, as is the case in many other Spanish-speaking countries, that entails putting beer on the same level of wine. They want to pair beer with specific dishes, and use them in the cooking process. "It's the work of chefs in Mexico that elevates beer," Vallin shared. "Otherwise, it would just be something people drink to get drunk."
To convert their stout and porter-loving friends, Vallin and Vielma have them try session IPAs or some of the more traditional hoppy beers, like Sierra Nevada Pale Ale. "Sierra Nevada is the benchmark — you'll convert people," Vallin said. Just as important as introducing potential customers to the flavor of craft beer, Vielma and Vallin want to bring the culture of craft to Mexico. In Guadalajara, bottle shares have become popular. Folks will gather at someone's home or a restaurant and bring some of their favorite beers. "We do bottle shares on Tuesdays," Vallin said. "We'll be like, 'Oh, I was just in the U.S., here's what I have.'"
Cielito Lindo's brewery is under construction and will hopefully be open in the summer of 2018. In the meantime, Vielma and Vallin continue to spread the good beer gospel and bring converts to the haze craze. "It's not just a trendsetting thing — it's a passion," Vallin explained. "We want people to fall in love with our beer."