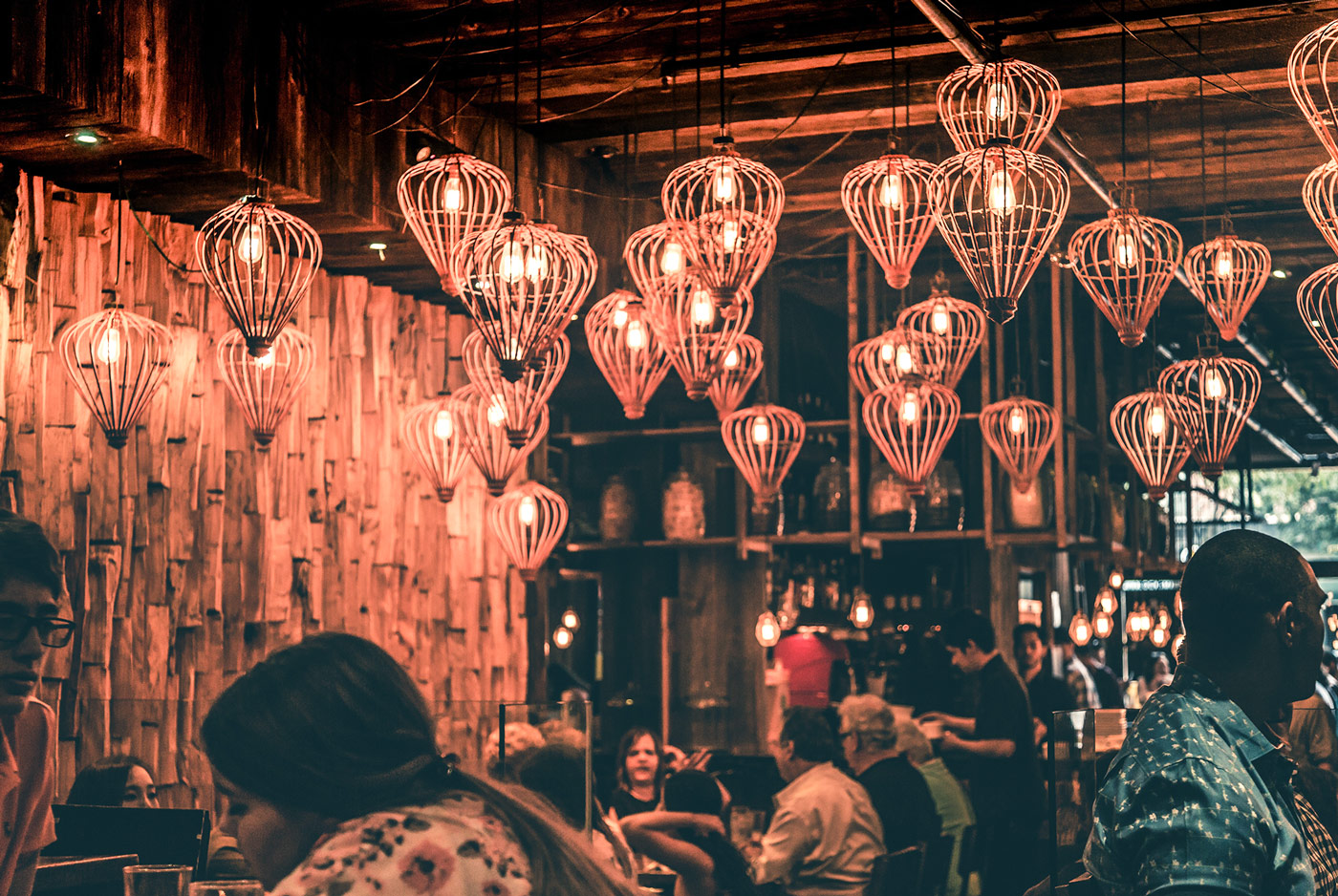 On a chilly Thursday last month, I left the Hop Culture office in Manhattan and headed to the BeerMenus HQ in Brooklyn. Waiting for me were Alex and Rex, who had agreed to accompany me on what would become a late night of experimental drinking. I was tasked with testing the new recommendations feature on the BeerMenus mobile app (iPhone and Android). And what better way to try out a beer recommendation app then going out and trying all the beer it recommends…for science.
We walked through the app and its newest update: the recommendations feature. Typically, BeerMenus tends to be a passive experience for me. I'll quickly check the lineup at a bar or see if there are interesting cans at a bottle shop, but I don't use the app while I'm already at the bar. The update hopes to solve this. Now, if I happen to be visiting someplace new, I can glance over their menu and if I want a recommendation, I can consult the app.
"They'll look up at the beer menu above the bar, look down at their phone, talk to the bartender, and then check back on their phone," Alex explained, pantomiming these actions. "We want it to promote conversation." And also better beer, which is why I found myself heading out to embark on a night of drinking, phone in hand.
The Test:
I had a vague idea of the spots I'd visit, but mostly I let BeerMenus take me to the nearest location. I started at Randolph Beer, which is right around the corner from BeerMenus HQ. Because Randolph brews their own beer and the BeerMenus team decided to forgo recommendations on breweries' place pages, the feature didn't pop up. So I sat down for some french fries and a Super Spruce Gose from Grimm (I later saw this beer suggested at a different spot so I think this counts as a successful recommendation). While drinking I periodically checked the app: looking at the beer listed, checking out nearby spots, and poking through what was recommended elsewhere.
With the update, now when a user is on a bar or store's page in the BeerMenus app or while browsing the web, a recommendation will pop up to suggest three beers. There are tags like "local," "popular," "highly rated," "rare," and "great brewery." Most of these are pretty objective: "local" and "rare" are based on geography, the beer is made locally or the beer is from out of town and/isn't often available; "popular" is defined by number of check-ins. Though "highly rated" and "great brewery" are based on the opinions of other users.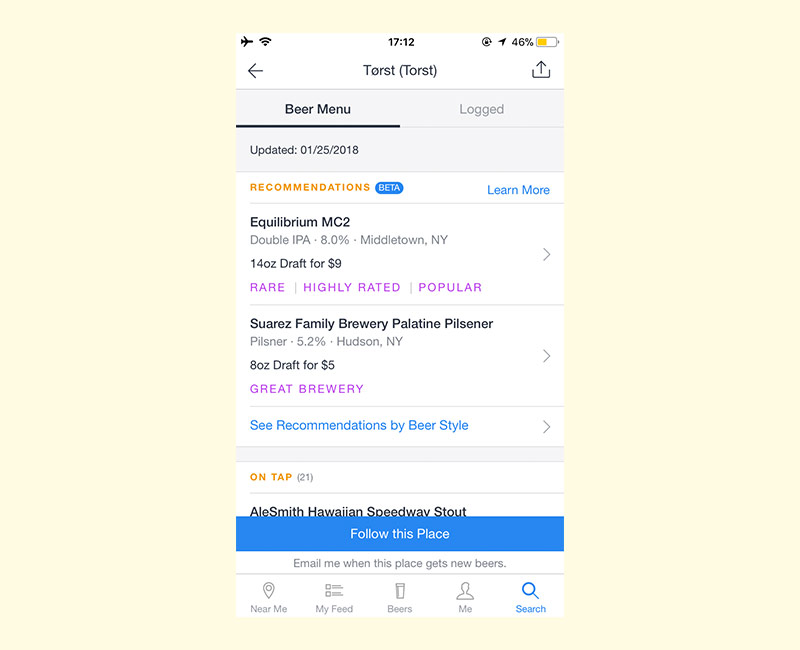 After I finished my beer at Randolph, I hopped into an Uber and headed to Williamsburg. I stopped into Sugarburg first and was electronically prompted to try either Hollows from LIC (local, recently added, highly rated, great brewery), Buddy Sprinkles from Kent Falls (rare), or Knoll from Finback (highly rated). I decided on Knoll because it had the lowest ABV. It was tasty.
I spent most of my time at Sugarburg politely smiling at the bartender while I compared the beers listed on the BeerMenus app with what was offered on the menu. I was also checking to see where my next destination would be.
I walked around the corner and stopped by Beer Karma. Here's where the afternoon took a turn. Up to this point, my plan was to look at the app, sample the beer, and get out. Don't get drunk, don't waste away the afternoon. To be fair, Alex and Rex are close with Dan, the owner of Beer Karma, and had warned me that once he got going, he was hard to stop.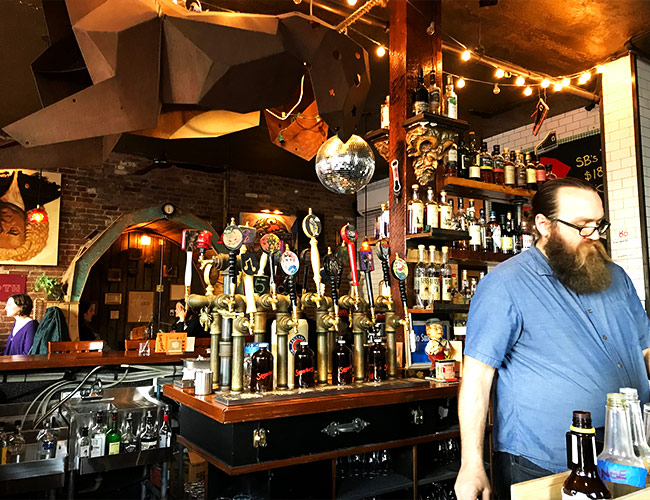 BeerMenus nudged me to try Mad Fat Money from Barrier and Interboro. It was great. And then Dan and I started chatting about beer. We talked about how excited we are for the NYC beer scene. I ordered something else. We talked about how interesting and great Hudson Valley's beers are. I barely looked at my phone. I snagged a Threes Vliet can to go. Nearly two hours had gone by, but I didn't really mind.
I braced myself for the cold and let BeerMenus guide me to Beer Boutique. I quickly checked the recommendations. I picked up a bottle of Telekinesis from Grimm, a beer I really enjoy, and continued on to Torst.
I wasn't even really thinking about the app. I glanced at it as I walked into the bar and saw one or two beers that had also been recommended elsewhere. One of the recommendations, Cuvee 3 from Grimm, sounded interesting and different so I tried that.
Throughout the day I had been poking through the app, looking at nearby locations, and checking out every beer offered at a bar. But it didn't overtake the night like some of my other apps. It was more like Google Maps, helping me get to my next beer and leaving me alone once I'd order. Now that I had my final beer of the evening I kept my phone in my pocket and chatted with the bartender.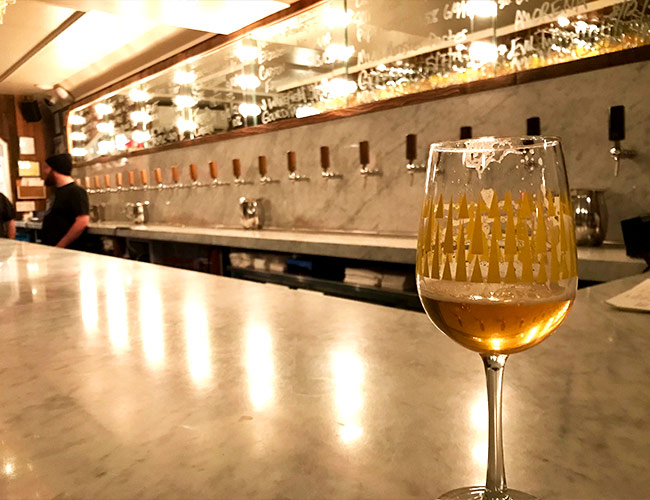 The Verdict:
Ultimately I enjoyed my impromptu bar crawl through Brooklyn. BeerMenus' recommendations were helpful — especially if I didn't want to think too hard or was looking for something new — though I noticed that they skewed higher ABV, which is a reflection of how ratings tend to shape out on most review sites. However, if you're looking for sessionable, low ABV styles, you can just filter the recommendations by style.
It's oxymoronic to use an app to foster in person communication. But, the new feature will help people engage with their beer, or just have a great starting point for ordering, even if they have no idea what they like. If they need to, they'll consult a review or ask more questions about the beer to the bar staff. With the recommendations feature, a once daunting list of say 20 draft lines shrinks to three really cool options; it draws a few special beers out of the crowd — even when a bar has nothing but special beers. The app also features a handy "Where to Go Now list" that'll point users to a few nearby bars. After my experience, I wouldn't necessarily recommend letting the app guide you through New York City on a regular basis, but if you're looking for a bar to duck into or if you want to snag some hard to find beer, this is a great tool.