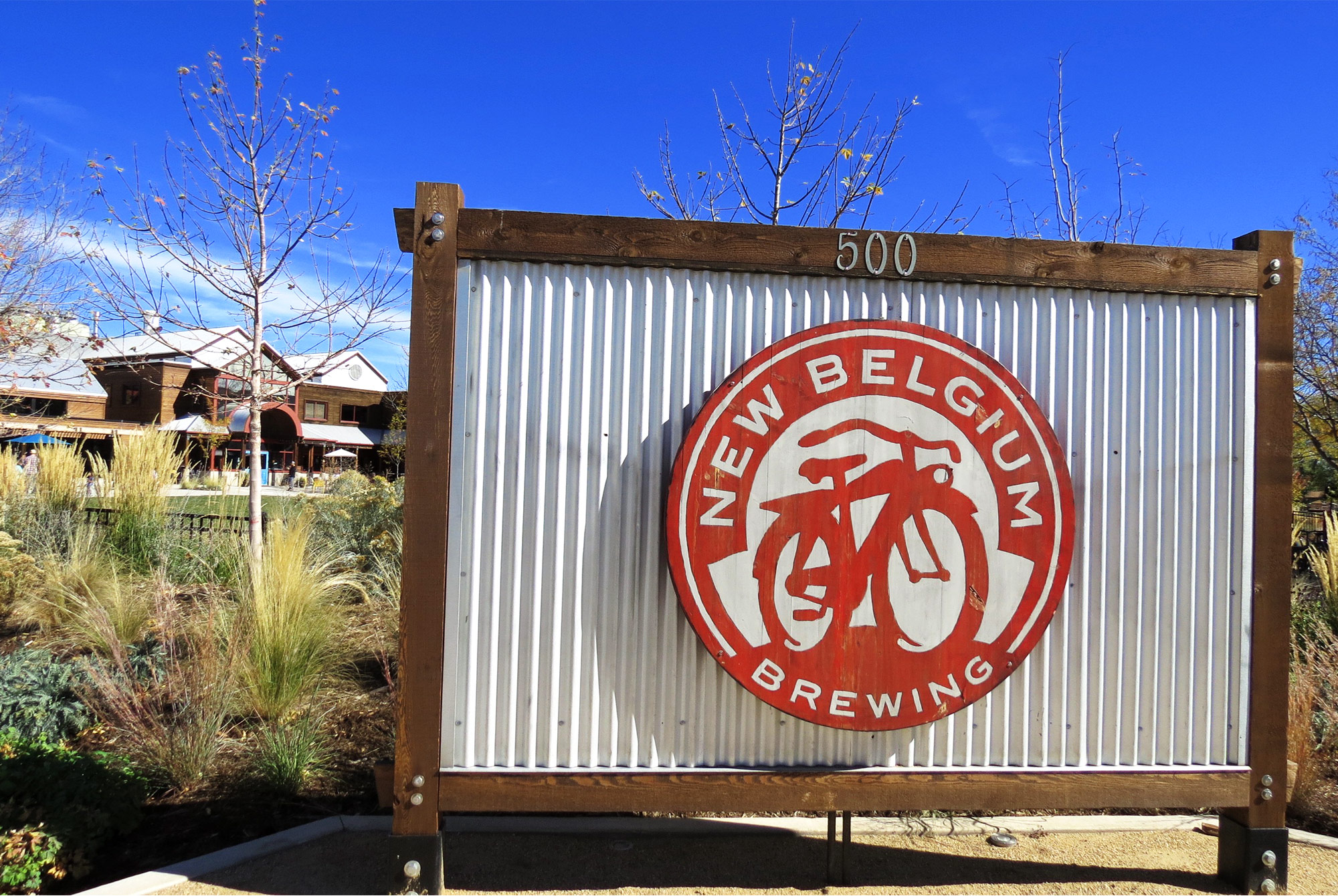 Above the nineteen taps at Equinox Brewing in Fort Collins, CO hangs a sign labeled "New on Tap." Unburdened by the demands of domestic distribution or producing a kick-butt flagship beer, Equinox's unique model allows them to brew new, creative beers as they please — two to three a month, usually. And since nearly all their beer is sold in-house, the customers keep on coming back.
Just down the road, at New Belgium, the best-known and largest brewery in town, things are done a little differently. After all, feeding Fat Tire to all fifty states makes it's tough to focus on an ever-changing arsenal. And when that list of distribution locales expands to include not just states, but nations — well, let's just say hyper-locality is no longer the key focal point.
Equinox and New Belgium appear to be polar opposites. But appearances can be deceiving. After all, both are staple breweries of Fort Collins, so they have to have a few things in common, right? In fact, the interweaving patterns of these two very different breweries can tell us a lot about the state of American craft beer.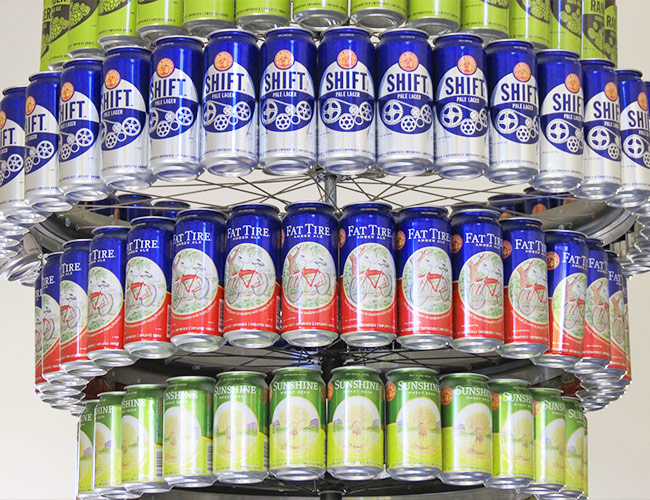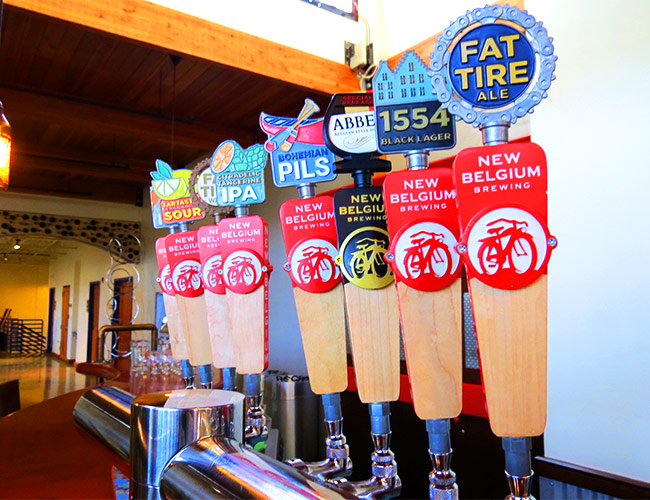 New Belgium is the nation's fourth-largest craft brewery for one central reason: Fat Tire. Inspired by founder Jeff Lebesch's epiphanic biking trip through Belgium in 1988—a trip New Belgium employees describe as a prophetic religious experience—Fat Tire has proven to be a beer a lot of people like. Today, New Belgium produces 1.5 million barrels of beer a year, and half of them are filled with Fat Tire. They were the fourth brewery of Fort Collins (which now has twenty-two and counting), and they make their dominant presence known through bike racks around the city, neon signs on bar windows, and large-scale annual events like "Tour de Fat," which they describe as essentially the opposite of Tour de France. (Picture thousands of drunk people wearing costumes and biking through the streets at ten-thirty in the morning.)
Equinox was Fort Collins' sixth brewery, and its founders, the husband-and-wife team of Colin and Shannon Westcott, never sought to expand beyond the city. In the '90s and 2000s, as Colin brewed for Anchorage's Midnight Sun and led the brew team for Missoula's Kettle House, he realized large-scale brewing with a packaging focus drained the joy that led him to brew at the outset. So when he and Shannon opened Equinox in 2010, they sought differentiation from standard growth models followed by New Belgium, Odell, and countless other capitalist-driven money-makers. Instead of distributing flagship beers, Equinox focused on in-house sales. The goal was to celebrate the communal aspect of beer, providing a comfortable, kid-friendly tasting room with shuffleboard, a biergarten, and live, local music two nights a week. That goal's been met: today they sell 95% of their 1200-1400 yearly barrels in their cozy tasting room.
The rest of their beer goes to local bars and restaurants within a six-block range. It's delivered via something called a "keg-trike": basically, a reverse-tricycle capable of transporting a single keg wherever the rider desires. This quirky practice serves as a metaphor for Equinox's hyper-locality and the environmental consciousness that leads them to source as many ingredients as possible from local farms.
But let's not assume Goliath breweries like New Belgium inherently unleash a steaming carbon dump onto the planet. One of New Belgium's early intentions was to minimize environmental impact. (NB Mythology maintains that during a foundational vision quest through Rocky Mountain National Park, Jeff and his wife/co-founder Kim Jordan recognized the necessity of honoring nature in business.) New Belgium continually seeks innovative technologies to cut down their waste. Oft-spoken about is their rinser that recycles water for multiple cleaning cycles; given that large-scale farms of the Colorado Front Range are experiencing a water crisis, this innovation offers a great service for the region's ever-expanding population. A hundred percent of New Belgium's 73 million pounds of spent grain goes to a local farmer. To ice the environmental cake, all employees are gifted a bicycle for their one-year anniversary, promoting fat-tire commutes amidst all 800+.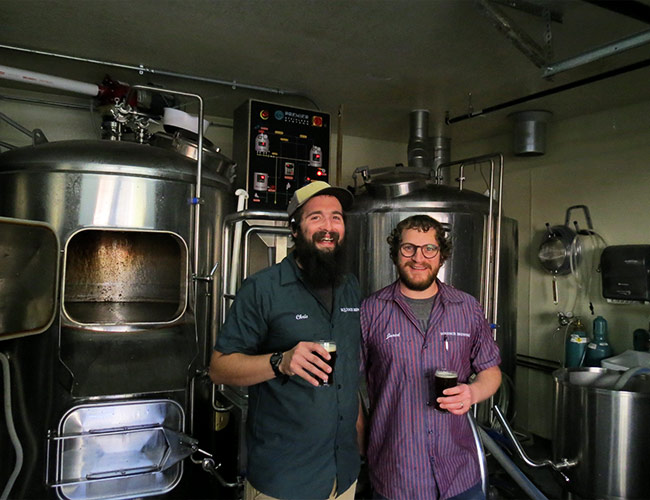 Still, lots of people affect the attitude that New Belgium has become "too big." Though most locals appear to respect New Belgium, many of them also regard them as a sort of sellout. The claim's merit: At the outset, Jeff and Kim focused on selling sixty-four cases a week. Today, New Belgium fills seven hundred fourteen Fat Tires a minute.
Nevertheless, these naysayers might do well to speak to some NB employees.
Those employees speak about NB the way Fort Collins residents speak about Fort Collins: basically, its community, its culture, and its beer all rule. That's in large part because in 2012, New Belgium became 100% employee-owned, which they definitely make sure drinkers know. As the one-year veteran receives a bicycle, so he or she becomes an owner. There's been pressure to sell out. After Ballast Point sold for $1 billion to Constellation Brands in 2015, New Belgium's Board of Directors felt responsible to travel the country to investigate potential buyouts. Many feared New Belgium would become the next victim of Big Beer's Big Chomping Mouth. Employees gathered for the announcement of the new owners. They were directed to an envelope beneath their seats, said to contain the identity. They opened the envelopes, and everyone discovered a handheld mirror. Perhaps it's sentimental moments like these that help New Belgium continuously rank high among best places to work.
While New Belgium employees speak with fervor about their company, Equinox's thirteen employees speak with fervor about their beer. Their model allows experimentation and diversity rivaled by no brewery in town. Free of NB-esque flagship distribution obligations, Colin and head brewer Jared Lydon are free to collaborate with the rest of the staff on which beer style to brew next—yet Colin and Jared may cringe at that statement, for they're highly skeptical of the concept of "beer styles."
"I like to think of beer as an amorphous entity," Colin maintains. "There are no edges, no parameters you have to fit into." Colin and Jared equate styles to marketing: basically, a way to sell beer to consumers. They're not fans of the way competitions like GABF and World Beer Cup judge according to market-based (Here's what people are drinking!) and prescriptive (This defines a good IPA!) style guidelines. They see brewing as an inherently creative act — an art, even — and thus they experiment with the spaces between the styles as well as unfamiliar styles altogether. Years back, the two harvested juniper boughs together from the mountains to brew a Finnish beer called sahti, a hop-less concoction that Colin said most Americans wouldn't even call beer. Brewing sahti might freak New Belgium's customers out. But for Equinox, it's a fun experiment of little risk with a customer base that continually asks, "What's new on tap?"
Which is not to say New Belgium has sacrificed creativity completely. Outside of Fat Tire's Fat Umbrella, their "Specialty Line" appeals to craft connoisseurs with seasonal sours, saisons, ales, and beyond. They do this to remain interesting to folks seeking something challenging. Yet it's of secondary focus. As Bryan Simpson, New Belgium Communications Director, said, "We think beers like Fat Tire, which are super approachable, help bring people into the category [of craft enthusiasts]."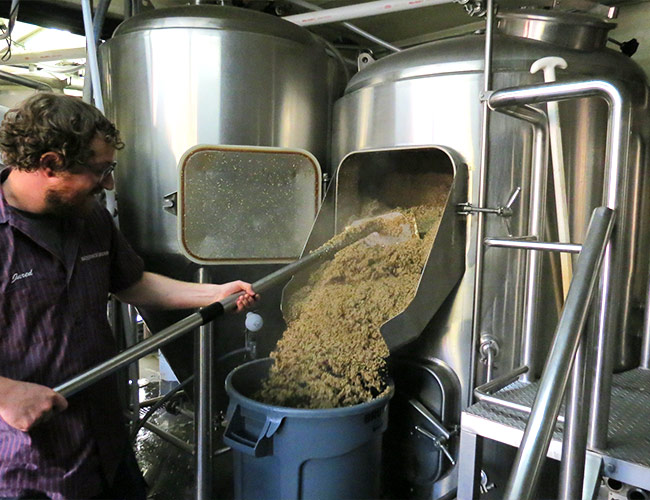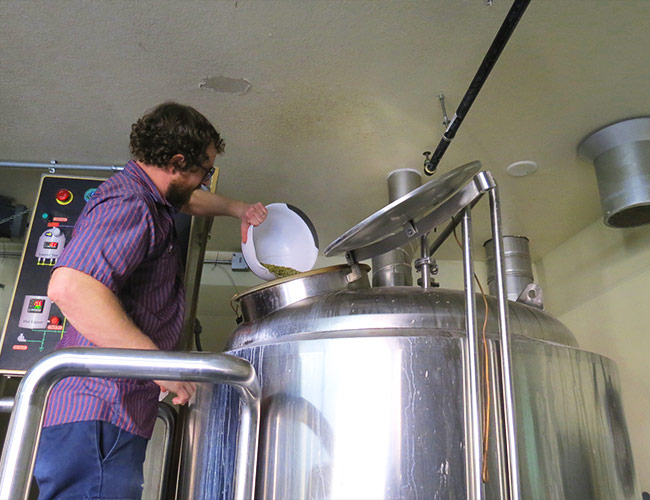 As popular as craft beer may be, it accounts for a mere 8% of beer consumption in Big-Beer-Amurrika. Fat Tire's toasted caramel notes serve a gentle invitation into the craft universe. Perhaps it doubly serves as a bridge toward Equinox's ethos of engaging creatively with the environment to enter deeper into life's ongoing transformation. Equinoxes are transitions between the old and the new, and Equinox sees brewing as a balanced interplay between past, present, and future: Inheriting recipes and styles of the past, they explore the present availability of ingredients, always envisioning possibilities for the future. Through a catalog of 160 recipes and counting (and Equinox will share them all, should you ask), Equinox invites customers into the ongoing change, reminding through names like "Nebula Stout" and "Event Horizon IPA" that we humbly enjoy beer amidst incomprehensible vastness.
New Belgium and Equinox respect each other a great deal. Jared Lydon spoke fondly of New Belgium's willingness to lend help when needed. Bryan Simpson's parting words were, "Give my best to Colin. He's a great guy." No competition exists between them. In fact, all twenty-two Fort Collins breweries belong to a community organization geared toward helping one another succeed. Big businesses can aid communities, and small businesses can invite people deeper into that community's essence. In a time when stouts cross the seven seas and IPAs are appropriated by Patriots fans, it's nice to see this symbiotic balance: Equinox Brewing staying small to nimbly explore trends, paying homage to a home their giant neighbor, New Belgium, helped to build.