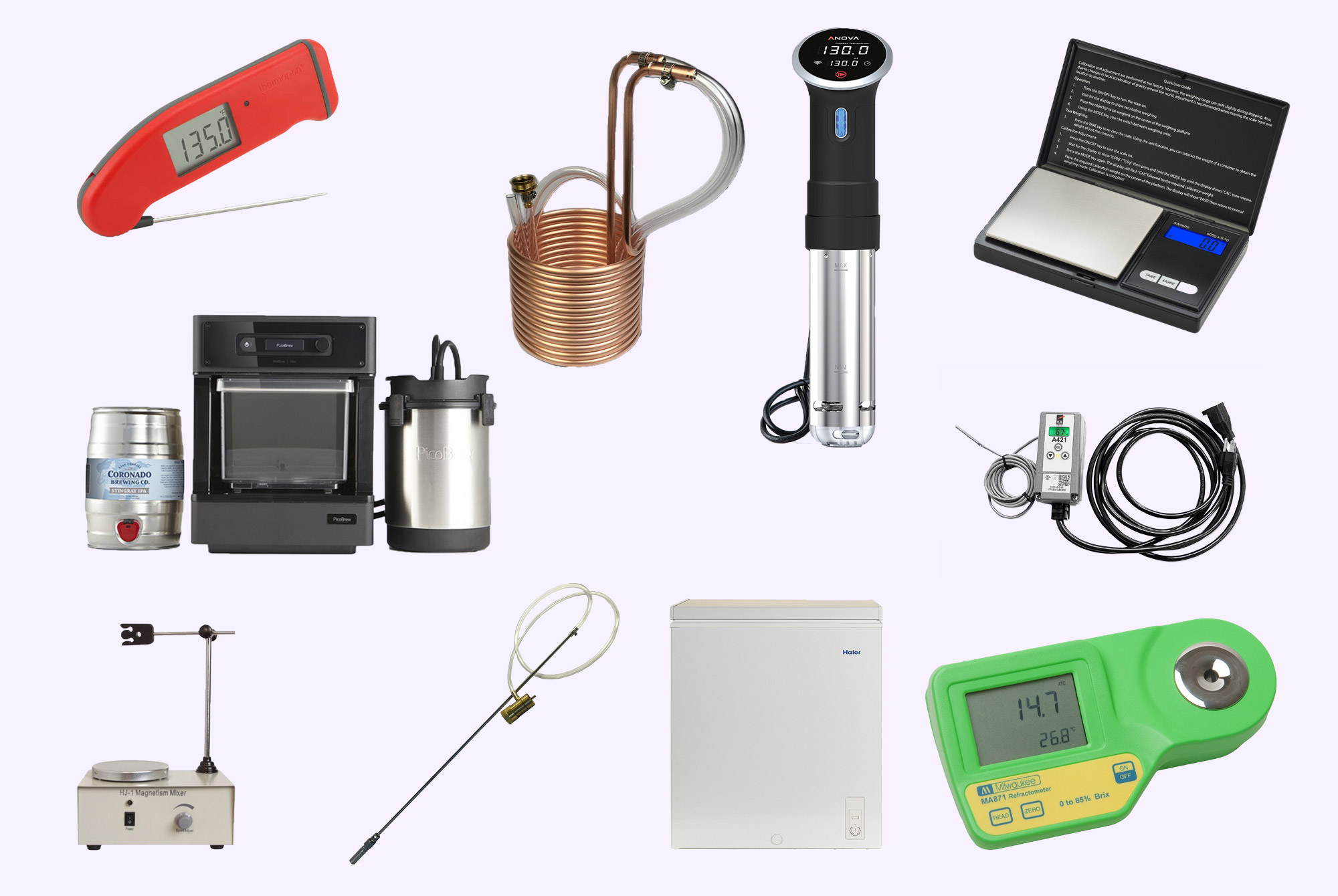 Last year I decided to dip my toes into the homebrewing realm. Right from the first batch, my obsession began to snowball. I started off with a one gallon system, but quickly I realized that wasn't enough. I knew that if I was going to continue, I had to go all in. The experience has changed my perspective on brewing and beer itself. I didn't just learn the process. I was able to appreciate the labor that goes into brewing some of my favorite beers.
Any homebrewer knows that a brew system is never complete. You can always add one new toy, or one gadget to make things a little bit easier. And the holidays are the perfect time to expand a makeshift brewery without having to justify yourself. You've earned it, after all. The following items will get your home brewery up and running for the new year.
And once you open those gifts, check out our homebrewing 101 guide to learn how to learn use them.
Thermoworks Thermapen Mk4
I can't tell you the number of thermometers I've gone through since I began brewing. Every time I think I've found a solid, cheap option, it breaks on the first or second brew day. If you're like me and are looking to buy a thermometer that'll last, go for this digital Thermoworks. The Thermapen might be a little pricy, but it's certainly worth it. Plus since knowing the temperature of your beer throughout the brewing process is critical, this isn't a piece of equipment you would want to skimp on.
Smart Weigh Pocket Sized Digital Scale
If you're using dry yeast, or need to know the weight of hop additions during the boil, a digital scale is a must-have. These are two components of the brew day you don't want to be guessing.
Magnetic Stir Plate
For those that have had issues with slow fermentation, a stir plate is a big upgrade. With a stir plate, you're able to create your own yeast starter, which means a more efficient fermentation. On top of that, if you need multiple yeast packets for your beer, a stir plate is a big money saver, as it allows you to scale up the amount of yeast using just a single packet. Make sure you get yourself a narrow mouth flask to go along with it!
Milwaukee Digital Refractometer
Are you having issues getting an accurate reading with your hand-held refractometer? Even after taking sample after sample, are you not sure of your beer's true gravity? By upgrading to a digital refractor, you can instantly get an accurate reading of the beer's gravity throughout the brewing process.
Coldbreak Wort Chiller
While an ice bath can be an effective way to get the temperature of your beer down after a boil, it can be time consuming. Being able to rapidly chill your beer following the boil deters risks of contamination, and lower your levels of dimethyl sulfide, also known as DMS, an off-flavor that can smell and taste like creamed corn. A wort chiller is an easy tool that attaches to your sink or hose, and allows you to drastically cut down the time needed to get your beer down to room temperature.
Draft Brewer Cannonball Mini-keg with Regulator
For those that are brewing on a smaller system, the 1.75g Cannonball Mini-keg system is a great starter option for kegging. This system comes with all the attachments, liquid and gas lines, as well as a dual-gauge regulator, so all you're left needing is a CO2 tank.
Oxygen Wand
While it's useful to oxygenate all of your beers, this tool is extremely critical for those that are looking for bigger beers, where the yeast can often stall or be stressed during fermentation at higher ABVs. While you can attempt to shake your fermenter the first few days to create oxygen, it won't be as effective as adding oxygen to the beer on day one. Make sure you get an oxygen cartridge as well!
Freezer Chest
If you're beginning to find yourself the most hated roommate as you monopolize the communal fridge with kegs and carboys, you may want to look into a freezer chest to store your brews. If you're not strapped for space, two freezer chests are the way to go. One for kegs, and one for your carboys that are fermenting. Being able to control temperature during fermentation is one of the easiest ways to improve your beer. Just be sure not to get this without our next gift, unless you like your beer frozen!
Johnson's Temperature Controller
If you choose to get a freezer chest, you must have a temperature controller. Unless your freezer can control the temperature, your beer is going to freeze within an hour of turning the chest on. With a temperature controller, you can optimally control the temperature of your beer throughout fermentation. Additionally if you do get that second freezer chest, you can control the serving temperature for your beer.
Anova Culinary Sous Vide Precision Cooker
No this is not a mistake. An Anova is not only a helpful cooking tool, but it can do double duty for those looking to brew kettle sours. Unlike most brews that will ferment at room temperatures, kettle sours will need to ferment at 90 – 100+ degrees Fahrenheit for the first 36 to 48 hours. That's where the Anova comes in handy, as you can place your kettle inside a water bath and use the Anova to maintain your desired water temperature.
Bonus: Pico Model C
For some, homebrewing is not always a viable option. It takes a lot of manual labor, precision, patience, and most importantly, space! However, if you still find yourself wanting to take your pass at homebrewing, the Model C is a good option for you. Sure it might come with a higher price tag than all of the items on this list, but the Pico Model C actually is an all-in-one brewing platform. Pico offers consumers to choose from a number of recipes from breweries around the country, and Pico sends you pre-packaged PicoPak to pop into your machine. If you want to be a little more creative, and create your own recipes, Pico now offers a Freestyle PicoPak option on their site for consumers to create their own customized recipe.