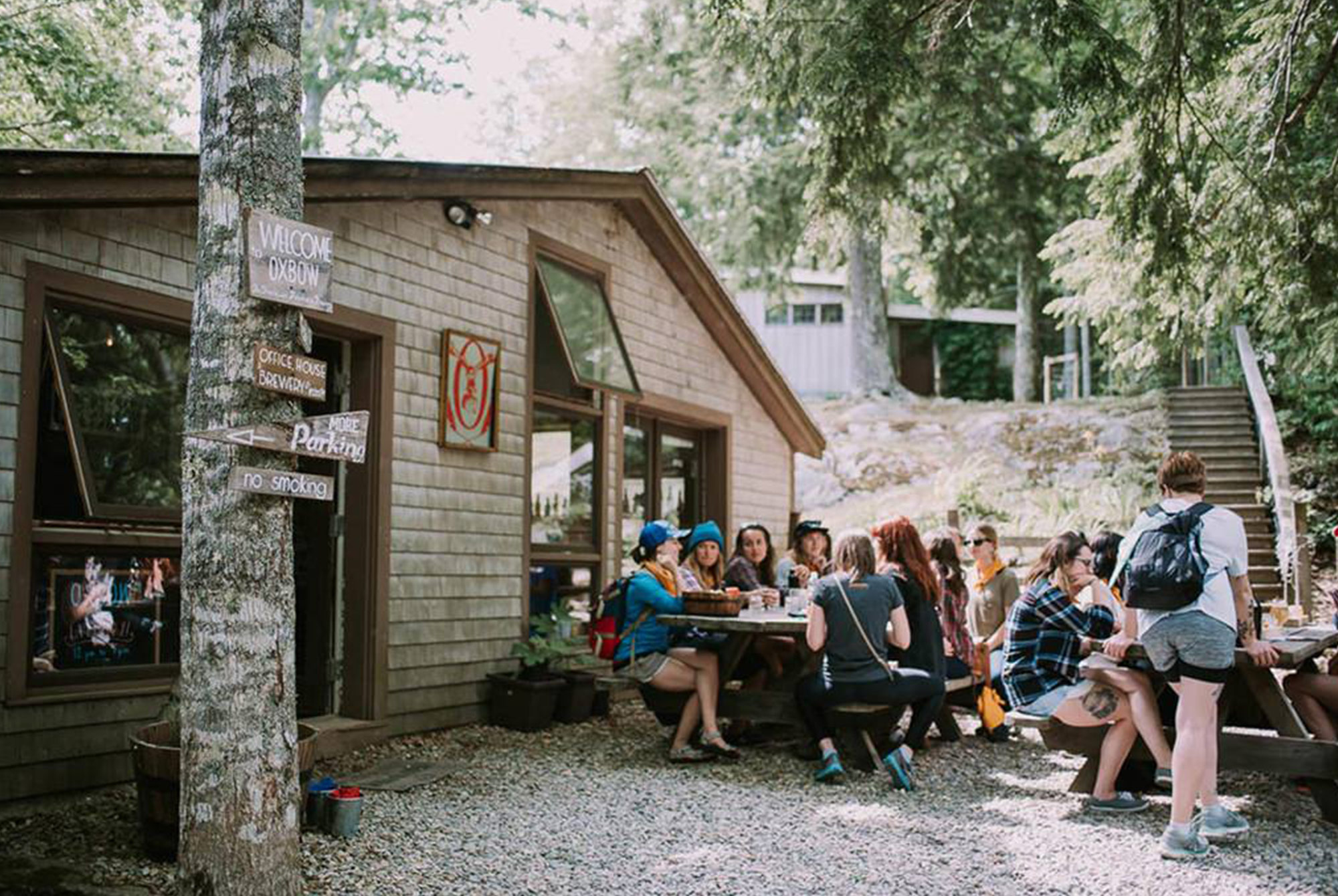 In the beginning of the craft renaissance, there was beer. That was essentially it: A few imbibing pioneers clustered in cold warehouse spaces, drinking a new and flavorful alternative to tasteless, mass-produced liquid. Then the microbrewery boom ignited, and everything changed.
Now America is home to thousands of independent breweries (many of whom make world-class offerings from juicy IPAs to funky farmhouses) and good beer became accessible mostly everywhere, from major west coast cities to rural Northeastern hamlets. If a brewery wants to stand out, they now need to provide more than just great beer.
Like most things in life — a book, a conversation, a killer fish taco — context is king. The same is true for beer, which can (and should) come secondary to the company, the setting, and the circumstance. Rarely is a great beer remembered on its own. It's accompanied by connotative emotions.
This is, in a major way, intentional. The goal is not only to create transcendent beer, but to provide an experience that turns visitors into customers for life. As independent beer moves more mainstream, it means the demographic widens.
For Jacob McKean of Modern Times, emphasis on experience has long been important, if not intentional.
"I [have] always placed a huge focus on the quality of the tasting room experience simply because I enjoyed the process of creating beautiful, engaging spaces," he said. "It was not really a calculated choice, just an extension of my passion for art and design."
Modern Times' has four eccentric and original spots — two in SD, a newer venture in Los Angeles, and one in Portland, Oregon. Each place has it's individual, weird charm. In the Lomaland location, sticky note murals adorn the walls. Books make up the construction of the bar in the North Park tasting room. The downtown Los Angeles location, named the Dankness Dojo, features a 6×6' relief map that features alien beasts, majestic terrains, and battle scenes amongst figurines. In Portland, a gigantic "Macho Man" Randy Savage hangs above the bar.
"Our tasting rooms are filled with unique art we make ourselves, and we're constantly coming up with new ideas to make our spaces as weird and wonderful as possible," McKean added.
Still, according to McKean, the beer has to taste good. A brewery cannot survive off of just having a cool place to hang out.
"As craft beer becomes more competitive, certainly anything that makes a space more attractive will help, but I do still believe that beer quality is the single most important factor," he said. "There is plenty of evidence to indicate that a totally charmless space serving the best beer on the planet would have a line out the door every night.
"But my goal has always been for Modern Times to excel at every aspect of what we do, so making our tasting rooms awesome is something we'll do regardless of whether or not it helps."
Unlike the aesthetic at Modern Times, which is artfully manufactured, the Oxbow taproom in Newcastle, Maine relies on its natural setting to inspire consumers. The brewery is on a beautiful spot of land in the middle of the woods. In the warmer months, there is outside seating to take in the fresh air alongside American farmhouse ales; In the winter, the cozy taproom is rustic and inviting. In both seasons, there are 18 miles of rugged Maine backwoods to explore.
"When guests enter our space it is our goal to provide a sensory experience that is as pleasing to one's eyes as it is their palate," offered Tim Adams of Oxbow Beer.
Adams knew that creating world-class beer isn't enough. And so aside from even the scenery, which itself provides a unique brewery experience, Oxbow employs an art director, Will Sears, who was the company's first employee and most tenured team member.
"Fortunately, Oxbow has always prioritized having a strong visual component to accompany the beer," agreed Sears. "As the saying goes, the first taste is with your eyes. We want the care and craft of the label and the atmosphere to match the level of care and craft put into our beer."
Adams states this is the goal for both taprooms, but especially the downtown Portland location, where the aesthetic is driven by local artwork that surrounds the barrels lining the blending room floor.
"We strive for the look and feel of our tasting rooms and production spaces to represent the personality of the brand," he said. "Part of that 'brand personality' is an obsession with aesthetics, and our brick and mortar locations are amazing creative outlets for that passion."
A few states away, Al Kominski, owner of Pizza Boy Brewing Co., in Enola, Pennsylvania went in the opposite of Adams's natural setting and reverse-engineered his space. His aesthetic came well before the beers did. He opened his pizza shop in 2002 and just began pouring his own beers in 2010. The aesthetic, he said, is a "neighborhood family pizza shop with a brewery" in a "really big hole in the wall" with 102 taps.
Because independent beer is widening its window, Al's is embracing being a family-friendly pizzeria and brewery. In Kominski's words, he wants "nothing more than to make an environment that's friendly for families." And so it's not uncommon for Little League teams to hit Al's of Hampden to play some video games or hang out on the outdoor patio while adults around them down IPAs.
Taproom visits are still about the beer, as they should be. As an experience, though, visits are getting better, more inclusive: A flight of beer enjoyed in an Adirondack chair by a small lake in rural Maine, consumed in between a friendly father-son game of shuffleboard, or just in a space decorated in funky artwork or Nintendo game murals. Simply put, it's not only about the drinking now. It's also about a fun, communal experience that can be enjoyed by everyone.