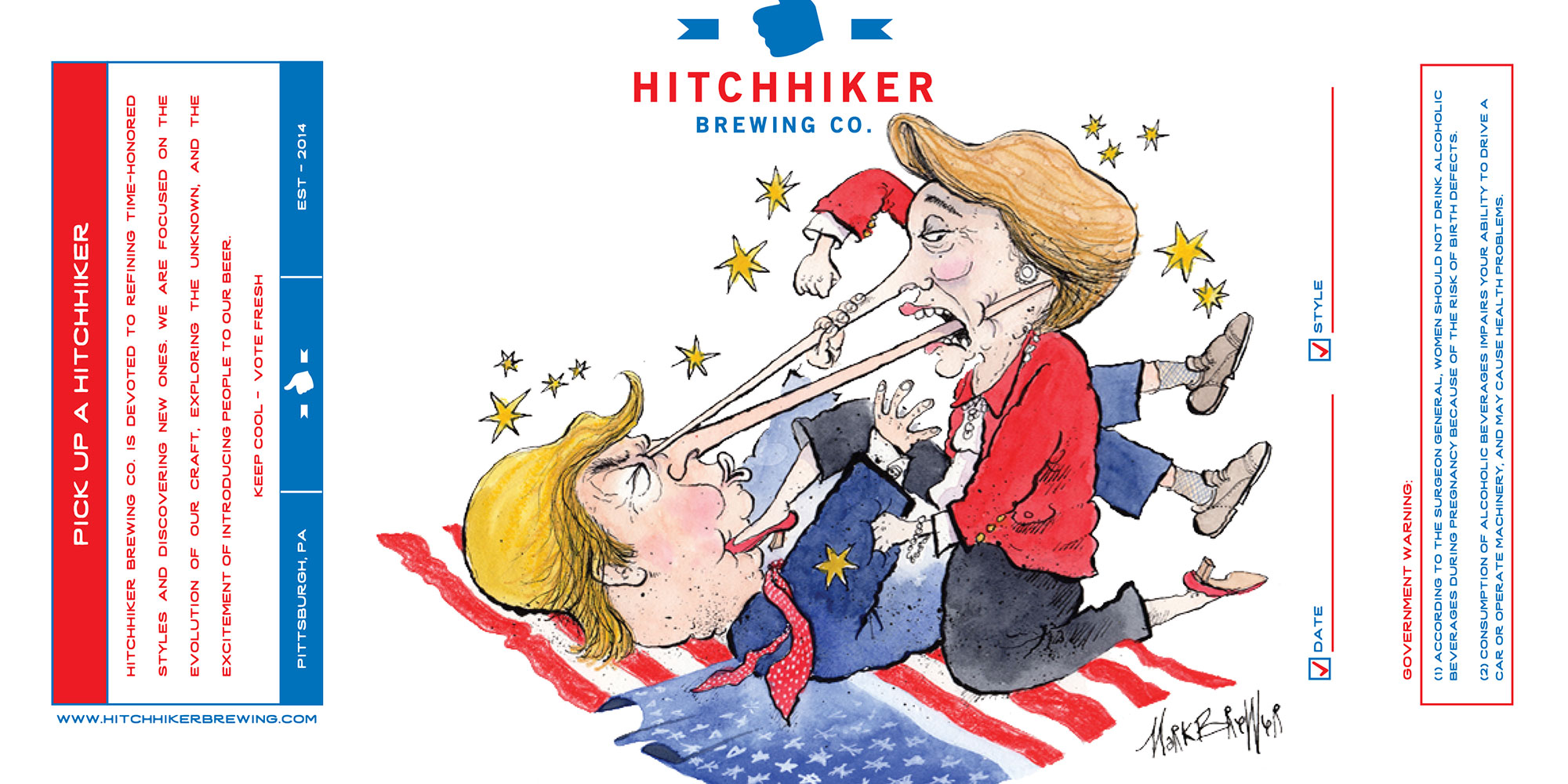 When I reached Pittsburgh-based illustrator Mark Brewer, he was just sitting down to work on a new beer label for Hop Farm Brewing. These days, Brewer's clever, detailed illustrations are popping up all over bottles and cans, as well as in books and on posters. The freelancer still publishes work in more traditional media like The New York Times, but over the past few years he's turned his talents toward an industry that jives better with his last name.
"The first four labels I did were for Hitchhiker Brewery," Brewer recalls. "I just took illustrations from my book [the wonderful beer dictionary Brewology] and adapted them for the labels."
Good work never goes unnoticed, and soon enough, Pittsburgh-based Spoonwood Brewery asked him to do an original illustration for their Turtle Eclipse Tropical Stout, which resulted in a happy turtle holding up a foamy pint.
Brewer is quick to praise Ralph Steadman, the famous illustrator whose work adorns every bottle of Flying Dog, for his unique and recognizable work. "I'm always looking at beer labels," he says. "A lot of them are plain, but I get excited when I see ones like Ralph Steadman's. Even if you don't know the beer, you look at the box and the label and you can tell it's Flying Dog."
Does Brewer try the beers before he designs their labels?
"Well, yeah, I've definitely tried the beers," he says. "I take into account the style, and see whether or not I can extract anything from the ingredients or the process that will translate into a visual."
Brewer also spoke of the importance of working with a brewery for inspiration. "You have to work with people, hear their thoughts, and then mess around and give them two or three ideas," he says.
Like Steadman, Brewer would love to find a brewery to settle down with and help design the visual identity — but it has to be the right fit.  In the meantime, he keeps working as a freelancer, with a new piece in the November/December issue of Craft Brew Magazine, and of course the label for Hop Farm, which is destined for a black IPA. Check out Brewer's website for his latest pieces, and pay attention; one of these days that beer you're holding might just feature a Brewer original.