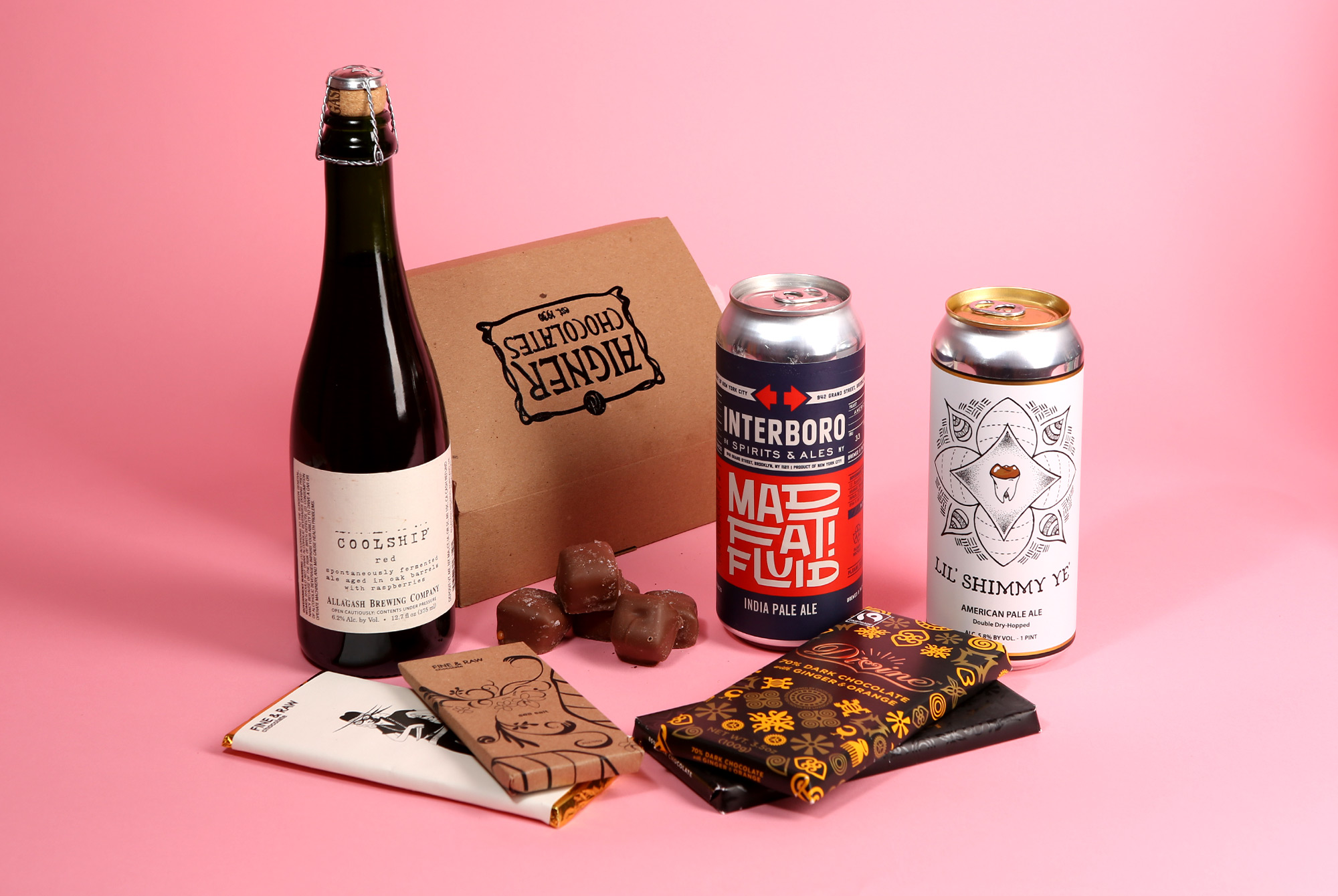 As Hop Culture's executive assistant Olivia Hurley said, "you can't go wrong with beer and chocolate." Too true. But, we wanted to get the most out of this bitter/sweet pairing. So, we asked a few chocolatiers for some advice on tasting chocolate with beer. Beer first or chocolate first? What style of beer with which flavor of chocolate? What should we avoid?
Divine Chocolates, whose fair-trade chocolate you'll find in Whole Foods, suggested that we steer clear from pilsners or light lagers when pairing with chocolate. Also no white chocolate.
Whether it's in a bottle, can, or growler, an easy pairing option is to match the color of the beer with the color of the chocolate, a nice rich stout with a dark chocolate. *chef kisses*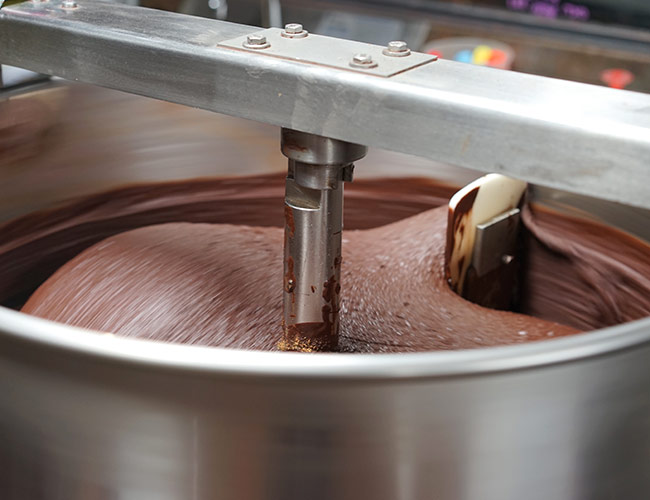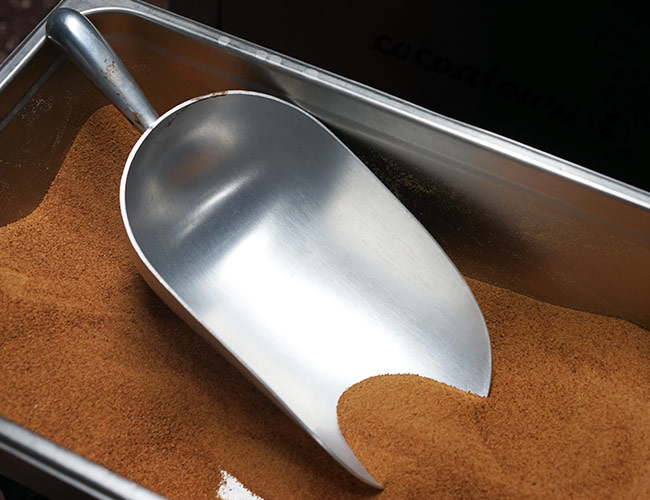 "When I pair beer and chocolate I like to eat the chocolate first and let it coat my palate then take a sip so you can experience all the flavors at once," Mark Libertini, co-owner of Aigner Chocolates in Queens, shared. He quickly added, "I know people who enjoy it better chasing the beer with chocolate so there really is no wrong way."
Divine has a step by step process:
Smell, taste, and enjoy a sip of beer.
Smell, taste, and enjoy a bite of chocolate.
Once you've finished your first bite of chocolate completely, take another bite of chocolate. Let it melt, and just as it's almost finished, take a small sip of the beer to blend the flavors.
Savor the moment.
I also stopped by Fine & Raw in Brooklyn to try a beer and chocolate pairing. Their advice? Just go for it. So we went for it.
Based on the advice of these 3 chocolatiers, we picked out beer to pair with their delicious creations. Here are our recommendations: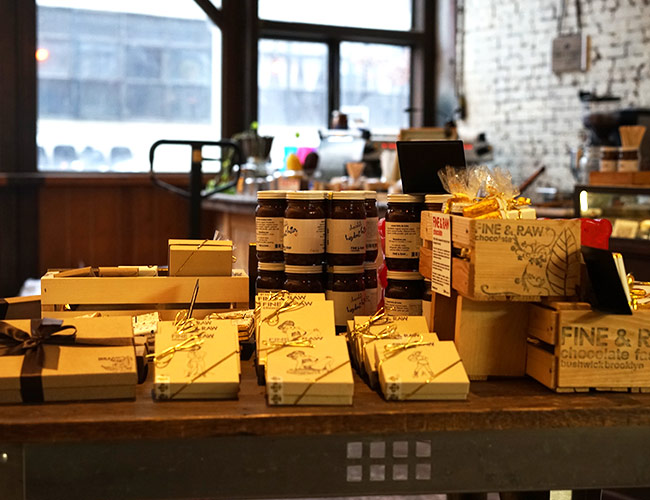 Aigner Chocolates
Salted Caramel + Interboro Mad Fat Fluid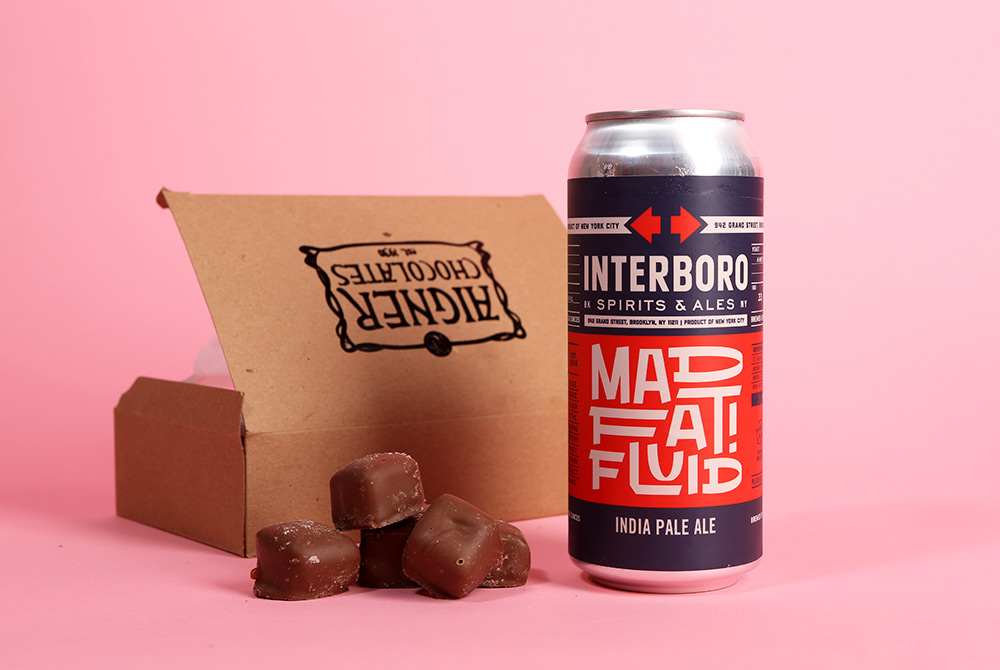 "I'm actually a big IPA drinker and one of the combinations I enjoy is an IPA with a plain or salted caramel," Libertini explained. He suggests finding an IPA with "a nice balance of hop to fruit to pair with something sweet and creamy like a caramel." We picked out Mad Fat Fluid from Brooklyn-based Interboro.
Fine and Raw Chocolates
Espresso + Common Roots Coffee Cup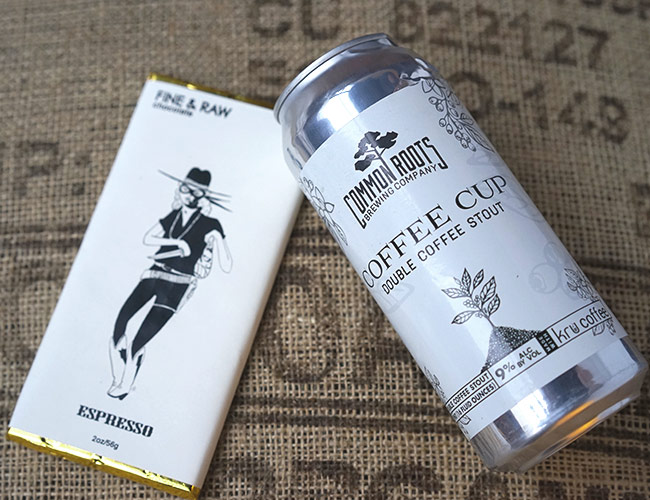 This was a pretty straightforward pairing. We matched a coffee-forward chocolate with a double coffee stout. "It's a no-brainer pairing," said Anna Bond the Fine and Raw Operations Director.
Cacao & Coconut + Twin Elephant Diamonds & Pearls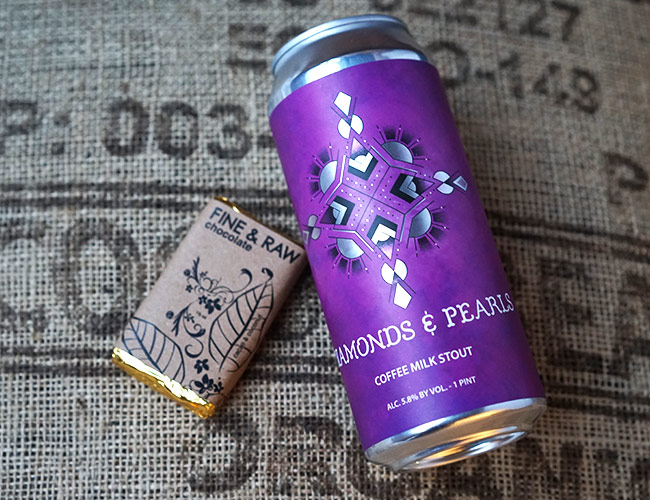 Here's where things got a little more interesting. We paired the cacao and coconut dark chocolate with the milk stout from New Jersey's Twin Elephant to create a coconut latte concoction. It was my favorite pairing.
Ginger + Lost Nation Gose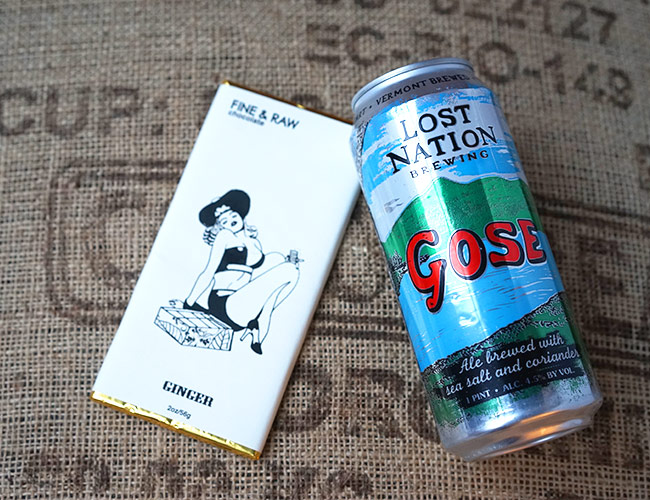 When I was picking out beer for our tasting at Fine and Raw, Anna Bond emailed me, "I have some edgy ideas about gose that nobody else is getting on board with." I was on board. We paired the Gose from Lost Nation with the ginger chocolate bar for a really unique and tasty pairing. The coriander and sea salt from the Vermont brewery worked really well with the ginger spicy-ness of the chocolate.
Habanero Salt + Prairie Barrel Aged Bomb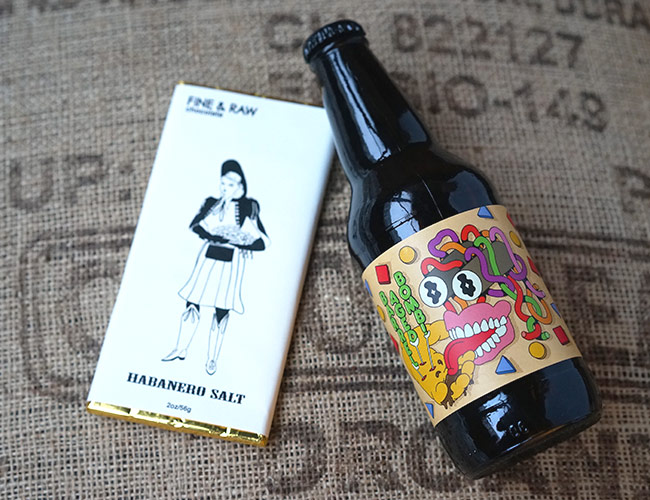 This was the most intense pairing. The chocolate was bright and spicy and brought out the chili and whiskey flavors in the barrel aged stout. It was absolutely delicious and probably a good thing that we had it as our final combination.
Divine Chocolate
70% Dark Chocolate with Ginger & Orange + Twin Elephant Lil' Shimmy Ye'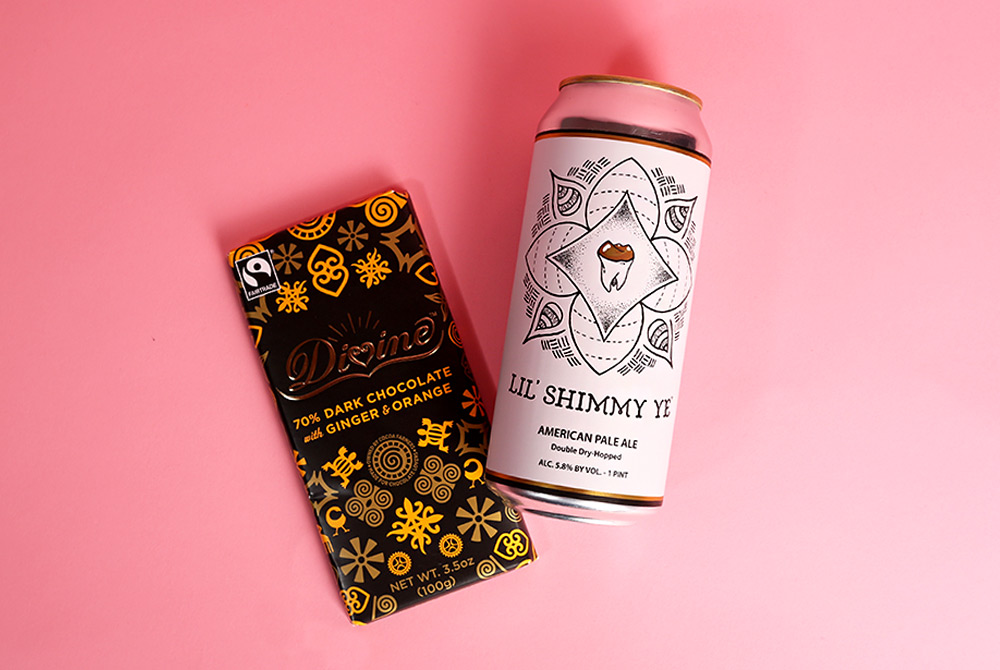 Divine recommended pairing this beer with a hoppy Pale Ale or IPA. We again went with the New Jersey-based Twin Elephant. The bright citrus notes from the Belma, Citra, and Mosaic hops of Lil' Shimmy Ye' blend well with the pop of orange and ginger in the chocolate.
85% Dark Chocolate + Allagash Coolship Red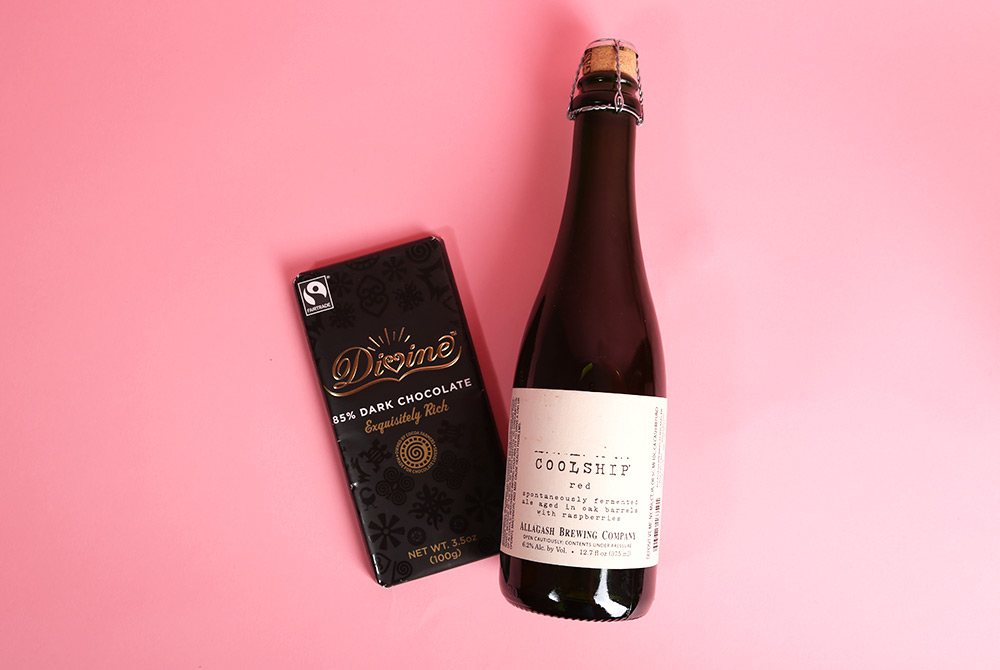 This chocolate would work well with any big beer: Imperial Stout, Porter, or Lambic-style beer. We chose Allagash's Coolship Red, a blended beer aged on raspberries. It's funky and tart and pairs perfectly with the rich dark chocolate.
This article was sponsored by GrowlerWerks, who want you to have a delicious Valentine's Day.