Oakdale, Pennsylvania. A tiny town outside of Pittsburgh most famous for flooding and dog food. Enter Helicon Brewing, a six-person operation owned by Chris Brunetti, a one-time software engineer with a crazy love for beer.
As a brewery, Helicon is refreshingly no-bullshit. Formerly a dog food factory, its open garage doors, nearly endless parking, and surrounding trees make it the perfect spot to leisurely enjoy a beer. It's kept intentionally low-key (seriously, they don't even have a sign), and has done exceptionally well in its small town.
Much of the brewery's success can be attributed to its authenticity. Brunetti is the real deal; he's nuts about beer. After all, it takes more than just a beer-loving layperson to sneak in 6-packs while their wife is in labor—no joke, folks. But his mission is pure: to introduce people to good, affordable beer. Even if he can't win them over right away with a double IPA, he hopes he can at least open people's minds up enough to get them there.
Alexis Wolfe: How has the local community responded to Helicon?
Chris Brunetti: All the locals have been fantastic. Being a blue-collared town, a lot of people come in and say, "I've never been to a brewery, what kind of beer do you have?" They say things like, "I drink Bud/Miller/Coors, do you have anything like that?" We have something called a Helles Lager, and it's very comparable to Bud/Miller/Coors, if they used all barley. I like to call it a transition beer… There's one guy in particular, he came in tried out the Helles and he liked it… but then a few weeks later, he was like eh, maybe I'll try a pale ale. Now the guy's taking home growlers of IPA. So that whole educating people, introducing them to something new, something they like, is really neat.
AW: So that's sort of your mission. To introduce people to craft beer in an approachable way?
CB: Absolutely. People keep asking, "Well, aren't you worried about competition?" The last time I checked, craft beer was only 13 percent of overall beer sales. I think that was a 2015 statistic, but still, there's a lot of room to grow, and just educating people is going to change that.
AW: How do you feel Helicon affects the community around here?
CB: It's interesting — we immediately had regulars. It's like this sense of ownership. I think people really enjoy being able to see the equipment. I spent a lot of money on new equipment, specifically because I wanted it to be a showpiece. People are five feet away from kegs, and they feel like they're involved in the process. And that's the premise this entire place was built on. I never really wanted to run a bar. It's strictly about beer and production.
And that has some drawbacks for business. The maximum occupancy can only be 50 people because of Pennsylvania laws. We don't have a fire safety wall and that holds us back, but I don't really want to run a bar… I was kind of nervous about it. We've really had zero problems here.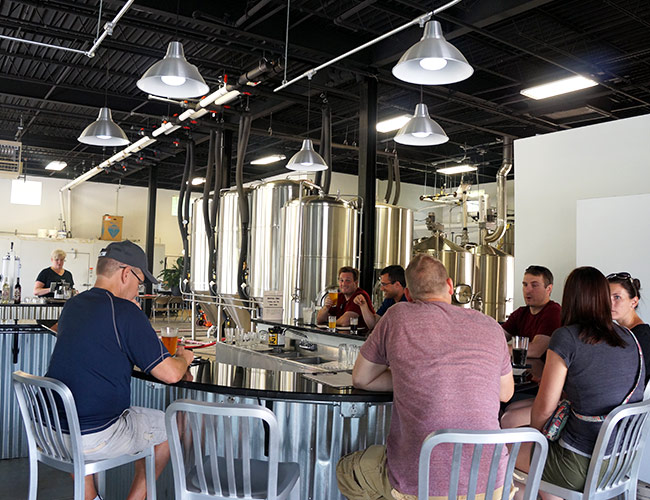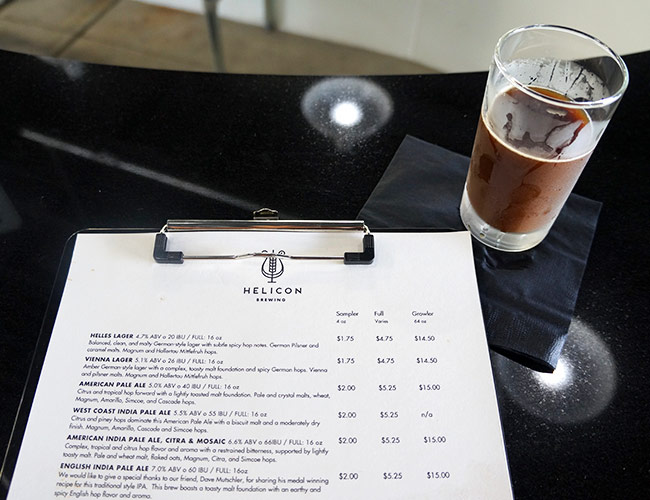 AW: So what does this place accomplish on a larger scale?
CB: The goal was never to be the best brewery in Pittsburgh. The goal was to be the best in the nation. Or even in the world. When I was in brewing school [in Munich], I would take trains up every weekend to Brussels. I spent a lot of time there and made contacts… A lot of travel as well up to Amsterdam… The goal here was to be big. But what happens is, when you're so widely known, it also makes the locals appreciate it more and become more excited. The better we are on a bigger scale, the happier and prouder the locals will be that we're here
AW: Were you homebrewing for a while before starting Helicon?
CB: Yeah, I was. My personal motto is anything worth doing is worth overdoing, so this is what happens when a home brewer gets a little out of control. I started home brewing in the year 2000. I became active in the home brew clubs maybe six or seven years after that. I brewed competitively for a while and became a beer judge. So I really love beer. I'm completely into it.
One of the things that I think is differentiating for Helicon is, I think a lot of people these days are opening breweries just because they have a few dollars and can make money. But when everything shakes out, the people who are passionate about it will be left, and it will become very apparent who's just in it for the money grab.
AW: Do you drink beer here all day every day?
CB: (Sips beer) Absolutely. I call it quality control and research (laughs). We're focused on German lagers and American ales. Our highest alcohol beer right now is I think 6.5 percent, because I do like to drink beer all day every day. Drinking is a requirement of the job; you must drink if you want to work here.
AW: I noticed you guys don't have a sign. I missed the place driving in!
CB:
(laughs) Yeah, we get a lot of questions about that. There was a point where we didn't even have the little sign in the garage door or window. As a result, people had to know where to go, what time, what door to go in… The place has a speak-easy feel. It's all mostly locals, everybody knows everybody. It's pretty nice. The reason why we don't have a sign is because it would take a lot of money and time. But also, what I like to tell people is that we really can't keep up with production. if we put up a big sign and a ton of people came in, I wouldn't be able to keep up with production. We're focused on production right now, before anything else.
AW: Are your beers on tap anywhere around here?
CB: We currently have about 35 accounts open now. We've only been doing distribution for about three months, but I'm currently on at all the places I like to drink beer. I really like the wings at Cole's Pub, so I like to go and order my beer. I love Piper's Pub, we're on there, as well as Pittsburgh Bottleshop and Brewhouse, and four Mad Mex locations. Basically, anywhere I go to eat, I like to go and drink my beer. People see our keg sheet and they're like "Oh my god, this is such a good price." We've never done any advertising beyond social media. We don't really have the budget for it. And right now, we're only focused on selling beer to people who are really bugging us for it.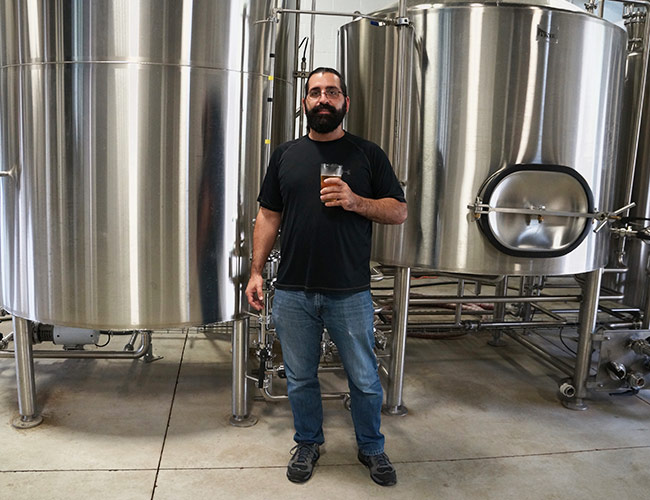 AW: Can you tell me about the name 'Helicon'? Where does that come from?
CB: Well, I wanted a name that was local but not too local. If you want to be a regional distributor, there are definitely going to be some people in Ohio that aren't going to want to buy Pittsburgh beer. I also wanted one name. If you think about really awesome breweries: Stone, Rogue, Troegs, Victory… they all have one name. I read through the History of Oakdale book one Saturday afternoon, and on the first paragraph of the first page, it explained that the deed for Oakdale originally read "Mount Helicon," after the famous mountain in Greek mythology. I read the whole book, but I knew right away that's what I would call it.
AW: I love your logo. Like the space, it's very clean and minimalist…
CB: The space is very utilitarian. Everything here has a place and a reason. There's nothing fancy, nothing extravagant, no artwork. We're here to make good beer, and that's it.
AW: A lot of people in beer can seem like douchebags, but I don't get that from you. Why is that?
CB: (Laughs) Eh, you don't know us well enough yet… You know, my second favorite saying is "Walk softly and carry a big stick." I like to be discovered. I like people to come in and say, "Hey man, we just kind of drove by and saw this," and then it's like, "Hey, actually the beer is pretty good…" So yeah, walk softly and carry a big stick.