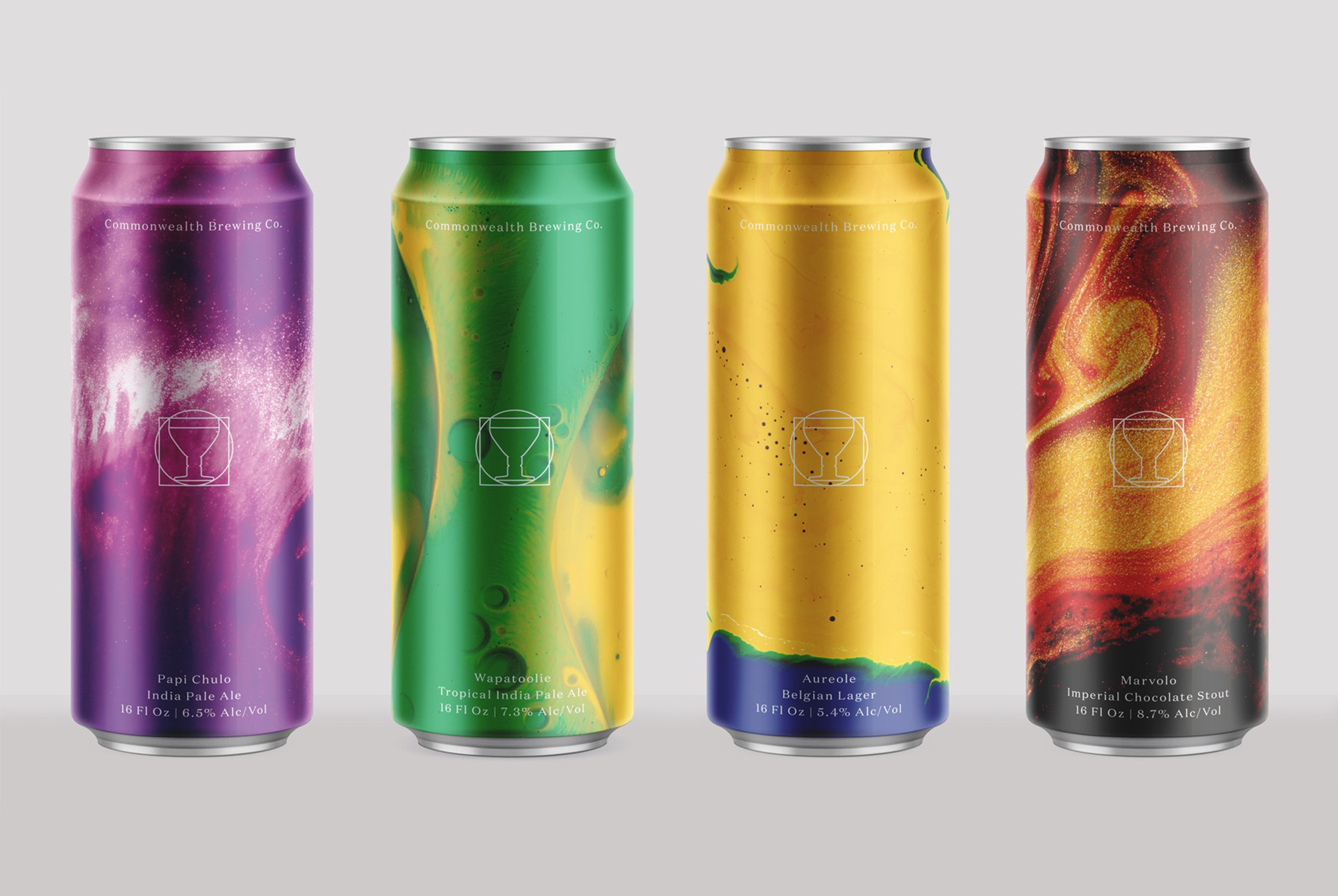 Photography by Commonwealth Brewing Co.
Virginia is home to some incredible beer. The northern Virginia scene, which for most people blurs into the D.C. scene, includes Ocelot and Aslin, two of our favorite producers of delicious and juicy IPAs. Richmond is overflowing with stellar breweries like Hardywood, The Veil, and Triple Crossing. And in the beach town of Hampton Roads is Commonwealth Brewing, which churns out balanced IPAs, stouts, and Belgian-style beer.
Commonwealth Brewing, which opened about two and a half years ago, was not met with immediate praise from the local crowd. According to founder Jeramy Biggie, it was a hard sell to shift the Virginia Beach locals away from mass produced beer, let alone trying to get them to pour their beer in proper glassware.
In the time since opening, though, Commonwealth has garnered a passionate following. Their taproom and beer garden are packed with beachgoers sipping saisons and DIPAs — folks who not that long ago were most likely pounding Budweiser or Miller-Coors. Cans of the Rocky Mountains are now cans of swirling green and yellow.
I got on the phone to chat with Jeramy Biggie about the craft beer scene in Virginia Beach and the story behind those mesmerizing can designs.
John Paradiso: Can you tell me a little bit about the beer scene in Virginia?
Jeramy Biggie: It's exploded in the last 2 to 3 years. Particularly where we are in Hampton Roads, Virginia Beach. It had always been a mass-produced lager town. Tourists came here to have a good time and enjoy a light beer on the beach and experience the water and everything the city had to offer. That was fine for years, but craft took a real hold a couple years ago.
I like to think that we were a part of that, in that we came in as a brand new brewery making traditional method barrel-aged sours, fruited sours, very hop forward juicy IPAs, elegant lagers, and pilsners. Our brewery started with an expansive taproom, a beer garden, and proper stemware. It was something that our local market had never seen before. They didn't really understand us at all when we first opened. But, they were curious and they knew the location; it's an old 1960s volunteer fire and rescue station. It's right in the beach neighborhood so people can come across the street and experience beers that most of them had never had before.
We got a lot of pushback initially. We'd have people who were giving us a hard time over serving a pilsner in a floated flute and serving a fruited IPA in a wine glass. But inside of six months, the locals were coming in and swirling their glass and asking for tasting notes. It's been really fun to see the transformation as the brewery continues to grow. So I think Hampton Roads, in particular, is a pretty exciting place to be in terms of the growth potential and people's willingness to try new things.
JP: What did the education process look like, in terms of getting locals on board with craft?
JB: Some of it was just osmosis. We we believe in and we talk about on social media and in the taproom spreads. And I think what shocked people was that they were enjoying beer styles that they thought they'd never like.
We started out with tasting notes that accompanied all of our beers. It was a little extra step to educate people early on. Now that we're more established we don't pass out tasting notes as much. We also work with our staff every time there's a new beer so they know how to communicate the flavor and ingredients.
JP: Was a taproom always a part of the plan for Commonwealth?
JB: Yes, that was the plan from the start. We had been talking about opening a brewery for 4 to 5 years and I reached a point where I felt it was time to make that transition. It was something I had to do. I didn't really have a choice — meaning I couldn't think of anything that I wanted to do more. Having visited breweries across the country and in Europe, and seeing how it brought people together, it was something I just loved.
So, when we wanted to open Commonwealth we were looking for a place that had good bones, that had a good location with a lot of foot traffic. We found this old fire station and I wanted to lay it out immediately with a beer garden because I think there's nothing better than being able to enjoy a really good beer outside. I wanted a taproom that had a lot of light. It was actually quite tricky to lay it out properly so that it would have a good flow and still support production needs.
JP: What do you think defines the specific scene of Virginia Beach?
JB: Balancing the elevated beer styles and the education of craft beer with a completely relaxed approach and atmosphere is the hallmark of a successful brewery in Hampton Roads. People live here because they like the beach, the beach life, and being outside. This neighborhood that we're in, Chicks Beach, is flip-flop mandatory [laughs]. So we needed to have a taproom that's super chill and laid back but can present beers that are on the level of beers made nationally or internationally. It's something that's been unique about our Hampton Roads experience.
JP: So not taking yourselves too seriously.
JB: I think the proper stemware alone was a big sell. [laughs] Presentation is half the battle. Clean glassware is absolutely huge. So many others don't have a focus on that. And you have to if you want to be the kind of brewery we want to be.
JP: Commonwealth has a great range of styles. What were some of the decisions involved with launching with such a diverse selection?
JB:
That decision reflects my own tastes toward beer. Obviously, I have beers that I go to more than others. But I enjoy all ranges of beers and think that given the time of year and temperature and the food you're enjoying different beers are equally delicious at different times. And I want to offer that experience for our customers. And our customers are diverse. You've got this up and coming — I don't know –pseudo-hipster set that's really into the IPAs. But then we also have a lot of military and retired military that live at the beach and they prefer the classic lagers. Then we've got the seasonal stout lovers.
All the beer styles have their own following so we're careful about the time of year we release things and how much we release of a given style. With those considerations in mind, we can generally find a customer for everything we want to create. We started with a fairly large brewery at a 20 barrel system and people think, "Oh you want to distribute your beer," and my thought process was that I wanted to be free to make anything I wanted to make and be inspired at any time and just make that beer. I don't want to be restricted to making some set of flagships that we depend on for revenue and distribution. I wanted the exact opposite model.
And that's what we've been able to do. Since opening, we've also been able to do some distribution. My wife started a distribution company called Liquid Distro and that's been fantastic for us. So now we are distributing but that was never the intent. Really the goal was just to make whatever we wanted to make whenever.
JP: Over time, has a favorite or bestseller shown itself in the taproom?
JB: We've seen reasonable equivalency between multiple styles of beer. So that's been unusual. Usually you have some sort of flagship that emerges and takes over 80% of your production — think of Allagash White as an example — but not with us. We have a number of IPAs that are all relatively equal in popularity. Our lagers are all fairly equivalent.
Our barreled sours, that's been the labor of love. We started brewing those that weekend we opened. We brewed two base beers for our barrel aged program, put them in freshly dumped red wine barrels and started the clock. A year later we were able to release our first barrel-aged sours and it took us like 9 and a half months to sell that stock. This market just wasn't ready for that style of beer. We created a lot of bottles of that first batch and those are what kind of hung around but the draft was gone in a month and a half. So we learned that our market was just a draft focused market. And now we put more in draft than bottles.
JP: Can you talk a little bit about the can art?
JB: I wanted to work with someone local. So I reached out to a few local designers and they came back with designs that were great, but I wasn't absolutely in love with them and I didn't have that confidence that I was going to love them forever. I was aware of the fact that once you put those designs out on the market, that is your brand and that marks you. That's something you can't take out of consumers hands very easily. I wanted it to be an absolute home run.
So I started doing my own research and I found this company Thirst Craft in Glasgow, Scotland. I called them up and told them that I was looking to can four beers and I said, "Here's what I like and here's what I don't like." I don't like graphics. I don't like a lot of text. I don't want pictures. I don't want anything busy on the cans. I said I want to visualize the flavor in the can, on the can. And Matt Burns, the Creative Director and Founder, told me in his Australian by way of Scotland accent, "Give me a minute to think on it." He called me back the very next day and he said, "You know when you go to a nice Italian restaurant and they pour oil on a plate and they put balsamic vinegar on it and you swirl it about for your bread and you get all of these interesting patterns?" And I'm like, "What?" And he says, "That's what I want to do with your cans!" So I said, "That's perfect. Let's see some designs."
It was the first time since opening the business that I connected with someone on a branding/graphics/art perspective that seemed to add anything to what I was already coming up with myself. And it was such a relief and so refreshing. And since then we've used him exclusively for all of our packaged branding across all beer styles. The ability to see the flavors of the can using these swirls and the different density liquids and then colorizing those, it's exciting. From a retail perspective, it jumps off the shelf at you. I couldn't be happier with how it turned out. Virginia has a lot of love for its history and I wanted to pay homage to that by naming us Commonwealth but I also wanted to put one foot forward and be very modern as well. I think the artwork and the cans really balance out the brand.
JP: Now that you package beer in cans, how has that affected sales?
JB: It's been a game changer. We're now releasing cans every two weeks and we're motoring up to be able to do it every week by this coming spring. But it's a whole new revenue stream for the brewery that didn't exist before. We were great before and now it's even better. My wife's distribution company is able to take some of our rotational beers up to the northern Virginia and D.C. market and we're seeing an amazing response there. It's been pretty wonderful.