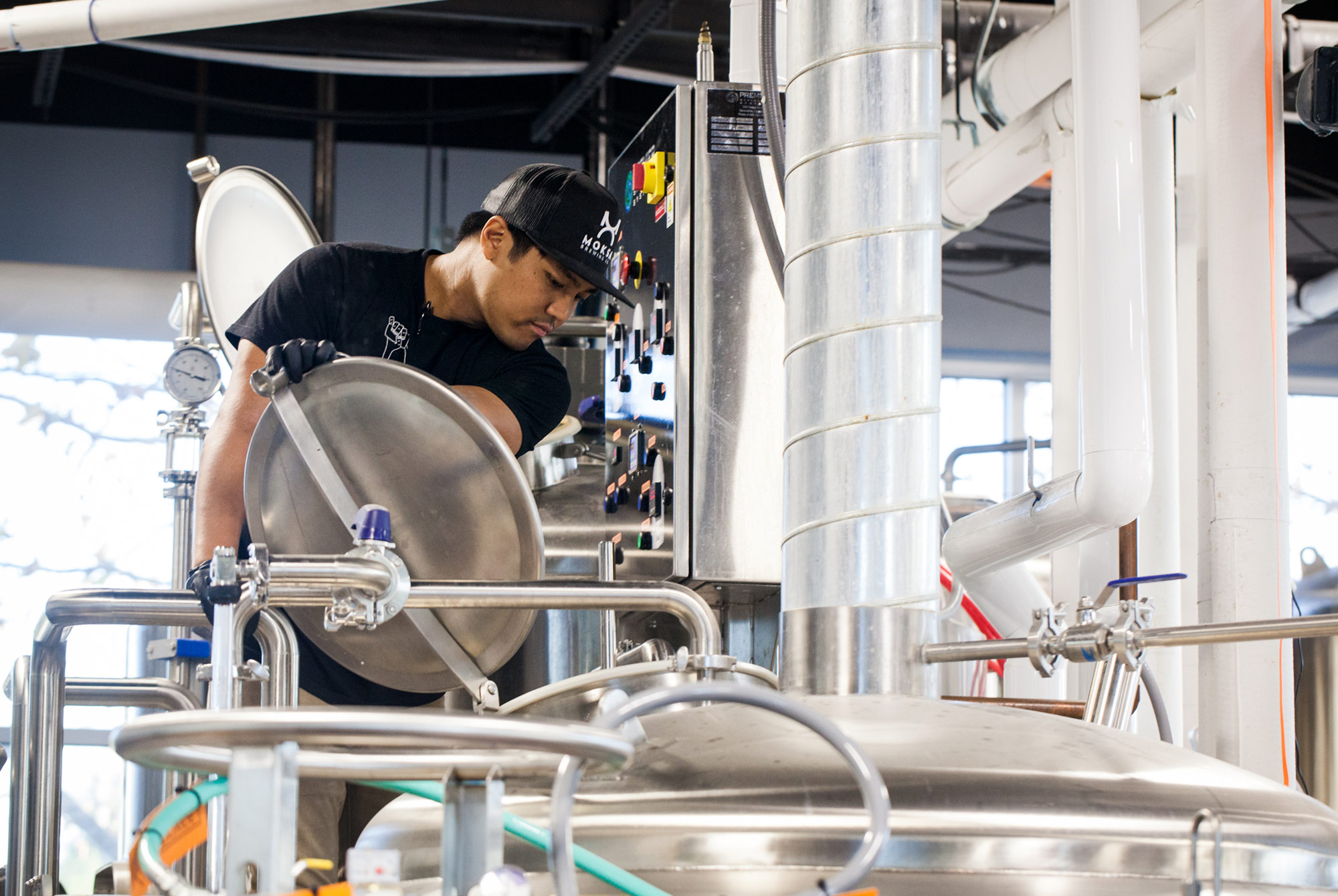 Photography by Jeff Bellesiles
It's 50 degrees with sunny skies as head brewer Derek Gallanosa pulls up to Moksa Brewing Company on December 27th. His partner Cory Meyer, the former head brewer of New Glory Craft Brewery, is meeting him there. It's Moksa's very first brew day.
In the craft beer world, seeing Derek in his Moksa hat will take time to get used to. Derek was not only Abnormal Beer Company's first employee, but – to the beer community – Derek was also the face of Abnormal. Whether it was welcoming beer enthusiasts at festivals and beer releases, or posting updates on Instagram, it was always Derek doing so. When news broke that he was leaving Abnormal for Moksa at the end of 2017, it came as a shock to many. In the two short years that they were pouring Derek's recipes at Abnormal, the brewery went from being completely unknown to having lines down the block for releases.
As we head into the brewery, the grain is milled, the water is heated, everything is ready to go for their first beer, a Golden Ale. "This is our substitute for those looking for macro light lagers," Derek says, referring to those who will wander into his taproom not looking for a hazy IPA or big barrel-aged stout.
"Cory is very methodical and Derek is innovative," primary owner of Moksa, Nu Boonkham says. "It's going to pretty much be like building a dream team here in Northern California," he continues. With Derek primarily known for his hoppy brews and big stouts, and Cory for his sours, it certainly appears that the Sacramento area is in for something special in the near future. "Derek is going to be our leader," Nu states. "He's the guy I am pretty much all in for," he gushes. As Derek and Cory begin to let some base water into the mash tun, Derek beams.
"I remember walking into my friend's backyard in college and seeing his dad brewing beer. I was completely mind-blown. I had no idea about homebrewing until that moment," Derek recalls. While he had no ambitions of trying to make brewing a career at the time, he knew at that moment he had found his new favorite hobby. The next day Derek purchased his first book on how to homebrew. A few months later, he visited Home Brew Mart, located in the original Ballast Point Brewery, to pick out his first homebrewing set. Not wasting any time, Derek invited his friends over that weekend for what would be his very first brew day.
"Even at that time I wasn't interested in making basic styles, so I added some orange zest to the pale ale recipe kit," Derek says. "I read books, listened to The Brewing Network podcasts, and read as much as I could on the internet. Every new batch was a unique experiment with different techniques and processes. "I was obsessed but I was also getting better."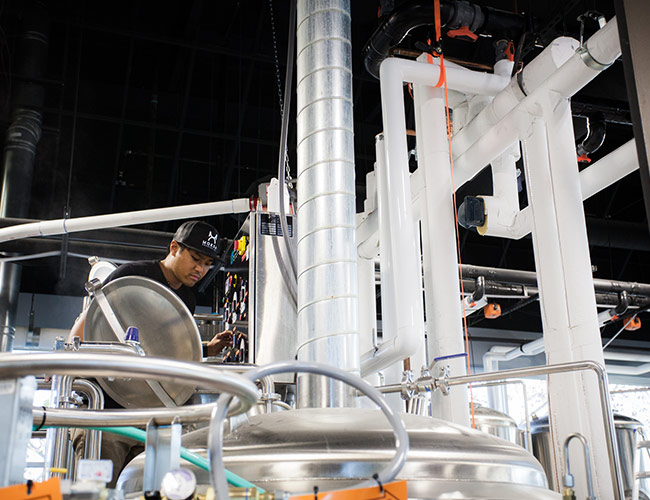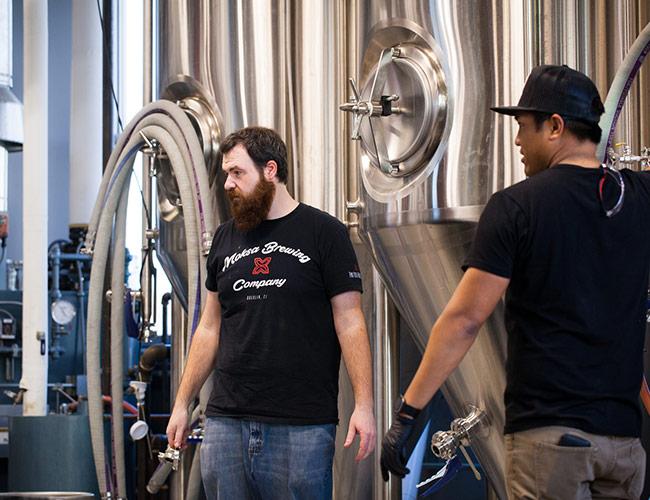 When Derek graduated from Cal State San Marcos in 2008, he decided he didn't want to continue down the path he was headed at the time. "I decided to put aside my marketing degree and really think of what I should do with my life. That's when I realized it would be a dream to brew beer for a living," Derek says. He decided to put together a resume, and dropped it off at every brewery he knew: Stone, Lost Abbey, Ballast Point, and Karl Strauss, to name a few. After zero responses, he still didn't want to give up on his dream. Derek enrolled in an online course on beer through the Siebel Institute, which got him in the door at Karl Strauss Brewing Company in San Diego.
"Turning pro was a huge deal for me. It's what I wanted and what I was willing to put all my effort into," Derek states. At Karl Strauss, Derek spent his first six months as an assistant brewer and then two years as a brewer. "I was the night time brewer, which meant I was at the brewery by myself making the same beer every other day," Derek explains. He was not only bored, but with nobody above him planning to leave, he knew that he had reached his ceiling in his current position. Rather than leaving the company, Derek decided to use his marketing degree to transition to a sales rep for Karl Strauss. He spent two years there before realizing he still wasn't fulfilled. "What a lot of people didn't realize that during the whole time I worked at Karl Strauss I was still homebrewing and fine-tuning my skills," Derek shares.
In 2014, Derek decided to leave Karl Strauss for an opportunity to join what would eventually become Abnormal Beer Company. "I took away an innumerable amount of new skills and knowledge that I'll always give Karl Strauss credit for," Derek says, however, he couldn't pass up the opportunity to run a brewery and make his own beers.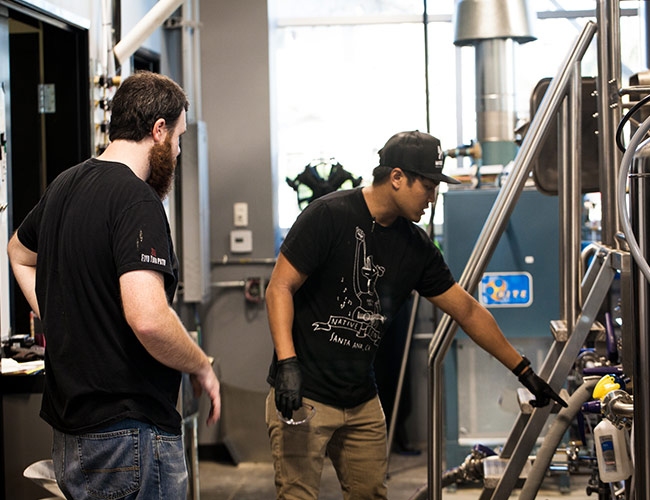 While today Abnormal is a triple threat company of a winery, restaurant, and brewery, that wasn't the case when Derek signed on. "There was no physical brewery in place, it was just an open set of office suites with the walls knocked down," Derek states. "My job, along with the owners, was to build a brewery from the beginning," Derek explains. At Abnormal, Derek wore multiple hats: Head Brewer, Sales Rep, Marketing Director, Beer Buyer for the restaurant, Inside and Outside Event Coordinator, and Delivery Driver.
Once beer began to flow at Abnormal in 2015, Derek was able to use the network he had developed over the years to get his beers out to local bars. "We got some bars to do events to get our name out there. I didn't have a name as a brewer, so it wasn't like people were lining up," Derek recalls. That was until Churchill's Pub & Grille's Renaissance event on March 7, 2015.
For the Renaissance event, Derek dropped off a keg of his Imperial Stout M2, which he had created for Mostra Coffee's second anniversary. About 30 minutes into the event, Derek received a text from the bartender, "Dude your keg has just kicked." "I was completely shocked," Derek recalls. "Word spread, nobody knew what it was, but everyone at the bar was like, 'you have to try this.' It was definitely unexpected."
After the success at Renaissance, the word was out on Derek's Imperial Stouts. He began brewing collaboration beers with "heavyweights" such as 3 Sons, J. Wakefield, and Superstition Meadery. Soon, Derek was traveling to events like the Craft Brewers Conference and pouring at festivals in places like Miami, Boston, and Copenhagen. "These were the moments that stand out the most to me, the traveling I was able to do because of beer," says Derek. Things were rolling, as Abnormal surged to become the number one rated brewery in San Diego by Untappd and Beer Advocate. However, in 2017 Derek's priorities began to shift.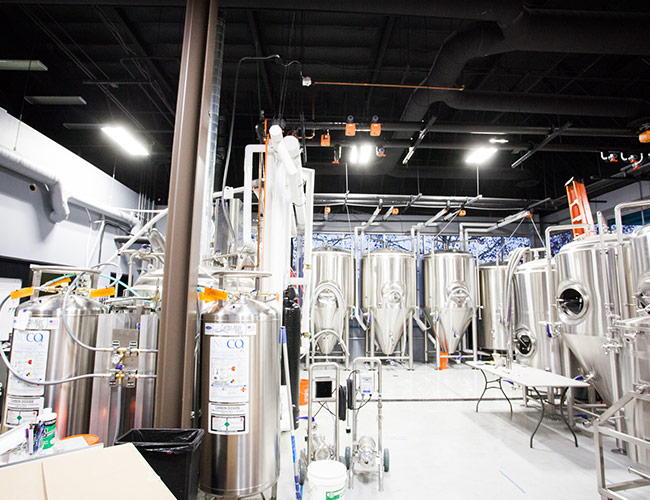 "At a certain age, you have to start making a lot of adult decisions." While Derek had learned plenty at Abnormal, both in terms of brewing and business, he knew that if he wanted to grow personally, he had to leave. "My fiancé found her dream job in the Sacramento area so I made the decision that if I wanted to start a family I needed to move up there to do so," Derek mentions.
In mid-2017, Derek began to put out feelers to friends in touch with the Sacramento beer scene, and on his first visit, he met the individuals that would become his team at Moksa. His first meeting with Nu was at a beer share hosted by a mutual friend. "He brought some of his imperial stouts for us to try and we tried one of his collaboration stouts with J. Wakefield, and that was it," Nu recalls. "Right there I knew I had to have this guy no matter what it takes," Nu says.
When asked whether Derek was nervous about leaving Abnormal, Derek responds, "hell yea". He continues, "I left an established brewery with a dedicated consumer base to move to a new city, new market, and new team." To gain confidence he was making the right decision, he reached out to friends he trusted. "Those words of advice definitely helped me feel more comfortable with the transition," Derek says.
As we walk through the brewery while the Golden Ale is boiling, Derek takes us over to a rack of eight Eagle Rare and Blanton's bourbon barrels. While it's only day one, Moksa plans to quickly build up their portfolio, which includes two imperial stouts that will go into these barrels once they're ready. While we only see these eight for now, the taproom is designed to hold up to 40 barrels for clean beer. "We figured that by the time we fill up that space there would be some barrels ready to package, so a consistent inventory of 40 barrels is what we're shooting for," Derek mentions. Moksa plans to barrel just about every strong cellarable beer they brew, which Derek says might result in them having "to get creative with the taproom."
As Cory and Derek head back to the Golden Ale, which is getting knocked out into the fermenter, they look at each other with a sigh of relief. Day one is in the books.
While Moksa opens their doors to the public for the first time on February 3rd, it will not have the feel of a new brewery, as Derek and Cory plan to start right where they left off at their former jobs. Their launch party will feature eight different beers, including an imperial collaboration beer with Bottle Logic Brewing.
Moksa or Moksha is a term in Hinduism and Hindu philosophy which refers to various forms of emancipation, liberation, and release. Derek states, "We at Moksa Brewing use this term to liberate our art from the constraints of classic beer styles and traditional brewery philosophies, leading us down a path that deviates from the norm."