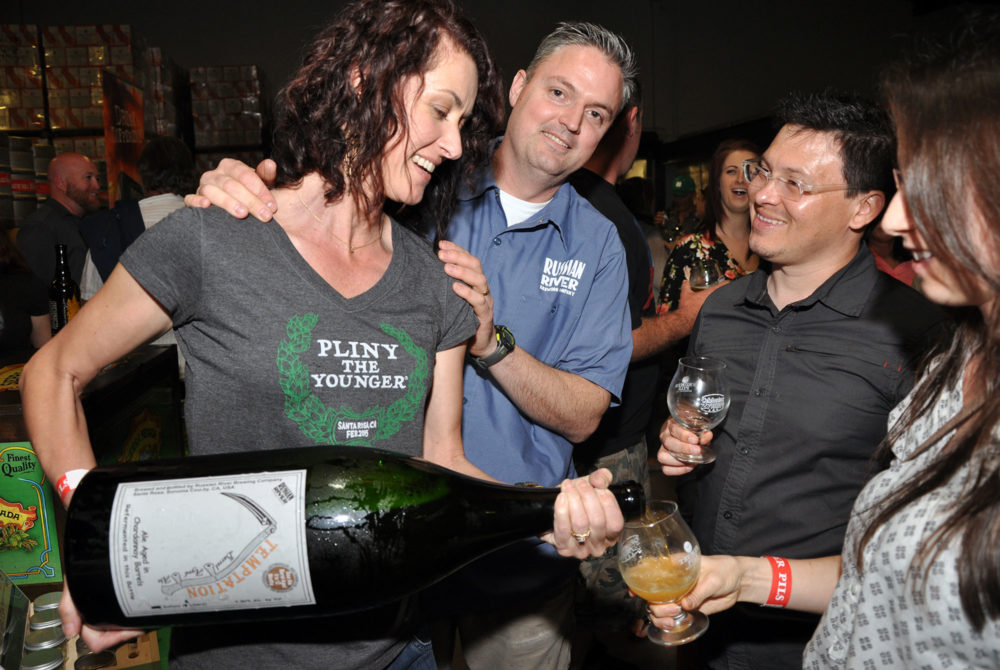 Photography by Russian River Brewing Company
Things we learned:
Russian River originally got its start from Korbel Champagne Cellars
You can start an award-winning brewery by getting creative with severance
Natalie Cilurzo named Russian River's most famous beer, Pliny the Elder
Successful people complete their most important tasks before breakfast
Russian River's second location should open in Fall 2018
Few American breweries have the same reputation as Russian River Brewing Company, founded in its present incarnation by Vinnie and Natalie Cilurzo in 2004. According to legend, Vinnie brewed the world's first commercially available double IPA back in the mid-nineties when he worked at Blind Pig Brewing, and Russian River undoubtedly helped kickstart the sour revolution. The Santa Rosa, California, brewpub has become a mecca for the craft-minded, who come from all over the world to try Russian River's renowned sours and IPAs. Come February, they line up around the block for Pliny the Younger, one of craft's most storied beers. Recently, Hop Culture sat down with Russian River co-founder Natalie Cilurzo to talk pints, Pliny, and plans for a second location.
Kenny Gould: Let's go back to the beginning. Can you tell me how Russian River got started?
Natalie Cilurzo: Russian River got started by Korbel Champagne Cellars in 1997 in Guerneville, which is a small town in Sonoma County located on the Russian River. The winemaker there was passionate about homebrewing and thought it'd be a great idea to talk his boss into letting him start a brewery. The winemaker wasn't able to start the brewery, so they hired Vinnie.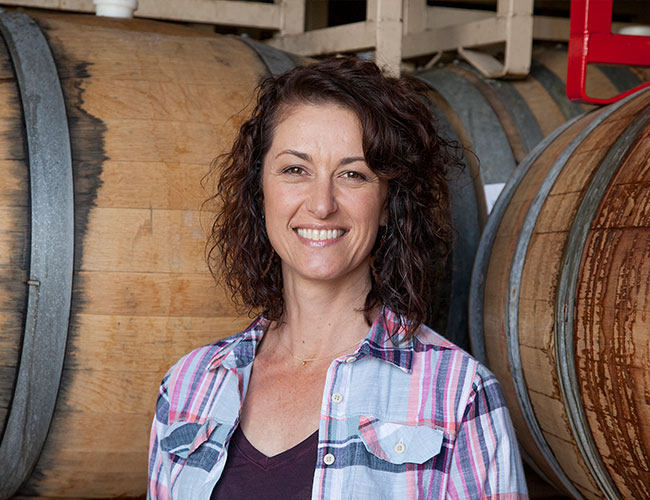 KG: Why Vinnie?
NC: From 1994 to 1996, Vinnie owned a brewery in Temecula called the Blind Pig. At that time, he was making double IPAs and other super hoppy beers. But it was a little too soon for the general public, which wasn't quite ready for beer like that. That brewery went out of business shortly after we moved to northern California. Vinnie worked at Korbel for six years, where he started playing around with hops—Korbel planted him a quarter acre. He also got into barrel-aging beers, which was where Damnation, Pliny the Elder, and Temptation were born. He had lots of creative license, and his employer was very supportive of him pushing the envelope.
KG: But you own Russian River, right? Not Korbel?
NC: In 2003, Korbel closed the brewery. They laid Vinnie off, and in lieu of severance we negotiated for the brand, which included everything from the logo to the recipes. In April 2004, we reopened the doors in downtown Santa Rosa as a brewpub owned by me, Vinnie, two business partners, and 28 investors. In 2008, we opened a production brewery about a mile away, and that's when we started distributing a little more.
KG: Why Santa Rosa?
NC: When we decided that we wanted to open a brewpub, we knew we needed a good location. Because Santa Rosa is the most populated city in Sonoma County, it was an ideal location to open a restaurant and brewpub. We found a location right in Santa Rosa on 4th Street and started construction in 2003.
KG: Do you remember the first time you tried Pliny the Elder?
NC: Honestly, I don't. But I remember naming the beer.
KG: You named it?
NC: Our friend Vic Kralj, who owns a bar called the Bistro in Hayward, wanted a double IPA festival. He contacted all the brewers he knew to see if they'd be interested. He'd heard that Vinnie was credited with making one of the first commercially brewed double IPAs at the Blind Pig, and so he called him. Vinnie made the beer and he wanted a big name for it, so we did what we used to do when looking for names—we drank beer and looked through old fashioned books.
KG: And you found Pliny the Elder's name?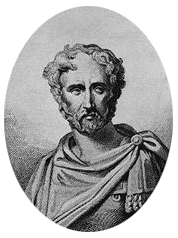 NC: We looked up hops and that took us to humulus lupulus which took us to lupus salictarius which took us to Pliny the Elder, the Roman naturalist and author. We were inspired to name the beer after him due to his early writings about hops. And while reading about him, we learned about his nephew and adopted son, Pliny the Younger.
KG: Ah, so know we also know where that one comes from, too. If you could host anyone at the brewery, dead or alive, in brewing or not, who would it be and why?
NC: It'd be fun to host Pliny the Elder and Pliny the Younger. I'd let them taste the beers that were named after them, and I'd be interested in seeing what they think about this whole craft beer thing, especially with the Pliny the Younger release when we have lines around the block.
KG: Do you think Pliny the Elder would be jealous?
NC: I don't think so, because we have his beer everyday.
KG: Do you have a favorite book?
NC: I don't have one particular favorite. I bounce around between fiction and nonfiction. My favorite book is any book that holds my attention until the very end. I don't have a lot of time to read these days. A couple pages in a night is rare.
KG: What was the last book that held your attention?
NC: What the Most Successful People Do Before Breakfast by Laura Vanderkam. Very simply, it's about doing the most important things first in the day. That can mean different things to different people. If working out is important to you, do that first. If answering emails is important, do that first. As your day rolls along, you get sidelined by various things—putting out a fire, having a staffing issue, whatever else comes up. But if you do the most important things first…
KG: If you weren't involved in brewing, what would you be doing?
NC: I'd probably still be in the wine business. I got into it when I was 16 and stayed until 35. It's all I've ever done. It's in my blood and I love it.
KG: What beer are we drinking? Can you tell me about it?
NC: Blind Pig IPA. When the original brewery closed, we waited and watched that trademark. When it lapsed, Vinnie and I jumped on it. It was very sentimental to us and an important part of our history. It's also one of my favorites. 6.5 percent ABV, and even hoppier than Pliny the Elder. It's not as alcoholic so there's not as much malt or body, just super fresh hoppiness that jumps out of the glass.
KG: I understand that you're planning a second location. Can you tell me more about that?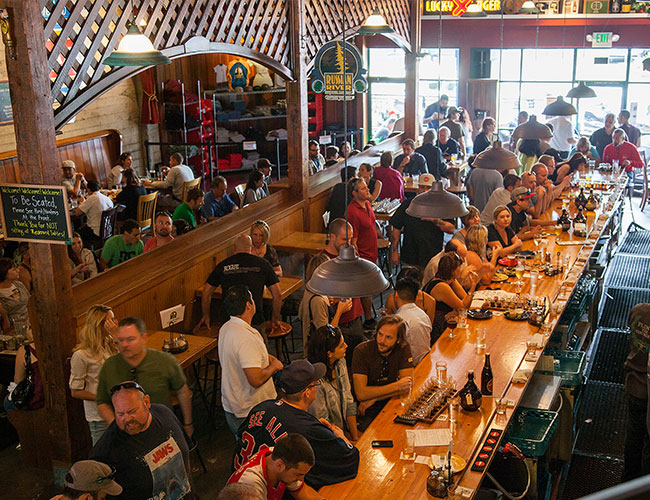 NC: We have a pretty conservative approach to growing our business. We haven't over-leveraged financially, and we haven't overreached personally or professionally. We're doing what's comfortable for us. Vinnie and I have always had an important goal of buying out our original investors. Once we accomplished that, we started talking seriously about the next phase. We looked at property for a couple of years before we bought 15 acres in Windsor, the town north of Santa Rosa.
KG: Why Windsor?
NC: It's what was available. Additionally, it's important to us that our next brewery be close to our downtown Santa Rosa pub. That's the engine that drives the business, and we don't want to take attention and time away from the original brewery even when building another. But this is our dream brewery. There's never been anything on this property except a farm.
KG: When are you beginning construction?
NC: Hopefully, we'll break ground around March. If all goes well, we'll be opening in fall of 2018.
KG: Are you going to give fans the same experience? Or is the new location about trying new things?
NC: We'll probably try new things. We'll have a second brewpub, a tasting room, a gift shop, and we'll offer tours. Hopefully we can relieve some pressure from Santa Rosa brewpub, which is bursting at the seams. We're not looking at new markets, but the new facility will allow us to fulfill existing demand where we currently distribute. But really, the focus of this brewery is to become a cool destination for the Russian River Brewing Company. We want to create something that customers who come from all over the world will be excited to see.
KG: What do you think is behind the recent explosion of sour beer?
NC: Honestly, I think it's because brewers make what they like to drink. Having watched Vinnie brew sour beers for a long time, I know that the first people interested in sours were other brewers. They enjoy the sour process. It's different. It's not a hoppy IPA, pilsner, or porter. It takes a lot of effort and time, and there are a lot of unknown factors. Sour brings the mystery back into brewing, and any brewer likes to learn new things and push the envelope.