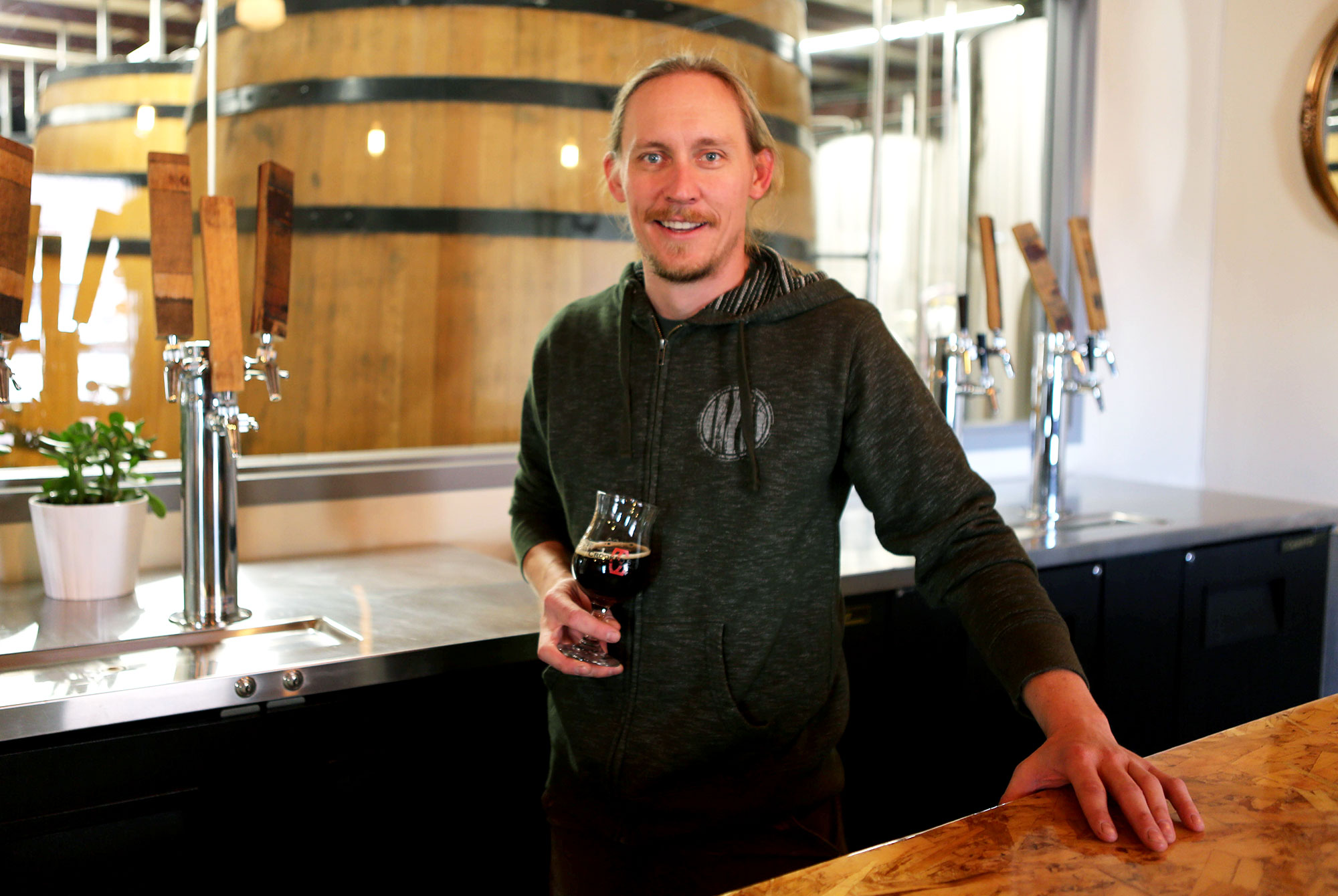 Things we learned:
Crooked Stave built their bar by hand.
Brewery Founder Chad Yakobson and Head Brewer Danny Oberle were childhood best friends.
Head Brewers don't actually do that much brewing.
Most breweries start with clean beers and then make sours; Crooked Stave started with sours and now make clean beers.
A good beer is a beer that's brewed to style.
Denver's Crooked Stave Artisan Beer Project has always done things a little differently. For starters, founder Chad Yakobson got his master's degree in brewing and distilling in Scotland at Heriot-Watt University, so the brewery uses the metric system. As opposed to standard brewer's barrels, they measure in liters and hectoliters. Instead of Fahrenheit, they use Celsius. And then there's the product: from day one, they intentionally brewed sour beer, a style that many other modern breweries only create by accident.
For many years, Yakobson and his team brewed their beer on another brewery's equipment, but in early 2016 they finally moved into their own space. The extra space and relaxed schedule allowed them to start producing "clean" beers like pilsners and India pale ales. Instrumental in the transition was Danny Oberle, Chad's childhood friend and Crooked Stave's current Head Brewer. We sat down with Oberle to talk fermentation, fly-fishing, and foeders.
Kenny Gould: Tell me about how you got started with Crooked Stave.
Danny Oberle: I've known Chad, our owner, brewmaster, and the mastermind behind this whole project, since we were about eight years old. We grew up in Morrison, Colorado, right over by Red Rocks amphitheater. My parents still live in the same house and now we live twenty minutes this way. So really, I've been with the company since day one.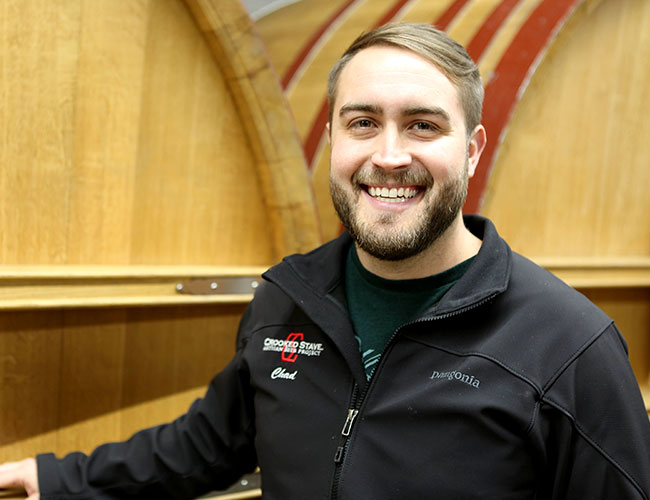 KG: When Chad was a kid, was there any indication of what he might become?
DO: We went to school in Fort Collins — I was Chad's roommate — and he actually got his degree in Horticulture and Viticulture. He was really excited about grapes and wines. He's a science guy at heart but I think he switched from a wine mentality to a beer mentality.
KG: Do you have any childhood stories of Chad that might embarrass him?
DO: We grew up in Colorado and we loved the outdoors. There were so many bike rides down in the green belt, building forts, trying to be pyromaniacs. Once we started a fire in the open area behind our houses — not a horrible one, but horrible enough. I hate to say it, but sometimes we'd light fireworks and throw them into gopher holes. We were ten, twelve years old. We didn't know any better. We're older and more mature now.
KG: When you were in school, what did you study?
DO: Nothing beer related. I had a Natural Resource Recreation & Tourism degree and business minor. Everything I know brewing-wise, industry-wise, I've absorbed through Chad and Crooked Stave over the last five years.
KG: So you weren't originally hired as the Head Brewer.
DO: Oh no! When the company started, we spent a year and a half in Fort Collins at Funkwerks. Chad lived here in Denver and I had another job at the time. Funkwerks would have their 8:00 a.m. to 6:00 p.m. or 9:00 a.m. to 5:00 p.m. day and then Chad would drive up and blend, bottle, or brew barrels for Crooked Stave. Whatever the day required after he spent all day here in Denver emailing and stuff. So I'd come over and give him a hand. After a year and a half up there, we moved to this location and started building the taproom. The bar we built by hand, and this six tap kegerator is the original kegerator.
September 4th, 2012 was my first official day with the company. At the time we were four, maybe five people strong, including Chad, so I was just the bartender here. Then in January 2013, we hired a couple of bartenders because it was getting busy. Those first couple months we were open from Wednesday to Saturday, 2:00 p.m. to 10:00 p.m. I did this for six-ish months, then went behind the wall and started learning everything from Chad: transfers, packaging, bottling. From there, I worked through every job we've had except for straight sales. I've been the packaging guy, the barrel guy, I've transferred and cleaned tanks. I don't do any of that anymore.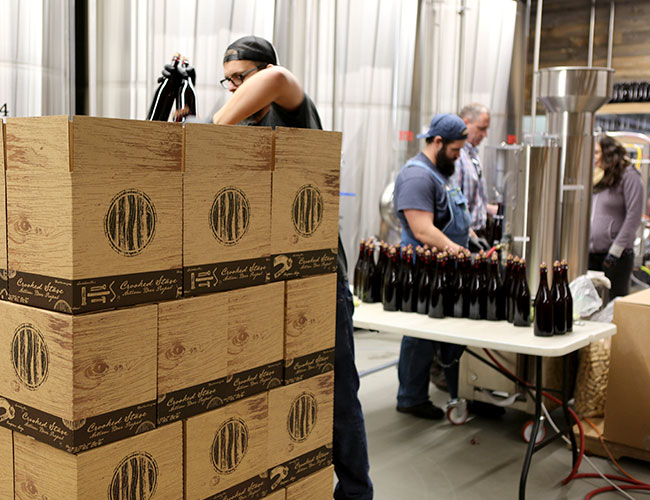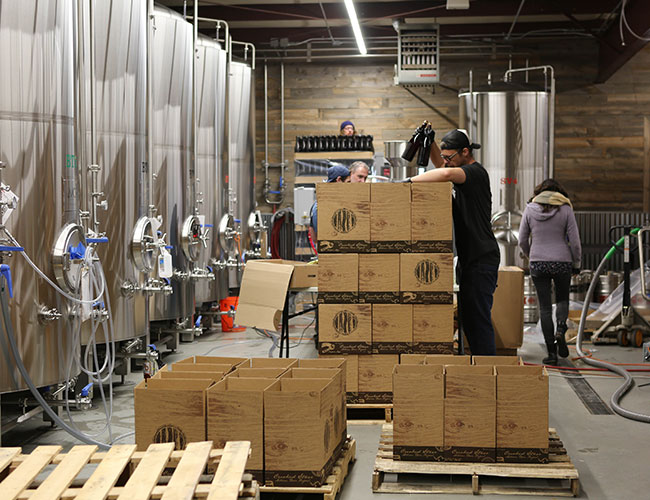 KG: What do you do now?
DO: Head Brewers, depending on the company's size, don't actually do that much brewing. They mostly sit at their desk and answer emails, handle management, raw materials organization, etc. We've got a couple of brewers and I oversee that big picture process.
KG: What beer are we drinking?
DO: This is Origins, our burgundy sour. We can add fruit to it and create other beers out of it. It's our homage to the Flanders Red. One of our favorite beers way back in the day when we were in our college was La Folie. We tasted that for the first time and had our minds blown. We thought, "Holy smokes, this is beer? Beer can taste like that?" It's a fun beer for us. It actually starts as a lager-based beer with stainless steel fermentation. Then we transitions it to an oak foeder to start its oak-aging and souring process. From the oak, it moves to wine barrels for an additional couple months of aging. Then we'll empty it into either the packaging tank for a straight up version of Origins or perhaps into a foeder with fruit for a secondary fermentation. This can make Raspberry Origins, Blueberry Origins, or any one of a number of curveballs. It's one of Crooked Stave's early-on beers and one of my favorites five years later.
KG: It's interesting that you start with a lager base.
DO: Yes. We do that for one of our darker beers as well, Nightmare on Brett. It's similarly lager-based, stainless steel fermentation, but we actually move it into bourbon barrels to get the dark base.
One of my favorite parts of my job, and Crooked Stave in general, is changing people's minds on what beer can taste like.
KG: What's the best part of your job?
DO: One of my favorite parts of my job, and Crooked Stave in general, is changing people's minds on what beer can taste like. For many years, everything was Coors or Budweiser, so it's cool that we get to play with new flavors and profiles. I like being able to watch someone who knows nothing about beer taste through a couple of our products with bug eyes. There's definitely a "wow" factor.
KG: If you could brew with anyone, dead or alive, in brewing or not, who would it be and why?
DO: I guess I'd say Yvan de Baets, the famous Belgian saison brewer. I've met him once or twice but I'd like to be able to absorb everything in his brain and do a super traditional Belgian style with him, maybe even overseas in his world.
KG: Do you have any hobbies outside of beer?
DO: Sure. Beer is a great passion for me but I can't immerse myself in that 24/7. I'd go crazy. Growing up here in Colorado, I love fly fishing and snowboarding. My favorite spot is in the mountains above tree line, whether I'm on my snowboard, hiking big peaks, hiking to alpine lakes, or fly fishing on many of our beautiful rivers.
KG: Any good hikes around Denver?
DO: I spent ten good years up in Fort Collins so I love the northern half of Rocky Mountain National Park. When I had a job up at Colorado State University's Mountain Campus during college, I spent almost every weekend in my tent. Lots of solitude, lots of calm up there.
KG: I remember going to Boston's Extreme Beer Fest in 2014 and sour was considered crazy. Breweries would have one sour and that's only because it was an accident. Now, it's almost par for course. Are there other styles or trends you see becoming more popular?
DO:
For many moons, the trend was the IPA. We've seen that trend die a little bit and a lot of the smaller startups are playing with sours; that seems to be the newer trend. To single in out a bit more, I think we're headed into a time of mixed culture fermentation.
To single in out a bit more, I think we're headed into a time of mixed culture fermentation.
KG: What is mixed fermentation? Can you explain it to a layman?
DO: As opposed to using a single yeast strain, mixed culture fermentation uses a blend of different yeasts that we've collected and cultured up. It helps make the Crooked Stave essence exactly what it is.
KG: Any breweries nationally that you think are doing good stuff?
DO: We have good friends out at Hill Farmstead and we really enjoy their beers. Melvin in Wyoming is also making great beers. And here in the Colorado area, I love Cannonball Creek and Call to Arms Brewery.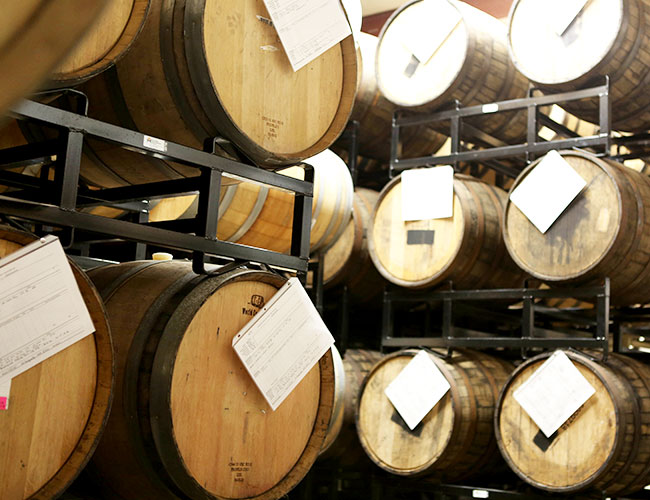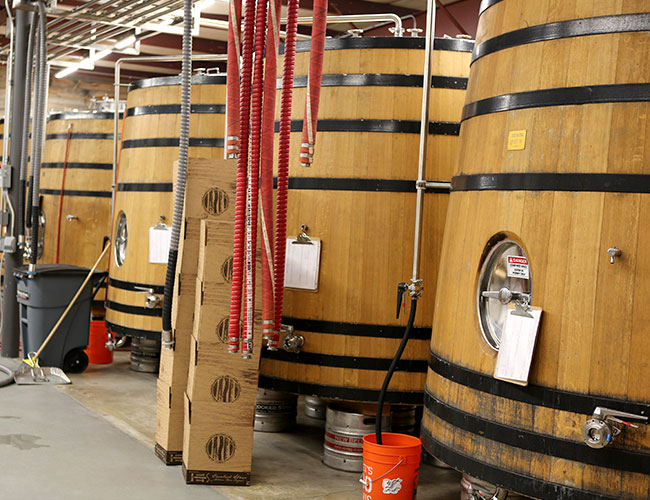 KG: What do you think makes a good beer?
DO: A good beer is brewed to style. If it's a pilsner, it better be clean and straight up. If it's a big hoppy beer, I want a hop presence. If it's an imperial stout, it damn well better taste like an imperial stout.
KG: When did Crooked Stave start branching away from sours?
DO: We brewed our first clean beer, an imperial porter, in March 2016, only a few months after we fired up our own brewhouse. Before that, most of our wort was produced at Epic Brewing down in the RiNo District of Denver.
KG: Do you know of any other breweries that started sour and went clean?
DO: I don't! Though with so many breweries around the country, it's hard to keep track of them all.
KG: What was behind that decision?
DO: Really, it was having our own brewhouse. For the four years prior to that, we could only brew one double brew day per week at another brewery because they had their own full schedule. We went from brewing one day a week to pretty consistently brewing three or four days per week. Working on our own schedule made us say, "Let's start to play with some new recipes and have some fun." I love sour beers, but I'm certainly not drinking three of them on my couch after work.
KG: And you're happy with how the new beers are turning out?
DO: Yeah. To be honest, we knocked the pilsner out of the park on our first try.