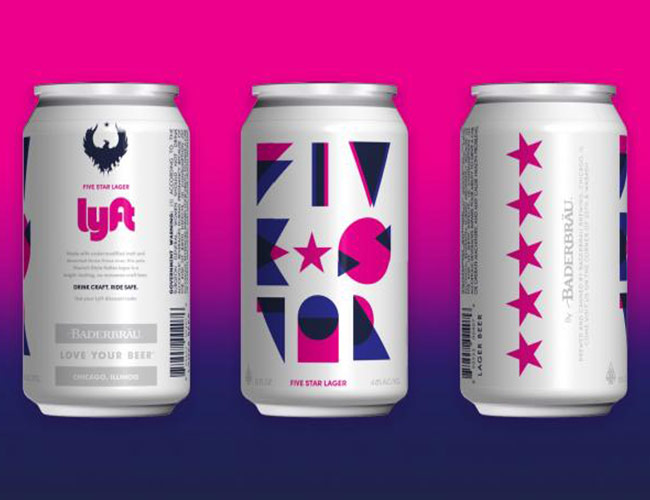 The popular ride-sharing app Lyft has announced that it will be partnering with Chicago's Baderbrau Brewing Co., Josh Noel reports in the Chicago Tribune. Five Star Lager, the collab beer, is a rebranded version of Baderbrau's South Side Pride. With each purchase of Five Star, customers will get a Lyft discount code for up to $5. Currently, Five Star will only be available at a select number of Chicago bars starting January 18 before expanding to about 30 restaurants around the city.
Lyft is often used, for obvious reasons, on Friday and Saturday night, shuttling users to and from bars. The newly announced partnership gets Lyft branding into bars and gives drinkers an incentive to use the ride-sharing service to make it home at the end of the night. According to Noel, "Lyft has long dabbled in what it calls a 'safe ride' program, including one with a far bigger beer company: Anheuser-Busch, which for two years running has offered up to 150,000 round-trip Lyft rides during weekends and holidays in 10 states via its social media channels." The decision to team-up with a smaller, local brewery came from a desire to work with "a brand that has more impact with locals," according to David Katcher, general manager for Lyft in the Midwest.
We're hopeful as well. Lyft, often seen as the progressive underdog to the controversial, corporate Uber, can make a strong impact on a local community and demonstrate a desire to contribute to a safe drinking culture. If bargoers are already drinking, Lyft might as well work a discount for safe consumption into that beer purchase.
Lyft has not announced whether it plans to expand this program and work with breweries in other cities. To really sink their teeth into the craft beer crowd, they may need to go in on a super juicy IPA. Or at least get some flashier can designs. Hey, I'd order a Hoof Hearted x Lyft collab. "Do You Even Lyft, Bro"? There, I did it for them.