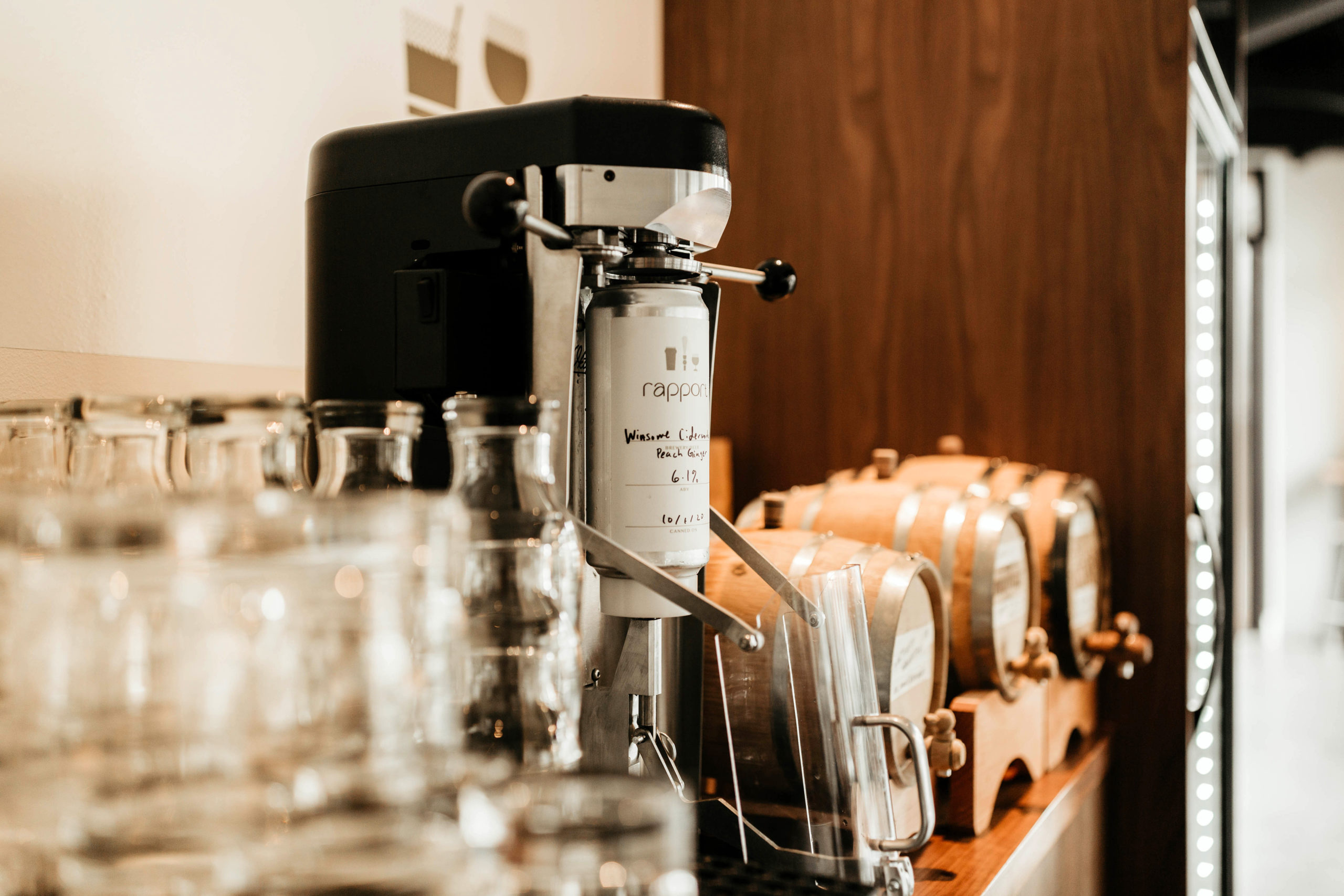 Photography courtesy of Oktober Can Seamers
Picture this: During the weekend you're planning on venturing out to your favorite taproom. You'll probably hang out for a couple hours, drink a few beers on draft, and grab a couple of tacos or slices of pizza from the rotating food truck.
When it's time to go home you'll probably want to bring back something to keep in your fridge. And while you could grab a 4- or 6-pack to go, you're looking for the freshest beer right from the taps. You know, so you have something on hand to drink for the week ahead.
Ten years ago, you would have most likely been handed a big bulky glass growler full of 64oz of the good stuff. But honestly, that's a lot of beer. And once you crack a growler, you have to drink the beer inside. There's really no recapping those big bois. So unless you're heading to a party, it's a cumbersome option.
Today, times have certainly changed.
Now, thanks to enterprising companies like Oktober Can Seamers, machines exist that will seal all types of to-go can sizes right on site. In three seconds. Now, with just the push of a button.
Oktober Can Seamers Founder Dennis Grumm, who has an incredible engineering pedigree, literally invented a machine from scratch for what he saw as a serious need in the industry: An affordable, easy-to-use, sleek, compact machine to make a variety of to-go beer options possible.
And this was years before the words "pandemic" crossed anyone's lips.
Now, when you belly up to the bar to grab a 32oz crowler, 16oz can, 12oz can, or even 8oz can to take home, you might notice a sleek-looking, LED-lit machine fitting snugly amongst the pint glasses.
That's Oktober Can Seamers' automated canning machine, the newest version of the company's revolutionary can seamer.
And it's changing the game of to-go beer throughout the industry. All with just a push of a button.
Oktober Can Seamers Revolutionizes To-Go Beverages
Grand Rapids-based Oktober Can Seamers produces a line of compact, sturdy, and easy-to-use, individual can seamer machines capable of sealing cans of all sizes from 8oz up to 32oz.
It's an idea that came straight from the brain of Grumm, who had previously designed precision machinery for the aerospace industry while homebrewing on the side.
Actually, you could probably say that Oktober Can Seamers began as most breweries do—with a lofty idea and a dream.
Starting from scratch, Grumm used his engineering expertise to build and test prototypes for a unit in his spare time. Using 3D modeling software and element analysis he began putting together a machine that used the absolute minimum number of parts and pieces, making it as simple, inexpensive, and user friendly as possible.
What he built—now Oktober Can Seamers' Model 7 Can Seamer—revolutionized the to-go game.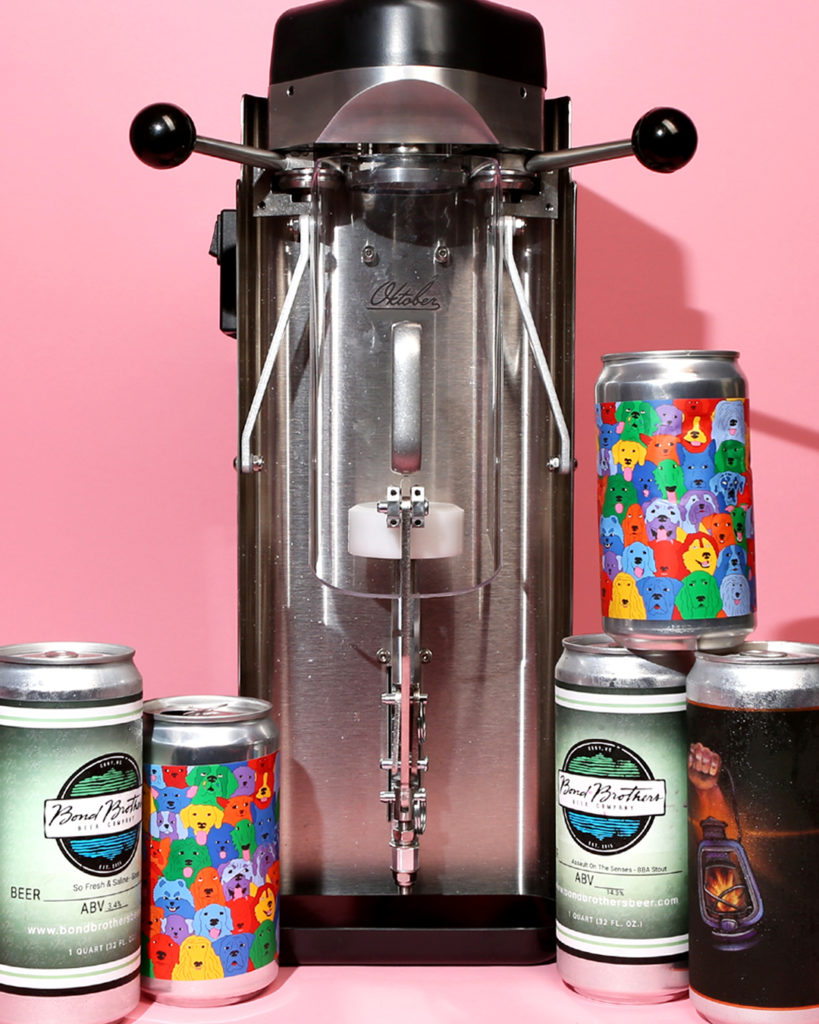 "With our machine we opened up the market to those smaller places and newer businesses to where they can get their feet on the ground with canning whether or not for small production to sell to craft beer stores and local businesses but also as a much more customer-friendly to-go option," says Grumm.
Back then, breweries basically only had the to-go option of glass growlers, which meant "customers couldn't grab an extra pint or two or four on the fly," says Grumm. Plus, glass growlers were more expensive and took up more space. "I really wanted the simplest possible machine that was super reliable…fast, simple, and less expensive," says Grumm.
Certainly during the pandemic, the can seaming machines were a lifesaver, literally. Grumm says, "From all accounts we heard that…breweries kept a lot of revenue coming in using our seamers."
But now, breweries are looking to the future, continuing to capitalize on an essential to-go industry.
So to keep up with this substantial new revenue stream, Grumm gave these powerful can seaming machines an even more powerful upgrade.
Oktober Can Seamers Now Seals With Just the Push of a Button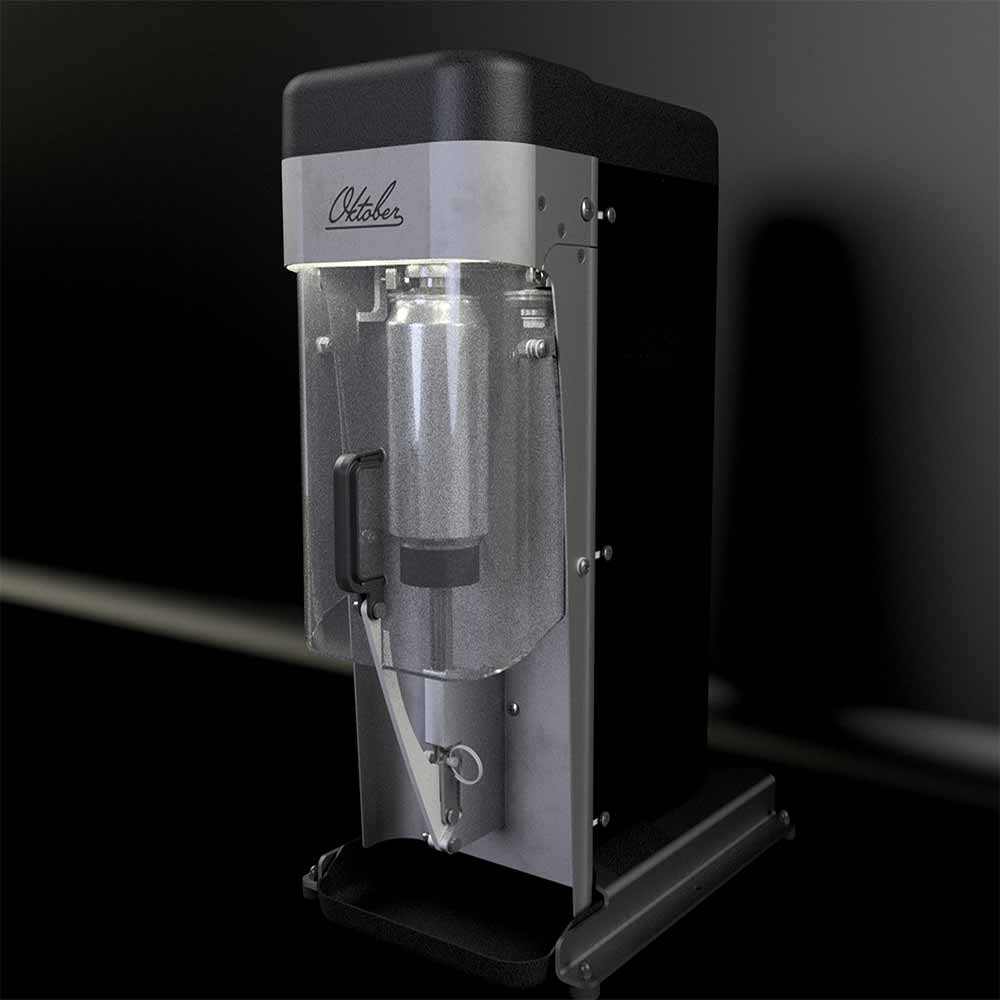 Oktober Can Seamers newest machine—Model 8 Can Seamer—is now fully automatic. To seal the can one needs only to "push a button," says Grumm.
The machine takes care of all the rest.
Time is money in the hospitality industry, so those few extra seconds really add up. Before, someone had to stand by the machine cranking a couple of handles to finish the seam.
"With the automatic one, you put the can in there, push go, and by the time it's done you could be getting someone's bill or doing that little bit of extra work," says Grumm. "If you watch people working behind a bar it's just go go go go. And if you're doing fifty cans, those little time additions add up."
For instance, at Archival Brewing in Grand Rapids, MI, where owner Levi Knoll says they've been filling thirty to forty cans a week on a beta version of the Model 8 Can Seamer.
And those crucial seconds saved have already started to make a difference.
Why Archival Brewing Loves Oktober's New Automatic Can Seamer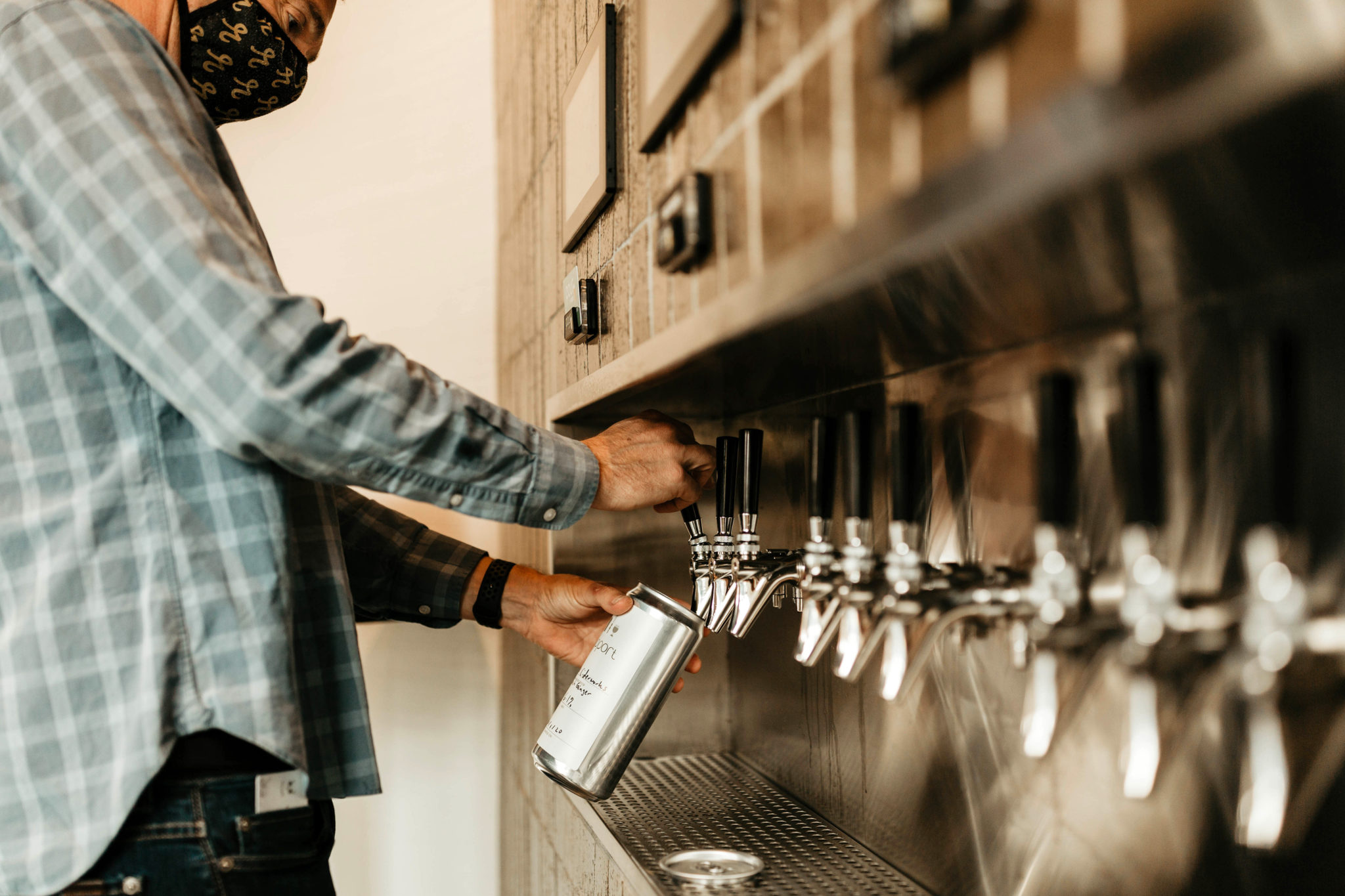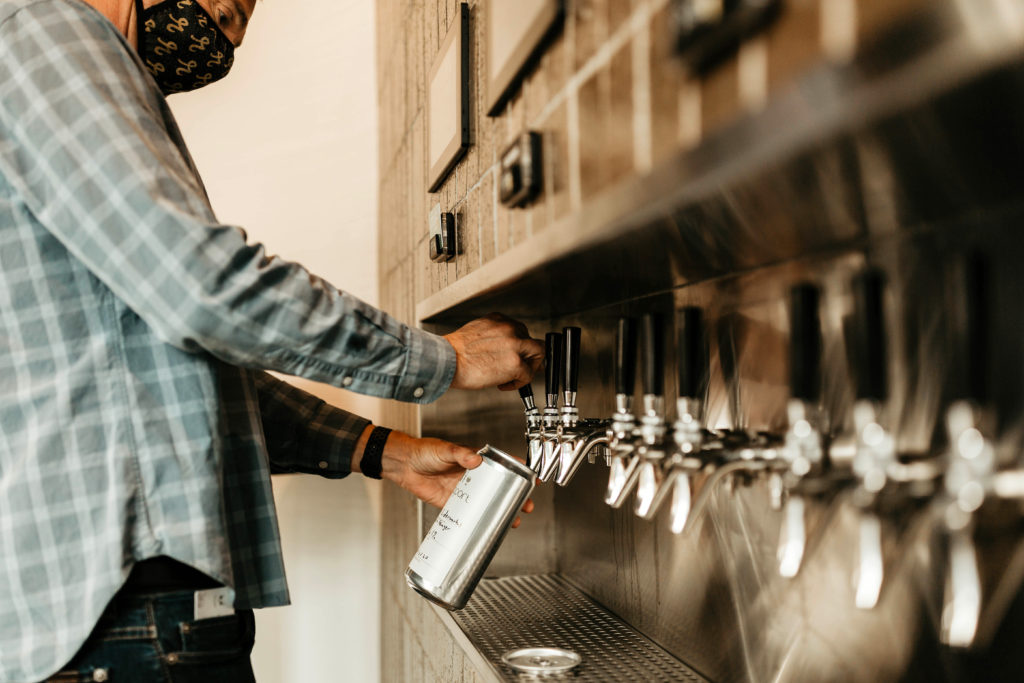 Opened in July 2021, Archival Brewing has twenty-two taps and the capacity to fit 300 covers across an indoor dining room, raised deck and beer garden, and two bars.
Knoll knew right from the start that he wanted a to-go option for his customers, purchasing one of Oktober Can Seamers original Model 7 Can Seamer machines from ProBrewer.
"We choose to do that for the quality of the beer to maintain that to-go as well as doing 16oz cans so people could get a couple of the same style or different options and not have to worry about drinking all in one sitting," says Knoll.
For that last year, the manual version impressed Knoll, who says, "the machine has paid for itself several times over."
And Knoll has been equally impressed after testing the automatic version.
"It's a great design,' says Knoll "In general, it's more user friendly and easier to use. It does everything seamlessly for you and faster with their automated system."
According to Knoll, he can now seal one and half more cans to the one can he was doing with the old manual version.
"Every single one of our bartenders loved it and couldn't speak highly enough about it," says Knoll. "Two of them were almost in tears."
But the speed and ease of use aren't the only benefits.
The Three Advantages of the Model 8 Can Seamer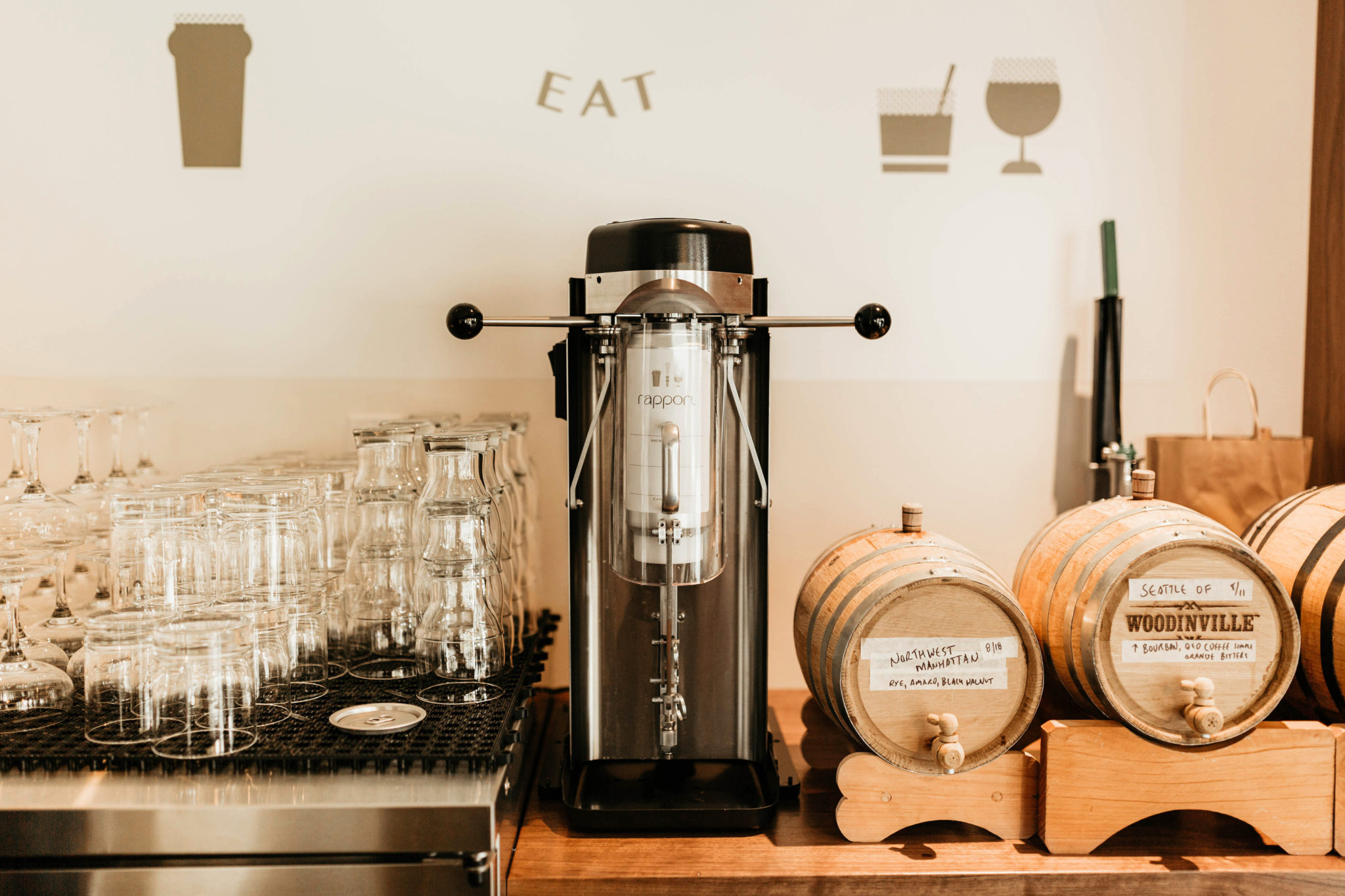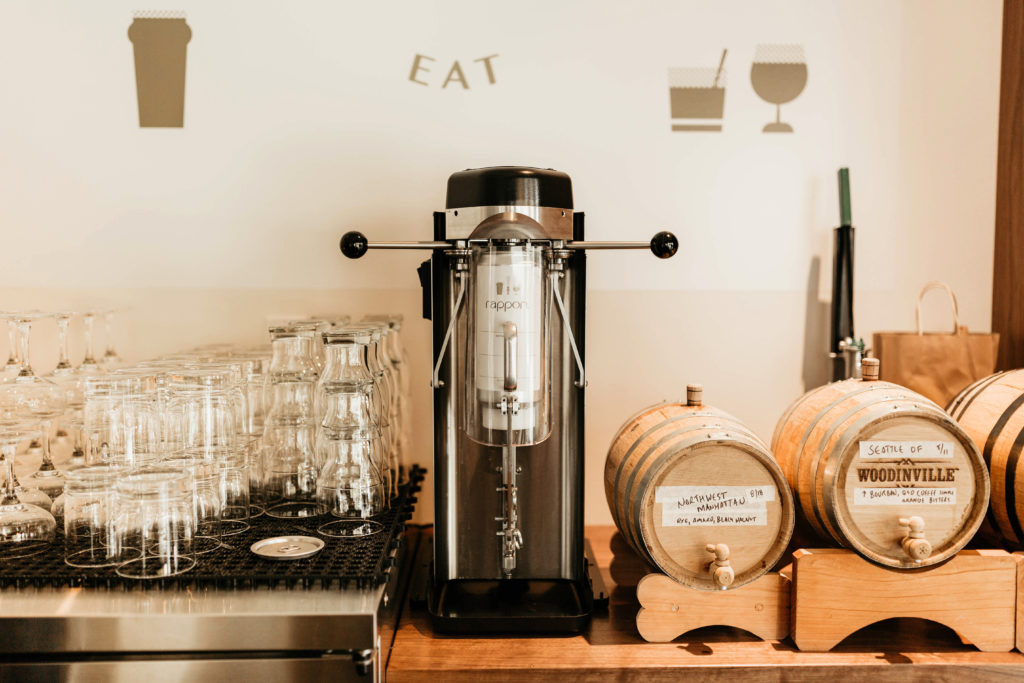 Perhaps one of the most overlooked advantages of any of the Oktober Can Seamers is their versatility.
At only 10in wide x 11.5in deep, the machine fits snugly into almost any bar setup without taking away vital space for pint glasses, bottles, taps, and other equipment.
"I like their sleekness," says Knoll. "[The machine] fits within half an inch on either side of where we needed it too; it didn't take up much bar space."
And that's exactly what Grumm had in mind with his original design. "I wanted to make sure behind the bar…it took up no space because it's crazy how even a large bar is accounted for," says Grumm. "They use up every inch of bar space because that's the money maker."
Additionally, Grumm knew the can seamer needed to be quiet and look good because it's "right there, front and center."
With that in mind, the new automated version takes things a step further. Built-in LED lighting makes the machine stand out on the bar."You want customers to see it and notice its presence…so they ask about it," says Grumm. "It has some novelty to it."
In fact, when a bartender pushes the button to seal the can, the lights get even brighter to "get people's attention while sitting at the bar," says Grumm. It's clever, well-thought out, small touches like that which set this can seamer apart from anything else.
In addition to the sleek design, the Model 8 Can Seamer is easier to use. "It's plug and play, coming calibrated and ready to go," says Grumm.
Plus, the automated can seamer can accommodate all can sizes from tiny little 8oz sleeks or 250mL cans all the way up to larger cans for coffee beans.
For all these reasons and more, Oktober Can Seamers' automated machine is perfectly poised (on the bar) to be the future for any bar or brewery's to-go program.
How Can I Find an Oktober Can Seamer for My Brewery?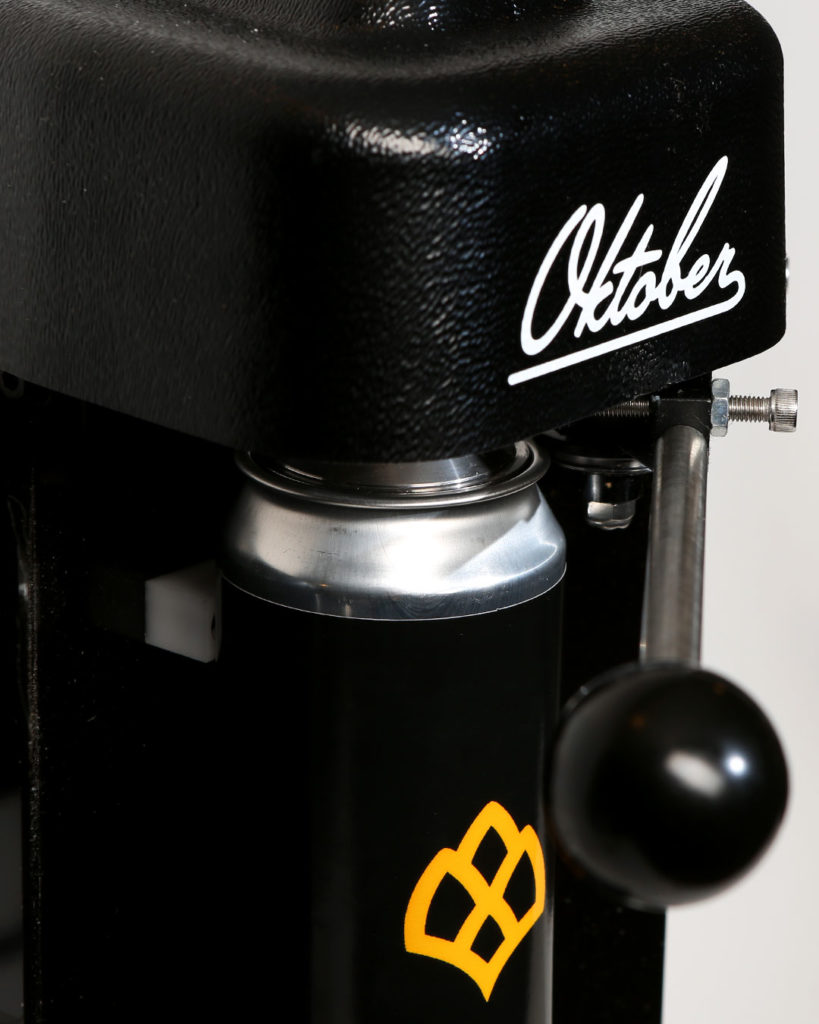 So glad you asked!
For brewery owners like Knoll, with the opportunity to beta test the automated version, the proof is in the canning.
"As soon as they picked it up, I asked when I could get it back or preorder two of them," says Knoll. "I'm hoping to be one of the first to place that order."