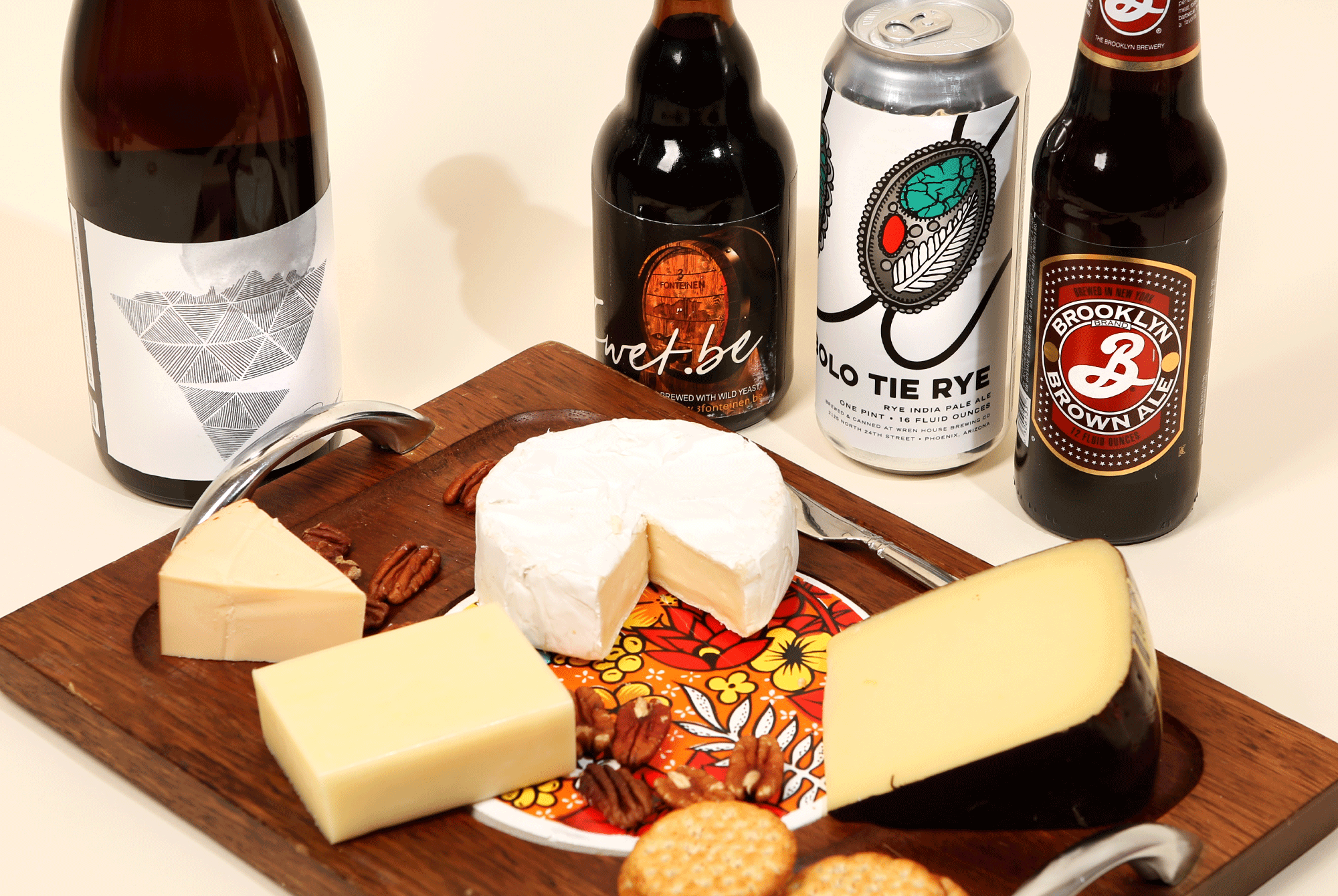 Photography by John A. Paradiso
Move over, wine: cheese has a new best friend. Beer may not spring to mind immediately when you're looking to wash down a hunk of rich blue cheese or nutty clothbound cheddar, but there are a hundred reasons why it should. Think of that classic combination of pizza and a cold one – there's a reason why it works so well. The bitterness of hops cuts through cheese's fattiness, and beer's effervescence makes a perfect foil for that creamy, cheesy mouthfeel.
With so many beer styles (over 150 and counting, according to the Brewers Association Style Guide) and an equally dizzying number of cheeses to pair them with, getting started can be daunting. A few guidelines can help to guide a nervous novice — but note that these guidelines don't have to apply all at once (and generally shouldn't!).
Simple Rules for Beer and Cheese Pairings:
Opposites attract.
Similarities also attract.
Match intensity levels. A too-strong cheese can overpower a milder beer; same goes for a strong beer and a delicate cheese.
Pair items that come from the same region — their flavor profiles tend to harmonize.
When in doubt, try it anyway. Tastes differ, so it pays to be adventurous. You might discover magic in an unlikely combo!
Still unsure what to try first? The following are some tested-and-true pairings to get you started:
Pairing #1: IPA and Blue Cheese
Blue cheese has a notoriously strong flavor, so it can hold its own against an equally potent beer. By matching intensity, you're able to taste the beer and the cheese, without one drowning the other out. A west coast style IPA can really lean in against the funkiness of the cheese with a complementary bitter flavor profile.
Example: Wren House Brewing Co. Bolo Tie Rye & Bayley Hazen Blue
Pairing #2: Cheddar and Brown Ale
There's an old saying: "What grows together goes together." The beer styles of a particular region tend to pair well with the local cuisine, and that holds true for cheese pairings. Pair an aged cheddar cheese with a mellow brown ale — both originally from England — and you'll see what I mean. The ale's toasty, caramelly notes offset the sharp, slightly nutty flavor of the cheddar.
Example: Brooklyn Brown Ale & Grafton Village 2 Year Aged Cheddar
Pairing #3: Brie and Fruited Sour
Fruit jams tend to pair well with velvety, soft-ripened cheeses such as brie. For a similar flavor profile, try a fruited sour: tart and juicy, these beers balance out the rich and creamy characteristics of the cheese.
Example: Tröegs Independent Brewing Freaky Peach & Murray's Brie Fermier
Pairing #4: Gouda and Porter
Goudas often go well with beer, and aged goudas, in particular, have a rich and semi-sweet, almost butterscotch-like flavor. Pair them with a beer with similar elements: malty porters or doppelbocks, with their caramelly flavor, go well with gouda's faint sweetness. A Belgian dark beer, like the Beersel Zwet.be from 3 Fonteinen is a great option in our mind.
Example: Brouwerij 3 Fonteinen Beersel Zwet.be & Boerenkaas Aged Gouda
Pairing #5: Comte and Saison
Comte is an alpine cheese — made from animals who have had the run of wild fields throughout the spring and summer, grazing a varied diet at high altitudes. The result: a complex cheese that benefits from a complex beer. Try a saison or other farmhouse-style beer with this semi-hard cheese for a real treat.
Example: Suarez Family Brewery Proclivity & Essex Comte