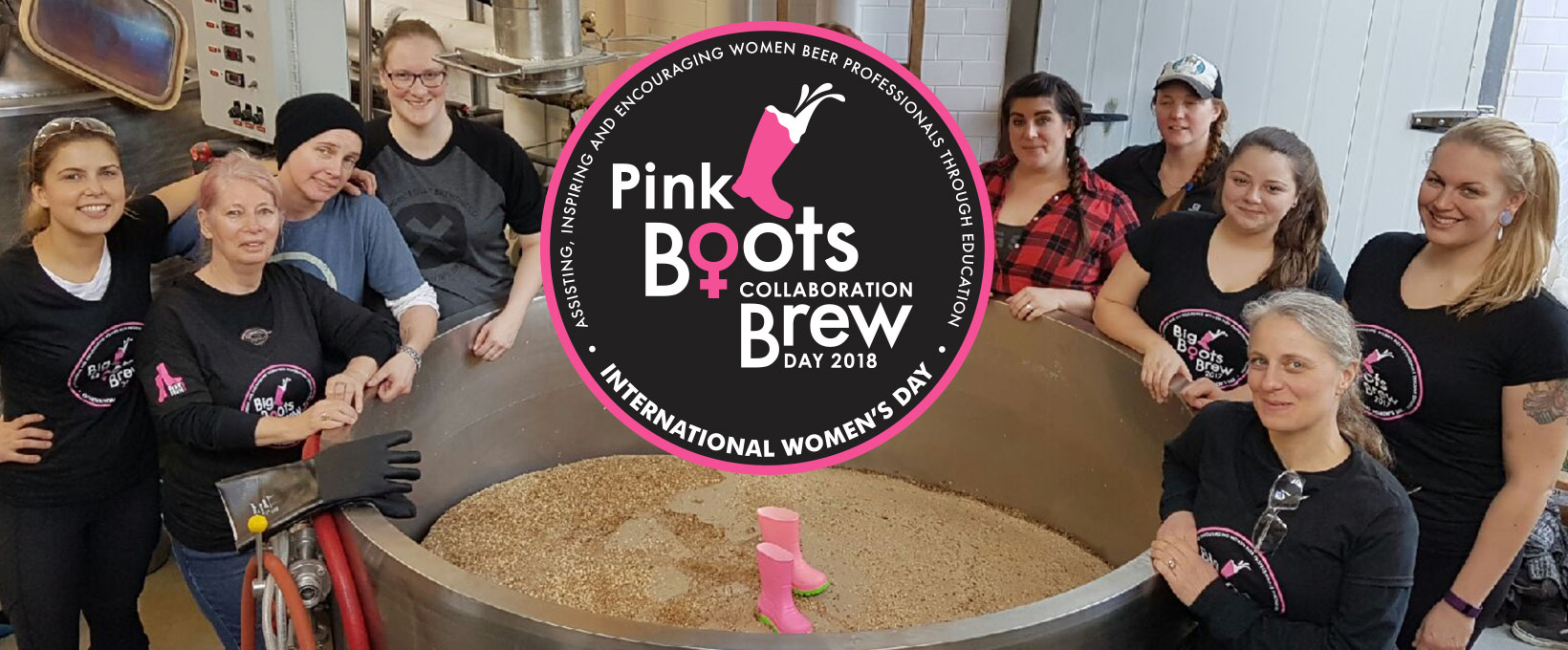 On Thursday, March 8th, a group of women will converge at Fifth Hammer Brewing in Long Island City, New York, to make a special beer for a special day.
We won't be the only ones celebrating the Pink Boots Society's Collaboration Brew Day in honor of International Women's Day.
Women at Second Chance Beer Co. and Stone Brewing Co. — both in San Diego, California — will also get together to brew, as will women at Odell Brewing Company in Fort Collins, Colorado, and Trillium Brewing Company in Canton, Massachusetts.
Even women in places as far away as Japan, Australia, Peru, and Germany will all pick up buckets of hops, pitch containers of yeast, and brew.
All told, more than 200 breweries, brew shops, brewpubs, and beer groups worldwide will participate.
Started in 2012 after a member from England approached co-founder, Teri Fahrendorf, the Pink Boots Society's Collaboration Brew Day has become a global gathering recognizing the achievements of women through the lens of a pint glass.
"The day is to encourage women to get together from all facets of the industry," said Laura Ulrich, President of The Pink Boots Society (PBS) and small batch brewer at Stone Brewing Co. "If you're a beertender, a graphic artist, or an accountant — whatever you do at the brewery — you get together, you celebrate the day, and you highlight women in the industry."
Normally, breweries who sign up to participate receive a collective base recipe designed by PBS to follow at their discretion. This year, however, the PBS has taken their original concept a step further, partnering with global hops supplier YCH Hops to craft a unique hop blend. At the 2017 Great American Beer Festival, Ulrich and other members of the PBS sat down with YCH Hops to customize the blend.
"We had the opportunity to learn first-hand how to rub hops," said Ulrich. "Most of our members don't get the chance to go to hop farms every year and participate in the hop selection, so it was pretty cool that we could come up with our own hop blend right then and there."
The team eventually settled on a bouquet of Palisade, Simcoe, Mosaic, Citra, and Loral for the aptly named Pink Boots Society Hop.
Excited, but slightly nervous to hear how the Pink Boots Society Hop will be received, Ulrich noted that YCH has already sold about 12,000 pounds of the blend, outpacing their 10,000 pound goal.
"When we did this we didn't really know what we were going to sell," she said. "We aimed a little high. Ten thousand pounds is nothing to bat your eyes at, but we hit that goal no problem."
Beyond a crafty idea, the Pink Boots Society Hop will help raise money for PBS, with YCH agreeing to donate $3 per pound of hops sold back to the organization. Since you need to purchase the hop to officially take part in the Pink Boots Collaboration Brew Day, each participating group will automatically be giving back simply by buying the hop blend.
"[This year's brew day] has turned out to be a rewarding and wonderful way to fundraise for our scholarship program," said Ulrich.
While each participant will be tied together with a single common floral thread, each brew day will look and feel a bit different. Ulrich has heard of plans for a whole slew of recipes, from goses to double IPAs, hazy IPAs, and red IPAs, and even a California Common.
Af Fifth Hammer, co-founder Mary Izett chose to brew a dry hopped kettle sour with lactose and oats in order to break up brewing over the course of two different days.
Izett and all the women she's inviting (including me) will first get together on Thursday, March 8th, to mill the grain, mash in, and pitch the lactobacillus (lacto), the funky bacteria that helps sour a beer more quickly than wild yeast. After leaving the lacto in the beer for a few days, everyone will return on either Saturday or Sunday to complete the boil, transfer the kettle sour to the fermenter, and pitch the yeast.
"I really want to have as many women involved as possible," said Izett. "I want people who have day jobs, who are just getting into beer, or who have never brewed before, but want to learn, to come hang out with a bunch of cool women."
As a homebrewer, BCJP National ranked judge, former president of the New York City Homebrewers Guild, author of Speed Brewing, and co-host of the fermentation-centric podcast, Fuhmentaboudit, Izett's passion for beer has infiltrated every corner of her life. By giving women plenty of chances to roll their sleeves up, learn, and brew, Fifth Hammer has hit the proverbial Pink Boots Collaboration Day nail on the head. Ultimately, the goal is to create an experience where women can recognize their camaraderie and friendship together around beer.
"The day is not just about women only being brewers, but about showcasing, highlighting, and bringing women into the brewhouse," said Ulrich, who will participate in three separate brew days around San Diego. "As long as everyone has fun, that's all that matters to me. Get together brew, make some beer, and have some fun."
Stay tuned. I'll be rolling up my own sleeves this week at Fifth Hammer Brewing for Pink Boots Collaboration Day!