Photography by Grace Weitz
Photography by Grace Weitz
Photography by Grace Weitz
Photography by Grace Weitz
Photography by Grace Weitz
Photography by Grace Weitz
As the door shut behind me a dull buzz settled on my shoulders like a winter sweater. Behind the bar, I could hear the gurgle of beer pouring to the soundtrack of chairs screeching and scraping on the ground. On a Thursday night at Fifth Hammer Brewing Co. in Long Island City, NY, an eclectic mix of millennial couples, families, and possible Tinder dates congregated around wooden picnic tables hugging glasses of Belgian dark strong ales and double IPAs. But I hadn't taken the G train all the way to Queens for a casual night on the town. I strolled past the crowd, took a left turn at the DIY mural chalkboard, and walked past a cluster of wooden pallets into the shiny 15 barrel (bbl) brewhouse. Behind the scenes, I found a completely different scene.
In one corner a lady in a black zip-up hoodie stood hunched, delicately scribbling on a nametag. In the middle of the concrete floor, a gaggle of women shifted their glasses of beer to make room for hugs. Strains of conversation drifted around like wild yeast, ranging from when to add coffee to a beer to music contests at Big ALICe Brewing to the opening of Brooklyn Kura, the new craft sake bar in Industry City.
At first glance, the setting may look similar to the Thursday night crowd in the taproom, except that every corner of the brewery floor was occupied by women.
All told, nearly 40 women from all across New York City milled about talking, laughing, and drinking. We were all at Fifth Hammer for the same reason: To celebrate Pink Boots Collaboration Brew Day. Created five years ago by The Pink Boots Society, an organization that supports women in the beer industry, Pink Boots Collaboration Brew Day invites women from all facets of the industry to come together for a night to brew a beer. Taking place on the same day as International Women's Day (this year March 8th, 2018) the event recognizes the successes of women in beer.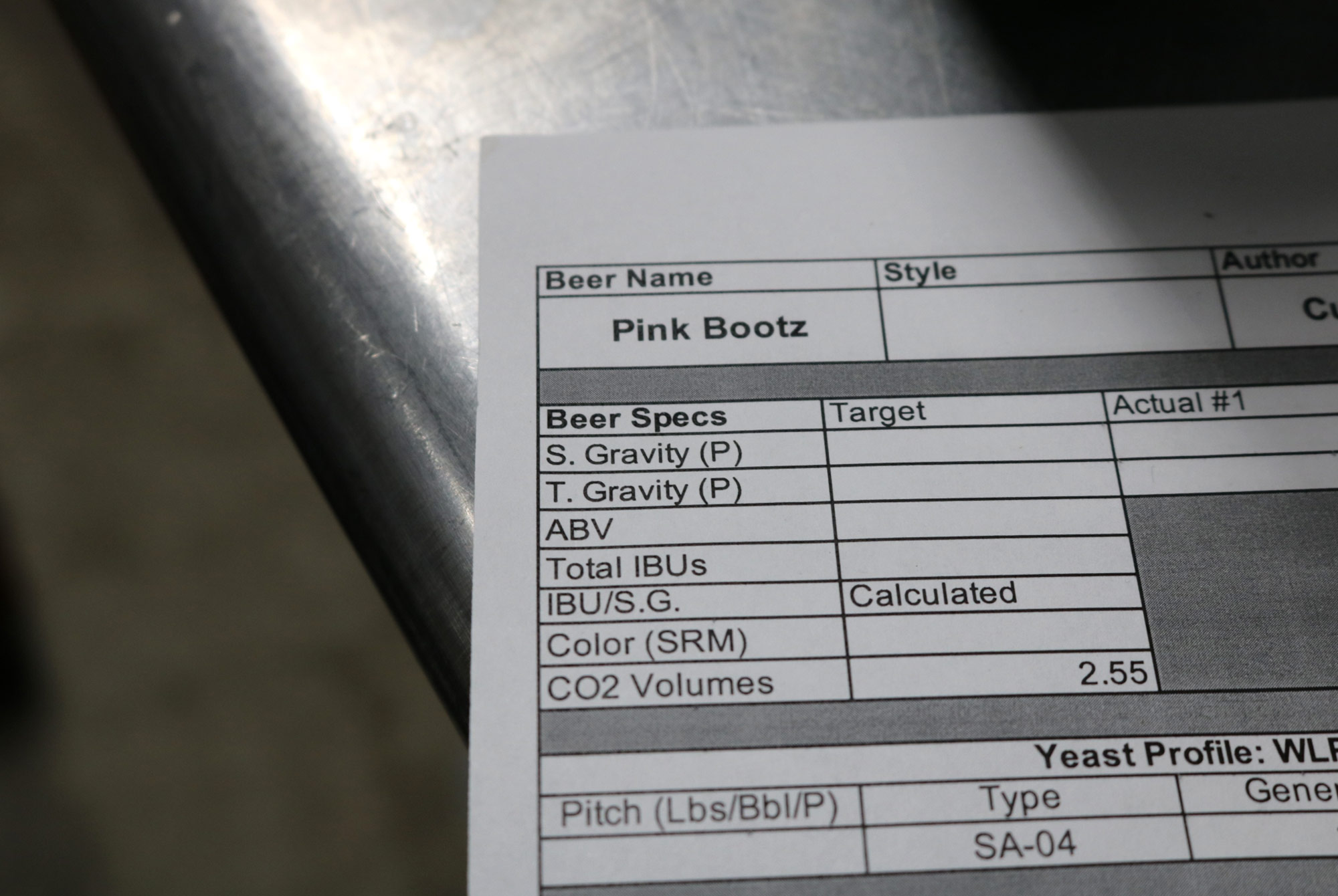 The business of beer continues to be a male-dominated sphere. According to the Brewers Association, women make up only 25 percent of all craft drinkers, while a study published by Auburn University reveals that only 29 percent of all brewery workers are female.
But the scales are slowly shifting.
This year over 200 breweries, groups, and even brew shops around the country and the globe invited women to hang out, chat, drink, and, most importantly, brew.
At Fifth Hammer the turnout was phenomenal. I squeezed through a group of girls, and made my way up the steel steps towards a woman with wavy, reddish-brown shoulder-length hair wearing a bright forest green Fifth Hammer t-shirt. Mary Izett held a clipboard in her hand as she gazed across a control board and fidgeted with a few knobs. She peered into a large steel vessel full of liquid and grain and ticked a few off items on her checklist.
"I'm excited. This is really my first time brewing on our large system," said Izett, the co-founder of the recently opened Fifth Hammer Brewing Co, who started as a homebrewer before making a name for herself in the beer community as a BCJP National ranked judge, former president of the New York City Homebrewers Guild, author of Speed Brewing, and co-host of the fermentation-centric podcast, Fuhmentaboudit.
Izett had organized one of the only Pink Boots Collaboration Brew Days in New York City, so it wasn't surprising to see such a large turnout of women. "I wanted to create an opportunity for as many people as possible to come hang out, become involved, and learn about the brewing process," said Izett as a curly dark-haired girl in a jean jacket mosied up to the platform to join us and peer into the kettle.
"Getting to watch beer being brewed up close on this system is like sitting in a Porsche in the test room and being able to go home with it," said Kiersten Jacobsen, in her jean jacket. "Normally, we're not allowed to touch this, but today we are!" An "Off-Centered Sales Rep" for Dogfish Head Craft Brewed Ales, Jacobsen had homebrewed before in her boyfriend's backyard, but never had the chance to experience brewing on such a large scale.
Similarly, homebrewer Barbara Klauke had come to Fifth Hammer to see what it was like to brew on a commercial system. "I'm keeping my ears open and just learning," said Klauke, who has been brewing at home for eight years. "I've been to breweries before and seen the tanks, but I've never seen the brewing process in action because I've never been allowed back there." A filmmaker by day, Klauke began brewing with a Mr. Beer kit before upgrading to a 1-gallon system and eventually a 3-gallon operation. She loves to brew black IPAs, but currently has a dunkelweizen fermenting at home.
In our large mash tun, the beginnings of a dry-hopped kettle sour were stewing. Izett explained that we were mashing in, meaning we were adding hot water to our grains – 20% oats, 6% flaked wheat, and 68% Holland pilsner malt – which would take a nice hot bath for about an hour.
In past years, the PBS has set the base recipes for these brew days. This year, however, the PBS took their original concept a step further, partnering with global hops supplier YCH Hops to craft a unique hop blend. At the 2017 Great American Beer Festival, Laura Ulrich, the president of PBS and other members of the PBS sat down with YCH Hops to customize the blend. "Most of our members don't get the chance to go to hop farms every year and participate in the hop selection, so it was pretty cool that we could come up with our own hop blend right then and there," said Ulrich.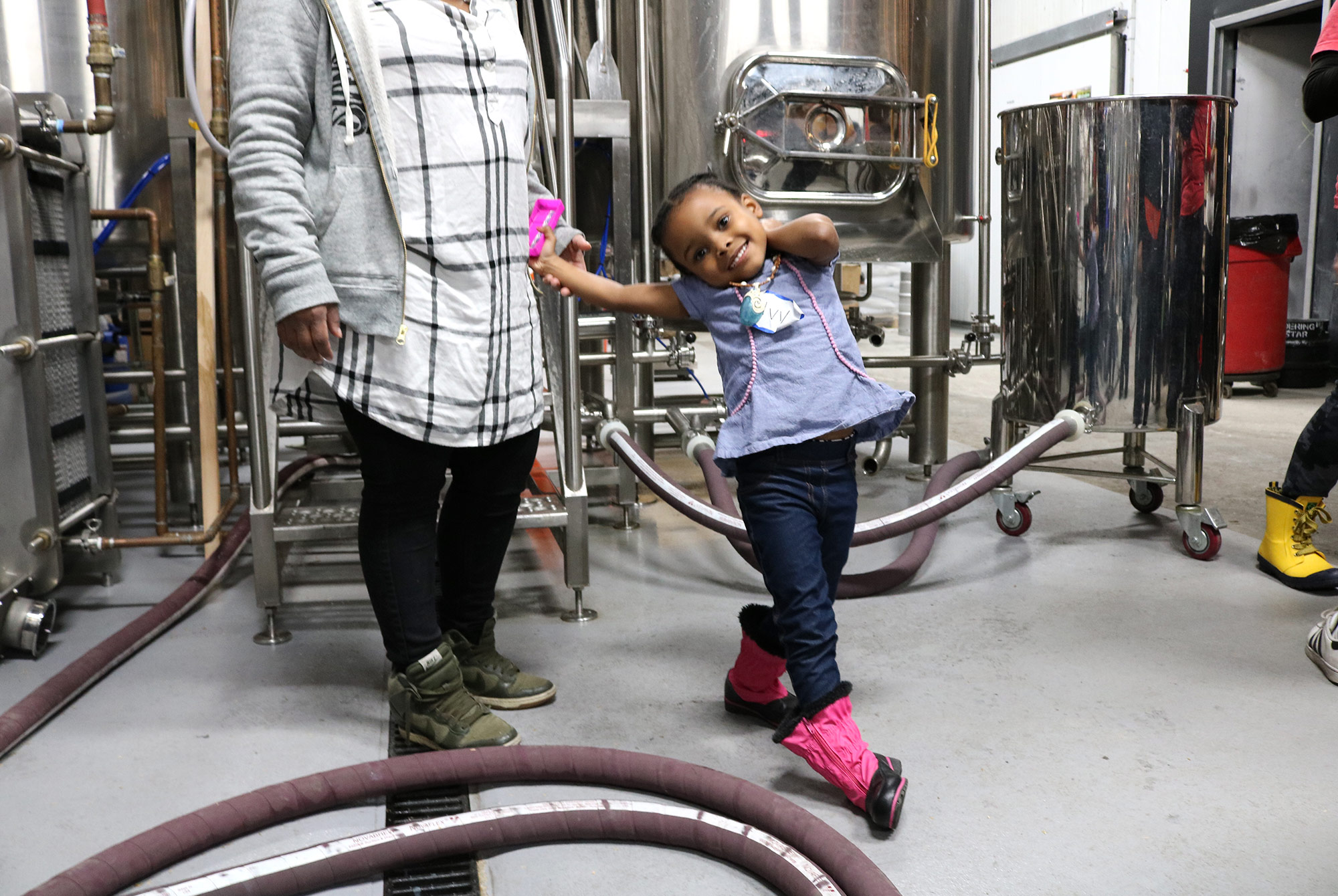 The team eventually settled on a bouquet of Palisade, Simcoe, Mosaic, Citra, and Loral hops for the aptly named Pink Boots Society Hop. Excited, but slightly nervous to hear how the Pink Boots Society Hop would be received, Ulrich noted that YCH has already sold about 12,000 pounds of the blend, outpacing their 10,000 pound goal. With YCH agreeing to donate $3 from each pound of hops sold, this year's brew day "has turned out to be a rewarding and wonderful way to fundraise for our scholarship program," said Ulrich.
With the requirements this year to only use the hop blend, breweries had the flexibility to make beers ranging from double IPAs and pale ales to amber ales and goses.
"I like the hops," said Izett, holding a clipboard filled with possible beer names ("We Can Brew It," "Beerded Lady," "Hustle & Flow," "Bread & Roses," and "XX Chromosomes" were among the entries). "They're not super fruity. They're a blend, so they're a bit resiny and dank." Izett told the group of women that the hops would mostly play a secondary role in our dry-hopped kettle sour. Instead of adding the majority to the boil, we would add the hops in post-fermentation to ensure that they would impart flavor on the beer without giving off the quintessential bitterness the plant releases during the heat of a boil.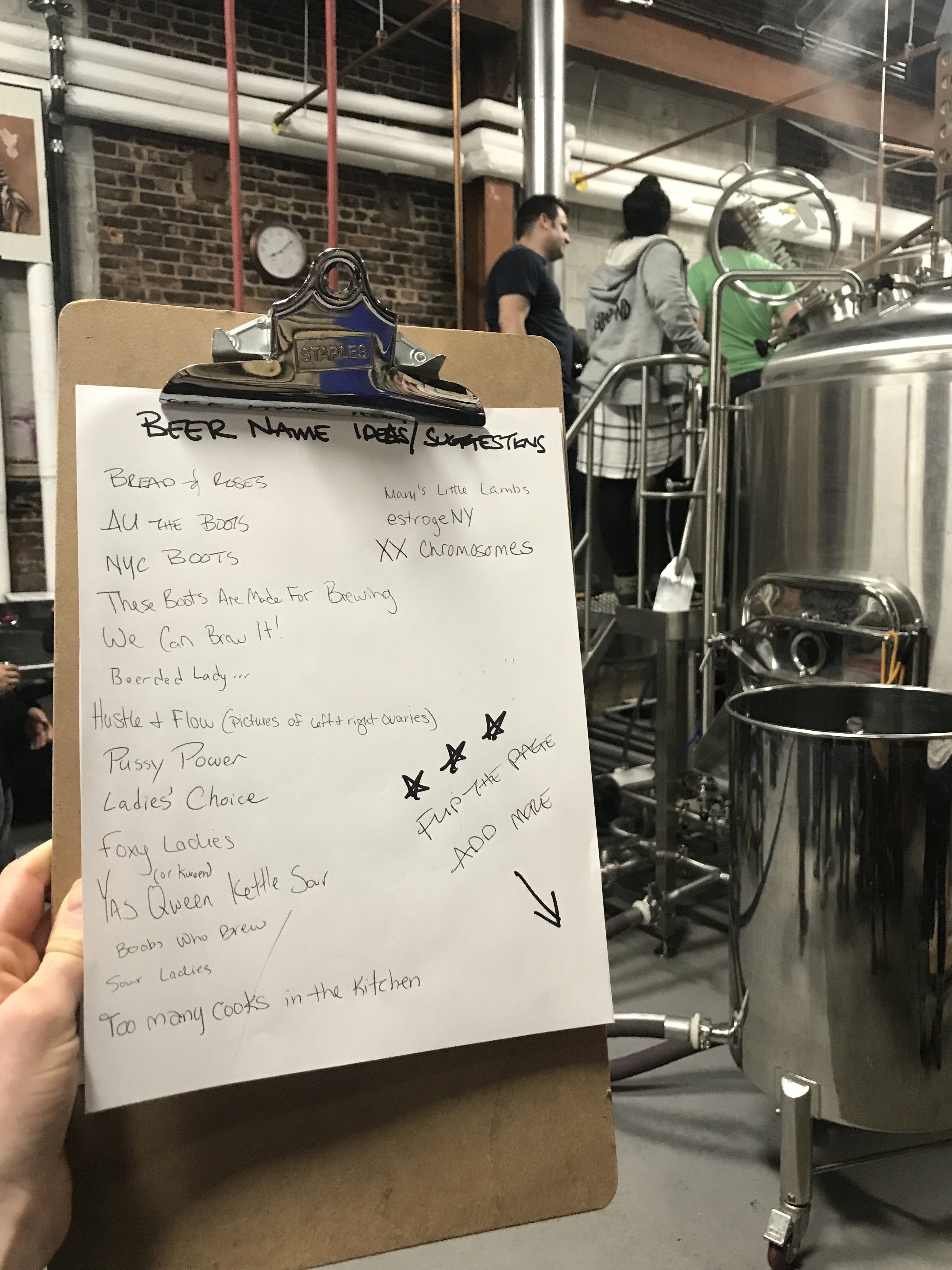 Beyond sharing brewing knowledge, Pink Boots Collaboration Day has become a unique way for women to network, exchange ideas, and drink a few beers.
For Jacobsen, learning and sharing a night with other women working in the beer industry had an immediate draw. Since she works for an out-of-state brewery, Jacobsen often finds herself out-of-the-loop when it comes to local industry get-togethers.
"I wanted to meet people who were like-minded, who at the end of the day want to do the same things I do," said Jacobsen, who found the world of craft beer through a sip of Anchor Steam at a house party. "I fell in love with beer because I hung out with guys and the guys were always the ones drinking beer." Working in a male-dominated business has never phased Jacobsen. "I was raised with the mentality that there isn't an industry I can't enter," said Jacobsen, whose mom, Wanda de Jesus, joined the NYPD in 1983 as one of the only female cops in her unit. "Having my mom as a role model, I'm not afraid to pave the way in an industry where there are not a lot of women."
A reality Katie McNeal sees up close every day. As the only female brewer and cellarman at Other Half Brewing, McNeal came out to Fifth Hammer to connect with other women. A recent transplant to New York City from Denver, McNeal joined the production staff at Other Half only six short weeks ago and hasn't had time to meet other women on the East Coast. Other Half owner, Sam Richardson, suggested McNeal attend the Pink Boots Brew Day to change that.
"It seems like so much camaraderie and collaboration is happening out here, as well," said McNeal happily comparing the two cities, "It's cool to see that beer culture happens no matter where you are."
In an industry constantly growing, tipping the gender scales from city to city has happened by putting one pink boot in front of the other. Events like Pink Boots Brew Day unite all women in beer from sales reps and brand ambassadors to women brewers and brewery owners.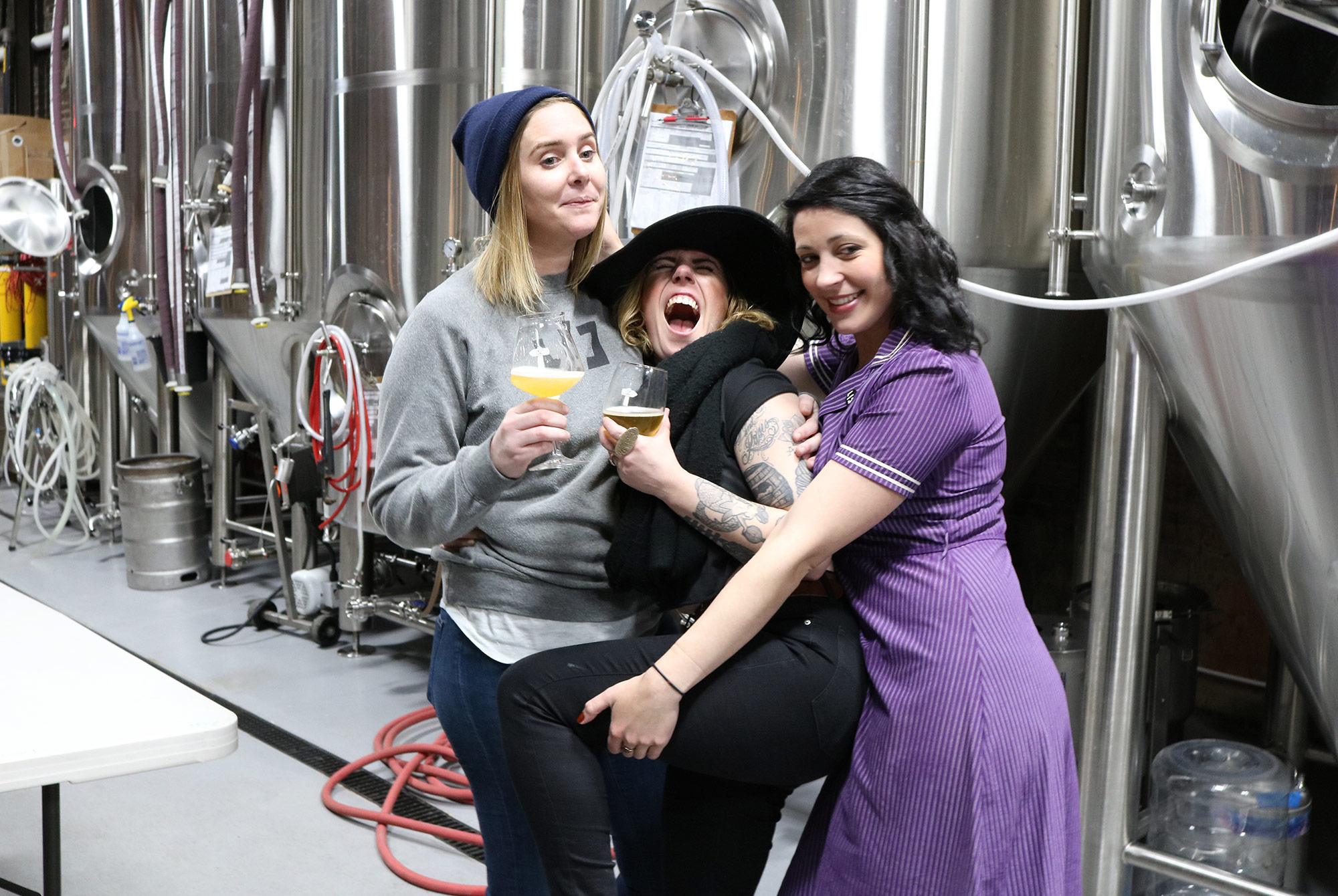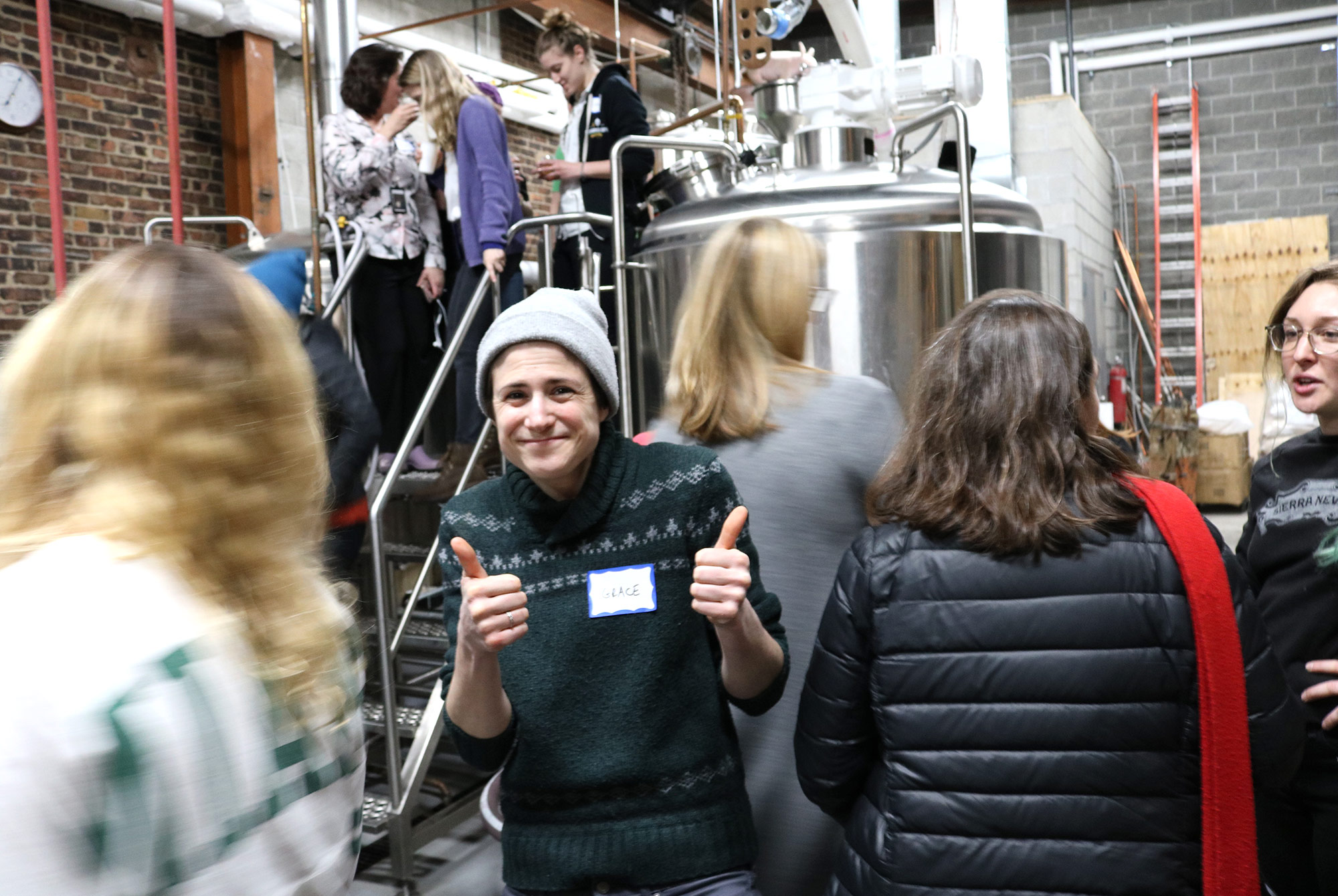 "As a lady brewer I'm in a man's culture," said Danii Oliver, the head brewer and owner of Island to Island Brewery in the Prospect Lefferts Garden neighborhood of Brooklyn. Oliver, who considers herself an artist first and foremost, chose beer as a medium to translate her work because "it means that I get to be in an industry where a man can't tell me no. It's the one industry where a man can't tell me I can't do this because I'm doing it." Oliver made a point to come as early as possible with all the ladies in her brewery (4 total including her daughter Ivy, who often works at the brewery in exchange for mango and seaweed snacks), so she could rip open 55 lb sacks of Pilsner malt and be a part of the beer from the beginning.
"I picked up bags to pour and I lifted buckets into the mill," said Oliver. "No guy came and helped me. I did that with all the ladies' help here. No one told any of us that we were ladies and we needed to sit down."
Oliver paused our conversation to check the temperature of the sparge – the part of the brewing process where we ditch the grain and transferred the remaining sugary liquid – called wort – to the brew kettle. Once there, we pitched lactobacillus brevis (lacto), a strain of bacteria that produces a signature sour flavor, and left the beer to sit for a few days. Uniquely, Izett had planned her Pink Boots brew over the course of two days to try and incorporate as many women as possible. On Sunday a few would return to complete the boil, transfer the beer to the 30bbl fermenter, and pitch the yeast.
"I've met a lot of amazing women in beer whom I'm really close to, appreciate, and feel a lot of love for," said Izett. "I wanted to celebrate the amazing friendship, support, community and fun that the ladies in New York City have together around beer."
While Izett's not sure yet of the final plans (or name) for this beer, she knows there'll be a release party in the taproom and possibly other events around the city with a portion of the proceeds going towards the Pink Boots Society.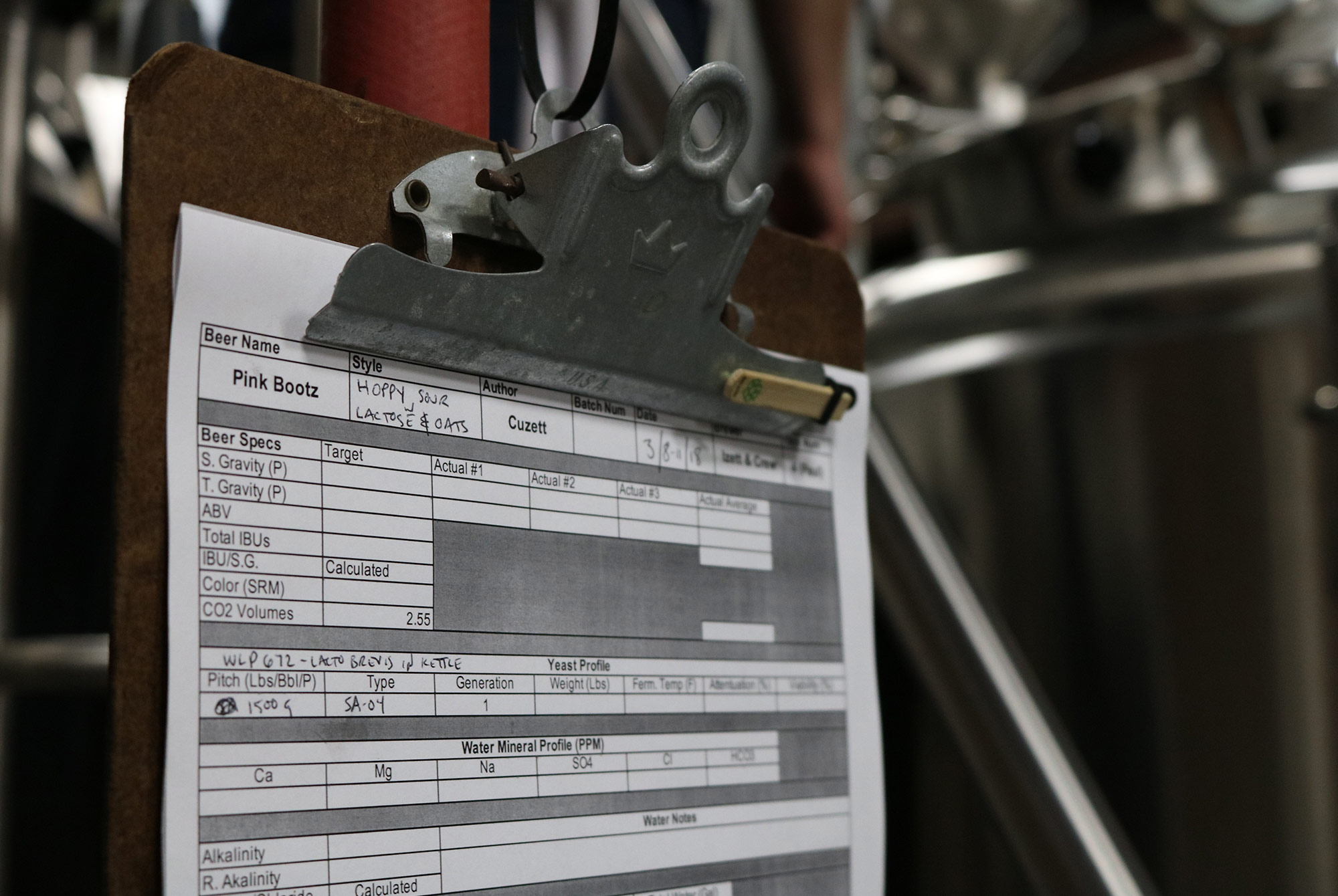 Toward the end of the night, we all began to gradually disperse, leaving Fifth Hammer to go back to our jobs as brewers, homebrewers, sales reps, brand ambassadors, educators, writers, podcasters, etc. But for one night we had come together to make friends and connections while making a beer.
"This was communal. Tonight we were women doing something awesome that none of the men in the taproom were allowed to do," said Jacobsen proudly "[When this beer is finished] I'm going to come back here and fill as many crowlers and growlers as I can."
As the journey to alter the gender scales of the craft beer industry continues, events like the Pink Boots Collaboration Brew Day remind women that we aren't in this alone.
"We are equals and that matters," said Oliver. "Tonight, I was a part of something that highlighted women and showed: We are here, we appreciate the culture, we appreciate making our own culture, and we appreciate beer.