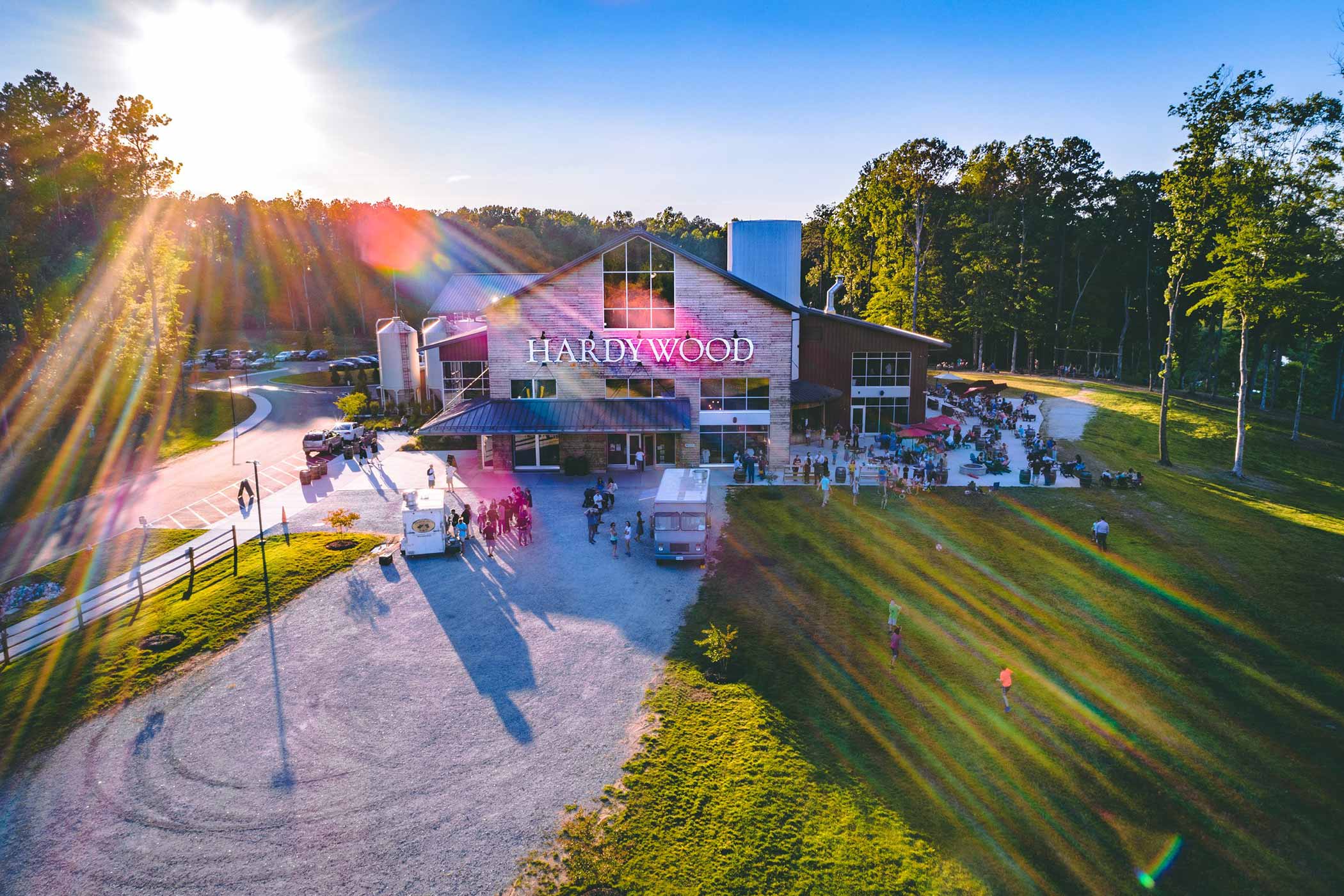 Photography courtesy of Hardywood Park Craft Brewery
Other Hot Travel Stories:
Nestled along the banks of the historic James River, the city of Richmond, Virginia, has earned a reputation for its rich history, vibrant culture, and, recently, its rapidly growing craft beer scene. As beer enthusiasts venture into this charming Southern city, they meet an exciting and immersive experience known as the Richmond Beer Trail.
Often voted one of the top ten cities for beer in the United States, Richmond includes breweries that contribute a unique flavor profile and brewing tradition. From fruity sours to hop-forward IPAs and rich stouts, the forty breweries that make up the beer trail push the boundaries of creativity. This city's brewers love to experiment! Incorporating locally grown ingredients is standard, as are collaborations or sharing between other breweries.
Encompassing the stories, people, and historic neighborhoods of the area, these breweries (with a wine shop or two thrown in for variety) make up a dynamic landscape that is also welcoming and fun to explore. Here are some unique breweries and places to drink that make up the Richmond Beer Trail.
Hop Culture's 10 Best Stops on the Richmond Beer Trail
Benchtop Brewing Company RVA
434 Hull Street, Richmond, VA 23224 | (804) 658-3953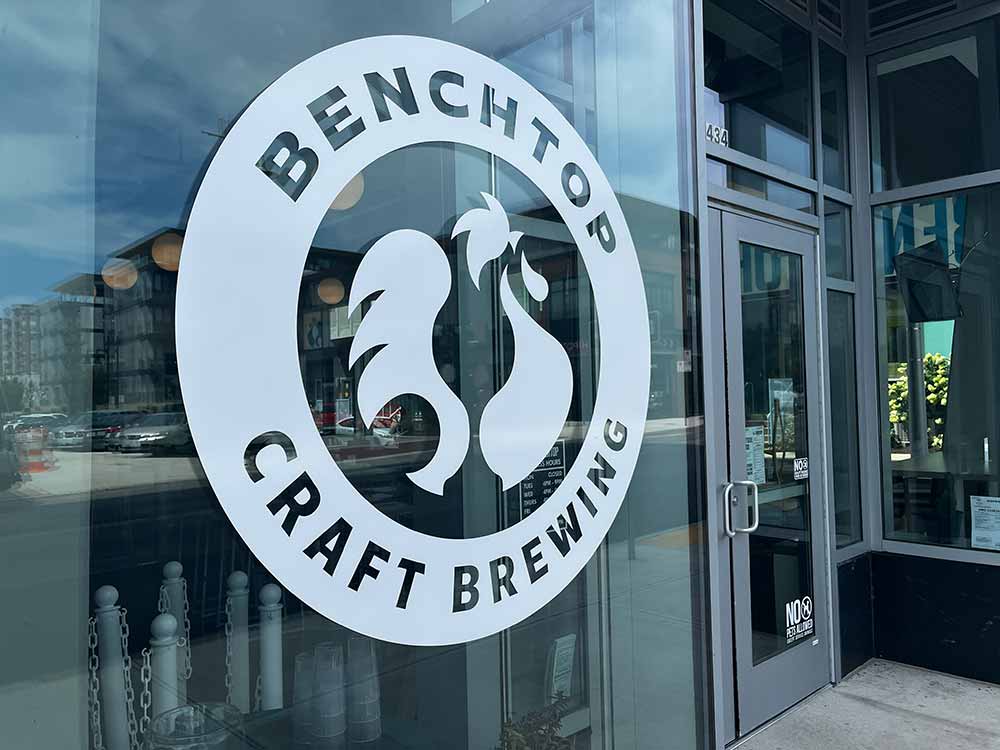 With a focus on using unique hops and sourcing local ingredients whenever possible, Benchtop Brewing opened its Richmond location in early 2022 (the original location and brewing site opened in Norfolk in 2016). Founder and brewmaster Eric Tennant, a food scientist by trade, fawns over all things fermentation, which shines through in the beers.
From a gose made with oysters and lemon zest to sours created with in-season, locally grown fruits to the 13% ABV Russian imperial stout, there's a unique flavor and style for every beer lover. And with ninety-nine percent of the beers produced by Benchtop gluten-reduced, more people can indulge.
Benchtop RVA General Manager Jo Anne Wilson believes that heading to a brewery should feel like a destination, even in your own city. An intricate part of the revitalized Manchester neighborhood, Benchtop RVA sponsors many different community events, from book club nights to supply drives for the area's school children.
"I'm very keen on what is happening here," said Wilson. "For me, I really want Benchtop to be a part of the community. Eric and I talk about that all the time. When our neighbors walk by, we're waving, we're talking to them. It's really cool we can be a part of the neighborhood."
When visiting Benchtop RVA, try one of their gourmet hot dogs. Made with Black Angus beef, toppings such as Sriracha, locally made kimchi, and white queso, these dogs pair perfectly with the beers on tap.
Legend Brewing Company
321 W 7th St, Richmond, VA 23224 | (804) 232-3446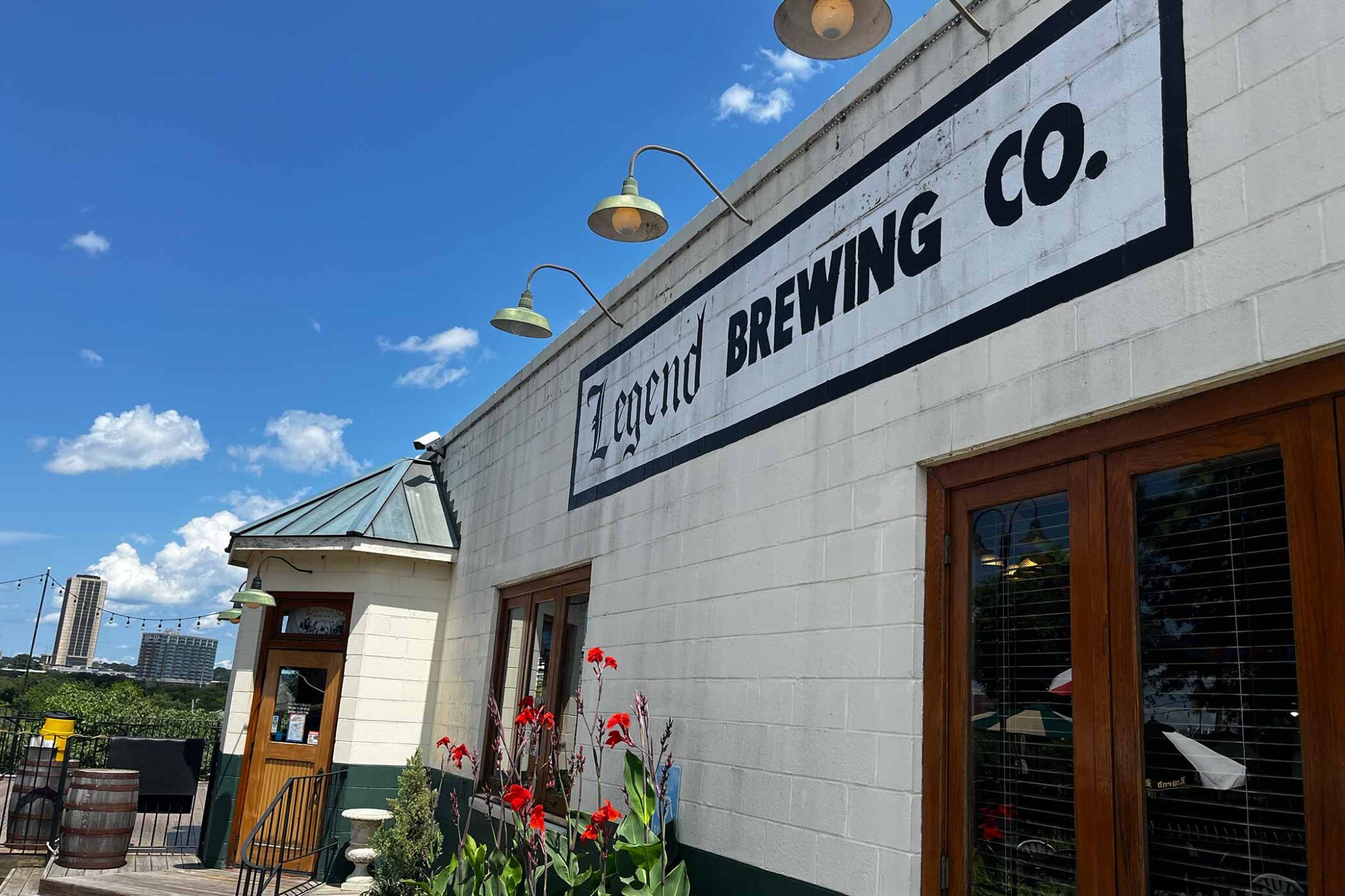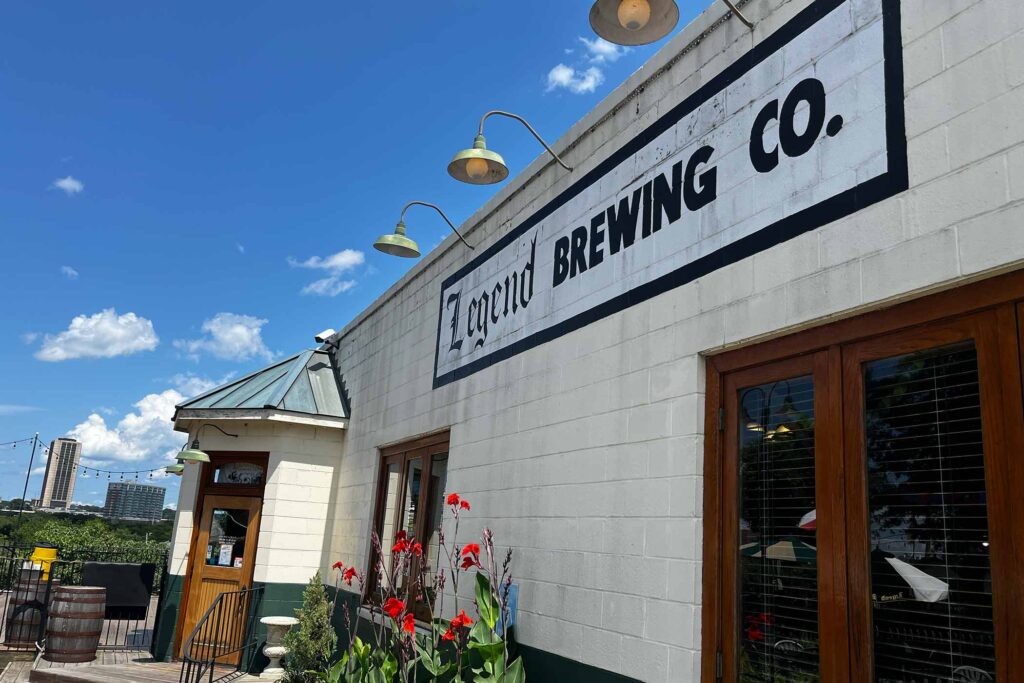 Opened in 1993, Legend Brewing Company is Virginia's oldest craft brewery. Founded by Tom Martin, who previously brewed for Anheuser-Busch, Legend aimed to create some European beer styles in the United States. Overlooking the river on a hill with an initial capacity of 15 people, Legend now includes an indoor brewpub and outdoor deck seating over 300, along with distribution to other locations.
You can still find four original beers on tap—a brown ale (the flagship beer), a porter, a German-style lager, and a Bohemian-style pilsner. When the brewery added an IPA in 1995, Dave Gott, Legend's VP of Operations, said it was one of the first in the country and took plenty of explaining since it was so novel in the U.S. at the time. Legend stays on top of trends, like with their Hazey Days IPA. Today, you can enjoy a mix of old and new styles.
Legend makes all unpasteurized beer, and it's one of the few breweries in the region producing ales and lagers. When visiting Legend, don't miss out on ordering from their pulled pork BBQ or bratwurst sandwiches that stack up nicely with the beers.
The Answer
6008 W Broad St, Richmond, VA 23230 | (804) 282-1248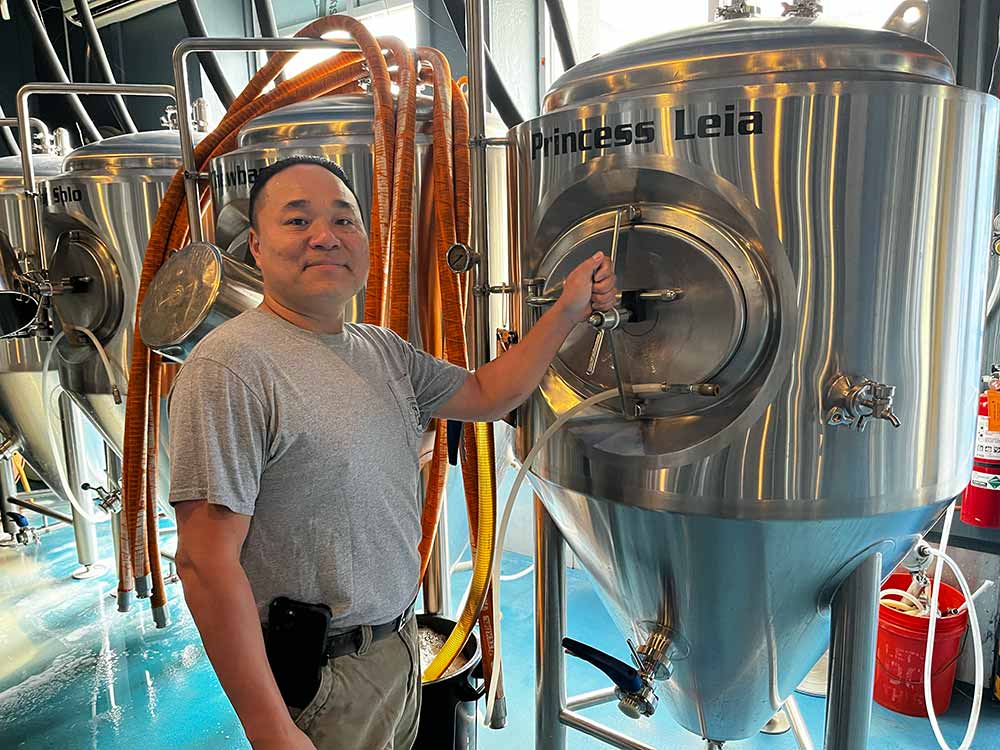 With over sixty taps (over half brewed onsite) and plenty of friendly regulars, The Answer helped build the craft beer scene in Richmond. Founded by An Bui, the brewpub still hosts homebrew meetings at his family's Vietnamese restaurant next door, which is how the idea for The Answer began.
While the family restaurant, Mekong, has many beer taps as well, Bui started to wonder what it would be like to brew fresh beer onsite in a variety of styles. His passion for science and his love of talking about beers with others began to shine through.
Initially serving Vietnamese street food, the menu at The Answer has changed a bit since the pandemic and now also serves burgers and wings. However, you can still get some tasty fried rice shrimp and a sunny-side-up egg.
What has stayed the same is Bui's passion and the variety of well-brewed beers. Find fruity, pulpy sours served alongside triple IPAs and stouts that taste like German chocolate cake. How do Bui and his brewers come up with these kooky flavors? They listen to their customers.
"There are two types of breweries – brew to the style or brew to the crowd," Bui said. "We tend to brew to the crowd to listen to what they like, and that's what we focus on."
They'll even occasionally name beers, like the Pete & Sheretha Breakfast Stout, after regular customers, who are more like family.
Once you're done chatting with Bui about the beers, ask him about his passion for Star Wars. He named all his fermentation tanks after Star Wars characters, except one special vat named after another sci-fi character, Mr. Spock from Star Trek.
Final Gravity Brewing Co. RVA
6118 Lakeside Ave, Richmond, VA 23228 | (804) 264-4808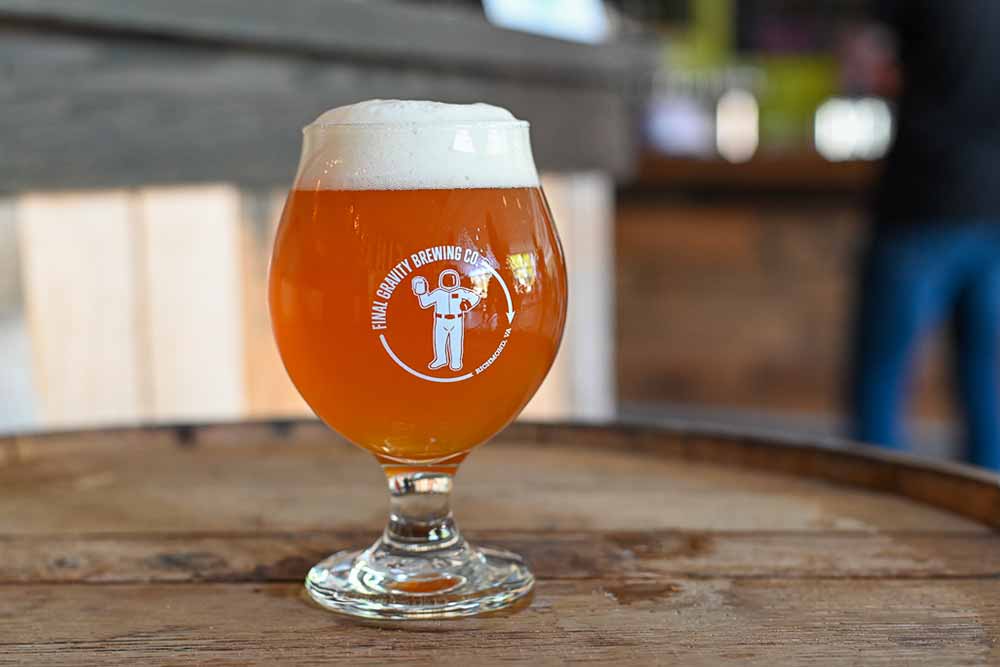 Located within walking distance of the Lewis Ginter Botanical Garden, Final Gravity is a true local's hangout. But that shouldn't stop visitors from dropping in for a pint. With a staff that has been around since the beginning, a casual atmosphere, and arcade games, popping in doesn't feel uncomfortable to non-residents. Grab a flight to try the beers or indulge in one of the refreshing slushies (Tropical Skittles, anyone?).
Into homebrewing or winemaking? Stop in next door to their shop Final Gravity. You'll find everything from bulk malt extract to an in-house computer to help formulate your own unique recipes.
Hardywood Park Craft Brewery
Richmond: 2410 Ownby Ln, Richmond, VA 23220 | (804) 420-2420
West Creek: 820 Sanctuary Trail Dr, Richmond, VA 23238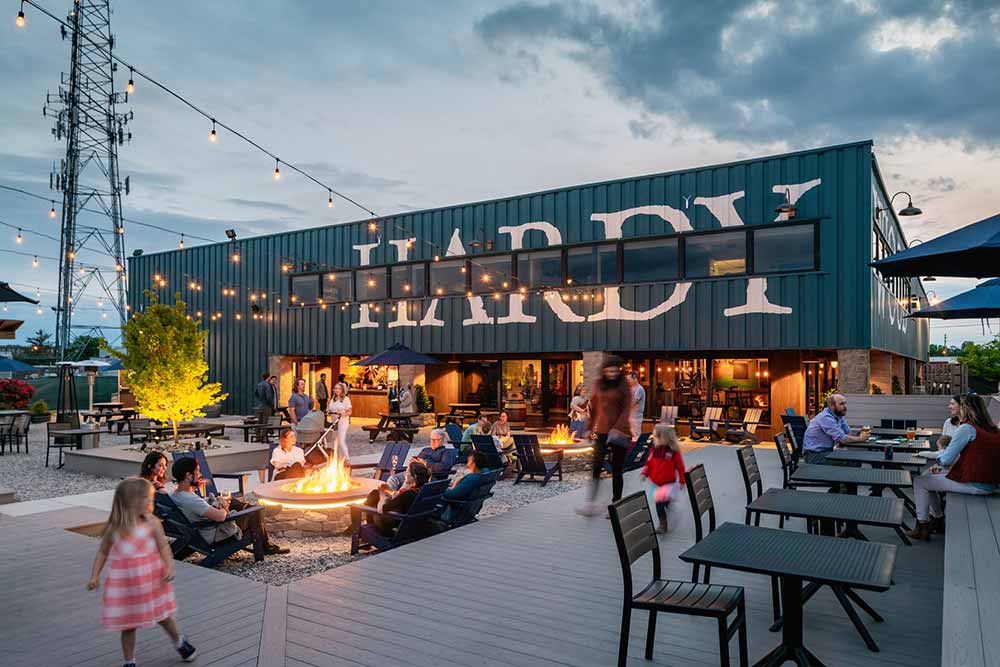 The second craft brewery to open in Richmond, Hardywood Park, brews beers with a purpose. As the first brewery in the state powered by renewable energy, Hardywood's dedication to sustainability and sourcing locally equals its quality beers. They even brewed a beer in collaboration with Virginia Tech's College of Agriculture and Life Sciences. Currently, Hardywood has two locations in Richmond, but if you're into disc golf, make sure you stop by the West Creek taproom; you'll find a course nearby
The Veil Brewing Co.
Scott's Addition: 1509B Belleville St, Richmond, VA 23230| (804) 353-5000
Funkhaüst: 2256 Dabney Rd # F, Richmond, VA 23230 | (804) 353-5000
Forest Hill: 4910 Forest Hill Ave, Richmond, VA 23225 | (804) 349-0120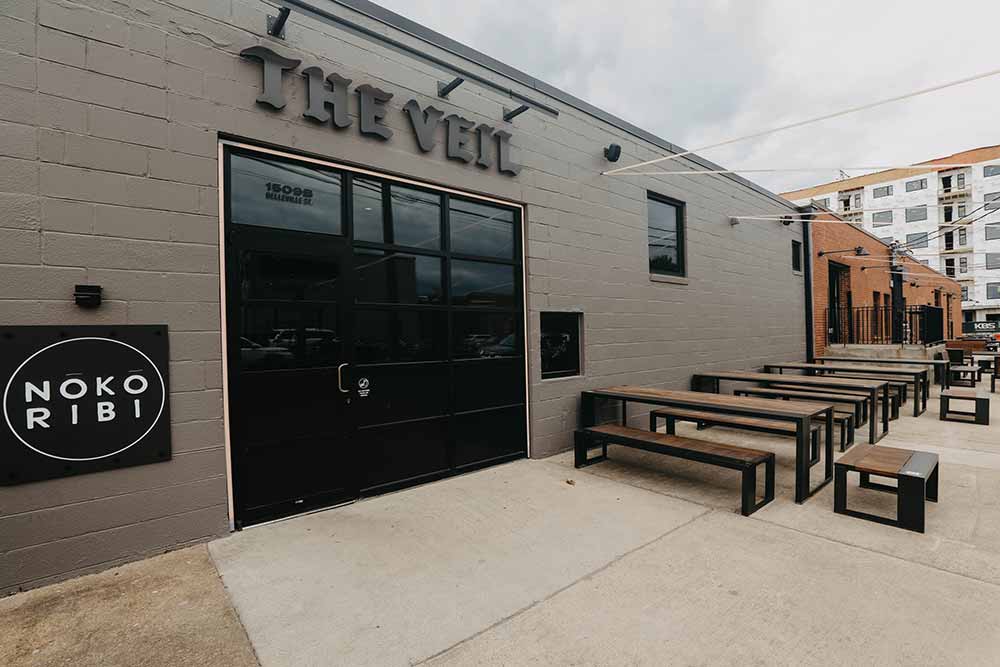 With its original taphouse in the Scott's Addition neighborhood, this popular brewery now has three locations in Richmond and is well known for its weekly beer releases and sometimes off-the-wall beers. After all, this brewery made the nationally known Hornswoggler with Oreos Renowned for that originality, The Veil brews a range of styles, including hazy double IPAs, ciders, imperial goses, and even non-alcoholic beers.
Penny's Wine Shop
405 Brook Rd, Richmond, VA 23220 | (804) 573-5562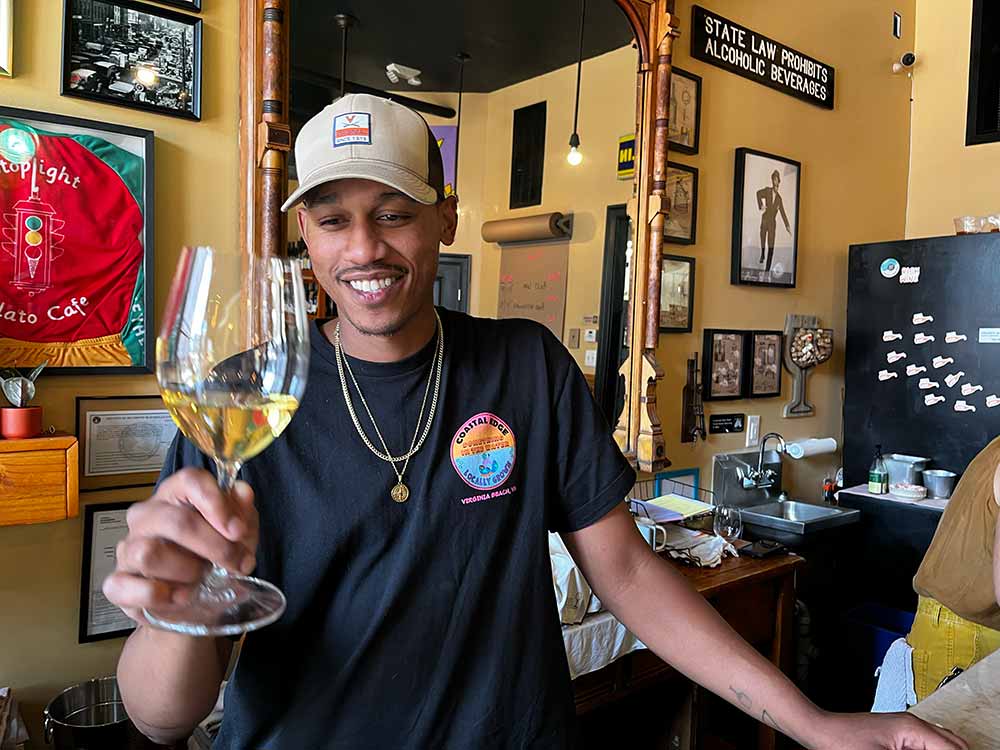 As the Richmond Beer Trail grows, so do the options to enjoy while exploring. One of those is Penny's Wine Shop. Located in the historic Jackson Ward neighborhood, the area where famous African Americans such as dancer/actor Bill "Bojangles" Robinson and entrepreneur Maggie Walker once resided, the shop's name came from the bank Walker founded in the early 1900s, St. Luke's Penny Savings Bank.
Co-owned by Lance Lemon and Kristen Gardner-Beal, Penny's Wine Shop serves natural and organic wines, by the glass and bottle, along with small plates to pair. Friends since childhood who grew up a few miles outside of Richmond, Lemon and Gardner-Beal created Penny's to highlight their love of wine and expand on Lemon's local, curbside wine delivery service, Rich Wine, that developed in 2020
"We wanted to make a place that welcomes everyone to come in, relax, and leave everything at the door," said Lemon.
Opened in 2023, the shop found a place in the community. And while African Americans in the wine industry may not be typical, Penny's Wine Shop shows that good food, good company, and a good glass of wine belong to everyone.
Triple Crossing
Downtown: 113 S Foushee St, Richmond, VA 23220 | (804) 495-1955
Fulton: 5203 Hatcher St, Richmond, VA 23231 | (804) 729-8707
With an emphasis on fresh, hop-forward beers, Triple Crossing launched in downtown Richmond in 2014 and almost immediately outgrew its space. In late 2016, they launched a brewpub in historic Fulton, paying homage to the local arts scene with spray-painted tables, a wall-sized mural, and a life-sized velociraptor. Both locations serve the same terrific beer, but the Fulton location also has thin-crust pizzas baked in a 1200-degree oven. Fun fact: the brewery is named for Richmond's unique "triple crossing" railway intersection, the only place in the country where three train tracks intersect.
Väsen Brewing Company
3331 W Moore St, Richmond, VA 23230 | (804) 588-5678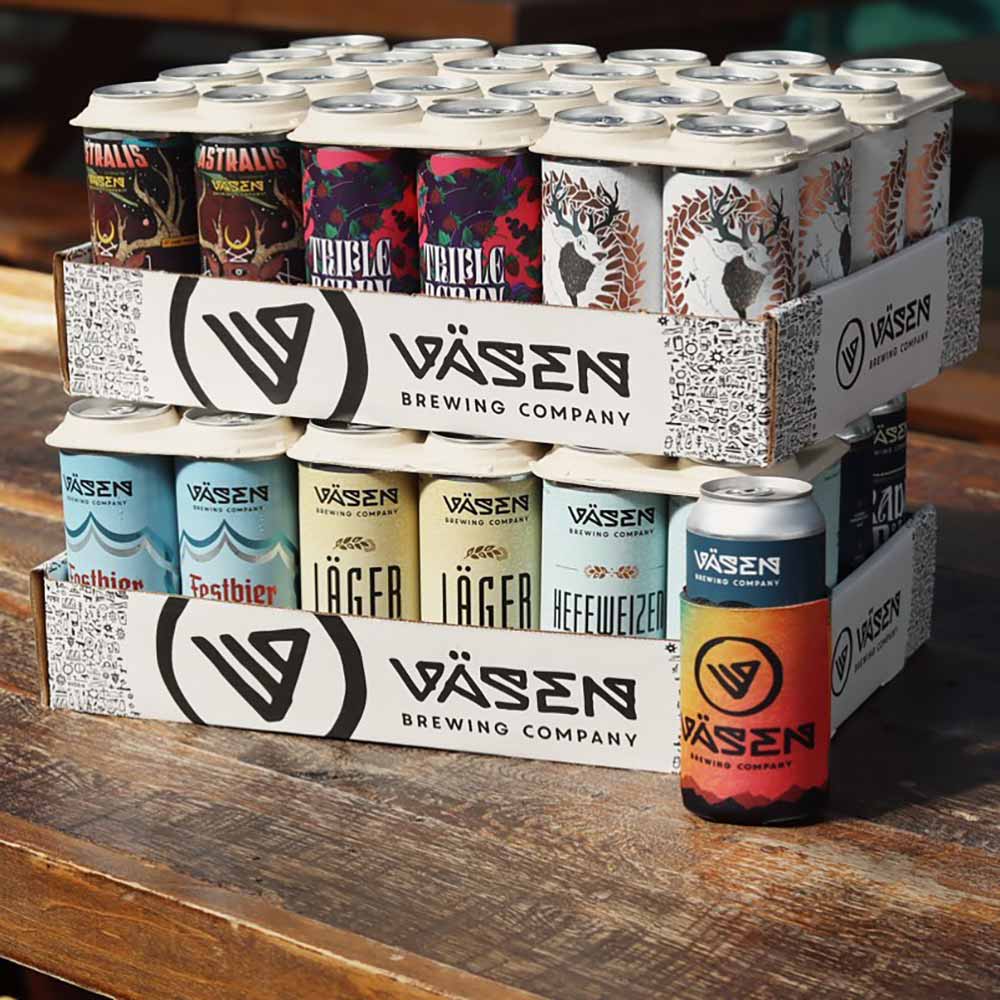 Väsen won us over five years ago with all three of their opening offerings—The Smoked Farmhouse Ale, Passion Fruit Saison, and American Pale Saison. All exhibited nuance and restraint; that's rare. Their ability to dial those beers in so early spoke to the experience of the founders, who brewed in Colorado before making the move to Richmond.
These days, you'll find an equally impressive range of beers, from a Belgian strong dark ale to an American lager to a table beer to an Italian pilsner.
Bingo Beer Co.
2900 W Broad St, Richmond, VA 23230 | (804) 386-0290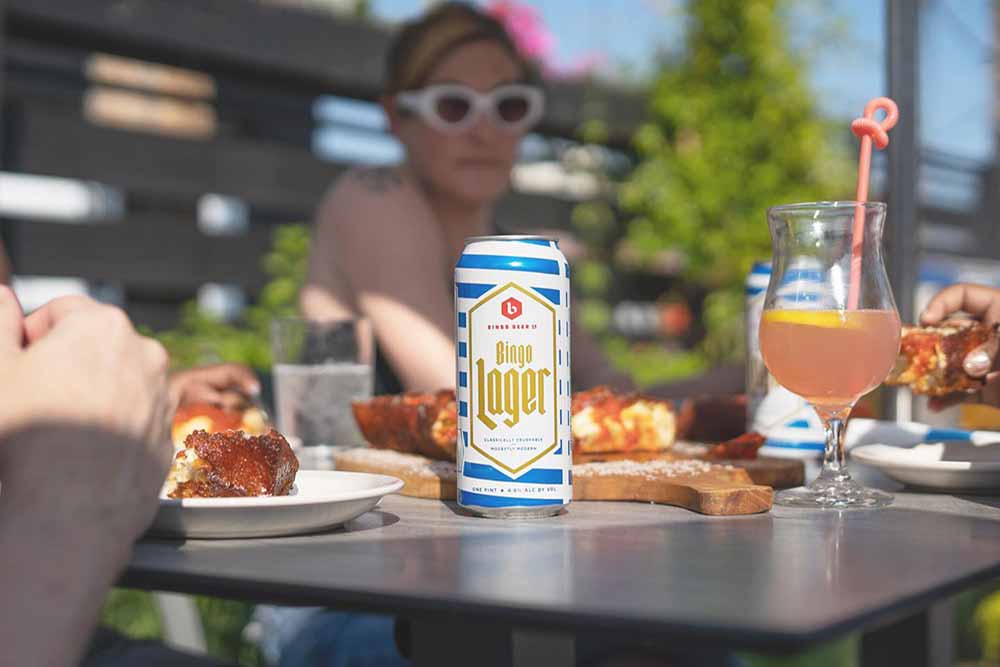 A lager-loving brewery, Bingo Beer does things just a bit differently. The brewery puts its energy into clean, crushable lagers. Like Costa Chico, a malty, smoky, biscuity, slightly sweet amber lager. Or Rail Pass, a classically crushable Noble-hopped pils.
But you'll also find a couple of hazies, sours, and even a cider on at any given time.
As Bingo likes to say, "We honor the timelessness of beer bringing people together."
Go here for the lagers; stay for the good times.