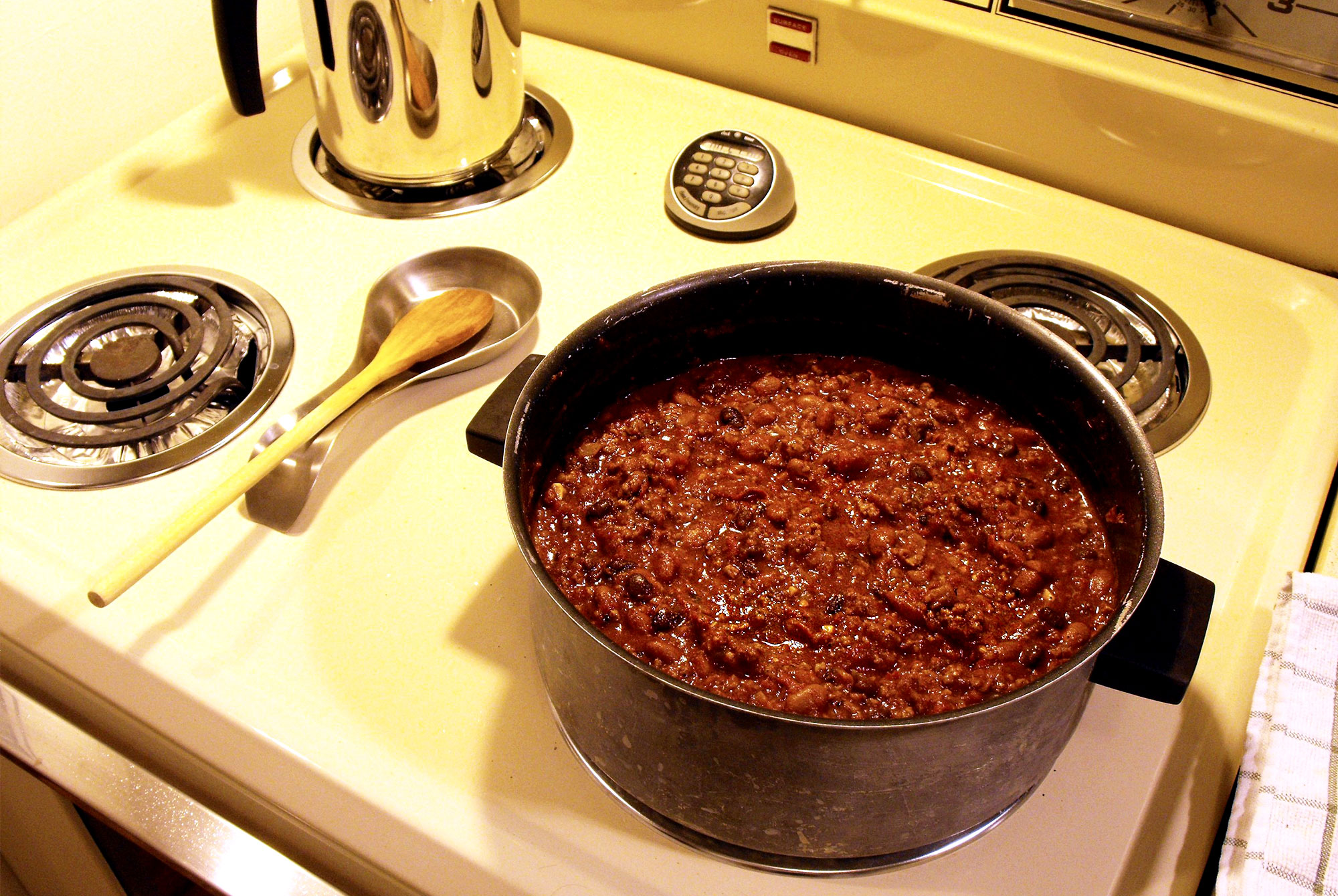 Photography by Markus Mayer
Dr. Carrie Helms Tippen is an assistant professor of English at Chatham University in Pittsburgh, Pennsylvania, as well as a poet, scholar, amateur homebrewer, and professional cookbook reader. We asked her for a winter beer-and-food recipe. This was her pick. 
Winter is a drag, and it sure drags on. By the time January and February roll around, I get homesick for Texas weather and hungry for Texas chili and Shiner beer. Chili, the state food of Texas, is perfect for any cold night.
This recipe calls for Shiner Holiday Cheer, a seasonal dunkelweizen from Texas' famous Spoetzl Brewery. It's a malty beer, on the sweet side, with wintery spices and notes of pecan. Luckily, with Shiner's distribution, you can pick up a six pack almost anywhere.
One great thing about chili is that it's endlessly customizable. Pick your peppers to your taste. Poblanos are fairly mild with a green flavor. Maybe swap in chipotles in adobo for smoke and more heat. You want a vegan or vegetarian version? Substitute tempeh, black beans, and soy chorizo for the beef and pork.
Texas Cheer Beer Chili
---
Serves 6-8
1 medium onion, chopped
1 red bell pepper, chopped
1 poblano pepper, chopped (or other spicy pepper to taste)
2-3 cloves garlic, minced (to taste)
2 Tbs. flour
1 Tbs. chili powder
1 Tbs. black pepper
1 Tbs. cumin
1 tsp. ancho chili powder
1 tsp. cayenne
1 tsp. red chili flakes
1 tsp. epazote
1 lb. ground beef (or equivalent in tempeh and black beans)
½ lb. chorizo (or soy chorizo)
2 Tbs. Worcestershire sauce
6 pack of Shiner Holiday Cheer (½ cup separated)
32 oz. tomato juice
28 oz. of diced tomatoes (if you can get it, use hot Ro-Tel with green chiles)
16 oz. can of chili beans
Salt to taste
---
1. Open the first beer and drink it while you look up some Ray Wylie Hubbard and Pat Green.
2. Sauté vegetables in olive oil in a 5 qt. saucepan. When the onions are translucent, remove them from pan and set aside.
3. Mix seasonings and flour in a medium bowl. Mix the seasonings into the ground beef and chorizo with your hands, forming some small, irregular meatballs. Wash your hands, brown the meat in the saucepan, and drink some more beer.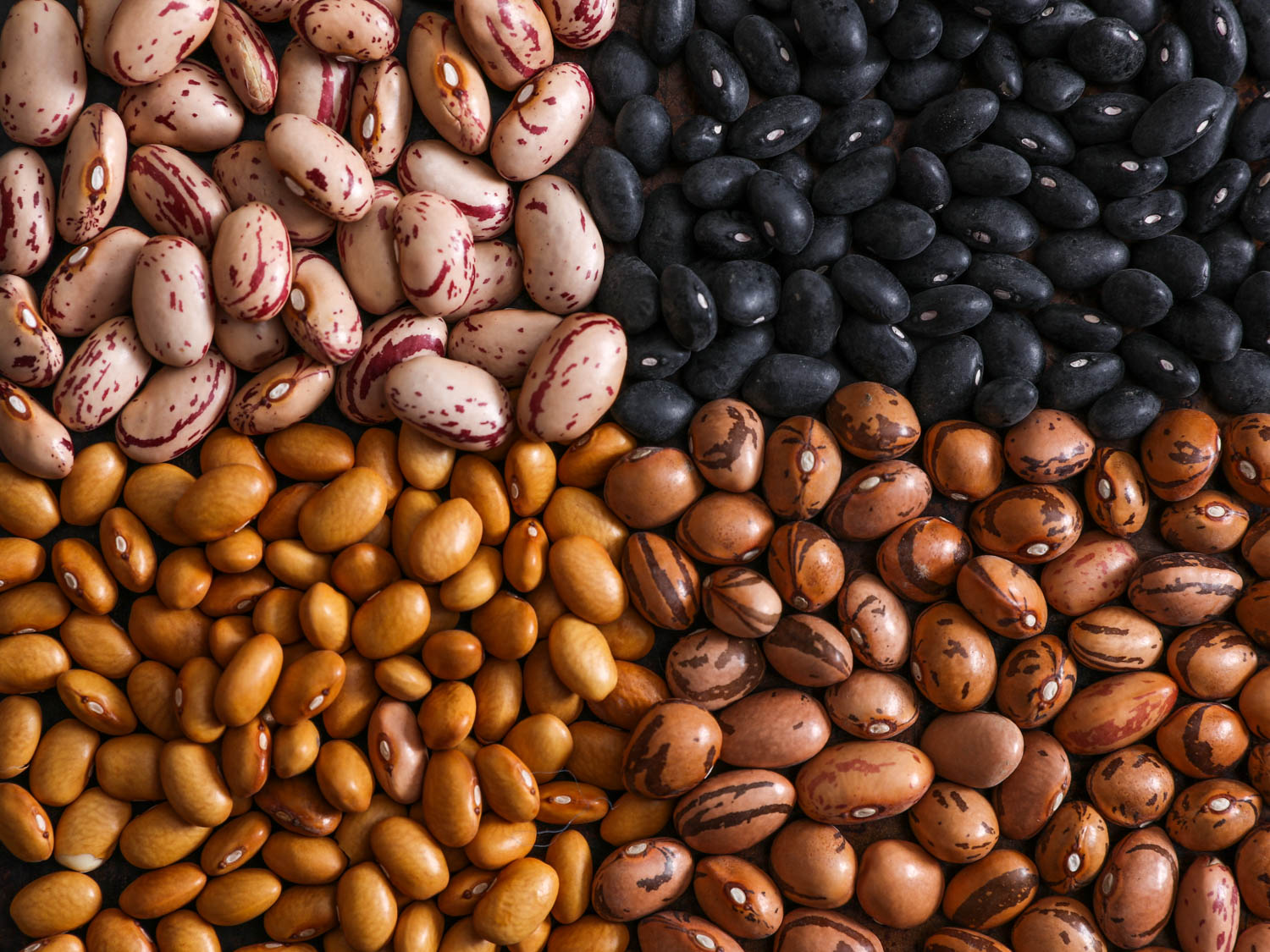 Photograph by Vicky Wasick
Beans in Chili?
The debate ends here. Chili is, from its invention, a one-pot catch-all for leftovers. You think vaqueros on cattle drives said, "Nah, don't put useful fresh protein in this dish of nearly spoiled unrefrigerated meat?" If you've got beans, use them.
4. When the meat is browned, push the meat to the edges, making a clearing in the center of the pan. Pour ½ cup of beer and 2 Tbs. of Worcestershire into that space to deglaze the pan, using your spoon or spatula to scrape up all the tasty brown bits on the bottom. Drink the rest of the beer.
5. Return the vegetables to the meat. Add in the tomatoes and beans and enough tomato juice to make everything float. Bring to a boil, then reduce heat and let simmer uncovered for 45 minutes to an hour. You can add in more juice if it gets dry. I like a thick chili without a lot of juice, but you might like it looser.
6. Salt to taste just before serving. The tomato juice and Worcestershire sauce will increase in saltiness as they reduce. Serve with shredded pepper jack cheese, sour cream, green onion, corn chips, and tall, frosty bottles of Shiner Holiday Cheer.