9:00 AM In Denver, it's 32 degrees. To keep warm, I rub my hands together and stomp the sidewalk; despite my thick Carhartt socks, I feel like someone has driven a frozen nail through each of my big toes.
Arriving at 9:00 a.m. puts me at spot number 42. In order to claim the first spot, I would have needed to arrive at 2:00 a.m. like Jeffrey Cox, whose air mattress forms the boxy head to the snake of people wrapped around the city block that Black Project Brewery inhabits, three miles south of the Colorado State Capitol.
Cox, a stringy young man, hunches on an air mattress at the front of the line, his long blonde hair obscuring the fleece blankets wrapped around his shoulders. He wears a pair of John Lennon-style mirrored sunglasses and drinks from a plastic cup. Coffee, to keep him warm on a night with a low of 17 degrees? No. Beer. A rare release from Casey Brewing in Glenwood Springs, several hours west, where he'd spent the previous afternoon.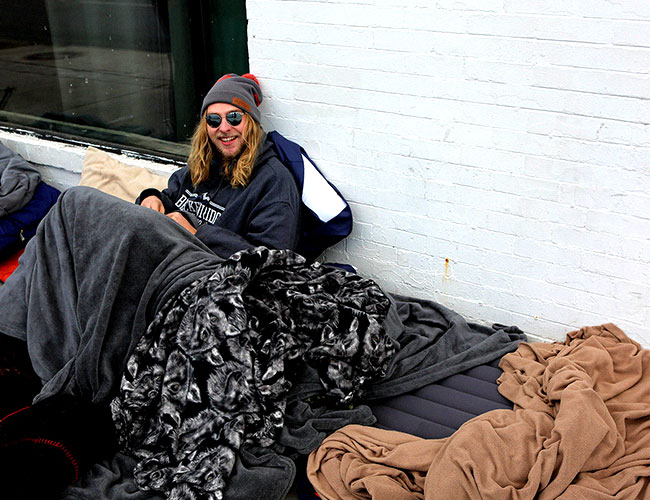 "I heard a bunch of my friends talking about it so I figured I'd come hop in line with them," he said.
Only three more hours until Black Project Brewery opens.
I've flown from Pittsburgh, Pennsylvania, to Denver, Colorado, to stand in this line and buy two bottles of beer: Oxcart and Stargate: Peach Rye Whiskey, each $30. The former is a blend of one, two, and three-year-old barrel-aged beer. The latter is a spontaneously fermented beer aged in a wet Laws Whiskey House Secale Rye Barrel over Colorado-grown Cresthaven peaches.
Why stand on a line on a freezing Denver morning for two bottles of beer? Or rather, for the privilege of paying $60 for two bottles of beer? I have plenty of time to consider this question as I commiserate with the people around me, many of whom have brought folding chairs and blankets to help brave the line. Several of the people in line seem to know each other, despite being from different places. They've connected through friends, online communities, or at past beer-related events — they're in an elite class of beer fanatic and they easily recognize their own. The talk is only about beer.
"For me, the big thing about beer in Denver is the culture," says Jared Montgomery, who waits near me in the line. Although he's from Chicago, he looks like the stereotypical Coloradan, and the stereotypical beer drinker: tall, rugged, warm. "Beer is something you can build community around."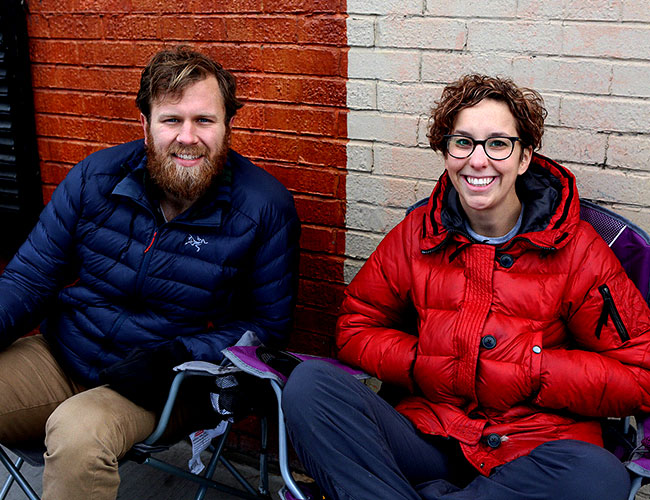 It all sounds nice, but can't you meet pleasant people and build community without standing in the cold? Visit a climbing gym, go swing dancing, or, if you're less active, become a regular at a bar. So again: Why stand on a line in the freezing Denver morning for two bottles of beer?
 In order to find an answer, it helps to understand a little bit more about the brewery.
Black Project Spontaneous & Wild Ales
is the creation of husband-and-wife team James and Sarah Howat. Sarah wears a septum ring and bangs; her husband sports a thick beard and looks like he just walked down from Pikes Peak with an axe over his shoulder. The only other principal in Black Project is Otter, the jet-black brewery cat, who has his own Instagram:
@otterthebrewerycat
.
Sarah, who was born and raised in Colorado Springs, got a degree in marketing at Metropolitan State University in Denver and wanted to open her own business. She met James — a Chicago-native and graduate of Colorado State University — at a nightclub, and the two got married. James, who holds a degree in microbiology and natural sciences education, taught high school science and homebrewed in his free time.
"We fell in love with beer together," Sarah says. "I think the first time we tasted New Belgium's La Folie, we knew we wanted to open a brewery."
"It was probably after the second medal that I thought we should start dedicating everything to Black Project."
After five years as a teacher, James quit his job, and Sarah abandoned the last year of her graduate counseling program so that the two could open a brewery. In July 2013, James and Sarah signed the lease on a space that became Former Future, a neighborhood taproom known for its "clean" beer — mostly light, refreshing, single-strain lagers. At the same time, they started aging sour beer in barrels. This was an investment in the future: unlike IPAs or porters, which take only a few weeks to brew, barrel-aged sours need anywhere from several months to several years to mature.
In 2014, their golden ale, Flyby, won a medal in the Wild Ale category at the Great American Beer Festival; in 2015, they won a second medal in the same category for a dark sour aged on cherries called Ramjet.
"For me, it was probably after the second medal that I thought we should start dedicating everything to Black Project," James says. Former Future faded; Black Project took off.
At the time, it may have been a harrowing decision to put all of their energy into a side project, though now it seems like the right move. With the recent explosion of breweries across the country, it's hard for breweries to stay competitive. This is especially true in Denver, where breweries combine to make over 200 unique beers every day. As a result, many breweries in Denver specialize: aptly named Grandma's House on Broadway is "styled to look like your grandma's house," and Ratio Beerworks, founded by two punk musicians, hosts live concerts on their brewing floor. Beryl's Beer Company barrel ages many of their small batch creations and Black Shirt focuses almost exclusively on red ales.
Black Project belongs to a small minority of American brewers specializing in spontaneous wild ales, which means that they don't ferment their beer with packaged yeasts, or even cultured yeasts, but with wild bacteria and yeasts floating through the air. This is the primary way in which the process for making spontaneous beers differs from that of other styles. After making wort — unfermented beer — more typical brewers cool their beer in a sterile environment and add packaged or cultured yeast strains, which ferment the beer. Contrariwise, brewers of spontaneous ales pump the wort into open-air steel containers called koelschips, where it sits overnight, becoming "infected" with floating bacteria and yeast. Because brewers simply leave their koelschips open to the elements, they don't know what type of microbes they'll attract.
"Any place is going to have its own uniqueness," James says, equating spontaneous beer to the wine concept of terroir, in which the same grapes grown perhaps a few hundred feet apart might have different characteristics. The microbes floating in the air around a brewery in Belgium might impart grassy or barnyard notes, while the ones above the Black Project brewery in Denver tend to bestow the final product with stone fruit flavors like peach and apricot. Other American breweries working with spontaneous ales include Allagash in Portland, Maine, Jester King in Austin, Texas, Russian River in Sonoma, California, and Crooked Stave, just up the road from Black Project in Denver. Smaller breweries that only produce spontaneously fermented sour beer form an even more exclusive club, members of which include De Garde in Tillamook, Oregon, OEC in Oxford, Connecticut, and The Ale Apothecary in Bend, Oregon.
The microbes floating in the air around a brewery in Belgium might impart grassy or barnyard notes, while the ones above the Black Project brewery in Denver tend to bestow the final product with stone fruit flavors like peach and apricot.
The labor- and time-intensive processes required to make spontaneously fermented beer means that in three years, Black Project has only put out about 200 barrels. By contrast, Boston Beer Co. — which brews Sam Adams — shipped nearly double that number of barrels in the first quarter of 2016, on average, every hour.
"We dump almost twenty percent of all the beer that we brew," James says. "If you're not willing to do that, you won't make good beer."
An hour and a half before the doors open, the brewery's social media manager comes around with a steaming pot of coffee and doles out "Chicago pours" — a term used in beer circles to describe the quarter- or half-cups that breweries often pour for customers waiting in line for a ticket or bottle release. Not long after, Sarah comes around with two rolls of tickets — one red, one blue — and begins handing them out to the first hundred people in line. With tickets in hand, I can breathe more easily, because I'm guaranteed two bottles.
As I near the door, I hear the pop of carbonation, and a cheer goes up from inside the tasting room. I stand on tiptoes to get a look inside and see beer dripping from the ceiling, perhaps fifteen feet overhead. Stargate is over-carbonated. Word travels down the line: Black Project will only sell Oxcart until they can diagnose the problem, which might take several days to a week. The reward for three hours in line dwindles to a single bottle.
Holy fucking shit.
Surprisingly, no one seems particularly upset. Black Project's willingness to put the beer into the hands of nature is, for better or for worse, the reason they're here. When someone buys a Black Project beer, they're not simply buying the liquid, but investing in American ingenuity and experimentation. Even as a failed batch drips over the heads of fans packed into the taproom, spirits remain high. If a dependable, consistent pale ale is the workhorse of the craft beer revolution, then the spontaneous ale is the performance art. Not an easy thing to bottle, but well worth the price of admission.