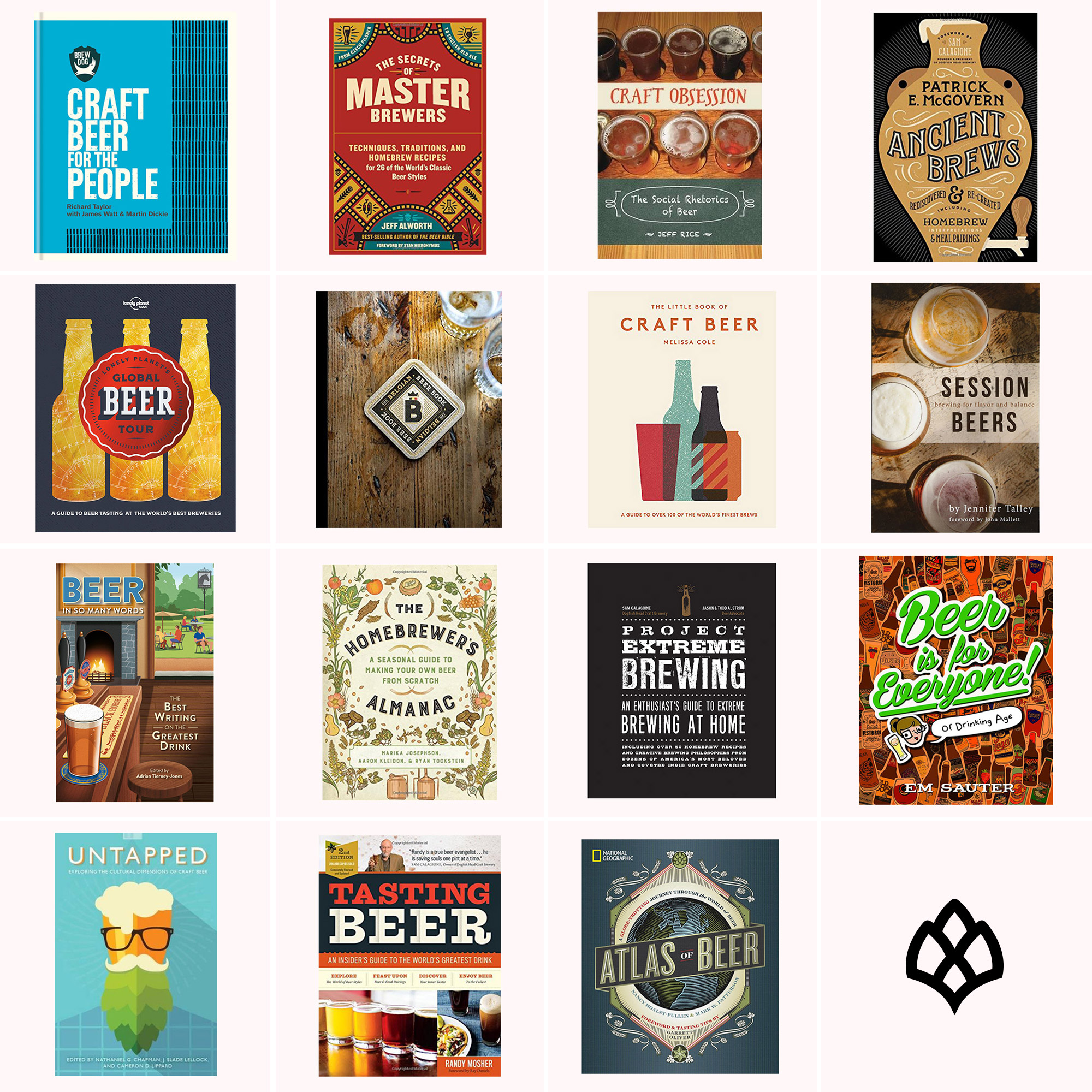 If a book and a novel walked into a bar do you think they would order The Adventures of Hucklebeery Finn and The Catcher in the RyePA? All joking aside, craft beer nerds and bookworms will rejoice with our list of the best beer musings from the past 12 months. We've updated our library card, signed up for Amazon Prime, and even pondered buying a Kindle to bring you the best marriage of books and brews. Whether you want to cozy up with a pint of Founders All Day IPA and a tale about session beers or a glass of Bell's Expedition Stout to last you through a 702 page book on Belgian Beer, we've rounded up the funniest beer comics, most adventurous travel guides, handiest homebrew helpers, and more to fully stock your lib-beer-y.
Beer is For Everyone!: Of Drinking Age
By: Em Sauter
Proving that beer should be democratic, Em Sauter brings this beloved drink to life through humorous cartoons and animated drawings. Not only funny, but also educational, this book will break down ingredients, methods to buy, serve, and taste, and reviews of popular beers. Using her signature off-the-wall style found throughout her blog Pints and Panels, Sauter simultaneously amuses and illuminates, telling us to remember her biggest lesson: Beer is for everyone!
Session Beers: Brewing for Flavor and Balance
By: Jennifer Talley
When you spend almost 20 years brewing in a state that doesn't allow production of beers over 4% ABV you learn a thing or two about low-alcohol beers. During her time at Squatters Pub Brewery in Salt Lake City, Jennifer Talley mastered the art of the session beer. Now, she's compiled her knowledge into a whip smart and informative, yet easy-to-digest guide. Naturally lower in alcohol than most styles, "sessionable" ales showcase a high-quality style meant for casual drinking bouts. Explore the history of session beers, learn the brewing process, and discover the best brewmaster recipes in America. Packed with facts and formulas this book deserves (in fact requires) you to crack a Founders All Day IPA or two as you turn the pages.
Ancient Brews: Rediscovered and Re-crafted
By: Patrick E. McGovern
Who invented beer? In a quest to uncover the roots of one of the world's most popular drinks, the Indiana Jones-esq Biomolecular Archaeologist, Patrick E. McGovern, travels around the world documenting and investigating ancient civilization's best brewing experiments. From historical digs in China, Egypt, and Turkey to sudsy studies in Honduras, Peru, and Mexico, McGovern rebuilds the earliest recipes of beer using science and a little imagination. Beyond beckoning the past, McGovern chronicles breweries today – like Dogfish Head – attempting to reinterpret these original techniques. A book about the past, Ancient Brews will stay relevant far into the future.
Lonely Planet's Global Beer Tour: A Guide to Beer Tasting at the World's Best Breweries
By: Lonely Planet
The experts of world travel, Lonely Planet, bought a beer ticket to circle the globe. Traversing tap rooms, bars, and breweries in 30 different countries, Lonely Planet chronicled their ale adventures to quench the thirst of any cotton-mouthed adventurer. Visit pubs in England, share a draft in Australia, and try the taps in Japan. You'll find mostly mainstream picks in Lonely Planet's selection, but practical tips including how to order a beer in the local language and activities nearby provide for the perfect pint planning jaunt. So pick up this book, page through, pick a city, and go drink.
Craft Obsession: The Social Rhetorics of Beer
By: Jeff Rice
Craft beer in 140 characters. Delve into the mechanics of social media and beer, because they go together as naturally as barley, hops, water & yeast.
Brewdog: Craft Beer for the People
By: Richard Taylor, James Watt, and Martin Dickie
With over 5,300 breweries in the country the permutations of beer have reached exponential proportions. We are constantly bombarded with decisions: Bottle or can? Light or dark? Wheat or Weiss? Rest your weary brain. The BrewDog team has written a book to help us make these decisions. Covering everything from beermaking and cooking with beer to choosing a specific style, Craft Beer for the People helps us understanding just what makes craft beer so great.
Project Extreme Brewing: An Enthusiast's Guide to Extreme Brewing at Home
By: Sam Calagione, Todd Alstrom and Jason Alstrom
Homebrewers gone wild. Jack up your beer making skills with Project Extreme Brewing. Turn a simple stout into a tasty brew of chocolate and oysters, spice up a red ale with raspberries and habaneros, or magically morph a pastrami sandwich in a Flanders Red. Crazy, kooky, wacky, and a little nutty these recipes feature insider tips from 34 professional brewers and step-by-step instructions, bringing the most out there creations down to earth.
ATLAS OF BEER: A Globe-Trotting Journey Through the World of Beer by National Geographic
By: Nancy Hoalst-Pullen and Mark W. Patterson
Like THE treasure map of craft beer, National Geographic's ATLAS OF BEER canvassed the entire planet to bring readers the perfect pints from 45 countries and six continents. Packed like an overstuffed suitcase with gorgeous illustrations, informative maps, and thoroughly researched advice, this dictionary of drafts reveals the best brews from the travels of Nancy Hoalst-Pullen, Ph.D and Mark W. Patterson, Ph. D. Traversing more than 160,000 miles around the globe to compile the most comprehensive atlas of beers, these self-proclaimed "beer doctors" have written the perfect companion for any SkyMiles junky or would-be wanderluster.
The Secrets of Master Brewers: Techniques Traditions and Homebrew Recipes for 26 of the World's Classic Beer Styles
By: Jeff Alworth
Go behind-the-styles with the encyclopedic wit and knowledge of beer author Jeff Alworth. His newest book pulls the curtain back on the history of the Czech Pilsner, unearths the true story of real ale in England, and reveals just what makes an Irish stout. More than common bar chatter, The Secrets of Master Brewers is a must own for any craft beer nerd.
The Homebrewer's Almanac
By: Marika Josephson, Aaron Kleidon, and Ryan Tockstein
Elderberries, lavender, sage, thyme, lemongrass, blackberries, blue corn, tomatoes, hyssop, chanterelles, dead leaves and carrots. You name a foraged ingredient and chances are Scratch Brewing Co in Ava, IL has probably brewed a beer with it. Explore how to use these and over 30 other plants in modern day brewing recipes. From advice on harvesting and preserving plants to explanations on the techniques used for brewing, Scratch brings the foraged (and quite possibly the entire forest itself) to your front door.
The Little Book of Craft Beer
By: Melissa Cole
Little in name, but big in detail, Melissa Cole's newest foray on the beer bookshelf stacks up all-star reviews of a slew of ales and lagers. From thick and chewy roasty-toasty stouts to hazy, zippy IPAs the UK-based author, journalist, and beer connoisseur covers the ABCs of craft beer.
The Belgian Beer Book
By: Erik Verdonck and Luc De Raedemaeker
Clocking in at 702 pages and almost 8 pounds, this epic tome explains everything there is to know about beer from a country richer in brewing culture than gold. Through beautiful photographs and expertly written histories and personal stories, beer connoisseurs Erick Verdonck and Luc De Raedermaeker (very gently) plop the best of Belgian beer, gastronomy, and commensality into your lap.
Beer, In So Many Words: The Best Writing on the Greatest Drink
By: Adrian Tierney-Jones
Prolific writer Ernest Hemingway drank bottles of Ballantine Ale and preeminent poet Dylan Thomas didn't write a word in the afternoon until he frequented the pub at Brown's Hotel in Wales musing, "I liked the taste of beer, its live, white lather, its brass-bright depths, the sudden world through the wet brown walls of glass…" Famous people have written about beer since before "craft beer" became a term. Award-winning beer writer Adrian Tierney-Jones packages and ties a neat bow around all the best beer musings of America's favorite authors, fictional characters, and beer writers. From the funniest fiction to "prosting" poetry Tierney-Jones celebrates great writing about good ale including works from A.E. Housman, Inspector Morse, and Ian Rankin to Peter Brown and Evan Rail. This is a book good for cellaring on the bookshelf; it'll only get better with age.
Tasting Beer, 2nd Edition: An Insider's Guide to the World's Greatest Drink
By: Randy Mosher
Revised and updated, best-selling Tasting Beer, 2nd Edition highlights the most current research on beer styles, flavor profiles, and sensory evaluations. Tell an ale from a lager, a gose from a geuze and a stout from a porter with Randy Mosher's insightful and in-depth analysis on the science of taste.
Untapped: Exploring the Cultural Dimensions of Craft Beer
By: Nathaniel G. Chapman, J. Slade Lellock and Cameron D Lippard
Tapping into a previously "untapped" exploration of the social and cultural currents of the rise of craft beer, Untapped features 12 essays dissecting questions of gender, class, and race in craft beer. More than a simple coffee table book, Untapped connects craft beer to a world bigger than the bar and a reality that extends beyond the confines of a six pack. How has craft beer changed history? What have been the effects of craft beer on certain social movements? How will craft beer continue to drive change in the United States and beyond? This book tackles all these questions and more. Any serious drinker who believes the rise of craft beer means more than just guzzling down liquid in your glass should pick up this book.