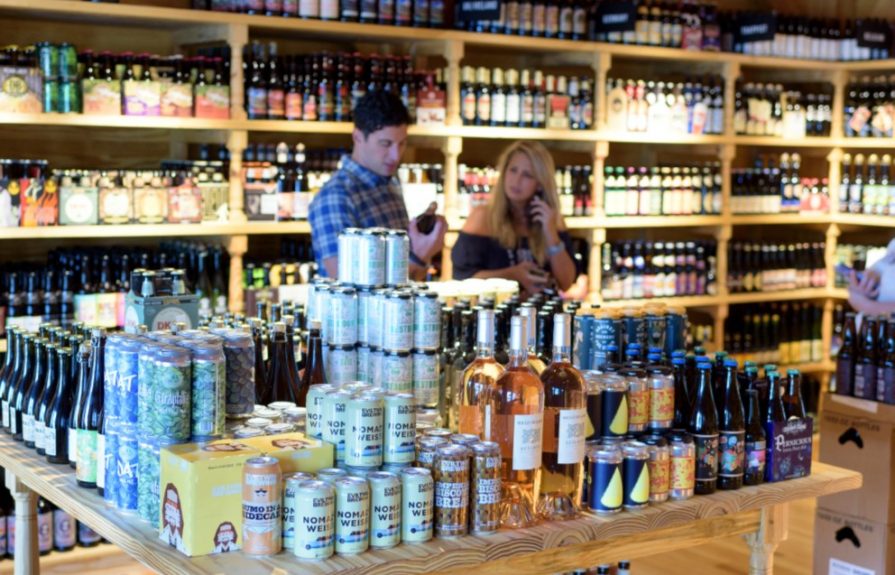 You can find craft beer almost anywhere: dive bars, grocery stores, gas stations. But to find fresh, quality bottles and cans of your favorite beer, you'll want to turn to your neighborhood bottle shop (unless you are lucky enough to live close to a great brewery). Shelves of large format barrel-aged stouts lining the wall. Fridges stocked with cans of juice bombs. Paradise.
Bottle shops come in all shapes and sizes; many serve food and pour beer to munch and sip on while you pick out your favorite table beer or double IPA.
We picked out a few of our favorite bottle shops that opened their doors in 2017.
Edmund's Oast Exchange
1081 Morrison Drive, Charleston, SC | (843) 990-9449
As of August 2017, Edmund's Oast in Charleston, SC includes a production brewery, restaurant, and now a bottle shop. Edmund's Oast Exchange has a rustic lodge aesthetic and walls and walls of beer and wine. The Exchange also offers beer and wine classes on topics like the role of Brett plus weekly tastings.
Higher Gravity Crafthaus
4106 Hamilton Ave, Cincinnati, OH | (513) 813-3523
Get a taste of Ohio's craft beer at Higher Gravity, which opened in Cincinnati early in 2017. Higher Gravity is stocked with hundreds of cans and bottles to take home or enjoy onsite.
Craft Centric
100 Julian Shoals Dr. Unit 40 Arden, NC | (828) 572-3370
Craft Centric Taproom & Bottle Shop opened last last year in South Asheville, NC with 16 taps and plenty of bottles and cans to take home. Husband and wife team, Matt and Shannon Vaughan, aim for Craft Centric to be approachable for new drinkers, while also offering something for hardened beer nerds. Plus, they dish up burritos and soft pretzels.
Bert's Bottle Shop
369 Comet Drive Millersville, PA | (717) 872-7777
Bert's opened up in Millersville, PA early last year with 15 taps, a small food menu, and hundreds of bottles and cans for purchase. Bert's founder Alberto Flores opened with a focus on Belgian beers but has a wide selection of standard craft options.
Branching Out
170 Township Blvd, Camillus, NY | (585) 261-8775
Upstate New York got a new bottle shop last year. Husband and wife, Joel and Carissa, opened Branching Out in Camillus, NY in 2017 offering bottles, cans, and growler fills. Find top-tier beer from breweries like Finback, Hudson Valley, and SingleCut.