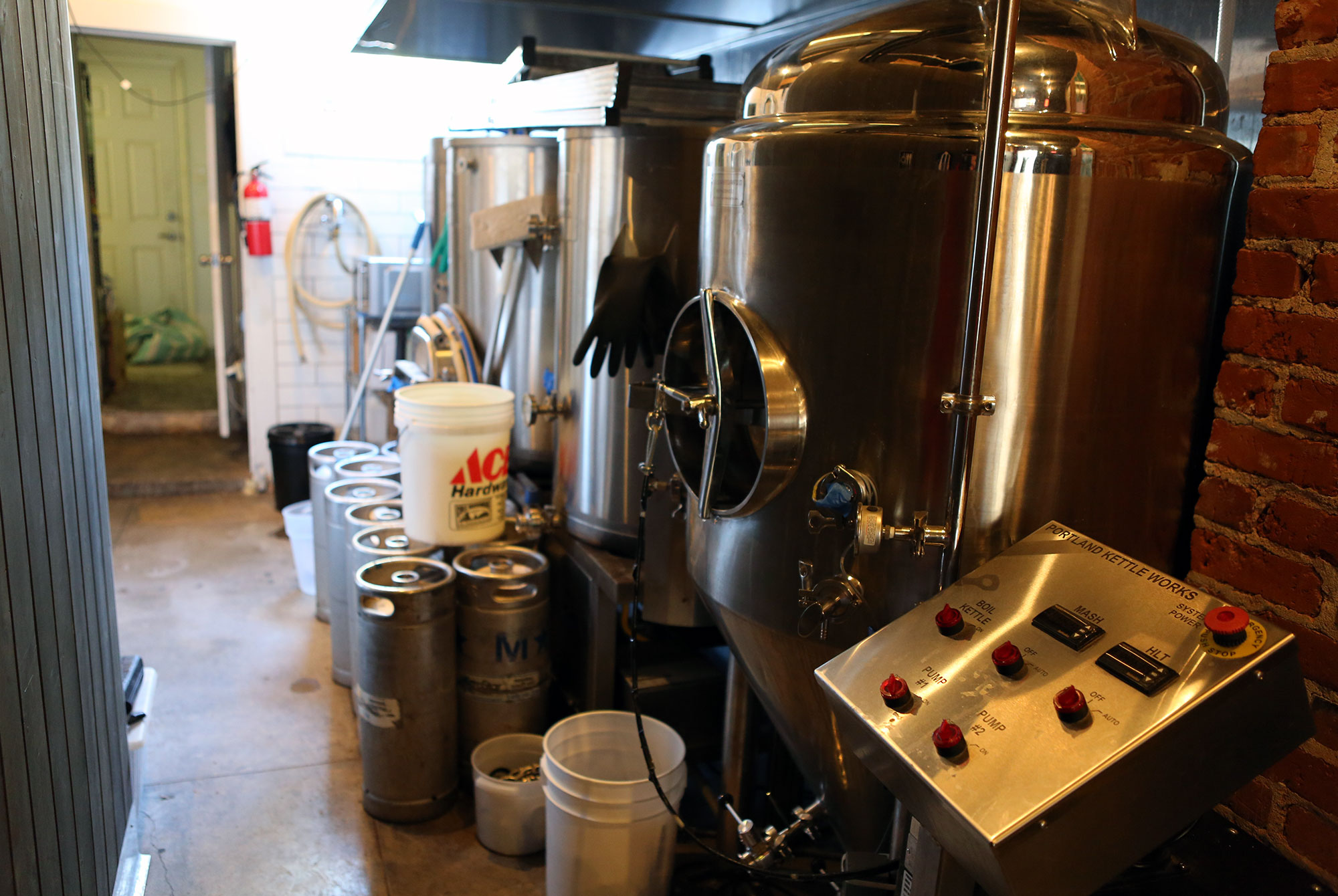 Brewing system at Hoi Polloi in Berkeley, California
Photography by Kenny Gould
The Highland Park neighborhood, Pittsburgh, Pennsylvania: a quiet haven within a bustling post-industrial city. A 380-acre public park, two reservoirs, lush residential streets, and amongst it all, CoStar Brewing.
At first glance, CoStar looks like a souped-up version of a home brewing system run out of someone's garage. In fact, that's exactly what it is. But CoStar is also an incorporated business that runs its operations out of a licensed commercial space. Founded by Jeff Hanna and Dominic Cincotta in 2012, CoStar brews beer on a rotating three barrel system and sells kegs to local bars. Both Hanna and Cincotta have full time jobs, which means that the brewing happens during 12-hour sessions on Saturdays.
The CoStar model is not new. Many breweries started this small (Dogfish Head, for example) and then gradually expanded to become national brands. Over the past five years, however, the industry has seen an explosion of breweries like CoStar, which have come to be known as nanobreweries.
A craft brewery produces less than 6 million barrels per year, while a microbrewery produces less than 15,000 barrels per year. Nanobreweries, however, remain undefined.
A craft brewery produces less than 6 million barrels per year, while a microbrewery produces less than 15,000 barrels per year. Nanobreweries, however, remain undefined. The general understanding of the term is that the brewery operates on a 3 barrel system or less–which for CoStar, translates to about a couple hundred barrels per year.
Why run a nanobrewery? Small batches and narrow brewing windows limit brewers in terms of variety and scale, and also limit their profit margins. But compared to microbreweries, the startup costs for licensing a small system are quite low, and the amount of space required is obviously much less. If a homebrewer is serious about becoming a professional brewer, opening a nanobrewery is a low-risk option for entering the industry.
Hoi Polloi in Berkeley, California, runs the same sized system as CoStar, but does not sell kegs to bars. Rather, they run a very small brew pub (just 20 seats) and sell pints of their own beer alongside several other California craft brews. At any given time, Hoi Polloi has 3 to 4 of their own beers on tap and about 10 guests brews. Owner Viet Vu is a second-generation brewer who chose to open Hoi Polloi in its current location because the rent was right and he thought the neighborhood had potential; just as the CoStar garage becomes a hangout spot on brew days, Hoi Polloi has become a friendly gathering spot in an up-and-coming neighborhood.
The Lone Wolfe Brewing Company, located in Wolfeboro, New Hampshire, is a one barrel system run by Graham Combes and his wife Jen. With no distributor in place, they sell pints and growlers in their downtown tasting room. Wolfeboro, which sits on Lake Winnipesaukee, is a popular summer destination, but gets quite desolate in wintertime. In an area with a fluctuating population, a smaller production model makes the most economic sense. There is no need for Combes to be brewing as much in the winter. Rather than focusing on growth, Combes focuses on reading his market and meeting his community's needs with a local, sustainably made, and delicious product.
While one might assume that nanobreweries are merely proofs-of-concept for larger operations, CoStar, Hoi Polloi, and The Lone Wolfe are all unique models that indicate otherwise. On their blog, CoStar writes "You probably can't find our beer or haven't heard of us… And that's fine. We're going to focus on our beer and finding new and interesting things to do with it." All three of these breweries satisfy a community need in a unique way, and should be appreciated as such, rather than a means to an end. For these brewers, the nanobrewery is the end itself.