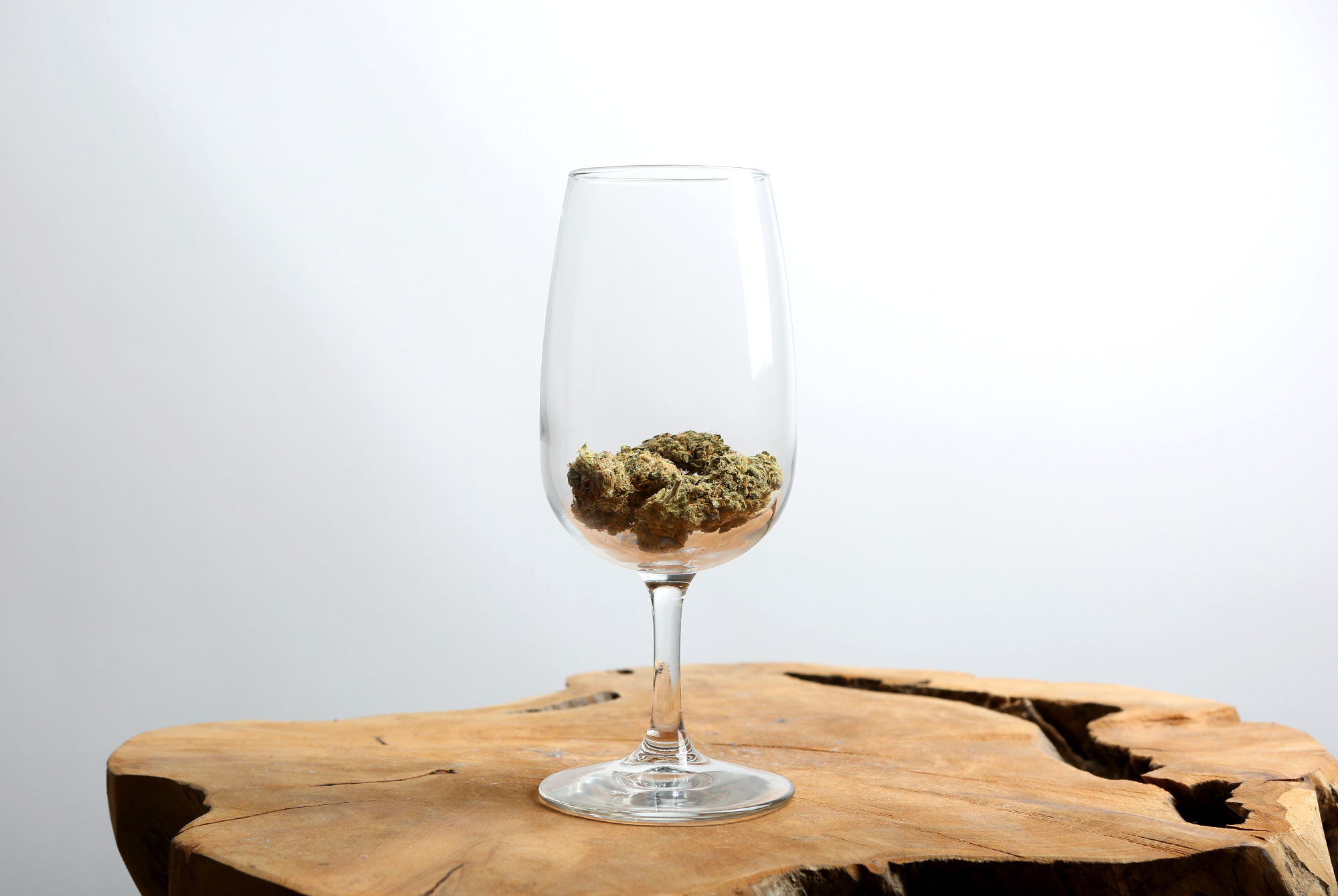 Photography by J. Travis Smith

Have you ever seen The Parent Trap? The 1998 version with Lindsay Lohan and Dennis Quaid? Let me summarize: two girls meet each other at summer camp and discover that they're long lost twin sisters.
Now let's reimagine a more adult version with two of America's favorite vices: hops and hemp, aka cannabis. Much like the two Lohans, hops and hemp are long separated siblings of the same family (the Cannabaceae, for those curious). But instead of summer camp, the two plants met at the 2015 Great American Beer Festival, where Colorado-based Dad and Dude's Breweria unveiled what was at the time the world's first CBD-infused beer: the Indica Double IPA.
CBD, also known as Cannabidiol, is one of the compounds found in cannabis. Unlike THC, the compound that gets you high, CBD is non-psychoactive. It does, however, offer anti-inflammatory, anti-depressant, analgesic, and anti-oxidant properties — as well as an aromatic quality and smoothness to the beer. Some also believe the addition of CBD to beer proves to be the cure-all for hangovers, though this is purely anecdotal.
Now, with the state-by-state softening of marijuana prohibition in America, there are plenty of options for those looking to drink some brews with some buds. Coalition Brewing, based in Portland, OR, is releasing the state's first CBD-infused beer. Their process begins with a base West Coast IPA, then adds hemp juice and CBD oil. The final product is equal parts bitter from the hemp juice and citrusy and aromatic from the CBD oil.
Other examples include: OG HighPA Session IPA from San Diego's Thorn Street Brewery, Hippie Joe's Hemp IPA from Eugene's Mancave Brewing, and Homegrown Hempen Ale from Duluth's Fitger Brewing.
Because they use CBD and not THC, none of these will make you fail a drug test or even get you stoned.
Because they use CBD and not THC, none of these will make you fail a drug test or even get you stoned. But for those who are legally allowed, and want to, there's the New Frontier Brewing Eureka!, a 24-ounce beer that boasts 25 mg of THC — enough to keep you high for quite a while.
If you'd still prefer not to take the chance, there are plenty of hemp-inspired and hemp-paired beers: for instance, SØLE's Kushy Clouds, Ale Industries' Cherry Kush, and Oskar Blues' Blue Dreams. And both Lagunitas and Dark Horse have had beers rejected by the Bureau of Alcohol, Tobacco, Firearms, and Explosives because of their references toward hemp-culture.
Whatever your choice, imbibe safely, legally, and — most importantly — with good beer.