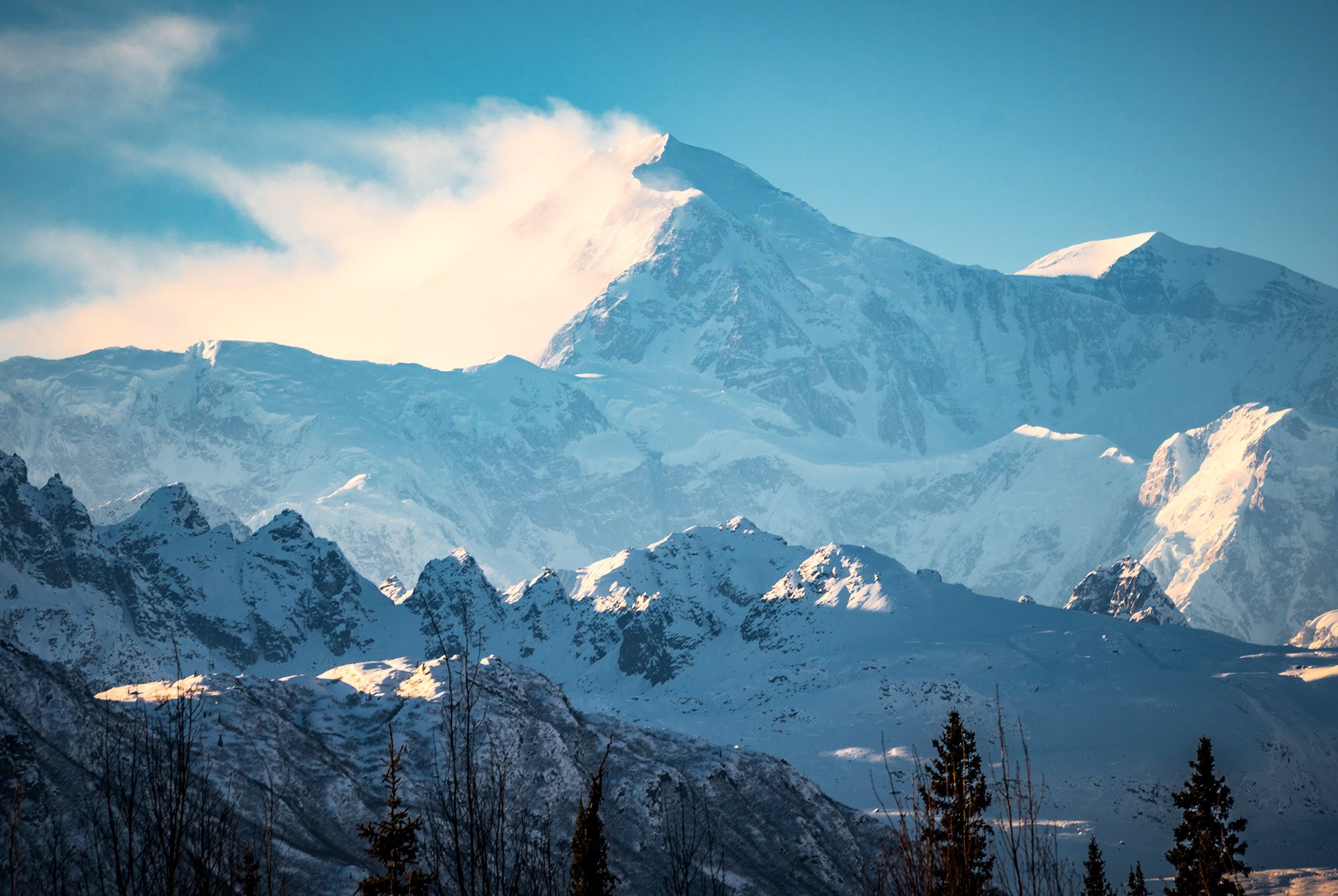 Photography by Bryan Goff
Alaska, the last frontier. The 49th state reaches nearly three-times the size of Texas, full of vast forests and crystal-clear streams punctuated by massive mountain peaks. Yet, it remains largely unexplored. Juneau, the capital, is only reachable by boat or plane. Anchorage lies equidistant from New York City, Frankfurt, Germany, and Tokyo, making it the largest and most populous city in Alaska. Beer-wise, Seattle and the greater Pacific Northwest brood strongly up here, but many other styles are making their mark, including East-coast IPAs as well as traditional German and Bavarian beers. Whether you're imbibing in total darkness, complete sunlight, or under the Northern Lights, Alaska has a beer for any occasion and palate.
Friday
Midnight Sun Brewing Co.
8111 Dimond Hook Drive, Anchorage | (907) 344-1179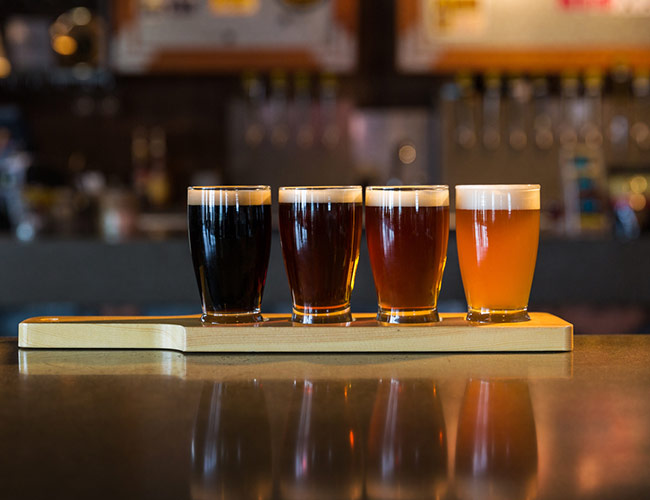 4:00 pm — Flight after your flight.
By no means a "walking city," Anchorage is best enjoyed with wheels. Rent a vehicle and head to Midnight Sun's industrial-style loft and brewery for a jet lag pick-me-up.
Compared to the lower 48, Alaska relies heavily on imports that, unfortunately, lead to bloated prices. Additionally, strict statewide liquor laws mean you can only drink 32 ounces at most stops. By sticking to ordering a beer flight you not only stretch your dollar, but also your ounces. Kick back with the themed-flight "Light It Up," featuring low ABV beers under 5.5%. For a great non-alcoholic option try The Root Beer, but we highly recommend you grab a 6-pack as you're heading out the door.
Glacier Brewhouse
737 W 5th Ave. #110, Anchorage | (907) 274-2739
7:00 pm — Evening with nature.
Park anywhere in northwest Anchorage and take a stroll along the dock, which hugs the massive Cook Inlet – an expansive stretch of water named after prolific explorer and sea Captain James Cook. His bronze statue gazes across the water at a picturesque cut of rock, Susitna Mountain, better known to the locals as "Sleeping Lady."
Keep walking and eventually you'll make it to Glacier Brewhouse. The smell of the wood fire grill permeating the space signals you've arrived at one of Alaska's best restaurants and breweries. Choose from any one of their flagship beers, ranging from the simply named Blonde to Oatmeal Stout and many different ales and lagers. To help cap your night off with some art and culture, The Brewhouse has teamed up with the Alaska Center for the Performing Arts, featuring a slew of different shows to watch while you drink and dine.
Trophy Lounge
8801 Jewel Lake Rd, Anchorage | (907) 334-9575
9:30 pm — Nightlife with a bright sun.
The sun sets late in summer and fall, making trips to the bar feel a bit premature. Chill and relaxing Alaskan evenings mean you can ease into the night with a round of pool or test your beer brain with bar trivia. But if you're looking for something more lively, The Gas Light bar and Mad Myrna's both offer excellent cocktails and dancing. The latter hosts cabaret shows and DJ spins, for those looking to stay out until sunrise—usually a shade after 4 am.
Saturday
Snow City Café
1034 W 4th Ave, Anchorage | (907) 272-2489
8:00 am — Big day ahead.
Wake up at, without argument, Anchorage's most popular breakfast stop. Enjoy a specialty espresso (you can't go wrong with Latte Kaladi or Raspberry Dream) paired with a creative menu of seafood-inspired breakfast dishes. If you don't make reservations, don't worry, try another local favorite, Sandwich Deck's. Eat light because a trip to Byron Peak Glacier should be on your agenda. Good boots and bear repellent are a must, so get geared up at one of Anchorage's dozen or so outdoors stores.
With more than half the nation's parkland, Alaska's vast wilderness and striking beauty is bountiful. The crown jewel, Byron Peak Glacier, resides in the Chugach National Forest. A relatively short hike (2 miles) leads to a breathtaking steep-walled valley and the picturesque Byron glacier. Avalanche-swept boulders line the valley creating a beautiful contrast with the sky and mountain peaks–possibly the best view all weekend.
Girdwood Brewing Company
2700 Alyeska Highway, Girdwood | (907) 783-BREW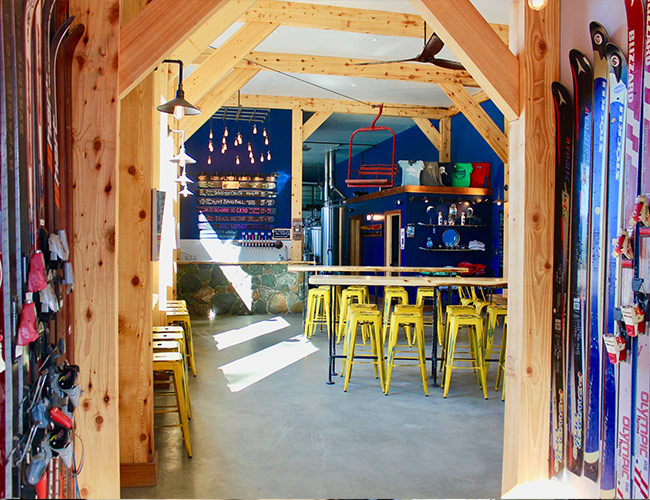 2:00 pm — Catch a second wind.
Alaska is notorious for microbrews nestled amongst its untamed wilderness. Girdwood's ski-decorated brewery and tap room offers a panoramic view of the Chugach mountains. Imbibe with an eclectic batch of brews, including a NE-style IPA and coffee stout, and be sure to pair your beer with a crepe from the food truck on site. Pro tip: match Hippy Highball coffee stout with the Banana and Nutella crepe from Crepes de Paris for a decadent afternoon dessert.
5:00 pm — Hit the trails, round two.
Work off your beer with a light walk on Winners Creek lower trail. The paths follow rushing rivers and streams. Two miles in, you'll pass over a solid wooden bridge towering over a 30-foot wide rushing body of water. Explore the shore and dip your Nalgene into the crystal-clear waters for the best non-alcoholic drink you'll have all weekend.
49th State Brewing Company
Mile 248.4 Parks Hwy. Anchorage | (907) 277-7727
8:30 pm — Dinner and a show.
Enjoy your meal on a rooftop patio overlooking the Cook Inlet and Alaska Range. Then head down to one of their two stages for live music, comedy or theatre. With an event marked on their calendar every day, including Firkin parties, you'll find something for everyone. To wrap up the long day of trekking, mosey over to Humphry's Great Alaska Ale House and wind down with a beer in hand.
Sunday
South Restaurant and Coffeehouse
11124 Old Seward Hwy Anchorage | (907) 709-9200
9:00 am — Leisurely stroll.
Jumpstart the day in South Anchorage with a craft coffee (or beer). Once caffeinated, ride along the Tony Knowls Coastal Trail to Kincaid Park, the best combination of water and deep woods right in town. Rent a bike from Downtown Bicycle Rental and explore the miles of wooded trail, including the 6-mile Lekisch Loop — the hilliest competition-certified 10K track in the country.
King Street Brewing Company
7924 King Street Anchorage 99518 | (907) 336-KING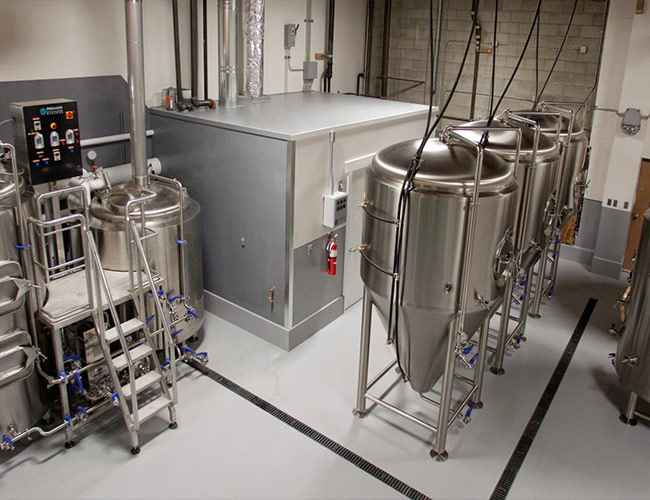 12:00 pm — Thirst quench.
It's all about the hop-symphony here, with IPAs, blondes, and specialty hoppy Hefeweizens reigning king. Snag a pint and maybe grab a crowler to go. Lunch up at Great Harvest Bread Co. for absolutely the best bread you'll sink your teeth into in Anchorage. Be sure to try the sourdough and cinnamon chip, and grab a bag of oatmeal chocolate chip cookies for the drive down to Seward, Alaska.
Seward Brewing Company
139 4th Ave, Seward | (907) 422-0337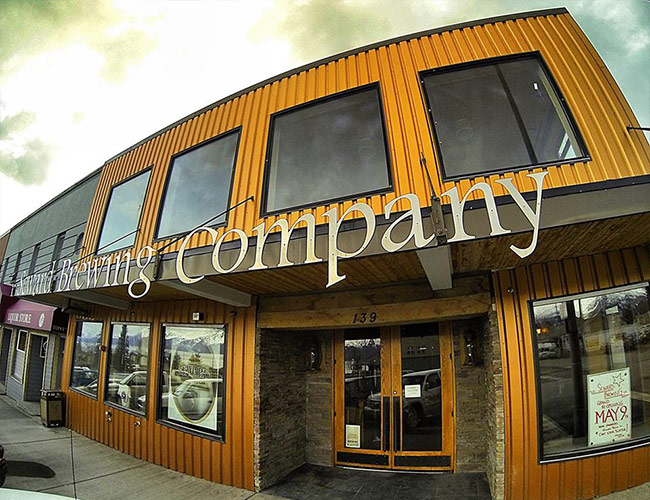 4:00 pm — Sea life.
Seward Brewing Company implores visitors to stop drinking crappy beer (not that you were). Give your palate a firecracker with the El Jefeweizen Chile Wheat, a hefeweizen Seward calls, "The official Chile beer of luchadors everywhere." Next, explore Seward's shopping district as you make your way down to the bay to soak in the afternoon nautical scene. Pass the early evening in Alaska's Sea Life Center, the only marine mammal rehabilitation center in the state and likely the best place for petting starfish and sea urchins.
Exit Glacier Salmon Bake Restaurant
31832 Herman Leirer Road, Seward | (907) 224-2204
7:30 pm — Big meal.
Seafood, seafood, seafood. This middle of the woods log-cabin restaurant does seafood right, complementing crab legs and halibut with an exhaustive Alaskan beer list. Try beers from far-away Juneau, like the Smoke Porter or Amber Alt Ale by Alaskan Brewing Company. Pro tip: Be sure to finish with the house specialty berry cobbler.